How To Improve Your Remote Employee Engagement
Want to better engage remote employees and keep them engaged? I hate to say this… but you might have to stop doing so much first. That's exactly what I learned managing a remote team for years – the more you're online, the less engaged. The more shallow recognition, the less meaning. The more meetings and check-ins, the less bonding.
In this guide, we start with what not to do. Then, you'll learn nine techniques to improve remote team engagement. And finally, you'll read about six platforms to better facilitate engagement.
Click a link below to jump down to the chapter that interests you most:
How Not To Do Remote Employee Engagement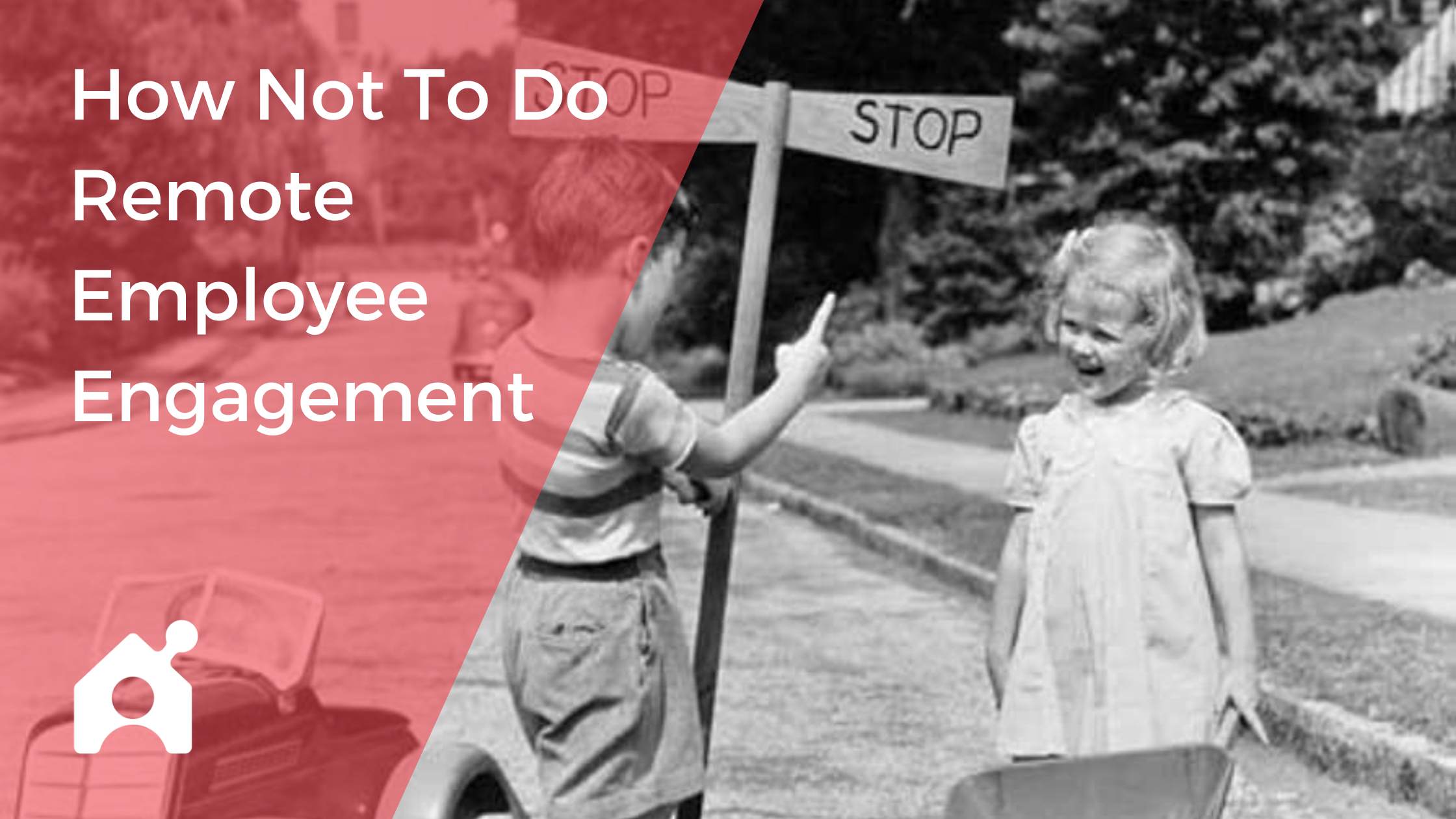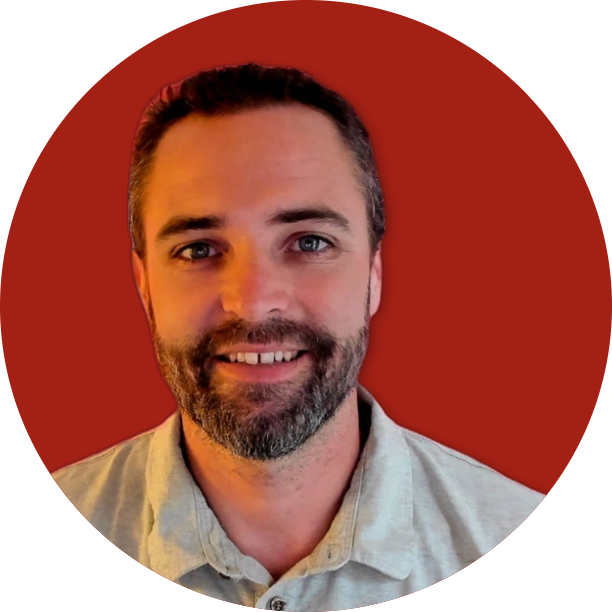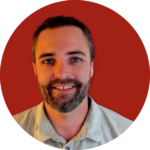 I (Henry from Buildremote) wrote this chapter. I have worked from home for a decade and ran a fully remote, four-day work week company for eight years. I've made all of the mistakes running a remote company so you don't have to.
I encourage you to read my called 24 things I learned managing remote teams. You'll find unique, honest, implementable ideas to use with your team… not the common fluff you find on the internet.
My advice on how not to engage remote employees below is built on those 24 principles I believe.
🛑 the Zoom happy hours
Keep in mind – people are at home while they work. Most people would rather not work from 4-5 PM on a Friday than do an awkward Zoom happy hour. That's OK. You're good at your job, as a manager, and you'd rather just sign off, too. Telling people to log off early will build more trust than the forced virtual social engagement.
🛑 expecting people to always be online
Being present on Slack is more detrimental than beneficial to your team's success. You can have full days where no one talks and still have a good "company culture." Doing valuable work is fulfilling. Being available for eight hours on the internet is not.
If you expect people to be available even when they aren't actually working, people will be unhappy and leave. If you encourage people to stop working rather than sit online not working, they'll be happy and stay.
🛑 full days of video meetings
Video is critical for remote employee engagement. Members of your team will absolutely know each other better and trust each other more if video is the default style of meeting.
With that said, a full day of video meetings is draining and unfulfilling. To improve employee engagement, you should work hard to cancel meetings for your team.
See Also: How We Perfected Our Meeting Cadence (& You Can, Too)
🛑 daily team huddles
Daily team meetings encourage urgent yet unimportant tasks to be finished. Weekly or monthly check-ins encourage important tasks to be pursued because there is actually enough time between meetings to make progress.
At this point you are probably noticing a theme – if you want better employee engagement, engage less and trust more. As you give people back more time (through fewer meetings), give them more autonomy (by stretching out check-ins), and give them more flexibility (by encouraging people to sign off of email and Slack), you will improve trust. Then, you'll have a more engaged team.
🛑 the constant awards and treats and forced recognition
People want fulfilling work, respect, trust, and flexibility. If you give them that, you'll have an engagement team.
How To Engage Remote Employees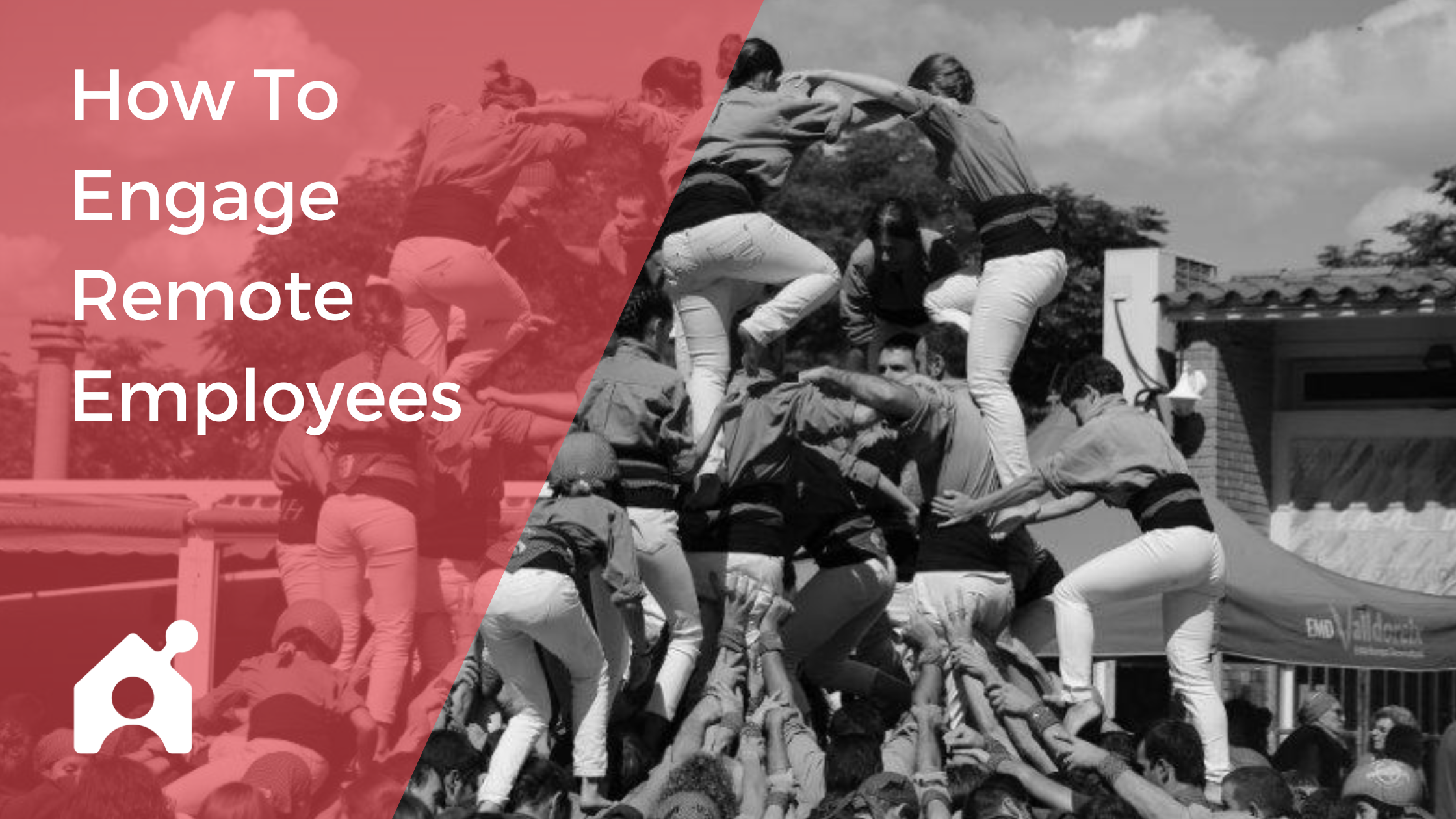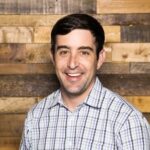 This chapter was written by Jon Conelias, the CEO and founder of Elevent – an events marketplace helping employers connect with their employees and clients. He has been working with startups for the past 15 years.
Minimizing the turnover of employees is vital if you want your business to thrive. On average, companies with low turnover rates rake in profits four times larger than those with employee retention problems. This statistic is attributable to several factors, including the costs associated with hiring, training, and onboarding new hires, as well as productivity lost through unfilled vacancies.
Typically, HR teams and managing directors hang on to talented employees by offering rewards such as promotions and pay increases. Of course, money and rewards aren't everything, and many companies work hard to implement an appealing company culture.
Modern employees appreciate work environments in which they feel valued and connected to others. That's why retention strategies traditionally revolve around nurturing employee relationships via social events and helping workers maintain a healthy work-life balance.
As many companies move toward flexible and remote working arrangements, these retention strategies are becoming less feasible. The good news is that companies allowing remote work boast a 25% lower employee turnover rate compared to entirely office-based companies. The bad news is that you cannot rely on this statistic alone — remote employees still want to feel valued and connected to their peers.
So, how can you achieve this kind of healthy company culture if you have a large number of remote workers on your hands?
1. Provide a high-quality onboarding experience
Welcome new starters into the company with a seamless remote onboarding process. Start by ensuring employees have access to all the tech they need before their first day and offer to purchase any necessary office essentials. This could include an ergonomic chair for employees with postural issues or a company laptop pre-installed with relevant software. You must also provide plenty of accessible information about the company and arrange welcome meetings to ensure employees get to know their peers.
See Also: The Step-By-Step Guide To Remote Onboarding (Our Exact Process)
2. Prioritize video communications
Sending an email is often faster than organizing a video conference. However, over-reliance on emails and text chats can lead to a culture of loneliness, isolation, and lack of accountability. According to a recent report, 43% of remote workers miss conversing with their colleagues, while 20% miss the company happy hours that take place in offices.
To remedy this, encourage workers to use applications such as Zoom and Microsoft Teams as much as possible. The beauty of video chat is that it nurtures casual conversation and allows friendships to develop while maintaining an atmosphere of professionalism.
3. Offer & receive feedback regularly
Don't leave employees to their own devices for long periods. Meet with them and offer valuable feedback about the quality of their work. While you may believe that workers want to be left alone, remote employees who receive regular feedback from their managers are three times more likely to feel motivated and engaged than those who don't.
On the flip side, distribute employee satisfaction surveys on a monthly or quarterly basis and use the results to improve your retention strategies. This helps you deliver a better experience for remote employees and ensures workers feel valued and respected.
4. Help employees manage their work-life balance
While remote working arrangements can reduce commuting times and offer greater flexibility for parents, they can also make it difficult to separate work time from personal time. Women in particular face difficulties with remote work, as many handle domestic duties at home. A recent survey indicates that 57% of mothers have struggled to juggle childcare and work commitments over the past year.
As an employer, you can help workers manage their work-life balance by offering flexible hours or discounts on childcare services. You must also promote the importance of a healthy work-life balance to ensure your employees don't suffer burnout. Encourage them to maintain a routine and don't message employees outside of work hours.
5. Organize remote social events
An increase in remote working doesn't mean social events have to end. Consider hosting a company-wide murder mystery or escape game night to help colleagues get to know each other. Remember to include prizes at the end! After all, relaxing and unwinding at the end of a tough week is one of the best ways to boost employee morale.
6. Prioritize health and wellness
Your workers' health should be a priority for you. If your employees are sick, they will never be able to perform at their highest level; they may not even be able to work at all! Encourage your workers to go out for some fresh air, eat healthy food, exercise, and explore other ways to stay healthy. You can even create a wellness program if you think your team will engage with it.
7. Meet up in person
Since you are working remotely, you and your employees may not reside in the same country. But generally speaking, meeting face-to-face can strengthen the bonds between teams.
So, how can you meet? Well, how about meeting somewhere abroad and traveling together?
We know you are busy, so you can try hiring a corporate travel agency to do the work for you. Business travel providers will give you all the necessary information and manage your required travel documents. After all, traveling is fun, so why wouldn't you use this opportunity to do so and build a connection beyond the remote workplace?
8. Avoid micromanagement
Remote work is an area many managers still need to get used to, but that is no excuse to micromanage; the practice doesn't work in the remote world any more than it does in the office world. In fact, according to a study, micromanagement creates a stressful working environment that demotivates workers.
Why does micromanagement happen? A primary reason is that managers may believe their employees aren't working hard enough. There may also be a perception that remote workers are "lazy" and are using their time to avoid working at all. However, statistics indicate different results; remote workers were shown to work 1.4 days more than those working at an office.
Instead of stressing your employees with micromanagement, you can do the following:
Find a better way of managing performance: Instead of continuously telling your team to finish a task, create a system that will automatically deal with it so everyone is held accountable for their own goals. This will make things easier for them and you, since the system will show the results of everything you have to do.
Write down your expectations: It's best to have this chat sooner than later because it will put boundaries between you and your team. Hold a virtual meeting and closely discuss work hours, break times, and goals you have to achieve.
Set up deadlines: Instead of continuously monitoring what your team is doing, set up deadlines when they must complete their work. For example, if a project needs to be done at 8 P.M., write that down.
9. Show appreciation
Showing appreciation is essential to keeping employees happy about where they work. When employees have someone to turn to when undergoing any issues, they will feel better about their job, whether remote or on-site.
Use a small business employee recognition software that will allow your employees to comment, view, and give real-time recognition. According to studies, employee recognition is one of the top drivers of employee engagement and helps form a connection between employees and managers.

Remote Employee Engagement Platforms To Use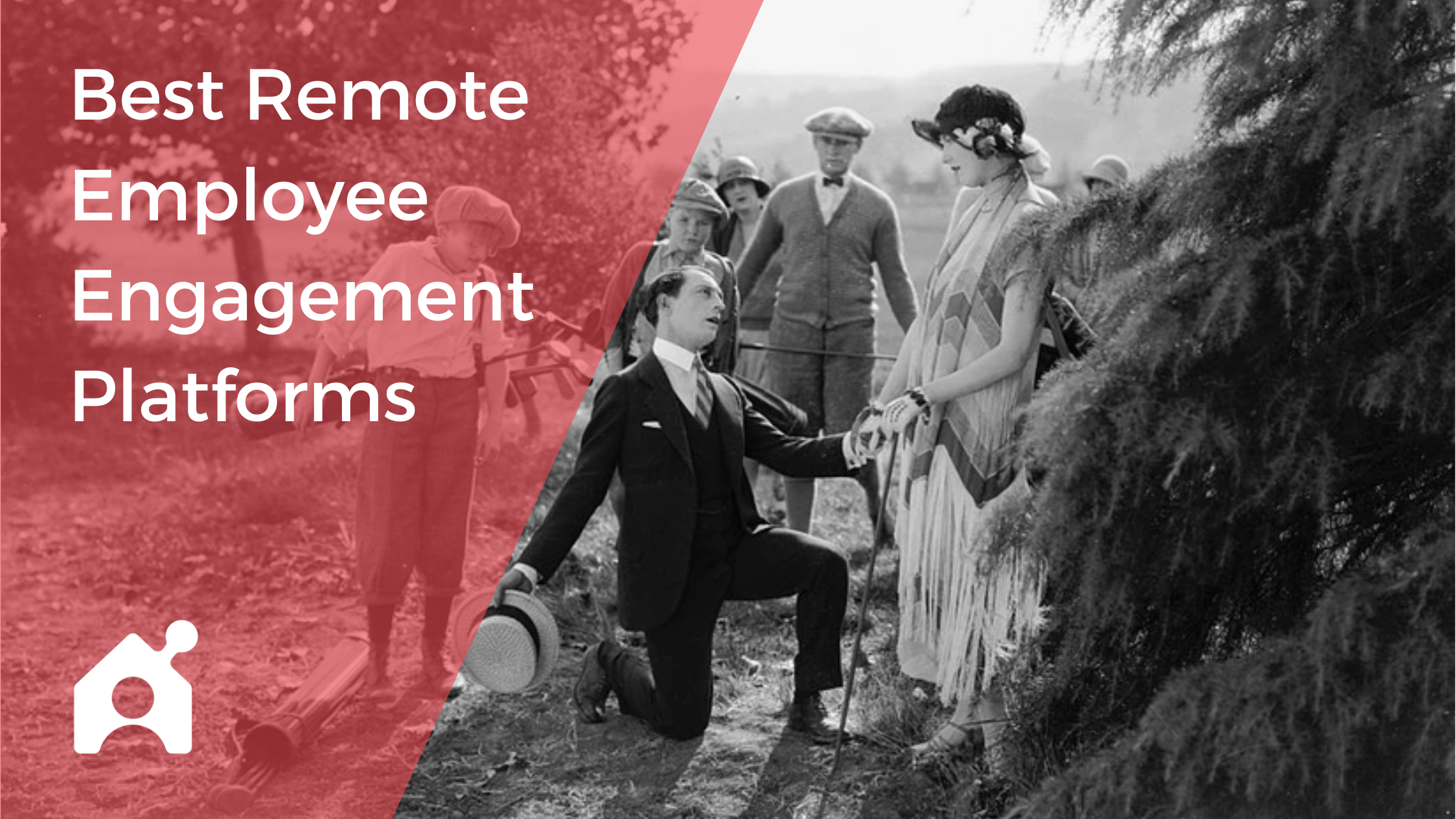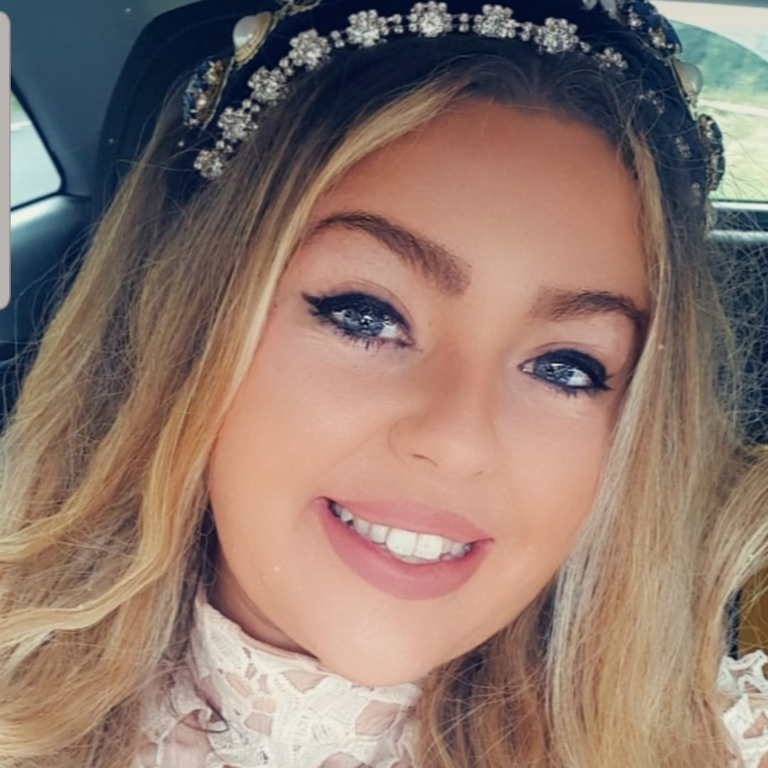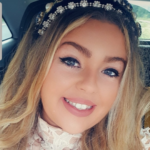 This chapter was written by Kerry Leigh Harrison, a freelance journalist with 11 years of experience working with companies around the globe. She graduated from university with a First Class Hons Degree in Multimedia Journalism.
Did you know that 85% of workers want to feel closer to their remote employees?
That sobering remote employee engagement statistic shows that we need to work hard to retain our best talent and ensure they enjoy their duties. That survey is hardly a standalone; Forbes has also revealed that remote workers are 182% less engaged than those who primarily work in person.
Staff engagement is critical; it ensures workers are happy and loyal to your business. Consequently, if you have engaged staff members, you can expect improved productivity, lower turnover, and better remote work culture.
However, there is no denying that this can be hard to achieve if you have a remote workforce, as you're not able to connect with people face to face. So, to build a loyal and connected remote team, you need to implement an effective employee engagement tool to track relevant metrics and monitor engagement.
Follow along as we look at six of the best platforms for increased worker engagement.
1. Leapsome: An alternative to Lattice for remote workers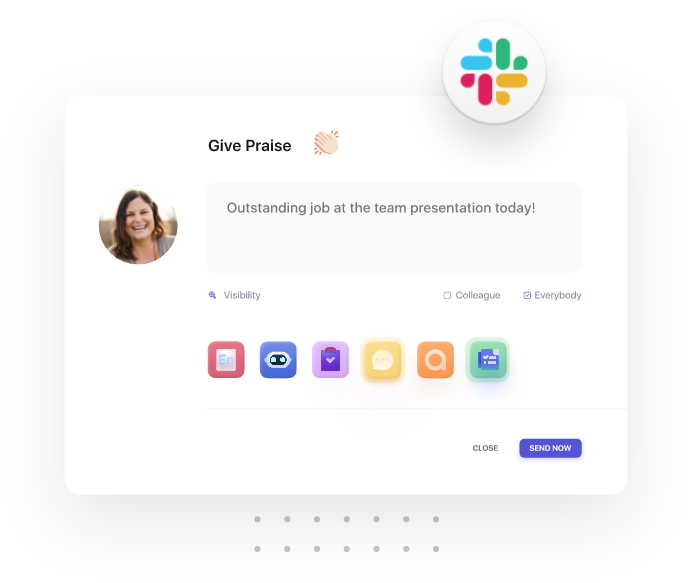 There is only one place to begin, and this is with Leapsome. Many business owners see Leapsome as an alternative to Lattice. But it's even better — it's straightforward and comes with unmatched analytics.
As your company grows and you have remote workers in every corner of the world, granular and automated analytics become increasingly vital. With Leapsome, you can access powerful reports to assess all data points your employees generate, from engagement data to the ROI of learning, cross-cycle review analytics, and turnover prediction.
You can conduct productive virtual meetings that support development, give meaningful feedback without awkwardness, and align your entire business from top to bottom. The review system is also impressive — you can deliver growth-oriented, meaningful reviews and save time with expert templates and automation.
See Also: Remote Work Tools: The Complete List
2. PeopleOne: Recognize high performers
PeopleOne is a unified engagement and communication tool for businesses that want to improve their employee experience. You can use it to empower employees to recognize high performers and keep everyone motivated and inspired despite the physical distance.
Employees will get instant organizational updates, leadership updates, policy changes, events, and important announcements. In addition, HR teams can create targeted pools and surveys to make data-based decisions.
You can also encourage social interactions and enable conversations via discussion forums.
3. Perkbox: Manage employee incentive programs
Perkbox offers incentive schemes for employees, harmonizing the rewards and benefits of your global workforce in one platform.
The Perks Hub includes a host of discounts and deals to suit everyone's lifestyles. You can also add company benefits and give your employees the freedom to select their perks.
Another useful element is the Celebration Hub, where you recognize and reward employees — thus building relationships and boosting engagement and motivation, even within your remote workers. You can emphasize what your business stands for by linking recognitions to specific milestones and values.
You can also create polls and get workers involved, whether you want to have some fun or create a bit of healthy competition. This is particularly important for remote workers, as they often feel disconnected from the rest of the workforce.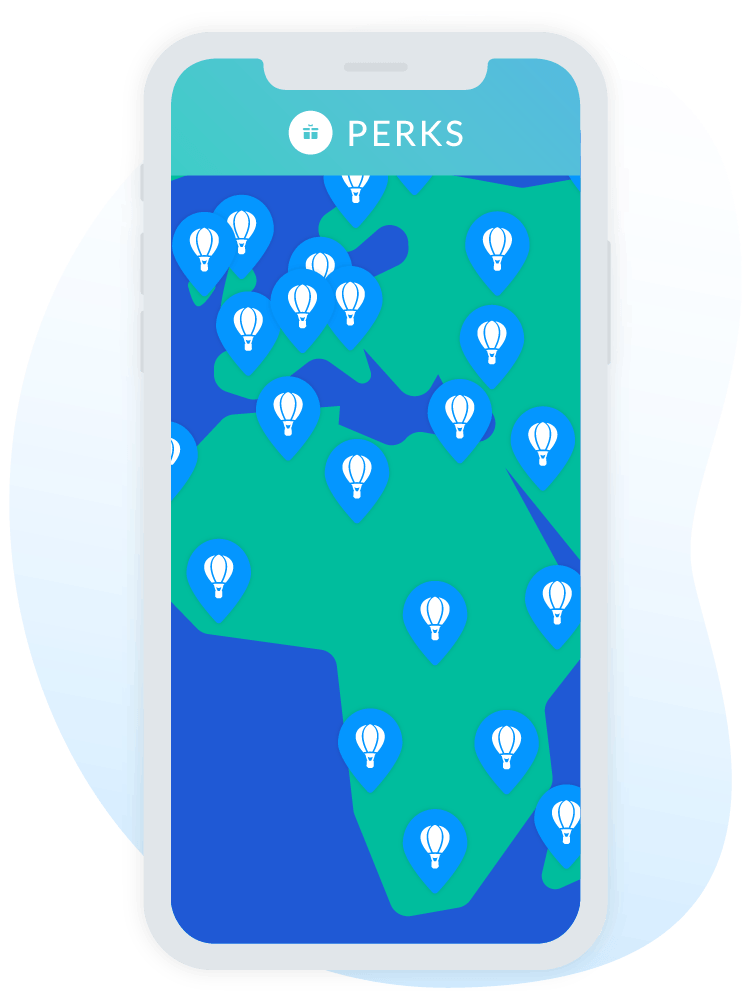 4. Empuls: Create a culture of appreciation
Another good solution for those who want to praise high performers is Empuls. This holistic employee engagement tool helps you build a culture of appreciation. It will also help you eliminate silos and bring teams together.
Some of the standout features you can expect from Empuls include:
A powerful AI employee engagement bot.
Built-in gamification to drive adoption.
Social recognition and peer-to-peer recognition.
Qualitative feedback.
Employee NPS.
Built-in surveys.
5. Nectar: Recognize coworkers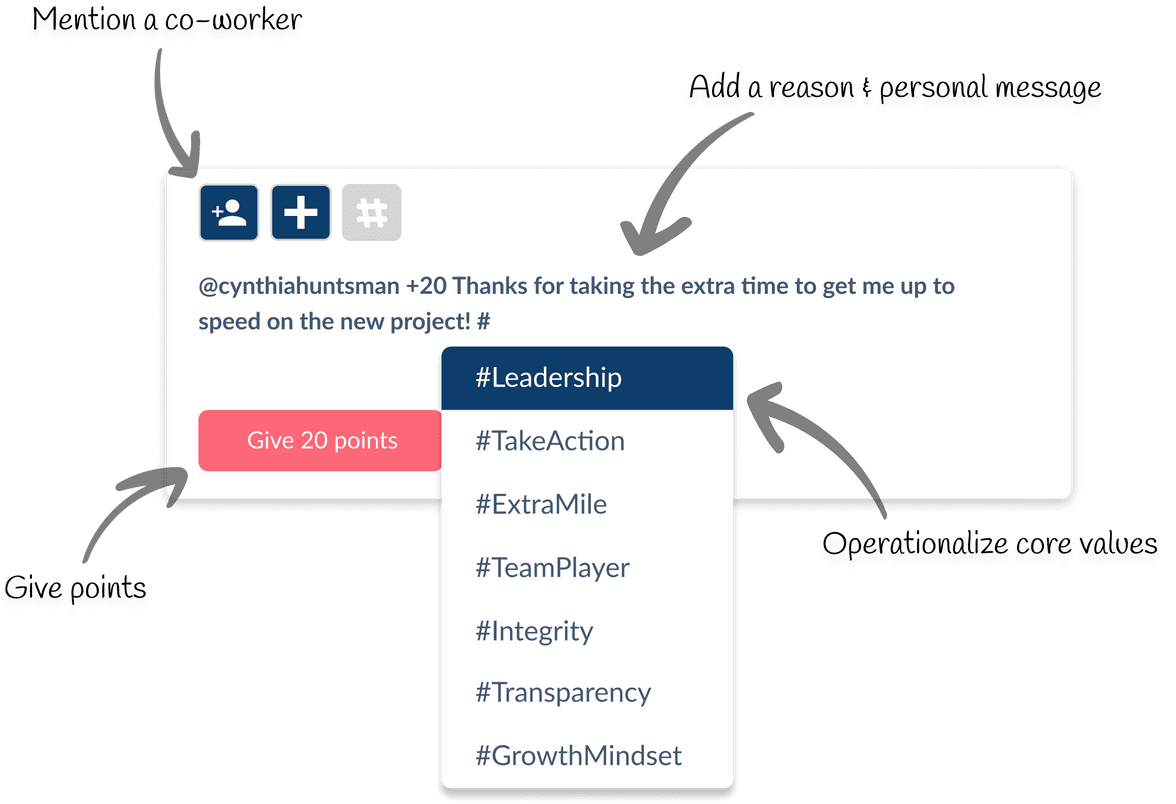 If you're looking for an effective employee engagement solution unlikely to break the bank, look no further than Nectar. This tool provides many features that enable you to recognize coworkers and team members. You can use shoutouts through badges, emojis, and GIFs.
There is a comprehensive catalog of rewards that includes charitable donations, Amazon products, digital gift cards, and company-branded swag. You can also create custom challenges, which align everyone in your department or team around special initiatives. Nectar can also be integrated with your HRIS system, meaning you can celebrate an employee's work anniversary or birthday automatically.
Ultimately, it provides many unique features that help you create a positive and caring remote environment — and give your workers a platform where they will truly thrive. They will enjoy their work week and feel appreciated.
6. Culture Amp: Provide continual feedback and development opportunities
Culture Amp is a popular employee experience solution to help businesses enhance engagement, performance, and retention.
The platform is quick to deploy and provides continuous development, feedback, and listening tools throughout the employee lifecycle to deliver the insights required to make decisions and prioritize resources.
Some of its top features include:
Insights for finding vital relationships between engagement and performance.
Intuitive, customized reporting.
Algorithms that combine performance and engagement data to show who is at risk of leaving and why this is the case.
Customizable reports that highlight exactly where you need to invest.
Improve engagement with surveys backed by research and tailored to suit your specific needs.
7. Slack: Communicate quickly and efficiently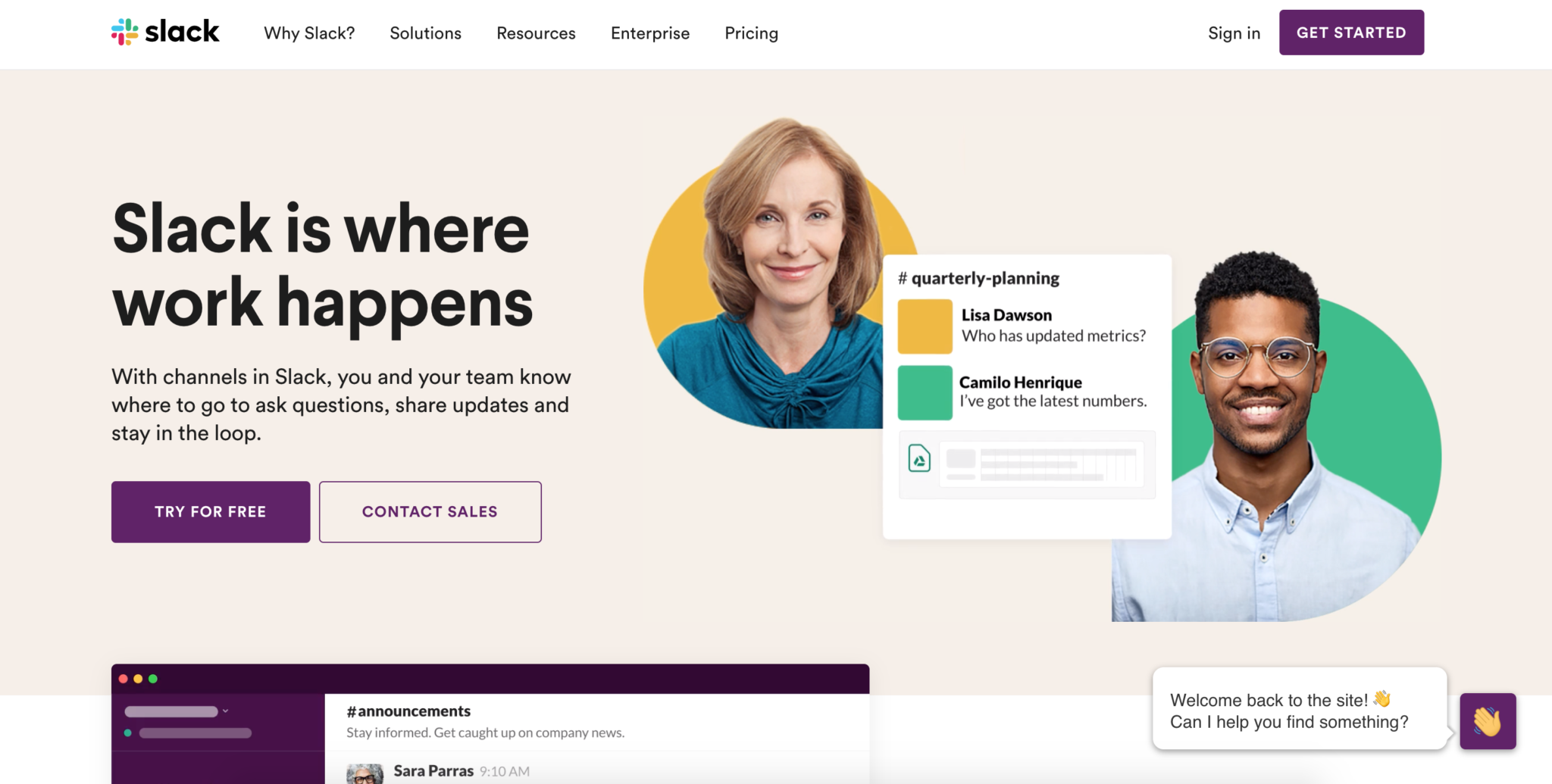 If you're working from home, it may be difficult to feel connected and included. Keeping everyone linked via communication software like Slack can help. Slack is faster and easier to use than email, thanks to easy-to-use instant messaging, a call function that's useful for conference calls, and screen sharing. Slack also has video and voice recording functionality.
You can establish channels for different people or departments to ensure that communication and document handoffs are well organized. This configuration makes everyone on the team accessible to everyone else.
Slack also has a status feature, which allows you to set your status so that others know what you're up to (including if you're out of the office). Slack has multiple affordable pricing tiers — including a free tier you can use if you run a small business.
8. Nifty: Manage projects together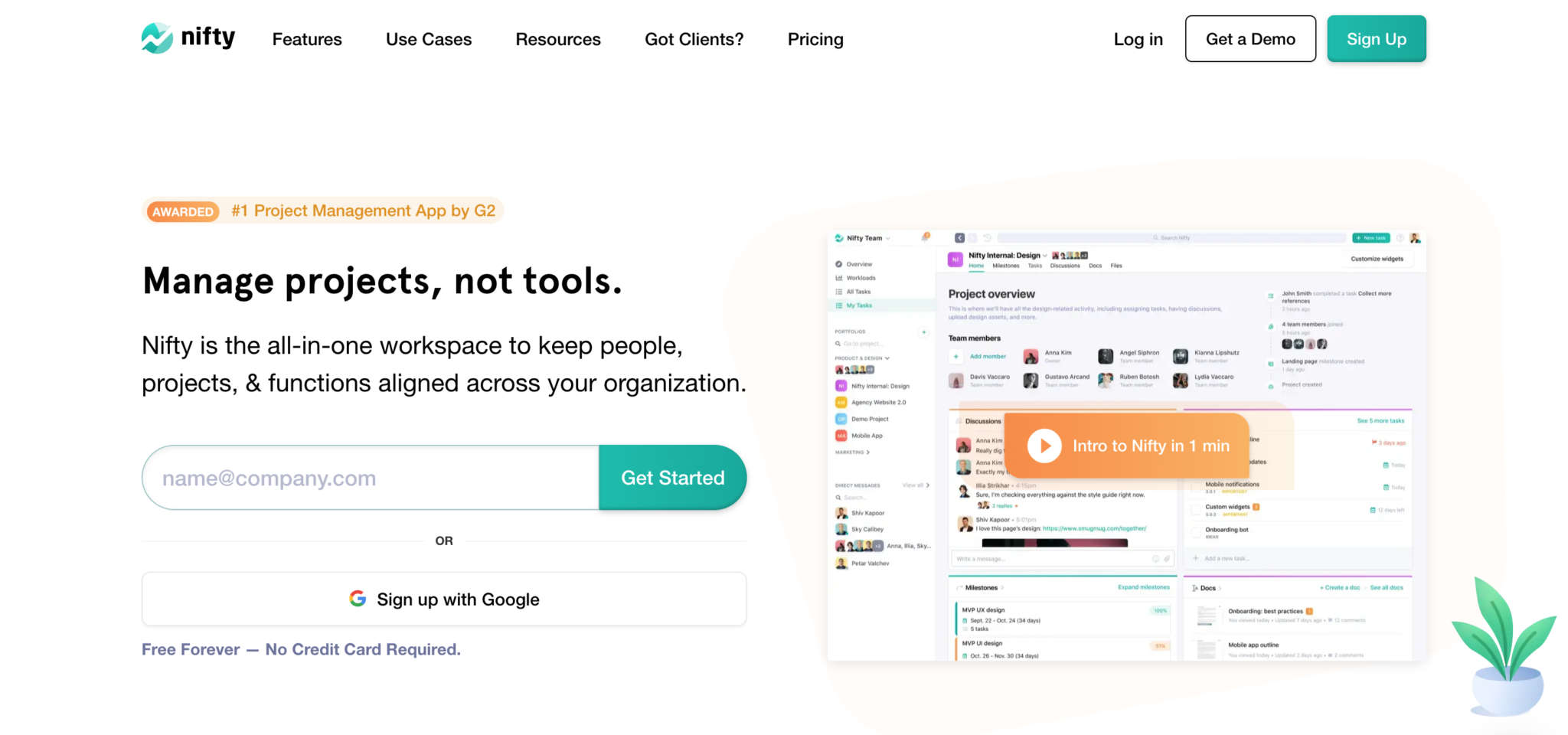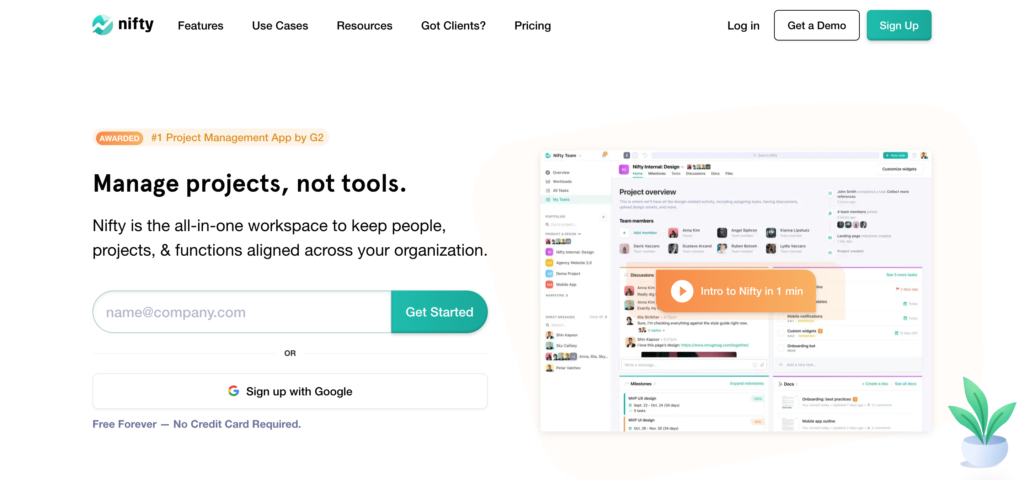 Nifty is an award-winning platform to keep projects, people, and due dates easily trackable, in one place. This tool allows you to set up projects, project milestones, workflows, and keep communications about tasks, projects, and project timelines together to facilitate clarity and on-time delivery.
9. Google Drive: Store files and collaborate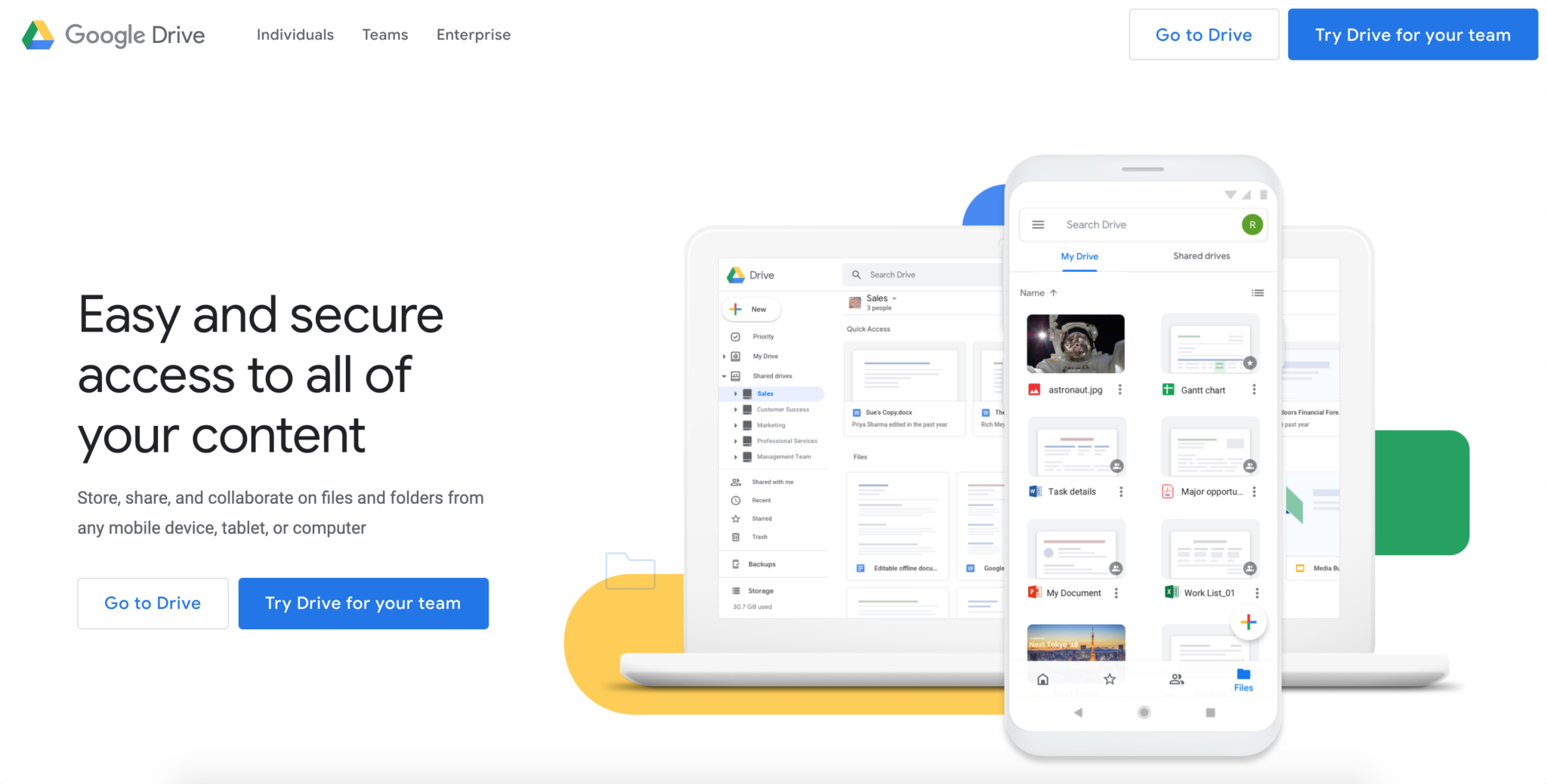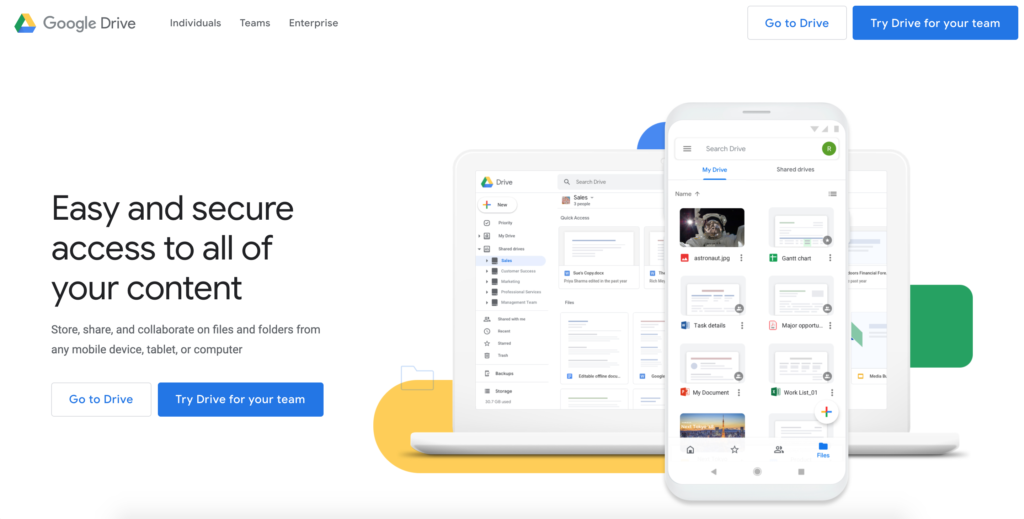 Working from home requires easy ways to access and store data. With Google Drive, you can create, modify, and store files. You can control access permissions, collaborate, and view version histories of your files. (You can even restore a version of a file if plans change or document changes happen accidentally.) All this in one place leads to increased productivity.
See Also: Managing A Remote Team: 8 Fluff-Free Tips I've Learned
Google Drive and Docs are regularly updated with new features and enhancements, and they offer easy collaboration, similar to offline word processing software. Users can post and assign comments, and those comments can be resolved in a single click. And plugins available in the Chrome Web Store provide additional functionality.
10. Trello: Manage projects and automated tasks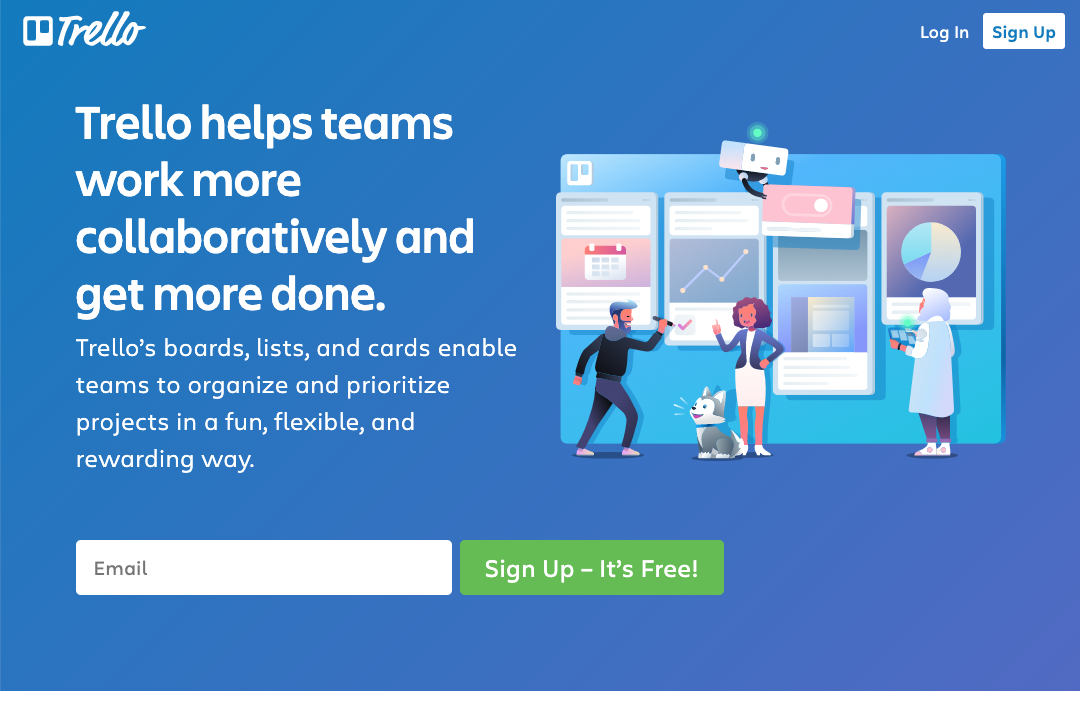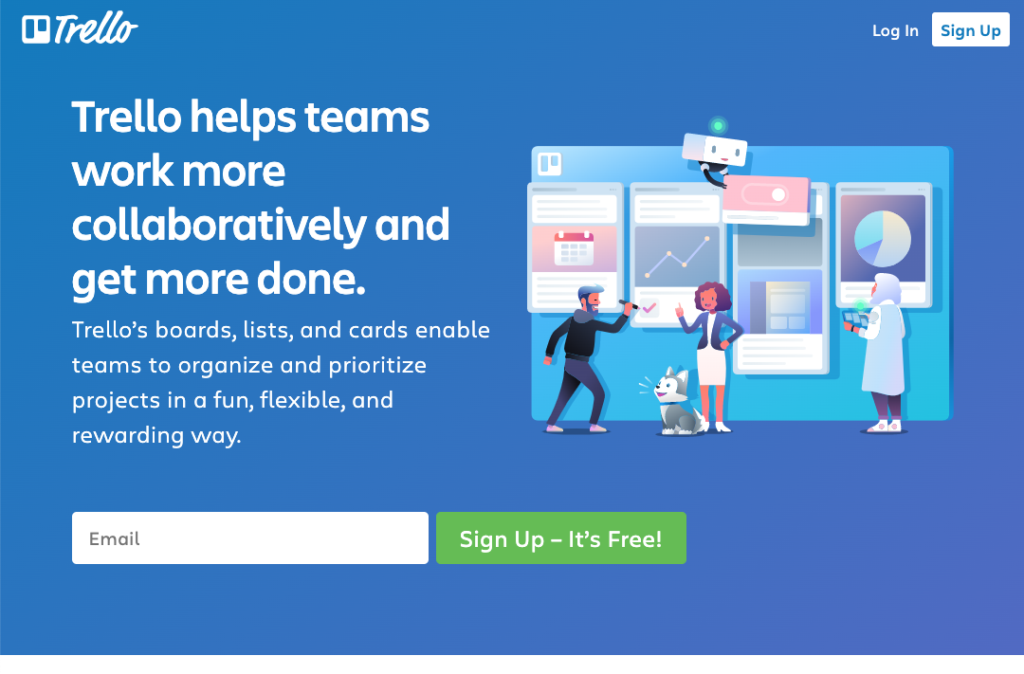 Launched back in 2011, Trello is well-known project management software that is intuitive and easy to use. Trello can be used to arrange projects into different stages, and to assign tasks to specific members. You can arrange tasks and projects into columns, and when a specific project or task reaches the next stage, all you have to do is click and drag the respective "card" to the next assigned column. (With automation features, clicking on the "Move" option will automatically move the card to the right column for you.)
Trello integrates with tools such as Slack andDropbox, Salesforce, and a wide range of other useful apps. You can also utilize Trello time tracking integration from TimeCamp when time tracking is necessary.
11. Ringblaze: Set up a distributed phone system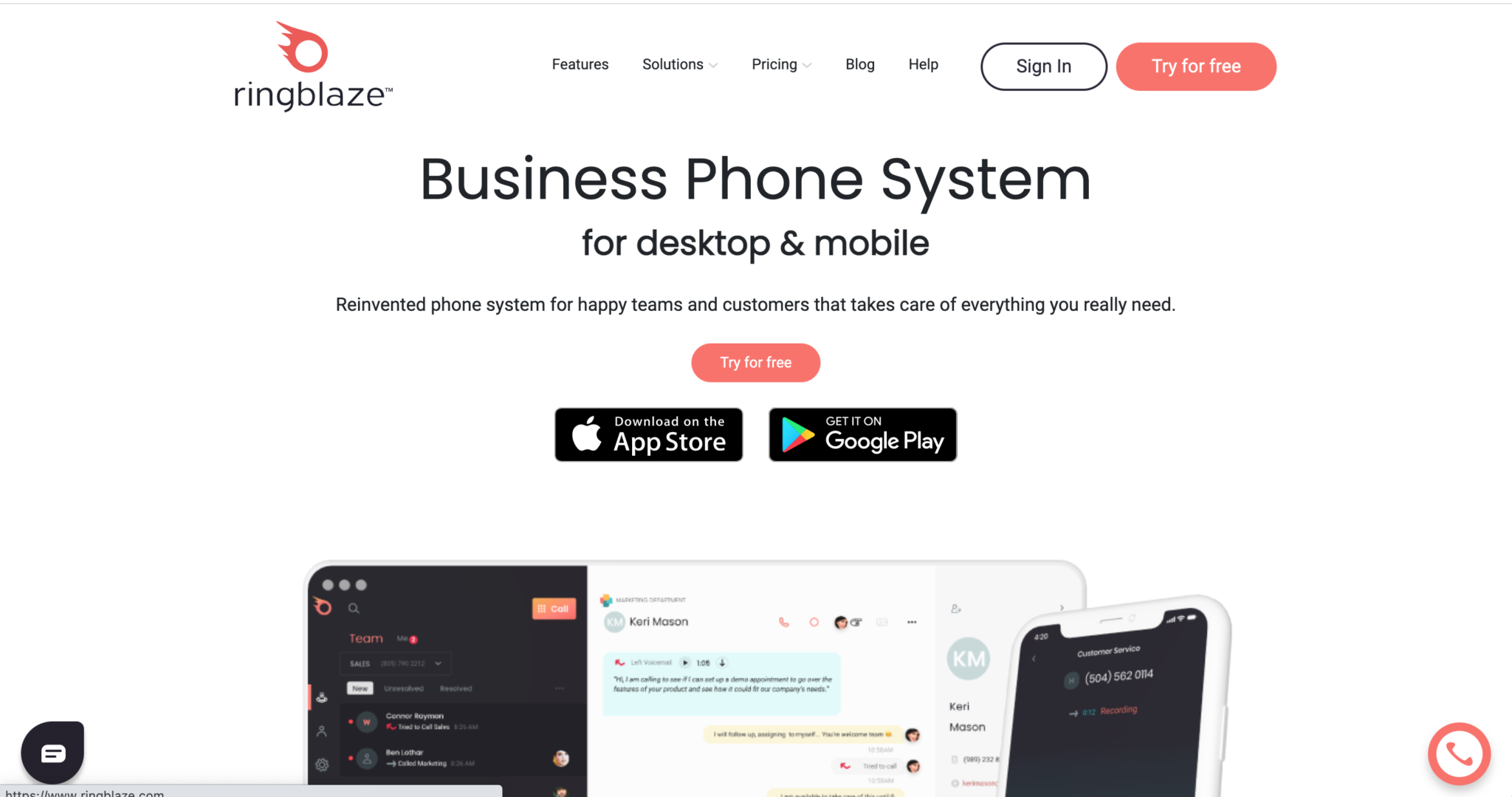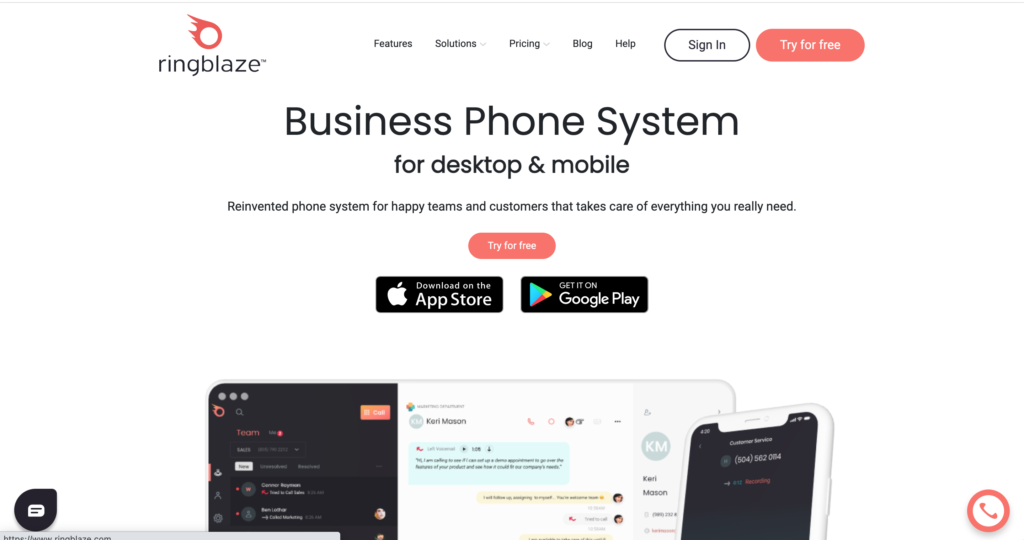 When you're working from home — and especially when your work involves customer service — it's critical to have a solid VoIP solution in place to ensure clear and hiccup-free communication.
Ringblaze is so popular because it's such a breeze to use, and it's really simple to set up. You can begin taking calls in just 15 minutes after installing Ringblaze, which is significantly faster than other similar software (hence the name). Plus, you don't need to install any mobile or desktop application to make it work. Ringblaze's smart dashboard takes ease of use to a new level. (It's really helpful if you work with people in different locations.) And to top it off, it's affordable (just $19 per user, per month as of this writing).
12. Fyle‍: Manage employee expenses

Fyle is expense management software that allows you to work more efficiently in regard to expense reporting. It lets employees submit reports on work-related expenses in real time and reconcile credit card transactions, bills, and receipts to cut down on manual effort, making end-of-the-month tasks easier. Fyle is available 24 hours a day, 7 days a week, making it a great option as a spend management tool for your remote business.
Fyle can also help businesses uphold corporate rules. It may also identify possible fraud. The expense reimbursement portion of the tool reconciles credit card transactions, bills, and receipts to cut down on the extra time and effort usually needed to keep track of paper documents, letting you focus on running your core business.
13. TrackingTime: Track work time by task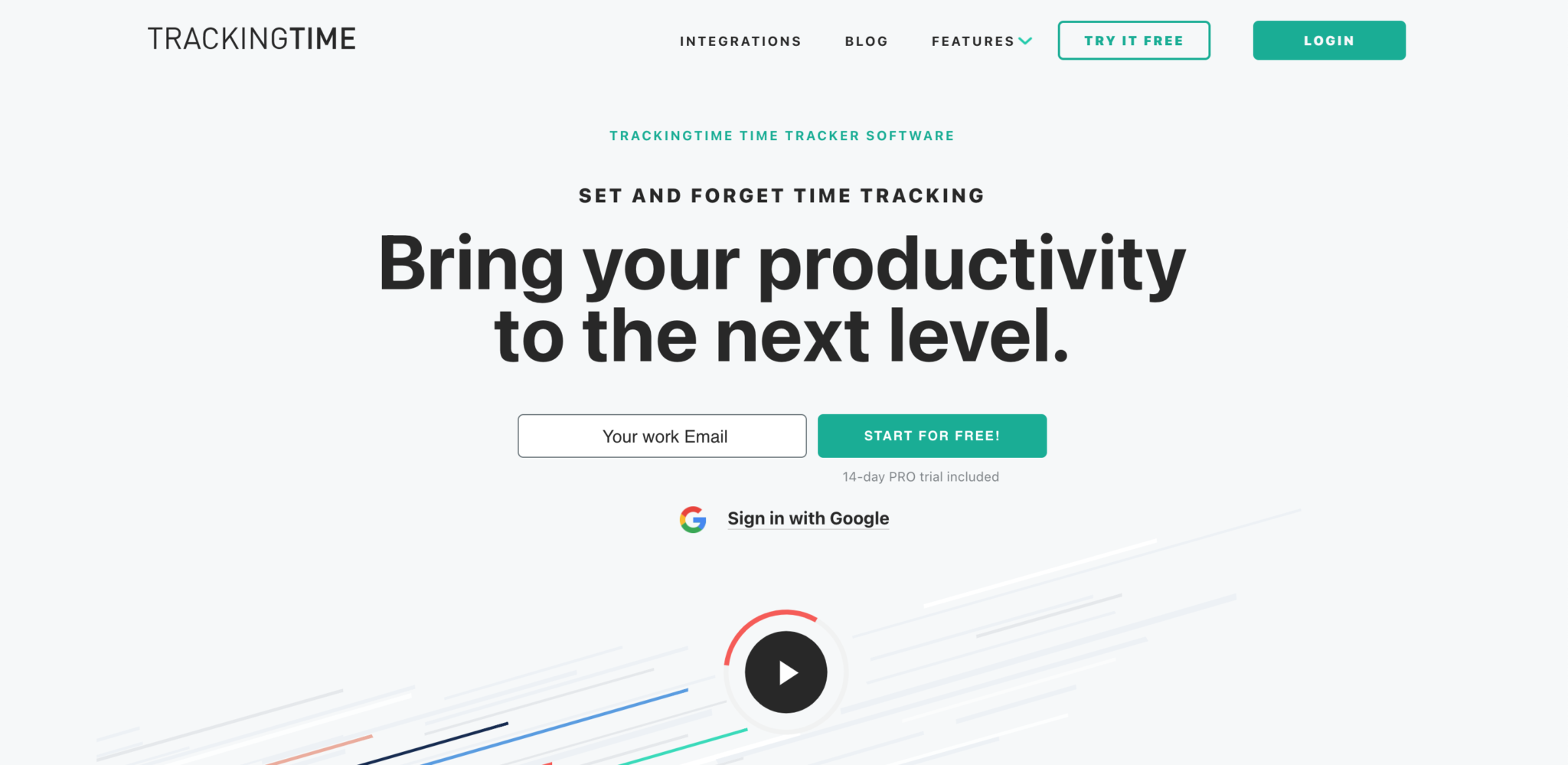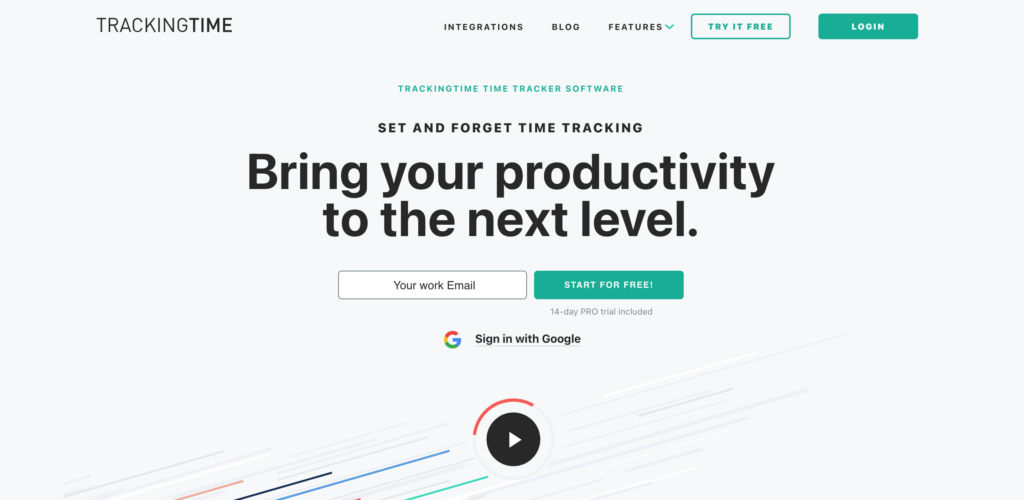 TrackingTime is simple project tracker software for freelancers and teams, letting you keep track of your progress and billable hours on all your projects, organize and assign tasks for your team, and manage their access with user permissions. It also lets you monitor employee attendance, breaks, overtime and time off with time cards.
You can also create custom online timesheets for productivity, payroll, invoicing, budgeting, billing, and more. You can also export and share professional business reports with your clients. The software lets you track time anywhere you work, from any device, or directly within your favorite project management apps — like Asana, Trello, Slack, and more than 30 other online services.
How To Build A Culture Of Accountability In Remote Teams
Focusing on employee engagement is the best way to increase accountability across your team. Here are a few remote work ideas that can help you maintain high engagement remotely.
1. Hire Accountable Freelancers & Employees
Building a culture of accountability starts by hiring accountable employees. You can do this by focusing on culture fit and technical skills and experience. Start by looking for people who have a track record of overcoming obstacles, working independently, and owning their mistakes.
You'll never hire a team that doesn't need to be managed, but you can find employees that can contribute under your direction. Still, you'll need to give them the freedom to make mistakes.
2. Create an Easy-to-Understand Policy
Every remote team should have a work policy that's easily accessible to all employees. Make sure your policy creates boundaries and expectations for when everyone needs to be available and through what channels. Implement a cut-off time, so remote employees have a work-life balance.
3. Let Your Team Communicate Freely
A team that's too scared to speak up is a team that's suffering from poor engagement. You shouldn't be afraid of what your employees have to say about you or your operation; their opinions can make your workplace a fun, productive space for everyone — including you.
With that said, you should give your employees a voice by establishing trust. You can do this by being transparent and apologetic when a poor decision you make causes an issue at work.
4. Make It Simple To Do the Right Thing
Your employees are good people — that's why you hired them. They may, however, do the wrong thing because they've stopped caring or don't know how to approach a project. You can fix both problems by showing your staff who to speak to when they have a question or complaint.
5. Use Project Management Software
Without a strong project management system in place, it will be hard to hold your remote team accountable. Project management platforms like Asana can help you easily manage small and large projects, while employee engagement tools like Empuls offer peer-to-peer recognition.
Combining both tools is preferred because you'll need a tool that monitors assigned tasks and creates an open forum for feedback if you want to naturally promote accountability.
6. Set Clear Team Goals and Expectations
Your remote employees may have an idea of what you expect from them, but they won't know for sure unless you tell them. Use one-on-one meetings to set expectations, remove roadblocks, and provide valuable feedback. Enforce good behavior with shout-outs and rewards, like a PTO.
7. Upgrade Your Employees' Workstations
In our article about the "remote work gray zone," we found that most remote employees don't have their own home office or the ability to cut down on noise-based distractions. Some workers spend almost $300 on workspace upgrades but are not compensated by their employers.
Your employees would be able to meet deadlines faster if they had all the tools they needed in their workplace, so don't forget to offer a stipend as part of your onboarding benefits package.


How To Reward Remote Workers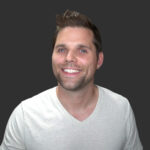 This chapter was written by Ron Stefanski, a website entrepreneur and marketing professor who has a passion for helping people create and market their own online businesses. You can learn more from him by visiting
OneHourProfessor.com
Rewarding workers is one way to ensure that they stay productive while working from home — but rewarding virtual workers is different from rewarding in-person employees.
For example, some rewards work equally well for all types of workers, including fully remote workers, in-person workers, and hybrid workers, including things like:
Time off
Bonuses
Raises
Awards and accolades
But the differences between the types of employees mean some rewards will work better for remote people than in-person or hybrid workers.
Read on as we discuss the importance of developing unique rewards for remote workers and outline a few ideas to reward their productivity.
1. Personalized positive feedback messages
Personalized recognition is a great way to increase productivity because it shows workers how much you appreciate them.
Public recognition is always fun (unless you're dealing with an extremely reserved or introverted employee). But in addition to publicly showing your appreciation for their hard work, you might also consider sending personalized thank-you notes and videos, giving them a shoutout on a company-hosted podcast, or sending audio messages.
2. Emails of appreciation
Email can be an impactful way to show your appreciation to remote workers. You can select a fun template from your email provider and get creative with personalized messages, images, and video clips showing how much you cherish that employee. This is a powerful and cost-effective way to boost motivation among remote employees.
Additionally, sending emails that keep everyone up to speed on the business can foster connectedness. You have to be proactive to make sure your team is aligned with your business goals, and email communication can help remote employees understand their impact on your mission.
Just make sure you're using the right tools — using email clients to manage email accounts effectively, for example, allows you to express appreciation in a timely manner.
3. Access to a Facebook group
Another way to reward employees is to provide them with access to a Facebook group (or a group on another social network) that the company does not monitor.
This gives the workers a space to interact with others, blow off steam, and build relationships with other co-workers away from the stress of the office. Many employees would relish the chance to interact with like-minded colleagues and exchange thoughts and ideas on various interests.
You might even organize virtual game events or happy hours on these channels to make it even more fun for your top performers.
4. Office equipment and supplies
Provide high-performing workers with work-from-home equipment, or have other office supplies delivered to their homes. The right setup — an ergonomic chair, smart desk, or any other useful accessory — will help workers become more productive.
Newcomers to remote work will really appreciate this type of reward!
5. Employee recognition program
When it comes to boosting engagement at work, nothing beats a good employee recognition program.
There are a lot of programs to choose from, and the good ones are powered by peer recognition and rewards catalogs like Amazon, popular sports stores, local restaurants, and so on. They allow your employee to choose the reward most relevant to their needs or wants.
The best part about these programs is that you can manage everything from one place. The image below shows an example of an employee recognition program dashboard: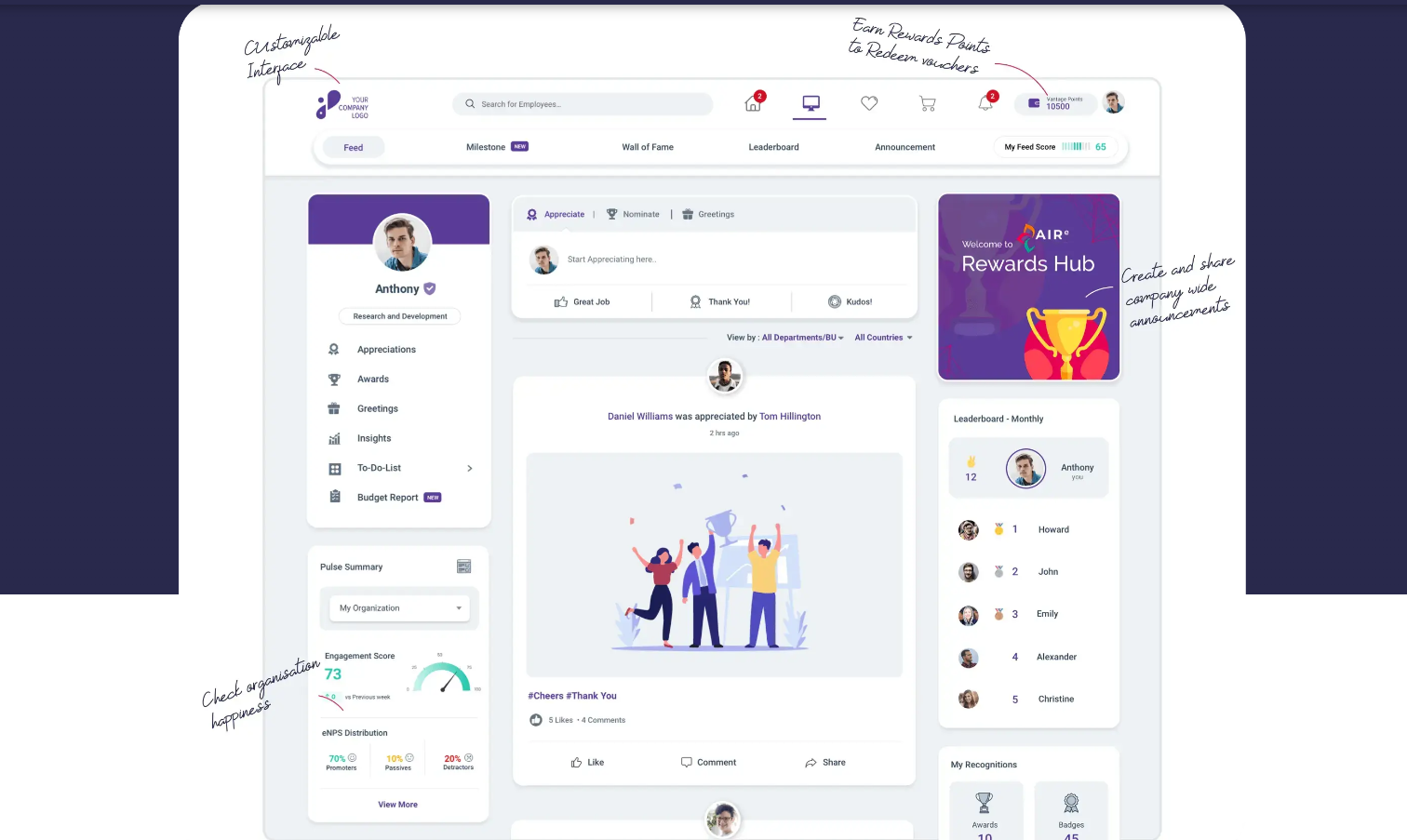 There are many ways to reward employees who work from home. The five options outlined above are excellent choices, but if you want additional inspiration, check out this list of reward ideas for remote workers:
Additional options:
Care box: Send remote employees a care box or a wellness swag bag as a reward. You can include high-quality stuff like chocolates, wine, or bath salts.
Subscriptions: Whether it be online course platforms, streaming services, industry-leading periodicals, food delivery apps, or even video editing software, there is no shortage of subscription-based incentives you can offer your employees to help increase their productivity and make their lives a little easier.
Food discounts: Give your employees food discounts on restaurant takeaway or home delivery.
Handwritten notes: This is a simple and powerful way to show recognition and appreciation to workers.
Wall of fame: This is an interesting idea for rewarding remote workers. Create a wall of fame for your office and add pictures of top performers.
Branded phone cases: Create customized phone cases with the company logo or a team picture and offer these as unique rewards for remote employees.
$25 to TaskRabbit: Let Taskers help your remote workers with various mundane tasks, such as grocery shopping errands, IKEA furniture assembly, etc.
Profile in the company newsletter: Featuring top performers on the company blog or newsletter is a great way to give public recognition for all the hard work an employee has given to the company. Just remember that when featuring employees, you should always ensure that they sign a policy that gives you the right to use their image, words, name, and personal information. Typically, this can be included in the initial employment contract.
Conclusion
Although employees get paid for their work, it's still important to find ways to reward them — because the right rewards will show appreciation for their hard work and increase their motivation.
Use the tips in this article to help you create an effective strategy for rewarding your remote workers — the happier they are, the more productive they'll be while working from home.
Over to you. Which of these tips for virtual employee rewards do you find the most appealing? Share your thoughts in the comments below!