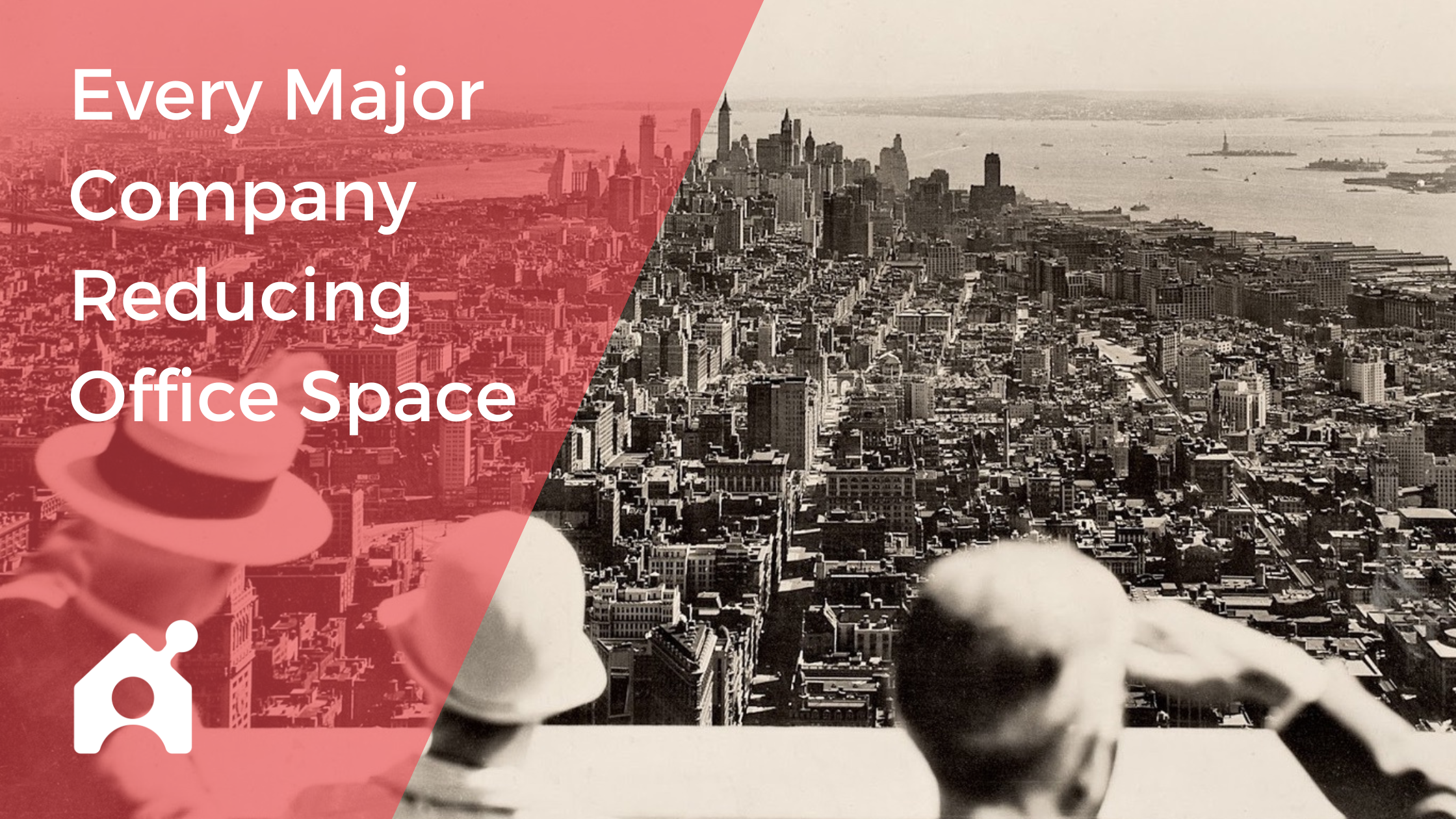 At Buildremote, we've reported a staggering amount of well-known companies that have implemented some form of permanent remote work. Next, we analyzed in-depth the true plans for the Fortune 100's return to office. At one point in March of 2022, only 3 of the Fortune 100 had declared a full return to the office for all employees. The others planned to never come back in full, come back in a hybrid approach, or delay their returns indefinitely.
Well, as it turns out, if thousands of companies are going remote and thousands aren't ever going back into the office at full capacity, the demand for office space could crater. It seems that is starting to happen.
In the table below, you'll find every notable announcement from companies reducing, downsizing, or altogether dropping their office spaces. Here are a few notes about the research:
I included every announcement I could find about companies reducing office spaces since March 2020 (as a result of COVID and the switch to remote work)
I set the minimum number of employees at 1,000 to highlight well-known companies only
I did not include these companies that reduced office space:

They actually switched office buildings (ie. no net reduction in space)
They downsized as a result of layoffs

I searched every Fortune 100's name to see if they had reduced office space: all of the announcements are included here
I will update this list monthly with new announcements
Major Companies Reducing Office Space
"Intel has put its four-building campus in San Jose on the market, as first reported by The Registry. That's nearly 500,000 square feet of office space for the Santa Clara-based tech company, which has about 8,700 employees in the Bay Area, according to LinkedIn."

"Walmart plans to close three of its U.S. technology hubs and require hundreds of workers to relocate to keep their jobs, according to a memo reviewed by The Wall Street Journal."

"Workforce composition is one of many components that figure into Prudential's program. Along with that, implementing a hybrid work model and reducing office space footprint in the U.S. by approximately 50%."

"Molina Healthcare said in a Dec. 28 SEC filing that it will record a $200 million impairment charge in the fourth quarter of 2022 attributable to leased space.





The charge is a result of the insurer's plan to reduce its real estate footprint to accommodate its shift to a permanent remote work environment, according to the filing."

"Facebook parent Meta said it will take a roughly $2 billion financial hit to close offices and scrap leases as revenue growth slows at the social media giant, a sign of the changes tech giants are undertaking as they adopt remote-work policies and face economic headwinds."

"Payments-processing firm Block, previously known as Square, is leaving behind the Market Street headquarters that had been the high-profile company's San Francisco headquarters when its lease expires in September 2023, Bloomberg News reported Wednesday (June 15). The space in the city's Mid-Market district that Block is leaving totals about 470,000 square feet, according to published reports."

"In another blow to the struggling office market in the Bay Area, global oil giant Chevron has disclosed that it plans to sell its 92-acre headquarters campus in San Ramon, seek smaller office space in the city and move some employees to Houston. The headquarters complex of the second largest oil company in the US, known as Chevron Park, includes 13 buildings encompassing 1.4M SF and more than 2,000 workers."

A Texas energy firm is departing a prominent Portand, Oregon, office tower for a much smaller space, joining a growing list of companies across the country announcing significant leasing cuts as they embrace new hybrid work norms."

"Voya Financial last week announced it's moving within downtown Minneapolis, but downsizing from a 148,000-square-foot space to 37,000 square feet, according to Minneapolis/St. Paul Business Journal."

"Centene Corp. is terminating leases for two of its office buildings in St. Louis, but one has already leased most of that space to a new tenant. The move to shed more office space locally is part of the health care giant's ongoing efforts to shed half its office space."

"JPMorgan Chase, New York City's largest office tenant, cut its commercial footprint by 400,000 square feet last year, Crain's reported. The bank, which has said it plans to "significantly reduce" its global office footprint in the coming years, also downsized by 300,000 square feet in 2020."

"According to Crain's, Wells Fargo reduced its commercial space in New York City by 600,000 square feet last year."

"De-emphasizing the office is a course reversal for a company whose name is on a 1.6 million square foot office and a building has come to definite the San Francisco skyline, the tallest building west of the Mississippi. In San Francisco, where Salesforce is the city's largest private employer, the company canceled its 325,000 square foot lease at a yet-to-be-built tower in the Transbay neighborhood."

"Dropbox put its money where its mouth is, shelling out $32 million to forgo a part of its lease 750,000 square foot lease at its San Francisco headquarters. How much space Dropbox shed wasn't disclosed, but did say the space was already being subleased. The subtenants deal was also terminated. Dropbox had nearly 400,000 square feet on the sublease market for months before terminating the space."

"...terminating its 490,000 square foot lease at a yet-to-be-constructed high-rise near its existing HQ in San Francisco. Pinterest paid nearly $90 million for the privilege. Rather than a cost reduction strategy, Pinterest execs cited the advantages of a more distributed workforce and the ability to hire more people with a wider range of backgrounds and experiences as key drivers in the decision."

"Uber has since put 116,000 square feet of its Dallas office space up for sublease. The pandemic has not been kind to Uber, the company is also trying to shed space in Chicago and San Francisco. Other companies ending office leases are doing so out of change in workplace strategy. Uber's office reversals have an element of distress as the struggling ride-share company tries to lower its real estate costs."

"Outdoor retailer REI built a gorgeous eight-acre corporate headquarters outside Seattle—only to promptly sell it. The company put a lot of work into the project, collaborating with well-known designers and architects to craft what it hoped would be the office of the future. When the pandemic hit, REI reconsidered everything. The never-used 400,000 square-foot campus was eventually sold to Facebook for $390 million, a positive return on investment, according to REI."

"Eight months after triumphantly reopening and doubling the size of its office during the pandemic, Autodesk is closing it down altogether. The software company is ending its 117,000 square foot lease in San Francisco and will close part of another office in San Rafael. The company says reducing and consolidating its office footprint will allow it to invest in other areas to grow its business."

"Anthem is seeking tenants to sublease 164,000 square feet at its technology campus [in Atlanta]. Its decision comes amid uncertaintly about the demand for office space."

"Comcast Corp has decided to close and sublease a 150,000-square foot office building it had used as a call center and have its 600 employees that manned the facility work remotely indefinitely. Since the start of the pandemic, our Newark-based employees successfully shifted to virtual positions, and as a result, we made the decision to close the facility," Comcast said in a statement.

"Thermo Fisher Scientific, PPD's clinical research business, is seeking new office space in Wilmington and exploring opportunities to sell its current downtown property. According to an announcement released Monday, the multi-year initiative will enable Thermo Fisher Scientific to better match current and future workspace needs with flexible work models."

USAA will sublease portions of its downtown office on Convent Street, as the pandemic-era trend toward remote work continues to reshape the city's office landscape. 'Like many companies, the pandemic and a shift to hybrid and remote working have changed our real estate needs,' wrote USAA spokesman Christian Bove in an email."

"Citigroup, which this year told employees they could work at home at least part time, plans to exit its 41-story namesake tower in downtown San Francisco for a new home half the size on the Embarcadero. PGIM Real Estate listed Citigroup's six floors at 1 Sansome Street as a direct listing available in January 2023, the San Francisco Business Times reported. People close to the company said it will relocate to 1 Market Street, where it will lease about 54,000 square feet."

"Insurance giant Allstate has reached an agreement to sell its longtime Northbrook headquarters for $232 million to an industrial developer that plans to turn the corporate campus into a massive logistics facility. 'Allstate is selling the property as employees have more choice about where they work and many are choosing to work from home,' the company said in a news release Monday."

"Coca-Cola Bottling Co. United moved office space from 600 Beacon Parkway in Birmingham to 200 Wildwood Parkway in Homewood. The relocation reduced its square footage, which the company's vice president of public affairs and communications, Linda Sewell, said was due to work-from-home trends. The move to Patriot Park was completed in November 2021, and Graham & Co. was the broker for the deal."

"Lockheed Martin Corp. renewed its office lease at 221 Crystal Drive, but for only 180,000 square feet, downsizing from 220,000 square feet [an 18% contraction], according to CBRE. Lockheed is planning for about half of its 115,000 employees to work on site full-time, with 10% fully remote and the remainder in hybrid configurations."

"The San Francisco Business Times reported Wednesday that the ticketing and events company is opting to not renew a lease on its 97,000 square-foot headquarters in the University of the Pacific building, and instead moving in with the housing company Zillow. 'Our lease for our existing office space ended in May and we took this as an opportunity to look for a space that supported the needs of our new hybrid workforce,' said a company representative."

"Game-maker Zynga is exiting its San Francisco headquarters amid a company shift to a hybrid workplace model. With the company's lease set to expire in July 2031, shedding the office space won't be cheap. Chief Financial Officer Gerard Griffin said in an earnings call last week that the company will face an $82 million charge due to the 'impairment of our existing lease and related leasehold improvements.'"

"A Florida-based company has acquired from Boeing the Bellevue Eastgate Campus, a seven-building property. Boeing has said it plans to sell off as much as 30% of its global real estate holdings.

"Brown County's second largest employer is selling its campus in De Pere, Wisconsin. In a statement, Humana says, 'At Humana, we have long embraced technology that has allowed many of our teammates the flexibility to shift to mobile or work-at-home arrangements in recent years. As a result, we currently have more dedicated office space than we are using in De Pere.'"

"Over the past two months, Yelp has signed sublease agreements for some of its office space in New York and San Francisco. The company expects to book an $11 million impairment charge in the second quarter in connection with the agreements. Over time, however, Yelp expects to save an estimated $10 million to $12 million a year through 2024."

"The company decided to sublease one of its two offices in San Francisco to recover some of its rent, as it doesn't expect all employees to come back. Affirm booked a roughly $11 million charge during the quarter ended March 31 for subleasing the office, which it has rented until 2026. It continues to operate offices in New York, Chicago, Toronto, Pittsburgh and Salt Lake City."

"Meanwhile, McKesson in May said it plans to adopt a hybrid work model. The Irving, Texas-based company, which has about 76,000 employees around the world, is shrinking its real-estate footprint and expects to book between $180 million to $280 million in related restructuring charges over the next year, CFO Britt Vitalone said in May. The reductions in office space, once fully implemented, are expected to save McKesson between $60 million and $80 million a year, Mr. Vitalone said."

"Airbnb Inc. plans to shed an additional 287,000 square feet at its San Francisco headquarters, bringing the total reduction of its real estate footprint in the city to more than 438,000 square feet. The company took a $113 million charge related to unneeded office space in San Francisco."

"Raytheon Technologies is embracing the hybrid work model as a means to reduce its footprint and foster a more inclusive workforce, CEO Greg Hayes told CNBC Tuesday. Raytheon is looking at reducing its 32 million square feet of space by 25%, or 8 million square feet."

"United Airlines is giving up some 150,000 square feet, or over 17 percent of its space, at Willis Tower in Chicago, the third-tallest building in the country and a prized possession of Blackstone, the Wall Street firm."

"Target Corp., downtown Minneapolis' largest office employer, announced last week it will leave its headquarters space in the City Center building, reducing its downtown office footprint by a third, or 1 million square feet, while not laying off any employees. Meaning more people are working from home, and will continue to be."

"CVS Health says it will shrink its office footprint by about 30% in response to the COVID-19 pandemic, which has ushered in an era of telecommuting and prompted greater investments in digitization measures."

"Nike is leaving its 280,000-square-foot office space in Sunset Corridor at the Tektronix campus in Beaverton. According to a report from the real estate firm JLL Capital Markets, the ongoing COVID-19 pandemic has led to a rapid decline in demand for office space not seen in past recessions."

"Oracle Corp has placed four out of five stories it occupies in the Financial District office building in San Francisco on the sublease market. The block comprises 85,622 square feet. Oracle's sublease comes just over a month after the company announced... that it would relocate its headquarters from Redwood City to Austin, Texas."

"State Farm Insurance Co. is poised to become one of the first major Northern Colorado employers to abandon its physical office spaces and adopt a fully work-from-home employment model as a result of the COVID-19 pandemic. The Bloomington, Illinois-based insurer plans to vacate a dozen offices across the country 'Most employees assigned to these locations have been working from home since March and will continue to do so," State Farm spokeswoman Gina Morss-Fischer told BizWes in an email."

"PwC, an accounting and consultancy firm, is trying to sublet two floors, or about 53,000 square feet, of its Canadian headquarters in the business node south of the financial core, according to Avison."

"AT&T's Mobility Services Group has reportedly placed a large block of Class A office up for sublease that would run through December 2028. The space totals 335,893 square feet."

"The company closed the San Francisco headquarters for good, allowing employees to come in and pick up essentials like medicine, bicycles or valuable personal items. Whenever employees return to work, Oakland will be the lone office in the Bay Area, and those who would have stayed in San Francisco will instead be able to work from home."

"The Japanese information technology provider Fujitsu this week became one of the first—if not the first—large global company to announce definitive plans to reduce office space and accommodate a more permanent remote workforce. As part of its plan, Fujitsu says it will reduce its real estate footprint in Japan by 50% within the next two years by shifting roughly 80,000 employees to primarily remote work."

Liberty Mutual Insurance Group

Texas: "Liberty Mutual Insurance is seeking to rent out almost a quarter of its two-tower office campus on the Dallas North Tollway. Liberty Mutual built the more than 1 million-square-foot office complex to house up to 5,000 workers. But the Boston-based insurance giant has never occupied all of the buildings and is now pitching some of its space for lease to other companies. A Liberty Mutual spokesman said in an email: 'Even prior to the coronavirus pandemic, ongoing changes in our work environment, including moving to flex seating and flexible work arrangements, had resulted in an increase in excess office space in Plano and other locations.'"

Washington:
"Liberty Mutual Insurance Co. plans to shed more than 100,000 square feet of office space in Liberty Lake this year as a portion of the company's 1,150-person workforce here shifts to working from home permanently."

International Business Machines

India: "IBM is planning to discontinue lease agreements at nearly half of its offices in major cities across the country, people familiar with the development told ET, as the US-based technology leader sees the work-from-home model becoming mainstream and a significant number of employees to continue working remotely. IBM, which has a large presence in the domestic market, has more than 10 million square feet of leased office [and 100,000 employees] in the country.

"Nationwide said it plans to permanently transition to a hybrid operating model that comprises primarily working-from-office in four main corporate campuses and working-from-home in most other locations. The company said it will exit most buildings outside of four main campuses by November 1, 2020 and move associates in these locations to permanent remote-working status."
See Also:
Lease Plan Definitions
In the table, you'll see a few different classifications in the "lease plan" column. That column is where we marked the company's intention for exiting the office space. Here's how we define the terms you see there.
Cancel: The company plans to terminate its lease early which usually comes with a penalty fee.
Downsize: The company let its existing lease expire and renewed with less square footage.
Let Lease Expire: The company let its lease expire without renewing.
Sell: The company owns its office building but has put it up for sale (or plans to put it up for sale).
Sublease: The company is seeking a tenant to take over its existing lease so it can exit.
Unknown: For cells that are blank, this means the company did not release its plans for exiting the office space.
Remote Policy Definitions
In the table, you'll see a few different classifications in the "remote policy" column. Here's how we define remote work policies.
Optional: Employees have the option to work from home or the office.
Partial: Some employees, based on role and situation, are able to work from home.
Remote First: The processes required to work remotely lead the company's operations, with in-office processes coming second.
Fully Remote: The company does not have any physical office locations.
Hybrid: The company plans to have employees working from home part of the time and in an office part of the time.
See Also: Every Company Going Remote Permanently
Statistics About Office Space Downsizing
The statistics and studies tell a mind-boggling story about the drop in demand for office space as a result of the move to remote and hybrid work. Here are a few to highlight the extent to which companies are reducing office space.
CBRE Group Inc., April 2022: "Commercial vacancy rates in San Francisco rose to 23.8% during the first quarter of 2022, according to a report from real estate services firm CBRE. That's higher than the levels seen during the peak of the dot-com crash (19% in 2003 and 16% in 2010)."
Colliers, March 2022: "Just under 94 million square feet of office space is available for rent in Manhattan, according to a report from Colliers. The availability rate reached 17.4 percent last month, up 74 percent since the start of the pandemic in March 2020, even as demand has more than doubled from a year ago."
CBRE Group Inc., July 2021: More than a year into the pandemic, demand for office space has decreased significantly. During the first quarter, the amount of U.S. office space that became vacant exceeded the amount of space that was leased by 34.8 million square feet, commercial real-estate services and investment firm CBRE Group Inc. said. The difference between the two figures—known in the industry as net absorption—was the largest in at least two decades, CBRE said.
Cushman & Wakefield PLC, July 2021: About 16.4% of office space across the country stood empty at the end of the first quarter, up from 13% a year earlier, according to Cushman & Wakefield PLC, a commercial real-estate firm.
Fortune, June 2021: "74% of Fortune 500 CEOs expect to reduce office space."
PwC, June 2021: "PwC predicts that half of the 258 biggest firms in the UK are planning to cut size of their property portfolio."
JP Morgan Chase, April 2021: "For every 100 JPMorgan staffers, CEO Jamie Dimon estimated, they would need just 60 desks."
Avison Young, September 2020: "Space available for sublease in downtown Toronto nearly tripled to 1.7 million square feet in August of 2020 from the end of last year."
Want to add a notable announcement?
We researched extensively and update the list every month. But inevitably, we'll miss some notable companies. Fill in this form to let us know who we missed.