66 Backyard Office Sheds To View In One Place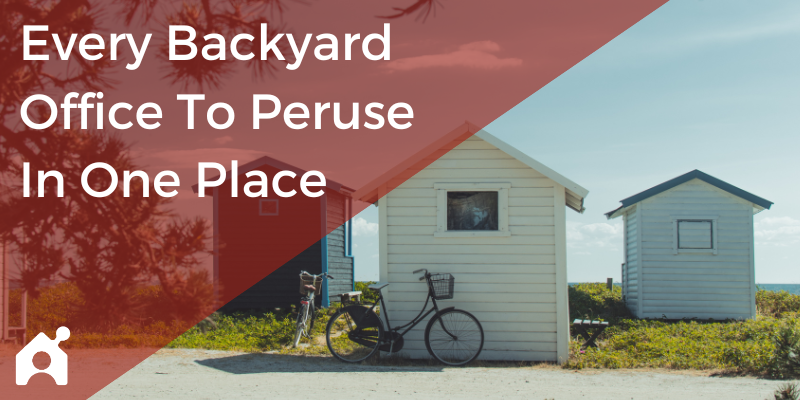 We'll be showing you every office shed (shed office?), backyard office, and office pod option available in this list. From sheds and office pods to accessory dwelling units, there are a lot of words floating around the internet for backyard offices.
If you think you're ready to get your home office out of the house and create a place where you can actually focus, this article will be the inspiration you need. Whether you're looking for a fully finished outdoor office or you want a shed or container you can convert, you'll probably be able to find an example in this article.
Click on any of the sections in the table below to skip to the section that interests you, or keep reading until you find the perfect idea. Good luck!
Backyard Office Sheds and Office Pods
The classic office in a shed or office pod always comes to mind when you're considering a backyard office.
We've divided this section into small (under 120 square feet), medium (120-200 square feet), and large (over 200 square feet) office sheds, and further divided each section into traditional, modern, and rustic styles.
Small Office Sheds and Office Pods (Under 120 Square Feet)
Traditional Small Office Pods and Sheds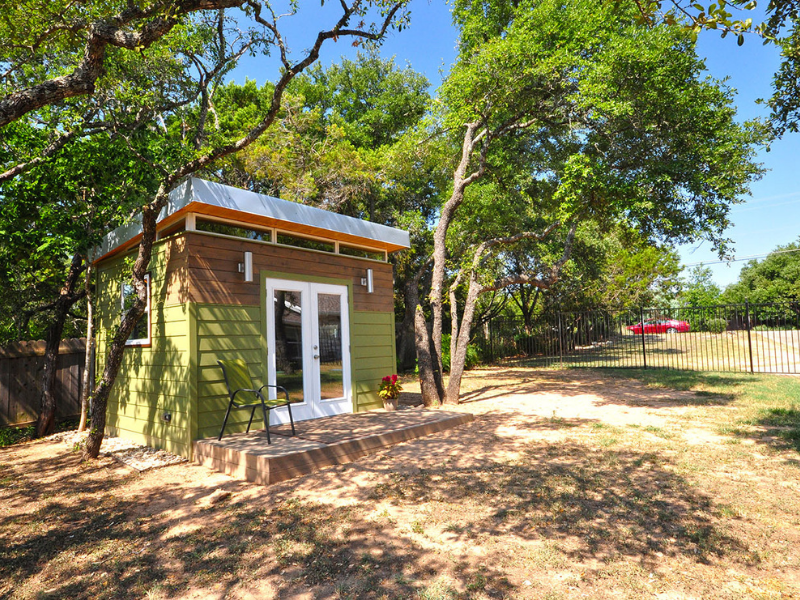 Modern Kwik Room by Kanga Room Systems
This is a great example of a traditional, modular design for a backyard office. Kanga Room Systems offers multiple sizes (the one in the picture is their 12 x 14 model, but their 80 square foot model is adorable). You'll want to make sure you've got a foundation ready, but the kit arrives precut for easy building. Once you have the Kanga Kwik Room installed, you can add lights and HVAC to finish everything, and you'll have an incredible place to get work done.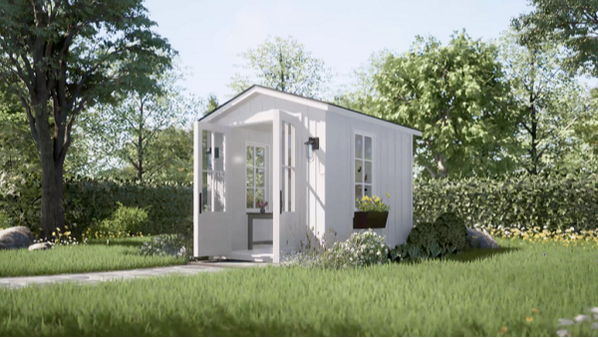 Milton Backyard Office by Hydda Living
Besides being a gorgeous farmhouse design, this office space comes with another perk. Hydda delivers their models to you completely ready to go. They'll even help drop them on your foundation. You don't have to do anything except plug in the electricity!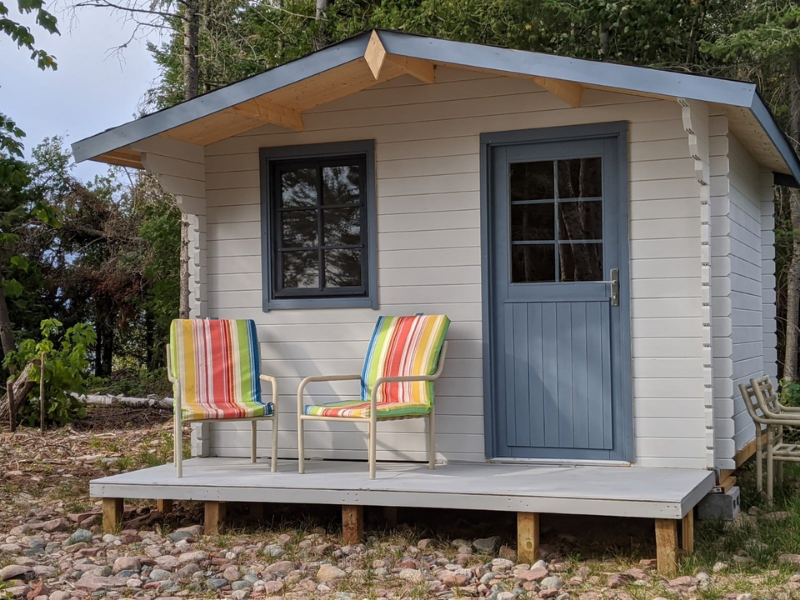 2019 Bunkie (No Loft) by Bunkie Life
This tiny bunkie is made with spruce wood and shows how well office sheds can blend in with your landscaping. At 107 square feet, this backyard home office will give you enough space to work without taking over your backyard.
Modern Small Office Pods and Sheds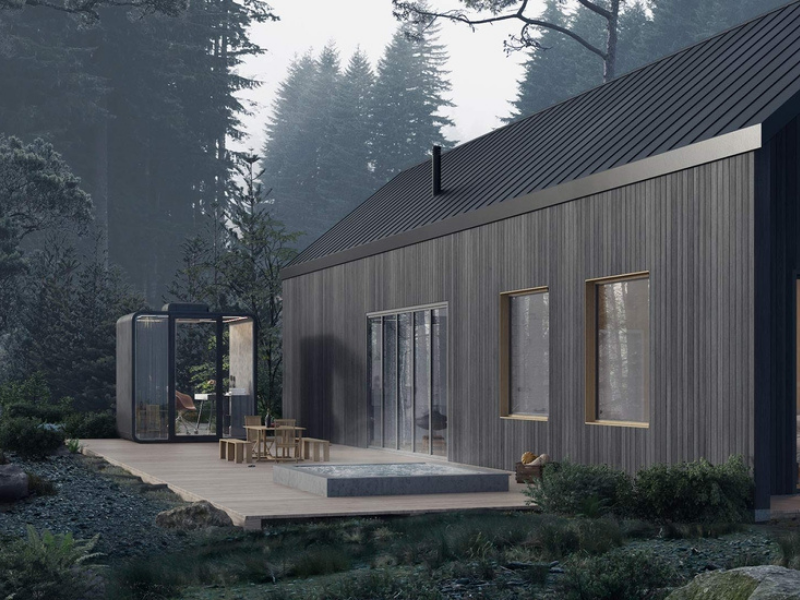 Backyard Office Pod by Thinktanks
This pod sold by Autonomous is one of the sleekest, smallest outdoor office pods we've come across, and we love the edgy design. It has air conditioning and a fan pre-installed, so it's ready to use when you receive it. The great thing about a pod like this is it's portable, so you can move it to a different part of your land or even to a different house altogether if your circumstances change.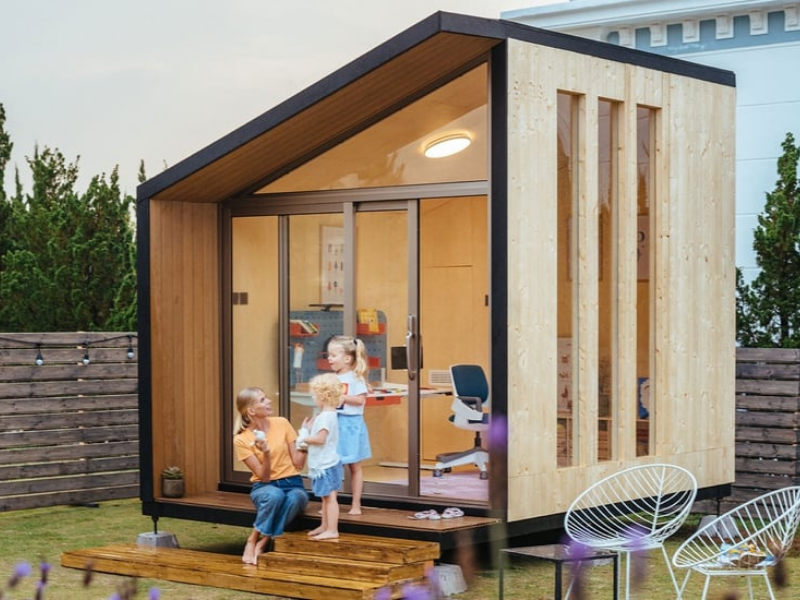 This modern work pod has beautiful angles and cool woodwork, but it's also only 98 square feet, giving you the versatility to position it anywhere in your backyard. Autonomous has a ton of great pod options in addition to the WorkPod. Check out their StudioPod option for a slightly bigger floor plan.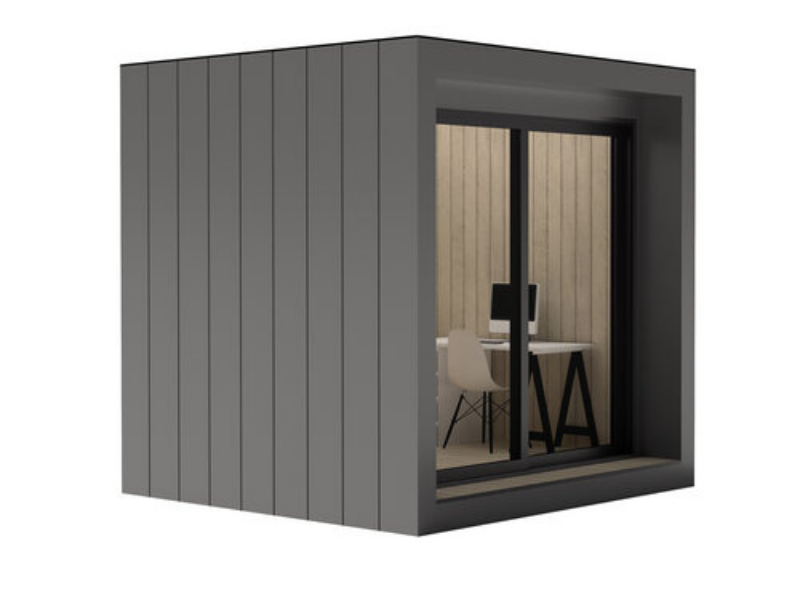 This backyard office pod is super minimal; it's basically a square room with a desk. We think LivPod did a great job simplifying this backyard office to only capture the necessities, and we like that there are multiple sizes to choose from.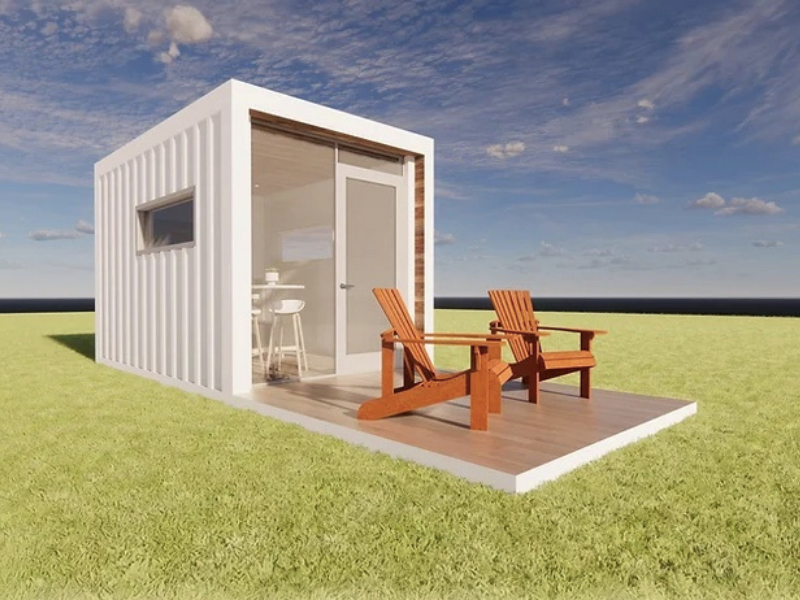 This little bunkie is 100 square feet, but it packs a punch. We love the built-in shelving you can add and of course the front porch area. Can't you already envision enjoying a nice afternoon break out there?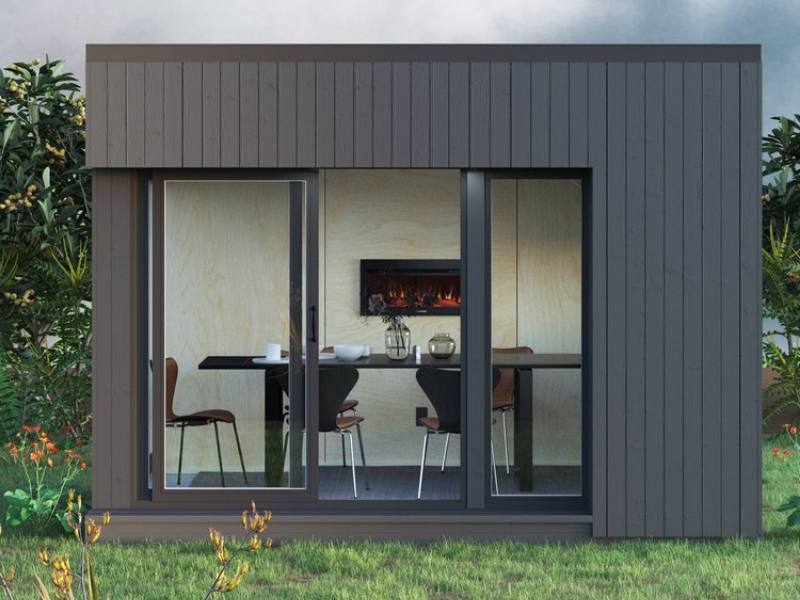 Besides the useful layout options in this 8 x 12 backyard office pod, we had to add it to the list so you could see the deck add-on. If you're adding additional workspace in your backyard, why not let it double as a new outdoor entertainment space? Mini-O also has a 16-foot version of the pod that's worth a look.
Rustic Small Office Pods and Sheds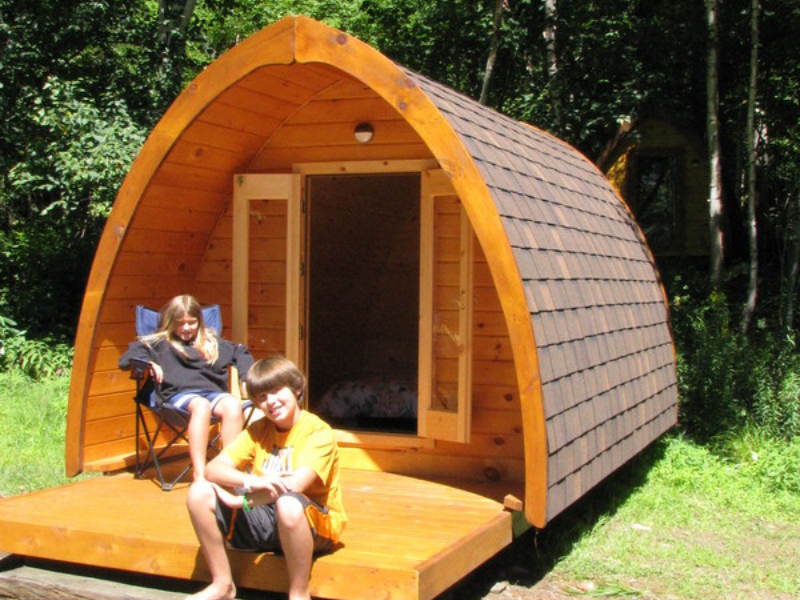 Mini Pod by Algonquin Pod Company
This modular office from PrefabList is immediately recognizable thanks to its whimsical design. It's only 80 square feet inside, giving you enough space to work while limiting your distractions. Plus, who doesn't love the rounded roof and rustic wood walls? Algonquin also has other shed and modular studio designs like the Family Pod that are worth a peek.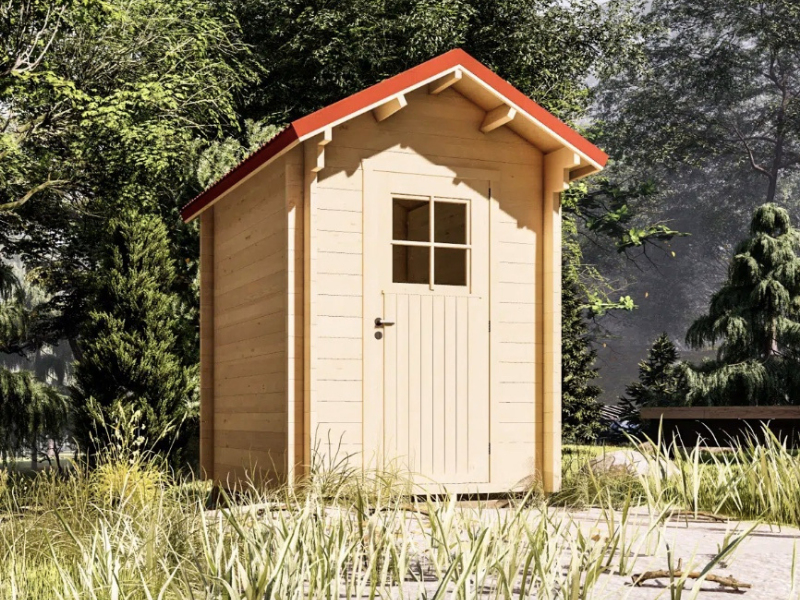 The Wee Wee House 33 by Sawmill Structures
The hilarious name for this office shed is not a misnomer. Sawmill Structures calls it a micro shed, and they're telling the truth. It's only 33 square feet and seven feet tall! The English Pinewood used for the shed gives it a woodsy, playful feel. No matter how tiny your backyard is, this little shed should give you just enough room to work.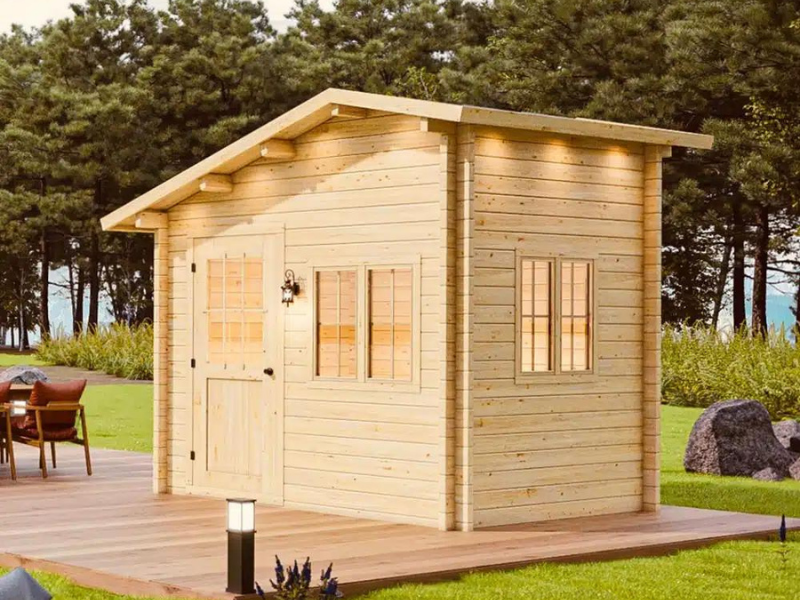 Bluewater Backyard Den 67 by Sawmill Structures
The design of this little cabin is perfect for an office shed due to the window placement and nine-and-a-half-foot vaulted ceiling. The balance between modern and rustic also fits well for those looking for an office shed that will nestle into existing landscaping.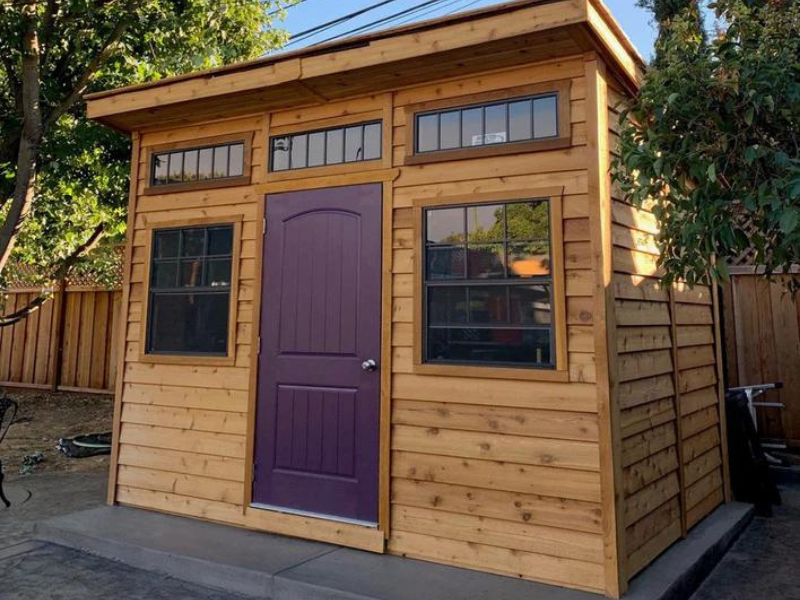 12 x 8 Studio by Outdoor Living Today
Sold by Backyard Oasis, this outdoor office has plenty of windows to let in natural light while still giving off a classy feel that fits into nature. We like the high-quality look of the siding especially.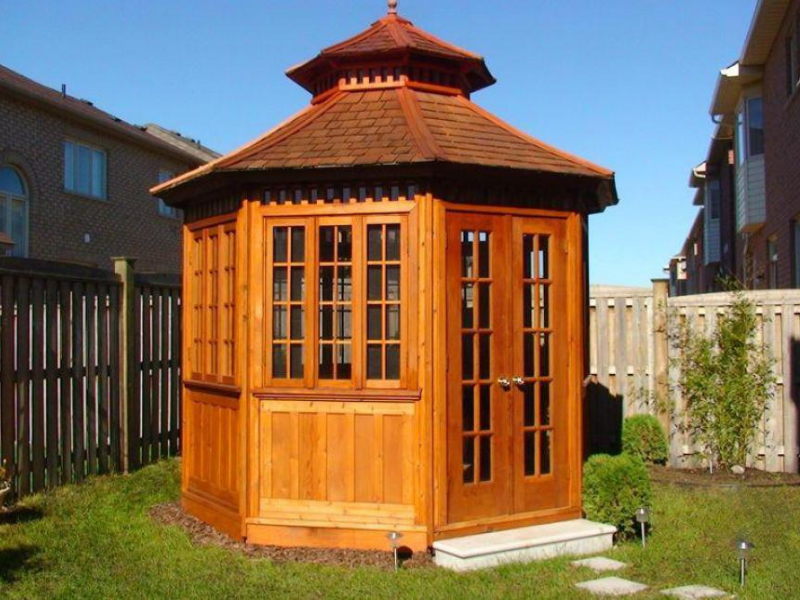 San Cristobal by Summerwood Products
If you want a one-of-a-kind backyard office, why not go for an octagon? This beautiful Cedarwood office comes in different sizes and configurations, but the look is unmistakable. It gives beach getaway vibes. You might forget you're supposed to be working!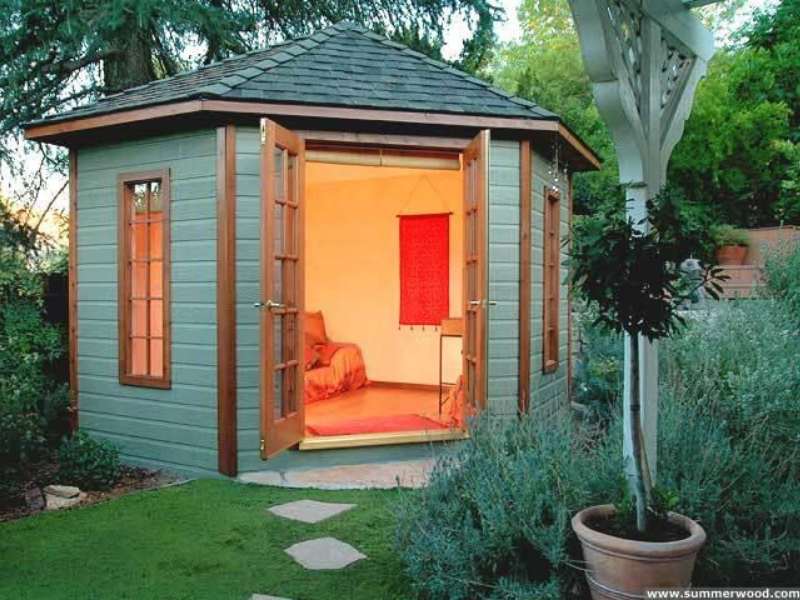 Catalina by Summerwood Products
Here's another unusual but beautiful office design by Summerwood Products. We love the five-walled option because it works well for tucking a desk inside. You'll be able to enjoy the view through the main doors and side windows at the same time.
Medium Offices In A Shed (120-200 Square Feet)
Traditional Medium Office Pods and Sheds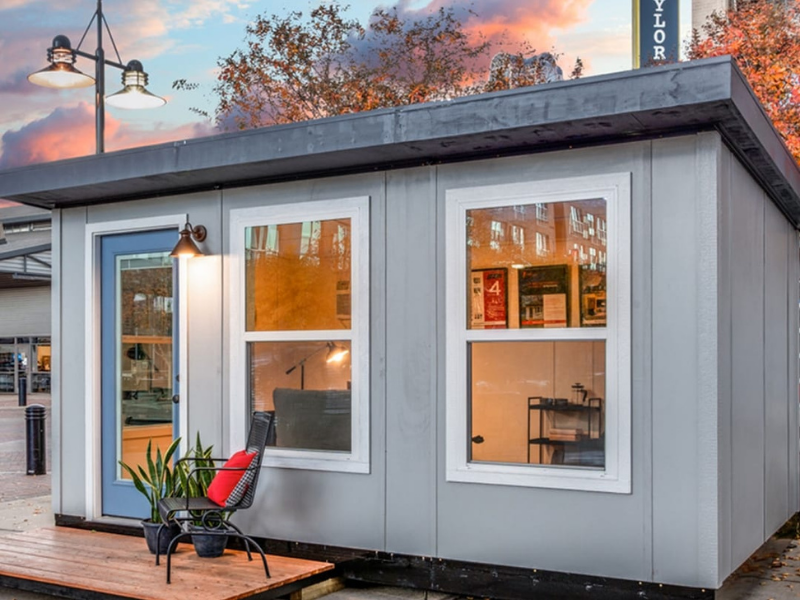 Workroom Building Kits by Backyard Workroom
If you want a simple but effective modular office you can build quickly (one setup only took three hours), check out Backyard Workroom's office kits. There's a 12 x 10 model, a 12 x 15 model, and a 12 x 20 model. Each one comes prepainted with electrical outlets and AC, so you can get to work in record time.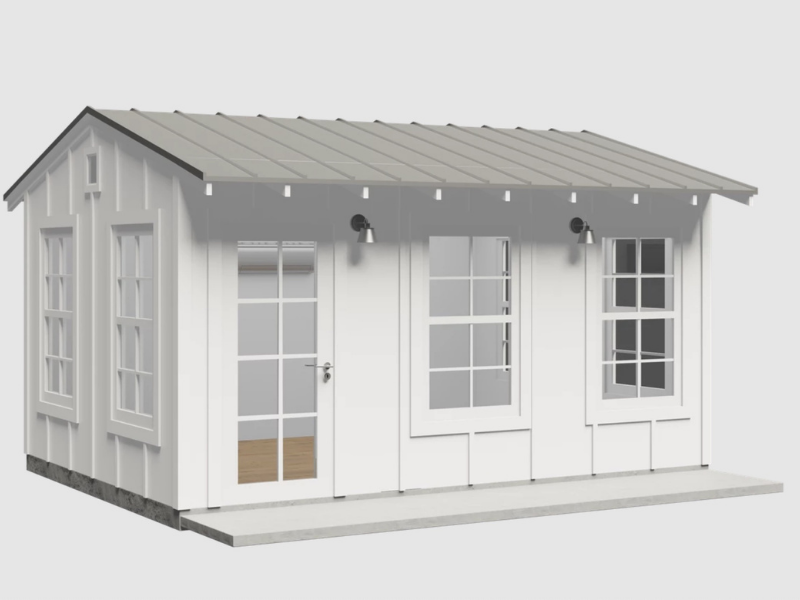 Farmhouse Offset Max by Backyard Office
Backyard Office offers a variety of designs, but we chose to showcase this offset farmhouse look because of the open feel. Beyond the lovely look of the white walls and many windows, the office has heating and air to make it a year-round place to work.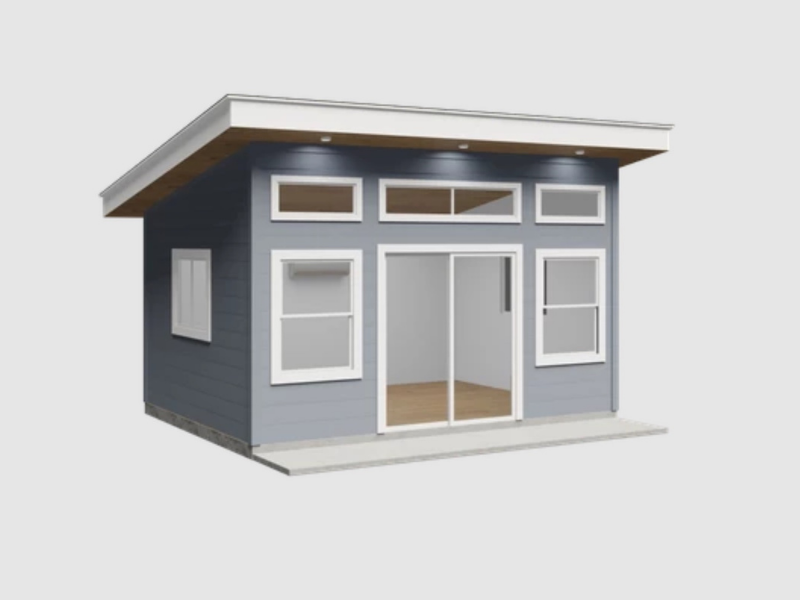 Another Backyard Office option is the Modern Max, which honestly looks like a little house. We like that there are different floorplan options that let you customize how you'll use the space.
Modern Medium Office Pods and Sheds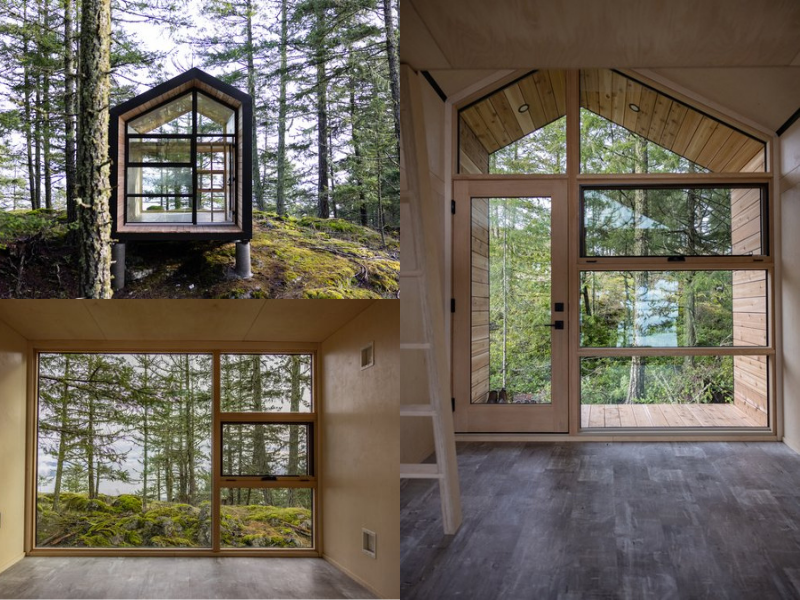 This stunning outdoor office has two full walls of windows and a loft. You can use it as a home office and have another level for storing equipment or creating that space for power naps. Drop Structures designs exquisite prefab structures, so if you're looking for a slightly smaller version, take a look at the Arlo Mini and the Mono Mini (they're like the Holo Mini without the loft). These breathtaking designs will make you want to work in them forever.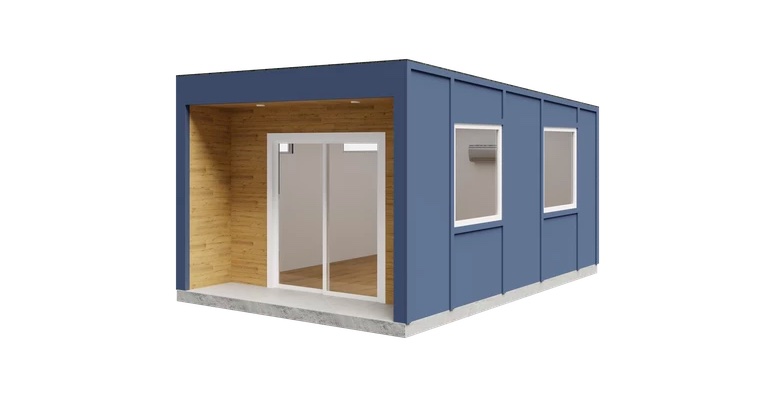 Office Pod Max by Backyard Office
This modular office pod has a simple design great for letting in natural light. We like that you can choose the size that works best for you.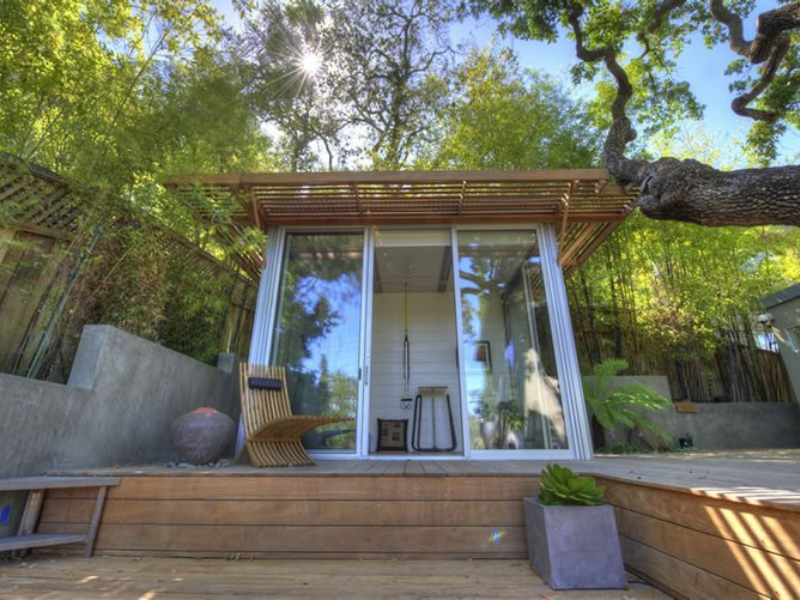 Recommended in Dwell's article on the best prefab companies to help you build your backyard office, kitHAUS offers multiple designs and sizes in their energy-efficient k3 series. The offices they create are aluminum, so they'll fight rust and mold. Plus, the glass-and-wood-driven designs evoke the feel of a balmy day at the beach. Who wouldn't want a backyard office like that?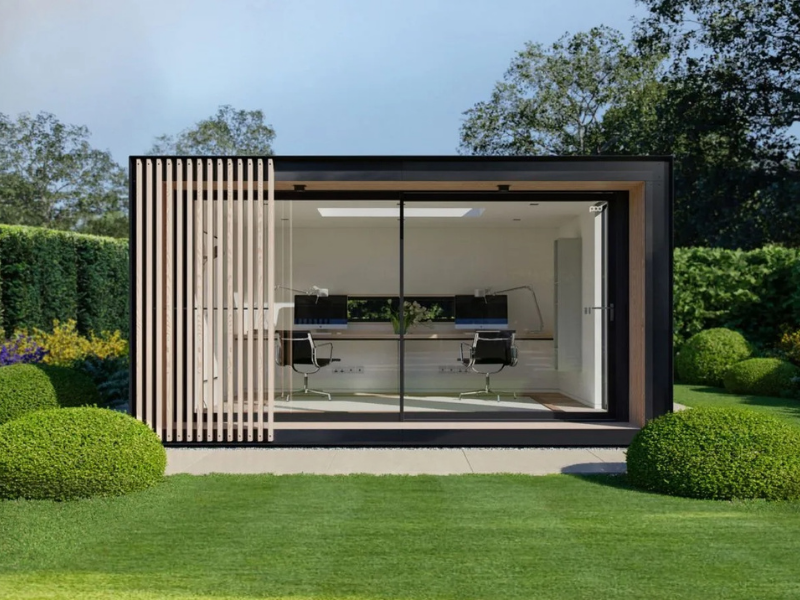 This UK-based company creates gorgeous office pods focused on blending with nature. We like the Lite Pod, which was listed as number seven in Autonomous's list of great office shed ideas. You can even add a green roof to your pod!
Rustic Medium Office Pods and Sheds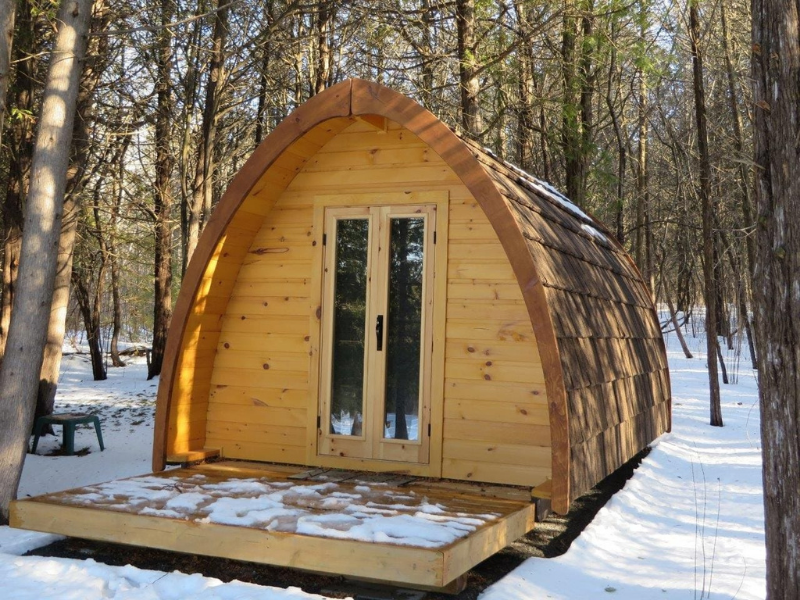 Family Pod by Algonquin Pod Company
We mentioned this shed under Algonquin's Mini Pod heading in the small rustic sheds section, but it deserves more time here. While this design is usually used in campgrounds or backyards as a cabin, turning it into a workspace would be an easy transition. We had to share a picture so you could see the rounded roof and playful style of this office potential.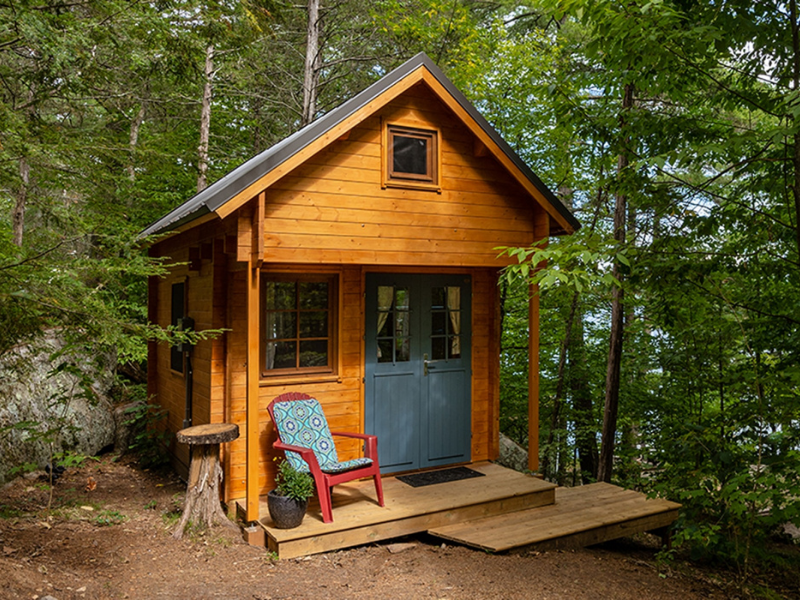 2019 Bunkie with Loft by Bunkie Life
This backyard office boasts a loft you can use for guests or storing extra office equipment. Made with Northern Spruce and double-pane windows, it's great for woodsy backyards where you want to create a cabin vibe.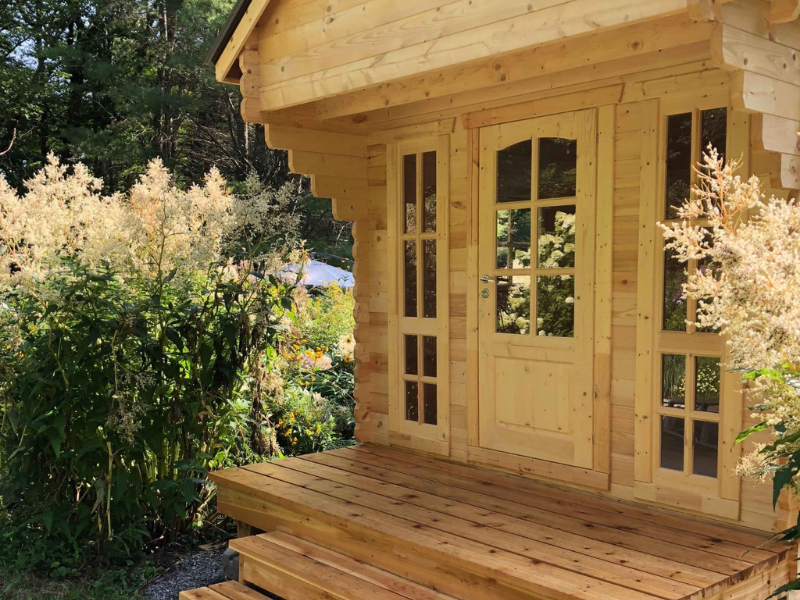 2018 Bunkie with Loft by Bunkie Life
We couldn't share the 2019 version of the backyard office without showing you this whimsical 2018 design by Bunkie Life. The notched wood and upstairs overhang give this bunkie a gingerbread house look.
Large Office Sheds and Office Pods (Over 200 Square Feet)
Traditional Large Office Pods and Sheds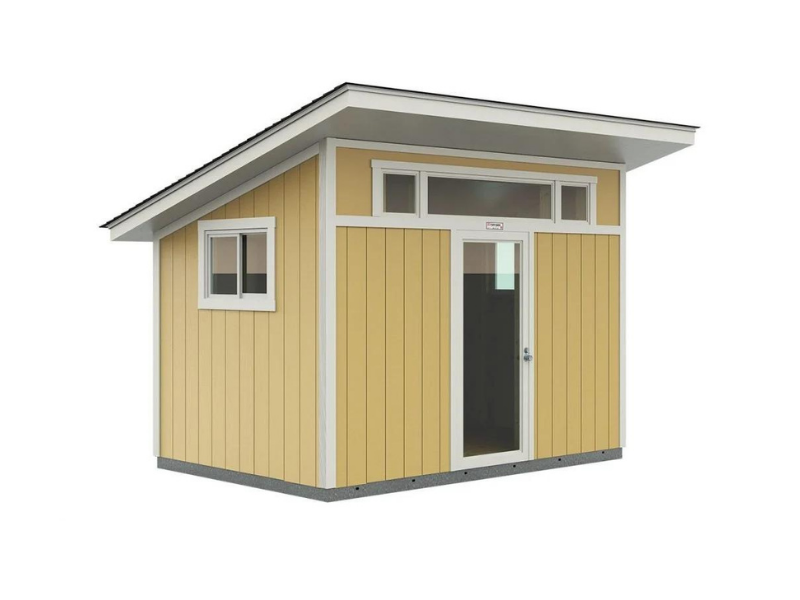 Premier Pro Studio by Tuff Shed
This office shed is simple but effective, with a sturdy slanted roof to keep rainwater from gathering. We like the cheery color of the shingles and the look of the glass door. It's a great design option if you want a backyard shed that will let you focus on productivity. Use the quote builder on Tuff Shed's website to customize. (You can make it as big as 12 x 24 feet.)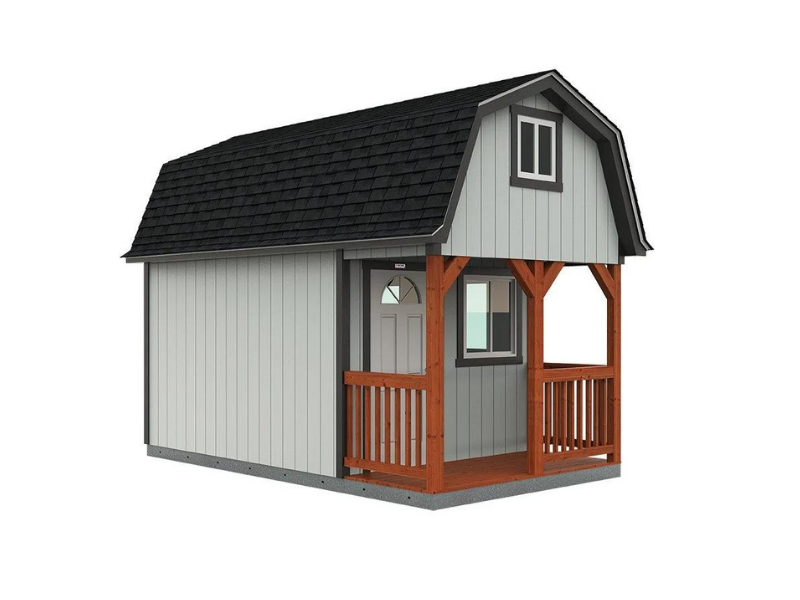 Premier Pro Barn Weekender by Tuff Shed
If you don't feel like a cowboy going to work in this shed office, you never will. This barn-style shed is a traditional approach to office sheds, but we like that it has a loft for extra storage. You can get it as large as 12 x 20 feet, which comes out to 240 square feet, enough room for several desks or tables.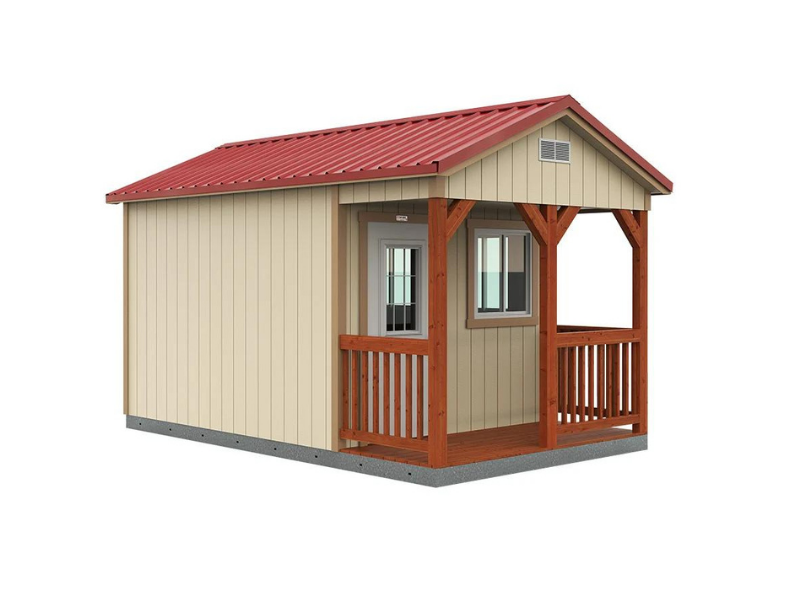 Premier Pro Ranch Weekender by Tuff Shed
This ranch-style shed offers a lot of potential for working arrangements, and the metal roof upgrade rounds out the design nicely. You can use Tuff Shed's quote builder to adjust and customize the design. This shed can come as big as 16 x 20, so it works well if you need a backyard office shed for two people.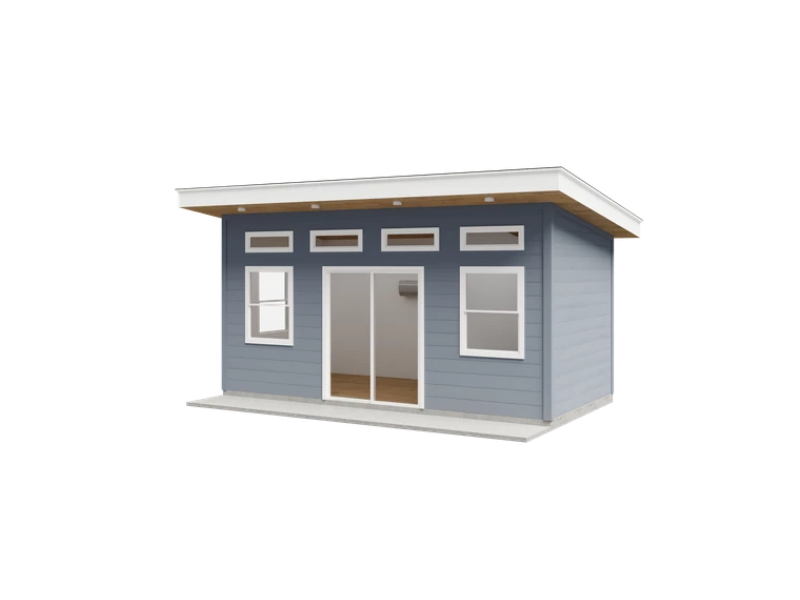 Modern Casita by Backyard Office
With a bathroom and kitchenette and plenty of layout options, this backyard office could double as a guest house when not in use (weekend guests, anyone?). Besides the modern trim, we like the sliding glass door and extra windows.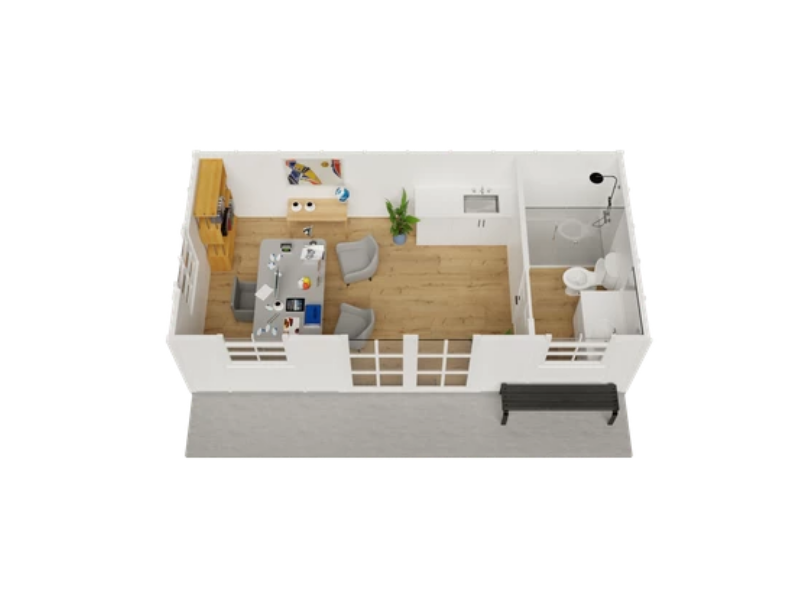 Farmhouse Casita by Backyard Office
If you want another great design from Backyard Office, their farmhouse design is classic. This one also has a bathroom and kitchenette, and the outdoor lights by the door would come in handy during daylight savings.
Modern Large Office Pods and Sheds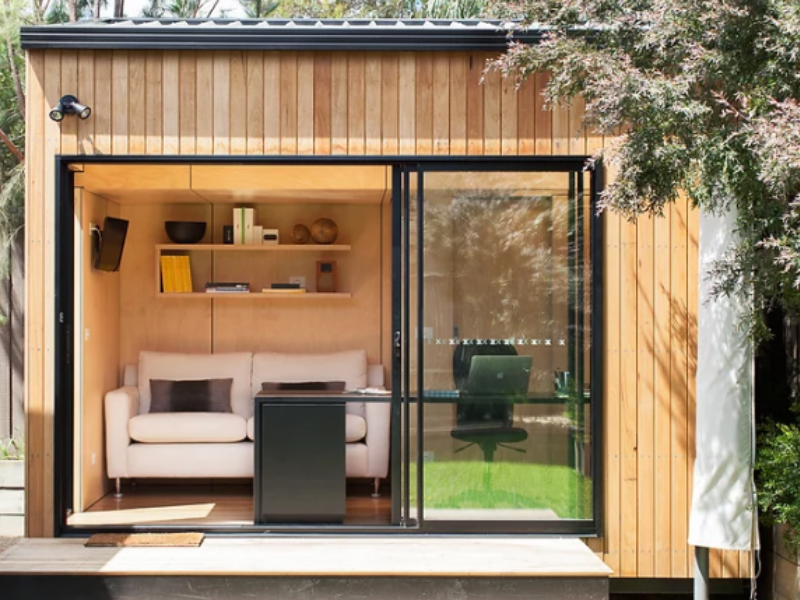 TinyHouseMe helps you connect with a local builder to create a specific home office. This simple, wood-driven design would be a great option. The sliding glass door lets in light while embracing the modern, natural look.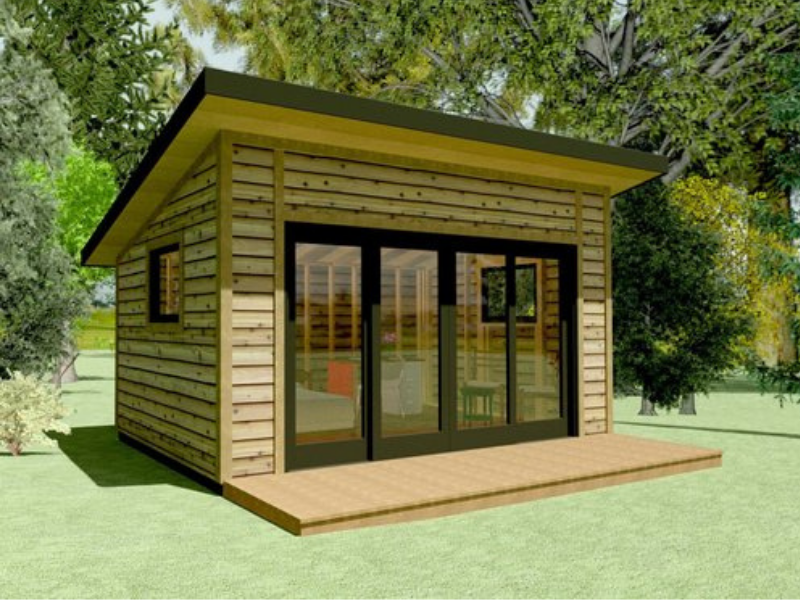 Modern Studio by The Little Building Company
We wanted to include this modern office design so you could see the lean-to style and windows around the door. It's an open design that looks good in lots of backyard settings, and the siding is supposed to be easy to care for.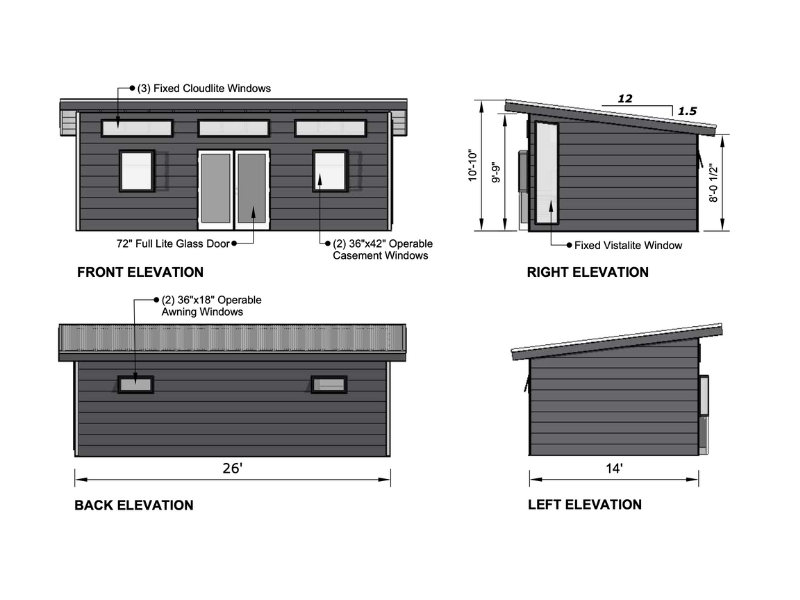 This beautiful backyard office is made with recycled materials and comes with a kitchenette and bathroom so you won't have to trek through the backyard to the house until your workday is done. Take a look at Studio Shed's webpage to customize the finishes live time.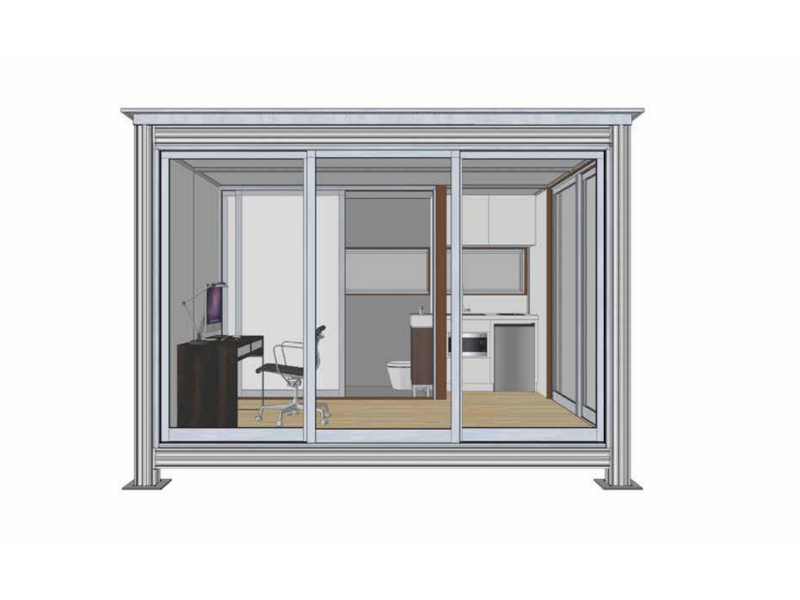 K3.12 Studio w/Bath by kitHAUS
This accessory dwelling unit has so many modern designs to pick from (we like the corrugated metal and wood louver options), but the main selling point is the bathroom right in your backyard office.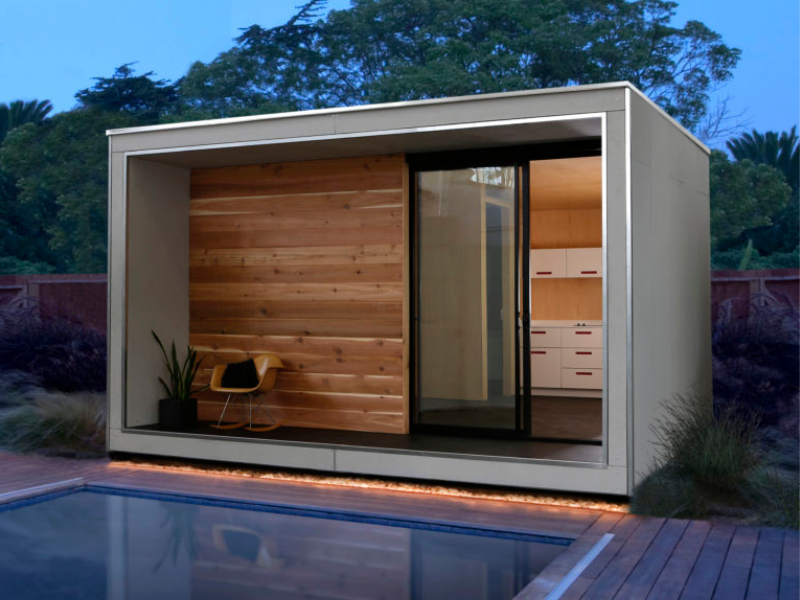 These sustainably manufactured modular offices are assembled by the Plús Hús team so you won't have to build your office yourself. Talk about a great way of reducing your work stress. The Open model is their simplest design, but the Open+ comes with a bathroom add-on that could come in handy.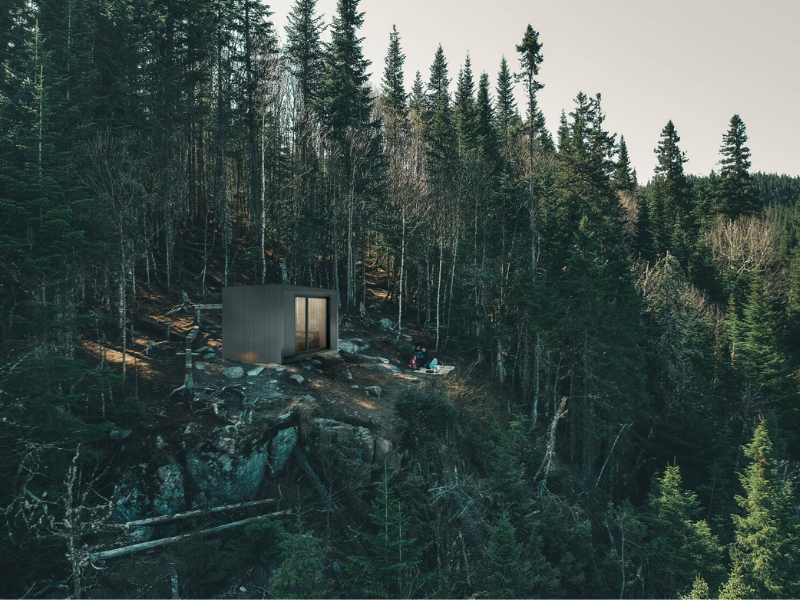 260 Square Foot LIVMORE by LivPods
LivPods has created a versatile design with the LIVMORE model. The 260-square-foot version has a bathroom and kitchenette inside to make your office a complete getaway. The picture really is worth a thousand words to show how well it blends with nature.
Rustic Large Office Pods and Sheds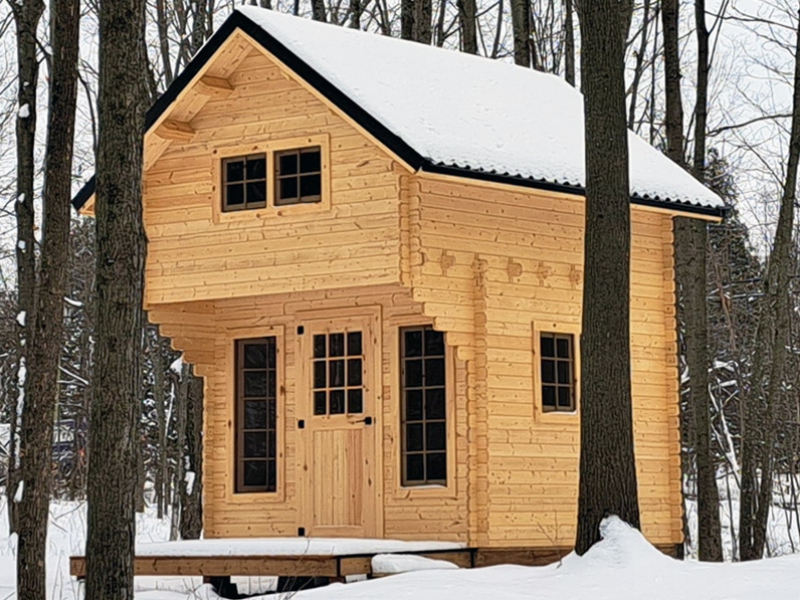 Haven ULTRA™ Bunkie with Loft by Bunkie Life
This bunkie gives off cabin-in-the-mountain vibes and has a loft space you could use for a guest bed. It's hard not to love the lovely Northern Spruce wood and the cozy lodge feel.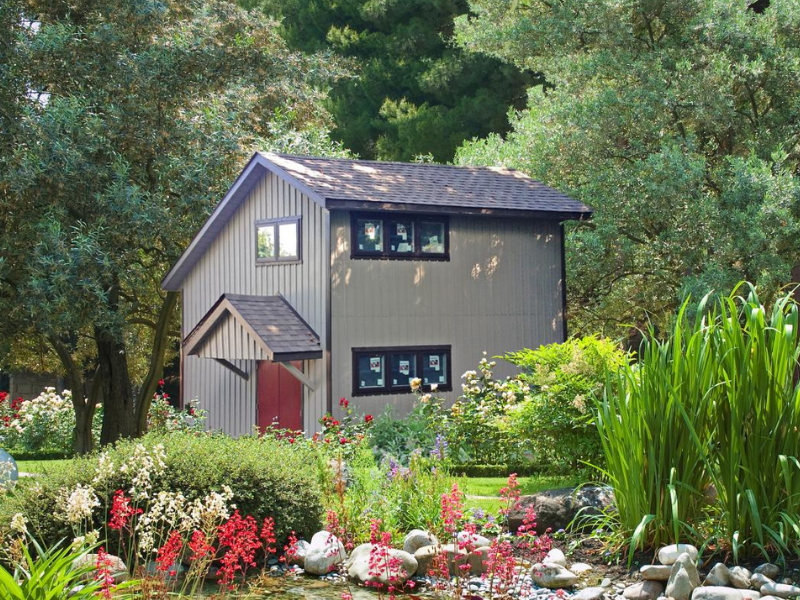 Modern Office Studio by Sheds Unlimited
Sheds Unlimited designed this studio specifically for a client, but we had to share it because the finished office fit so well with the client's landscaping. We're classifying this style as rustic due to the mossy green siding choice and more muted style, but it definitely has modern inspiration.
A two-story backyard office is a great way to go if your partner or family member also needs a workspace or you'd like to have additional space for a workshop area. (Also, as a side note, Sheds Unlimited has a 3D design option that's super fun to play with. Just thought we'd share.)
For the DIYers: Backyard Office Plans and Garden Shed Kits
Whether you want to redo a garden shed, build your own office shed from a kit, or find the perfect plan to start from scratch, we'll use this section to give you ideas for which route is best for you.
With the list below, you'll be able to start planning your dream backyard office – totally customized.
Plans and Kits for Small Office Sheds (Under 120 Square Feet)
Traditional Small Office Sheds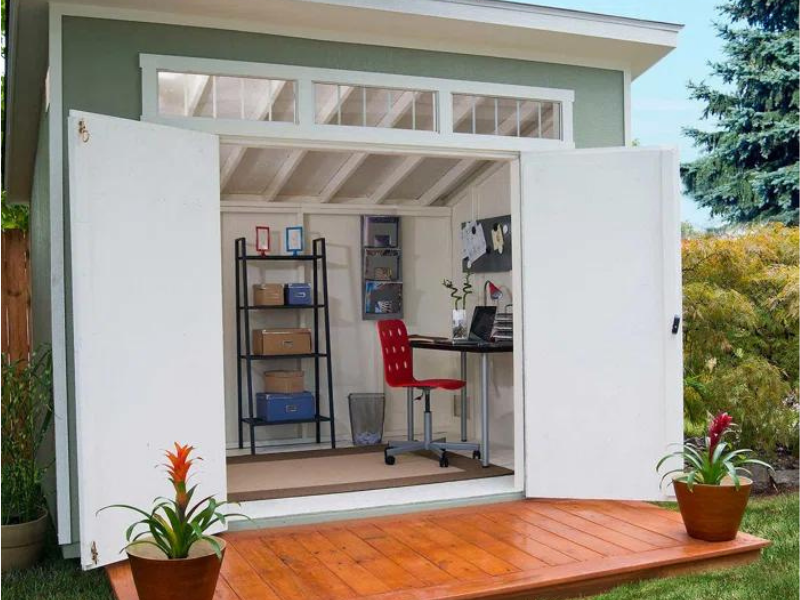 Olympia Do-It-Yourself Wood Storage Shed by Handy Home
Use this self-assembly storage shed from Wayfair to build and customize your own office shed. You'll need to add insulation, HVAC, and electricity, but the options and final design are up to you.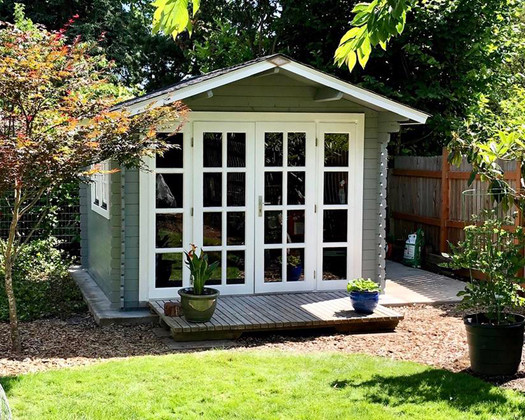 Cottage Style Garden Shed Myrtle by Solid Build
This garden shed kit creates a space that is lovely to look at and perfect for transitioning to an office. You'll just need to insulate and add HVAC and electricity.
Modern Small Office Sheds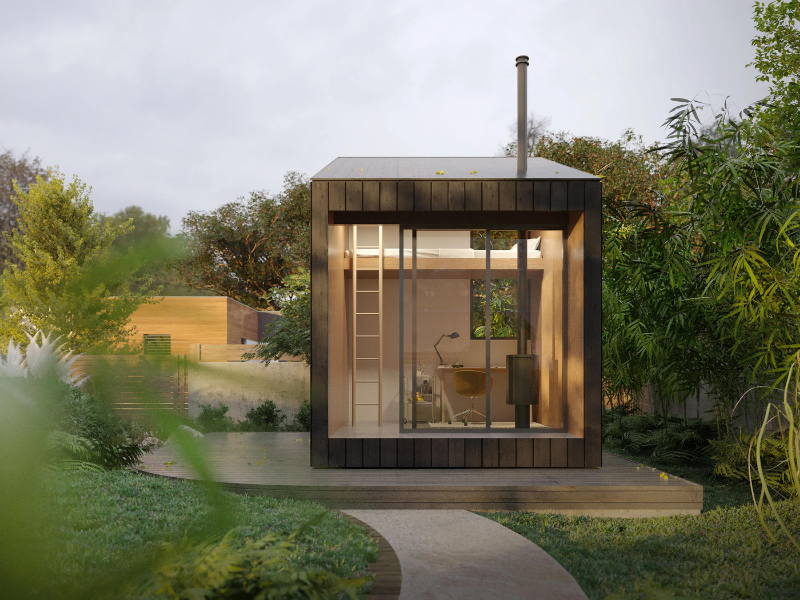 These plans will show you how to build a modern, 100-square-foot workspace with a loft and wood-burning stove. The design is stunning. You can see the loft and ladder right through the sliding glass door.
We couldn't share The Study design without mentioning The Pod Mini. This set of plans will help you build a flat-roof office pod with a wood interior and a wood-burning stove like The Study, without a loft. Check out the shelving inside, and you'll be ready to start buying materials.
Rustic Small Office Sheds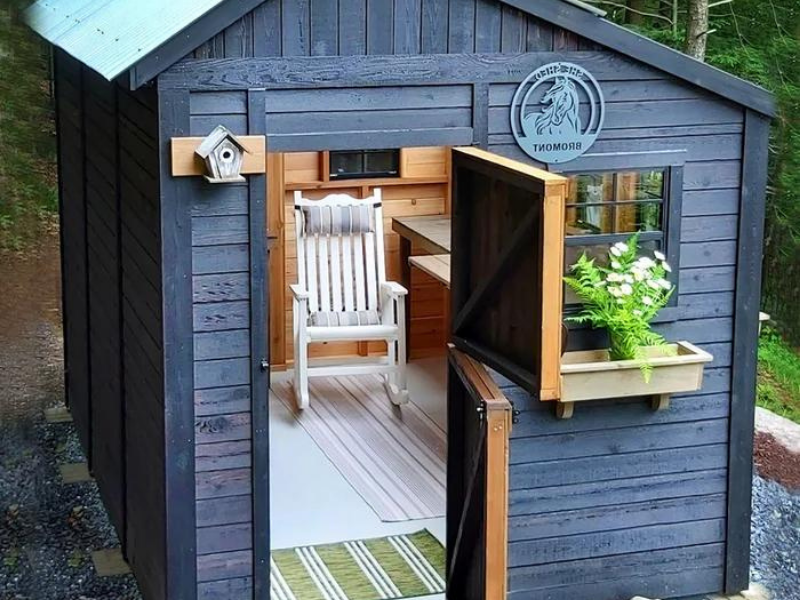 Cedarwood Sunshed Garden Shed with Metal Roof by Outdoor Living Today
Sold on Wayfair, this tiny garden shed is only 80 square feet but offers a variety of ways to finish it out as a backyard office. We like that it provides enough room for a desk without taking over your backyard.
Plans and Kits for Medium Office Sheds (120-200 Square Feet)
Traditional Medium Office Sheds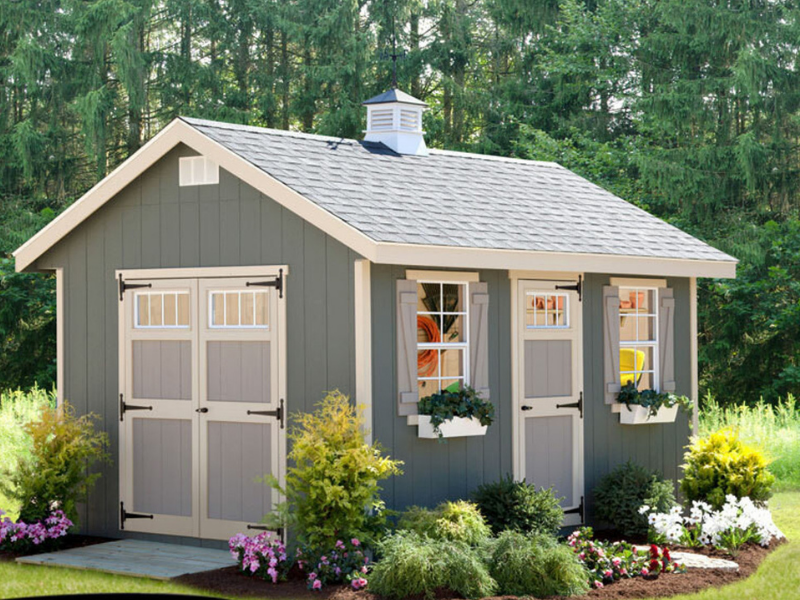 10 x 14 Quickship Riverside Shed Kit by EZ-fit Sheds
This garden shed design is exactly what comes to mind when you first tell someone "office shed." With the single and double-door entrances, you'll be able to move furniture in and out with ease. Finish this kit with insulation and electricity for a customized shed office. (You might also want to add AC if you live in a warmer climate.)
Modern Medium Office Sheds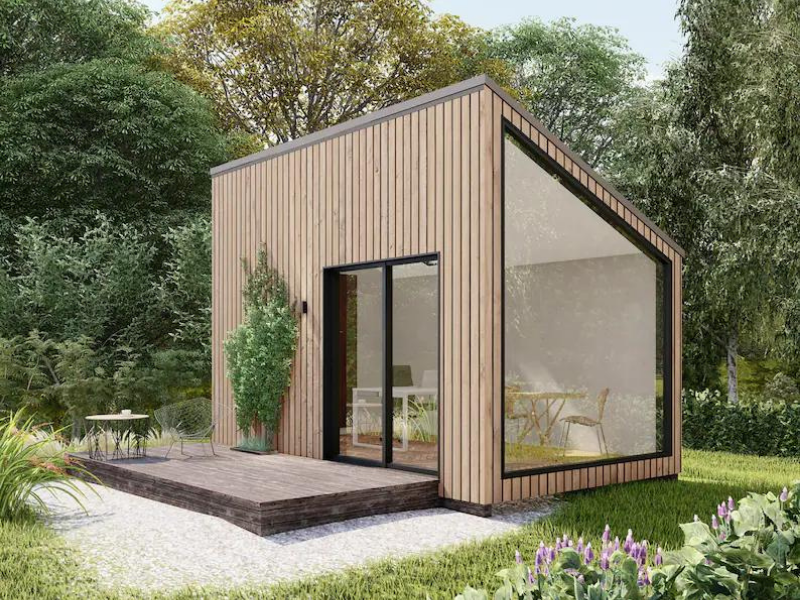 Backyard Office Studio House Plans by SinelHousePlans
This backyard office plan on Etsy is modern with a natural aesthetic. The floor-to-ceiling window on the side lets in plenty of natural light to help you focus on your work.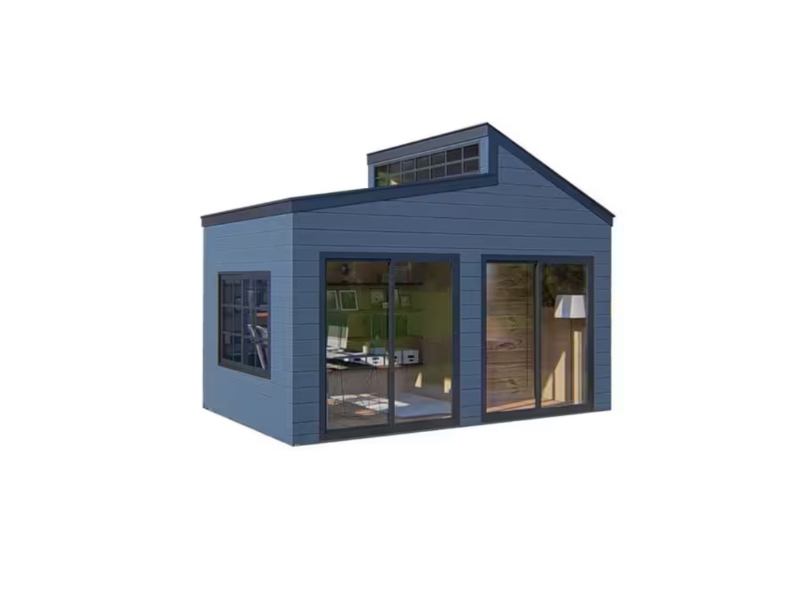 Huntington Plus Steel Studframe Kit by The Home Depot
This kit from The Home Depot arrives with steel framing so you can build from scratch. The final product is a streamlined, attractive home office for your backyard that includes a sliding door closet.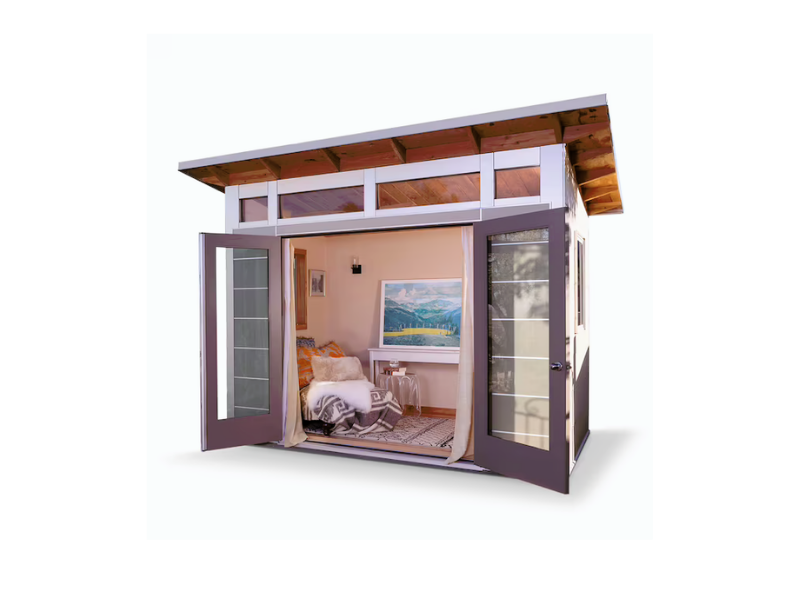 This shed kit creates a studio or storage shed with double doors and screened side windows that can open. The shed comes with 3D instructions to help you set it up.
Rustic Medium Office Sheds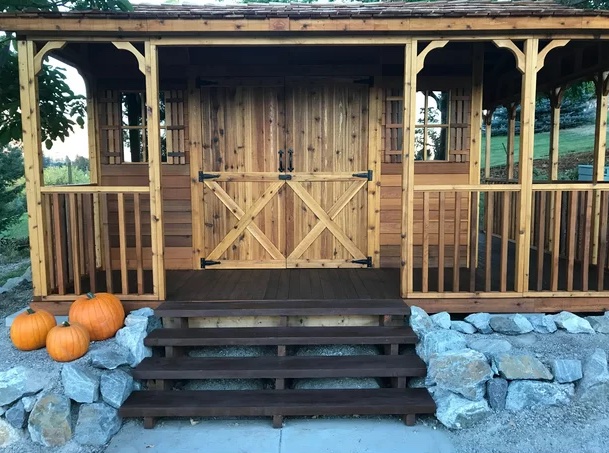 Cedarshed Farmhouse Garden Shed by Walmart
This garden shed kit has a natural wood finish and would be an amazing finished office. You'll be ready to roll once you add electricity, insulation, and an HVAC system.
Plans and Kits for Large Shed Offices (Over 200 Square Feet)
Traditional Large Office Sheds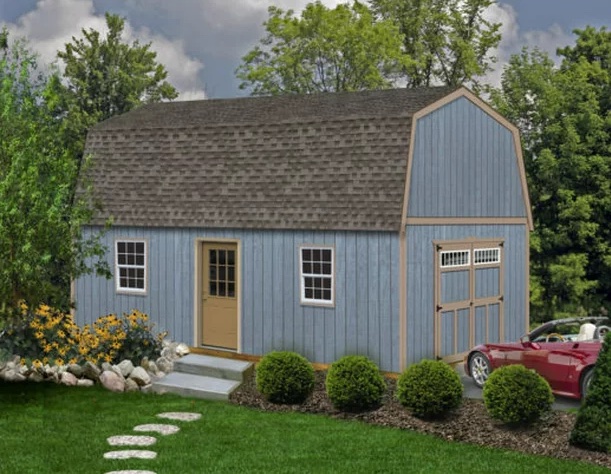 Best Barns Pinewood 14×16 Wood Storage Shed Kit by Walmart
This storage shed kit is spacious – it can double as a garage! We like that it has overhead storage lofts you could use for extra equipment. It could be converted into a backyard office with no problem.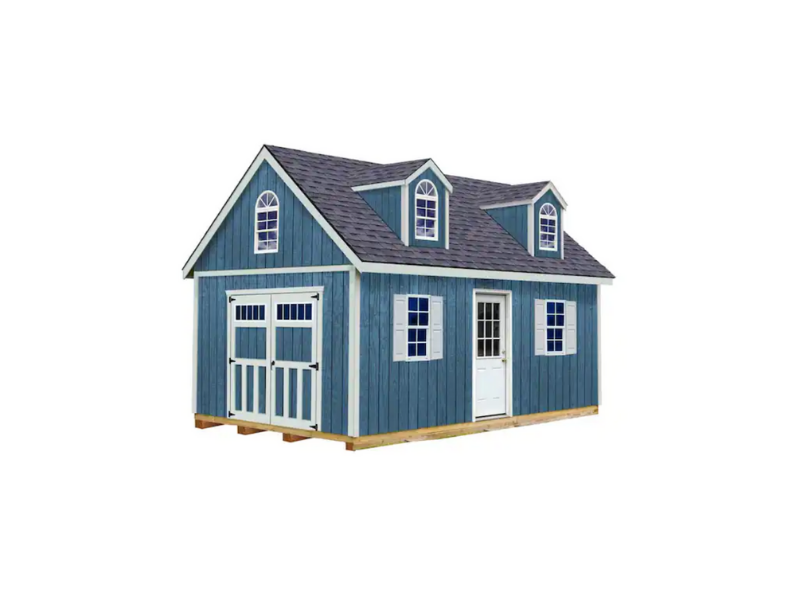 Hampton Wood Storage Shed with Floor by The Home Depot
This storage shed has blue siding that resists insects and decay, and gables that add unmistakable charm. Finish it out with insulation, HVAC, and electricity, and it will be the cutest office in your neighborhood.
Modern Large Office Sheds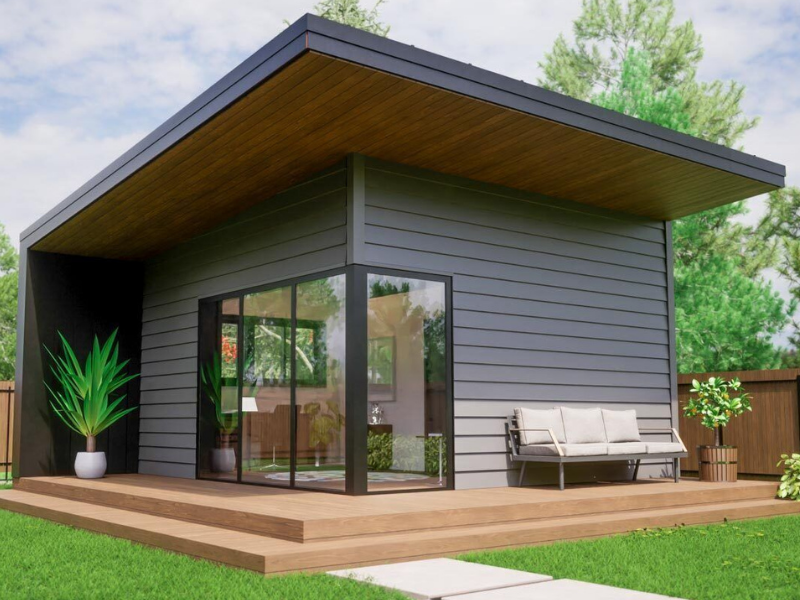 Modern 256 Square Foot Backyard Home Office with Full Bath by Architectural Designs
This plan for a backyard office lets you create a space with a full bathroom, storage closet, and a covered front porch. While it's on the larger side of the backyard office ideas listed in this article, it would certainly make a gorgeous space to work. Plus, you could use a Murphy bed to let it double as a guest house.
Rustic Large Office Sheds
Farmhouse Wood Shed with Porch by The Home Depot
This roomy shed kit could be built and converted into a cabin-style office for focused work. The porch and shutters are our favorite parts, and the natural wood look makes it an idyllic addition to your backyard.
Other Ideas for a Backyard Office
Mobile Offices and Tiny House Offices
If you thought office sheds were great, what about an office you could pick up and drop off anywhere?
Use an office specifically designed for wheeling around, or customize a tiny house. The options are endless, but we're sharing some ideas below.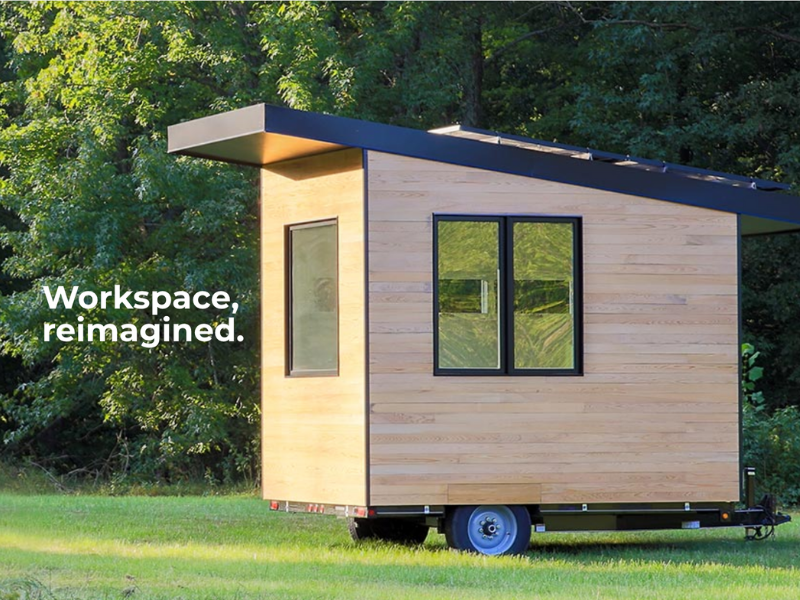 Besides the cool design and solar option for the roof, this office got our attention with its great window placement and focus on mobility. Take a look at Minim's website for some great photos. This rolling office has a little sink, microwave, table, and couch. Basically, it's got a break room built in.
The Don Vardo Tiny House Plan by Shelter Wise
This tiny house plan lets you build a traveling office with a rounded roof and wood interior. The plan comes with framing instructions, floor plans, materials lists, and more.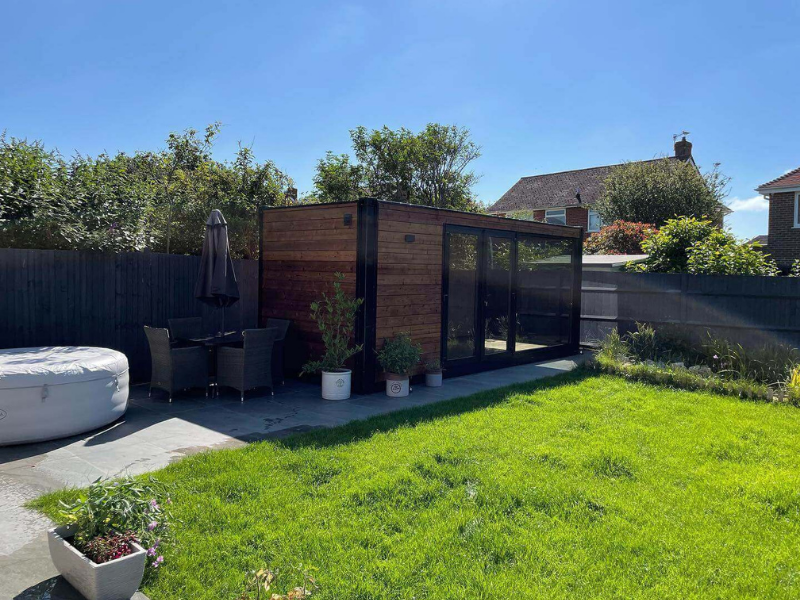 This moveable tiny house company builds with recycled materials (shipping containers!) and has a tiny house option for offices that can be customized. PopUpHuts is based in Estonia, and they specialize in creating eco-friendly designs.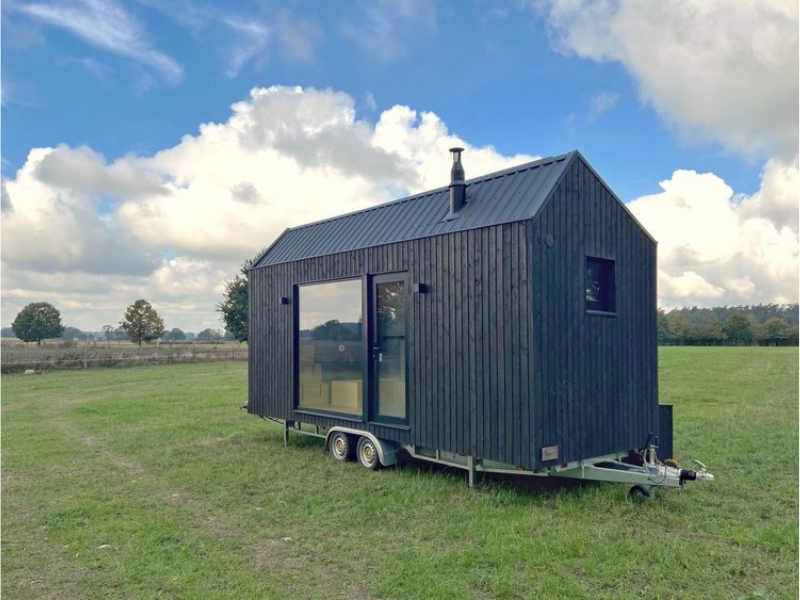 The gray siding and modern design of this mobile tiny home are hard to beat, but we think customizing it as an office would take it over the top.
Shipping Container Offices
Why not get an office that can be stacked, moved, and repurposed from an old shipping container? Shipping containers make fantastic office solutions due to their solid metal shells, and we're listing some great companies to help you outfit your office below.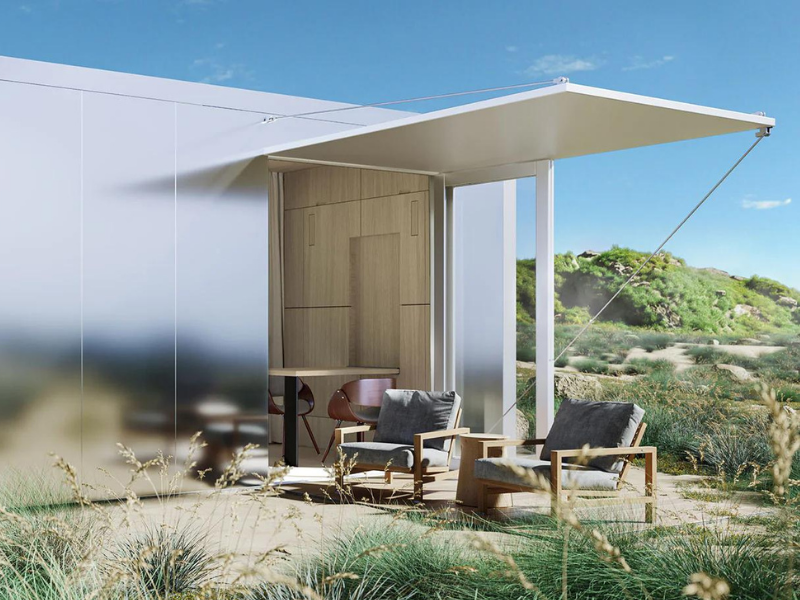 While this may not be what comes to mind when you hear shipping container office, this Buhaus studio is repurposed out of a shipping container and has gorgeous finishes both inside and out. Skip the work of finishing your own container and enjoy the full bathroom, finished deck, and lovely design of this living unit.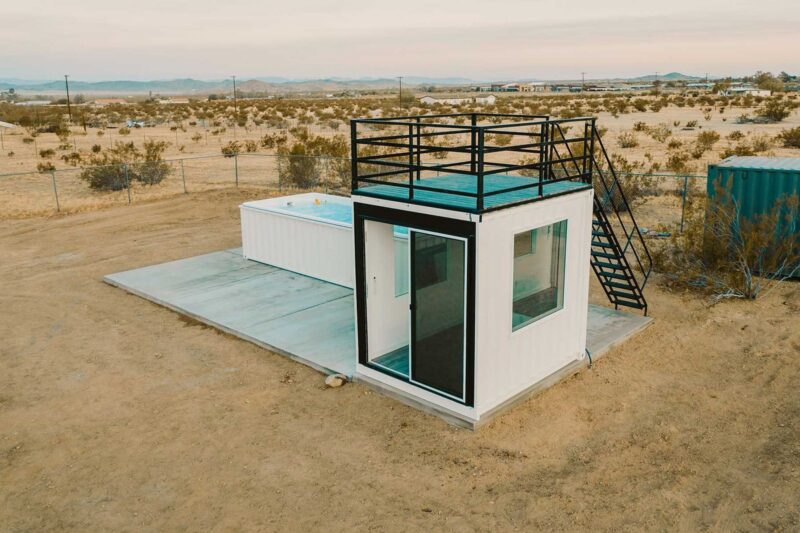 This shipping container office has a deck on top that would make it a great addition for entertaining in your backyard. Use the inside to focus on work and the deck to unwind in the fresh air after.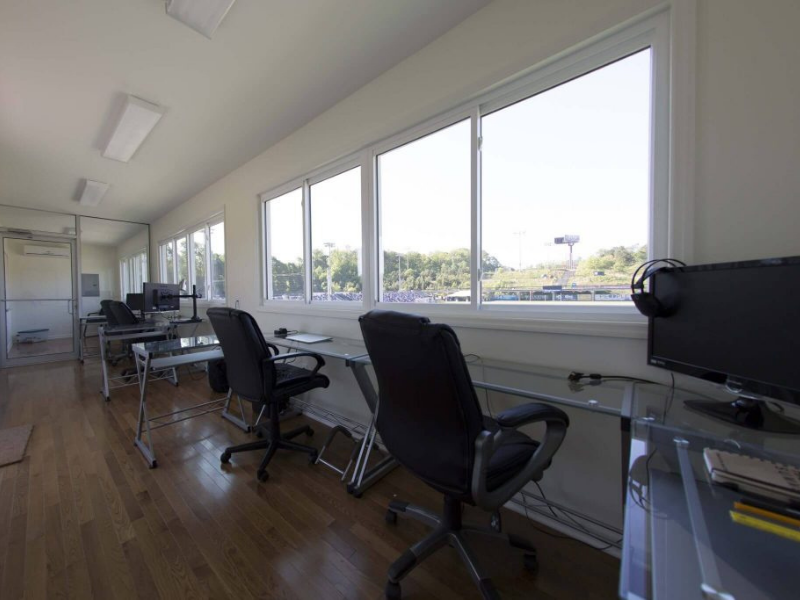 Mobile Shipping Container Office by BMarko Structures
BMarko will work with you to create a customized shipping container office for your needs. The offices can range from 10 feet to 40 feet in length, and they're made out of refurbished shipping containers.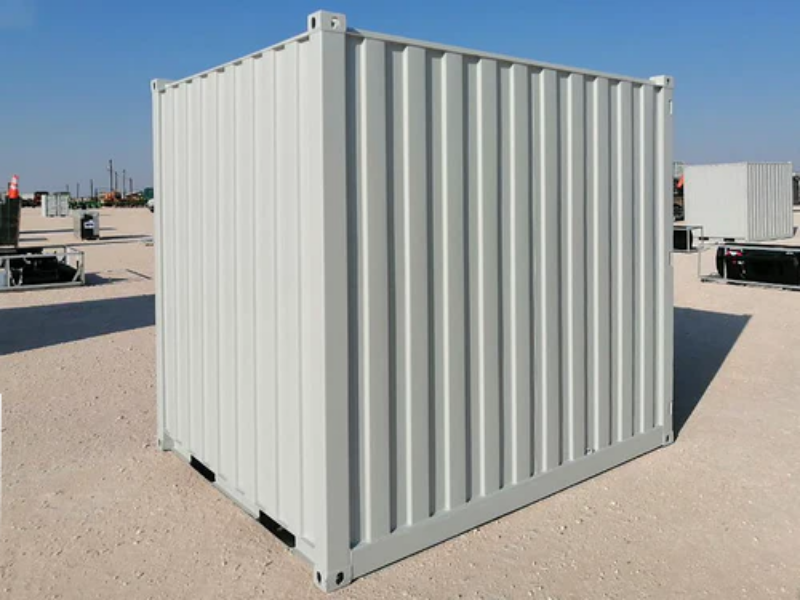 9 Foot Shipping Container by Chery Industrial
This tiny shipping container can be easily repurposed as an office, and let's face it: it's adorable. Add insulation and HVAC, and you've got a watertight little office that you can move to your backyard.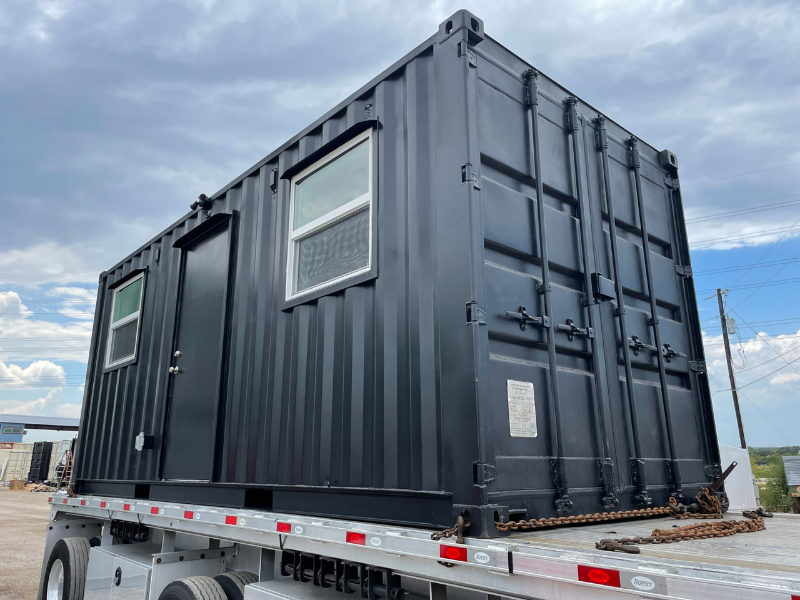 20 Foot Container Office by Bob's Containers
Want a shipping container office that's already finished out with electricity and insulation? Check out this office on Bob's Containers for a ready-to-go option. Sometimes, it's nice to buy an office that's set up for you to be productive immediately.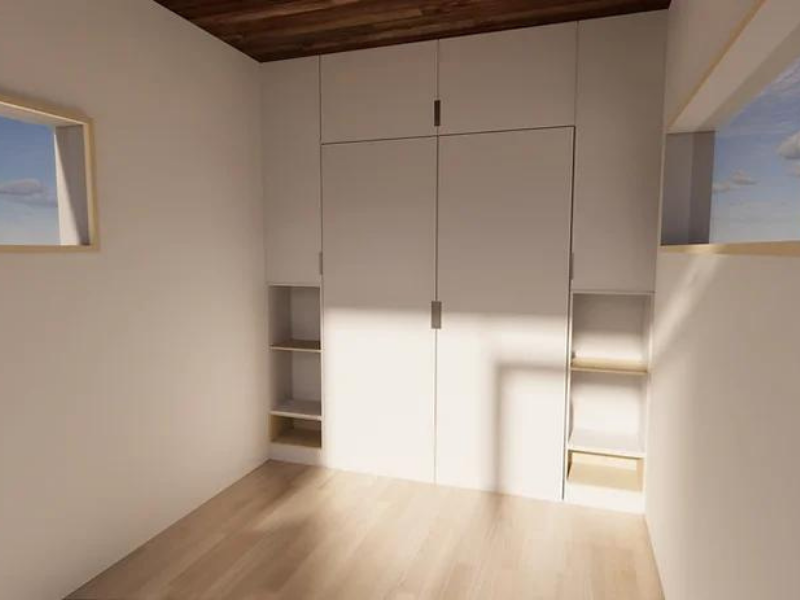 This bunkie (which we mentioned in the first section on office sheds) is a great way to introduce a container office to your backyard. It's small enough to be feasible but big enough to give you lots of space to work. The full front window is a nice addition.
Camper and RV Offices
If you're ready to take your office mobility to a new level, why not finish out a camper or RV? These types of vehicles and trailers have the upside of being super easy to move without the need for a licensed truck driver. They tend to be cheaper than tiny houses or other mobile options, but they can be just as great for productivity. Check out this article for some fantastic ideas for RV offices.
Temporary or Unusual Backyard Offices
This article on backyard office ideas wouldn't be complete without a few fun and wacky options. Here's what we found.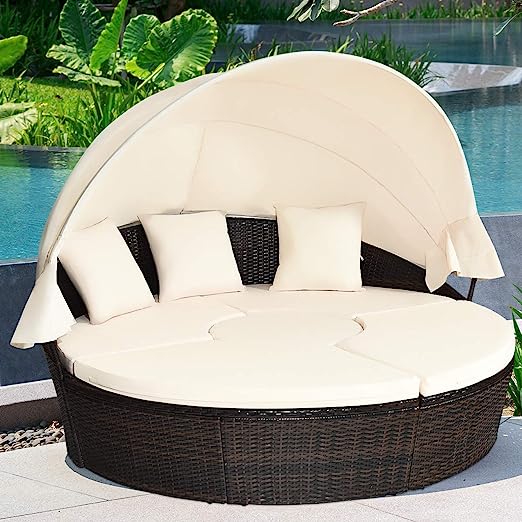 Patio Round Daybed with Retractable Canopy by Tangkula
If you're not worried about falling asleep, why not try an outdoor patio pod for your office? It will let you enjoy nature while having a place that's semi-sheltered from the sun and wind. Plus, it's fun to look at.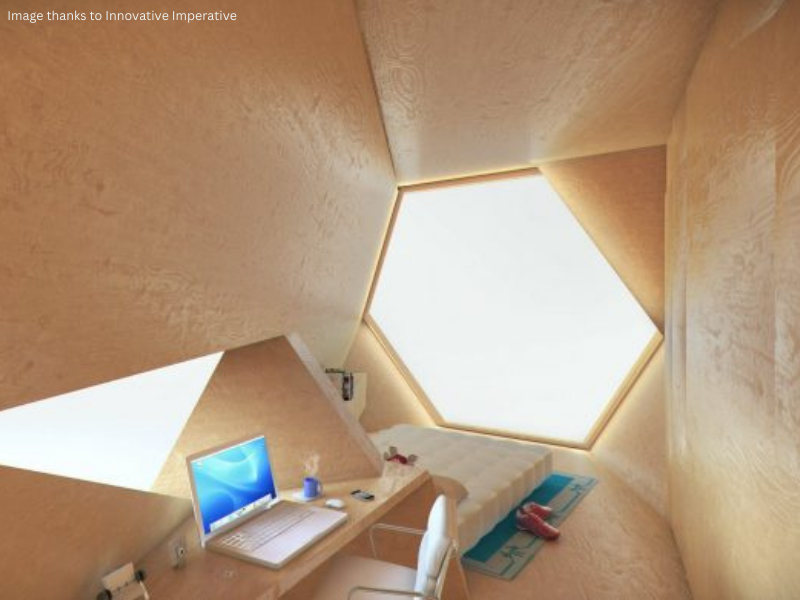 Tetra Shed by Innovation Imperative
We found this idea from an Autonomous article on crazy backyard office pods. This shed is no longer manufactured, but the crazy angles and geometric design made it worth sharing. As Autonomous points out, why not try building a crazy office shed of your own?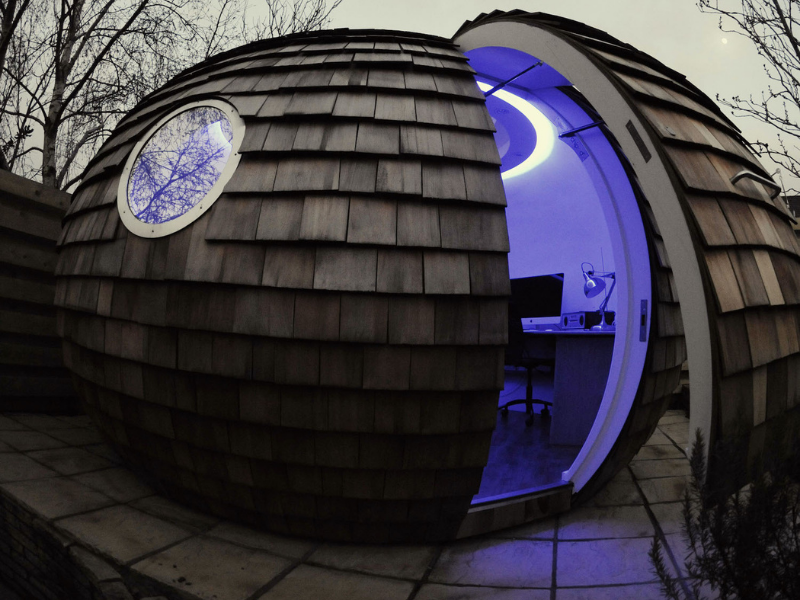 These pods are built in the UK and may be the best backyard office idea we've ever seen (it was another winner from the Autonomous article on office pods). They're round and whimsical and look like something out of the Robots movie, so we couldn't help but add them. Check out all the pod designs on Archipod's website for inspiration.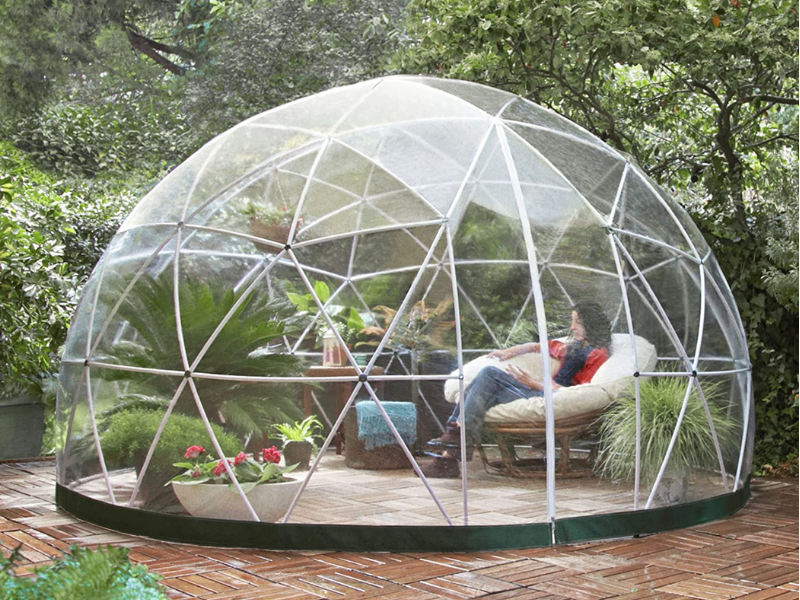 Garden Dome Igloo by Garden Igloo
During the warmer months, why not enclose yourself in a bubble for work? This garden dome will let you catch some sun while you catch up on work.
Pop Up Bubble Tent by Alvantor Store
Similar to the garden dome we listed above, this bubble tent would be a fun outdoor office option for temperate climates or just for a season.
Backyard Office Terms and Definitions
There are a lot of terms that get thrown around when you're researching office sheds. (How do you know if you want a bunkie or an ADU for your backyard office?!)
Here are the most-used terms and how we define them:
Office Pod
Office pods are all about privacy, soundproofing, and focus. There are indoor office pods from companies like Framery Acoustics, but outdoor office pods (with a focus on modern design) are becoming increasingly popular. Think of them as a subcategory of office sheds, specifically created to enhance productivity.
Office Shed
Office sheds are freestanding buildings inspired by the design of garden sheds. Office sheds can be rustic, traditional, or modern in design, and they come in a range of sizes. People often customize garden sheds to create an office they love, but you can also buy prefab backyard office sheds.
Prefab
Short for prefabricated, this term means your shed or pod arrives in pieces that are prebuilt and easy to set up (you won't have a lengthy building process).
Accessory Dwelling Unit (ADU)
Shortened to ADU, accessory dwelling units are additional buildings you can put on your land to offer additional space, whether for guests or an office. They sometimes have bathrooms and even kitchens, so think of them like tiny houses that aren't mobile.
Bunkie
This is a small, free-standing space that looks like a cabin or cottage. The term "bunkie" originated in Canada, where it was short for bunkhouse. Bunkies are small and rustic, perfect for a backyard office.
Backyard Office Brands
If you're looking for some brands to research for a prefab backyard office, these names will give you a great place to start:
If you want even more inspiration, Epic Monday has a list of all prefab office manufacturers in the U.S., Europe, and Australia. There are some great office sheds on there.
Would you consider an office shed?
If you're looking for a backyard office solution, there are a ton of routes you can take. Depending on your budget, preferences, and space, you can use a shed, a pod, a tiny house, a shipping container, or something else entirely.
We hope this list got your wheels turning and helped you find a solution that will work for you.
If you have any ideas we should add, let us know in the comments! We'd love to hear your thoughts.
We hope you find this article useful. Just so you know, Buildremote may collect a small share of sales from the links on this page to help keep this site running.
Header image thanks to Karl Hedin on Unsplash.