6 Real Hybrid Work Policies (+3 Templates) Analyzed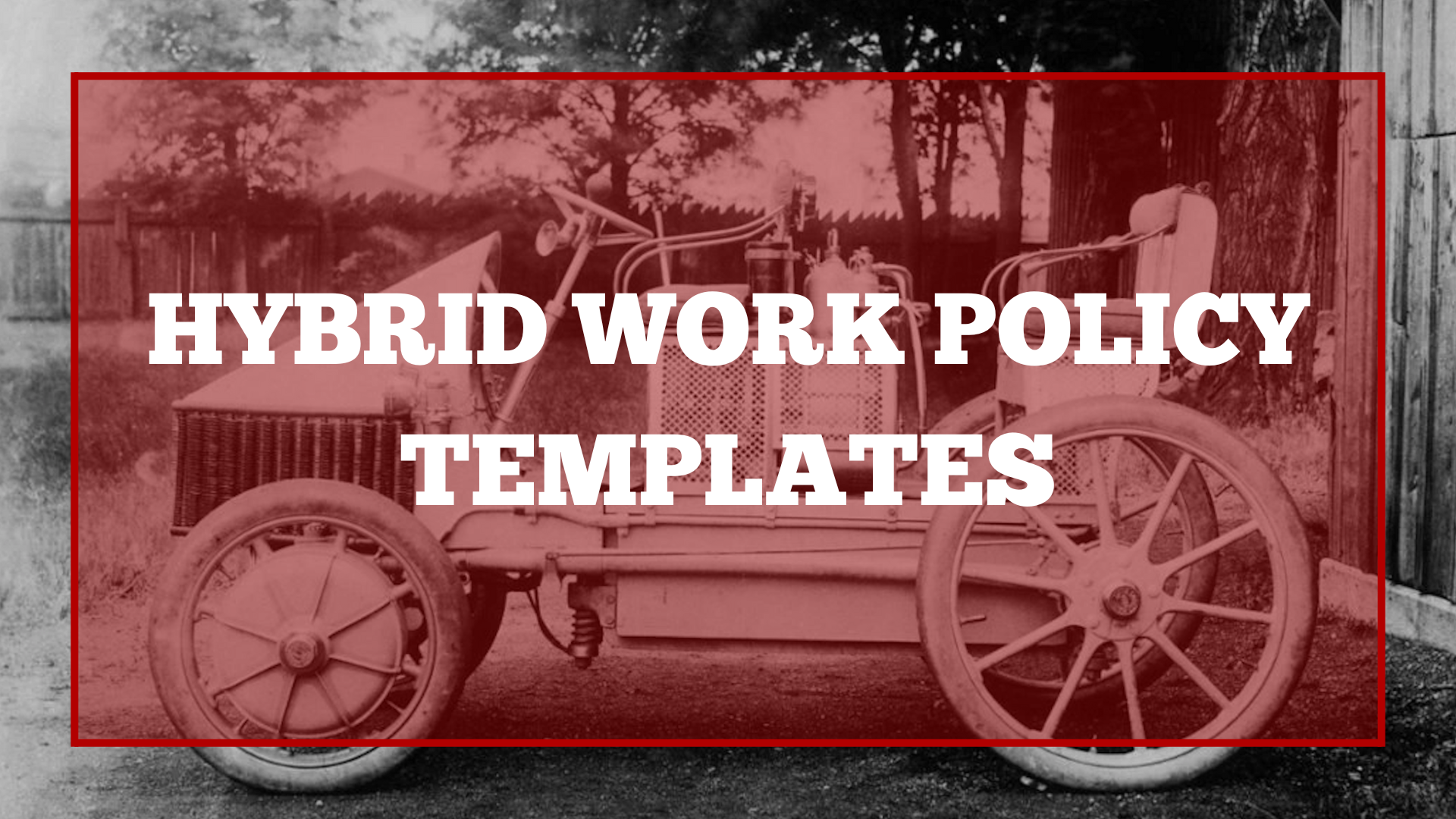 There's no question that hybrid work is having a moment. Because it balances working in-office with working at home, it is potentially an attractive alternative for companies that want to be more flexible in their scheduling but are unwilling or perhaps unable to fully commit to going remote.
But while many organizations are interested in shifting to a hybrid model, they may not know exactly how to develop or implement it. We looked into the real hybrid work policies of six organizations to see what they included. Below, we've included links to these policies so you can take a look; we've also added takeaways from each. In addition, you'll find three general hybrid work policy templates at the very bottom to help guide you through crafting your own.
Use the links below to jump to a section that interests you.
Real Hybrid Work Policies
We've compiled six hybrid work policy samples and highlighted key points you can take away from each. Many of the policies are from colleges and universities, which we found interesting. This article goes into more detail about why higher education may be so quick to embrace a hybrid model, including the interesting suggestion that they're trying to future-proof themselves against further trouble that may interrupt in-school learning.
New York University's hybrid work policy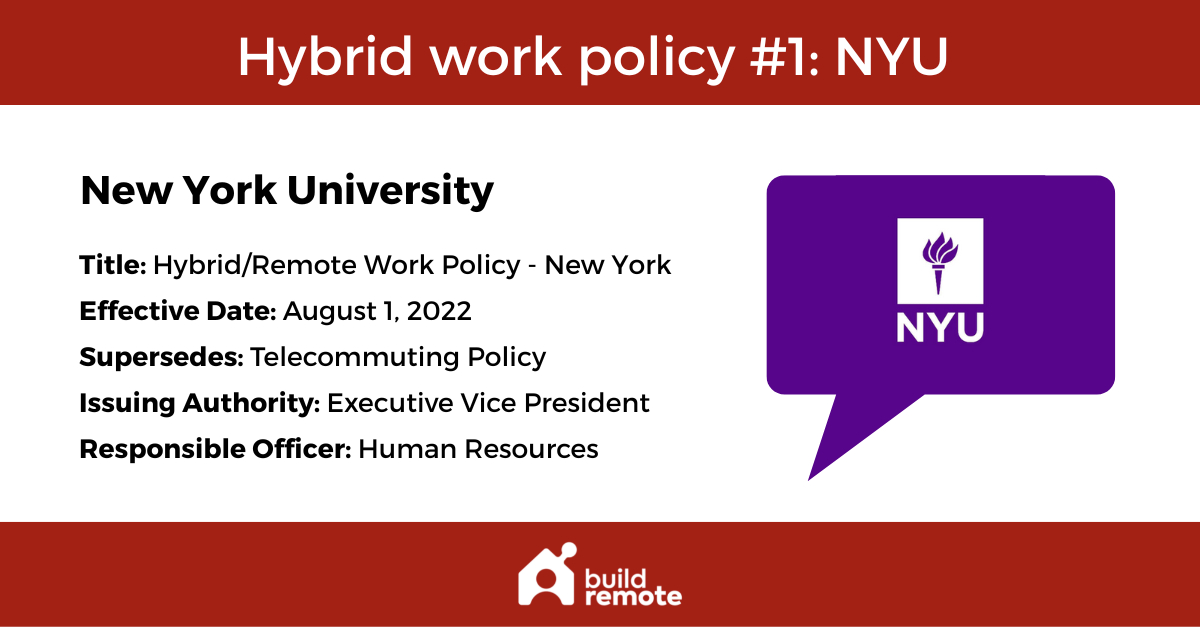 Sections Included:
Statement of policy
To whom the policy applies
Definitions
Hybrid/remote classification structure
General considerations for hybrid/remote work approval
Guidelines for approval of hybrid/remote work
Positions classified as mostly remote or positions performed from another state outside of the NYC Tri-State Area
Other considerations
Management and continued approval of hybrid/remote work
Equipment required for hybrid/remote work – employee provided
Equipment failure
Occupational injuries with hybrid/remote work
Policy Statement:
This Policy establishes guidelines for Hybrid/Remote Work for covered employees of New York University in New York (hereinafter, "NYU" or "the University") and supersedes the Telecommuting Policy.
Main takeaway
NYU's policy includes a section describing what equipment and technology the school will provide, and to which employees. If you're creating a hybrid policy for your company, make sure it details the necessary equipment and how that equipment will be maintained.
Gettysburg College's hybrid and remote policy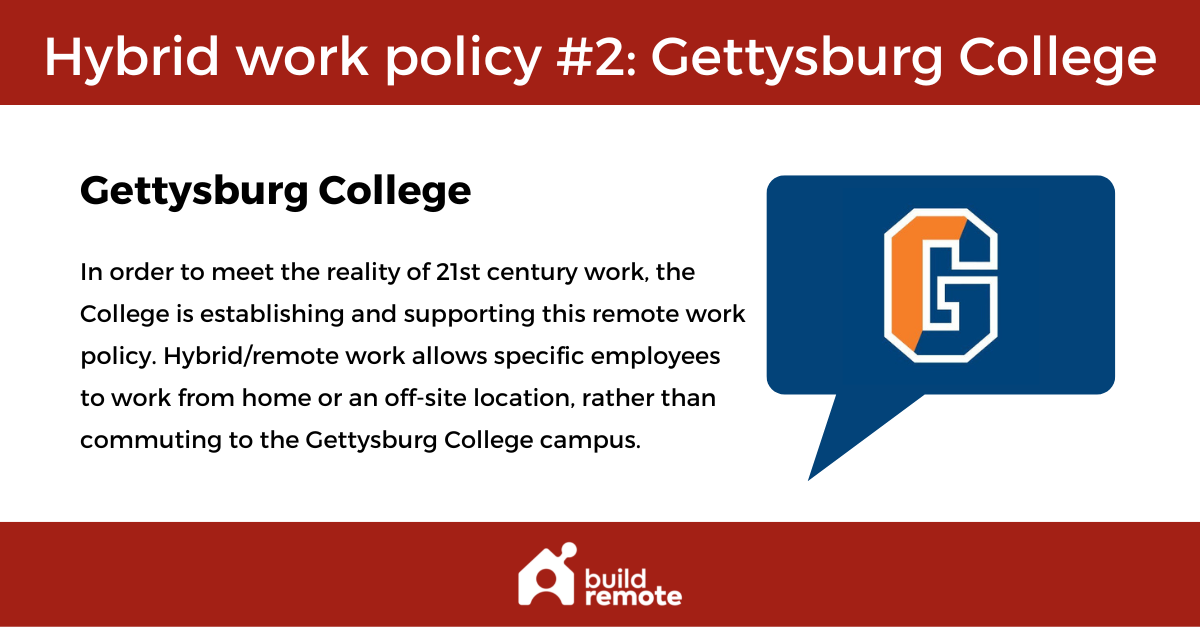 Sections Included:
Types of work arrangements
Eligibility
Request and approval
Employee responsibilities
Safeguarding of confidential information
In-home interruptions/dependent care
Remote work agreement
Policy Statement:
Recognized as "a great place to work" by The Chronicle of Higher Education, ensuring the Gettysburg College employee work environment remains supportive, flexible, and equitable for all employees is an institutional priority. In order to meet the reality of 21st-century work, the College is establishing and supporting this remote work policy.
Main takeaway
During the pandemic, we learned that working from home can bring its own flavor of interruption — in the form of kids, pets, and sometimes noise from neighbors. To that end, Gettysburg's policy includes guidelines designed to minimize in-home interruptions. If you're concerned that your employees may be chasing after their dog when they should be working, consider covering interruptions in your hybrid work policy.
Wagner College's hybrid policy sample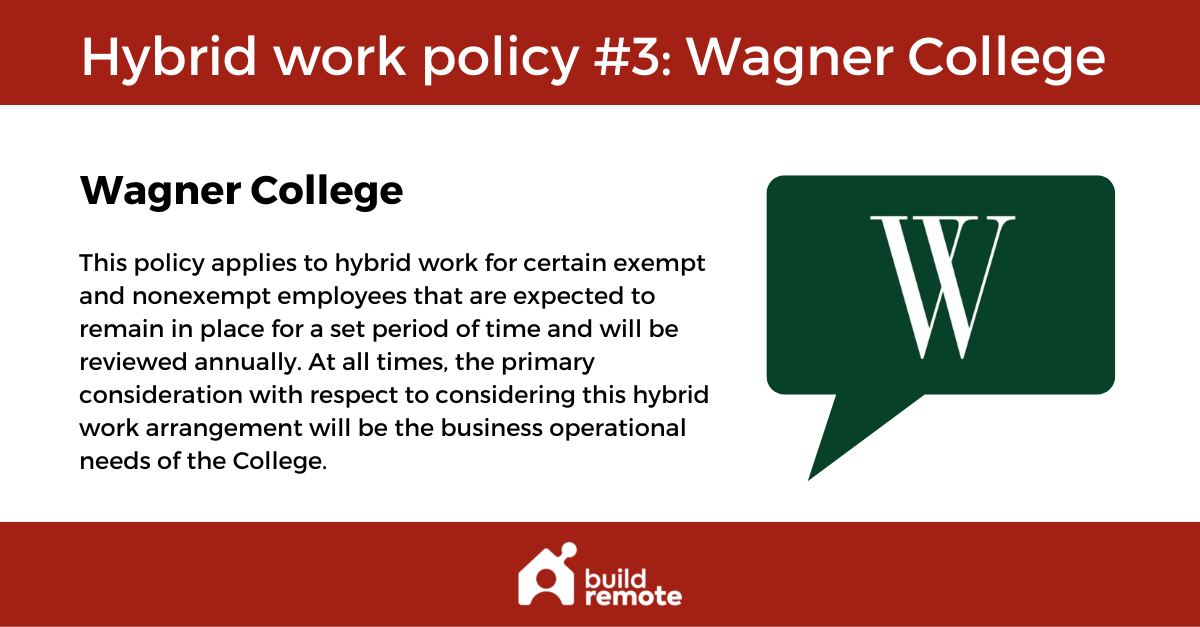 Sections Included:
Purpose and scope
Definitions
Hybrid work arrangement policy statement
Positions and employees eligible for hybrid work arrangement
General expectations and conditions
Request for hybrid work arrangement
Equipment and materials
Liability
Modification or termination of alternative work arrangement
Travel expenses
Assistance with this policy
Policy authority
Policy Statement:
In accordance with the guidelines set forth in this Hybrid Work Arrangement Policy, the purpose of this policy is to describe the hybrid work arrangement that may be available to certain employees in appropriate circumstances. This policy applies to hybrid work for certain exempt and nonexempt employees that are expected to remain in place for a set period of time and will be reviewed annually.
Main takeaway
An issue many companies grapple with when designing hybrid schedules is deciding who qualifies to work remotely. Wagner provides a robust "criteria consideration" plan to identify which employees can work from home — as well as how to measure their productivity and renew and/or reduce their hybrid status over time.
University of Kentucky's policy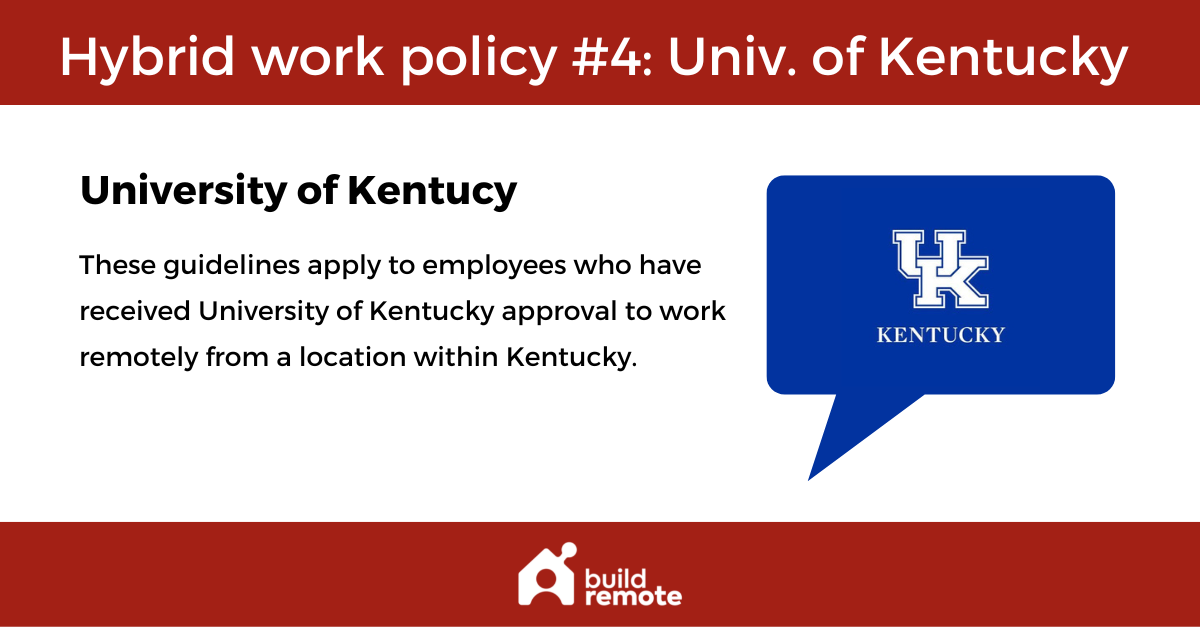 Sections Included:
Scope
Definitions
Remote work agreement
General expectations and conditions
Furniture, equipment, and supplies
Internet and other costs
Data protection and information security
Safety
Policy Statement:
These interim guidelines shall be effective beginning July 1, 2021. As President Eli Capilouto communicated to the university on June 10, 2022, these guidelines remain in place as a Work Location Workgroup continues researching and exploring ideas as well as providing recommendations on how work location can support our institutional mission and efforts to advance the state.
Main takeaway
The nature of hybrid work often means some employees are on-site while others are at home. What do you do if your primary work site is closed, though? The University of Kentucky dedicates a section of its hybrid work policy to outlining how operations will continue in the event of an emergency closing. In a nutshell, those who are already scheduled to work remotely are expected to continue working as usual, while those who were scheduled to be on-site may receive Emergency Closing compensation. If you're concerned about site closures or live in an area prone to natural disasters (floods, fires, and so on), you may wish to include this in your policy.
University of Kentucky's policy also includes a professionalism policy outlining how hybrid employees are expected to behave while remote, which may be useful if you are concerned about decorum standards slipping.
New York Power Authority's hybrid policy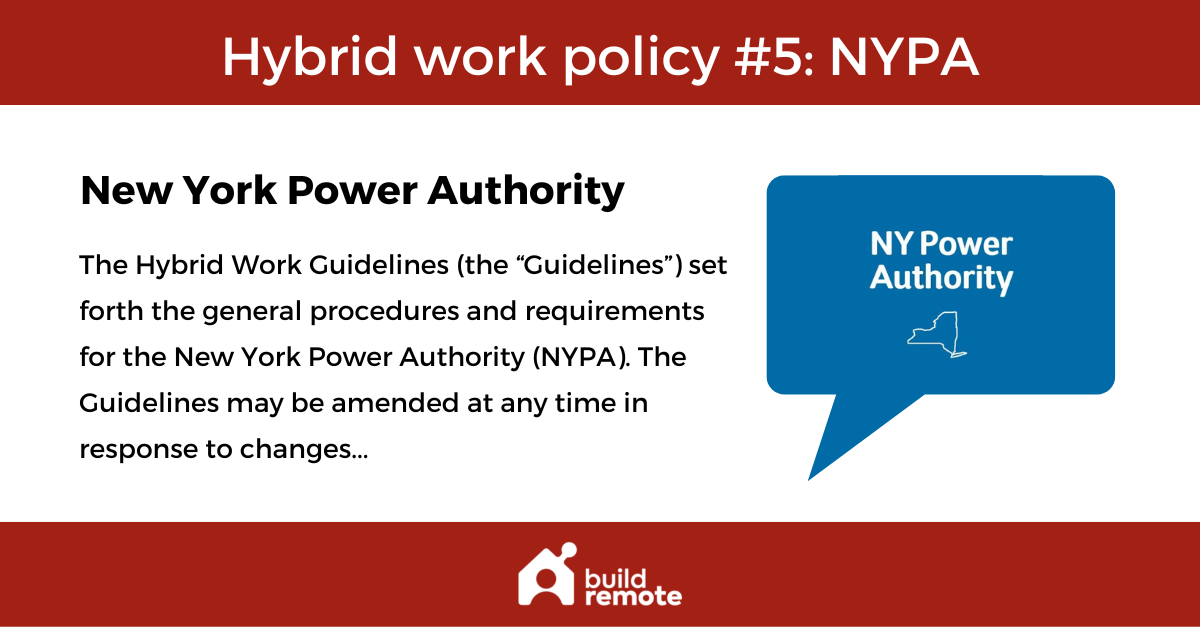 Sections Included:
Overview
Definitions
Eligibility
Remote working requirements
Flexible schedules
Performance and productivity oversight
Reasonable accommodations
Equipment
Contingent workers and consultants
Health and safety
Policy Statement:
1.1. The Hybrid Work Guidelines (the "Guidelines") set forth the general procedures and requirements for the New York Power Authority (NYPA).
1.2. The Guidelines may be amended at any time in response to changes in relevant health and safety guidance from federal, state, and local authorities and in response to business needs.
1.3. The period through which employees may be eligible to work remotely will extend until further notice, when the remote program will be reviewed.
Main takeaway
Proper scheduling is critical to a successful hybrid workplace — but schedules are often interrupted by life and holidays. New York Power Authority's policy lays out a plan to manage unexpected schedule changes. If, for example, a hybrid worker's on-site day falls on a holiday or some other conflict, they may have to work on-site during the pay period to make up for it.
When designing your hybrid work policy, consider scheduling challenges that may come up and have a plan in place to meet them.
Boise State University's policy
Sections Included:
Scope and audience
Policy purpose
Policy statement
Definitions
General expectations
Eligibility
Annual telecommuting-hybrid agreement
American With Disabilities Act (ADA) reasonable accommodation
Alternative worksite safety
Commute time and paid travel
Workplace environment
Information technology security, equipment, and other costs
Outside employment
Liability and workers' compensation insurance
Resident taxing for states outside of Idaho
Other federal and state laws
Discontinuing a telecommuting-hybrid agreement
Return of university property
Costs, damages, or lost property
Forms
Policy Statement:
This policy applies to all Telecommuting-Hybrid requests for a Classified or Professional Employee to work at an Alternate Work Location for a specified number of hours or days per week.
Main takeaway
A common stance against hybrid and remote work has been the possibility that employees will take on additional forms of employment and work for another on company time. Boise State anticipated this and has created a conflict of interest policy that all hybrid workers must follow.
Companies that want to make sure their staff is focused on work at all times — or at least won't be trying to juggle two jobs — might consider adding such a guideline to their own hybrid work policies.
Hybrid Work Policy Templates
Now that you've seen hybrid work policies in action, you may be ready to start working on your own. We've got you covered there, too — we sourced hybrid work policy templates from several companies. They provide a general structure for you to follow, as well as details to keep in mind while you craft your policy.
Workshop's hybrid work policy template

Sections Included:
Background
Definitions
Who is eligible for hybrid and remote work
Working hours, attendance, and availability
Communication
Environment
Performance expectations
Equipment
Stipend
Security and confidentiality
Other
Termination of agreement
Work agreement
Policy statement:
This policy serves as a guide to help all of our employees to help understand the expectations of flexible working at [Company Name], and feel well-supported throughout their experience. We have continued to update this policy based on employee feedback, and encourage any questions or comments!
Main takeaway
While the policies above describe what roles may be able to go hybrid, Workshop's template outlines what criteria will impact the decision. It also tries to get ahead of the communication issues that can come with a remote or hybrid team, adding that everyone should "err on the side of over-communication."
Indeed's hybrid & remote work policy template

Sections included:
Purpose and scope
Eligible positions and employees
Remote work expectations
Legal considerations for hourly remote employees
Remote tools, equipment and supplies
Technical support options
Guidelines for setting up employee work environments
Security and confidentiality rules
Any required travel
Salary and pay
Consequences
Policy statement:
This remote work policy establishes guidelines for employees who work from a location other than our (office, building, worksite, etc.). Remote work can (list of benefits remote work will bring to your business — e.g., improve productivity, reduce office and parking space, reduce traffic congestion, enhance work/life balance, protect the health and safety of employees during COVID-19).
Main takeaway
Indeed's hybrid work policy template has a substantial section on the legalities your company needs to consider before building and executing a policy. It also addresses the socialization that so many workers valued in the office — and how to keep that socialization going in online channels.
Activtrak's Hybrid Policy Template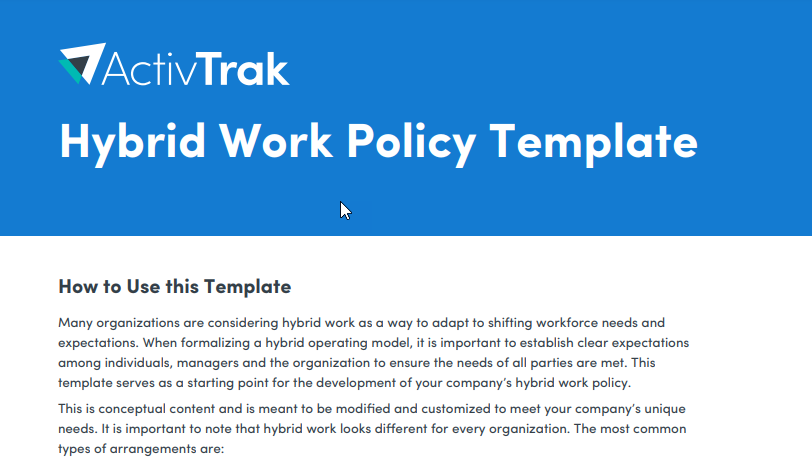 Sections Included:
Policy overview
Company policy and eligibility
Specific terms
Resources for remote employees
Policy Statement:
Our hybrid work policy outlines guidelines for employees who work from a combination of in-office and remote locations, either on a permanent or temporary basis. The purpose of this policy document is to clearly define expectations to ensure that both employees and [our company] will benefit from this hybrid work arrangement.
Main takeaway
ActivTrak's template includes a valuable section: a link to resources for all remote workers. Employees working off-site can review the company's handbook, social media guidelines, internet usage guidelines, monitoring policies, and much more all in one place. This is the sort of offering that can fall between the cracks as companies try to put together remote and hybrid policies.
Creating a hybrid work policy
Ultimately, your hybrid policy will depend on your company's specific needs. You can learn more about the different types of hybrid schedules in this post or educate yourself further on the differences between fully remote and hybrid work.