Home Office For Two: Desks, Equipment & Layouts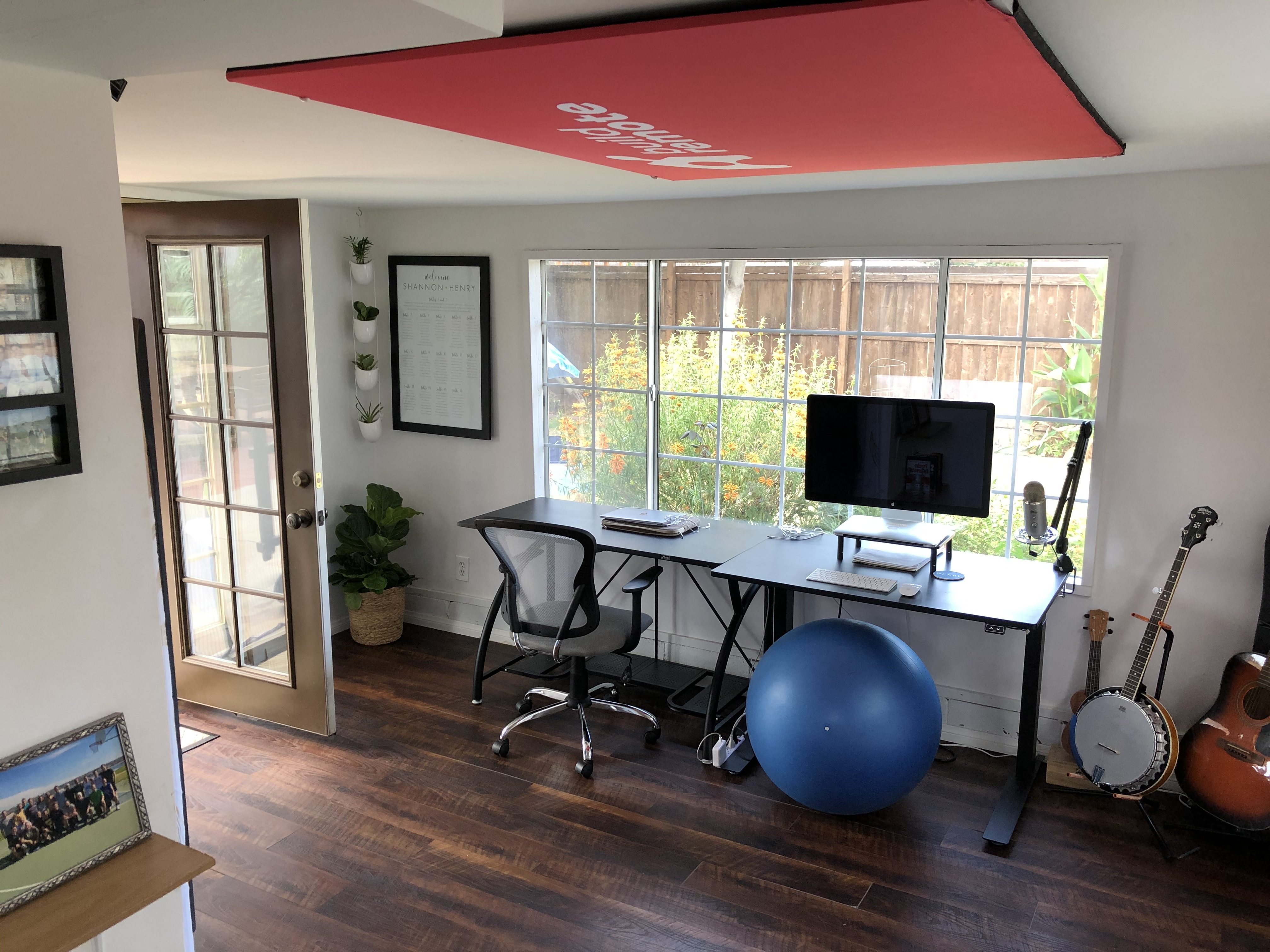 My wife, Shannon, and I have worked from home together for five years now. Since 2017.
As two people working from home at the same time, we've been through just about all of the scenarios. And we have plenty of home office products that are now firmly in our past: folding desks that didn't work out, video meeting backdrops that failed, room dividers we no longer need, and lots and lots of dead plants. Today, I'm sharing how we make it work in our two-person home office. Hopefully, by reading this article, you can skip ahead in your home office journey by learning from what we've tried in the past.
This article is broken into three parts. Use these links below to jump to a section that is most relevant to you:
Desk Options

Two-person desks
Folding desks
Standing desk
L-Shaped desk

Home Office Products

Anyvoo video meeting backdrop
Acoustic sound panels
Room dividers
Noise-cancelling headphones
Essential oil diffusors
Plants

Office Layouts

Face each other
Face away from each other
Side-by-side
Side-by-side with a room divider
L-shaped layouts
Shared desks based on function
One shared desk
Two-Person Desks For Your Home Office
If you're looking for advice on the best desks for two-person home offices, this is your section. I will recommend only the best desk based on each type. I personally have had three desks and my wife has had one she loves. We'll recommend our personal favorites where applicable, but we also asked 50+ people who work from home to share their desk of choice. You'll see the most frequently recommended from that group, as well.
Best two-person desk options
View the full buyer's guide on two-person desks: Two-Person Desks: 12 Double Desks To Buy
Here are the top recommendations by category.
| Category | Winner | Price | Rating | Buy |
| --- | --- | --- | --- | --- |
| 🥇 Best Overall | Double Computer Desk With Storage Shelf By Tribesigns | $180 | 4.7 | Check today's price |
| 🥇 Highest Quality | Two-Person Desk With Bookshelf By Tribesigns | $240 | 4.7 | Check today's price (Amazon) (Walmart) |
| 🥇 Best Bang For Your Buck | Two-Person Computer Desk By Tangkula | $130 | 4.4 | Check today's price |
| 🥇 Best T-Shaped | Extra Long Double Desk By SEDETA | $250 | 4.7 | Check today's price |
| 🥇 Best Two-Sided | Two-Person Computer Desk With Monitor Shelf By Aoibox | $220 | n/a | Check today's price |
| 🥇 Best Standing | Electric Double Standing Desk By BilBil | $560 | 4.4 | Check today's price |
| 🥇 Best For Storage | Two-Person Desk With Shelves By HYPIGO | $240 | 4.8 | Check today's price |
| 🥇 Best For Small Spaces | Two-Person Table By VECELO | $85 | 4.7 | Check today's price |
| 🥇 Best Minimalist | Modern Computer Desk By Tribesigns | $240 | 4.5 | Check today's price |
| 🥇 Best For Kids | Double Computer Desk With Printer Shelf By Tribesigns | $180 | 4.8 | Check today's price |
See Also: 7 Best Small Desks For Bedrooms
Price: $190
Reviews: 2,800+
Star rating: 4.5/5
We are on our third folding desk option. Don't worry, I will absolutely not recommend the two that didn't work. This is the one my wife has – the Origami folding desk – and it's fantastic. It's going on year six and is in the same condition as day one.
It's sturdy (a previous one I had was lighter but started wobbling and breaking down after just a hear)
It's really easy to set up and take down
It folds up really flat, so you can put it in the back of a closet or somewhere out of sight easily
See Also: 32 Bedroom Office Ideas (With Photos From Real People)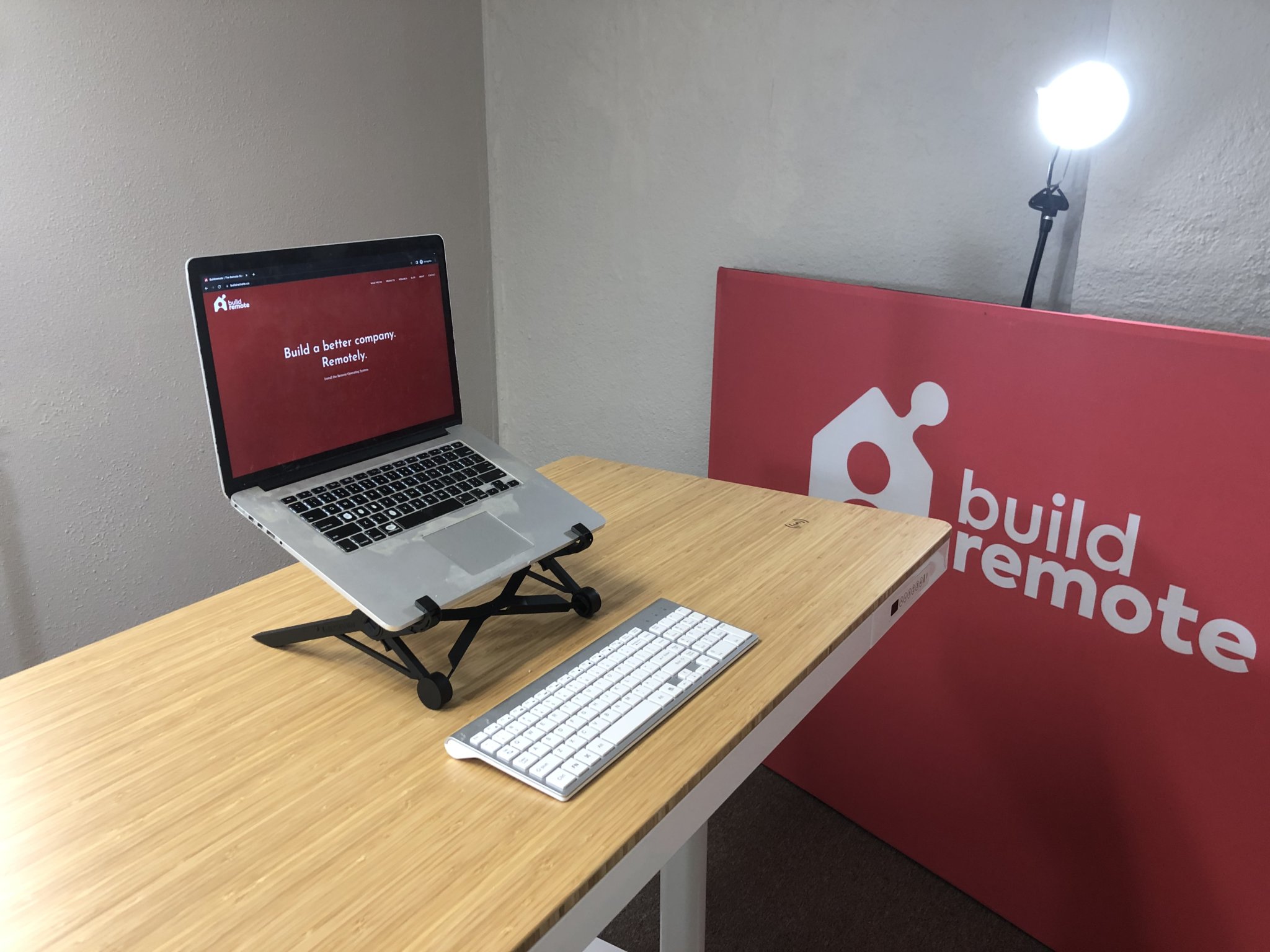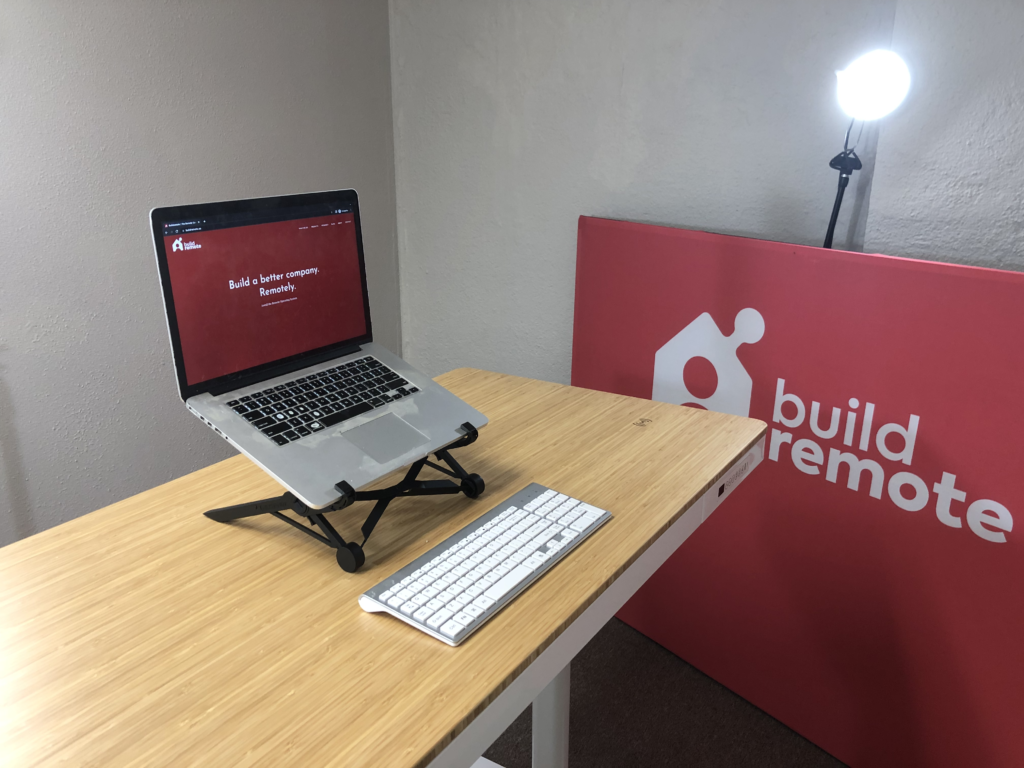 Price: $800
Reviews: 1,000+
My rating: 4.8/5
Here's a two-sentence takeaway from my review of the FlexiSpot standing desk:
"The FlexiSpot Comhar Pro Standing Desk is the coolest, highest quality standing desk I've seen. It is sturdy and well built, has a beautiful bamboo finish, and comes with all the geeky bells and whistles – height pre-sets, wireless charger, embedded drawer, and USB ports.
I dreaded the assembly (since I'm bad at that stuff), but it turned out to be easy and quick (under 30 minutes)."
It is beautifully designed (bamboo top, rounded corners, embedded drawers and control panel
It is sturdy, strong, and long lasting
It has all of the cool tech features you need like a quiet motor, wireless charger, USB ports, and height pre-sets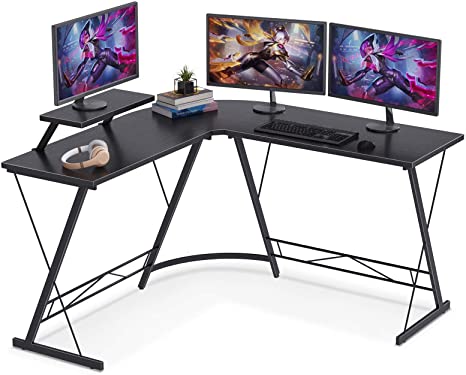 Price: $119
Reviews: 12,000+
Star rating: 4.6/5
I've never personally owned an L-shaped desk, so I relied on my list of expert contributors for this one. When I asked my list about their home office desks of choice, 65 people responded. Of the people who have an L-shaped desk, this was the one recommended the most (and it also won a category in our "best desks under $100" buyer's guide).. When I cross-referenced it with Amazon reviews, this L-shaped gaming desk is also the highest rated with thousands of reviews.
Helpful Home Office Products
There are a ton of great products (physical and digital) that can add a lot to your two-person home office. My wife and I are, sort of, minimalists so we like open space.
Here is an overview of the equipment you'll find in our home office:
See Also: Working From Home With A Baby
Here are some descriptions of products we use to manage our two-person setup:
Equipment
Anyvoo: Video Meeting Backdrops
We invested in a two-sided Anyvoo. My wife has her company, Solo Content, on one side and I have mine, Buildremote, on the other. I hang the Anyvoo on the Buildremote side for my meetings and she switches to Solo Content side for her meetings. I highly recommend Anyvoo for anyone who needs to look professional on video calls.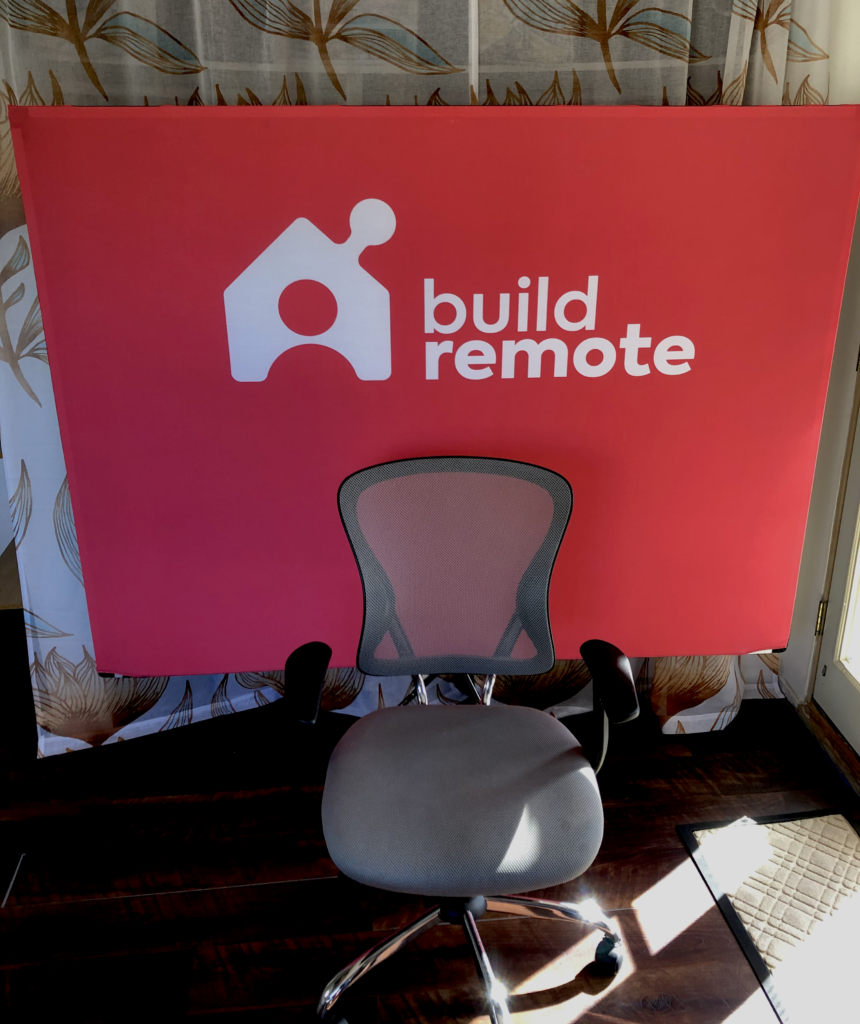 See how Anyvoo compares to other video conference backgrounds in this article.
You can build your own Anyvoo here.
We have little kids. At our house, at least one person is usually in a meeting, one is crying, and one is sleeping. That's pretty standard. We have some sound panels we hang on our wall (in the office and kids' bedrooms) to help mute the noise within that room. It also helps any echo on video calls.
You can get a pack of those sound panels on Amazon.
Room Dividers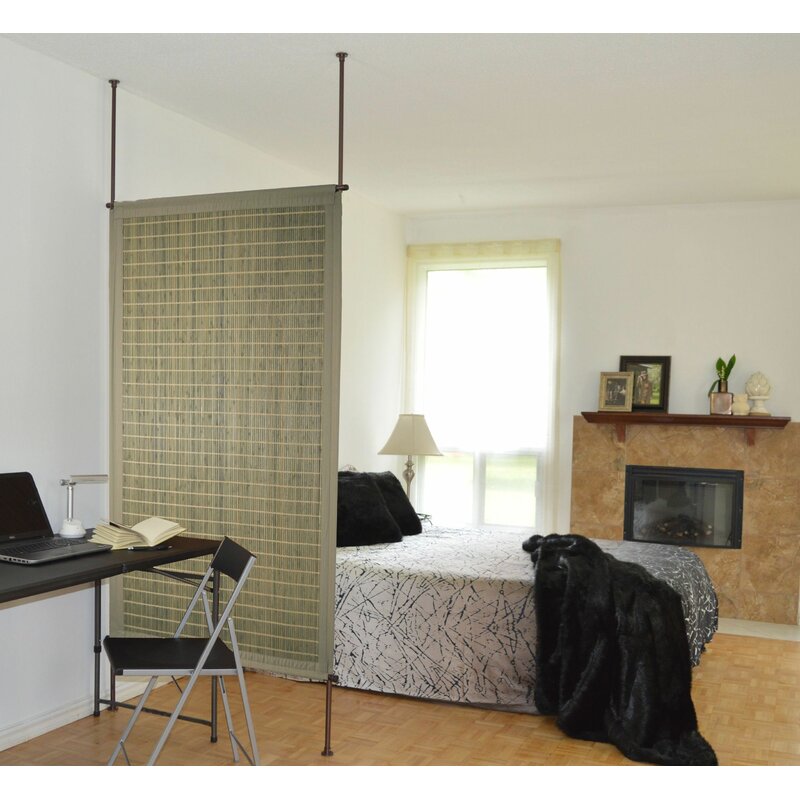 We don't use these anymore now that we have our dedicated home office. We did use them when we worked in our bedroom. They are pretty nice, and help break up a room well.
We personally chose this one from Wayfair.
Noise-cancelling Headphones (AirPods or Bose)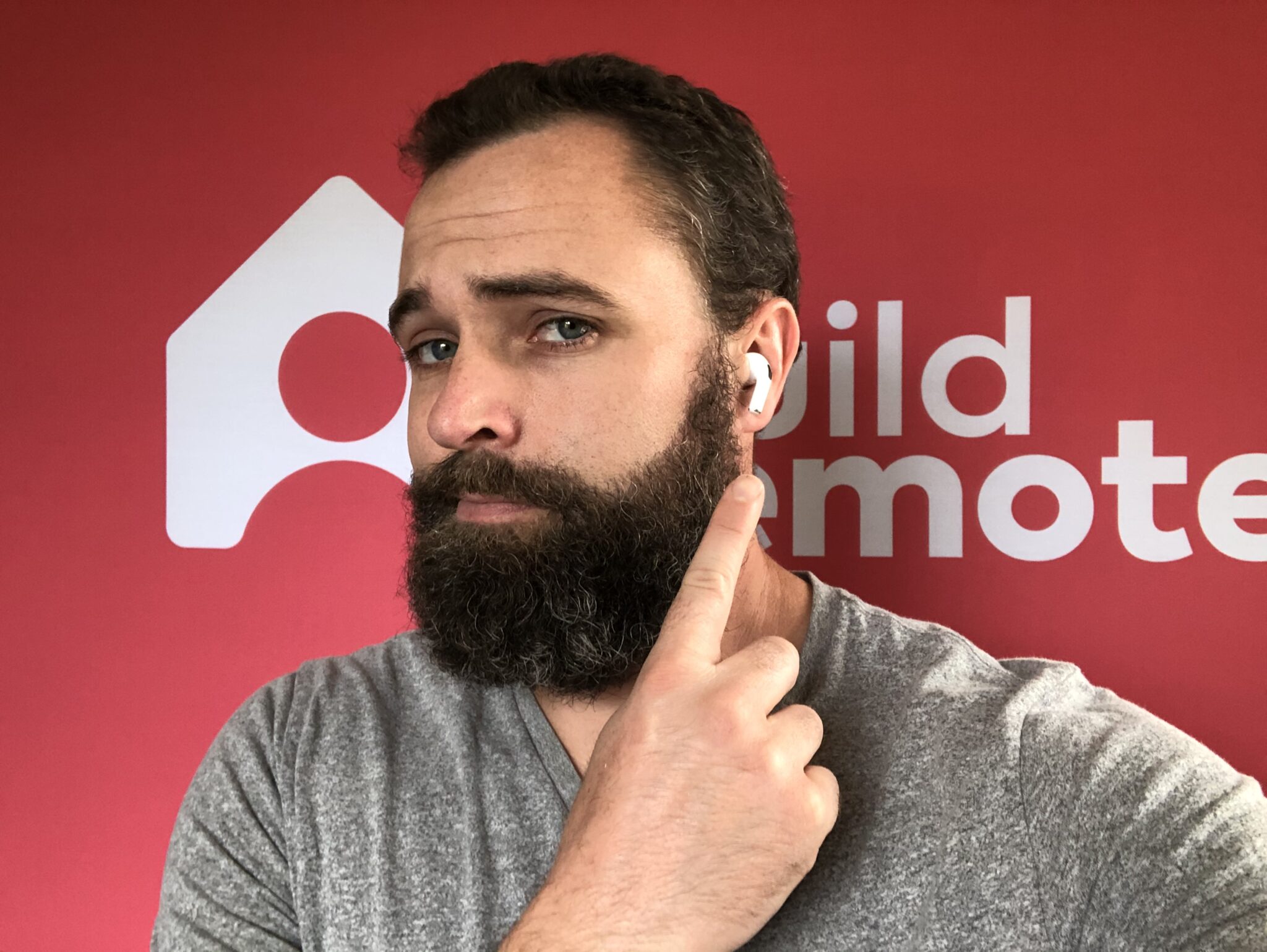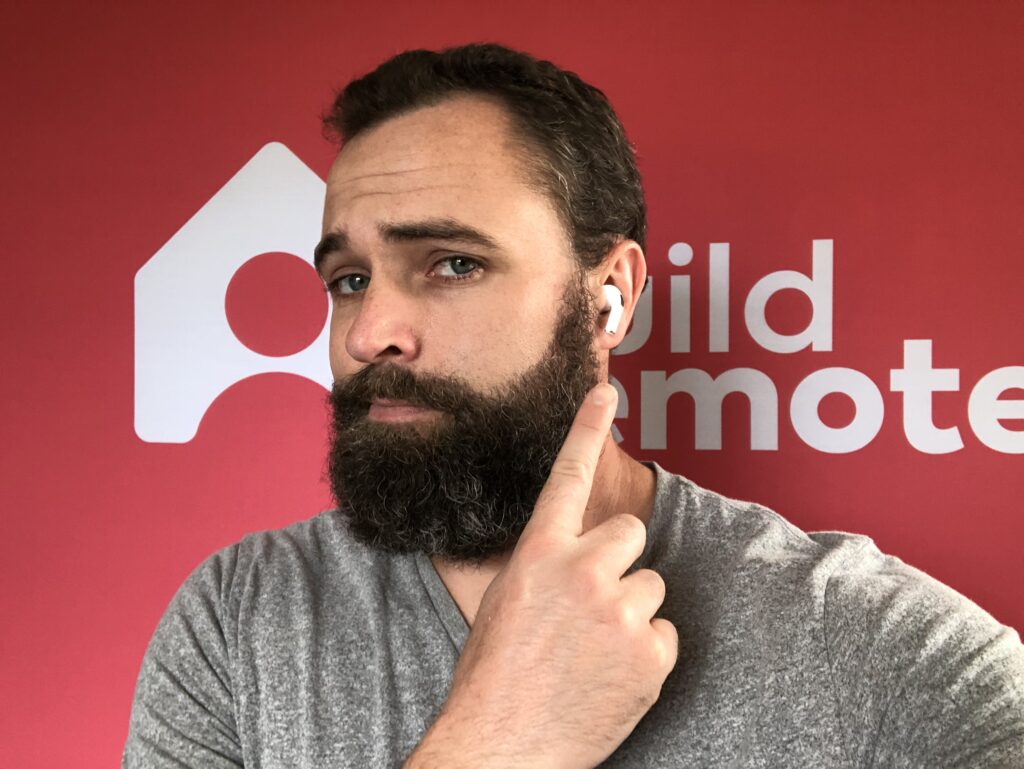 We each have a pair of Bose noise-cancelling headphones. And my wife got me AirPod Pros as a gift. They are great for airplanes in particular, but also very helpful if you're trying to work when the other person is gabbing away in a meeting right next to you.
You can buy AirPods or Bose headphones on Amazon.
See Also: Working From Home With Kids? The Necessary Products & Tools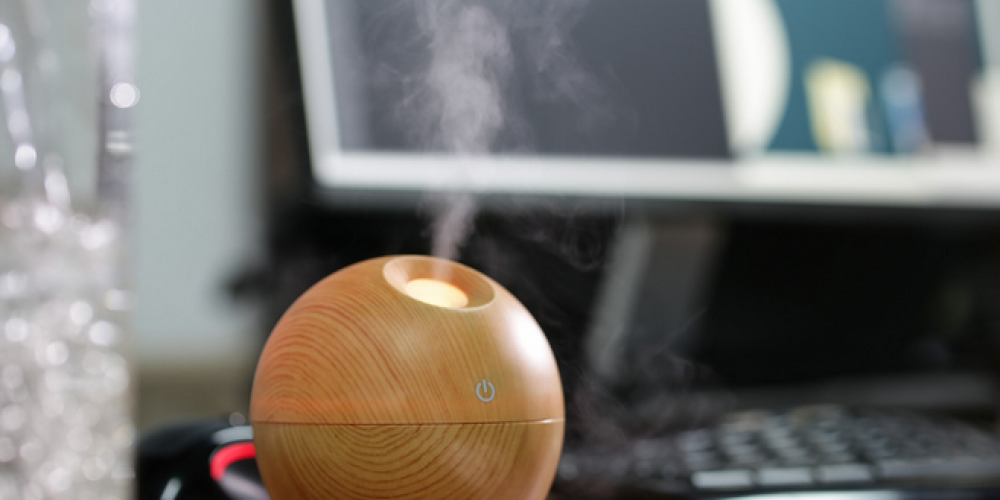 Maybe your officemate stinks? Maybe you stink? Either way, we have one of these are they are great for the aroma and mood of a home office.
Plants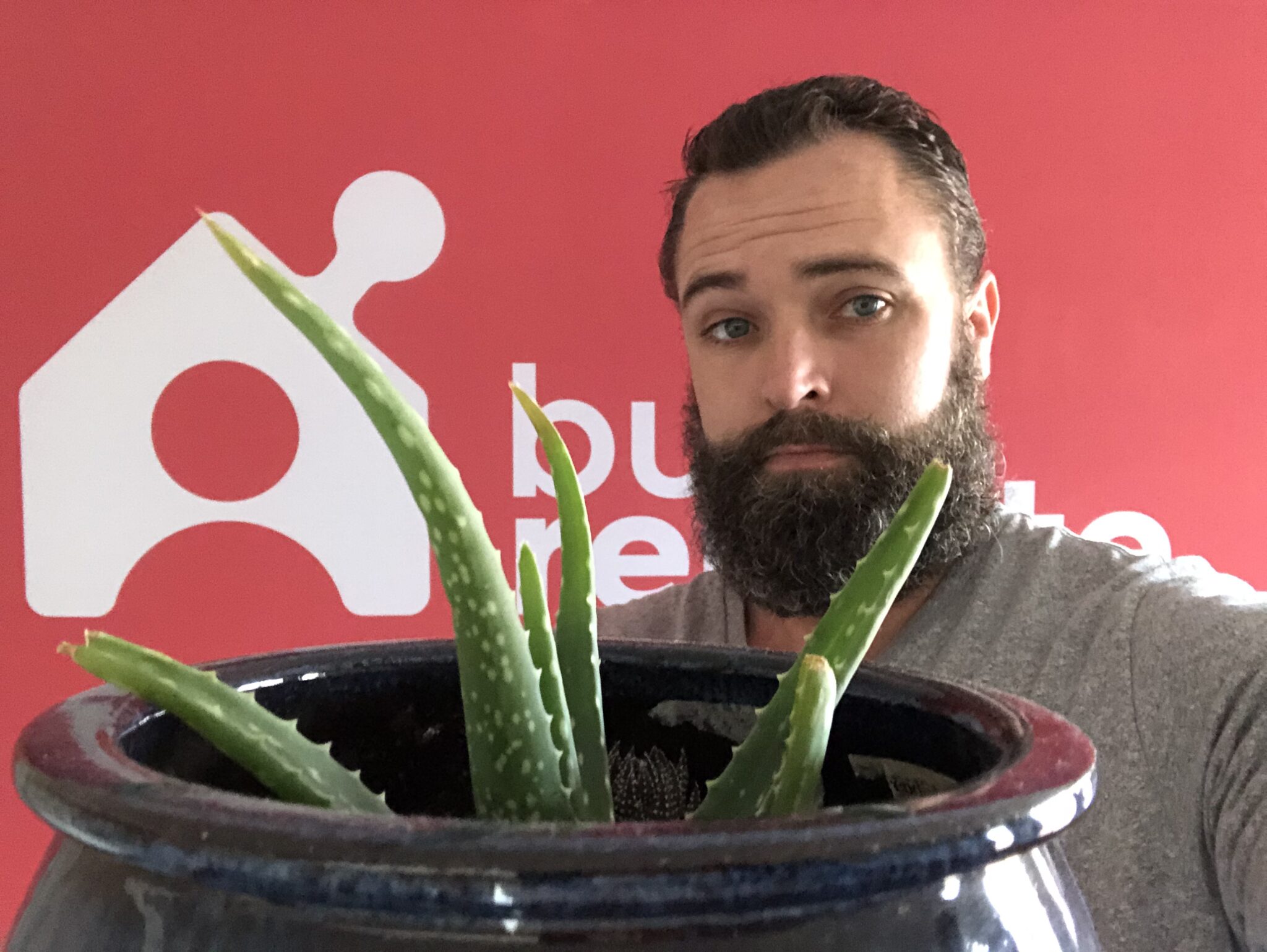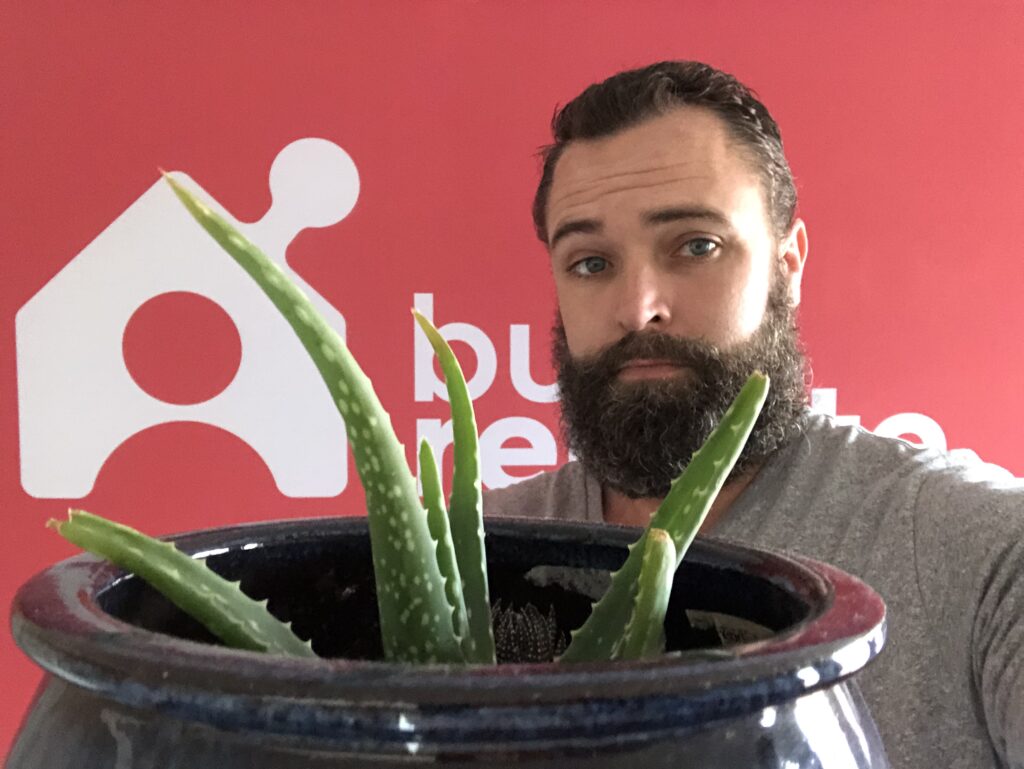 We love plants. We had to banish them from our house for a few years as our first born started crawling and walking. Now that we have our dedicated office (where we can close the door), we're back in the plant business! They seriously help the home office atmosphere. (You know where you can buy plants.)
Software
Google Calendar or WeekCal: These shared calendars allow you to view your own calendar and your office mate's calendar in one place (so you don't overlap meetings).
Focusmate: This tool gives you a real parter over the internet to help you stop procrastinating.
Traveling Mailbox: If you travel frequently or don't want to give out your home address, Traveling Mailbox receives your mail and scans it into digital format for you to receive anywhere.
Holopod: This Slack plugin automatically updates your status and blocks notifications so you can limit digital distractions.
Two-Person Home Office Layouts
If you're sharing a home office with your spouse, partner, or roommate, make a decision together about the office layout. You may also want to see some real home office layouts to choose from through Maker Stations.
Here are your options to choose from (paired with benefits and drawbacks of each).
Face each other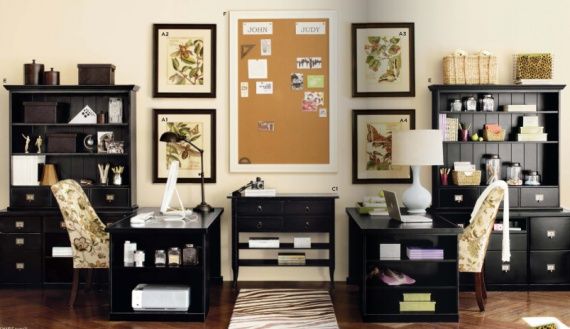 Benefits
Drawbacks

Work without someone looking over your shoulder
Have your own background for video calls

Depending on the size of your laptops (and the strength of your relationship), you may be staring at each other all day
You'll both likely face inward (which is a drawback if you prefer looking out the window)
See Also: 105 Tips For Working Remotely
Face away from each other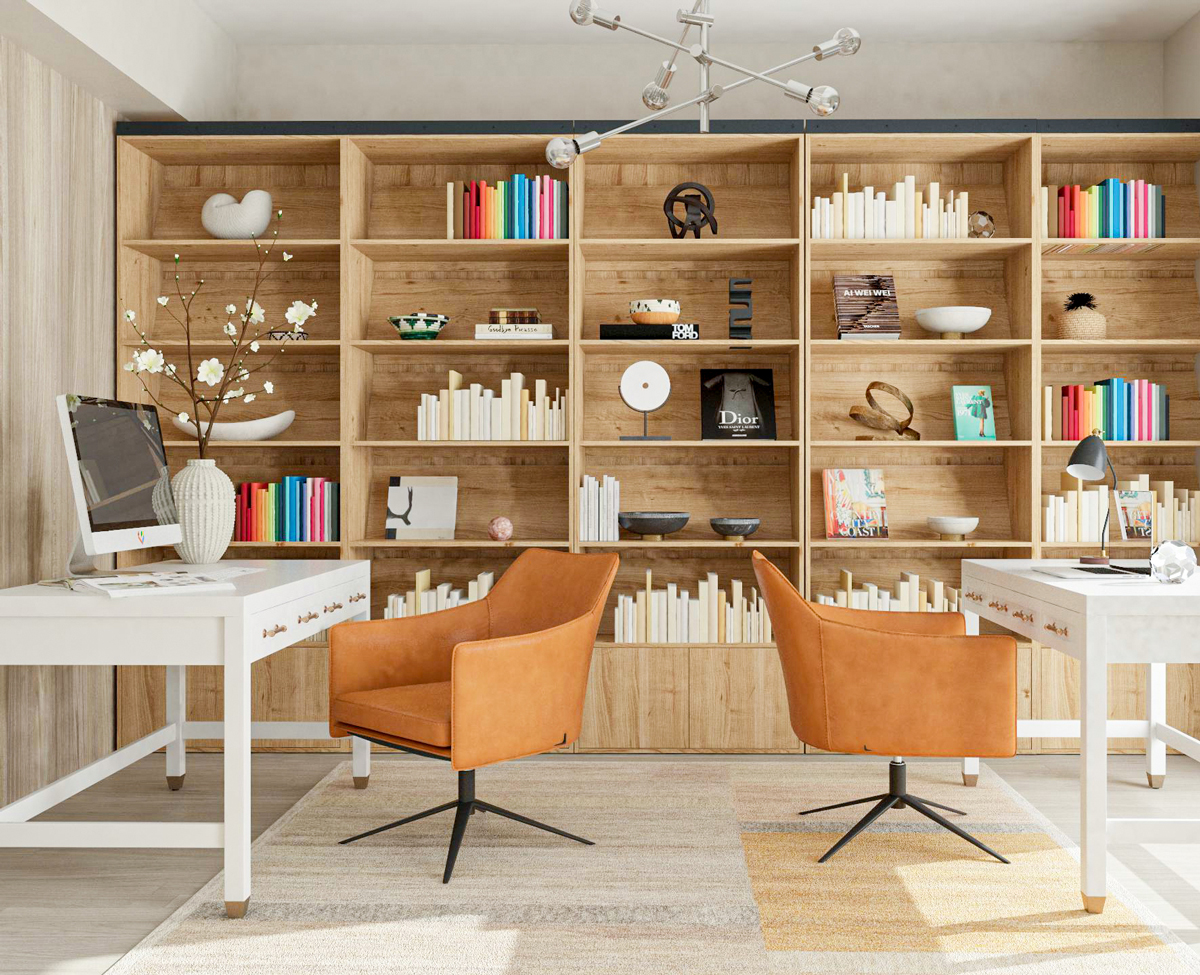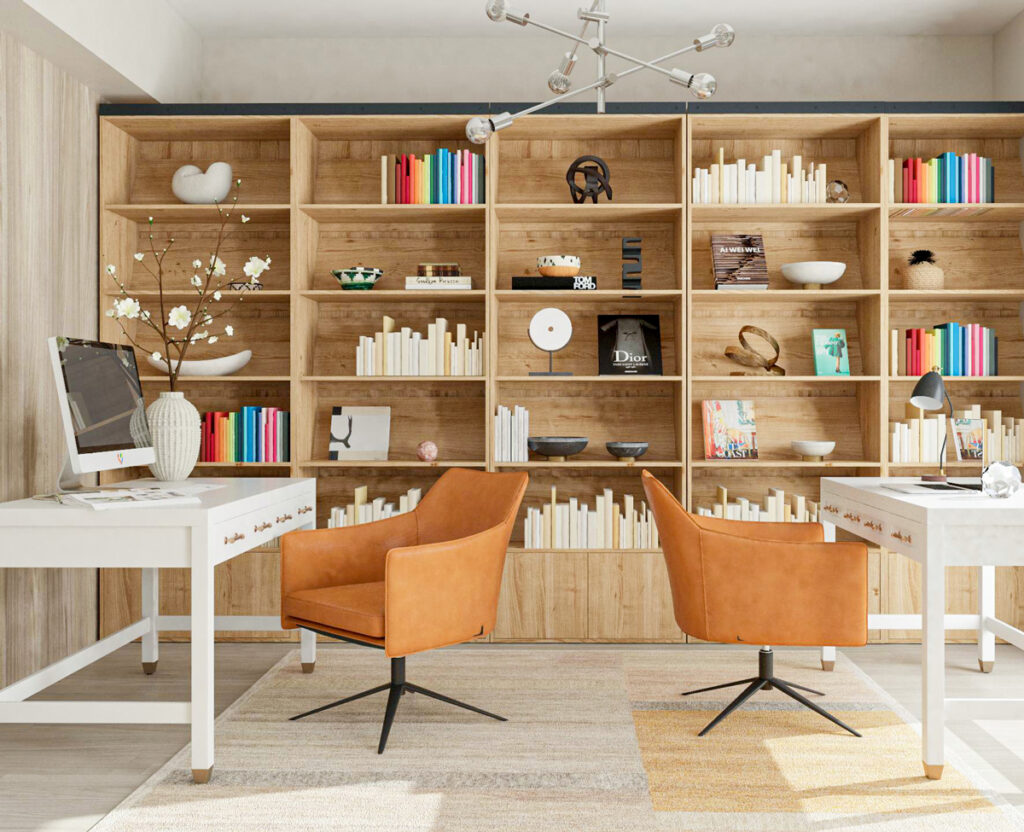 Benefits
Drawbacks

This helps you feel like you have your own space when working
You each get to face out (potentially toward windows), rather than into the room

Your office mate (roommate or significant other) may be looking over your shoulder
**You show up in each other's video meetings!
**There are two solutions to the issue of showing up in each other's video meetings:
You could get a room divider like this.
You could get a two-sided Anyvoo backdrop for video calls.
Side-by-side (This is our current layout!)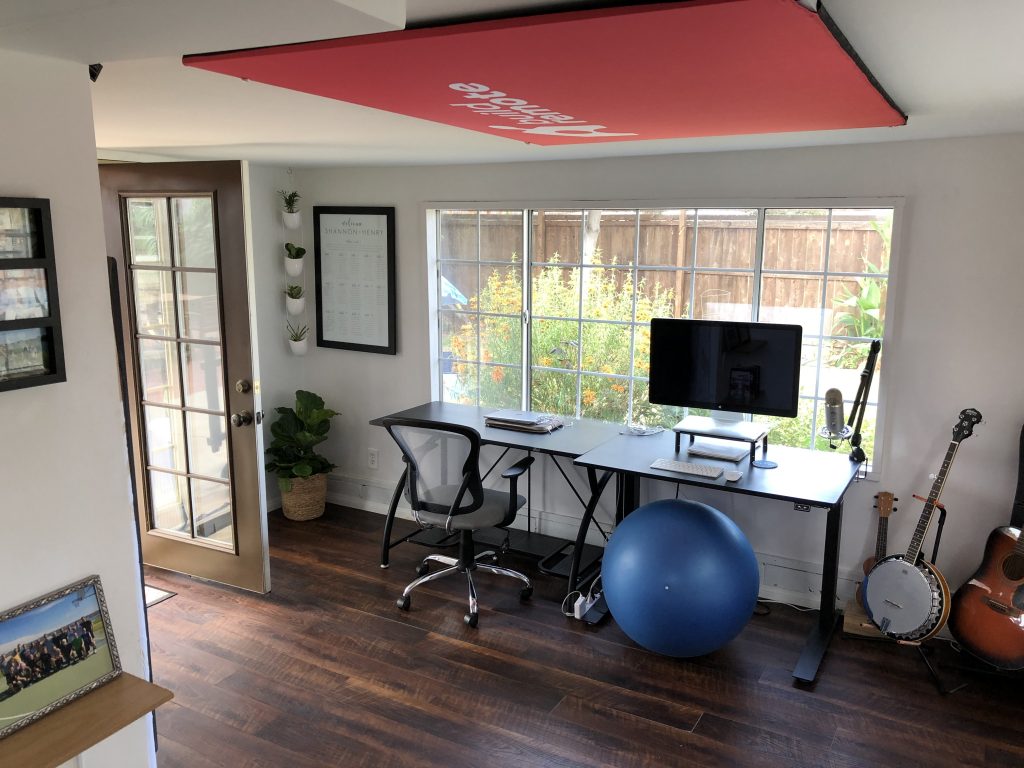 Benefits
Drawbacks

You equally get the same view and lighting
You aren't facing each other (awkward) or away from each other (appearing in video calls)

Your two desks basically become one
You can likely see each other's screens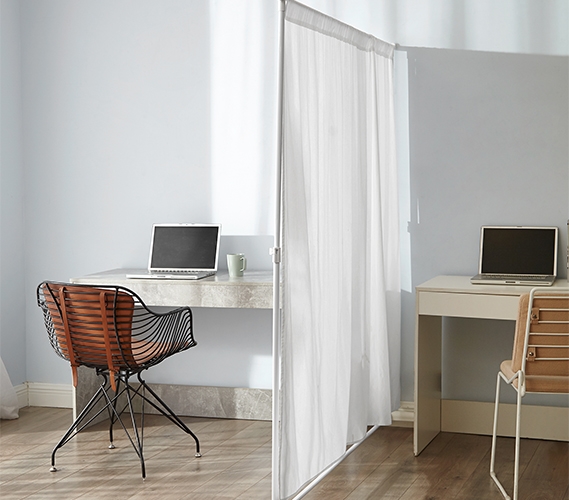 Benefits
Drawbacks

You get all of the benefits of the layout above
Plus, you have your own divided space

I guess, the expense of the room divider?
This could mess up the lighting a bit if one desk grabs most of the natural light and the other doesn't get any
L-shaped desks or layout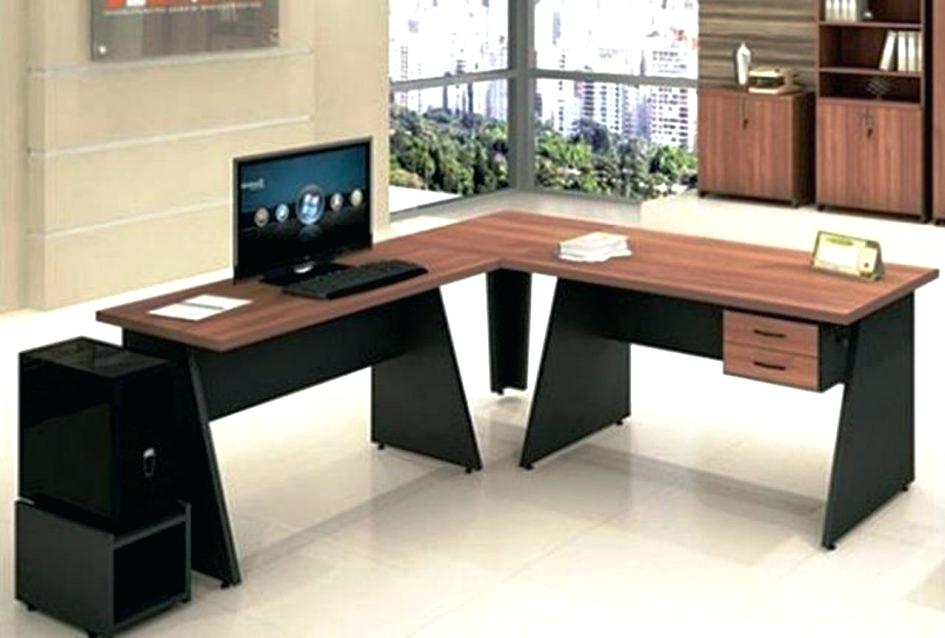 Benefits
Drawbacks

You fix a lot of the drawbacks with facing each other or away from each other
You have different vantage points (which could align with your preferences)

This is truly sharing a desk (where they are pushed together or just one desk)
You could still show up in each other's video calls (a big consideration)
Shared desks based on function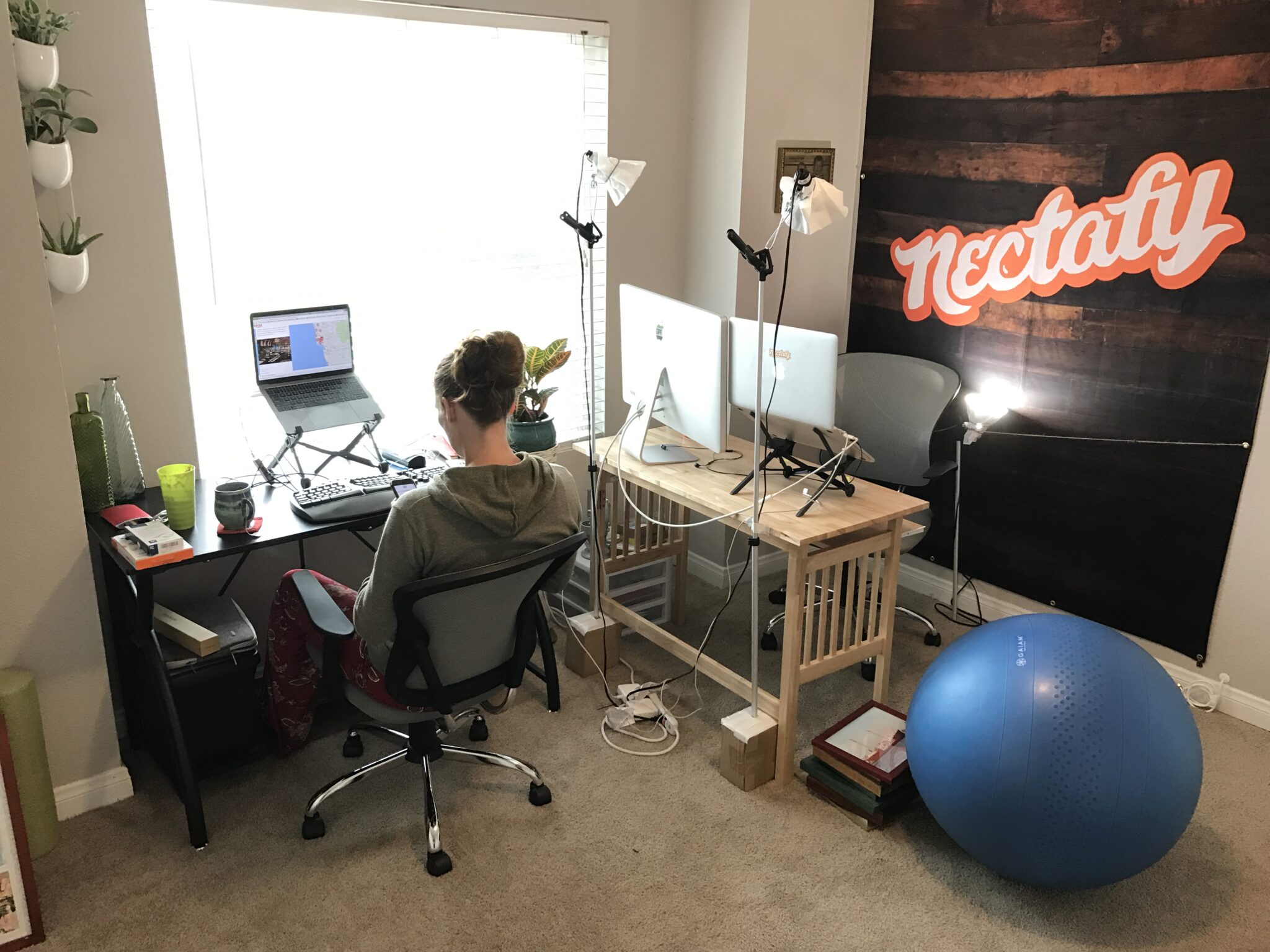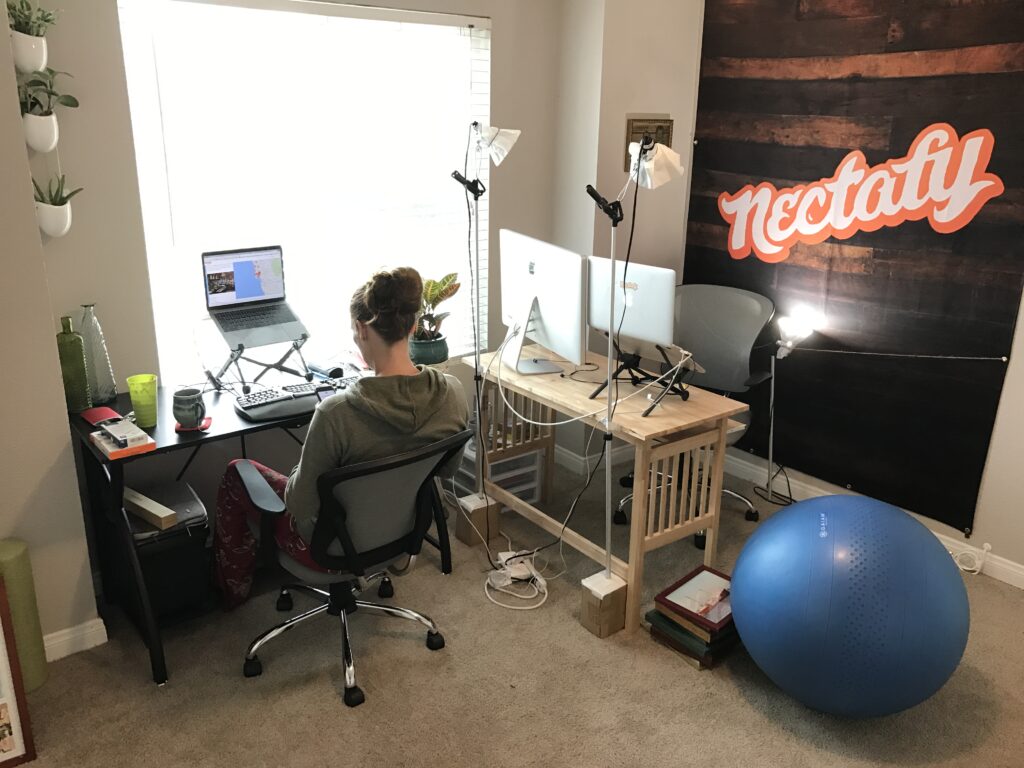 If you are minimalists (with little personal equipment and loose papers), you could share both desks. For example…
One could be used for video meetings (you'd have good lighting, a nice background, a laptop stand to get the right height for video calls) and the other for working
One could be a standing desk and the other for sitting
One could have a Yoga ball or kneeling chair and the other an ergonomic office chair
The possibilities are endless! No, that's not true. That's pretty much all I can come up with.
Benefits
Drawbacks

You have specific desks that are set up really well for certain functions
You get the flexibility of having two places to work

You don't have your own dedicated desk
You are forced to share (which could cause issues)
One shared desk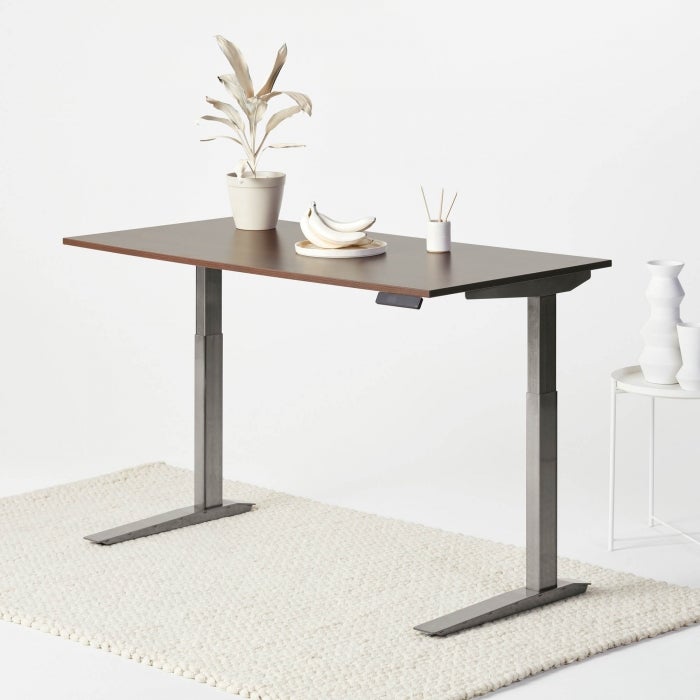 Finally, you could have just one desk that you share. This might work in these scenarios:
You and your office mate don't ever work at the same time (like my wife and me)
One of you has a membership to a co-working spot that you could share
You each like going to coffee shops or libraries frequently enough that one desk works
You have other places in the house to work and like mixing it up
One of you has so many meetings that it's impossible for the other person to work in the office
Benefits
Drawbacks

You'll save space
You have the ability to work in other places, which you value

You don't have your own dedicated desk
You are forced to share (which could cause issues)
Additional resources for the two-person home office
I hope you (and your spouse or roommate) found this guide useful. My wife and I have worked together from home since 2017. Tt takes awhile to find a rhythm.