My Final Home Office Equipment List (With Pictures)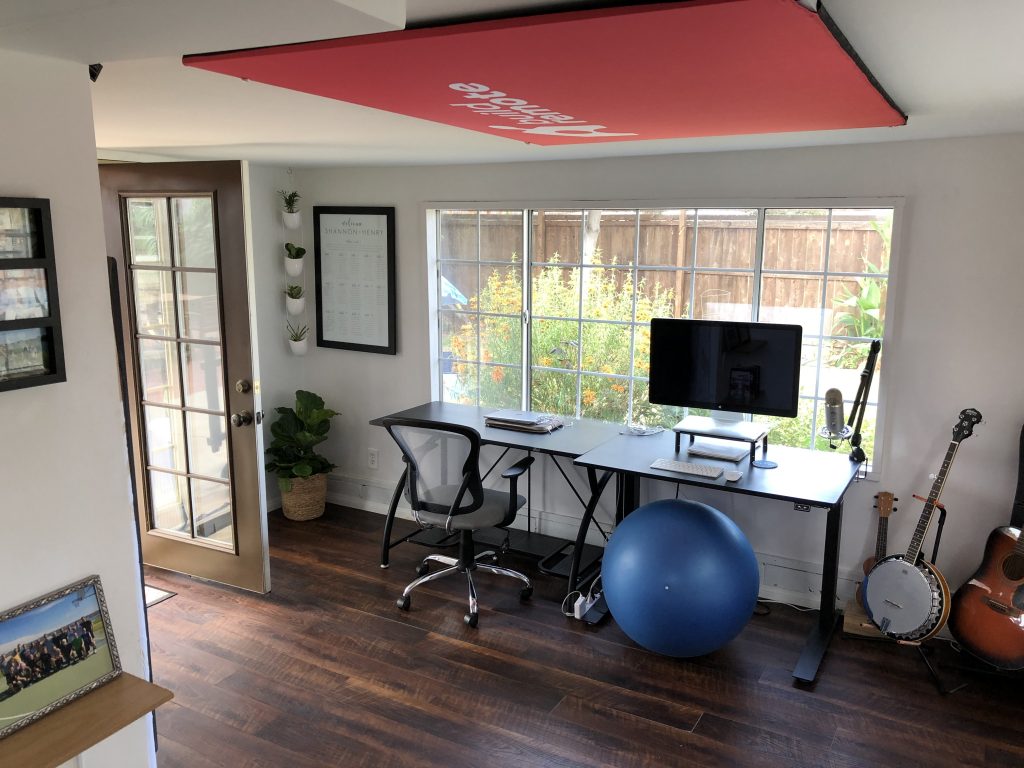 Here is the equipment you'll find in my home office right now.
The backstory behind my home office equipment list
I started working from home in my early twenties.
We had four guys in a four-bedroom apartment near the beach in San Diego. You can probably picture the scene: dirty dishes stacked above the faucet, beer took up most of the fridge, and quarters were the hottest commodity on laundry day.
I wasn't exactly focused on building a nice work environment. I threw out a fold-out table (likely purchased for beer pong), bought a used office chair, and posted up in the hallway near the pop-a-shot basketball hoop.
Ahh, there it is.
Here's a good picture of what it felt like to work in that environment.
It took a few years for me to care about my home office setup.
Now in my thirties – I'm married with two kids, both of us parents working from home – the home office environment is just a bit more important. We need a good space where we can think (and be professional on video calls).
See Also: Providing Equipment For Remote Workers: 4 Options
After just under a decade of working from home, I finally feel pretty good about the equipment we have to make a nice home office setup. Keep in mind, though, these are the pieces of equipment that work for me. If you want to see a number of real home office layouts in one, take a look at Maker Stations. They've done the best job building real, inspirational galleries.
Here's my list.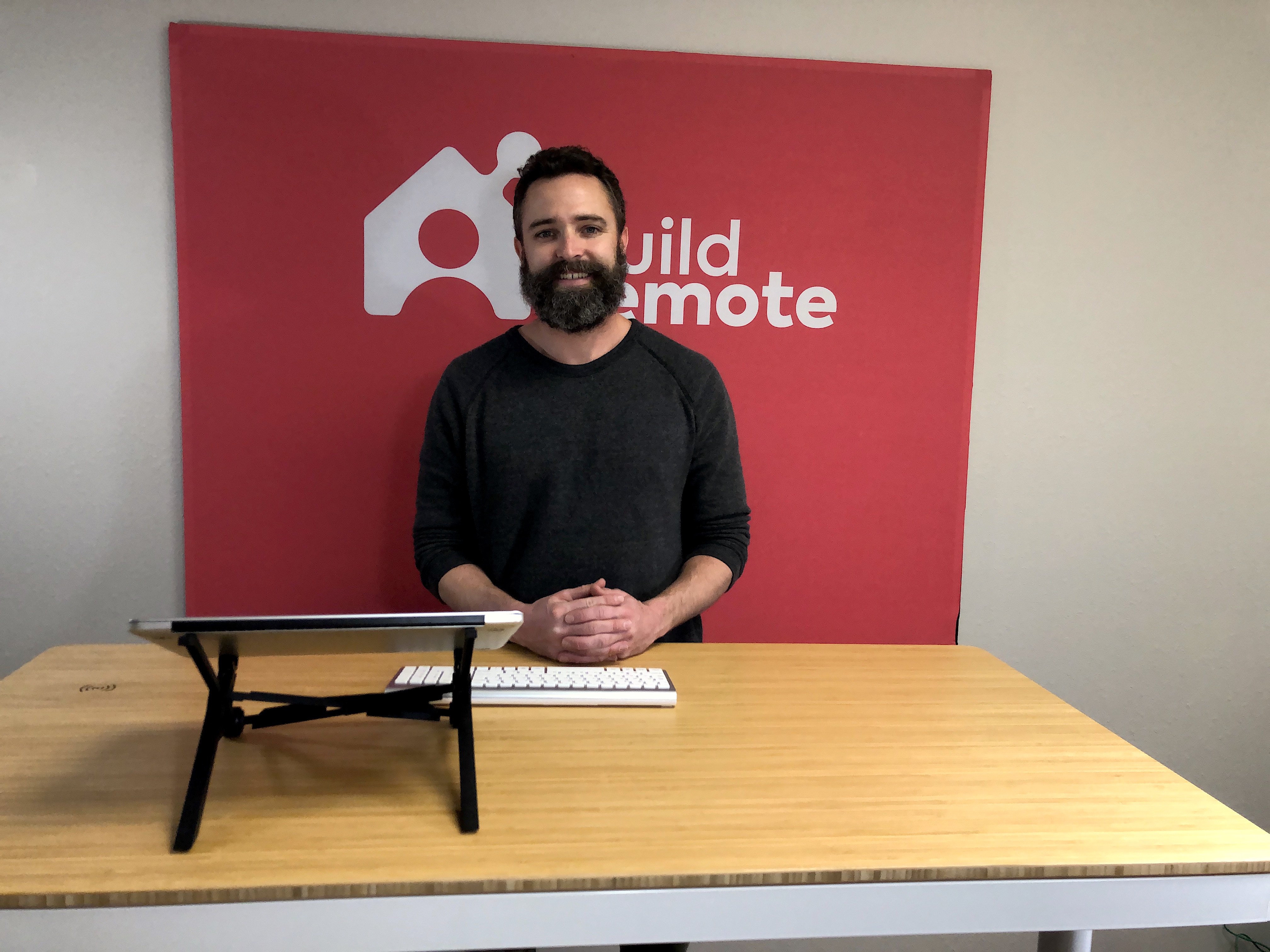 If you look at my face, you can probably see I don't get excited that easily.
But I love this desk. It's extremely well built and high quality, it has a minimalist simple, and it has all the bells and whistles:
Add up to four preset heights (for sit and stand positions for you and you spouse, for example)
Wirelessly charge your phone on the desk
Put your work away at the end of the day with a drawer
Hide your cables and wires with a built-in cable tray
If you want a standing desk with drawers, this is a reasonable price for what I consider the best on the market.
You can read about and filter a list of the best home office desks here.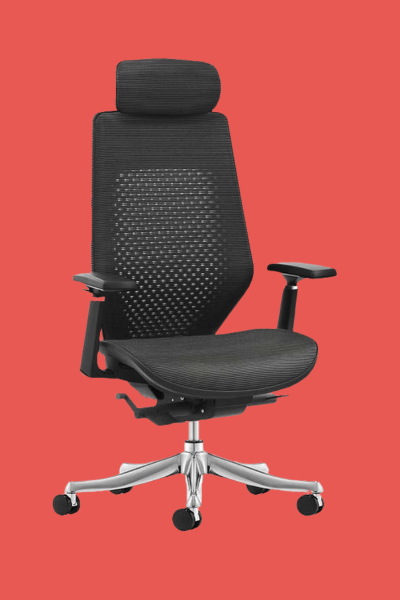 Three things jump out to me about the FlexiSpot Ergonomic Chair Pro:
Versatility – everything is adjustable on multiple planes
Quality materials – the chassis is sturdier and heavier than any I've seen, the mesh material is strong and flexible
Breathability – each part of your body is suspended in the air by fabric (no parts are skin-on-cushion, which gets hot).
If you want a high-quality, ergonomic chair that won't break the bank (like a Herman Miller at $2,000), you'll be very happy with the FlexiSpot chair I have. You can check today's price here.
Read about and filter the best office chairs here.
See Also: Should You Buy FlexiSpot's Mesh Back Office Chair? [My OC2 Review]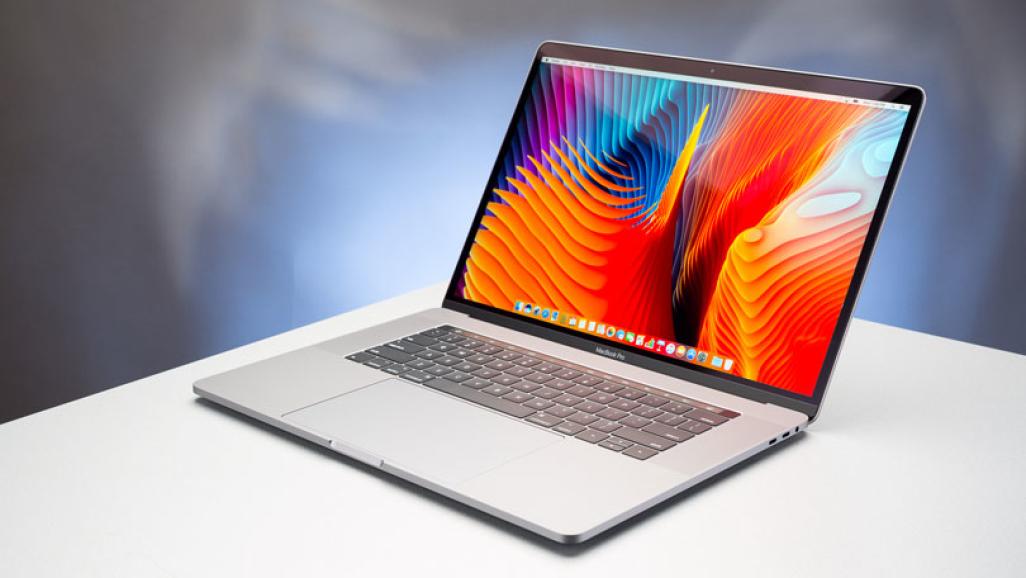 I've done the PC thing and I've done the Mac thing. I'm a Mac guy now. I've had this computer for almost ten years and it still runs like new. I never had a PC that did that.
See Also: 10 Best Laptops For Working From Home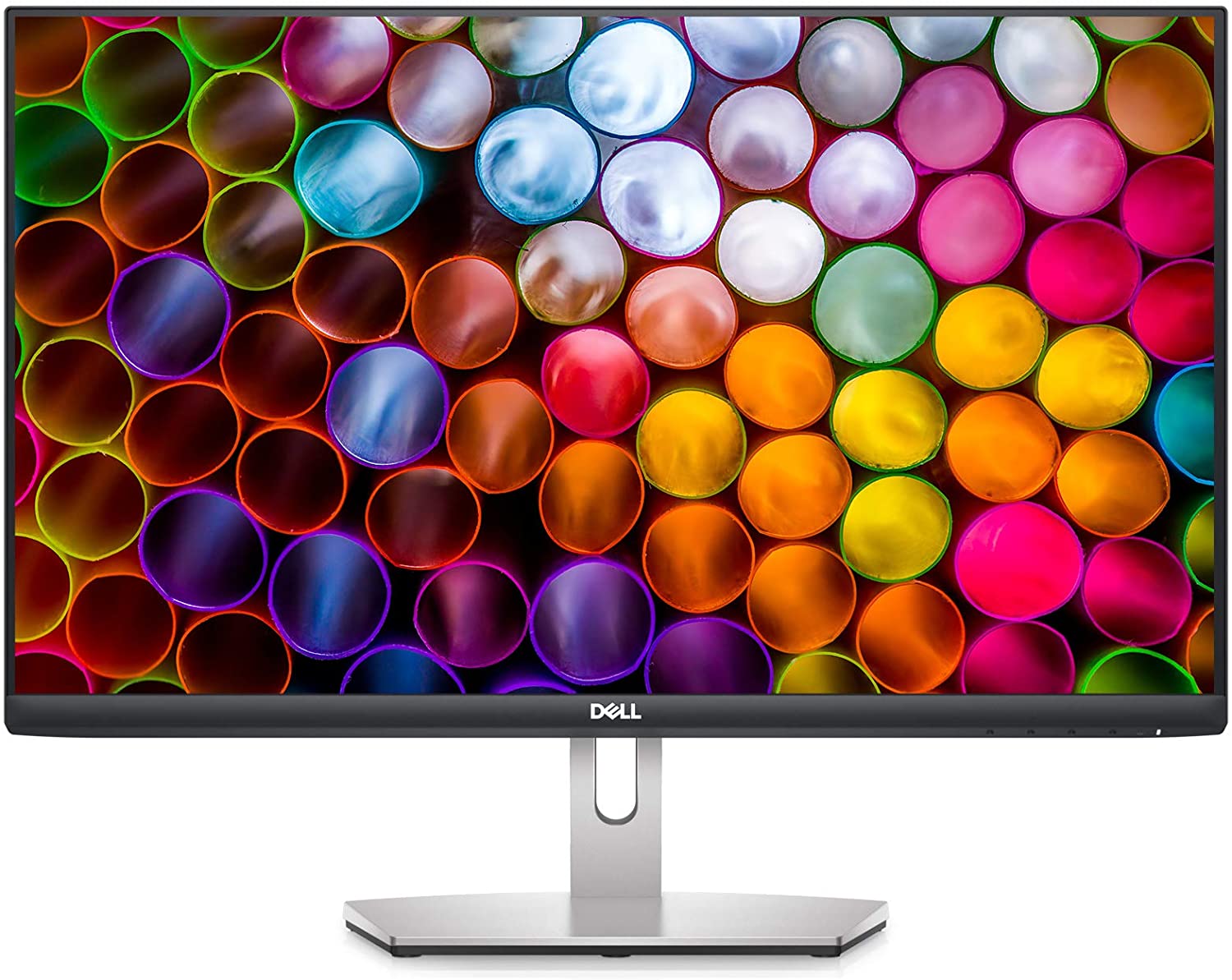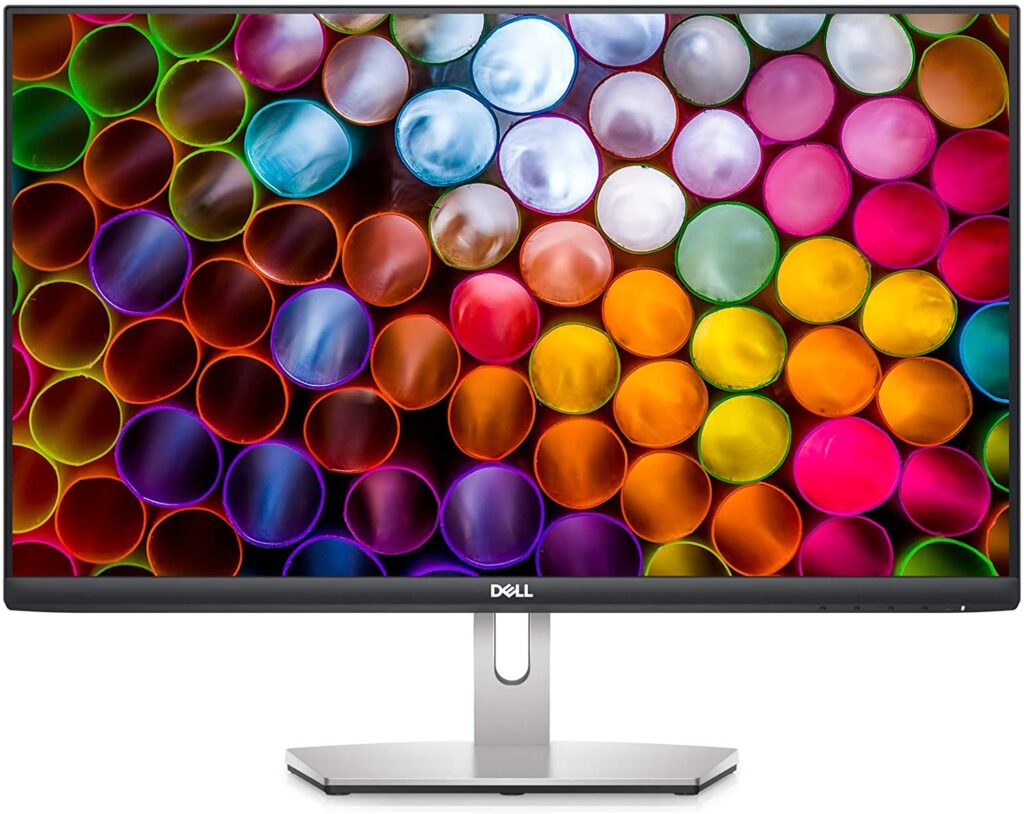 I actually have a Mac Thunderbolt Display, but they stopped making them in 2016 and it's been replaced by the Pro Display XRD. It looks like the standard version of that display starts at $5,000! I'd recommend buying a car instead.
We now send out these Dell monitors to new employees instead. To pair it with a Macbook you'll need to get a USB adapter and an HDMI cable.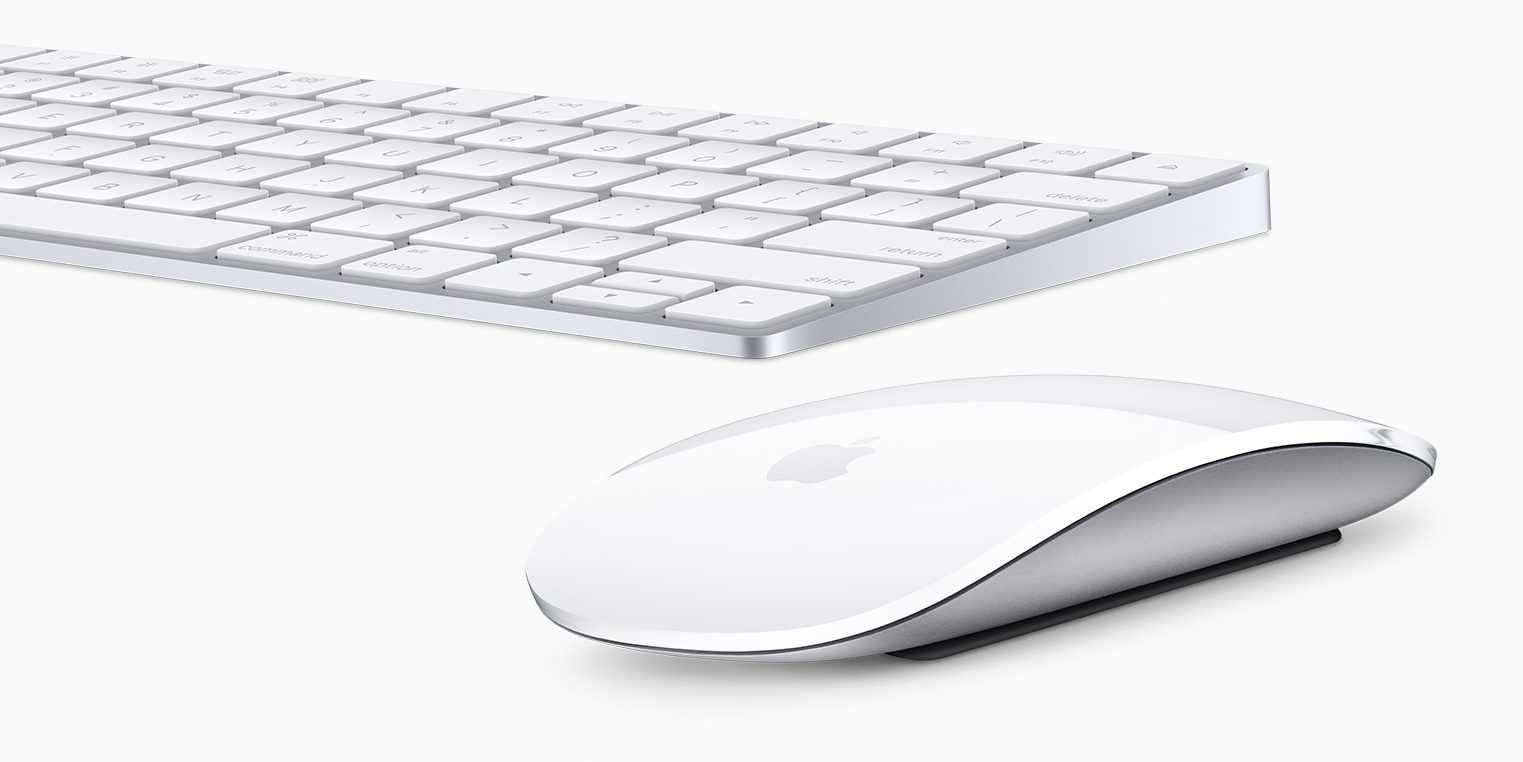 I've had a wireless keyboard and mouse for years. I'll even travel with them depending on how long we're going away for. The wireless piece is nice and helps to keep your desk clean, but the real value of a wireless keyboard and mouse is for video conferencing. In order to look good on video, you need to get a few feet back from your camera and have the camera higher than your head. It's just a better angle. A wireless keyword (not connected to your laptop or computer) helps to solve that.
6) Laptop stand: Nexstand ($44)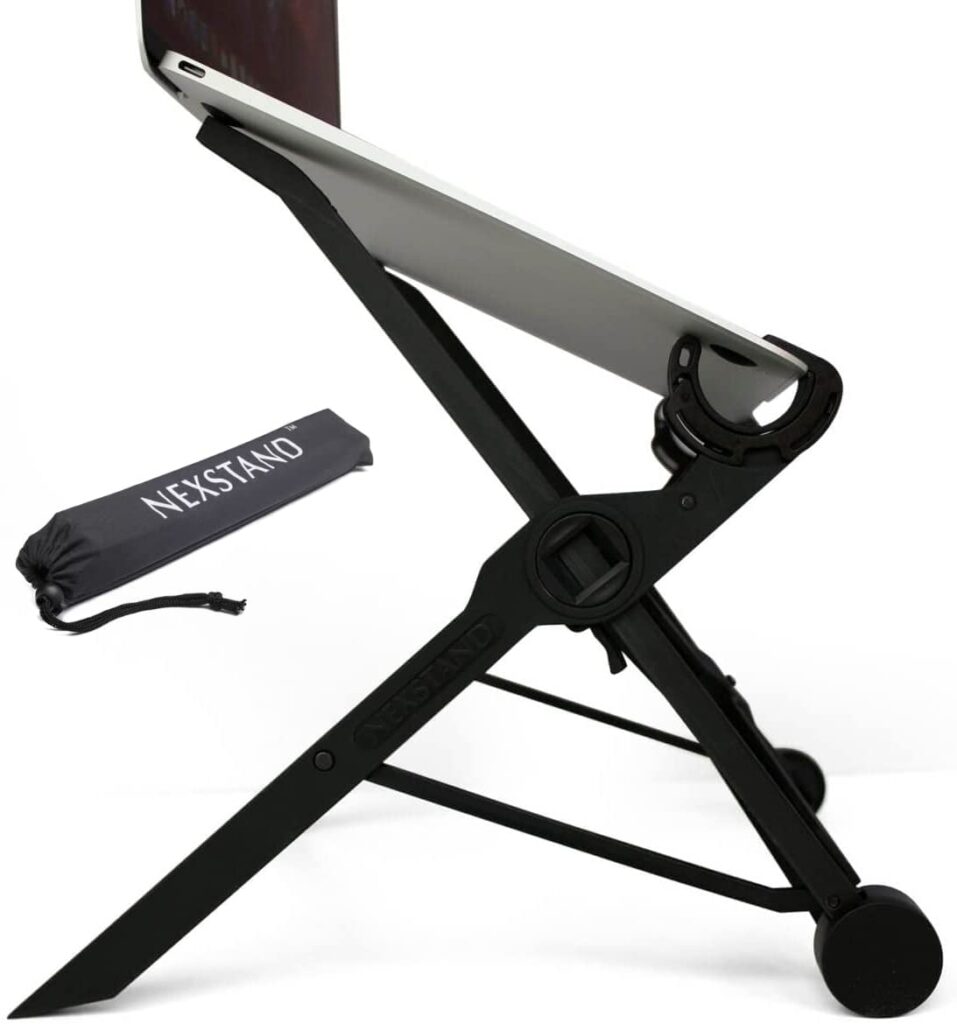 This is a great product. Like I said in #5, it's important to lift the camera for video calls. The laptop stand helps with this and so you're not constantly looking down all day and putting pressure on your neck. It's lightweight, collapsible, durable and great for travel.
I've had the Roost laptop stand in the past, too, which I'd highly recommend as well. It lasted for about 5 years and traveled around the world and finally broke. When I went to buy a new one, there was a cheaper option on the market like Nexstand.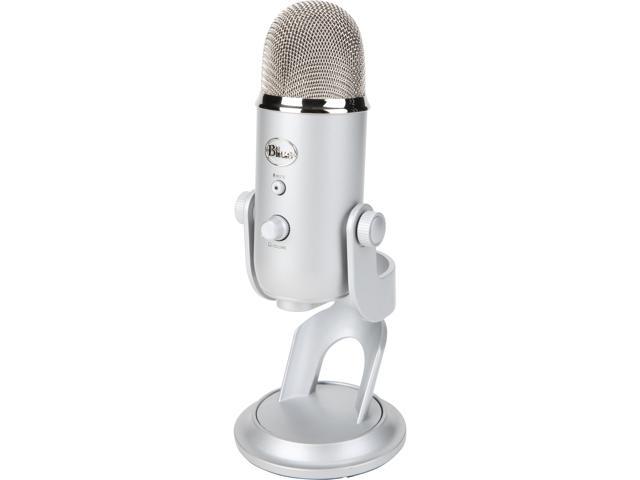 I have this for podcasting and video creation. I don't use it simply for video calls. So, if you're not creating content then you likely don't need this.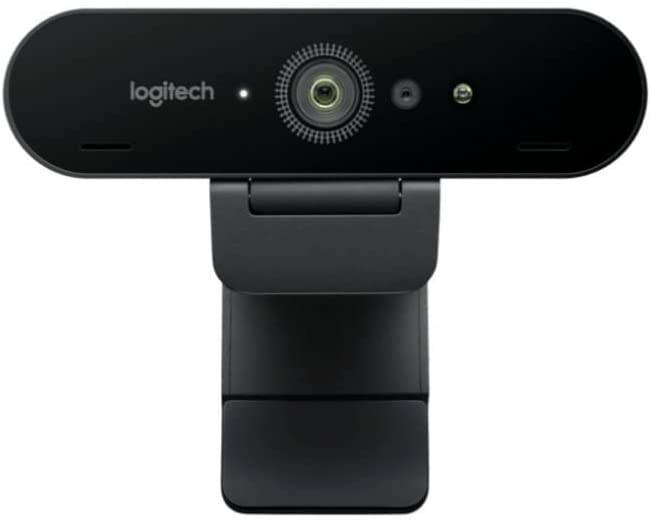 For years, I used my Mac display's built in camera. Mac is well known for high-quality products, so this was a good solution. Then I got the Logitech 4K Pro and it was night and day. If you want to look good on video calls, I recommend getting this one.
9) Video conference background: Anyvoo ($229)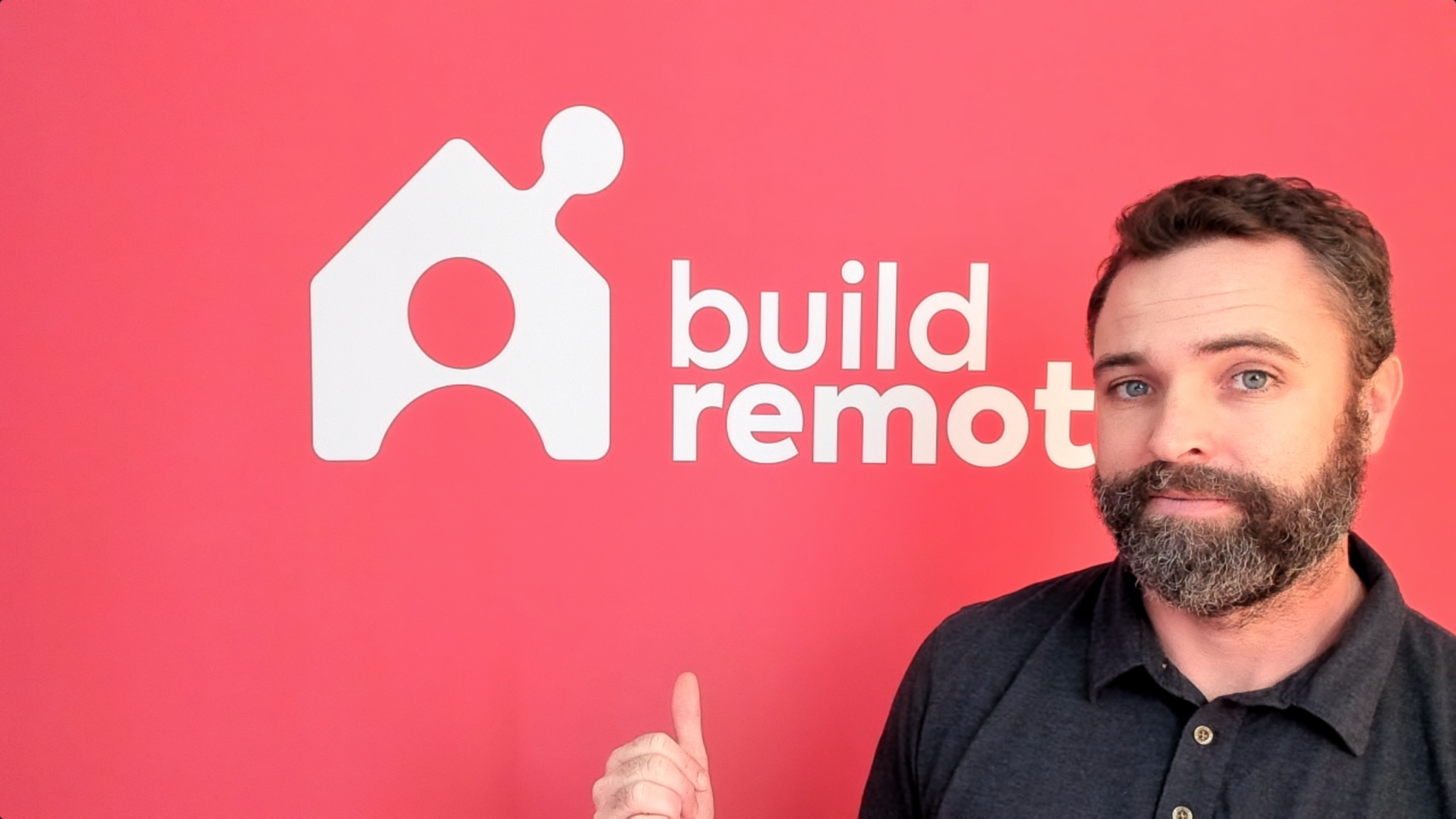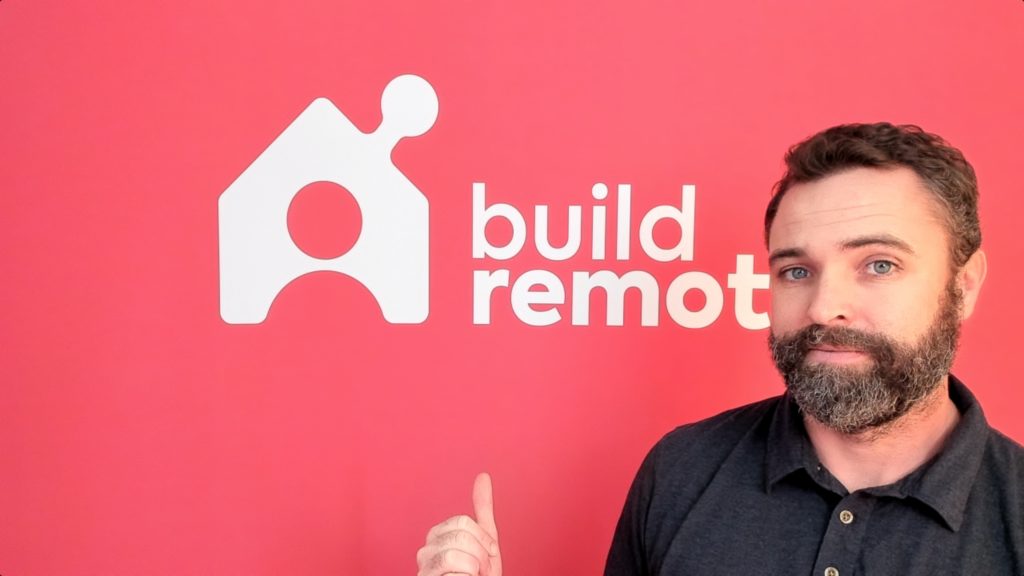 Even with all of the sweet tech I have in #1 – 7, Anyvoo this is the best tool I have. It's essentially the way to be present professionally while working from home. Just like you probably wouldn't show up to visit a client's office in a tank top, you don't want to have dirty dishes or an unmade bed on a client video call.
See Also: How To Level Up Your Home Office Background
The frame sets up easily and sits on a tripod stand. The backdrop is made of essentially the same thing as work out gear – like yoga pants or gyms shorts. It's really stretchy and doesn't wrinkle. So if you choose a wood-panel backdrop, it won't blow in the wind or pick up wrinkles in a few weeks.
Here's the Buildremote Anyvoo in my home office: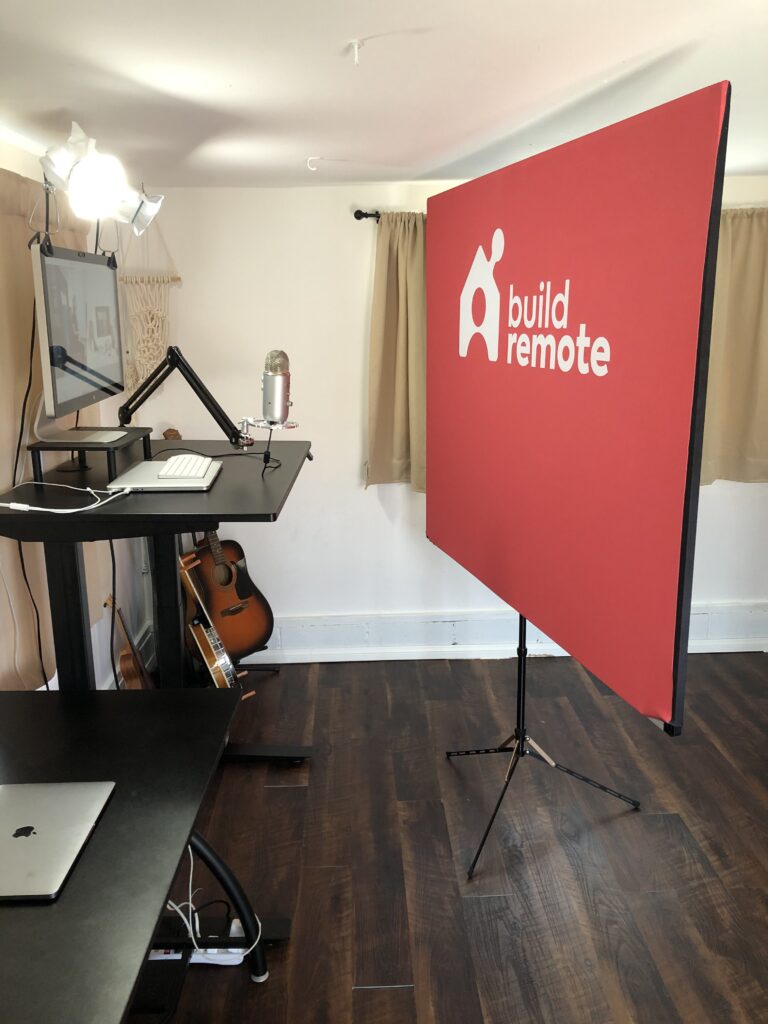 9) Books
Corny? Yes. But it's true. I've read a handful of great books that have helped me specifically because I work from home and for a fully remote company. I asked 29 people who work from home about their best book for working remotely, and wrote this blog post, if you're interested. These are my favorites:
Home office equipment from Buildremote expert contributors
I asked my list of Buildremote expert contributors, "What is the one piece of home office equipment you recommend?" These are the responses from that group.
SNOOZ White Noise Machine
Price: $80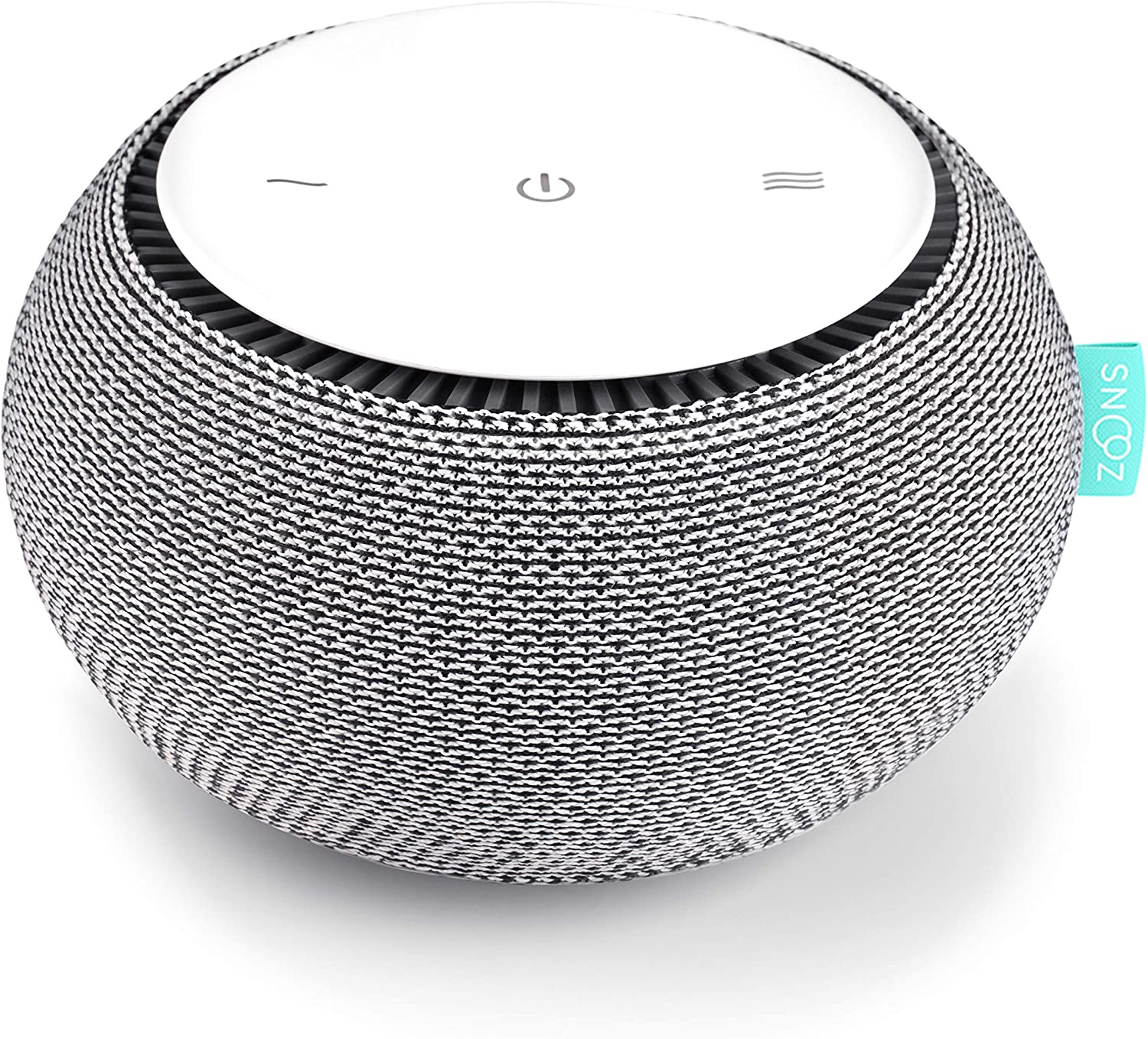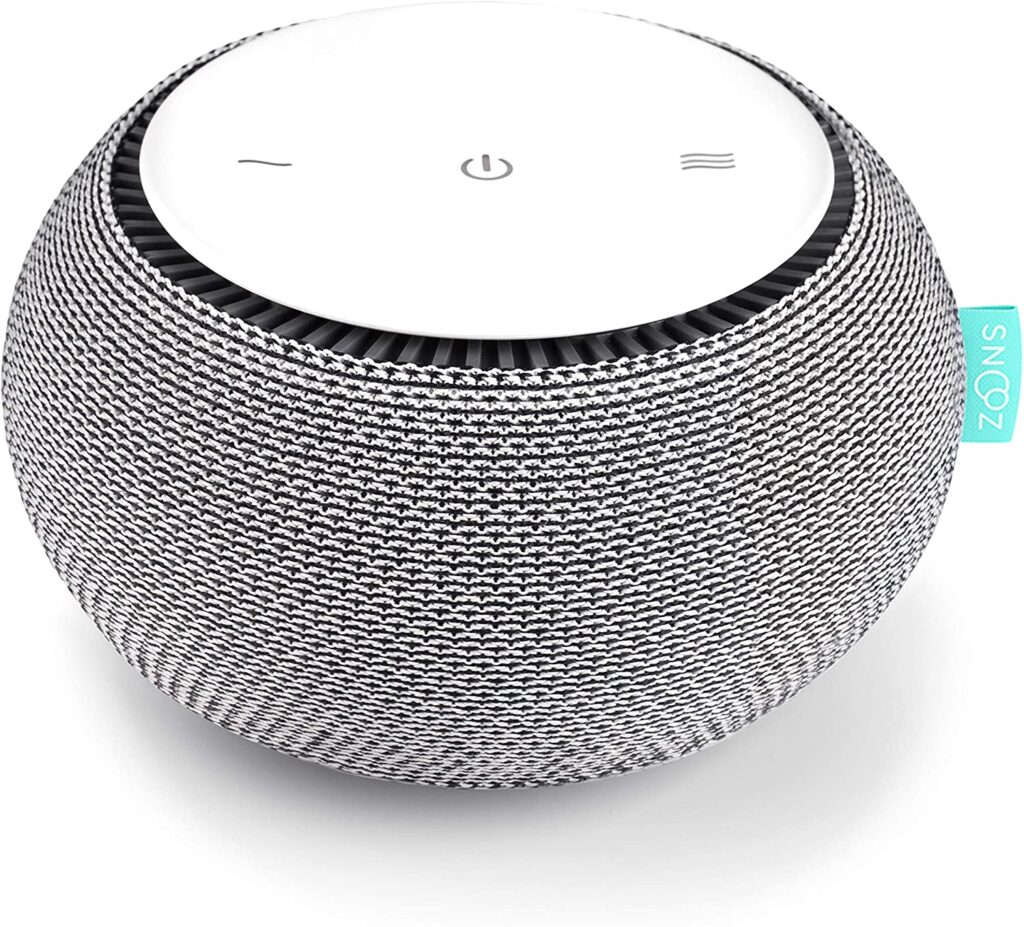 "Working from home with kids, pets, roommates and other noisy distractions? The SNOOZ white noise machine is surprisingly effective at drowning out distracting noises and works much better than a standard speaker. I can't recommend it enough!"
Thank you to Datis Mohsenipour of HeyOrca for sharing this piece of home office equipment.
reMarkable – the next generation paper tablet
Price: $399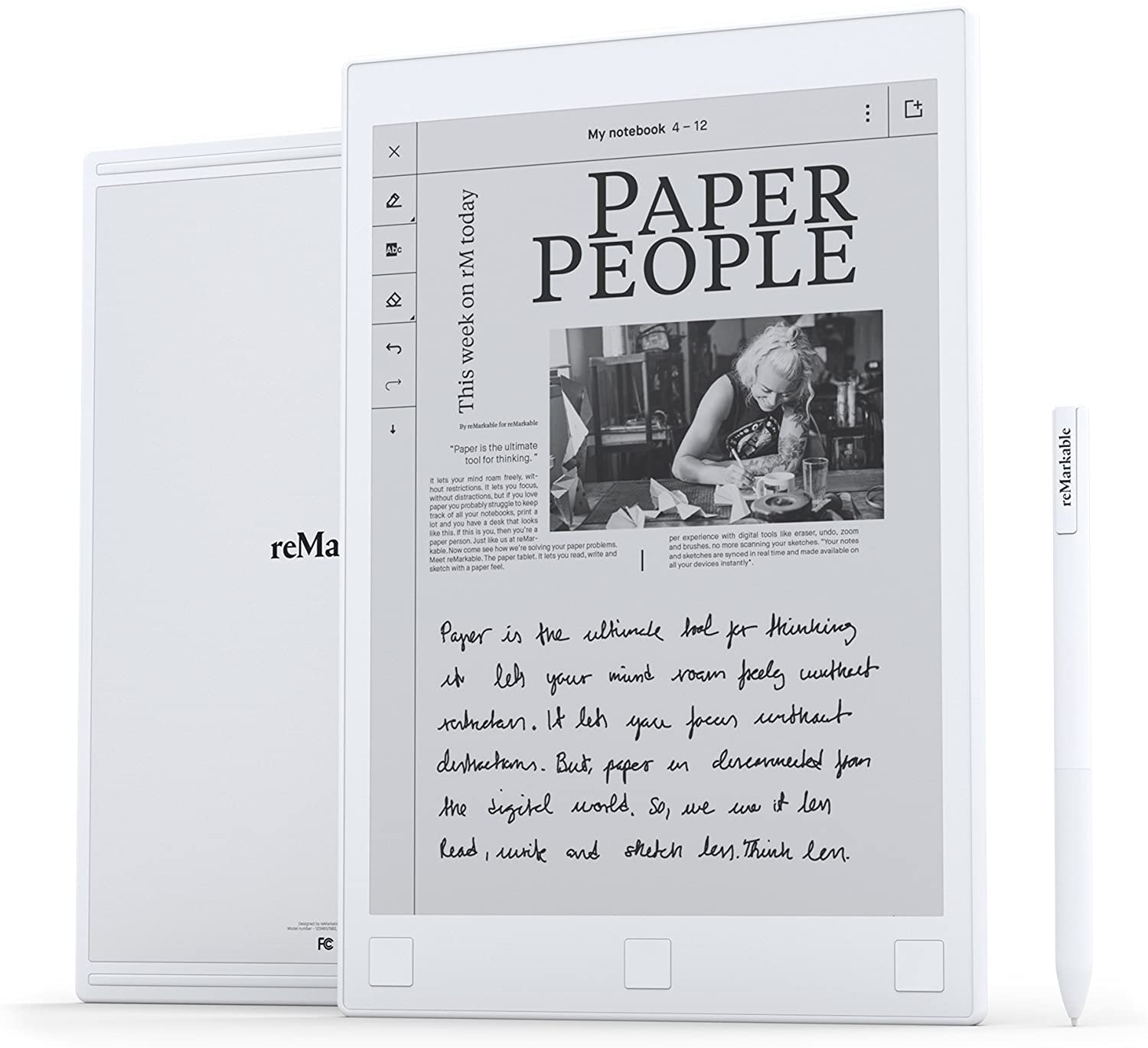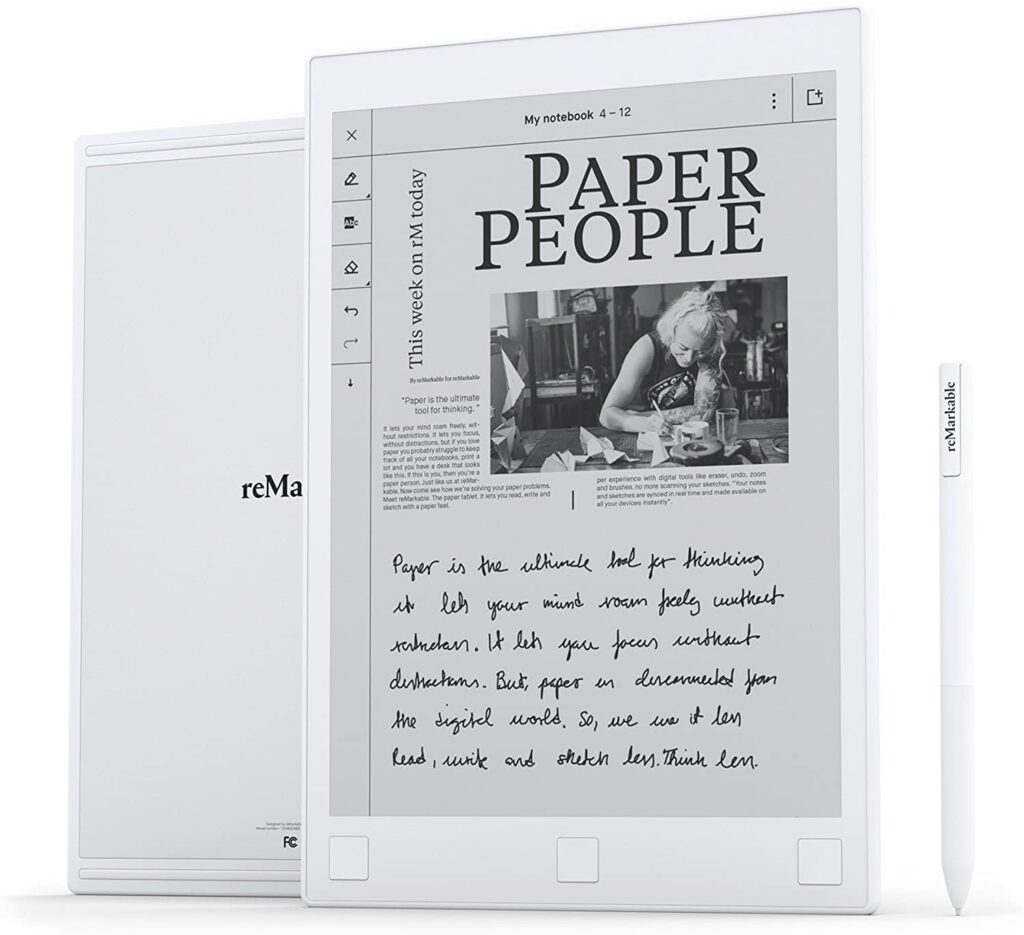 "Client meetings, team meetings, and board meetings? Zoom calls…making notes, scribbling down reminders and then days or weeks later turning pages to try to find them again…???? Things of the past. The remarkable stores all my notes and scribbles in organized folders so they are easy to find back. The remarkable syncs with my phone and I can send the notes directly by email. No more stack of little paper notebooks. A huge time saver! Bonus: I can also import PDF's and fill out the forms to be emailed out. Like agreements and such. I love the remarkable as a super practical organizer."
Thank you to Kirsten Hopstaken of GYBO Marketing for sharing this piece of home office equipment.

You can buy the product here.
Nulaxy Laptop Stand
Price: $37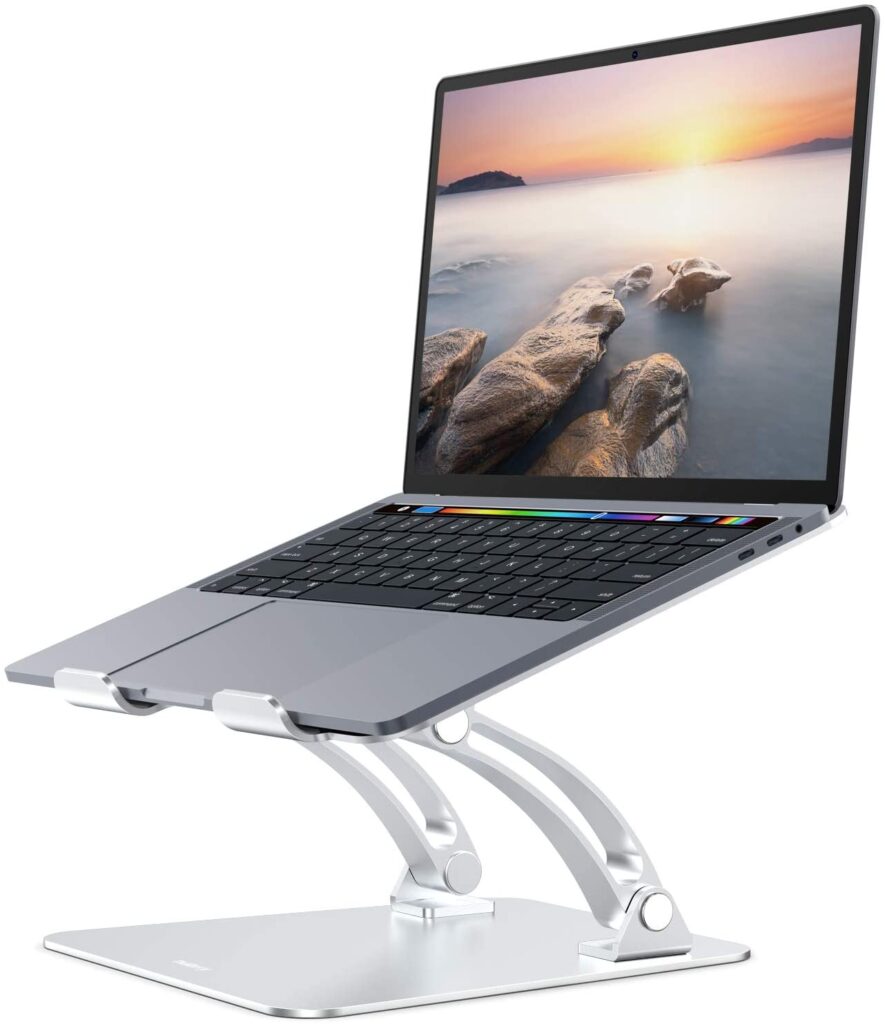 "The Nulaxy Laptop Stand not only has an elegant and stylish design, but its aluminum plate ventilates heat generated from the laptop, whilst the silicone pads also protect your laptop from scratches. It has an ergonomic design that allows you to raise to eye level. It's built from a high quality aluminum alloy, works with laptops of many sizes (11-17 inches), and won't shake while you type."
See Also: Work From Home Jobs That Provide Equipment
Thank you to Evian Gutman of Ringcommend for sharing this piece of home office equipment.
Huanuo Adjustable Height Monitor Arm
Price: $50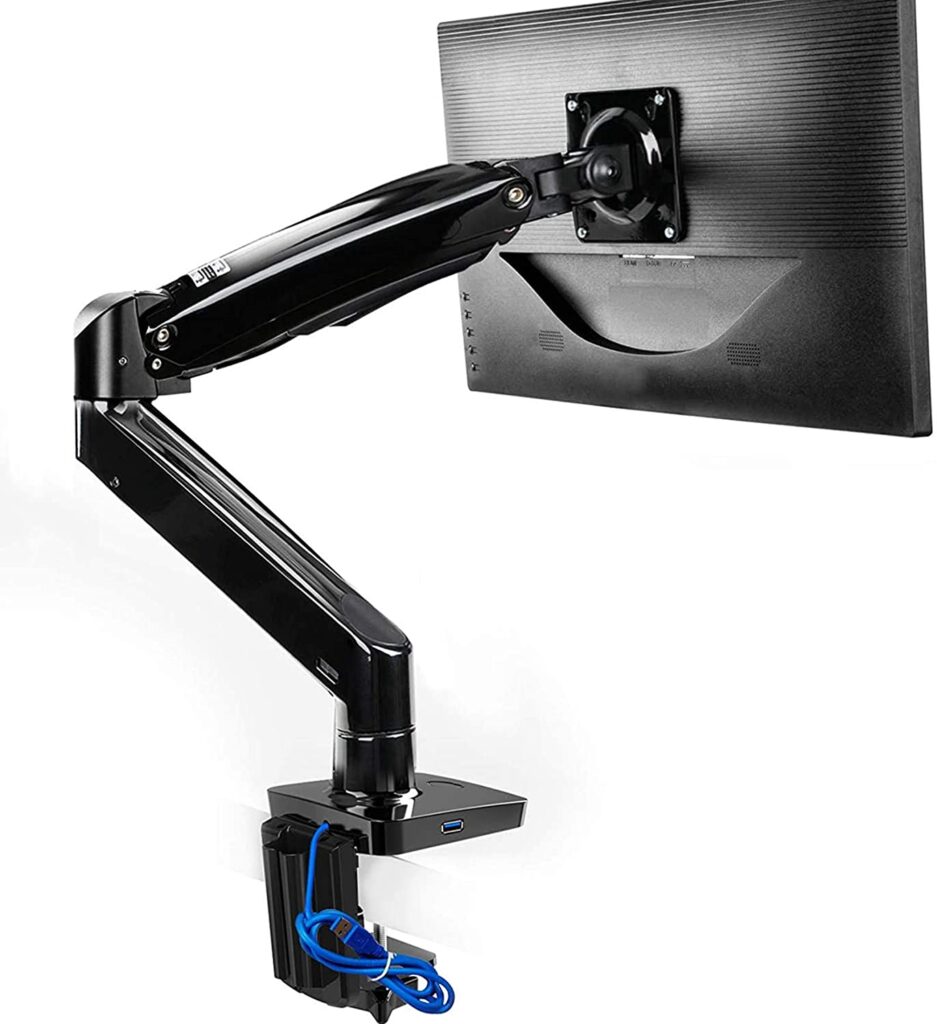 "Keeping an upright posture can make all the difference when working from home. Monitor arms allow you to adjust your position and posture to keep healthy and happy!"
Thank you to David Reichmann of Rawrycat for sharing this piece of home office equipment.
Anker 2.4G Wireless Vertical Ergonomic Optical Mouse
Price: $28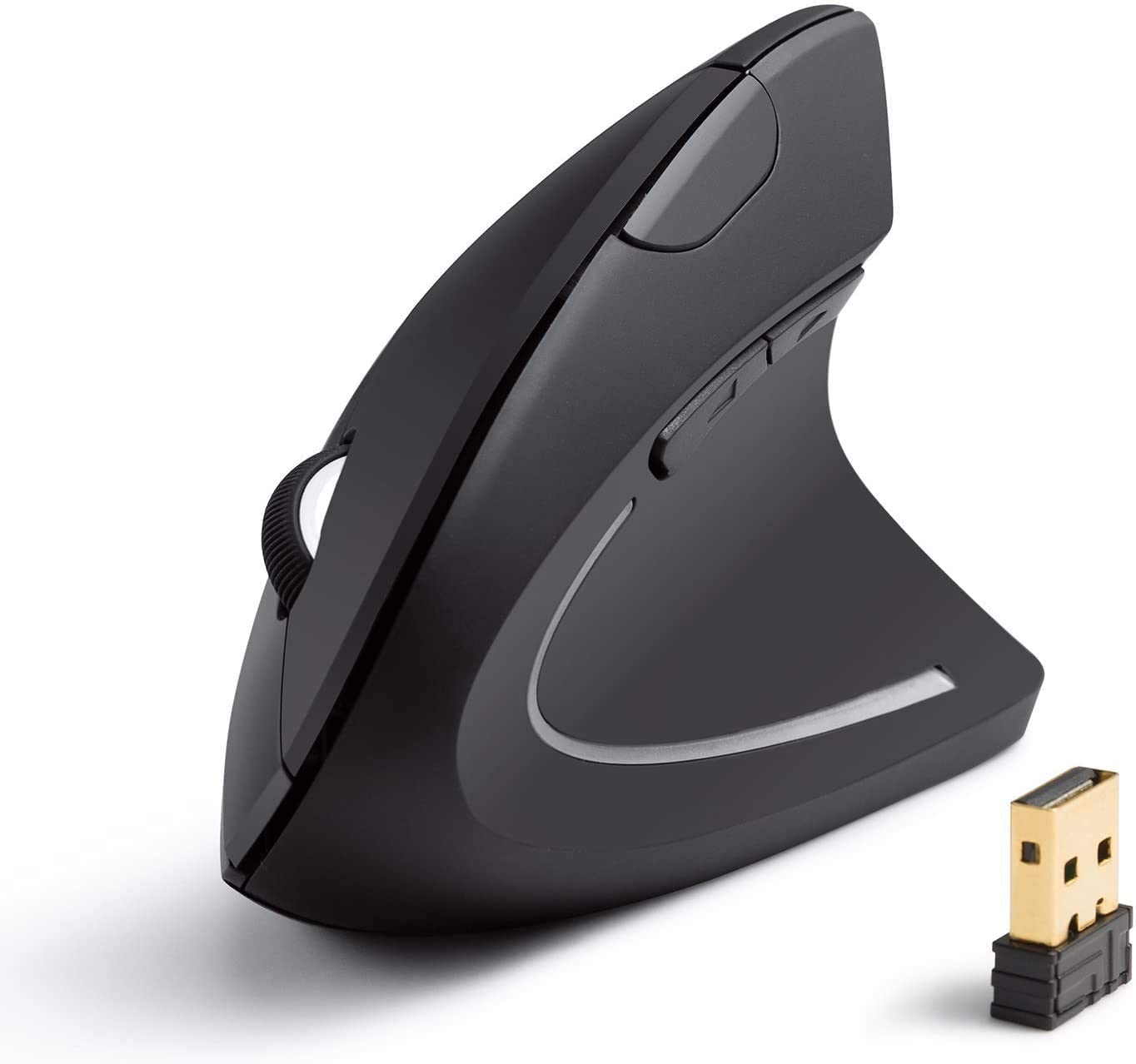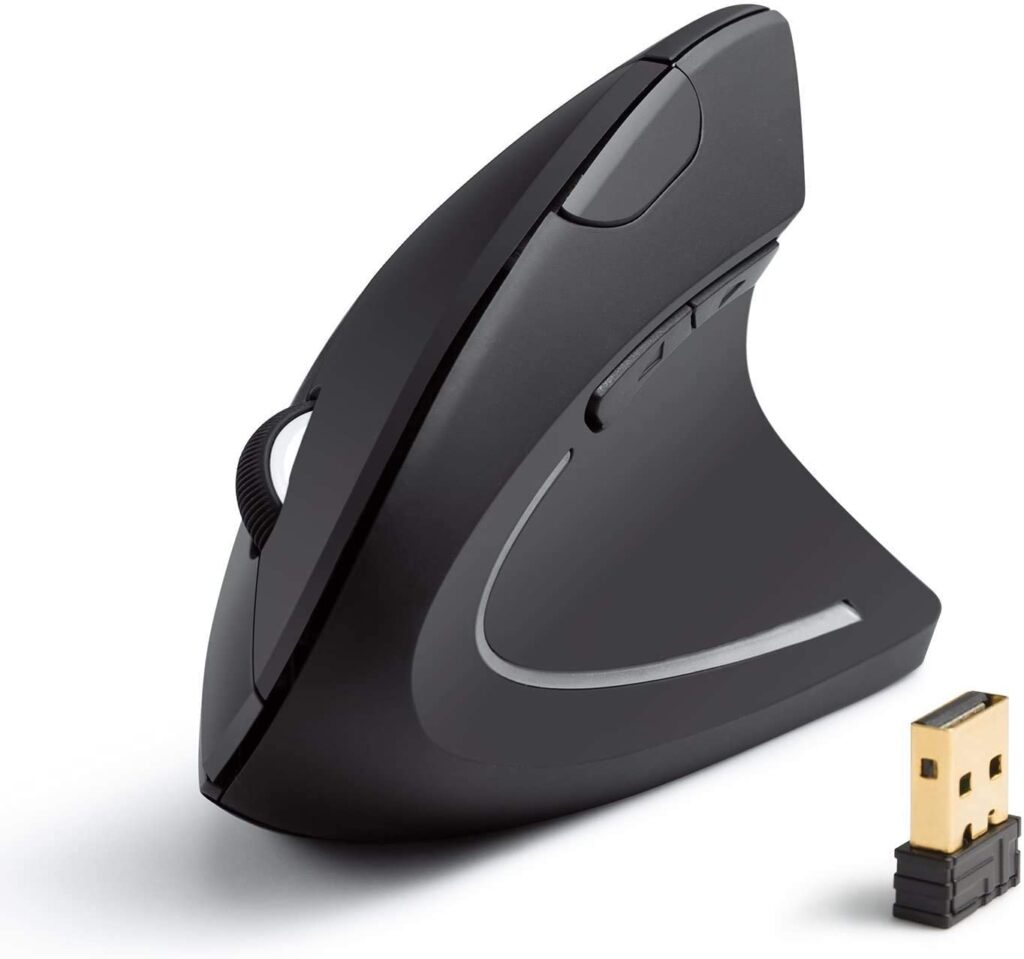 "I love the way the shape of this wireless mouse fits my hand and allows me to rest in a natural position. In addition to the smooth, soft touch, left and right buttons, it also has a scroll. Since I've began using it my hand cramps have ceased after a long work day."
Thank you to Kimberli Fancher for sharing this piece of home office equipment.
Brother Compact Wireless Color Laser Printer, HL-L3270CDW
Price: $249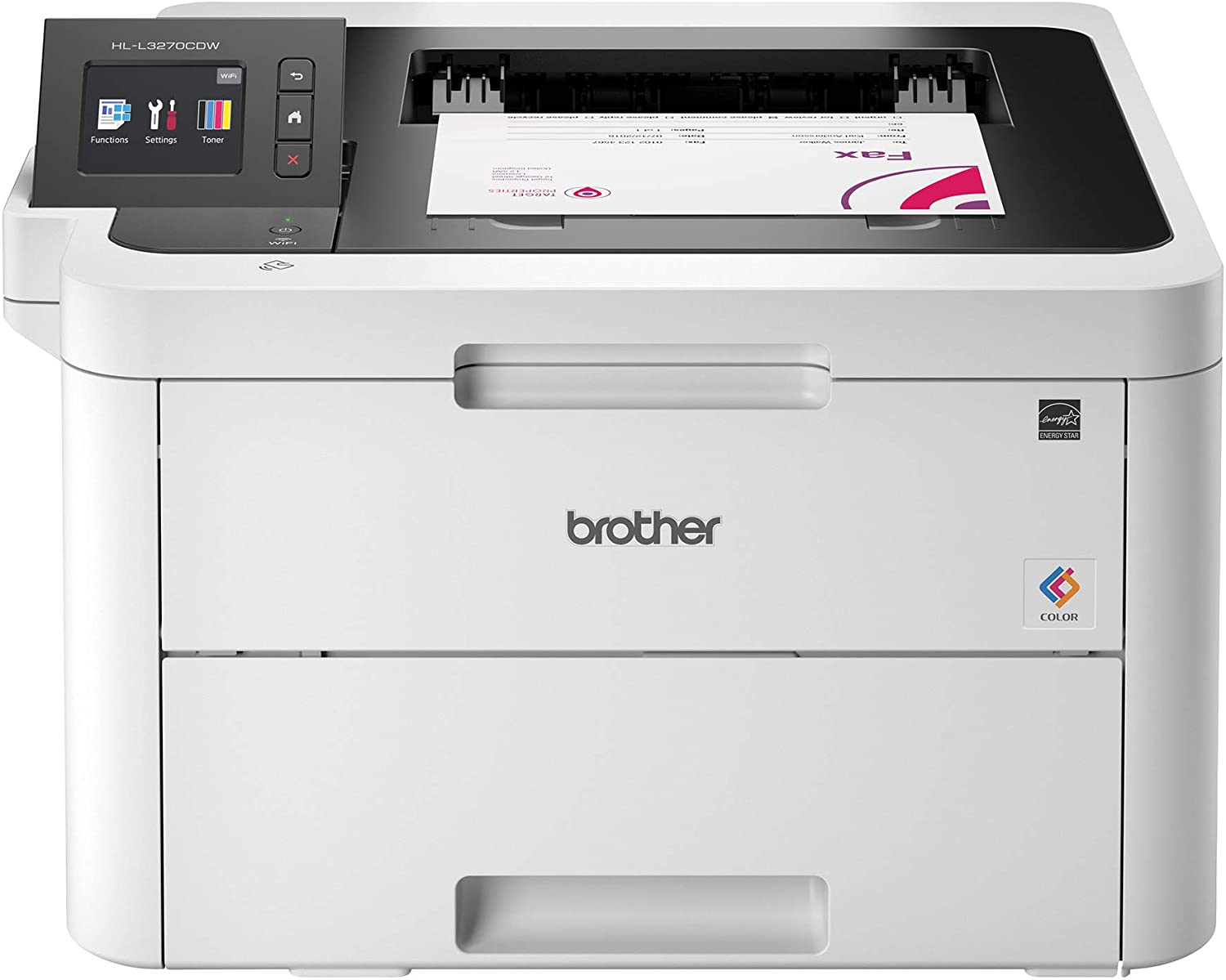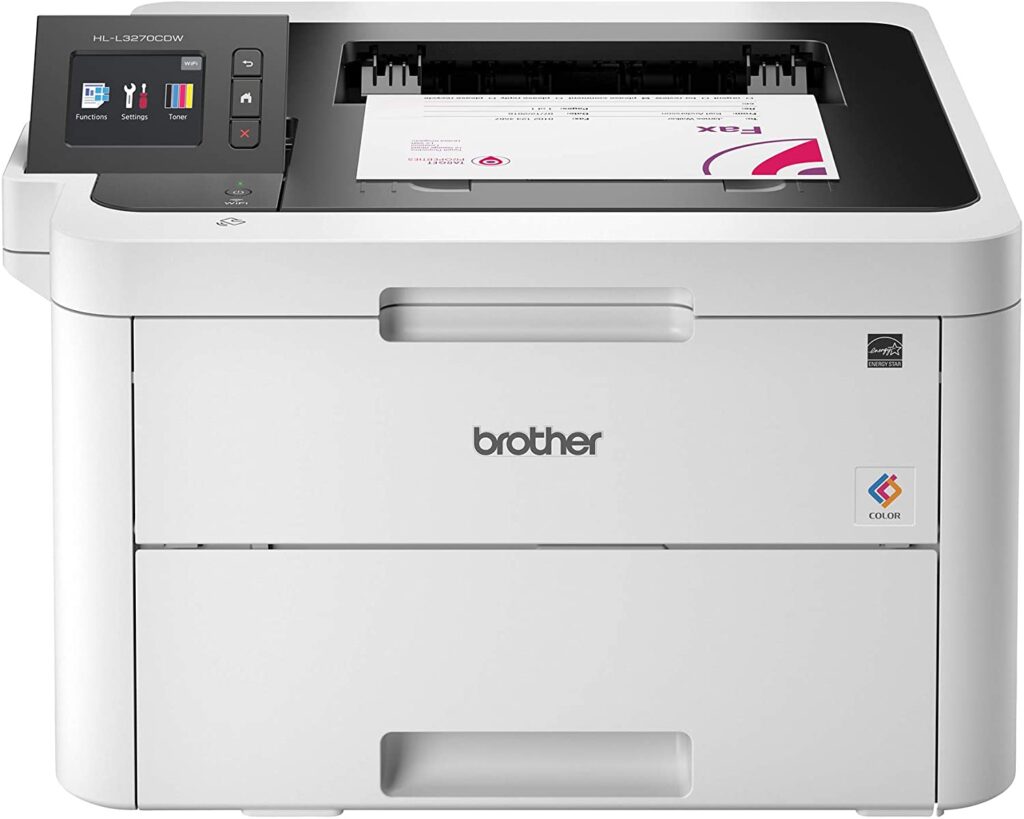 "A great printer that isn't too pricey. Very easy connectivity with wireless (including Alexa)with the ability to print double sided. The size is perfect for a work from home small business." Thank you to Wallace Holyfield of Holyfield Financial Group for sharing this piece of home office equipment.
Edifier R1280DB Powered Bluetooth Bookshelf Speakers
Price: $130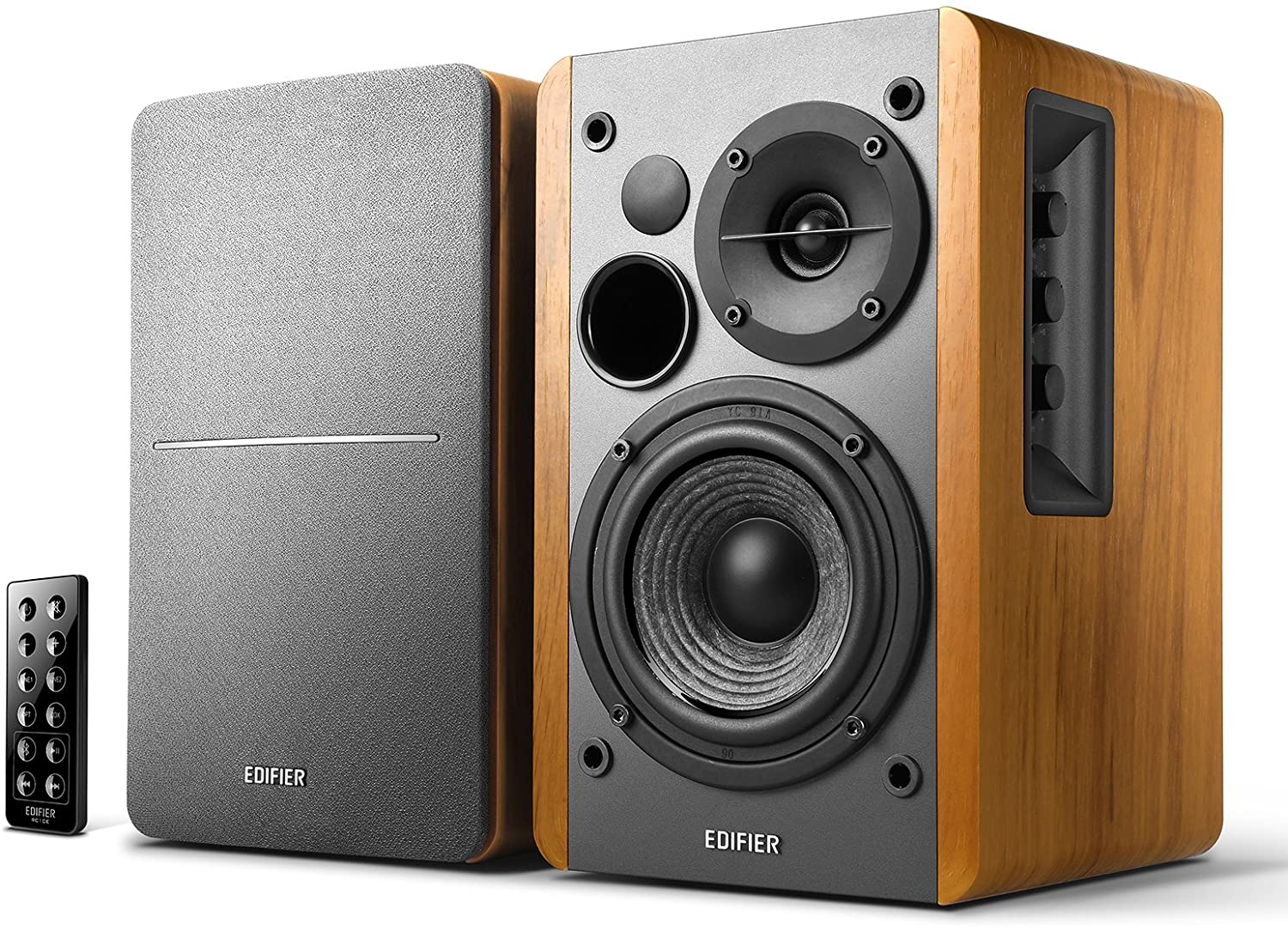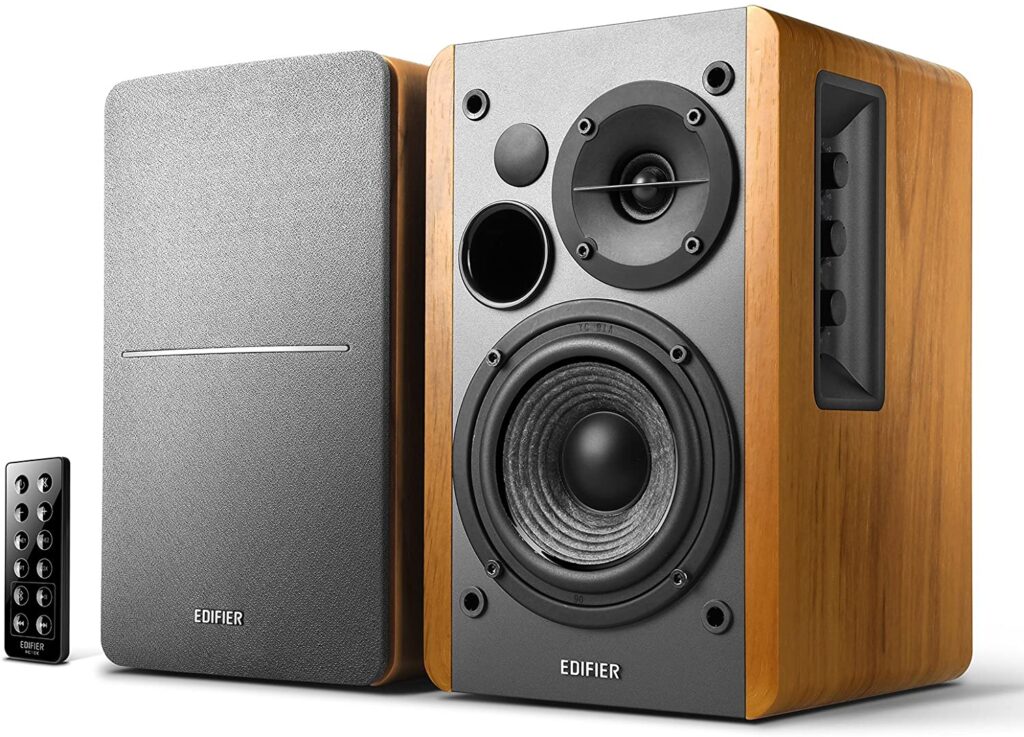 "One of the few bluetooth speakers that use premium MDF wood to produce that warm studio-quality sound.The built-in Bluetooth receiver enables a wireless connection to your smartphone, computer or tablet for easy access and control. On top of that, the speakers are stylish and elegant, making a great addition to your home office."
Thank you to Sam Shepler of TestimonialHero for sharing this piece of home office equipment.
Canon TR8620 All-In-One Printer For Home Office
Price: $180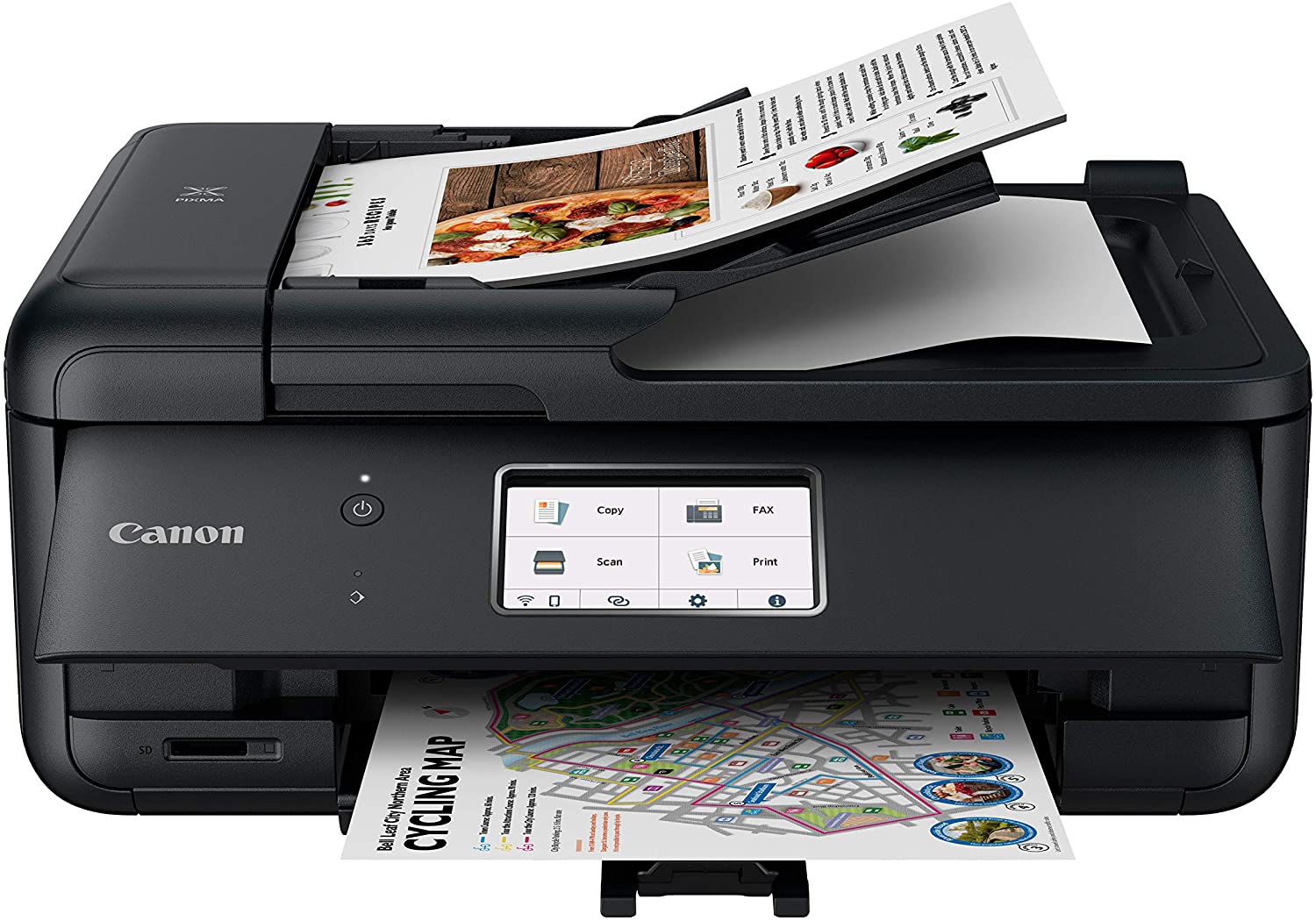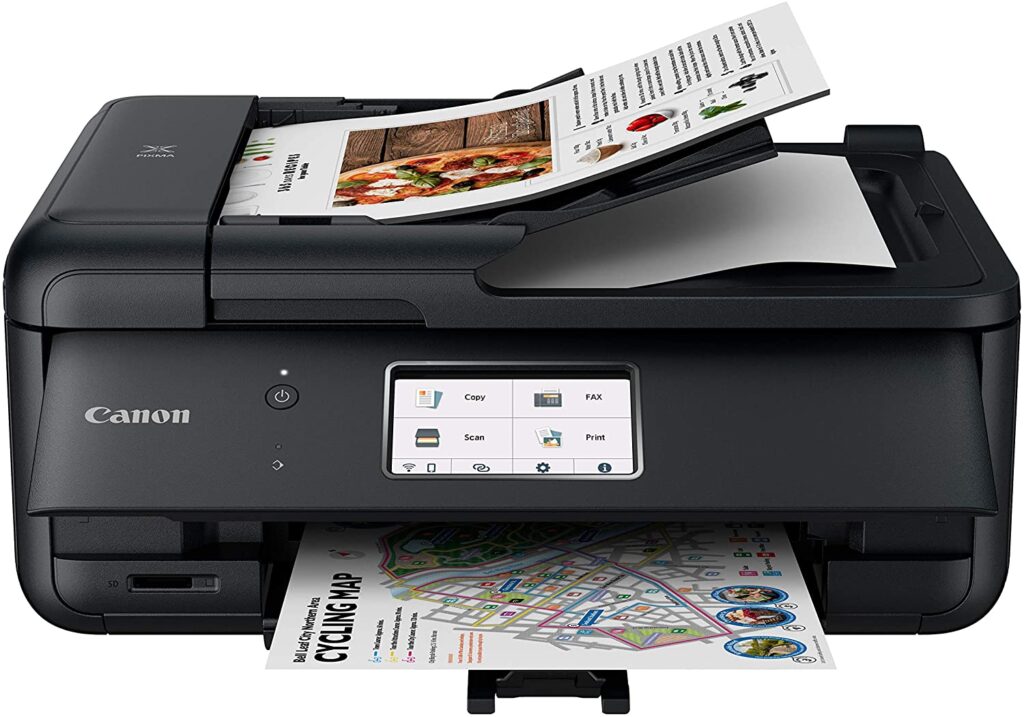 "I can print wirelessly from my desktop computer, laptop or mobile phone. Good quality images. Copier, scanner and fax machine are all fast and reliable. It is great to have all of these features in a small desktop machine. As a real estate professional, it is absolutely indispensable."
Thank you to Steve Groom of Maryland Home Buyers for sharing this piece of home office equipment.
Buddha Board
Price: $35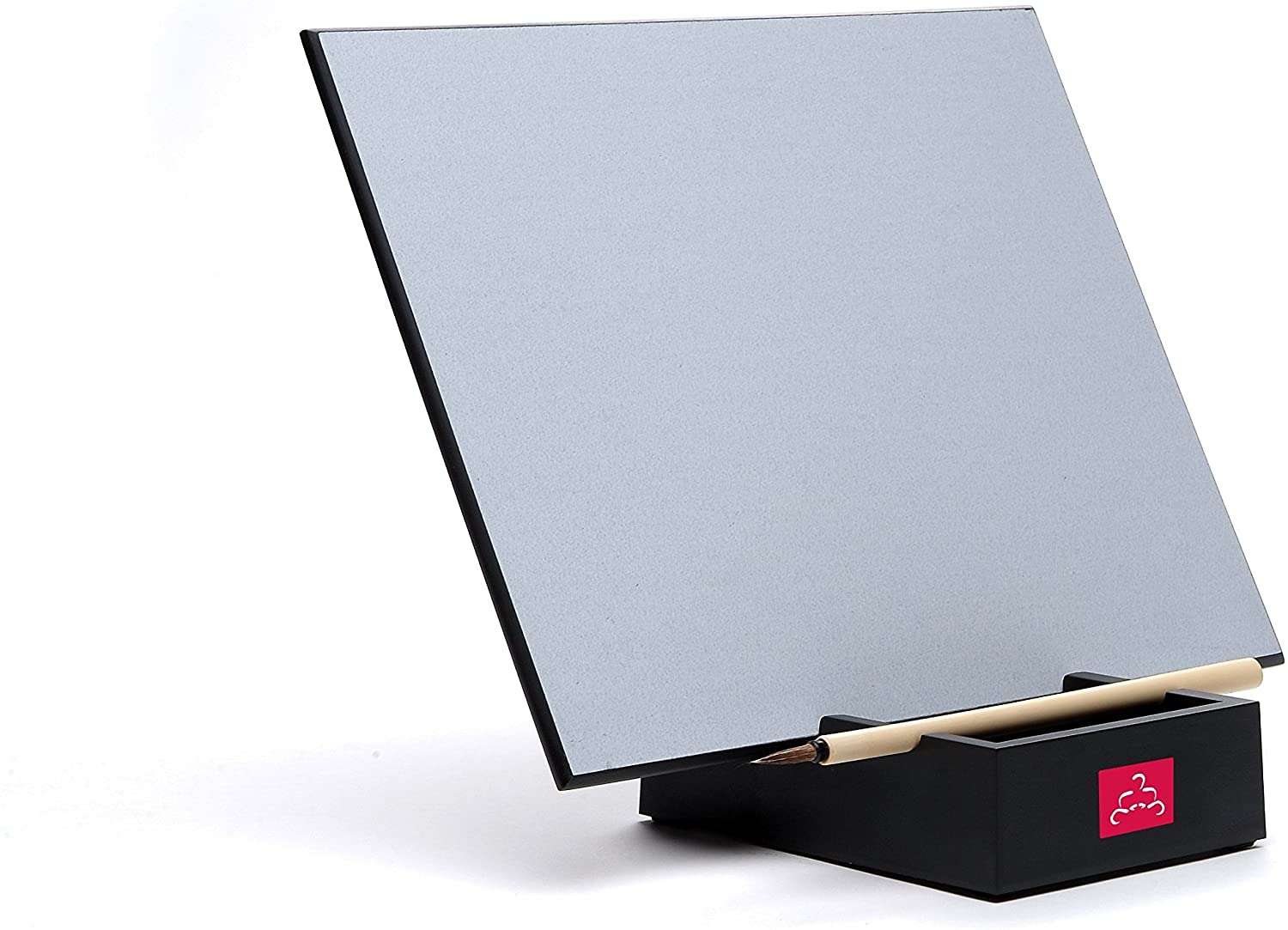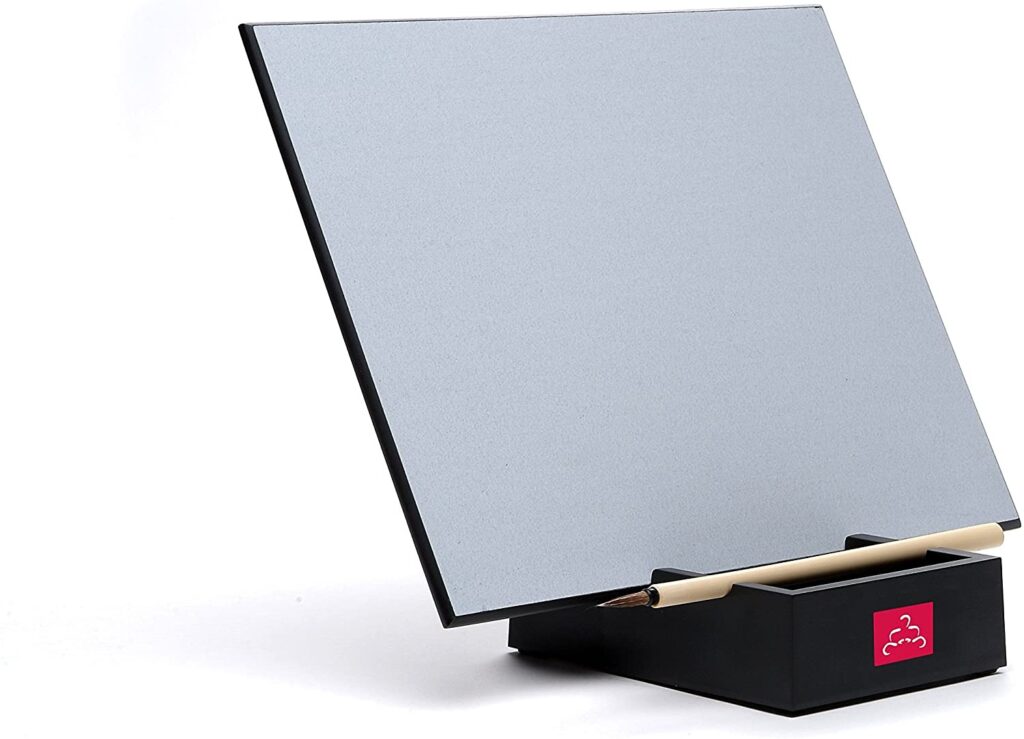 "Buddha Board helps me to ease my emotions when something makes me angry or anxious. I can pour all my negative feelings into the board and it will all disappear in a few moments. It is also great for keep your hands busy during long calls."
Thank you to Paul McLaughling of London Chartered Surveyor for sharing this piece of home office equipment.
Anker USB C to Ethernet Adapter
Price: $20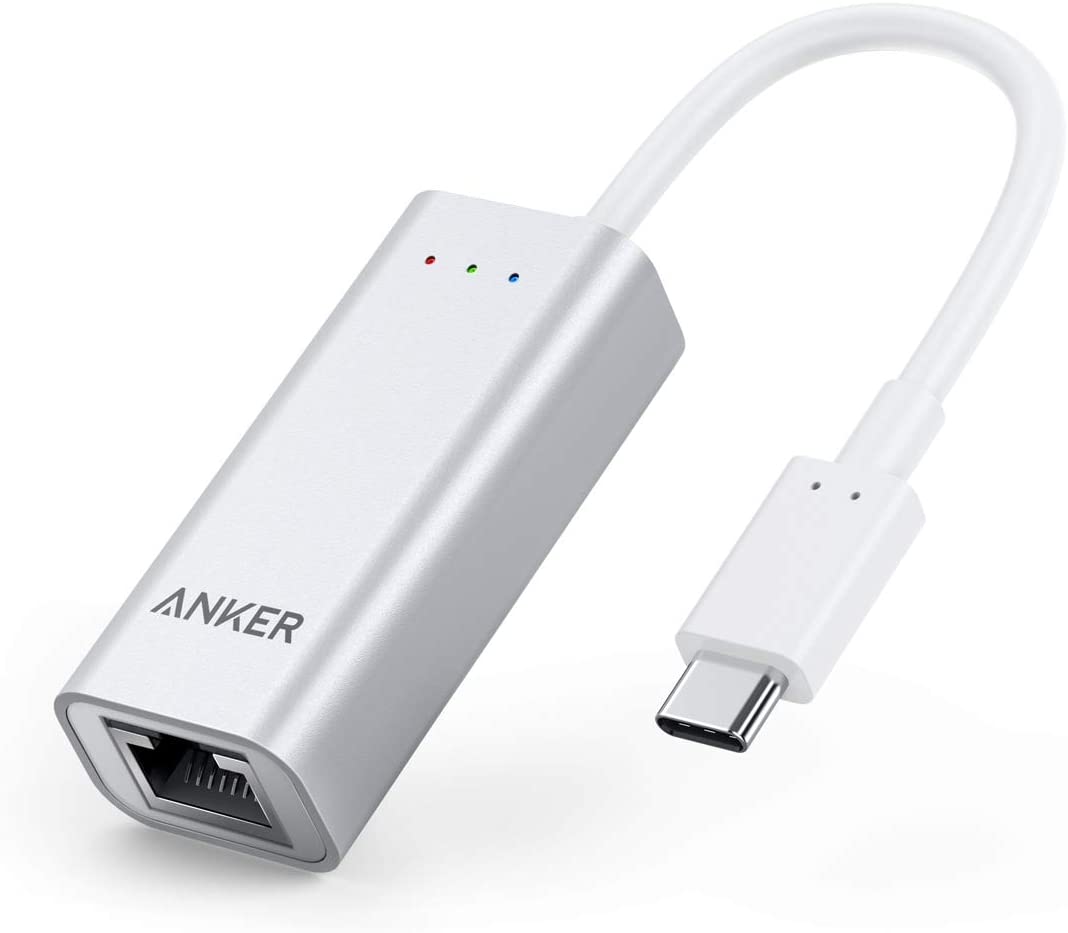 "When I listen to music via speaker while working, my home internet connection gets really slow. As a result, neither I can work or listen to music. This ethernet adapter increased the speed of my internet connection and saved my life."
Thank you to Antreas Koutis of Financer.com for sharing this piece of home office equipment.
Elgato StreamDeck
Price: $140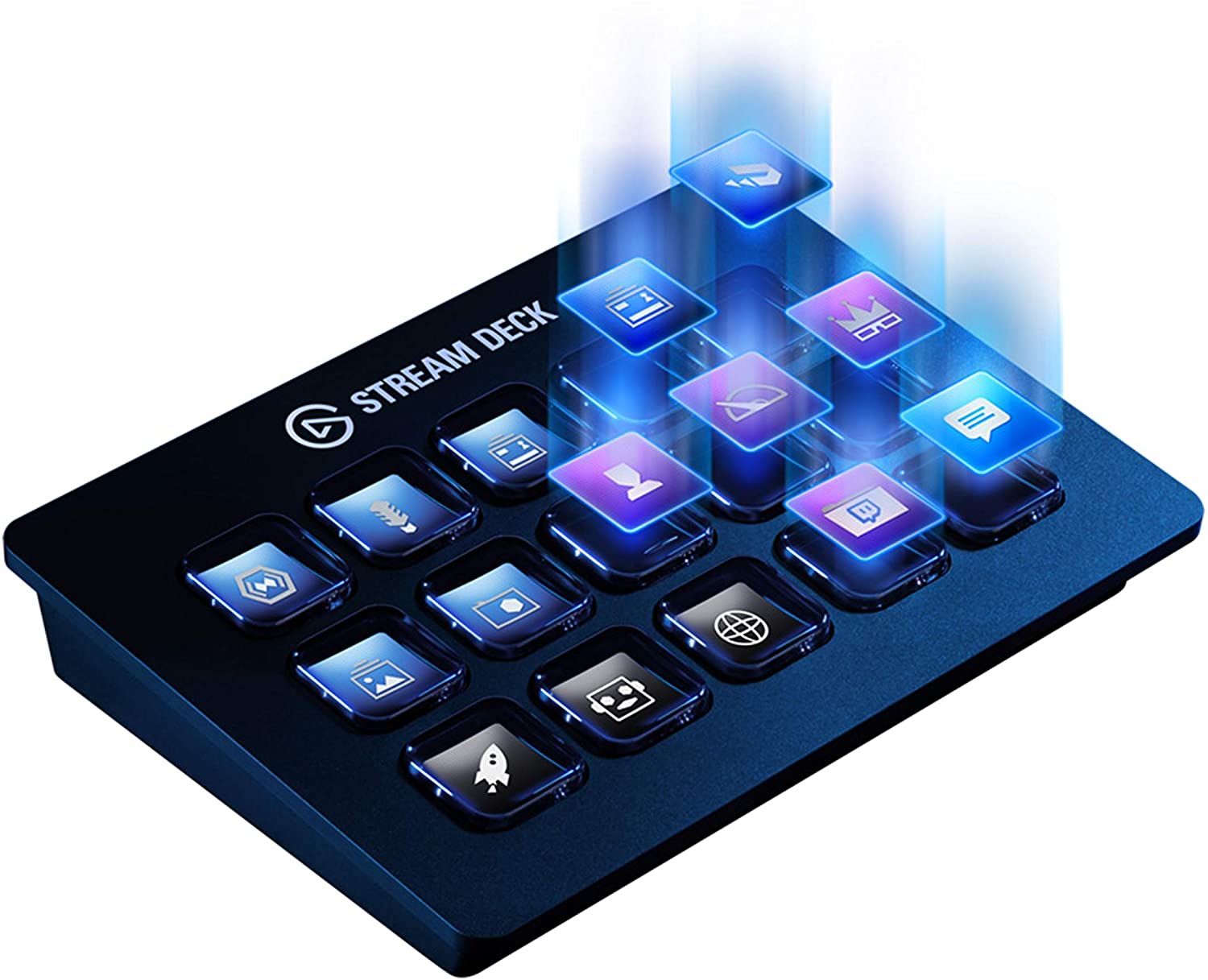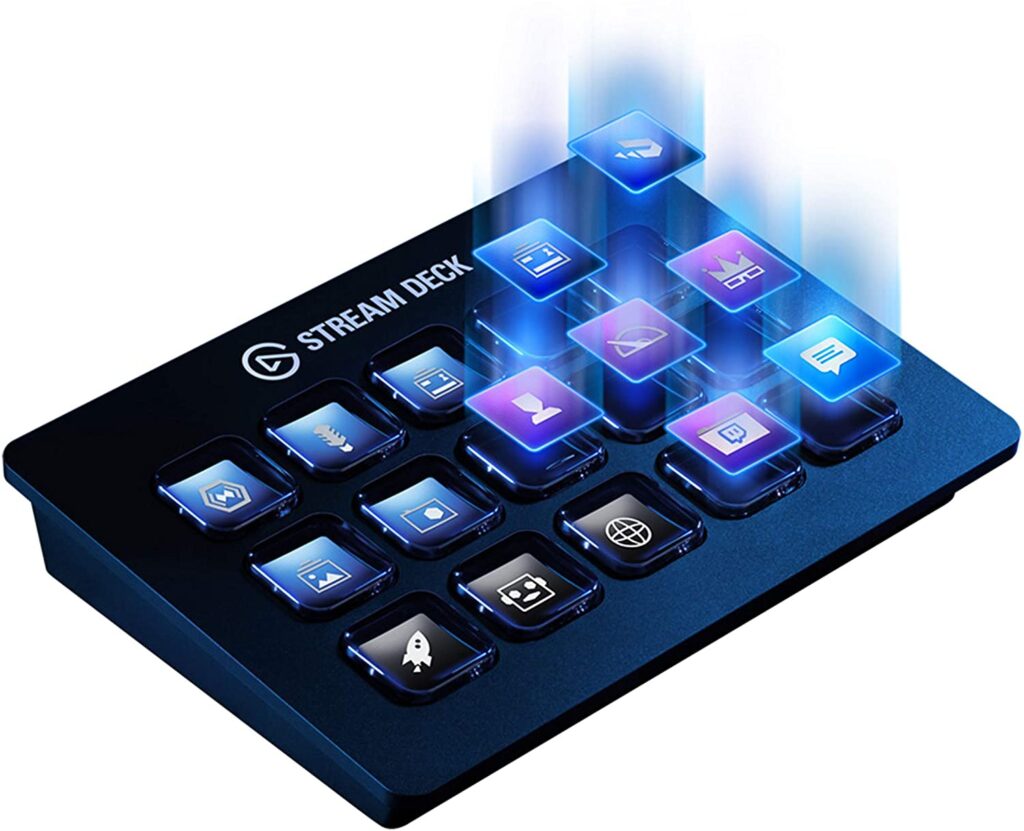 "The StreamDeck is one of the best peripherals I have added to my office over the years. This 15 LED button keyboard allows you to map multi-key shortcuts and macros to your StreamDeck to automate and improve your workflow. StreamDeck turns repetitive and RSI-inducing tasks into easy one-click actions and I highly recommend it to digital creatives and productivity fans."
Thank you to David Alexander of Mazepress for sharing this piece of home office equipment.
Looking for some other useful resources about working remotely?