Remote Onboarding: Our Exact, Step-By-Step Process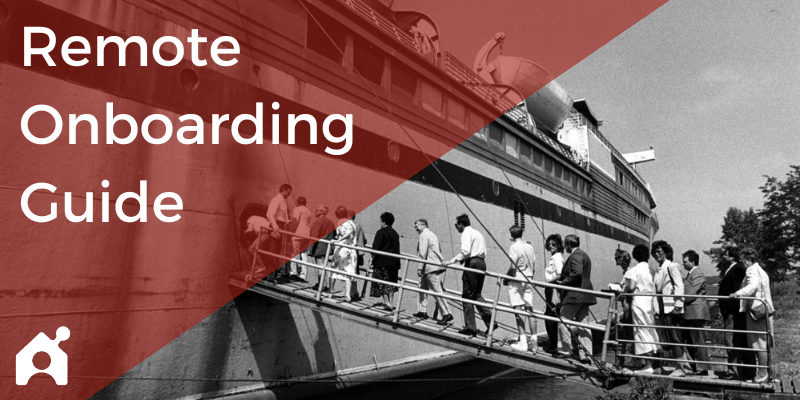 A smooth onboarding process has long been recognized as a key to engaging new employees, boosting productivity, and reducing employee attrition. According to SHRM, 69% of employees are more likely to stay with an organization for three years if they have a great onboarding experience, and organizations with a standardized onboarding process experience 50% greater productivity from new workers.
The reasons are obvious: When new hires are provided with the information, training, and tools they need for success on the job, they are…
More likely to be successful, and when they are successful…
They are more engaged, more productive, and less likely to leave
While a positive onboarding experience is important for all employees, when onboarding remote employees, it's even more critical. It's harder to engage people from a distance; a smooth remote onboarding experience removes barriers to engagement and allows for more focus on building the connection between the employee and the organization.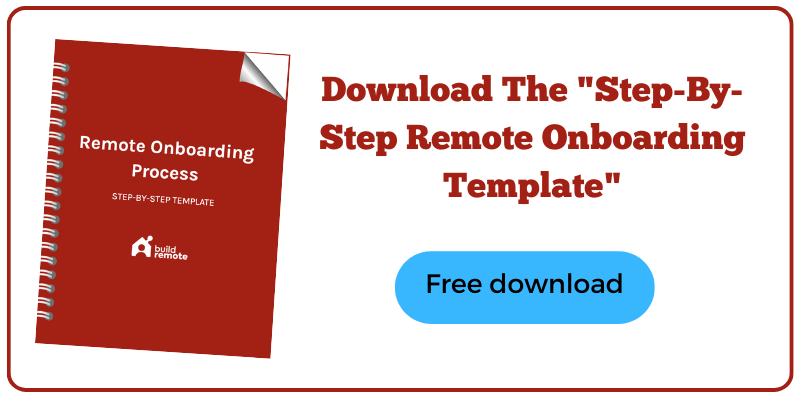 The following guide covers everything you need to know to set up a smooth process:
By taking into consideration all of the important factors in onboarding remote workers, your organization—and your new employees—can reap the full advantages of a positive remote onboarding experience.
What is remote onboarding?
Probably the best place to start is by defining onboarding.
SHRM defines onboarding as the process by which new hires are integrated into the organization.
Onboarding goes beyond orientation; it is a process that continues until the new hire is a productive member of the team. The end of the onboarding process can also be described as "the magic moment when a new employee decides to stay"—the employee is now "on board" with the organization and its mission and goals, and is engaged in productive work to advance the organization's purpose.
Remote onboarding is the process required to integrate a geographically distributed employee into the company.
I define the starting point of remote employee onboarding as the moment a candidate formally accepts the job offer; in the virtual workplace, that offer generally comes in the form of an offer letter sent via email.
The end point for onboarding remotely is when the new employee is functioning in the business the same as all the existing employees. All necessary training has been completed and there is no need for additional meetings, reviews, or check-ins. The new worker is at that point "on board" with the company and its mission and goals.
Why is a positive remote onboarding experience so important?
Onboarding occurs in the first six weeks to three months after hiring—the magic window for the "90-Day Rule." According to The Wall Street Journal, leaders and HR have determined that if they can keep a new employee for 90 days, the employee will remain in their job for a year or longer.
Job number one in onboarding is: Don't scare your new hires away with a haphazard, disorganized onboarding process.
Onboarding is the employee's first impression of what it's like to work at the company, so it's important to view the process as an opportunity rather than just a checklist. The early days on the job will shape the employee's perceptions of, and relationship to, the company.
And as the statistics noted in the intro show, a positive onboarding experience is the kickstart to a virtuous cycle of success for both the employee and the organization.
In the onboarding process for remote employees, the company not only has to achieve the standard onboarding objectives from a distance, it also needs to…
… it must also …
That's a tall order in a virtual working environment, where employees are never in physical proximity to one another.
Following all the best practices for onboarding remote employees will not only eliminate oversights that can create a negative experience; it will also save time that can be used to tackle the more difficult aspect of onboarding remotely—building relationships.
And while the onboarding process is not just a checklist, a checklist or template is crucial to make sure you don't overlook anything important in helping new hires get settled in. The following section will take you through all the steps.
Remote Onboarding Process, Step-By-Step [TEMPLATE]
In my eight years as manager of a fully remote marketing agency with team members in five different time zones and several different countries on different continents, I developed a remote operating system that quadrupled company profits. Key to that profit growth was hiring the right employees and keeping them on board.
The following is the outline of the exact step-by-step process for how to onboard remote employees that we developed and used for each new hire.
Overview of the process
Start: Receipt of a signed job offer letter and signed employee handbook
Set up the new employee in the HR system (Gusto)
Send a welcome email from the manager
Allow the employee to pick home office equipment, then send
Create accounts for the new employee
Schedule trainings and meetings:

Schedule welcome meetings
Schedule review meetings
Schedule trainings
Add to existing team meetings

Assign the first set of tasks in your project management tool
Phase in job responsibilities
End: The 6-week review meeting ends the onboarding process
Set up the new employee in the HR system
Why is this step important in remote onboarding?
Getting new hires promptly and correctly set up in the company HR system not only keeps the business in compliance for tax and other purposes—it also eliminates potential headaches for new workers, so they don't have to divert their attention to straightening out errors. A first paycheck issued late because of an oversight is not the kind of impression that will encourage a new employee to stay.
I manage all of this through Gusto. Talk to your HR manager or use a system like Gusto to make sure you cover all of the right steps based on your country, state, type of company, employee status, and other pertinent factors.
Send the job offer and employee handbook from the HR system for the candidate to sign.
Send a welcome email from the HR system to onboard employee details, including:

Address (and state for tax purposes)
Full name
Employee direct deposit authorization
Form I-9
Form W-4
Other information as needed

Complete HRIS onboarding once the candidate signs both documents.

Add the new employee.
Add benefits for the employee.
Add the employee to the payroll.
Send a welcome email from the manager
Why is this step important in remote onboarding?
In a remote work environment, there is no big first day to welcome new employees to the office. While new hires often feel like the new kid at school in an office setting, newly hired remote employees are likely to feel even more invisible.
A welcome email from the manager helps to recreate the first day at the office digitally, to break the ice and make the new worker feel noticed in a moment which is an important life event filled with both excitement and anxiety—starting a new job. Just as importantly, it helps to prepare the employee for what to expect in the days and weeks ahead as they get settled in with the organization.
The manager sends a welcome email to help the new employee prepare for day one. Include the following information:

First day:

Where to go (Zoom meeting link)
Time of the meeting
Calendar invite sent to personal and new employee email

Meetings

Add onboarding meetings to the new employee's company calendar
Lay out the schedule for the first week of meetings

Home office equipment

Alert the employee to watch for an email about selecting home office equipment

Accounts

Notify the new employee to watch for software tool email invites for setting up employee accounts
Allow the employee to pick home office equipment, then have it shipped
Why is this step important in remote onboarding?
As I noted in the introduction, when new hires are provided with the information, training, and tools they need for success on the job, they are more likely to be successful. When you invest in your new employees by helping them set up comfortable places to work with all the equipment that best suits their needs, you are setting them up for success.
The expense of providing equipment for remote workers is negligible compared to the savings remote companies realize by eliminating the cost of rent for office space. Your employees are providing a rent-free workplace in their own homes, so it's only fair to return the favor by underwriting the cost of the equipment they need to be most productive in generating profit for your company.
A standardized process for allowing employees to select their equipment and having it shipped to them ahead of their first day on the job will give new hires the tools they need for success before they ever get started.
Send an email with the subject line, "Home office equipment"

Make a copy of this spreadsheet.
Customize it with the employee's name, budget, and the up-to-date list of the standard equipment the company will send.
In the email, instruct the new hire to pick what they'd like for each type of home office equipment and to reply when they are done making their selections.
Send the standard office equipment that goes to every employee:

Laptop (the bare minimum)
All other equipment that you provide for all employees (printer/copier/scanner, etc.)

Once the new employee responds, check the list and budget, then order and send the selected equipment to the new hire's home address.
Create accounts for the new employee
Why is this step important in remote onboarding?
Promptly setting up accounts for new remote workers is one of the most critical priorities in remote onboarding, because the platforms the company uses for communication will be used as remote onboarding tools. Until the new hire has accounts set up to allow access to the communication tools the organization uses, he or she is isolated and in the dark about what to expect. Examples of a classic bad onboarding experience are statements like these:
"I forgot to add you to our Slack, I can do that now."
"Sorry, I forgot to order your laptop. It should be here next week. Can you use your own until then?"
These types of problems give new employees a bad perception of the organization, but they can be easily avoided with deliberate, repeatable steps to onboard new workers to the platforms and software applications your company uses.
Set up a new company email address for the employee and email their personal email address with setup instructions:

I've created a [company name] email address for you.

Your email address is [email protected]
Your temporary password is: UpdateThisPassword!
Access your email here: https://mail.company-name.com (Bookmark this for quick access)

We use Google Apps which means you'll use this same login for your email, calendar, and documents. We'll go through training on how to use it, but for now, feel free to click around, and send a few test emails, events, etc.

There are instructions on Google Apps if you'd like to get your email in other applications.

From now until [date], you'll begin to see invitations to different apps come to your new company email address. Feel free to accept and click around on things if you'd like. If you have any questions, I can help you set up these accounts on your first day.

Thanks,
[name]

Once the employee has set up their new email address, send invites out of the following systems:
Email, Documents, Storage

- Email

- Document creating, sharing, editing

- Team file/folder structure

- Cloud document storage

- Calendar

- Instant messaging

- Group chats (channels)

- Tool integration and automation

- Team planning boards

- Roadmaps

- Tasks & notifications

- Team collaboration

- Document sharing

- Career pages

- Promotion to job boards

- Hiring funnels

- Team collaboration/feedback on applicants

- Applicant assessments

Leadership
HR
Hiring Managers


- Payroll

- Documents (W2s, 1099s, employee docs)

- State taxes (US)

- Employee benefits

- Time tracking, time off management

- Employee onboarding

- Accounting software integration

Leadership

Finance

Accounting

HR

- International contractor payments

- Accounting software integration

- Video recordings (asynchronous)

- Business phone number

- Virtual phone system

- Ring to employees' cell phones

- Store and share passwords

- Virtual mailbox (scan physical mail)

- Virtual address (physical street address without an office)

Leadership

Accounting

Finance
Schedule trainings and meetings
Why is this step important in remote onboarding?
New employees' first meetings and training sessions are the first opportunity to get to know them better as people and begin to build relationships. This should be considered the primary goal in most of the welcome meetings, because building that connection between the new employee and the company, manager, and other team members is so important to engagement and retention—and is more challenging in a remote work environment.
The initial welcome meeting should be an open discussion, not work-related, to help everyone get to know one another on a more personal level.
Other meetings will include discussions about personality types, management style, and the new employee's personal interests—conversations to keep building trust and a solid relationship.
Last but not least is making sure all the trainings get scheduled so nothing falls through the cracks. Remote workers need to be as well prepared as possible, since they are working solo and their access to prompt assistance is more limited than in a traditional office setting.
Remote Onboarding Meeting Agenda Templates
Add all training sessions to the new employee's calendar over the first [#] weeks. Here are the training meeting templates to use:
Welcome Meeting Agenda
Welcome
–
Meetings
Please book with each of the following:

Bi-weekly 1:1 with [manager]
2, 4, 6-week review with [manager]
One-time, 30-min meetings with each team member

Meetings you've been added to:

Weekly team meeting
Weekly standup meeting
Monthly [department] team meeting

Certifications
Please do the following certifications:
Systems
Overview of the systems we use and for what purpose:

(We'll train on each individually, too)

Company

Core values
Company history
Scorecard & finances
Role Overview Meeting Agenda
Role & Responsibilities
–
KPIs

[Quality metric]
[Quantity metric]

Accountability Chart
–
Onboarding Plan

[See 'Phase in job responsibilities' section below for details]
Core Values Meeting Agenda
Management Style

Train on what we know and our processes
When comfortable, constantly improve and change them
My role is to help you, get obstacles out of your way, and prioritize your responsibilities
Your role is to get better, improve our company, try new ideas that push us forward

Personality Tests

Discuss personality team
Best approach with me

Direct communication
Focus on solid logic, data
Be in charge of your areas of responsibilities

Tasks

Read mine and other members of the team

Your Interests

Positives/negatives from previous job
Areas of interest and skill

Notes:

Core Values
Discuss the meaning and purpose of each

[Core value #1]
[Core value #2]
[Core value #3]
[Core value #4]
[Core value #5]
Software Systems Meeting Agenda
Google Drive (Gmail)

Email
Document creating, sharing, editing
Team file/folder structure
Cloud document storage
Calendar

Slack

Instant messaging
Group chats (channels)
Tool integration and automation

Monday.com

Team planning boards
Roadmaps
Tasks & notifications
Team collaboration
Document sharing

Workable

Career pages
Promotion to job boards
Hiring funnels
Team collaboration/feedback on applicants
Applicant assessments

Gusto

Payroll
Employee documents (W2s, 1099s, pay stubs)
State taxes (US)
Employee benefits
Time tracking, time off management
Employee onboarding
Accounting software integration

Veem

International contractor payments
Accounting software integration

Zoom

Video meetings
[Expectations for video meetings]

Loom

Video recordings (asynchronous)

Grasshopper

Business phone number
Virtual phone system
Ring to employees' cell phones

1Password

Store and share passwords

Traveling Mailbox

Virtual mailbox (scan physical mail)
Virtual address (physical street address without an office)
2-Week Review Agenda
Discussion

What's going well so far?

Feedback

What can we improve on?
What do you have questions about?
How else can I help?
4-Week Review Agenda
Discussion

What's going well so far?

Feedback

What can we improve on?
What do you have questions about?
How else can I help?
6-Week Review Agenda
Discussion

What's going well so far?

Feedback

What can we improve on?
What do you have questions about?
How else can I help?
Assign first set of tasks in project management tool
Why is this step important in remote onboarding?
New employees can quickly get the hang of using the systems and processes you have in place with a "practice run" task list which also accomplishes necessary onboarding objectives. They can also complete some parts of the onboarding process on their own initiative.
You can make the task list a template for reuse with each new hire.
Use the stock task list template in our project management tool to assign onboarding tasks to the new employee:

Schedule 1:1 meetings with everyone on the team
Write bio for website and send in picture
Take personality test
Read other team members' personality tests
Get certification #1
Get certification #2
Phase in job responsibilities
Why is this step important in remote onboarding?
There's a lot to learn at the start of any new job, and even fairly simple tasks require more time and effort when you're learning the new tools and who to contact for different needs or issues. Assigning new employees their full areas of responsibility right away sets them up for unnecessary added stress and/or failure—the opposite of a positive experience.
Phase in responsibilities over a period of six weeks to three months to give new hires time to get their sea legs, so they feel more confident in their work and more positive about the job. The template below can be used to help you phase in areas of responsibility.
For example, let's say a new employee will have 15 clients to manage, and for each client they will have responsibility for 1) strategy, 2) meetings, and 3) reporting.
These responsibilities could be phased in as follows:
Week 1: Strategy for clients 1 – 5
Week 2: Add strategy for clients 6 – 10
Week 3: Add strategy for clients 11 – 15
Week 4: Add reporting for clients 1 – 10
Week 5: Add reporting for clients 11 – 15 & meetings for clients 1 – 5
Week 6: Add meetings for clients 6 – 15
The phase-in period can be as short or long as needed, according to the complexity of the responsibilities associated with the job position.
Create a plan for onboarding responsibilities to the new employee over [#] months using this template:
Align the phases to match with 1:1 meetings with the employee so new phases start with each meeting (and can be reviewed in those meetings)
End: The 6-week review meeting ends the onboarding process
Why is this step important in remote onboarding?
The final of the three review meetings conducted during the onboarding process marks the end of onboarding. From this point forward, the employee is no longer a "newbie"—they are just like all the other employees.
It's a significant milestone, so it's important to note it and have a discussion about what comes next.
Providing equipment to remote workers during onboarding
As I've previously noted, remote companies already reap big savings from not paying office rent, so it's only fair that they provide equipment to remote employees who are "donating" space in their homes rent-free for doing the company's work. A company with a physical workplace wouldn't expect employees to provide furnishings and equipment, and it's in the company's best interest to ensure that remote workers have what they need to create a comfortable work environment where they can be most productive.
There are several options for how to provide equipment when onboarding remote employees. But the first order of business should be to establish policies on providing equipment. A consistent approach will prevent confusion and save time and money; you won't need to reinvent your procedure for each new hire or each piece of equipment that breaks or requires an upgrade.
Your policy should be tailored to the needs of your business and the specific job roles performed by remote employees. Some employees may need specialized equipment, software, or other items that are not required for all roles. Your policy should specify the types of equipment (or furnishings) that will be provided or reimbursed.
There are four ways to provide equipment to remote employees during onboarding:
Use a remote equipment management program to track and manage equipment provided for remote workers.
Provide home office stipends, either on an annual or recurring monthly basis.
Provide monthly reimbursement for remote work essentials like internet and phone service.
Re-use equipment from an existing physical work location. This option is only available to established companies that are transitioning to remote work, but for businesses in those circumstances, it's the most economical option. The company can deliver office equipment selected by the employee to the employee's home.
Read the full article explaining each option here.
No matter which option you choose for providing equipment when onboarding remote workers, have a plan in place to ensure that new employees receive all the equipment they need before their first day of work.
Onboarding remote employees into your culture
Following the best practices for onboarding remote employees outlined in the previous sections will free up time and brain power so you can concentrate on integrating new workers into your organization's culture.
That last part begs the question, "What exactly is company culture?"

Since I do not personally like any of the definitions out there (lots of buzzwords and nothingness), I'll leave it up to you. You need to define what company culture means. Is it…
The type of people at your company?
The way people treat each other as they work?
Is it how the core values are played out in interactions between your people?
Is it the way in which decisions are made?
If you are used to operating in an office, it will likely feel harder to get to know people on a personal level when you never share the same physical space. Video meetings, phone calls, emails, and Slack messages are just inherently different from face-to-face interactions, because they are all to one degree or another less spontaneous and more scripted. You can choose to view that as a negative or a positive, though. I always saw it as a positive – there are fewer interruptions in one's work in a remote setting.
In running a fully remote company for six years, I learned there are two ways to build a remote company culture:
Set core values that…

Guide the type of people to hire
Give people clear direction on how to make decisions

Match employee benefits and company programs to the core values
Here is an example to explain what I mean.
We had a core value at the company called, "Intentional learning not complacency."
Since learning was so important to how we operate, we needed to…
Hire people who liked to learn
And therefore, ask interview questions to see if people were learning in their personal lives and current jobs
And then, make sure people choose to learn rather than go with the status quo when presented with a situation where there is uncertainty
But it wasn't enough just to say learning is important. We decided to pair that core value with a company benefit so learning could tangibly happen:
We created the "Book-a-month" program. The company would buy each employee any book of their choice each month.
Now we have a core value that dictates who we hire and we have an employee benefit that reinforces the behavior.
Here's the bottom line:

It's not enough to say your core values and hope the talking turns into a good culture. You need to create benefits and programs to incentivize and encourage the behavior.
The following tips for onboarding remote employees into your company culture are just a few programs we used to tangibly help employees get to know one another better on a personal level.
Book-a-month: Give employees a company allowance to purchase a book each month, and hold informal video meetings where everyone shares what they've been reading and what they learned or found interesting.
Deep work sessions: Cal Newport wrote the book, Deep Work. Encourage people to block off recurring times on their calendar for distraction-free, challenging work. Deep work is fulfilling for the employee and signals that you trust their intuition and knowledge. Your culture prioritizes thinking and focus over availability and small tasks.
Minimum or essential time off: Unlimited PTO is great, but it comes with some negatives. Give a number of days employees must take, then encourage them to take unlimited time on top of the minimum. This builds trust into your culture.
Idea systems: The book "Ideas are Free" explains how front-line employees can spot issues much better than managers since they are doing the daily work. Tap into that flow of ideas by building an idea system.
Salary calculator: Don't just say "transparency" is important, act it out. Create a formula to determine salaries to make it fair and transparent. That way, you can automatically calculate raises based on time spent with the company, job function, management level, cost of living, and more.
Non-work meetings: Plan times for your team to talk about anything but work. For our company, this was a 30-minute meeting every Monday morning.
Here's the entire list of programs to build remote company culture:
49 Programs To Strengthen Remote Work Culture
No matter which ideas you adopt for culture-building, managers should introduce new employees to them during onboarding, and check in to make sure they are participating.
That being said … don't overdo things or push too hard, or it will feel like work and won't accomplish the objective of helping people get to know one another. Most people would prefer to start their weekend at 4 pm on Friday afternoon rather than attend a Zoom happy hour.
Now what…
While remote onboarding poses some unique challenges, setting up a standard process will help things go more smoothly—and give your company the best chance to build engagement with new employees early on, reducing attrition and boosting productivity.