Home Office Storage: The Tidy Buyer's Guide
My wife and I have worked from home… together… in the same office… for over five years. In that time, we've filled our house with babies (and kids' stuff) and home office equipment (of which I have a lot).
Filled to the gills with two kids and two businesses, we get the importance of nailing our home office storage ideas. But when I'd go to look for storage products, it's an endless scroll of 10,000 products on IKEA or Amazon or Walmart without any organization.
This tidy buyer's guide changes that. Below, you'll see the seven types of home office storage solutions…and a winning product in each. If those winners don't suffice, we've included honorable mentions by category below the winner's table you see right here 👇.
The Best Home Office Storage Options
If you are on a mobile device, scroll to the right to view more columns.
Home Office Storage Solutions By Category
Want to learn more about each winner and view other great options in that category? Click the links below to jump to a section about the best home office storage ideas by product type. At the end of the table of contents, you'll see a link to get some ideas about how to organize your office storage.
The Best Home Office Storage Cabinets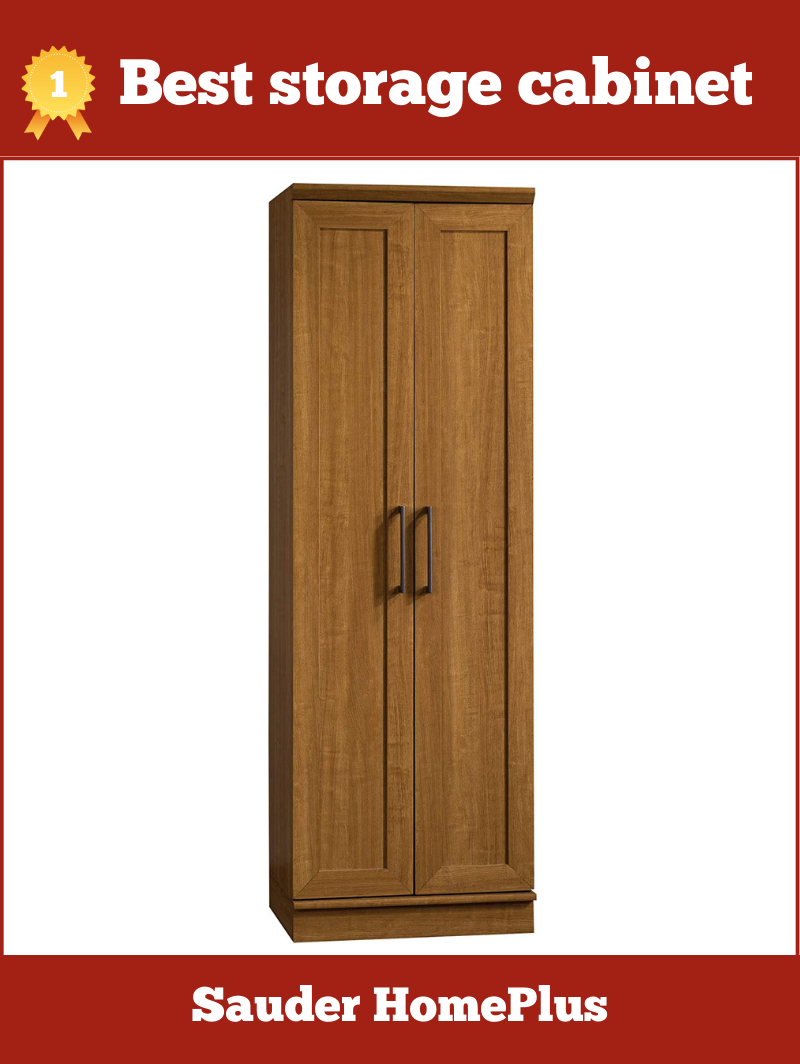 This is an all-purpose household cabinet, but it uses vertical space well (an important consideration for home office storage). It takes up just a bit of floor space but provides lots of out-of-sight storage.
HÄLLAN Storage Combination With Doors (IKEA)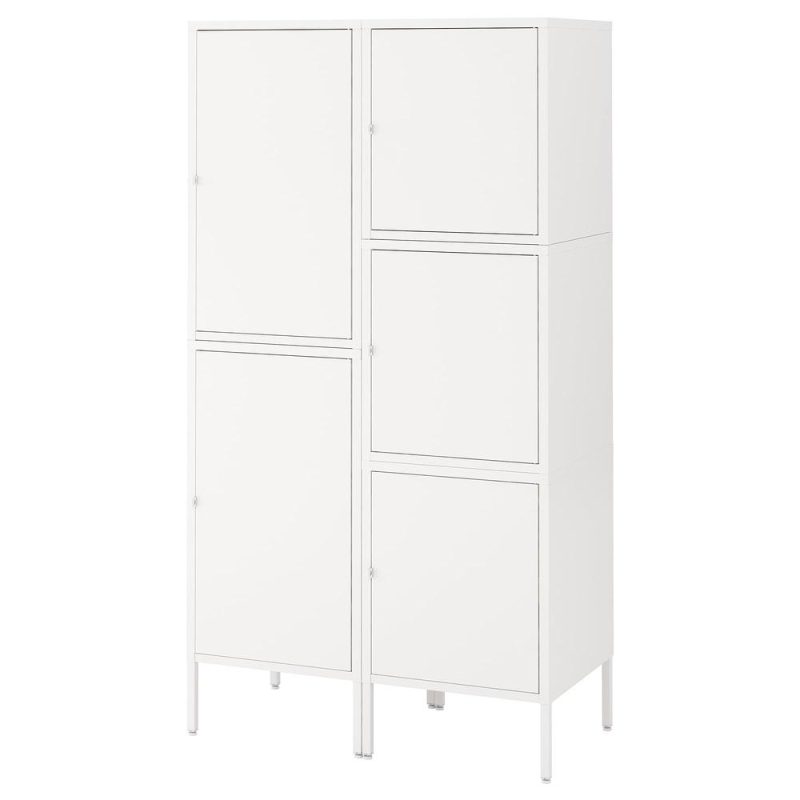 Decluttering your room is the first step in creating storage space. Seeing that this is now your workplace, make sure that you have everything necessary to do your job, like a desk, lamp, laptop, chair, coffee mug, headphones, filing cabinet, and a pin board. Personally, I put my desk near the filing cabinet so I have easy access to important documents.
– Jack Zmudzinski of Future Processing

The Best Home Office Shelves
Want to see our buyer's guide on home office shelving instead?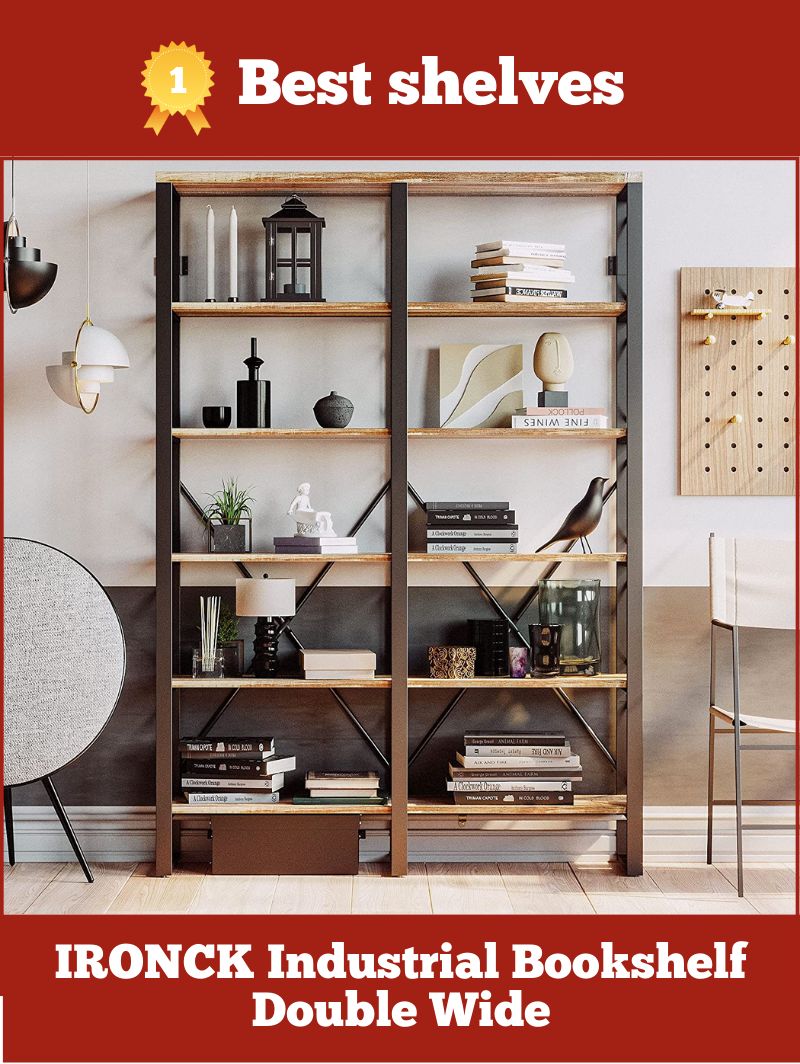 If you need a big, open storage stage, try out this double-wide bookshelf (or the triple-wide listed below). These are heavy duty, high quality for the price, and highly rated.
BON AUGURE Industrial Bookshelf
Here's another highly rated, simply designed, industrial bookshelf. This is highly rated (4.8 stars), moderately priced, and has a fast average assembly time (30 minutes).
IRONCK Bookcases and Bookshelves Triple Wide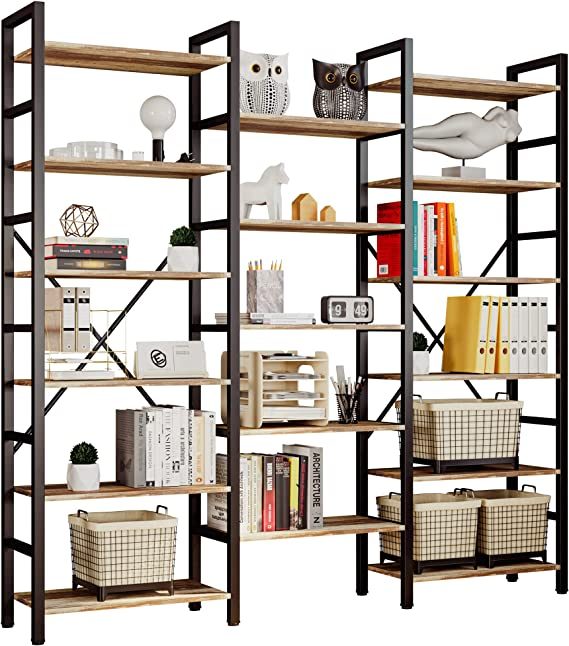 If you need a big, open storage stage, try out this triple-wide bookshelf (or the double-wide listed above). These are heavy duty, high quality for the price, and highly rated.
Walker Edison 2-Shelf Industrial Bookcase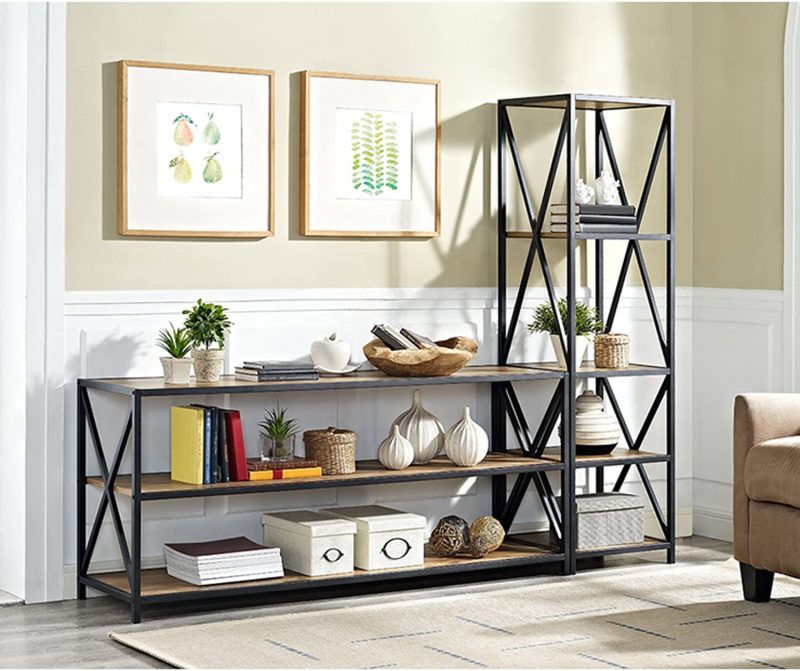 This might be the very best home office bookcase on the market. It didn't win our "best shelves" award, though, because it takes up so much more horizontal space than vertical space. If you have a roomy home office and can absorb the space, look at this option.
Furologee 5-Tier Bookshelf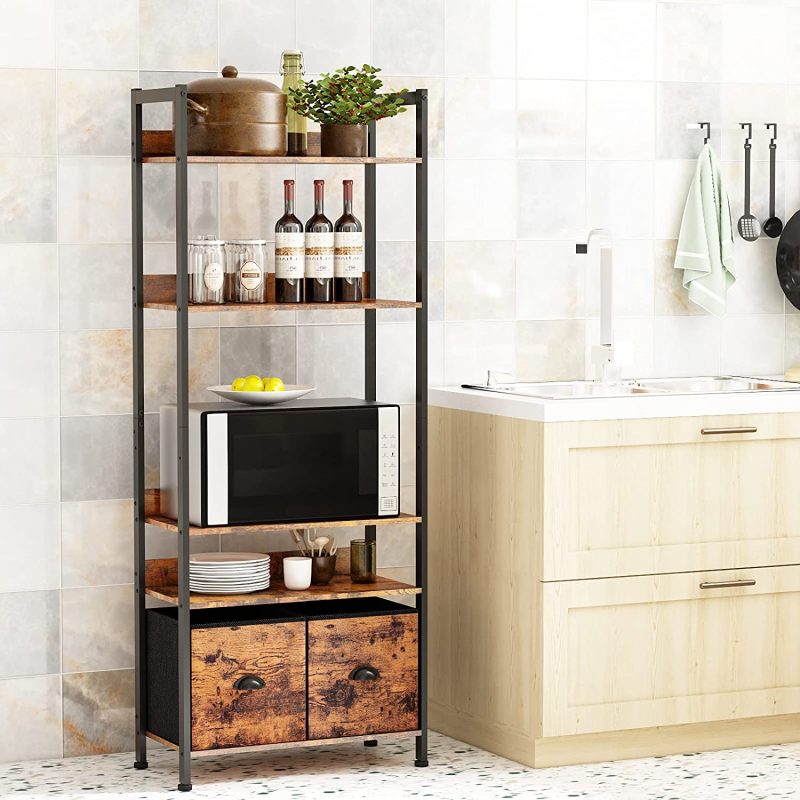 This bookshelf has four open shelves and two drawers for hidden storage – a good mix for a home office. The shelf provides most of its storage space through its height and doesn't take up much floor space.
VASAGLE LOWELL Bookshelf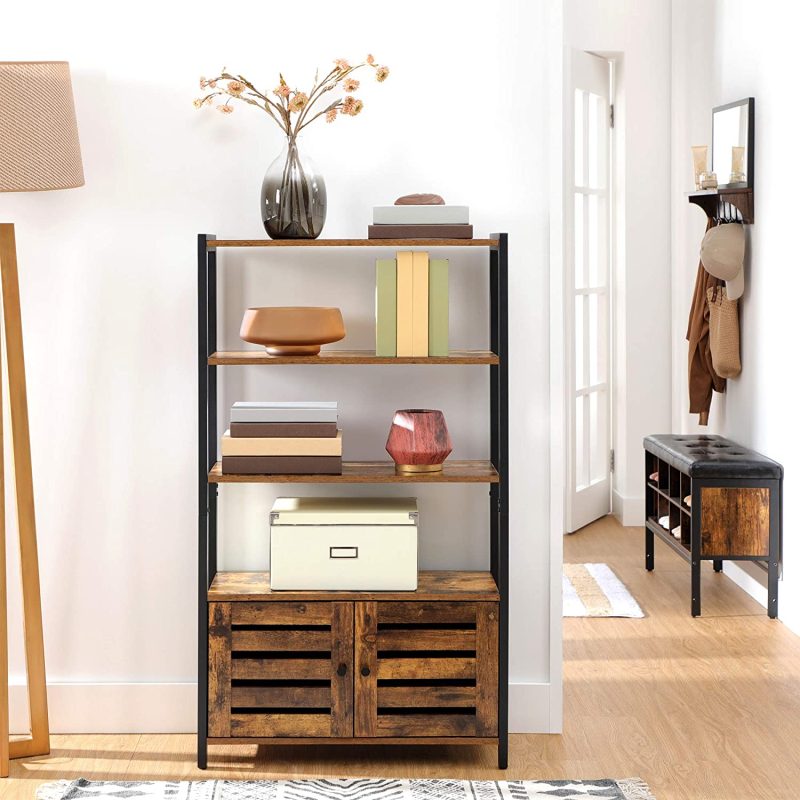 Check today's price on Amazon.
I recommend a bookshelf that has open space as well as some cabinets to hide away extra office supplies. This type of storage is very functional and also isn't an eyesore. This example from Amazon is a good option; it has room for documents and cabinet space for a printer, extra paper, and other office supplies you don't want out in the open.
– Dave Fuss of Mobile Storage Solutions
Sauder North Avenue Bookcase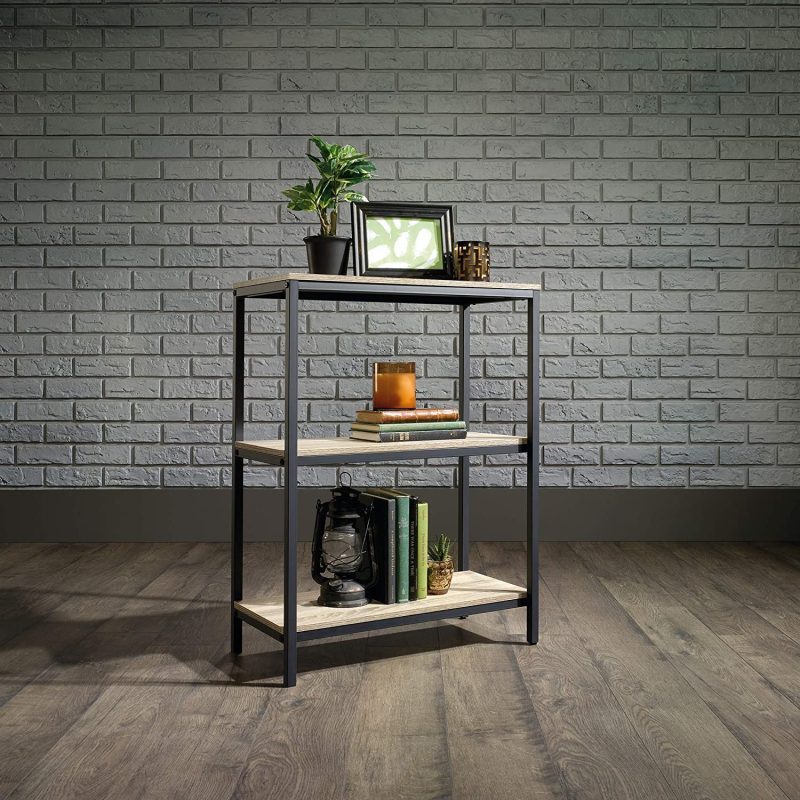 Check today's price on Amazon.
Open shelving is an excellent option if you want to give a stylish look to your office storage. Stuffing everything in one drawer can be chaotic. A well-made open shelf will make your home office look beautiful, and you can also find your files quickly. You can also decorate the open shelves however you want.
– Jamie Penney of ActionSporter.com

The Best Home Office File Cabinets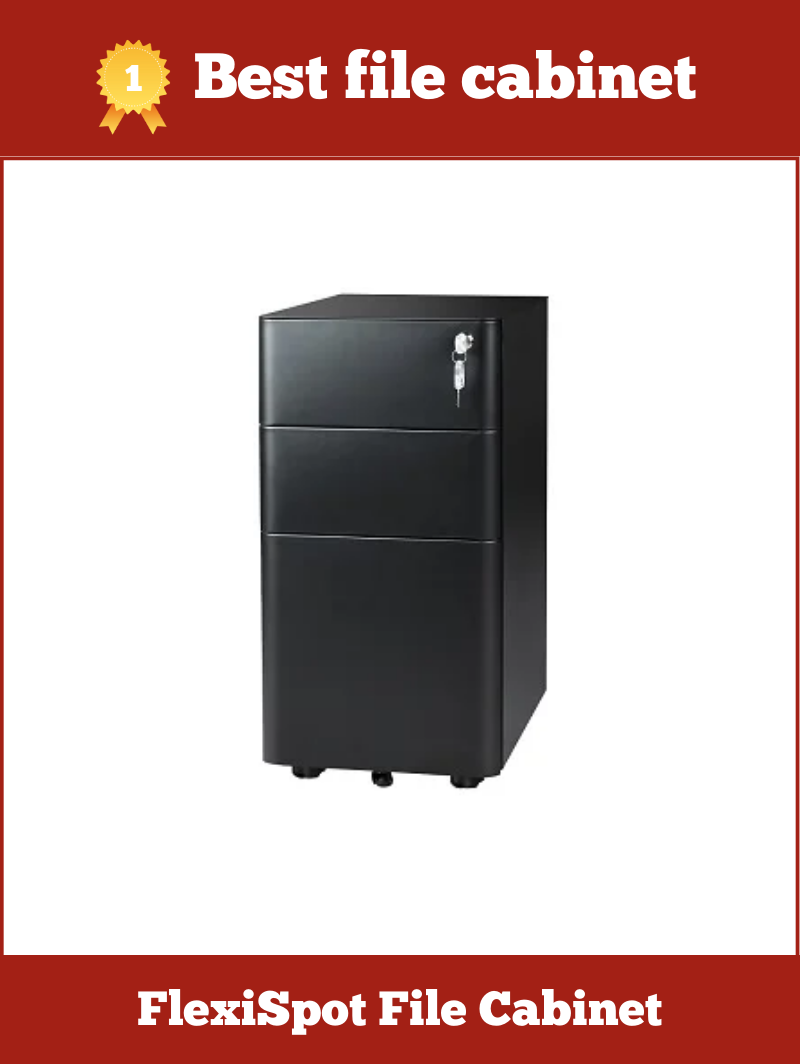 For sensitive documents, a lockable file cabinet is necessary. This file cabinet is highly rated, sturdy, and has drawers designed to fit specific paper sizes. If you specifically need home office file storage, start with this option and compare other choices you find to this product.
IRIS 4-Drawer Rolling Cart With Organizer Top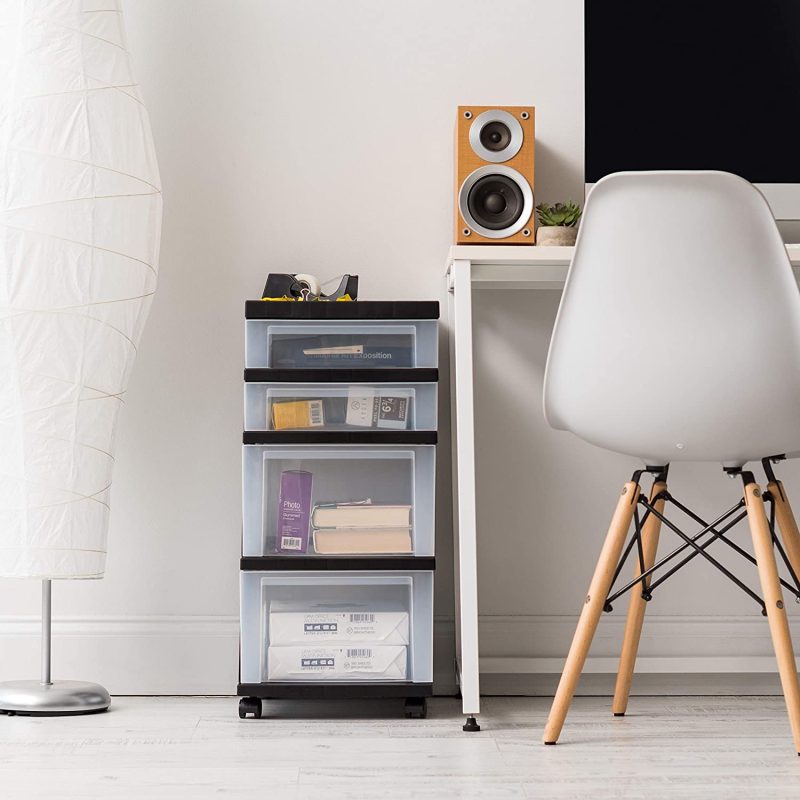 Check today's price on Amazon.
This is the best home office file storage option we found for a two-person home office. We both get our own bulk bin and paperwork tray, and it's easy to move around, too.
– John Bedford of Viva Flavor
See Also: Sharing A Home Office
The Best Home Office Storage Bins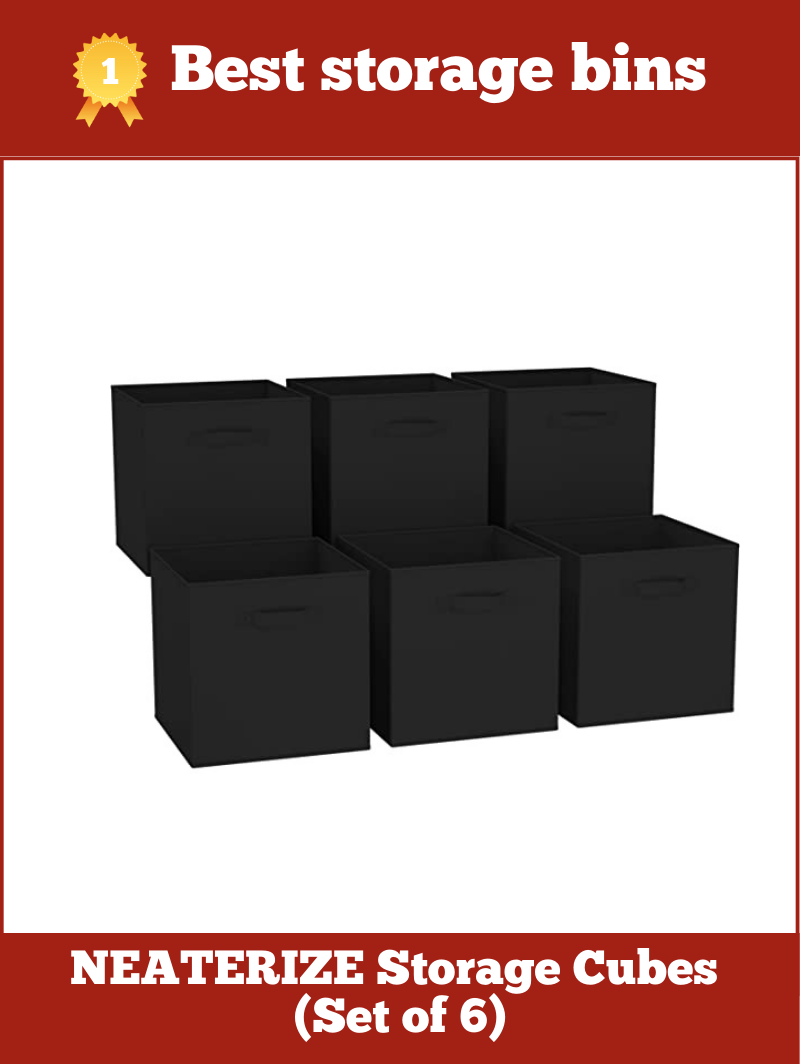 These storage cubes are highly rated and provide good storage capacity. You can use just one or two or all six depending on your storage needs at that time. The cubes fit with this shelving unit.
Way Basics Eco Stackable Storage Cube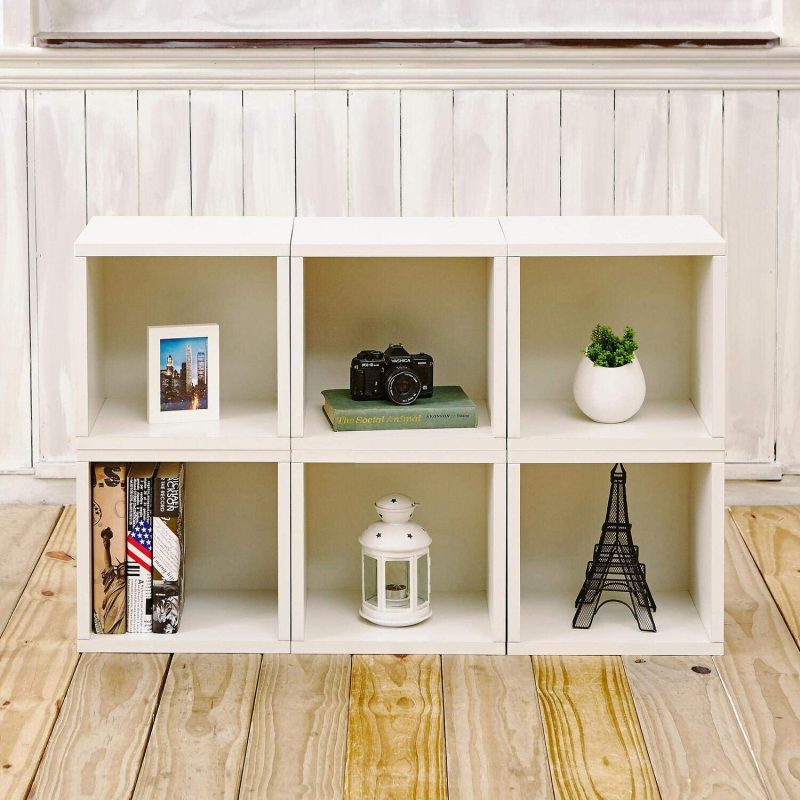 Check today's price on Amazon.
Purchase cube storage blocks to place against your wall near your desk. These look funky and cool and are very practical for home office storage — you can maximize it without sacrificing style.
– Kasey Monohan of Threadcurve
Internet's Best Collapsible File Box Storage Organizer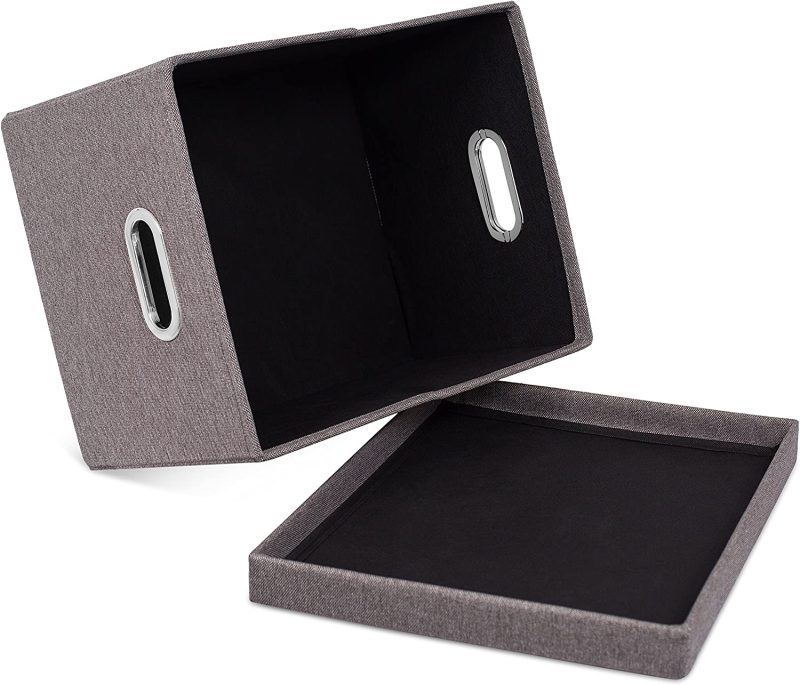 Check today's price on Amazon.
Filing cabinets are incredible tools for organizing documents, but not everyone has room for one or more in their home office. Foldable canvas filing cubes give you the option to store them on a bookshelf, your desk, or on the floor. And when they're not in use, you can collapse them so they take up almost no room at all.
– Melanie Musson of ClearSurance.com

The Best Home Office Storage Furniture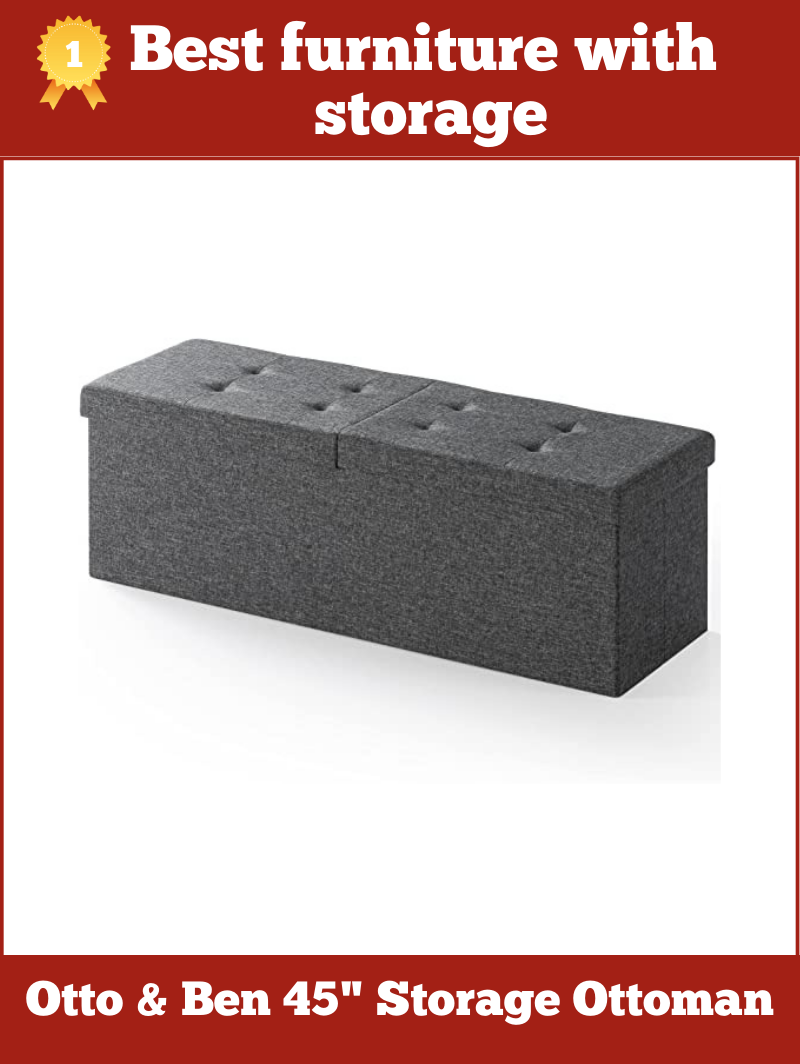 This storage ottoman comes in ten colors and three sizes giving you the most options to fit your home office aesthetics. Furniture is a big category, but if you start with cargo space as the most important feature, this piece home office storage furniture is your best bet.
SONGMICS Folding Storage Ottoman Bench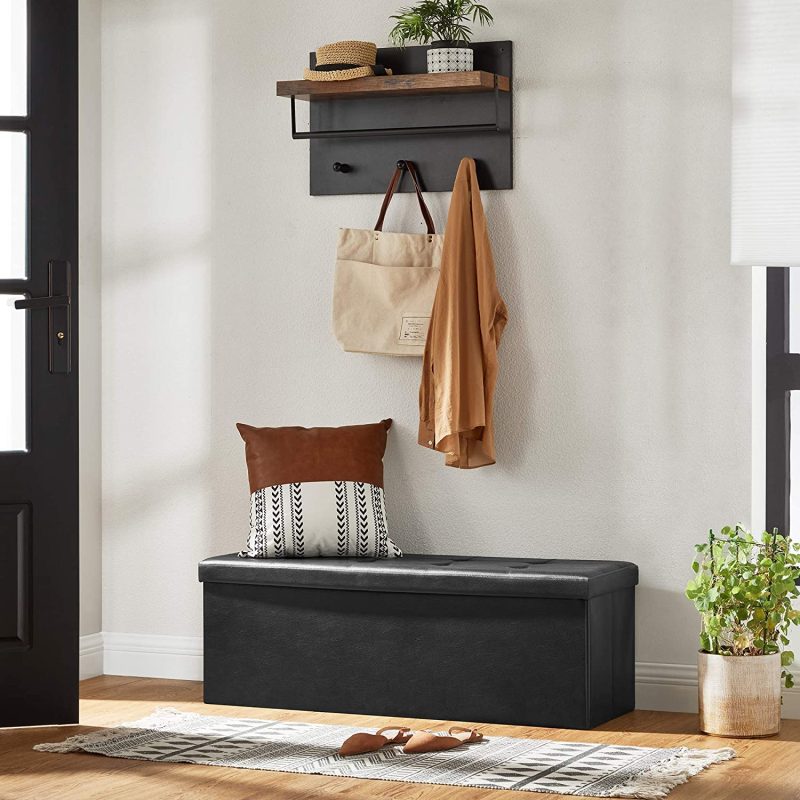 If you prefer faux leather, you could choose this ottoman over the Otto & Ben ottoman. The ratings are similar (4.6 versus 4.7 stars) with thousands of reviews for trustworthiness.
Homepop Round Velvet Ottoman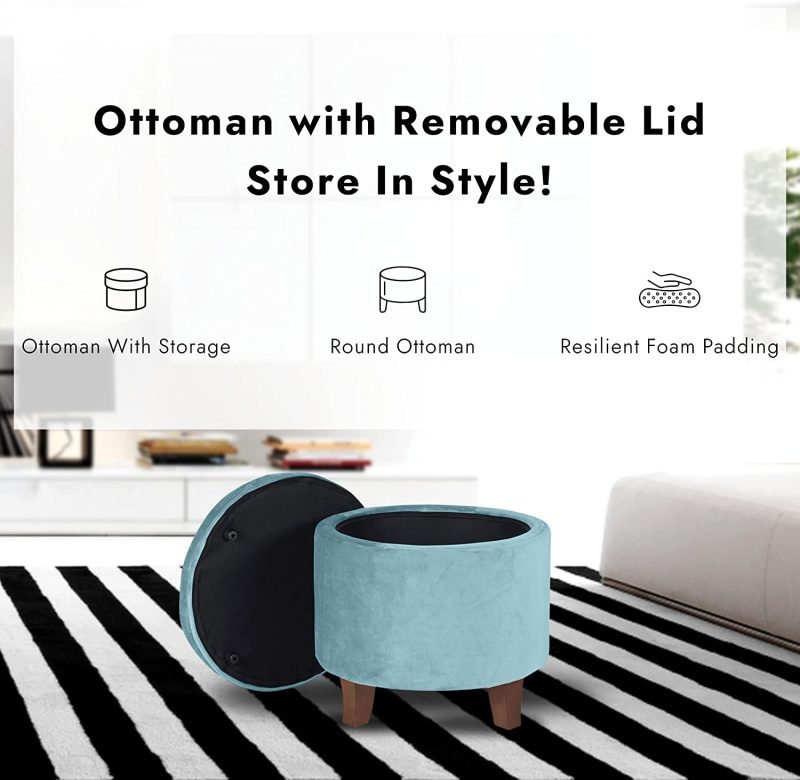 For a small, accent piece of furniture with storage, this round ottoman provides some storage. Just keep in mind the shape won't maximize storage space with papers, files, and books.
IKEA VIMLE Footstool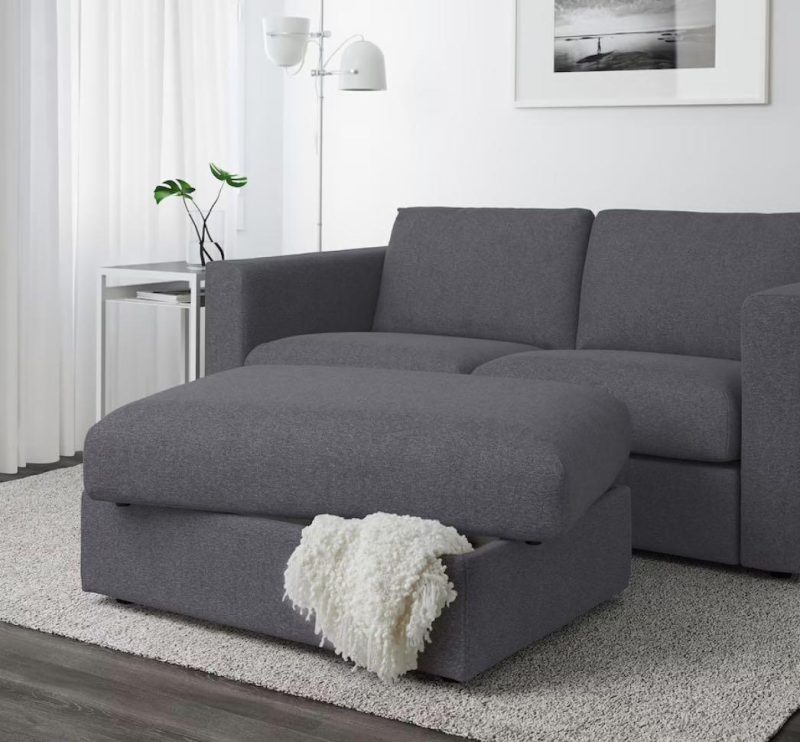 I know it's a bit unconventional, but I put my office notebook, stapler, papers, and stamp in my off-white ottoman. My decor style is stark, so I like things to be as uncluttered and out of sight as possible. I also don't have a dedicated office, so it's better to not be reminded of work when I'm trying to relax.
– Jagoda Wieczorek of ResumeLab

The Best Home Office Desktop Organizers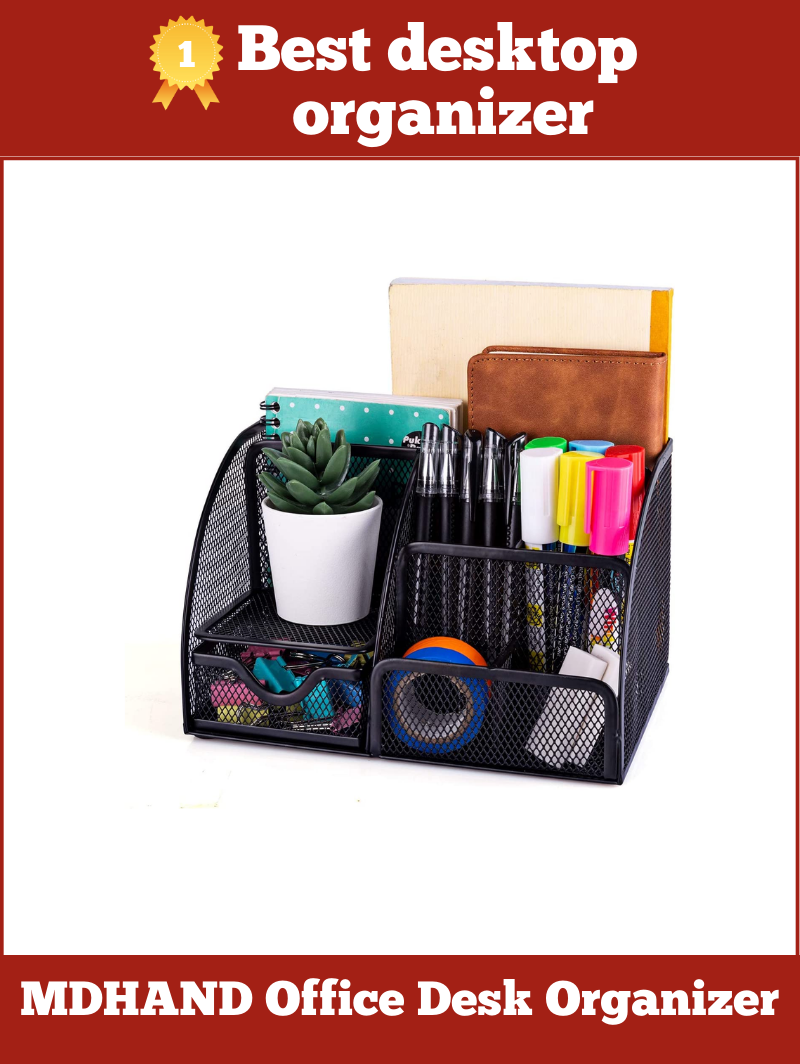 This six-compartment, metal desk organizer will help you tidy up your home office desk while just taking up one small corner.
HUANUO Monitor Stand With Drawers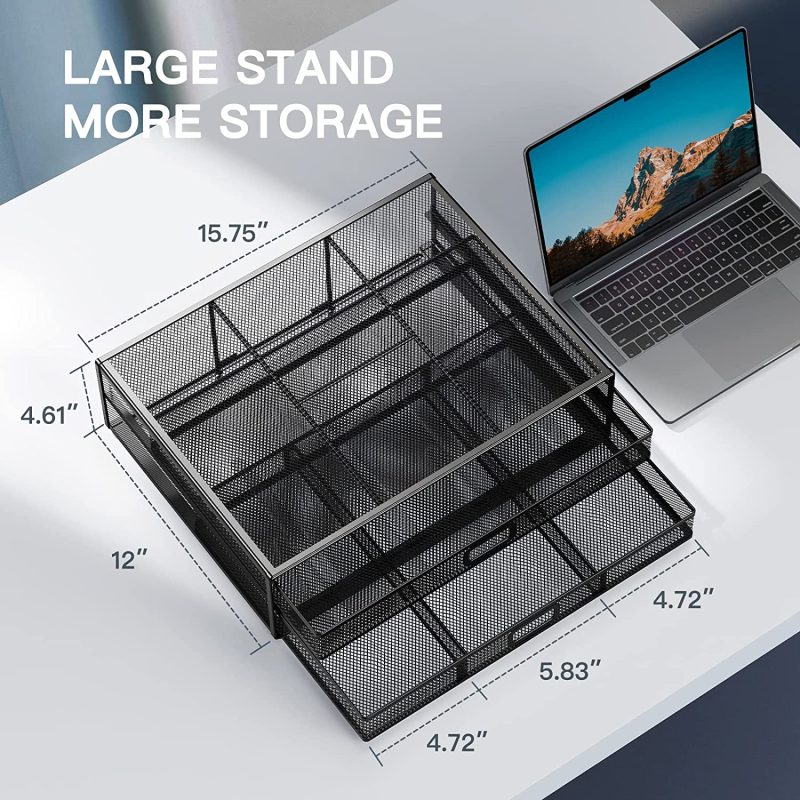 I have a monitor riser and I recommend it to people to lift webcams up to eye level for video meetings. And even though my riser isn't built for storage, I still keep notebooks, and my wireless keyboard and mouse under there. Although I do not have the HUANUO monitor riser personally, it is one of the few on the market with storage capacity, it is highly rated, and it has thousands of reviews.
Hossejoy Adjustable Desktop Storage Organizer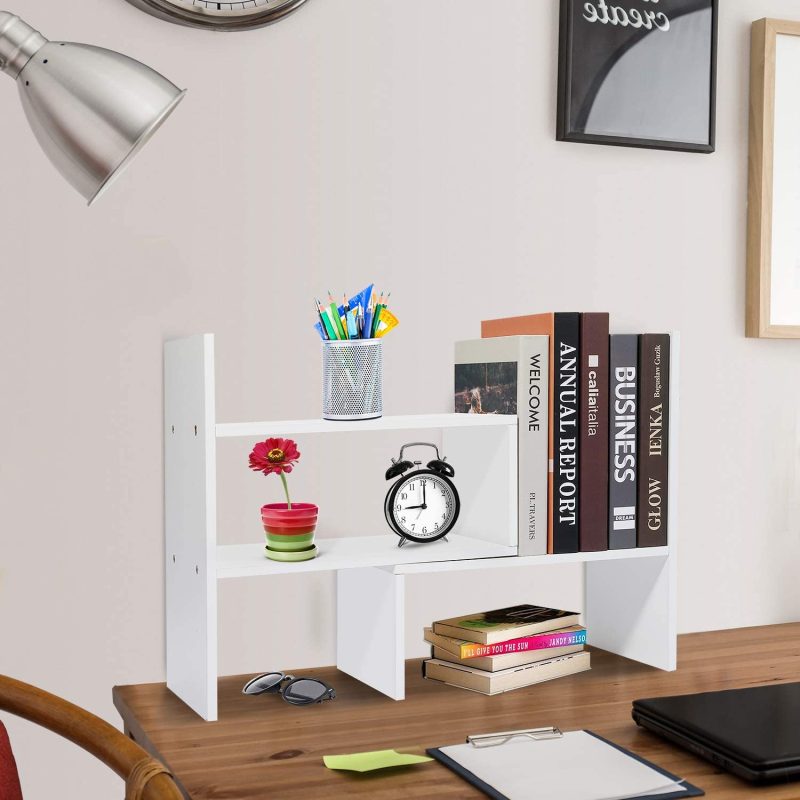 Here's an adjustable, tiny bookshelf for your desk. If you have a wide desk, this could be a great option to organize frequently used items on your desk and lift them off your desk. I would not buy this if you have a small desk (35 inches wide or fewer).
SimpleHouseware Mesh Desk Organizer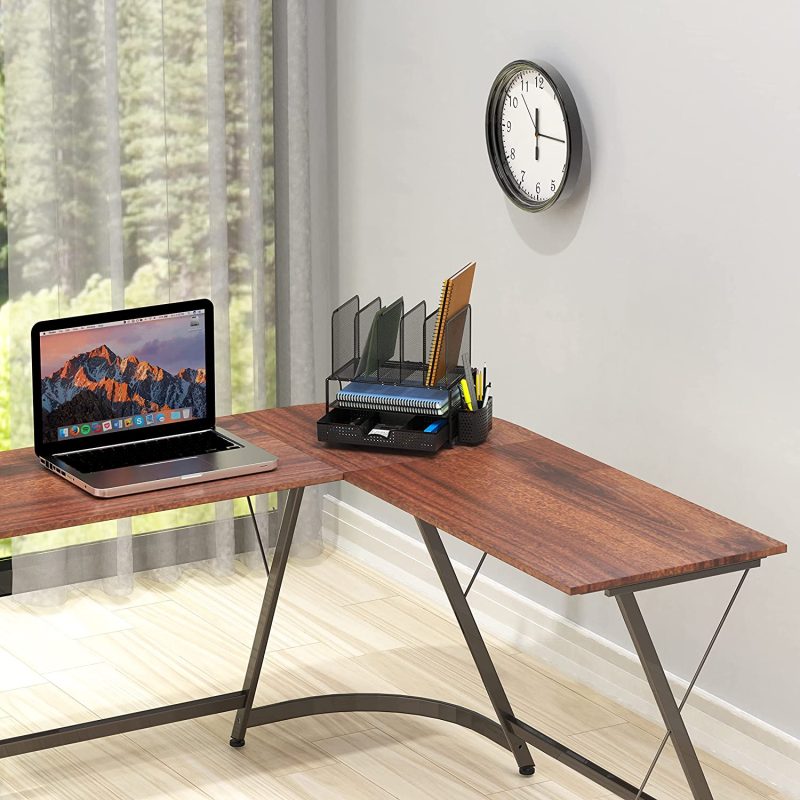 This desk organizer has the most reviews on the market and has remained highly rated at 4.7 stars. If this is your style, it's as good of an option as any of the desktop organizers we've featured.
mDesign Plastic Home Office Organizer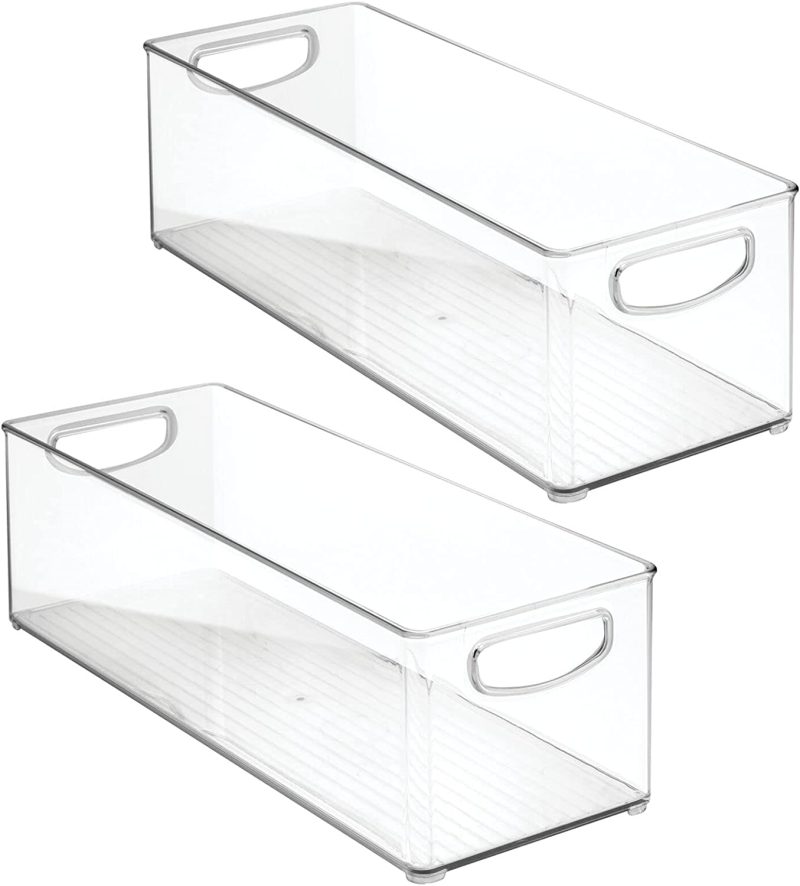 This storage organizer didn't fit well in any of our top categories, but that doesn't mean it's not useful. This is a versatile, small storage tool – use it as a desktop organizer, add it to shelves, or use it within your file or storage cabinet.
The Best Home Office Desks With Storage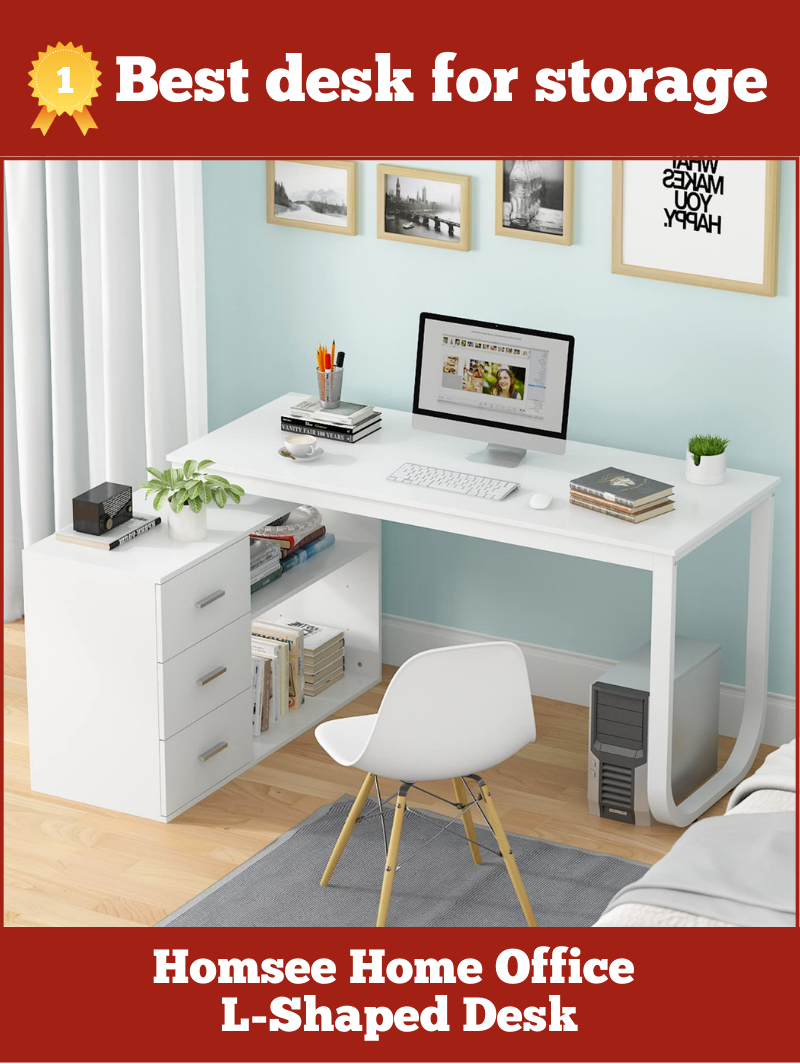 This is a file cabinet, bookshelf and desk all-in-one. You can put the cabinet on either side of the desk so it fits in the space you have. If you need storage within your workspace, this is the best home office desk with storage on the market.
Comhar Pro Standing Desk Q8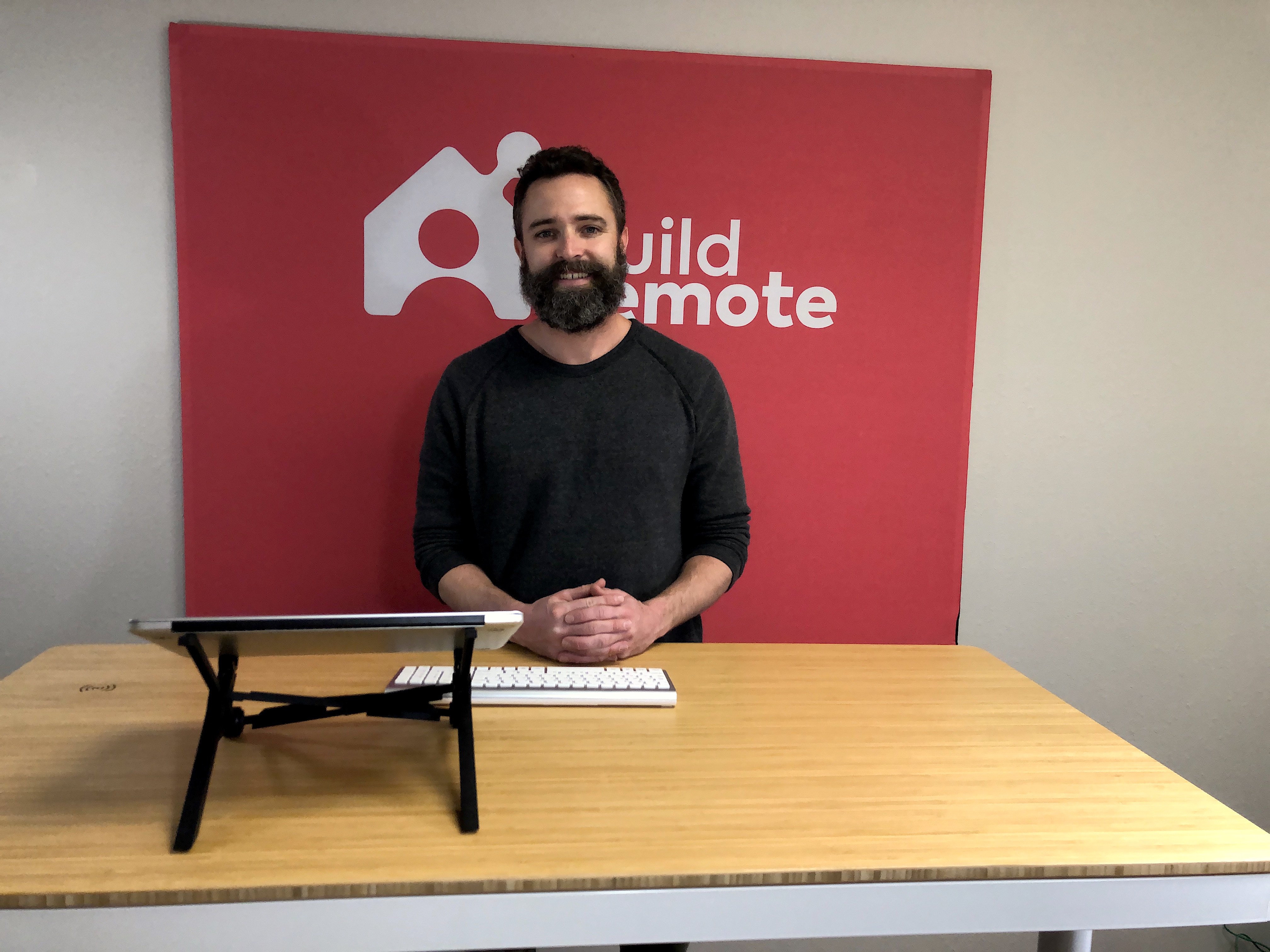 This is my desk and it is the best standing desk with drawers, hands down. Most standing desks do not have any storage to minimize the weight and complexity. This is a high quality desk with a drawer that can fit a laptop, wireless keyboard, pens, wallet, cell phone, and more.
Read our review of the best standing desk with drawers.
CubiCubi Computer 47-Inch Desk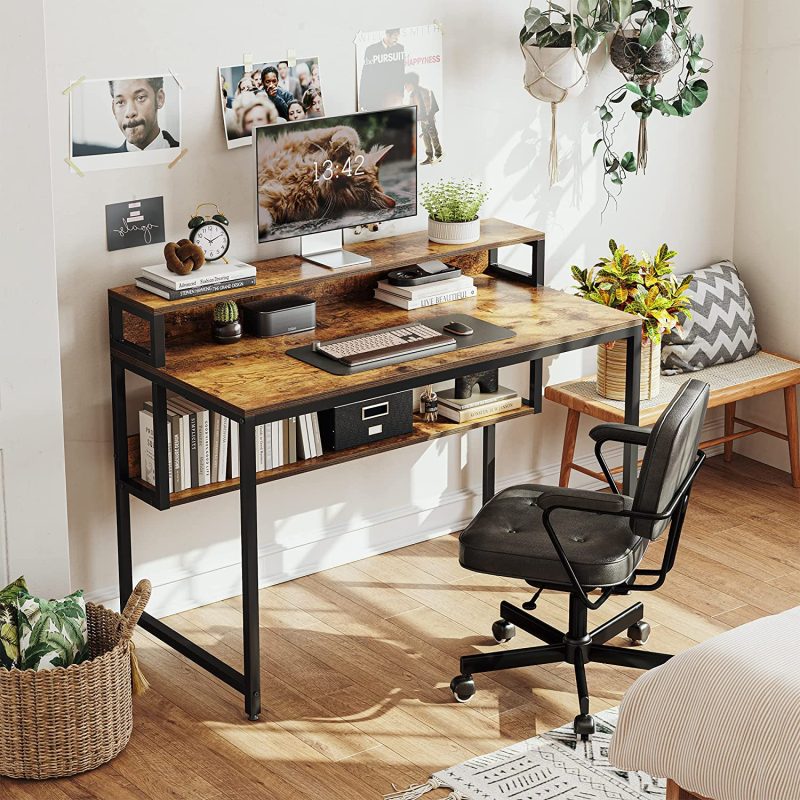 When you assemble desks with drawers by yourself, you can frequently run into issues earlier than you'd hope. There are too many parts that could go wrong. This desk offers storage through shelves, not drawers. Consider it for storage (and price savings).
TOPSKY Computer Desk with Bookshelf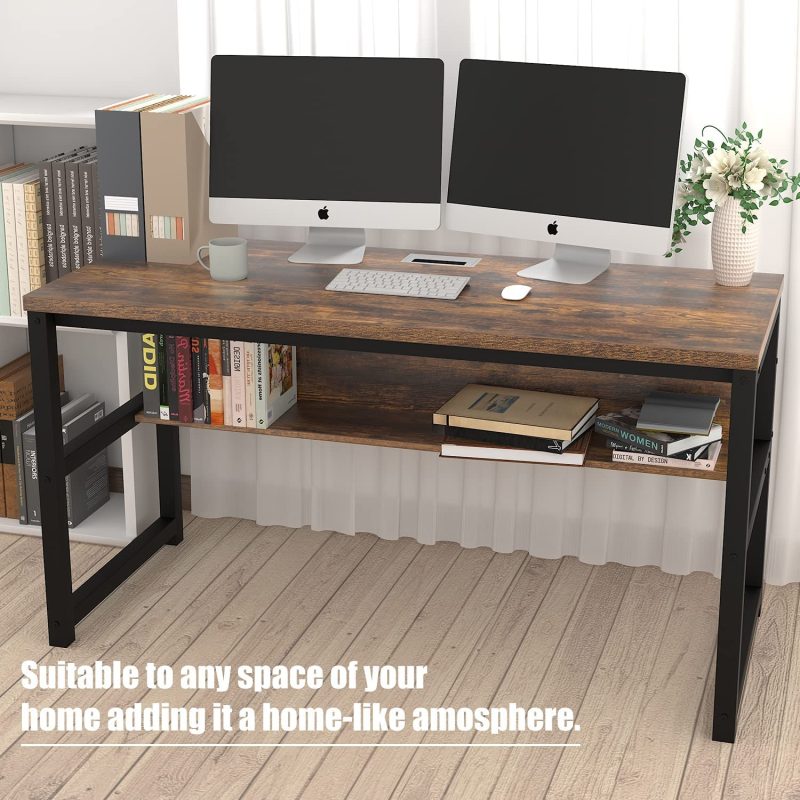 Here's another example of a simple, minimalist desk with good shelving options (on the desktop and beneath) without having the risk of self-assembled drawers.
Dripex Computer Desk with 4 Tier Storage Shelves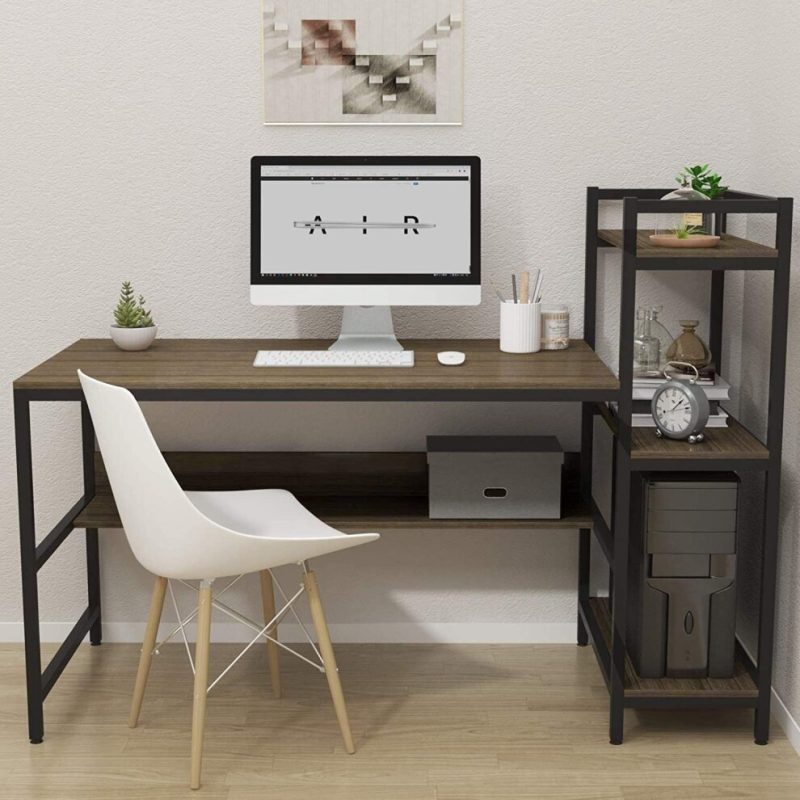 Dedicated office space is one of the most sought-after features of any house, so making the most of this (typically) compact area with a smart storage solution is key to working efficiently from home. Snap up a bookshelf desk like mine that combines working space with savvy storage, allowing you to save vital floor space while also ensuring all your essential files are conveniently located at your fingertips. Plus, opting for a workspace that features vertical shelving instead of horizontal units is often a better solution for smaller home offices, as they can fit snugly into corners without requiring masses of space.
– Jasmine West of OnBuy
For an even more comprehensive look at the best desks with storage, check out our top 13 recommendations (by category).
The Best Wall Storage Ideas & Organizers
This category did not make it in our top group. If you are looking for home office storage ideas, I couldn't see the possibility that you'd start your search with wall organizers. However, home office wall storage still an important auxiliary piece to the puzzle. Here are some wall storage ideas that were recommended to us.
Keepo Pegboard Combination Kit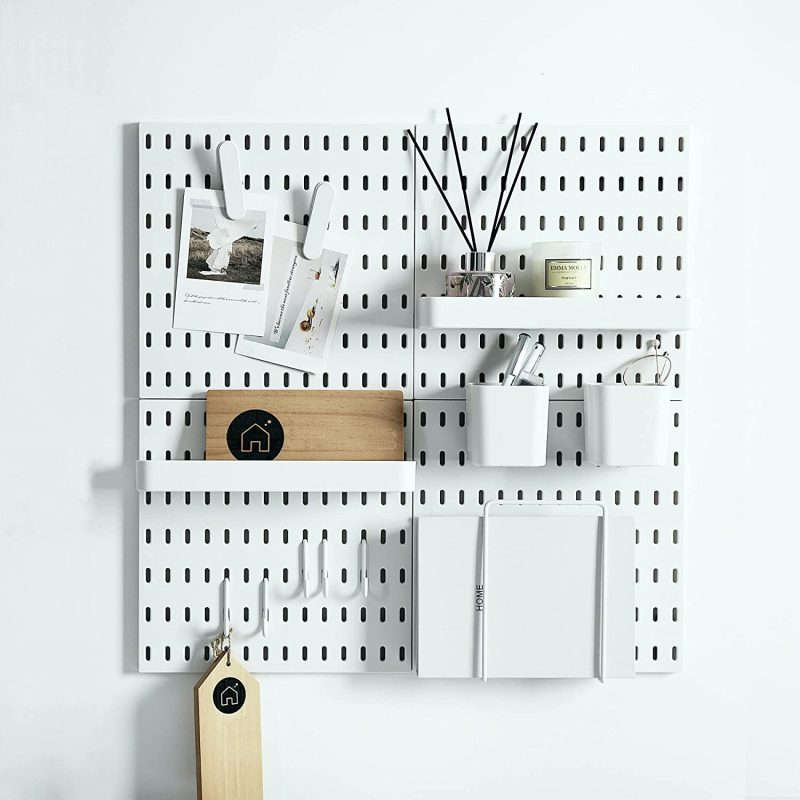 Using vertical wall space is critical to organizing your home office. This pegboard offers more storage than a typical wall organizer with small containers, shelves, and hooks.
Designstyles Three Tier Wall File Holder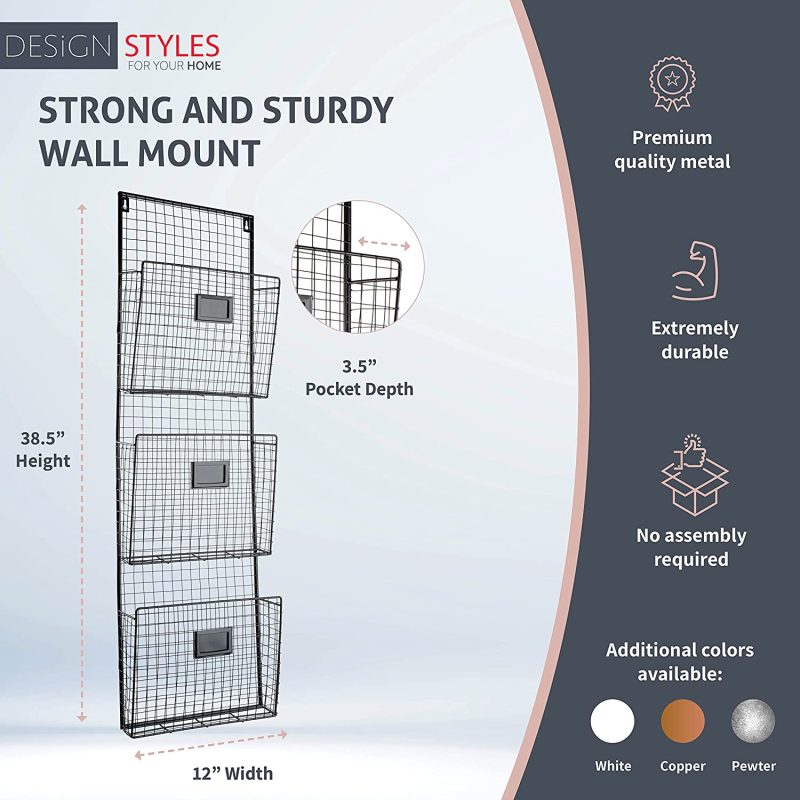 Do you have papers you need to access quickly? Use wall space with this file holder.
Combination Whiteboard Bulletin Board Set by Navy Penguin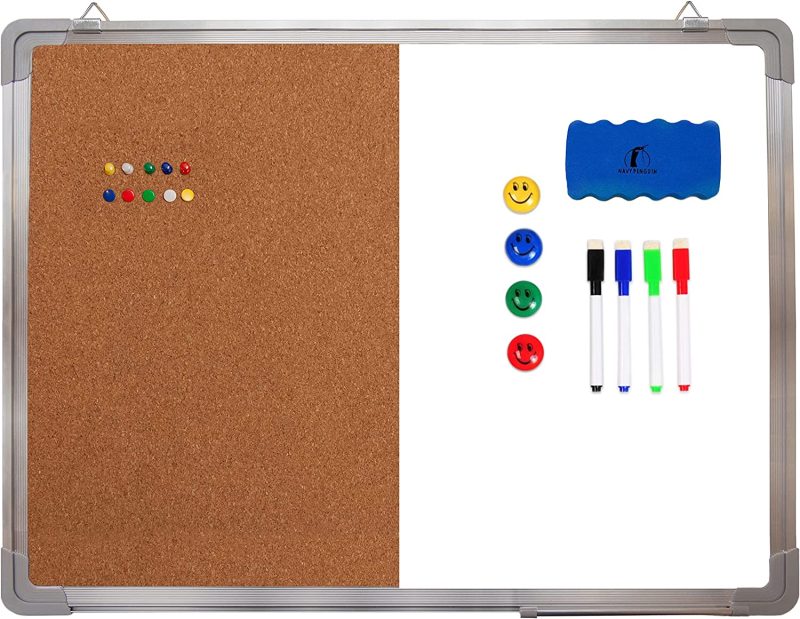 Check today's price on Amazon.
Purchase a corkboard and pushpins, a whiteboard and markers, or a magnetic board and magnets to reduce the amount of paper clutter. You should keep only the most crucial information here and put the rest in storage! There won't be any more paper or sticky notes lying about your desk, which may also mean fewer memos will be forgotten!
– Ben Flynn of Manhattan Tech Support
Quartet Cork Tiles Corkboard
Check today's price on Amazon.
This smaller corkboard pieces allow you to create different angles and shapes on the wall for a pleasing aesthetic.
– Jennie Berger of Property People

Unique home office storage ideas
Clear Drawer Dividers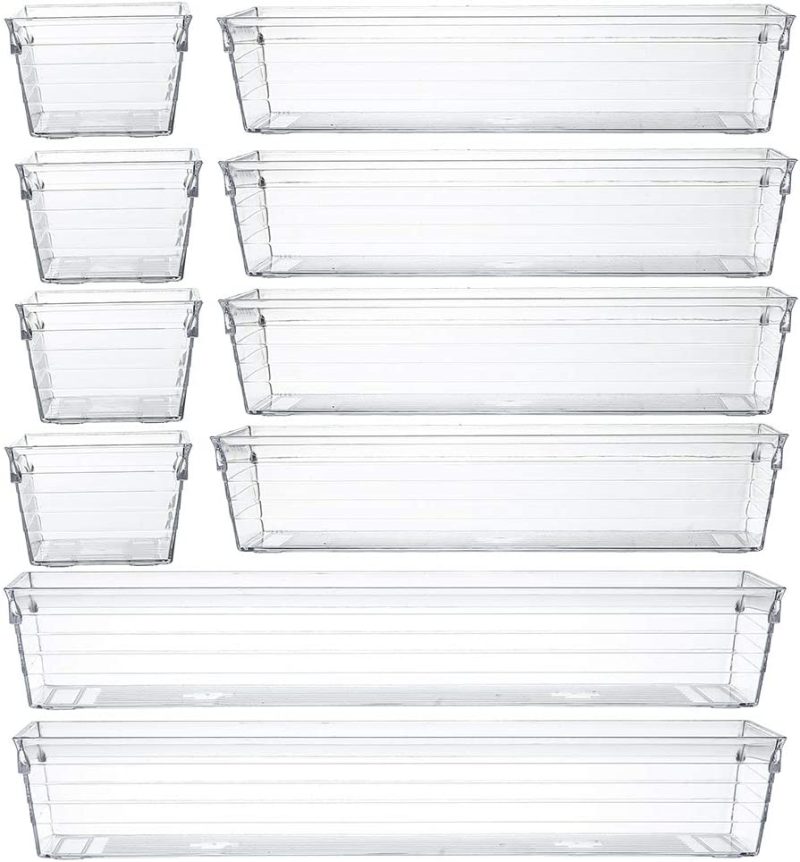 Check today's price on Amazon.
Use drawer dividers in your home office desk drawers for a clean and tidy workspace that will boost productivity.
– Lisa Anne of The Financial Cookbook
Royal Craft Wood Drawer Divider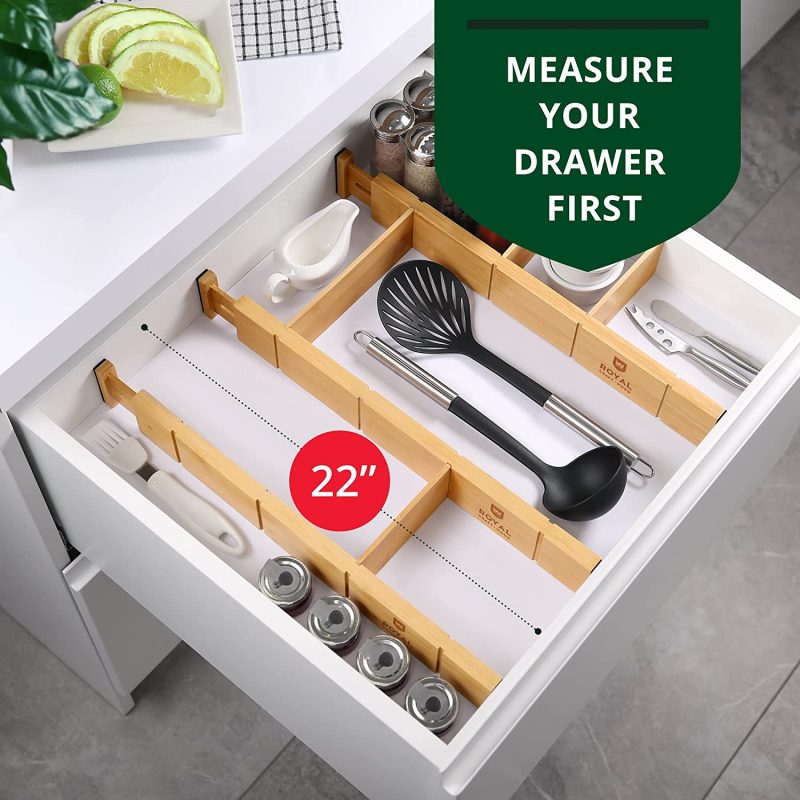 Check today's price on Amazon.
You might have a desk with drawers, but drawers often get cluttered. My #1 tip for managing home office storage is to add dividers in drawers. To make drawers clutter and junk-free, adding dividers will organize your office essentials. You can easily access stationary and documents when you need them.
– Jessica Chase of Premier Title loans
EVEO Cable Management 96" J Channel-6 Pack Cord Cover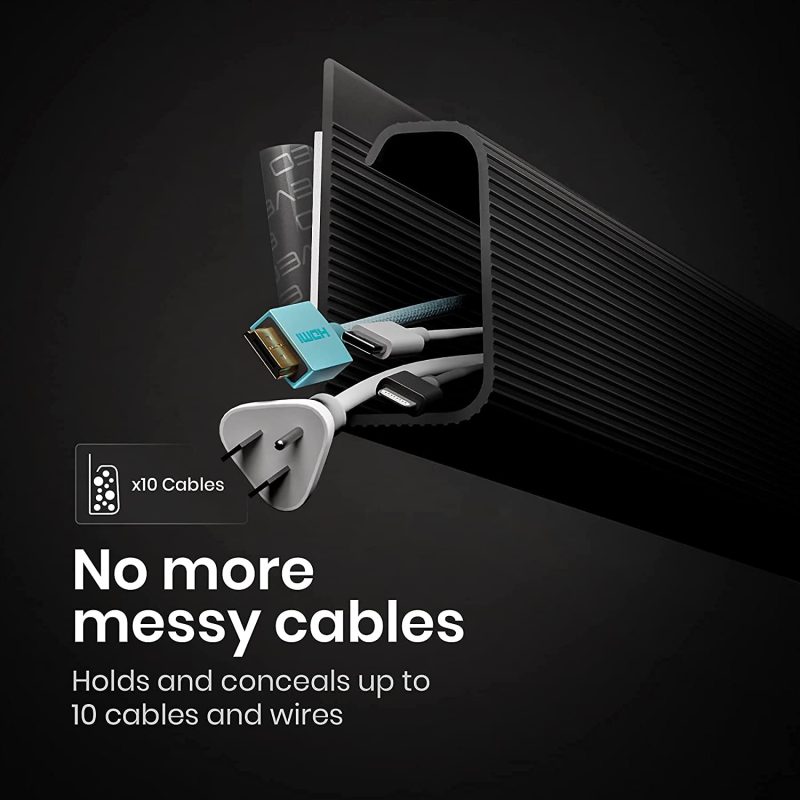 Check today's price on Amazon.
Your workspace may feel cluttered or disorganized for the most part because of bundles of disorganized cords. To keep the wires organized, do not try to place all of your devices in the same location. Put them in a drawer or behind your desk by zipping them together.
– Sasha Quail of Claims UK

See Also: Home Office Organization: The Best Ideas, Products & Advice
Home Office Storage Ideas & Advice
Make a budget — and stick with it
When it comes to picking the right home office storage solutions, it's essential to set a budget and research as much as you can about ideal products for your workspace. When researching, make sure to compare prices, check the products' measurements, features, and the like, and invest in high-quality products that will help guarantee productivity and make work more comfortable for you.
– Simon Elkjær of avXperten
Digitize whatever you can
First things first: If you are looking for home office file storage ideas, look to the cloud.
Digitize as much as you can and store it in the cloud. Both iOS and Android phones are equipped with document scanners in their cameras. Evernote and Dropbox also bundle document scanners and cloud storage in their apps. Over time, getting these documents stored digitally saves space, makes them easier to access when you need them and more efficient to work with in the future, since most of the time they will need to be sent or copied digitally.
Side note: Google Lens has a powerful document analyzer with Optical Character Recognition (OCR) that makes it easy to extract text from any document and copy/paste into digital documents.
– Julie Aragon of Julie Aragon Lending Team
Look to ottomans and magnetic posters
I am all about finding simple but clever tricks to organize all my stuff. One of my two favorite finds for my home office has been ottoman seats that offer storage. They can double as additional seating (your roommate — whether that's your spouse or cat — will thank you) while hiding whatever clutter you have. You can also look at magnetic poster hangers. Being a renter, I have to be careful with what I put on our walls but I also want to make use of every available space I have. Having an instant way to hang my notes cheaply has been great. I have charts that I refer to constantly that hang over my desk instead of hiding in a pile of papers.
– Pauline Orr of Pink Pursuits
Install drawer dividers
The key to an organized office is efficiency. That can only be accomplished if the drawers allow a user to easily and swiftly find something that they need and put it away. Fabric desk dividers (also known as fabric desk bins) provide extra cubby space for office supplies and smaller items. You can also get creative with miniature canning jars, Dollar Store plastic bins, and even eating cutlery trays. You should also get rid of any items that no longer work or that you have duplicates or too many of. No one needs to hang on to a stapler or monitor that's broken, and do you really need 500 pens?
– Marty Basher of Modular Closets
Invest in multiple storage options
Have various types/styles of storage. This includes but is not limited to shelves, drawers, bins, trays, cork boards (for the wall), and cabinets. The more space you have for different types of items, the better.
– Jennie Berger of Property People
Get some open shelves
Open shelving is a great way to store items that you use frequently, but don't want to keep out and about on your desk. The open style of the shelving makes it easy to find what you're looking for, but also allows you see everything you have, so you don't end up with an overstuffed shelf. If you want to add a decorative touch without losing functionality, simply incorporate a picture frame or vase into your design.
– Melanie Johnson of Fantastic Services Group
Keep supplies and documents in specific places
Create different zones in your home office for different purposes. For example, you could have a dedicated area for supplies, another for frequently used items where you do most of your work, and an area for documents. This will allow you to keep the things you need most often within an arm's reach, while having the rest of your must-have office supplies somewhere you cannot misplace them.
– Ashwinn Krishnaswamy of Oklahoma Smokes
Label everything
The best tip for better home office storage is to use labels to mark everything. This will make it easy for you to know what is in each compartment. You can use different colored papers to make your handwritten labels. You can customize it as you wish. Plastic tapes and laminations can help secure tags for a long time.
– Aviad Faruzo
Turn storage into art
Repurpose old boxes into art for the wall. You can save time and effort by merging the two categories of home office décor, storage, and wall decoration. When mounted on the wall for display or storage, shadow boxes make quite a statement. Select frames with unique shapes for added visual appeal, and consider wallpapering the backs if you'd want to add a splash of color or pattern to the room.
– Tia Campbell of Practice Reasoning Tests
See Also: Home Office Background Ideas For Zoom Meetings
Choose the right space
If you want to make your home office perfect, I think picking the correct space is the first step. Take advantage of any spare room you have, whether it's a basement, spare bedroom, or den, and turn it into a productive workspace. In that case, the bedroom, kitchen, or even the living room would be the best option for individuals with restricted living quarters. If you want to concentrate, it's important that the area you pick be isolated from the rest of the house, ideally with a door.
– Mike Owens of HostingRevelations
See Also: 41 Bedroom Office Ideas (With Real Photos) | 66 Backyard Office Sheds To View In One Place
Backup all your files…twice
A home office may be convenient, but it also runs a high risk of data loss through domestic incidents. Children could spill liquids over your workspace while unsupervised. Your device could fall and crash. Heck, your dog might even soil your computer. Backing up your files ensures that no essential data gets lost when life happens. I like to store files once on a small flash drive and again on an external drive. Double the storage for double the backup in the case of emergencies.
– Stephan Baldwin of Assisted Living Center
Your Home Office Storage Ideas…
If you've made it all the way down here, my guess is the article failed you. You couldn't find a great fit for your home office in our categories… and I am sorry.
So maybe you know something I don't. Would you like to recommend a storage product for us to try out, review, and research? Contact us here and leave a specific message about what you'd like to nominate.
(We hope you find this article useful. Just so you know, Buildremote may collect a small share of sales from the links on this page to help keep this site running.)
Did you enjoy this article? Hover over the image below to pin it!