850 Remote-First Companies: The Database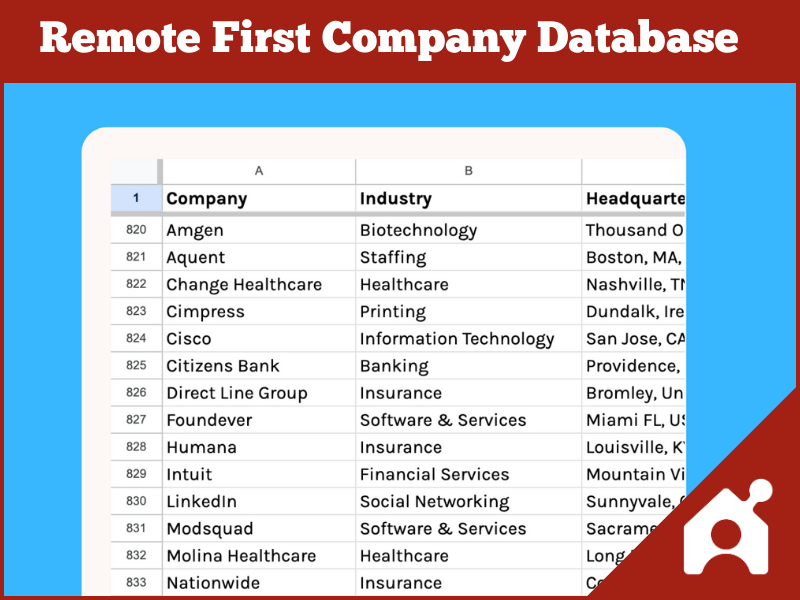 This is an exhaustively researched list of remote-first companies (ones that offer work-from-home or work-from-anywhere as the default location for their employees, but may have company offices). Read – and download – the 2023 report for free.
At Buildremote, we maintain the biggest list of remote-first companies in the world (it's just below). Right now, we have 850 remote-first companies spread across 46 countries, 90 industries, and eight employee headcount brackets.
Here's a quick breakdown of the scope of the research project that was done simultaneously with our fully remote company database. A researcher spent 7 weeks and 119 hours searching every remote-first and fully remote company in the world. We used AI to fill out details. Then, we hand-reviewed every piece of data for 16 hours.
We hope you agree that it's the best list of remote-first companies the internet has to offer. Here's how to navigate the research:
Download The Database Of Remote-First Companies
Want to sort and filter the list for your own research? Make a copy of the spreadsheet to use in Google Sheets or download it to Excel.
The spreadsheet has the full list of companies whereas this public report has just 300.
The List Of Remote-First Companies
Below, you'll find ~300 of the 850 remote-first companies in our database. It's too big of a list to display every company here, but you can download the complete database here to use in Excel or Google Sheets.
You'll find the biggest companies at the top.
---
Dell Technologies
A multinational technology company that develops, sells, repairs, and supports computers and related products and services.
---
Fujitsu
A global information and communication technology (ICT) company offering a range of technology products, solutions, and services.
---
SAP
SAP is a multinational corporation that provides enterprise software to manage business operations and customer relations.
---
Amgen
A multinational biopharmaceutical company.
---
Aquent
A staffing company that specializes in placing marketing and design professionals.
---
Change Healthcare
Offers software, analytics, network solutions, and technology-enabled services for the healthcare system.
---
Cimpress
Parent company of various mass customization businesses, like Vistaprint.
---
Cisco
Cisco develops, manufactures, and sells networking hardware, software, telecommunications equipment, and other high-technology services and products.
---
Citizens Bank
A large banking institution offering a range of financial services.
---
Direct Line Group
A British insurance company offering various insurance products.
---
Foundever
A multinational business process outsourcing provider, offering customer engagement services to Global 2000 companies.
---
Humana
An American health insurance company that offers health, wellness, and insurance services to its members.
---
Intuit
A provider of financial, accounting, and tax preparation software for small businesses, accountants, and individuals
---
LinkedIn
LinkedIn is a social network that focuses on professional networking and career development.
---
Modsquad
Provides managed digital engagement services, including moderation, customer support, and social media management.
---
Molina Healthcare
Provides managed health care services under the Medicaid and Medicare programs.
---
Nationwide
A large insurance and financial services company.
---
Parexel
Provides biopharmaceutical services including clinical research, consulting, and more.
---
Pearson
International publishing and education company.
---
PeopleDoc
Offers cloud solutions for HR process digitization and employee relationship management.
---
Red Hat
Red Hat is a leading provider of enterprise open-source software solutions, using a community-powered approach to deliver Linux, cloud, container, and Kubernetes technologies.
---
Sutherland
A digital transformation company offering a host of services, including process transformation, technology consulting, and digital design.
---
Transcom
A global customer experience specialist company providing customer care, sales, technical support, and collections services.
---
TTEC
A global customer experience technology and services company that designs, builds, and operates captivating omnichannel customer experiences.
---
VMWare
VMware is a global leader in cloud infrastructure & digital workspace technology, providing virtualization software and services.
---
Airbnb
An online marketplace for arranging or offering lodging, primarily homestays, or tourism experiences
---
Athenian
Athenian provides metrics, analytics, and insights for software engineering teams using data from code hosting platforms.
---
Equitable
Financial services and insurance company.
---
Indeed
A worldwide employment-related search engine for job listings, allowing job seekers to find jobs posted on thousands of company career sites and job boards
---
KellyConnect
The remote workforce solution of Kelly Services, an employment agency.
---
Shopify
Shopify is a cloud-based, multi-channel commerce platform designed for small and medium-sized businesses, allowing them to design, set up, and manage their stores across multiple sales channels.
---
Snowflake
A cloud-based data warehousing startup that provides a data warehouse-as-a-service designed for the cloud.
---
Square
A company providing software, hardware, and financial services products, including Square Register and Square Reader, that enable sellers to turn mobile and computing devices into payment and point-of-sale solutions.
---
Stitch Fix
An online personal styling service that sends clothing tailored to individual's preferences and size.
---
6sense
Provides account engagement solutions with insights for B2B organizations.
---
8×8
8×8, Inc. is a provider of Voice over IP products, offering communication solutions for businesses.
---
Acquia
Provides cloud services and solutions for the Drupal open-source web content management system.
---
Aerotek
Aerotek is a leading recruitment and staffing agency that provides a broad range of workforce solutions and services.
---
AlphaSights
A global information services firm connecting top professionals with industry experts.
---
Atlassian
Atlassian is an enterprise software company that develops products for software developers and project managers.
---
Automattic
Automattic is the parent company of WordPress.com, providing a variety of web services from blogging platforms to ecommerce solutions.
---
Big Cartel
Provides artists with tools to set up an online shop to sell their work.
---
Bill.com
A platform providing cloud-based software that automates back-office financial operations.
---
Blend
A technology company that provides a platform for digital lending, streamlining the process for mortgages and consumer loans.
---
Box
A cloud content management and file sharing service for businesses.
---
BroadPath
Offers business process services focused on healthcare.
---
Cactus Communications
Provides communication solutions, specializing in academia and pharmaceutical and device companies.
---
Campaign Monitor
A global software-as-a-service company specializing in email marketing.
---
Cash App
A mobile payment service developed by Square, Inc.
---
Coinbase
Coinbase is a digital currency exchange platform where traders and consumers can transact with new digital currencies like bitcoin, ethereum, and litecoin.
---
Confluent
A real-time data streaming platform that helps businesses maximize the value of their data
---
Coursera
Coursera is an online education platform that partners with top universities and organizations worldwide to offer courses online.
---
Crossover
Connects companies with a global talent pool and offers high-paying, full-time, long-term remote job opportunities.
---
CrowdStrike
CrowdStrike is a cybersecurity technology firm providing cloud-native endpoint security solutions for threat intelligence and cyberattack response services.
---
Deel
A platform that simplifies the compliance, payments, and operations for businesses to hire contractors or employees internationally.
---
Delta Dental
Provides dental insurance products.
---
Dropbox
A modern workspace designed to reduce busywork, so you can focus on the things that matter, offering cloud storage, file synchronization, personal cloud, and client software
---
Elastic
Provides search and data analytics solutions primarily through their Elastic Stack, which includes Elasticsearch.
---
GitLab
A web-based DevOps lifecycle tool that provides a Git-repository manager, providing wiki, issue-tracking and CI/CD pipeline features, using an open-source license
---
Hubspot
HubSpot is a developer and marketer of software products for inbound marketing, sales, and customer service.
---
Instacart
Instacart is an online grocery delivery and pick-up service that works with local stores to deliver groceries to customers in as little as one hour.
---
Kforce
Professional staffing services company.
---
LogMeIn
Offers software solutions for remote work, support, and collaboration.
---
Medallia
Medallia offers experience management solutions to gain insights on the customer journey.
---
Meesho
A social commerce platform that allows anyone to start their own online business via social networks.
---
MongoDB
Offers MongoDB, a general-purpose, document-based, distributed database built for modern application developers and the cloud era.
---
Monzo
A digital-only bank operating primarily through a mobile app, offering a range of financial products from current accounts to loans and savings.
---
Mozilla
A not-for-profit tech company behind products like Firefox, focused on keeping the power of the web in people's hands
---
Namecheap
Domain registration, web hosting, and website services provider.
---
Noom
A mobile health technology company that uses artificial intelligence and human coaching to deliver lifestyle and habit changes for healthier living
---
Okta
An enterprise-grade identity management service, built for the cloud, but compatible with many on-premises applications
---
Palantir
Develops data integration and software platforms for analysis; primarily serves governments and intelligence agencies.
---
Pathable
An end-to-end event platform powering virtual, hybrid, and in-person events.
---
Peloton
A company that produces a luxury brand of exercise bikes in combination with a subscription digital platform for streaming of indoor cycling classes
---
Pinterest
A social media web and mobile application that operates a software system designed to discover information on the World Wide Web, mainly using images and, on a smaller scale, GIFs and videos
---
Point72
Investment management firm.
---
PowerSchool
Offers education technology platform for K-12 schools.
---
Quinn Emanuel
A business litigation firm handling high-stakes and complex litigation.
---
Rapid7
A cybersecurity company offering analytics solutions to combat cyber attacks.
---
Reify Health
Provides cloud-based software that accelerates the development of new and life-saving therapies.
---
Robinhood
Robinhood is a financial services company that offers commission-free trading for stocks, ETFs, options, and cryptocurrencies.
---
Root Insurance
An insurtech company providing car insurance based on individual driving habits.
---
Semrush
Online visibility management platform offering tools for SEO, PPC, content, and social media.
---
Sentry
An open-source error tracking tool that helps developers monitor and fix crashes in real-time.
---
Sky Land and Ocean Travel
We know that finding a meaningful and rewarding job can be a long journey. Our goal is to make that process as easy as possible for you, and to create a work environment that's satisfying – one where you'll look forward to coming to every day. Start your journey with us by browsing available jobs.
---
Slack
Slack is a channel-based messaging platform, providing teams with a centralized place to communicate and share files.
---
Square Enix
Square Enix is a renowned Japanese video game developer, publisher, and distribution company known for fran
---
Squarespace
A SaaS-based content management system offering a website builder, blogging platform, and hosting service.
---
Stripe
A technology company that builds economic infrastructure for the internet, offering businesses of every size a platform for online payments and financial services.
---
SurveyMonkey
A cloud-based software as a service company offering a platform for surveys and data insights.
---
Talend
A data integration and data integrity company, providing software solutions for data preparation, data quality, data integration, application integration, etc.
---
Ten
A global leader in quality concierge and loyalty solutions.
---
Theorem
Offers innovation and engineering services, helping clients adapt to digital transformation.
---
Tinuiti
A performance marketing agency specializing in paid search, paid social, marketplaces, SEO, and more.
---
Toptal
A global platform connecting businesses with top freelancers in the fields of software development, design, finance, and more.
---
Twilio
Twilio is a cloud communications platform that allows developers to programmatically make and receive phone calls, send and receive text messages, and perform other communication functions using its web service APIs.
---
Twitch
An interactive, streaming video platform owned by Amazon that primarily focuses on video game live streaming, including broadcasts of esports competitions.
---
UiPath
UiPath is a global software company developing a platform for Robotic Process Automation (RPA).
---
Upwork
The world's largest freelancing website, where businesses connect with independent professionals to drive their business forward.
---
Vox Media
A modern media company that partners with brands to grow across its editorial networks, like The Verge, Polygon, and Eater, among others.
---
Yelp
An online platform that connects people with local businesses through reviews, ratings, and a range of other features.
---
ActiveCampaign
ActiveCampaign provides software for customer experience automation, which combines email marketing, marketing automation, sales automation, and CRM.
---
Ad Hoc
A digital services company that develops and builds digital government services
---
Airtable
A cloud-based software company that blends a traditional spreadsheet with a database
---
Algolia
A platform offering search-as-a-service for websites and mobile apps.
---
BaseLang
Offers unlimited Spanish tutoring for a monthly fee.
---
Bench
An online bookkeeping service for small businesses.
---
Blockchain
A platform that offers tools for accessing and transacting in cryptocurrencies.
---
Bounteous
A digital marketing company providing insights, strategy, design, and technology services.
---
Branch
A mobile deep linking platform that provides tools to optimize mobile user experience and drive app growth.
---
Brandwatch
A digital consumer intelligence company providing social media monitoring and analytics.
---
Brex
Brex is a fintech company that provides corporate cards to startups.
---
Canonical
The company behind Ubuntu, an open-source Linux distribution.
---
Circle
A global financial technology firm that provides payments and treasury infrastructure for internet businesses.
---
Clevertech
A software development company that specializes in the design and creation of digital products, solutions, and teams.
---
Cloudbeds
Provides hospitality management software for hotels, hostels, and inns.
---
CloudBees
Offers a suite of automation and integration tools designed for continuous integration and continuous delivery.
---
Cloudflare
A company that provides content delivery network services, DDoS protection, Internet security, and distributed domain name server services.
---
Cofense
Provides solutions to detect, report, and respond to phishing attacks, helping to reduce the risk of security breaches.
---
Commit
Commit is the invite-only network where software developers connect with hiring managers and experts at the world's fastest-growing startups.
---
Crytek
Video game developer and software company known for creating the CryEngine game engine and games like "Crysis".
---
Glassdoor
A job and recruiting site combined with a company review platform.
---
GoGuardian
A company providing a suite of tools for K-12 schools to manage their Chromebooks and identify student needs
---
International Service Group
Global technology research and advisory firm.
---
InVision
A digital product design platform used to make the world's best customer experiences.
---
Mapbox
A location data platform providing maps, search, and navigation for applications.
---
Medium
An online publishing platform featuring a hybrid collection of professional publications, amateur content, and company blogs
---
MessageBird
A cloud communications platform offering a suite of APIs for SMS, Voice, Phone Numbers, and more.
---
Netguru
A consulting service company that offers software development, product design, and digital transformation services to its clients.
---
Nexthink
Offers end-user experience management solutions for enterprises to improve IT security, operations, and transformations.
---
Olo
Provides an on-demand interface for restaurants, connecting them to customers and delivery providers.
---
Omada Health
Provides digital health programs to empower individuals to change habits.
---
Outreachy
Provides internships to work in open source and free software.
---
PagerDuty
A leader in digital operations management, helping organizations deliver a perfect digital experience to their customers every time
---
Planet
Designs, manufactures satellites, and operates the world's largest fleet of Earth-imaging satellites for regular data capture.
---
Recorded Future
A cybersecurity company that specializes in cyber threat intelligence, providing insights on potential threats from the web.
---
Reddit
A social news aggregation, web content rating, and discussion website where registered members submit content to the site such as links, text posts, and images.
---
SageSure
Provides homeowners' insurance products and services.
---
SecurityScorecard
A platform that predicts and remediates potential security risks across organizations.
---
Shift
Shift (NASDAQ: SFT) is a leading end-to-end auto ecommerce platform transforming the used car industry with a technology-driven, hassle-free customer experience.
---
Snyk
Snyk is a developer-first security company that helps software-driven businesses develop quickly and stay secure.
---
SOCi
A platform for local businesses offering solutions for social media, reputation, and property management.
---
Sonatype
A cybersecurity company specializing in DevSecOps and known for its Nexus repository manager.
---
Superside
An online platform providing design services and solutions by connecting clients with a global team of designers.
---
Sysdig
Provides cloud-native security and visibility solutions for enterprises to secure containers.
---
The Motley Fool
A financial and investing advice company offering a range of stock news, articles, and premium subscription services.
---
TMP Worldwide
A global talent acquisition and employer brand consultancy that helps organizations attract, source, and engage potential talent.
---
Treasure Data
A customer data platform that helps businesses harness and analyze their data to improve customer experiences.
---
Trustly
An online payment solution that allows users to pay from their online bank account directly without using credit cards or app registration.
---
UserTesting
UserTesting is a platform that allows companies to get on-demand user feedback for their websites, applications, and prototypes.
---
Varsity Tutors
A platform offering personalized, one-on-one tutoring sessions across various academic and test prep areas.
---
White Hat Gaming
An online casino technology and services company that offers both platform and games as a service for online casino operators.
---
X-Team
An international company that recruits developers and then hires them out on a contract basis.
---
Zapier
Offers tools for automating tasks between different web apps.
---
Zipline
Uses drones to deliver vital medical supplies to remote areas.
---
10up
A company offering web design, development, and content management solutions.
---
15Five
A performance management software company designed to improve employee engagement and performance
---
1Password
A password manager that makes it easy for individuals and businesses to securely store and share sensitive information
---
360 learning
360Learning is a collaborative learning platform that focuses on peer learning and community-driven content.
---
Accela Pte Ltd
Market-leading solutions that empower governments to build thriving communities, grow businesses and protect citizens.
---
Airbase
A spend management platform for companies.
---
Airship
Provides customer engagement solutions via push notifications, in-app messages, and more.
---
Alloy
Provides identity verification solutions for the financial industry.
---
AngelList
A platform for startups, offering tools to find investment, jobs, or hire talent.
---
Apartment List
An online platform assisting users in finding their next apartment or home.
---
Apollo
Known for its GraphQL solutions to build APIs and develop from a unified data graph.
---
Arena Pharmaceuticals
A biopharmaceutical company focused on developing novel, small molecule drugs.
---
Articulate
A technology company that develops e-learning software, content, and a community that has trained millions of people
---
Astronomer
A platform for data engineers to create and monitor data workflows.
---
Aurora Solar
Software platform that helps solar professionals design and sell solar remotely.
---
Awesome Motive
Behind several popular WordPress plugins and resources like WPBeginner, OptinMonster, and WPForms.
---
Axios
Axios is a news website that delivers vital, trustworthy news and analysis in areas of business, technology, politics, and media trends.
---
BetterUp
A mobile-based leadership development platform that provides personalized coaching, learning, and mental health support to professionals
---
Bleacher Report
A digital media company delivering digital media content about sports.
---
Boulevard
Provides business management software for salons and spas.
---
Bugcrowd
Offers a platform for crowdsourced security and vulnerability disclosure, connecting organizations with a community of security researchers.
---
Business Insider
A global business, celebrity, and technology news website.
---
Carrot
Provides solutions for fertility and family-forming benefits for companies.
---
CB Insights
A company that provides predictive intelligence on emerging technology trends, startups, and corporations.
---
Ceros
Provides a content creation platform to produce interactive content without coding.
---
Chess.com
An online chess platform offering games, lessons, and communities for chess enthusiasts.
---
CircleCI
CircleCI provides software development teams with the tools to make continuous integration and deployment build, test, and release processes quicker and easier.
---
Code for America
A non-profit focused on using tech to improve government services for Americans.
---
Coherent
Provides software for shared workspaces, coworking spaces, and business centers.
---
Conductor
Offers SEO and content marketing platform services.
---
Credible
A multi-lender marketplace that allows consumers to get competitive loan offers from its partner lenders.
---
Crescent
Crescent, a leading outsourcing partner for Consumer Packaged Goods companies, integrates brand promotional development with a flexible supply chain network.
---
CustomerAffairs
Provides customer feedback and review solutions for businesses.
---
DoiT International
Offers expertise in the field of cloud computing, helping businesses optimize their cloud costs and operations.
---
Doximity
Doximity is a social networking platform for healthcare professionals in the U.S., aimed at facilitating professional networking and continuing education.
---
Drift
Drift is a sales communication platform that uses conversational marketing and conversational sales to help companies grow revenue and increase customer lifetime value, faster.
---
Fleetio
A modern software platform that helps organizations around the world track, analyze, and improve their fleet operations.
---
Freelancer
A global platform connecting businesses with freelance professionals.
---
Hopin
An online events platform where attendees can learn, interact, and connect with people from anywhere in the world.
---
Hotjar
A suite of analytics and feedback tools to understand user behavior on websites.
---
Litmus
Offers an email marketing tool that assists in the design and testing of email campaigns.
---
Liveops
Offers cloud-based call center and customer service solutions.
---
Mercury
A bank for startups, providing banking and financial services tailored to the needs of tech startups
---
Midtronics
Specializes in battery management technology.
---
Modus Create
A consulting firm that offers digital transformation consulting, product strategy, Agile consulting, and digital product build services.
---
Muck Rack
A digital solution for journalists to efficiently manage their online presence, and for companies to engage with their audience
---
MURAL
A digital workspace for visual collaboration, enabling innovation and design thinking.
---
Nava
Focuses on designing and building software to improve the accessibility and usability of government services.
---
NearForm
A global technology consultancy firm known for its expertise in full-stack software development.
---
Netlify
Offers hosting and serverless backend services for web applications and static websites.
---
Netsparker
Web application security scanner.
---
Notarize
An online notarization platform that allows businesses and individuals to legally notarize documents digitally.
---
Nylas
Provides APIs for email, calendar, and contacts synchronization and integration.
---
OpenClassrooms
Offers online education and vocational training.
---
Optic
Optic is a content recognition engine for Web3. It monitors blockchains to reveal the origins of any NFT and how it's been reimagined, remixed or copied.
---
Panorama Education
Panorama Education is a data analytics company focused on K-12 education.
---
Pennylane
Pennylane is building the financial OS (Operating System) for European SMEs.
---
Percona
Provides solutions, services, and software for MySQL, MariaDB, PostgreSQL, and MongoDB, including both open-source and proprietary offerings.
---
Personify
Provides software solutions for associations and non-profit organizations.
---
Pipe
Pipe transforms future revenue streams intoup-front growth capital for your business.
---
Plaid
Plaid is a technology platform that enables applications to connect with users' bank accounts.
---
Platform.sh
Platform.sh is a platform-as-a-service (PaaS) company providing development and hosting software solutions.
---
Pleo
A company providing smart payment cards for employees, streamlining expense reports and simplifying company spending.
---
Plesk
WebOps platform for managing web servers, websites, and applications.
---
PowerToFly
Focuses on matching women in tech with work-from-home and in-office jobs.
---
Precision Nutrition
A company offering nutrition certification and coaching.
---
Proton
A company offering secure email, VPN, and cloud storage services, including ProtonMail, ProtonVPN, Proton Calendar, and Proton Drive
---
Quantum Metric
Provides real-time cross-platform customer insights.
---
Quora
A question-and-answer platform where questions are asked, answered, and edited by users.
---
Redox
A health-tech company providing a platform for healthcare data exchange.
---
Remote
A platform offering HR and payroll services for companies employing international remote workers.
---
Robin
Offers workplace scheduling and management software.
---
Sauce Labs
Provides a cloud-based platform for automated testing of web and mobile applications.
---
Scopic Software
Scopic Software offers custom software development and digital marketing services.
---
Scrapinghub
Provides cloud-based data extraction tools and services for web scraping, web crawling, and big data processing.
---
Scribd
A digital library, e-book, and audiobook subscription service that includes books, documents, and more.
---
Shippo
An e-commerce shipping platform that connects businesses with multiple carriers to get real-time shipping rates and to print shipping labels.
---
Sift
A company that provides a Digital Trust & Safety platform to prevent fraud and abuse and optimize customer experiences.
---
Silverline
Provides digital transformation consultancy and Salesforce platform solutions.
---
Simple Health
Online platform providing birth control prescription and delivery services.
---
Sketch
A digital design toolkit built to help you create your best work from the earliest ideas, through to the final artwork.
---
Skillshare
Skillshare is an online learning community with thousands of classes in design, business, technology and more.
---
Sourcegraph
A company that provides universal code search for developers and companies so they can innovate faster.
---
Stack Overflow
An online community for developers to learn, share their knowledge, and build their careers.
---
Teamwork
A project management software company providing solutions for project management, team collaboration, and client work.
---
Techstars
An American seed accelerator that conducts mentorship-driven accelerators around the world.
---
The Linux Foundation logo
A non-profit organization that provides support for open-source communities and initiatives related to the Linux operating system and associated technologies.
---
Trello
A visual collaboration tool that creates a shared perspective for your team on any project in a fun and flexible way.
---
Uberall
A location marketing solution that helps businesses manage their online presence across various platforms.
---
Udacity
Udacity is an educational organization offering massive open online courses (MOOCs) with a focus on vocational courses for professionals.
---
Webflow
Webflow is a web design tool, CMS, and hosting platform that allows users to design, build, and launch responsive websites visually.
---
Wikimedia Foundation
A non-profit organization dedicated to encouraging the growth, development, and distribution of free, multilingual content via projects including Wikipedia and Wikimedia Commons.
---
Xapo
A Bitcoin wallet and storage platform.
---
Zyte
A platform that provides tools, services, and data for web scraping and web crawling.
---
350.org
350.org is an international environmental organization encouraging citizen participation in stopping fossil fuel use.
---
37signals
Known for creating the project management tool Basecamp; now primarily known as Basecamp.
---
4D Pipeline
A consultancy focusing on visualization solutions and real-time 3D graphics for industries like gaming and architecture.
---
Ably
Provides infrastructure and APIs for developers to add real-time messaging and streaming functionality to their apps.
---
Abstract
Abstract is a design management system for modern design teams, providing version control, collaboration, and workflow management.
---
AgencyAnalytics
An all-in-one reporting platform for marketing agencies.
---
Agorapulse
A social media management tool that allows businesses to manage all their social media messages, schedule posts, monitor social channels, and get reports.
---
Aha!
A product roadmap software company.
---
Ahrefs
A popular toolset for backlinks and SEO analysis, offering competitive insights and a look into the webscape's metrics.
---
Airtame
A company that offers wireless screen mirroring solutions for businesses and schools.
---
Animalz
Animalz offers content marketing services with a focus on creating high-quality content for tech companies.
---
Argyle
A platform that provides user-permissioned employment data access.
---
Armorblox
A company that offers a platform for email security using natural language understanding.
---
Artemis Health
Provides a platform for employers to optimize their benefits programs with data analytics.
---
AssemblyAI
Offers an API for transcription and voice recognition.
---
AtoB
AtoB is modernizing the payments infrastructure for companies with vehicles and fleets of vehicles – where capital movement occurs quickly and transparently.
---
Avo
Offers tools to help teams track and govern product metrics.
---
Axelerant
A digital agency that provides services related to Drupal, web application development, support, and staff augmentation.
---
B12
Provides website design and SEO services using AI and human experts.
---
balena
A platform for building, deploying, and managing IoT fleets.
---
Ballotpedia
A digital encyclopedia of American politics and elections.
---
Bandcamp
A platform for artists to sell their music and merchandise directly to fans.
---
Basecamp
A web-based project management and communication tool that helps teams collaborate, discuss, and share files
---
Battlefy
An eSports platform where users can create, manage, and join tournaments.
---
Baymard Institute
Provides web usability research within e-commerce.
---
Behance
A platform by Adobe that lets artists showcase and discover creative work.
---
Bejamas
A web development agency that specializes in Jamstack, a modern architecture for building faster and more secure web projects.
---
Bevy
An enterprise software company that helps companies build, scale, and manage their global customer communities
---
Big Nerd Ranch
Offers coding bootcamps and app development services.
---
Binti
Offers software solutions for child welfare and human services agencies.
---
Biteable
An online platform that helps users create video presentations, advertisements, animations, and more with customizable templates.
---
Bitwarden
An open-source password management service.
---
Blexr
Works in the iGaming industry providing affiliate marketing services.
---
Bluecode
A mobile payment solution in Europe.
---
Boldly
Offers premium subscription staffing services, including remote executive assistants, marketing specialists, etc.
---
Bravado
Platform focused on sales networking and portfolio management.
---
BriteCore
Offers a cloud-based insurance platform for carriers, MGAs, and mutuals.
---
BuddyBoss
They create online community platforms, with products that allow one to create scalable, customizable, and unique communities on WordPress.
---
BufferIt
Our mission is to provide essential tools to help small businesses get off the ground and grow.
---
Buildkite
Buildkite offers a hybrid continuous integration and continuous deployment tool that mixes cloud and self-hosted.
---
BuildZoom
BuildZoom simplifies the process of selecting a contractor by providing insights and information on the contractor.
---
CafeMedia
An ad management service and digital content marketing network that works with content creators, bloggers, and influencers
---
Cameo
A platform allowing celebrities to send personalized video messages to fans.
---
Canopy
A cloud-based practice management and tax resolution platform for accounting professionals.
---
CareMessage
A non-profit providing mobile health solutions for underserved populations.
---
Chargify
A billing and subscription management provider.
---
ChartMogul
A subscription analytics and revenue reporting platform designed for SaaS and subscription businesses.
---
Chef
A company that provides a continuous automation platform that allows infrastructure to be expressed as code.
---
Chili Piper
A suite of automated scheduling tools to help businesses convert more leads into qualified meetings.
---
Chord Commerce
Cutting-edge API-first commerce technology + meaningful first-party data, built for the next generation of DTC brands.
---
CivicActions
Provides digital government services and solutions, focusing on modern software practices.
---
Development Seed
A geospatial software development company that builds products for clients who are addressing climate and humanitarian crises.
---
Redwerk
A software development agency with customers around the world.
---
Enhancv
An online resume & cover letter builder.
---
Envoy Health
A healthcare provider that strives to make high-quality medical care accessible and affordable for everyone.
---
MentorCruise
A company that connects aspiring tech workers with industry professionals for long-term mentorship in design, development, and product.
---
Sources & Methodology
Here are some sources we used to find a complete list of companies.
Then, we used employee review sites, company profile sites, and job boards to verify status. Here's who we'd like to credit: BuiltIn, Flexjobs, and Glassdoor.
From these sources, we gathered company names only, then verified the remote status on each company website. Many were out of business, had just one employee (not a company), or offered remote (but weren't remote-first).
Here was our methodology for our first round of research:
Primary research (119 hours): A Buildremote researcher did the following research:

Find fully remote and remote-first companies (from sources, Google searches, job board searches)
Verify if the company is in business, and if the company is remote-first
Find the careers page for each company

AI-assisted detail gathering:

Ask ChatGPT for: headquarters, company description, and headcount

Human review and editing (16 hours):

Review each company one by one for industry, headquarters, and company description
Remove incorrect information, companies that went out of business, and companies that aren't remote first