How To Set Up A Closet Office: 20 Ideas To Mimic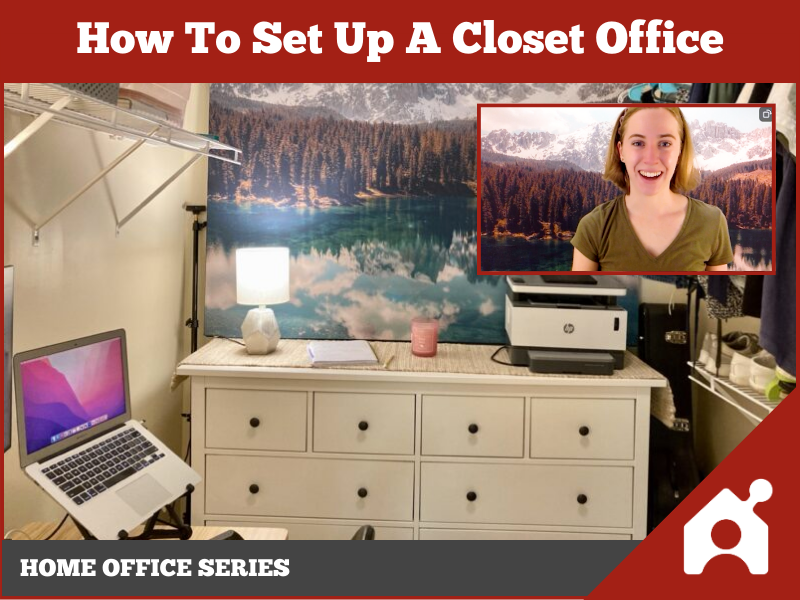 You need a cloffice (what the cool kids call a closet office).
Maybe you already have a makeshift office crammed into your closet, or you've run out of space in your house and you're desperately looking for a place to set up your desk. Either way, creating an office in a space that's only meant to be big enough for old coats is a lot to ask. If you want to find ways to make it work (and pitfalls to avoid), you've come to the right place. We took a deep dive into research to find the best solutions and ideas for converting your closet into an office.
Pros & Cons Of An Office Closet
There are plenty of upsides to an office closet. For starters, if you turn a closet into an office, you're utilizing your house space in the most efficient way possible. (After all, that coat closet is only holding weird decor and old pillowcases, so you might as turn it into a space you use every day!) If you have been using your bedroom as an office, switching to a closet can help you separate your work and life. You get space back in your bedroom and can keep your desk out of sight when you're not working. Of course, there are downsides, too. Over time, it's easy to let storage items stack up around your desk. (Your brain still thinks the word "closet," after all!) Plus, you lose valuable storage space for your other, non-work stuff. All the cramming in the world won't make the closet magically store both your clothes and your office in the same square feet. You have to find a way to organize your closet so it fits everything you need. With that being said, take a look at the video below to see how I made my walk-in work as an office and a closet – without having to get rid of my clothes.
Turning My Walk-In Closet Into A Functional Cloffice [VIDEO]
I set up an office in my walk-in closet a few months ago. While I liked having a dedicated workspace away from my bedroom, I quickly realized an embarrassing fact: I looked like I was working out of a closet. To fix that, I decided to rearrange (and to video the process so I could share my discoveries). If you're trying to create a bedroom closet office, hopefully, this will give you some good ideas. Take a look at the video below, plus the before and after pictures: [Video]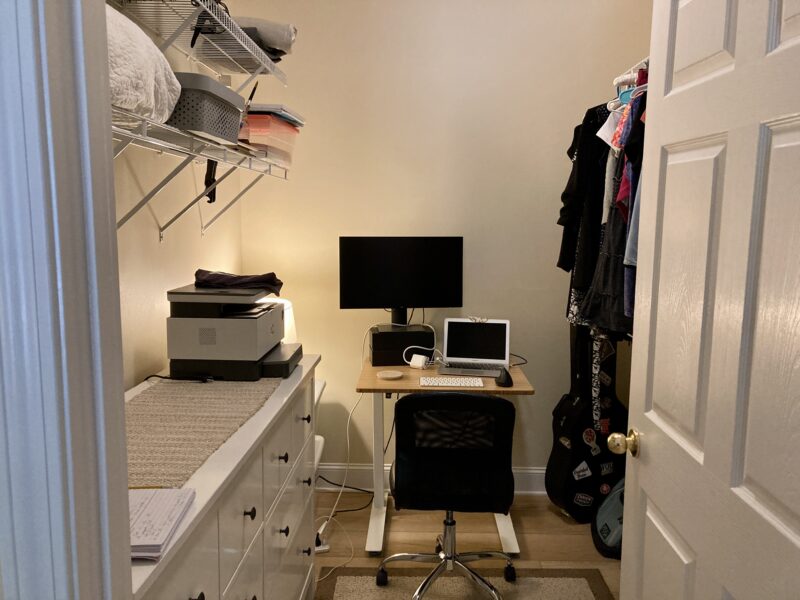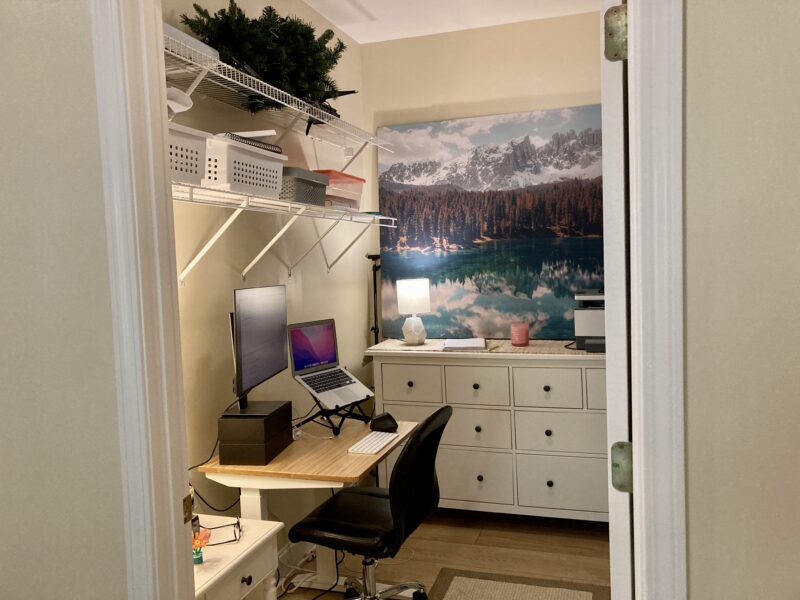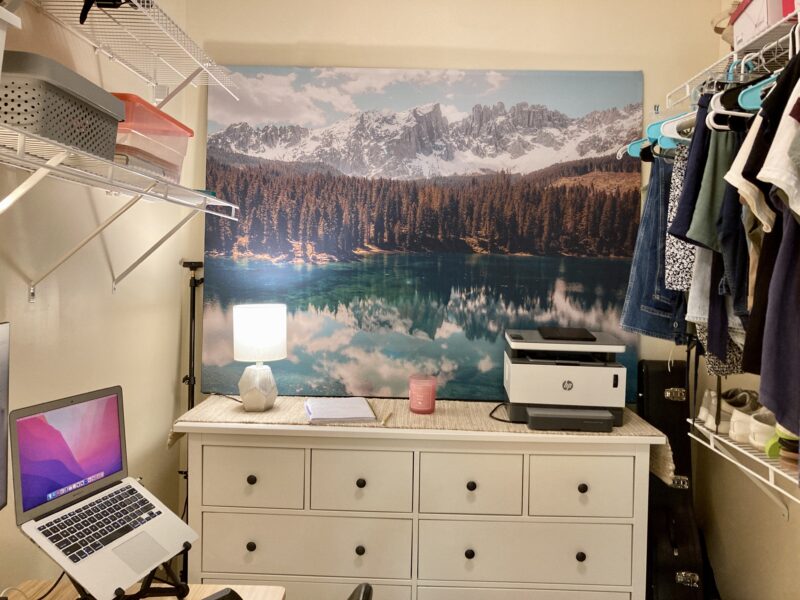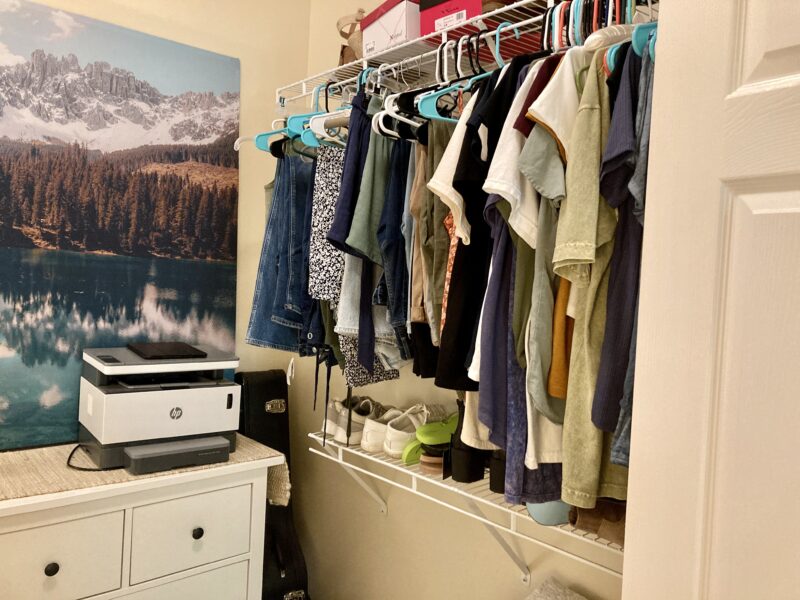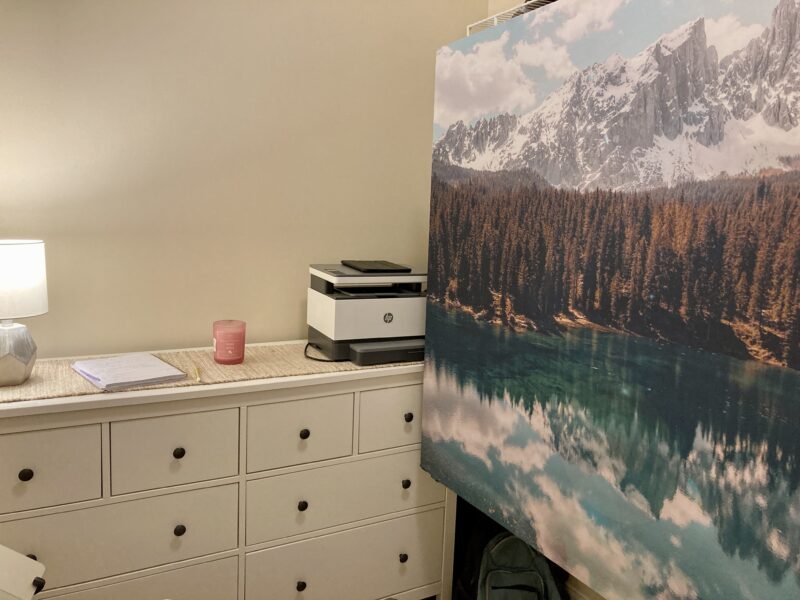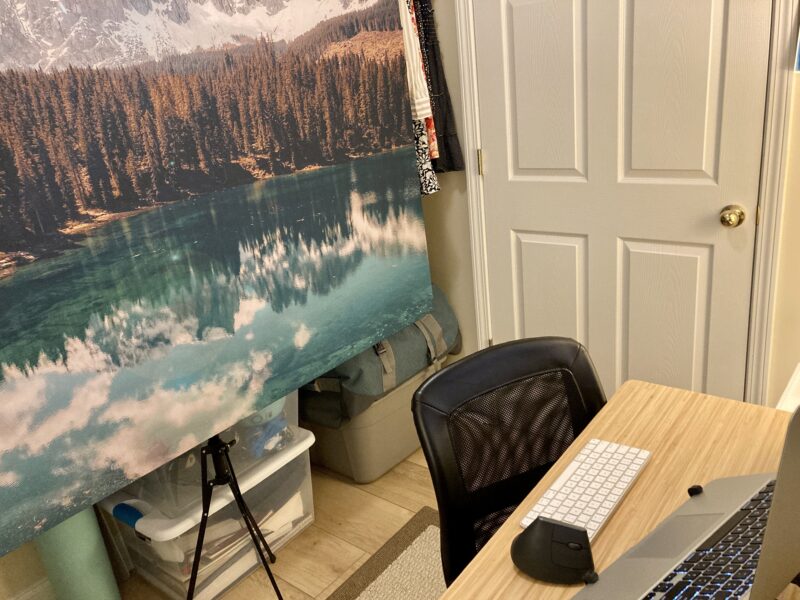 Most of the furniture I use in my office closet is no longer sold, but you can find similar links here:
My quick office closet project helped me finally look professional on video calls. Plus, I love that I have a dedicated space to work and can shut the door when I'm done. I went super minimal with my project, but you can go as crazy as you want with custom buildouts and decor. Are you ready to take the plunge and convert your closet to an office? Take a look at some of the creative solutions below to craft a space that fits your needs.
(You might also want to check out what not to do.)
Closet Office Ideas: Creative Solutions We've Come Across
These ideas (both from our research and from our survey of remote workers) will help you plan your closet-to-office renovation no matter what size your closet is.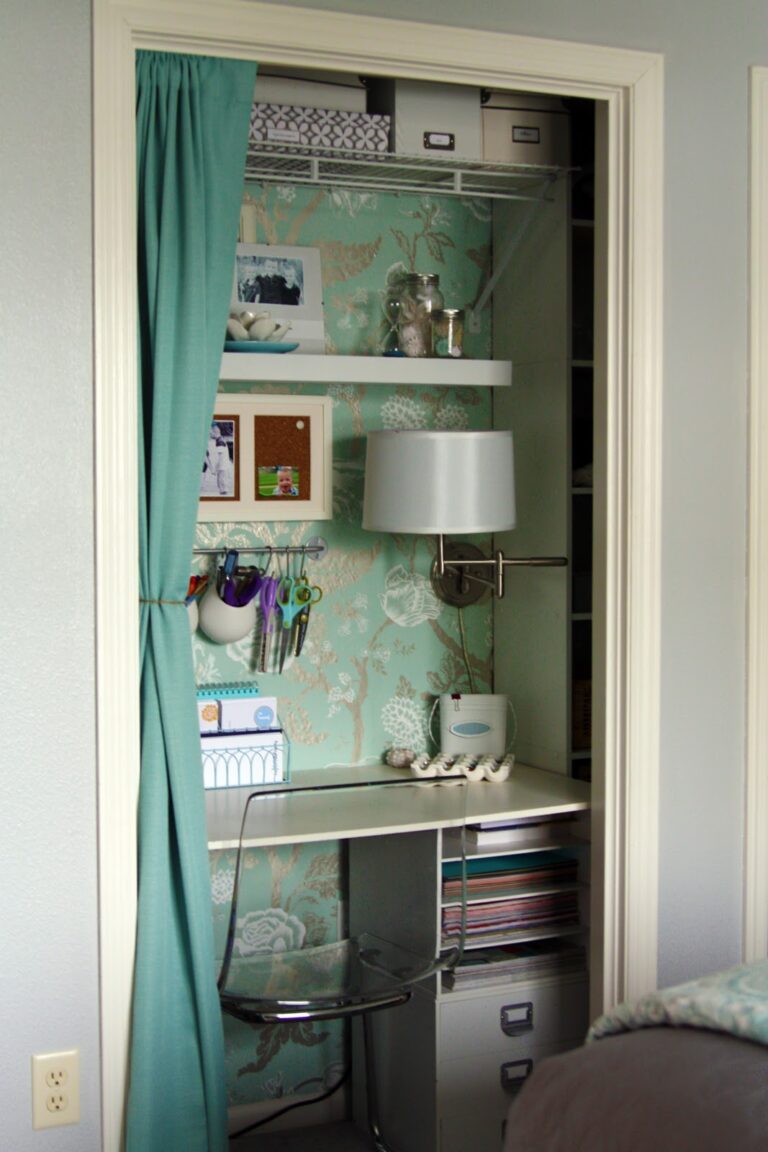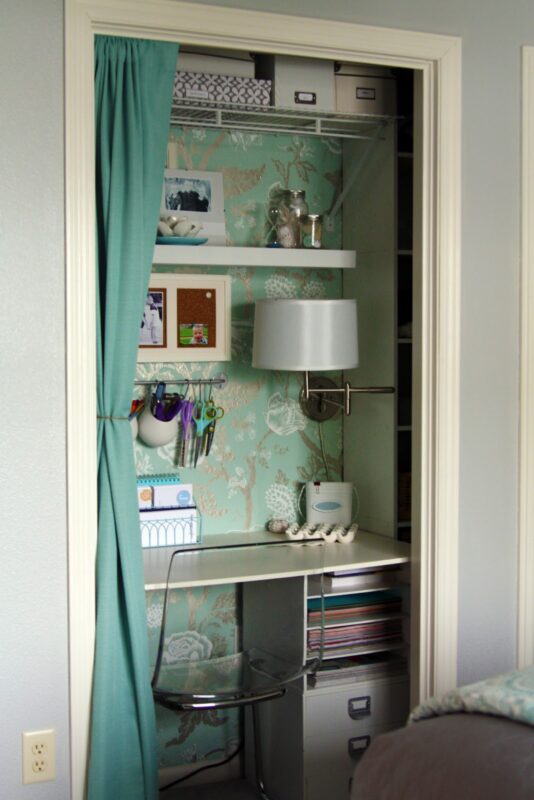 Don't Let the Door Hit You on the Way Out
If you are converting a small closet or linen closet to an office, the main thing that's going to prevent you from using all of the space is the door. Since there has to be room for the hinges to close, doors usually take up more space than they're worth. You'll end up feeling stuffed into too tight a space and bumping your elbows a lot. Remove the door to give you the maximum room. If you still want to be able to hide your cloffice at the end of the day, you can add a curtain like Jen from iHeart Organizing did above.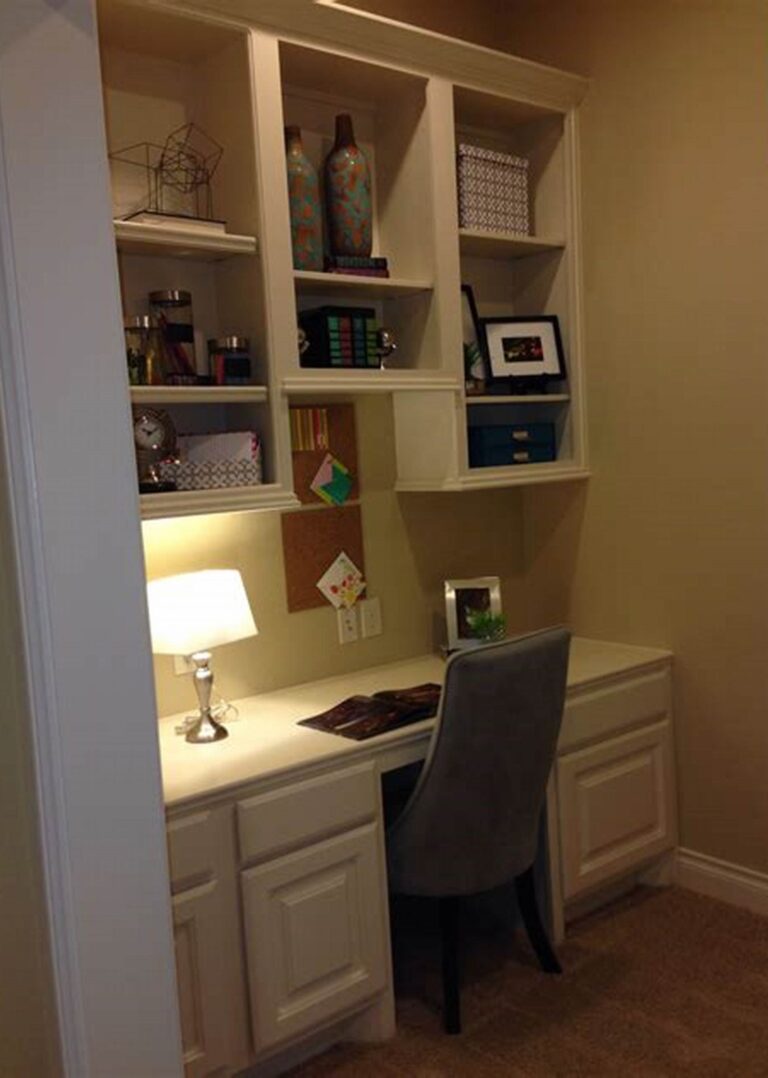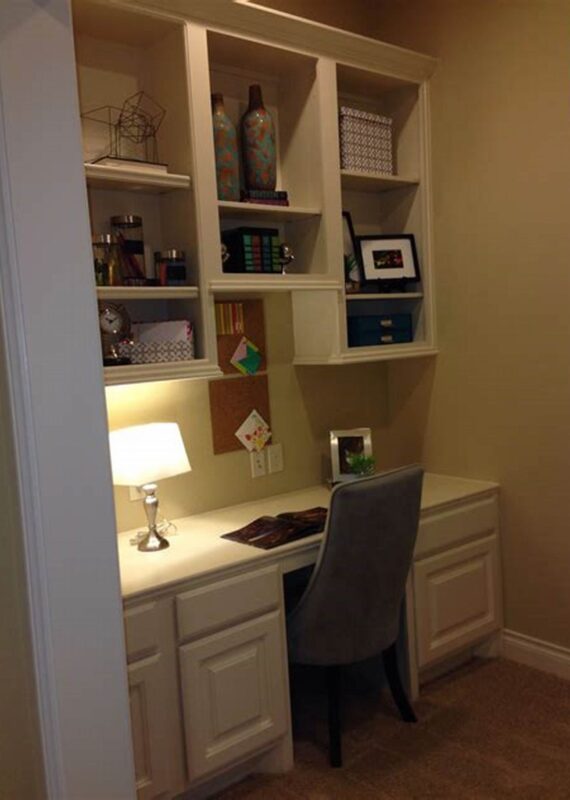 Get Rid of the Wires
"As the name suggests, a closet doesn't have that much space to adjust a cluster of wires. Make the most of wireless accessories, such as lighting. You can use battery-powered lamps to avoid clutter. Choose wireless headphones, a mouse (if needed), speakers, or even chargers. It will help you focus on your work productively by protecting you from anxiety arising from clutter. Make your closet office clutter-free by going wireless as much as you can." – Pareen Sehat of Well Beings Counselling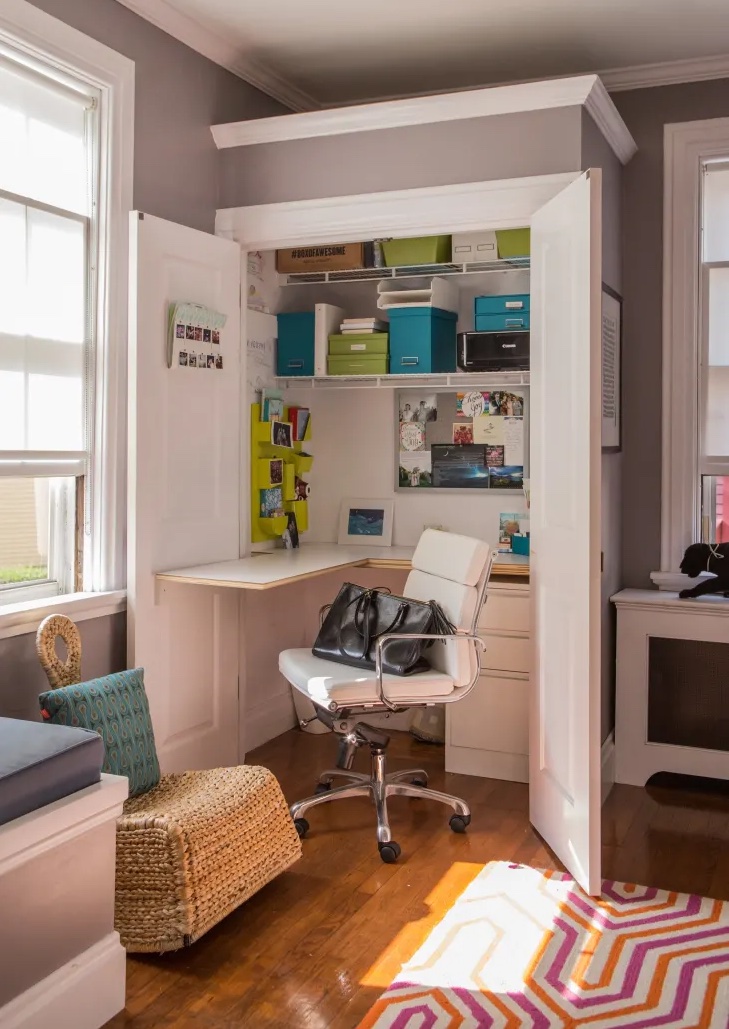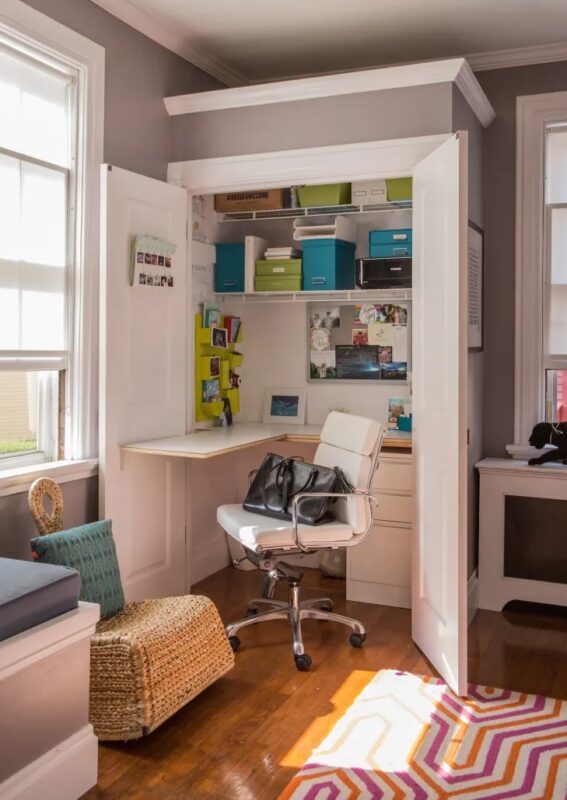 Build a Desk that Folds Out
This tiny closet office, highlighted on Apartment Therapy's website, shows how much you can fit into a small space. Joe and Alana Hearn built a custom desk that folds up when not in use so the closet door can shut. This is such a creative use of space, and it provides more desk surface. If you have a small closet but are hesitant to take the doors off, consider creating a desk that folds out at a ninety-degree angle like this.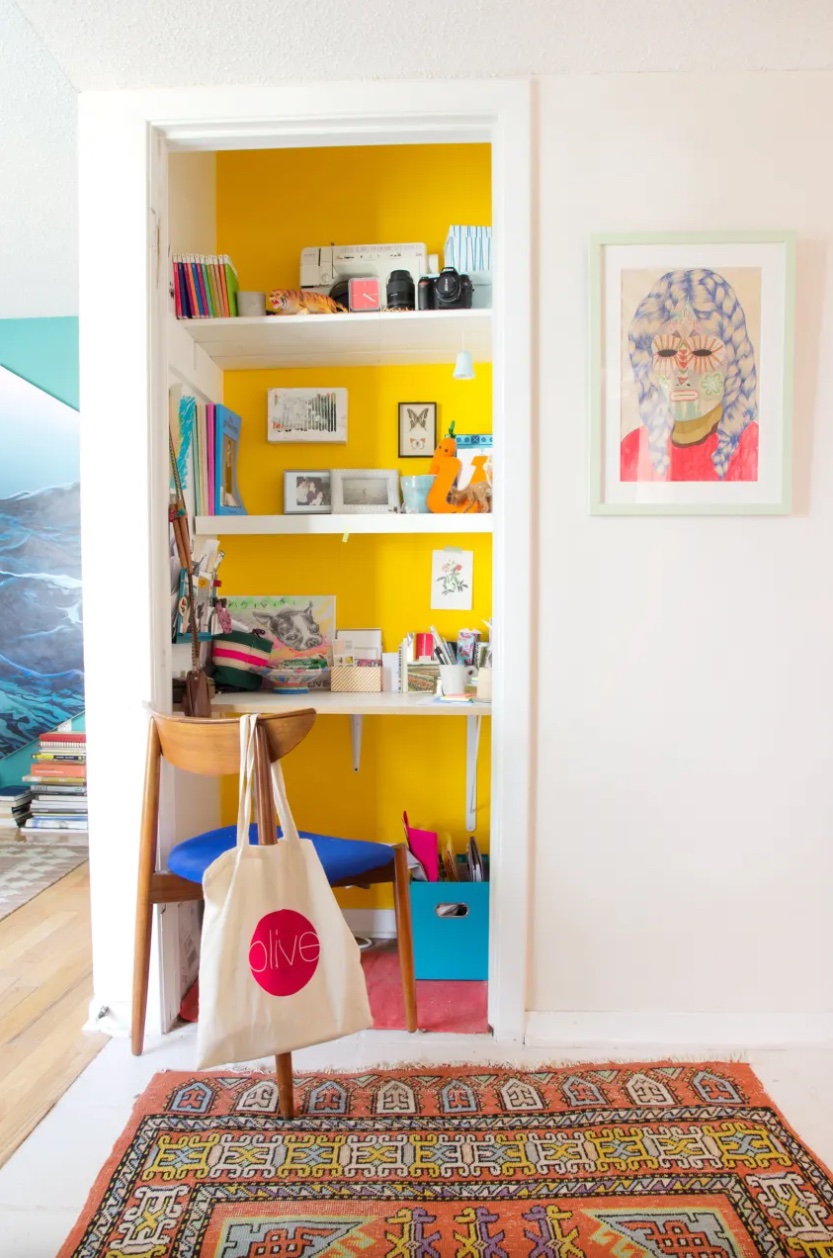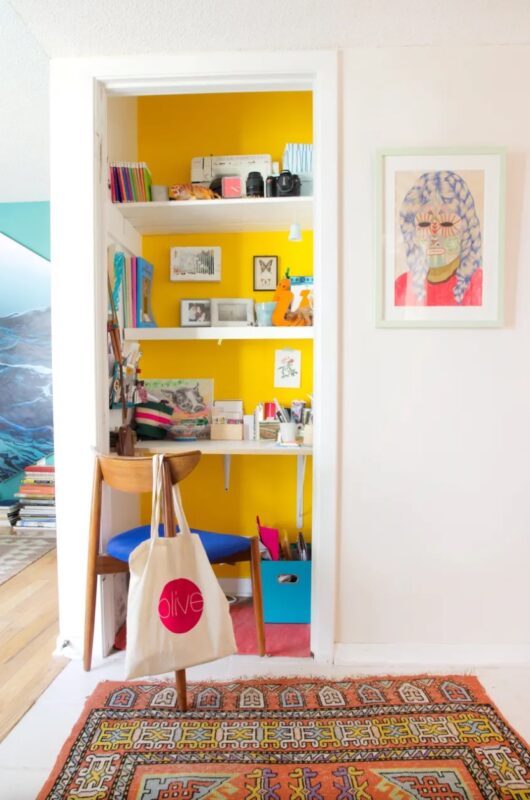 Don't Hold Back on Paint
This tiny closet office, created by Ray and Laura Uhlir and showcased by Adrienne Breaux on Apartment Therapy, shows how much you can do with a narrow linen closet. We love the use of the side wall: the hooks and mounted basket provide needed storage in the small space. Don't be afraid to go a little wild. After all, the Uhlirs went with bright yellow and hung artwork on every spare inch of vertical space, and it paid off. Adding splashes of bold color is what will change your space from a utilitarian closet to a creative office space.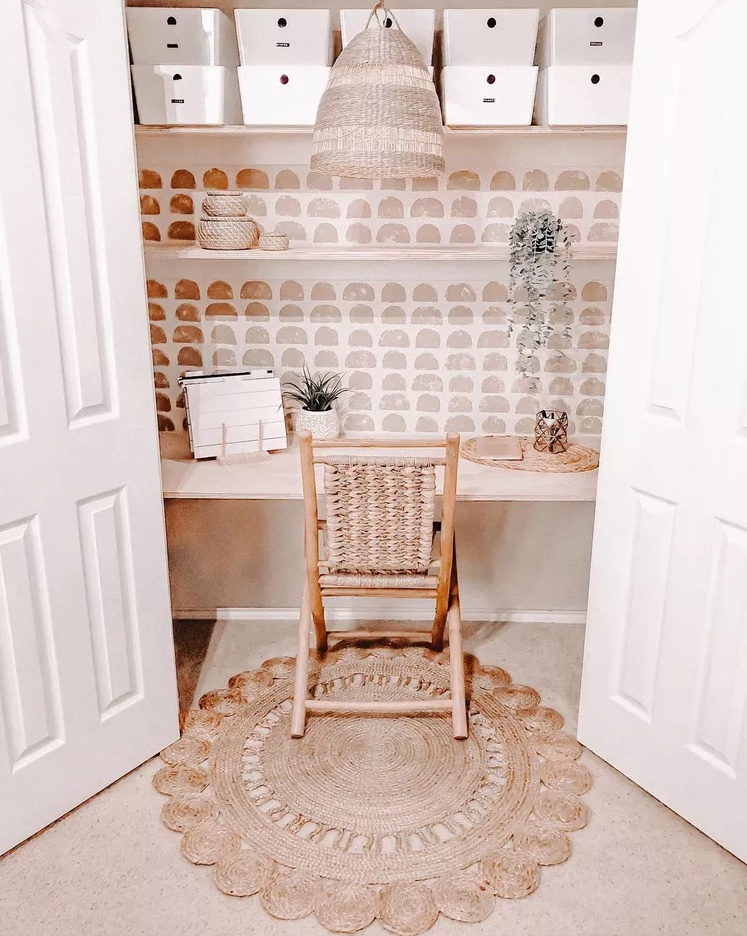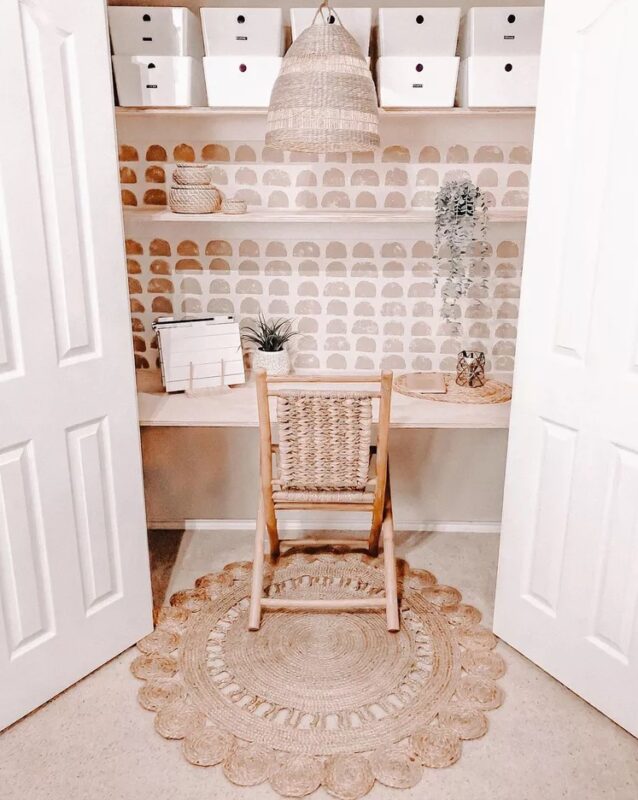 Make Your Overhead Light a Focal Point
If you're going to hang an overhead light, take time to find a light with an appealing design. It draws the eyes upward, providing balance and making your closet office look more spacious. We love the wicker look from Karrah Aguilar's picture. The fixture Karrah chose is lightweight and light-colored, subtly tying together the neutral decor.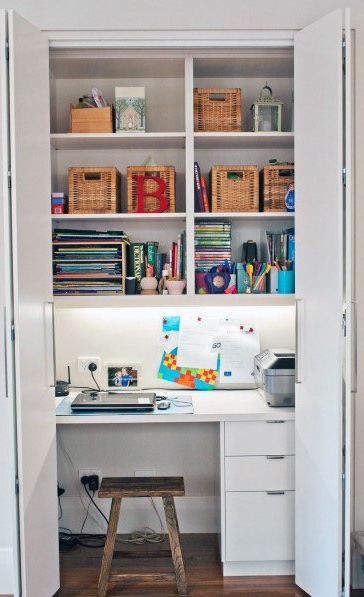 Shine that Light (Underneath the Shelves)
The more shelves and storage you fit into your cloffice, the more shadows you'll have to deal with. Overhead lights are great for a basic source of light, but if you have cabinets or shelves in your closet office, consider adding undershelf light strips or pucks to fight the shadows. We love the undershelf lighting in the office closet above. It makes it easier to work while also making the small space look clean and bright.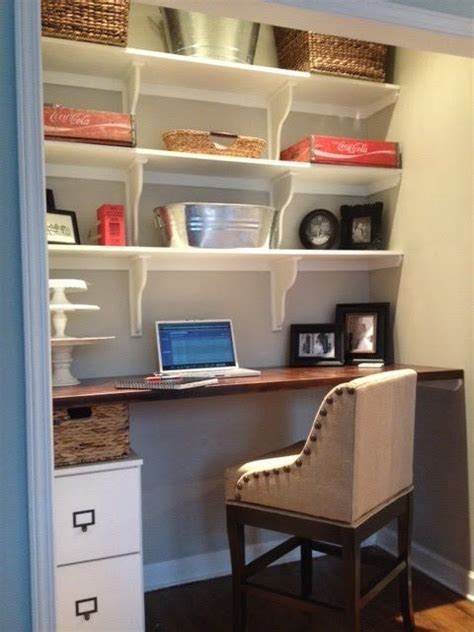 Combine Multiple Light Sources (Overhead + Eye-Level = Magic)
Closets, especially reach-in and walk-in closets, are deep enough that they take a surprising amount of light. Don't just hang a light in your cloffice and call it a day. Be intentional about the light sources you set up, and make sure you're adding light near eye level to soften the glare of overhead and undershelf lights. "There's no natural lighting component in a closet office, which is why it is important to make use of different sources of light. You can even use desk lamps for this purpose." – Perry Zheng of Pallas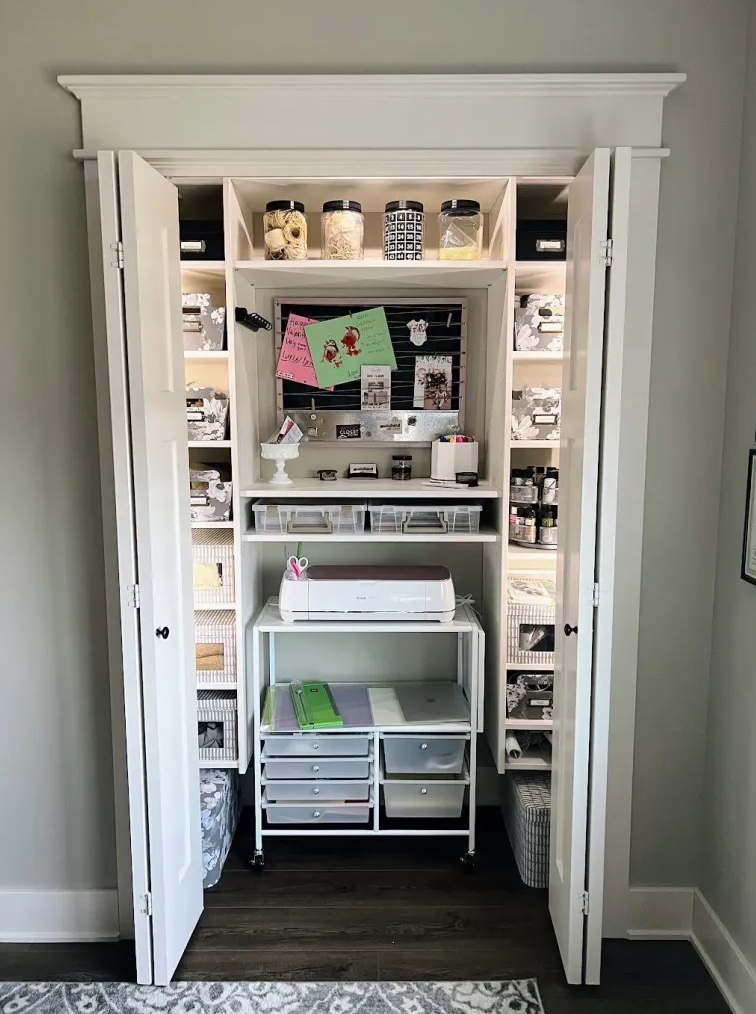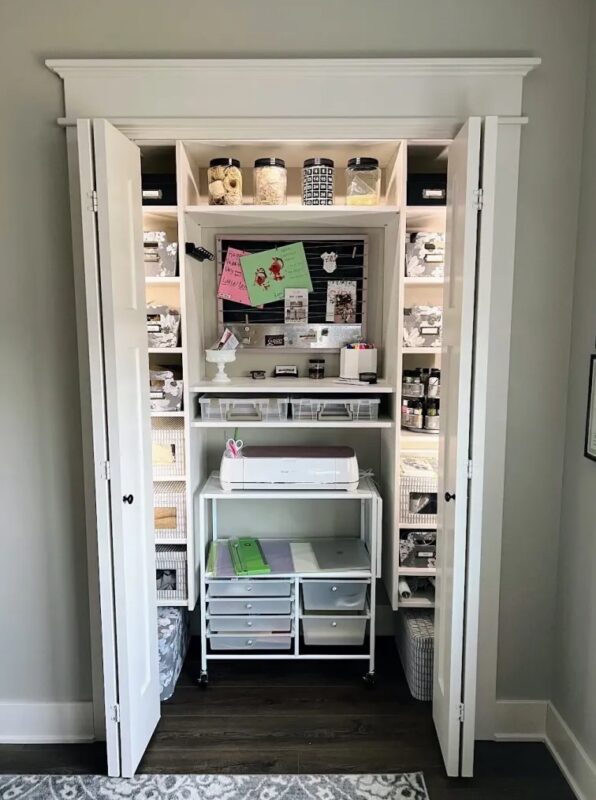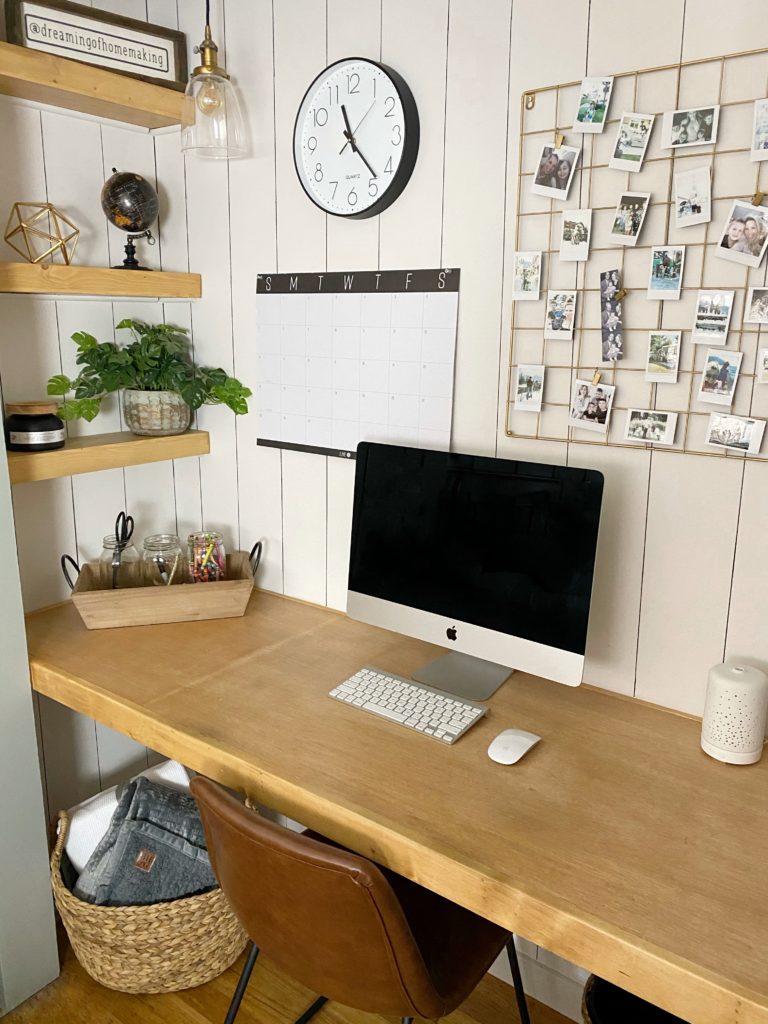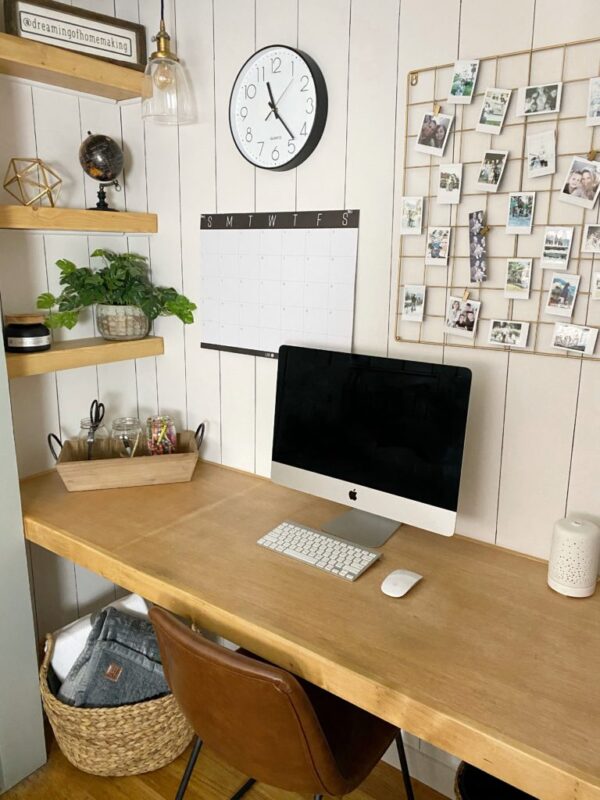 Stay Sane with Shelving
As long as you have enough headroom above your monitor, there's really no such thing as too much shelving (see the photo from The House on Silverado above). You're going to have a lot to fit in your office, and odds are you won't be able to unless you embrace multiple layers of shelving. Especially for small closets and linen closets, introducing small shelves on the sides of the closet can be an optimal way to fit everything in (check out the adorable side shelves from Dreaming of Homemaking). Go ahead. Unleash that inner shelving monster and go nuts.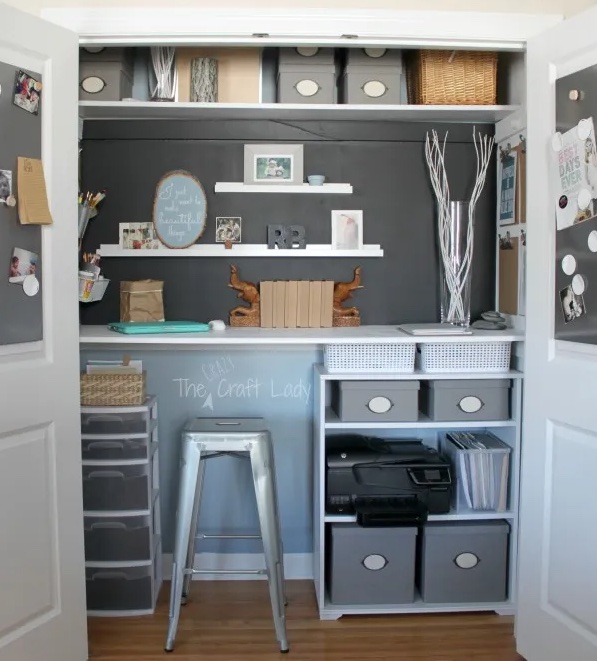 Don't Be Too Transparent
A lot of closet storage options are made of clear plastic. While this works great for a traditional closet (where utility is king), it can make your office look cheap and cluttered. Instead of using clear boxes for storage, try using baskets that are opaque to introduce texture and hide the items inside. This is one of the easiest ways to make your cloffice look decorated.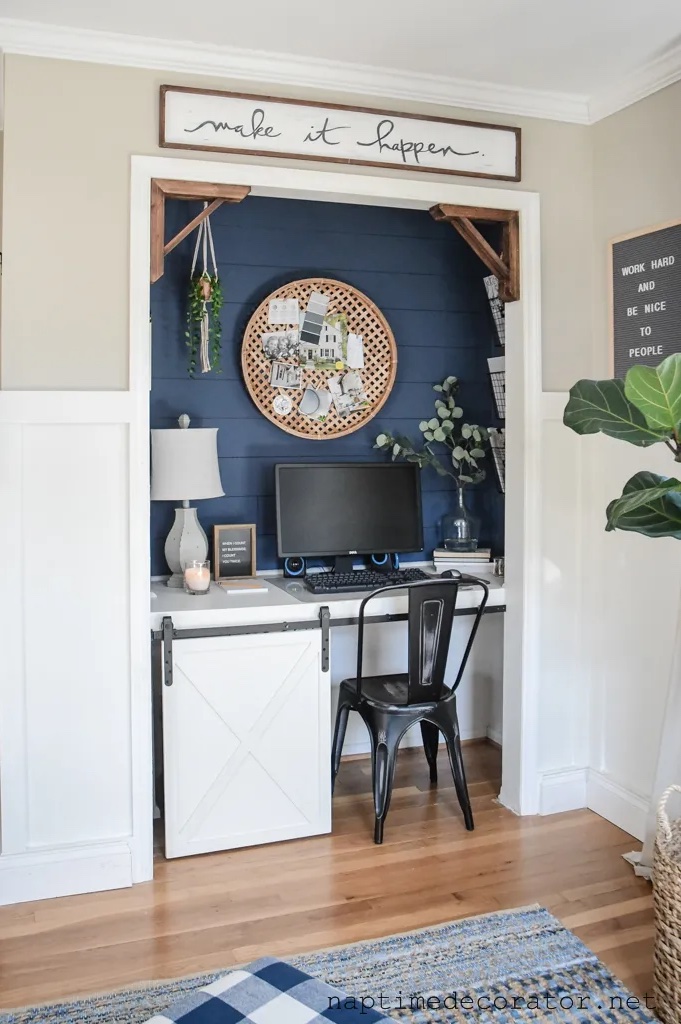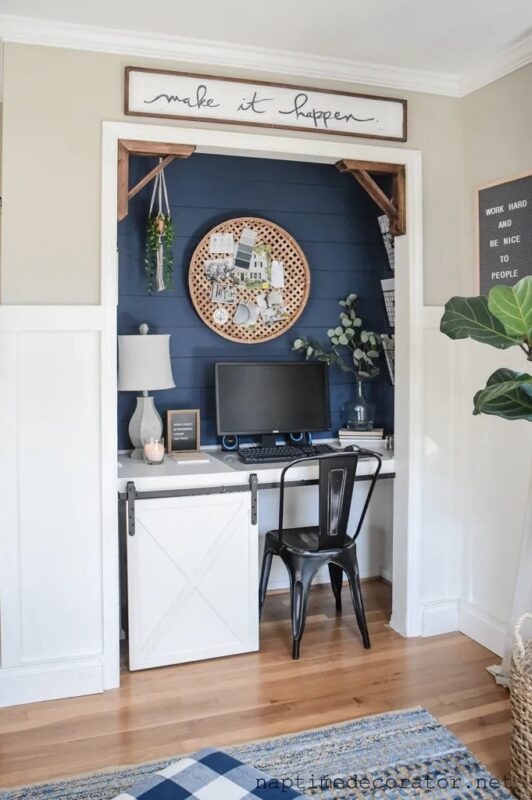 Show Off the Ceiling
The best way to decorate a small closet office is to think tall. We love how Liz from Naptime Decorator made complete use of vertical space in her closet-to-office project. Hang plants or lights from hooks in the ceiling, add accessories to the corners (the wood accents look amazing in the photo above), or display artwork above the doorway. It's all about drawing the eyes to where the most space is. When you're dealing with a small closet, the most space is almost always from floor to ceiling!
Add Something Living
There's something relaxing about plants. If your cloffice is near enough to a window or other light source, consider adding a plant to your setup to breathe life into your decor. "To add a touch of color and nature to my office, I placed a beautiful flower on my desk. It brings a sense of freshness and tranquility to the space." – Leighanne Everhart of Sell My House Fast Wilmington NC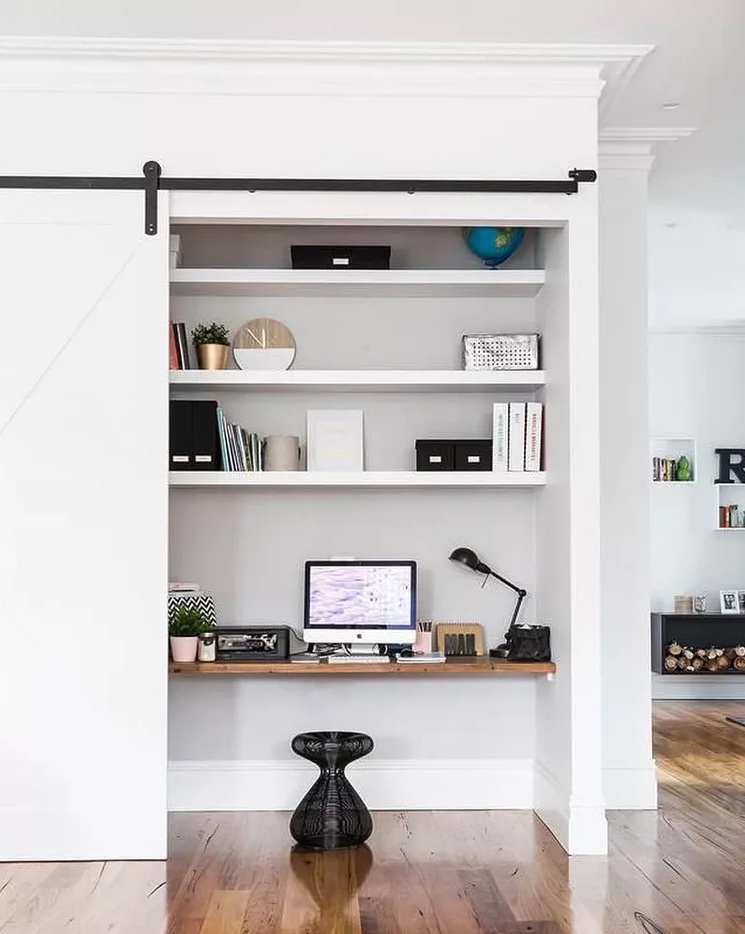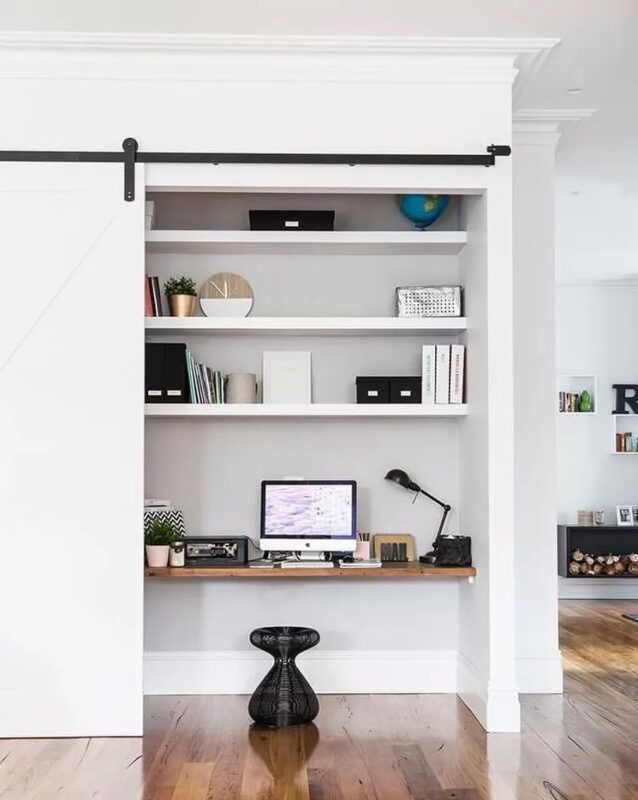 Slide It to Hide It
If you want to make your office closet blend well with the rest of your home, consider a sliding door. This gives your office a more permanent, professional look compared to curtains or accordion doors, but it still gives you a way to hide your work at the end of the day. MyDomaine shares an office closet with a classy white farm door as an example (picture above).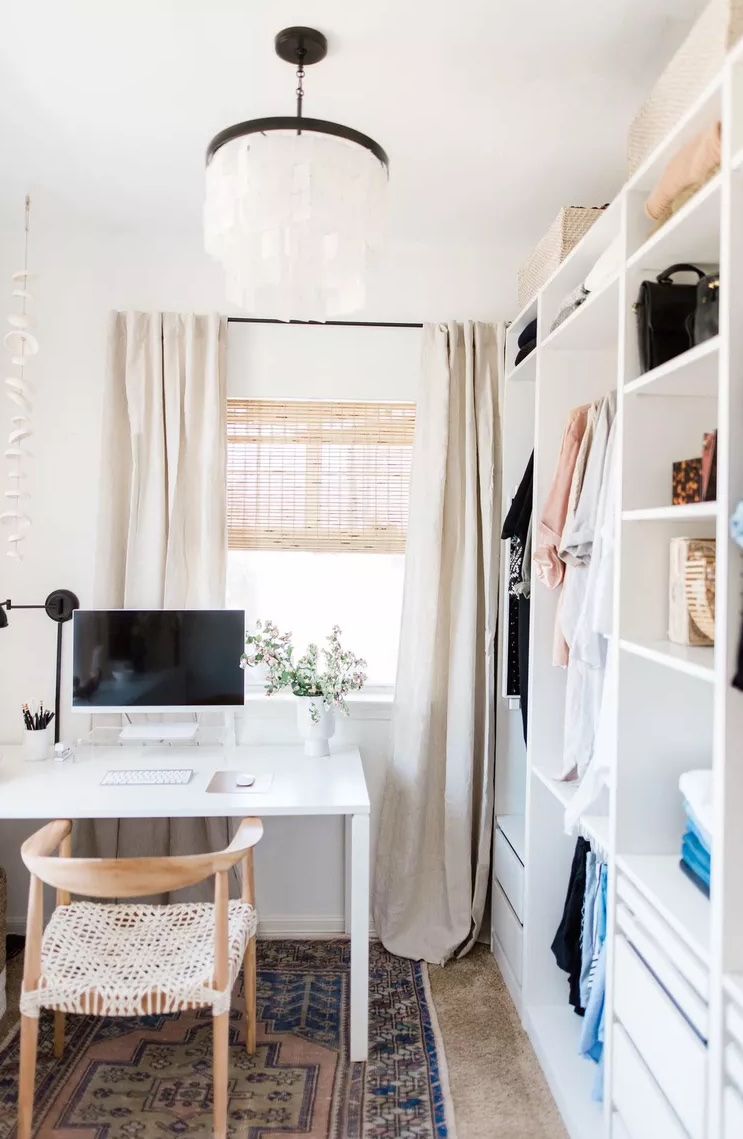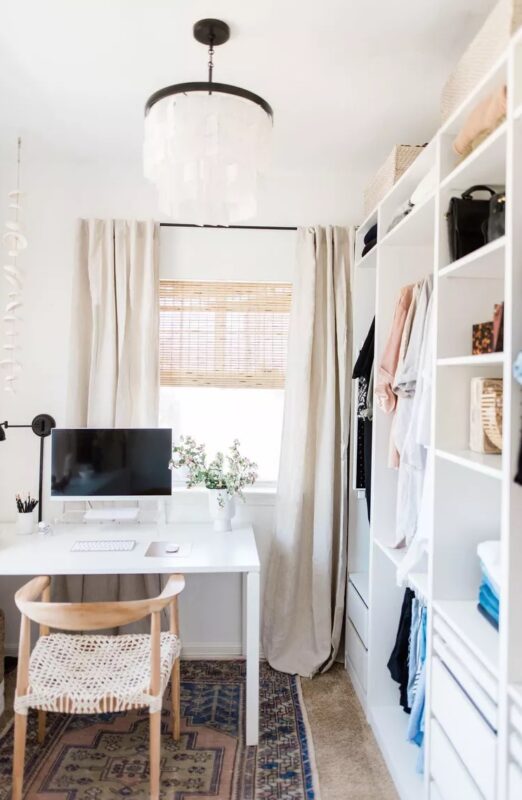 Don't Take Your Window for Granted
If you're lucky enough to have a closet with a window (like the one from The Spruce's article above), get the most out of it by placing your desk in front of it. Not only does this give you a good view while you work, but it introduces light to your face. You'll want to put soft curtains or even blinds on the window to keep it from glaring, but this can help you look great on video calls.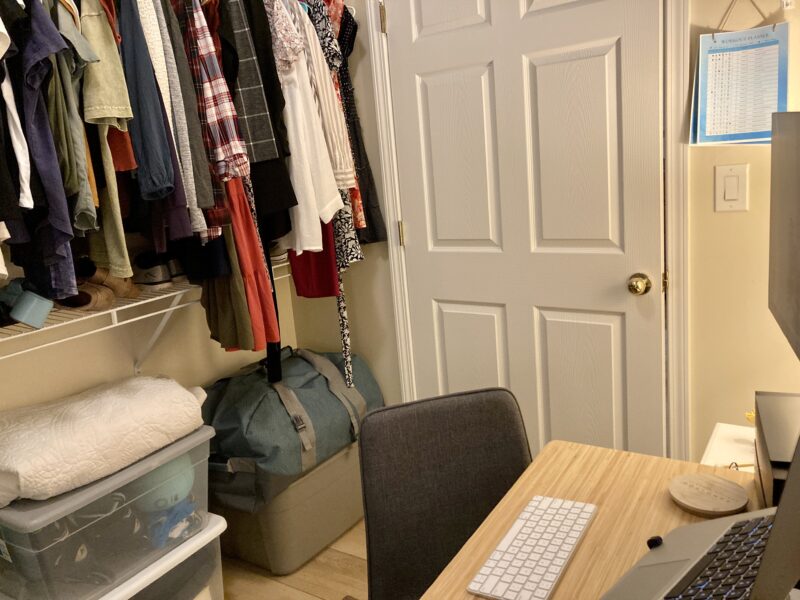 Keep It Together
If you have a walk-in closet, one great way to use it as both an office and a closet is to keep all of your clothes to one side. Then, when it's time to do a video call, you can hang up a backdrop or curtain and no one will be the wiser.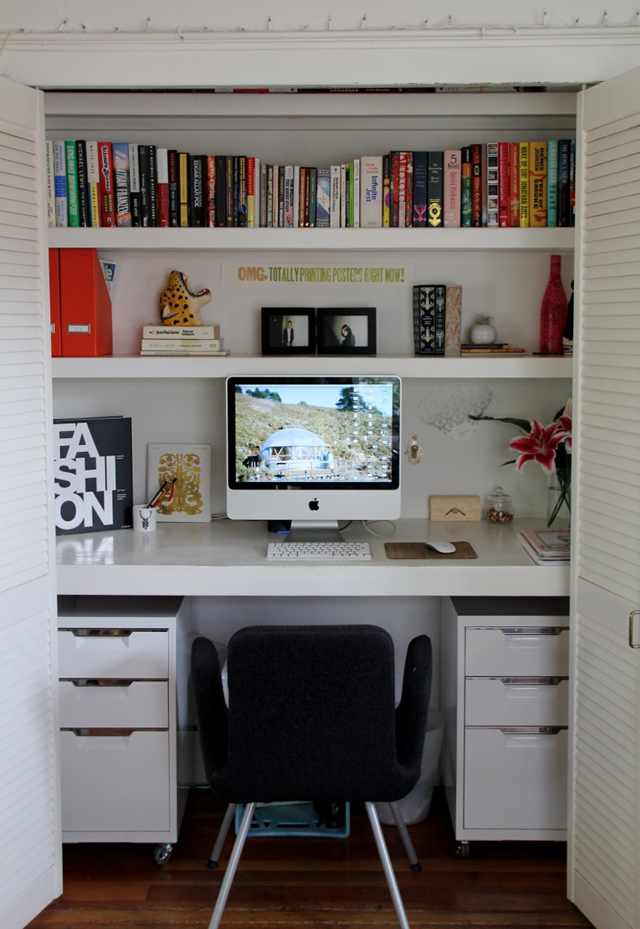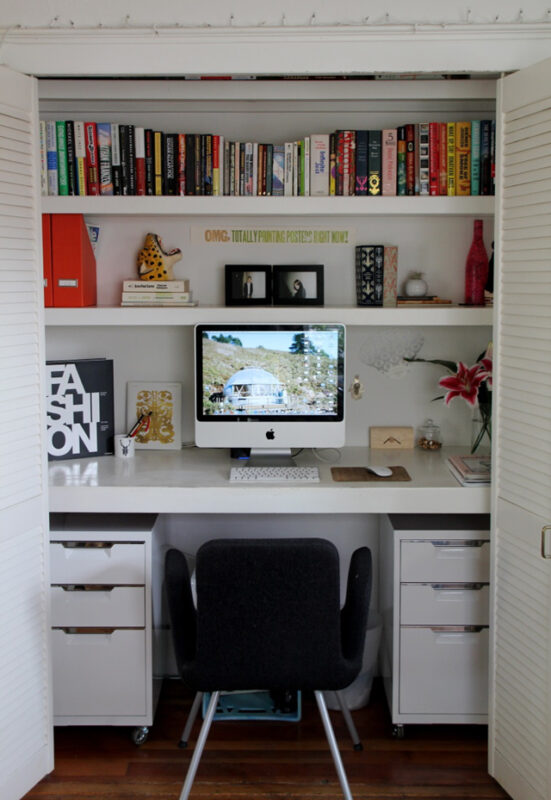 Don't Forget About Drawers
If your closet is wide enough, you can always slide standalone drawers or filing cabinets on one or both sides of your chair. This is a great place to store work-related documents, and it balances out your cloffice (especially if you've got a lot of high shelves). Just make sure you leave enough legroom so you can still stretch out.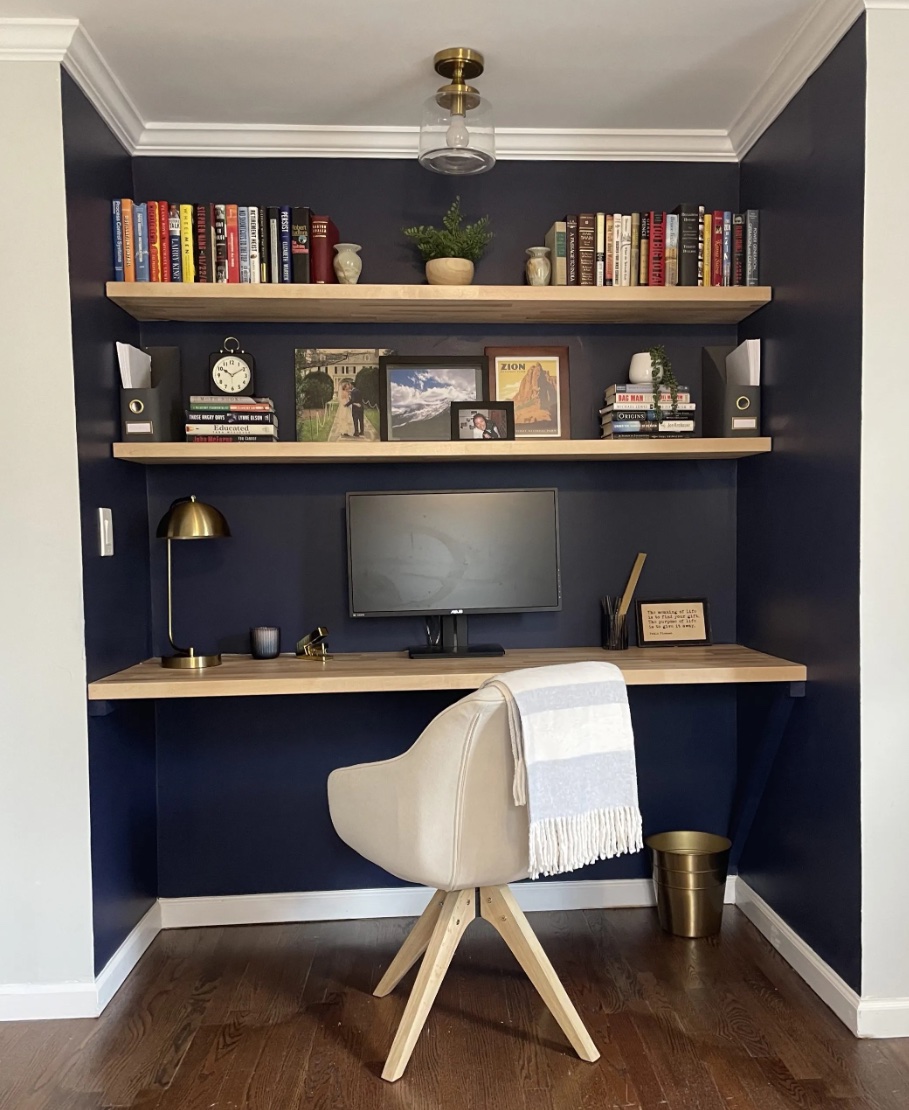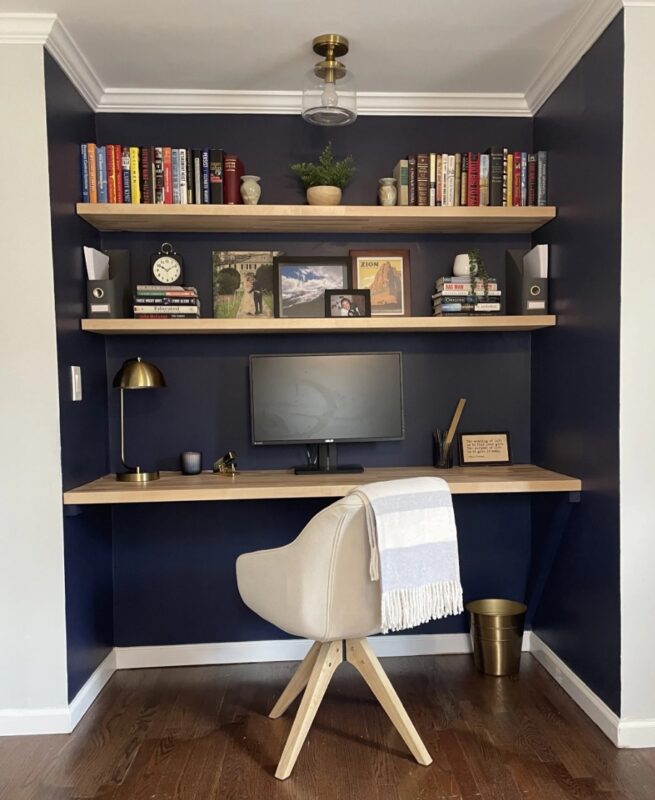 Experiment with Contrast
Conventional wisdom says to use light colors for small spaces, but taking a chance with a dark background color can pay off, especially if you use splashes of lighter colors to balance it. Meredith Perkins of Curated Casa used a dark blue color to ground her client's office closet and emphasize the space, but she also used books and artwork to balance it. If you want to try a dark accent wall, consider using lighter colors when it comes to decor and make sure you have enough lighting. This creates a look that's both dramatic and anchored.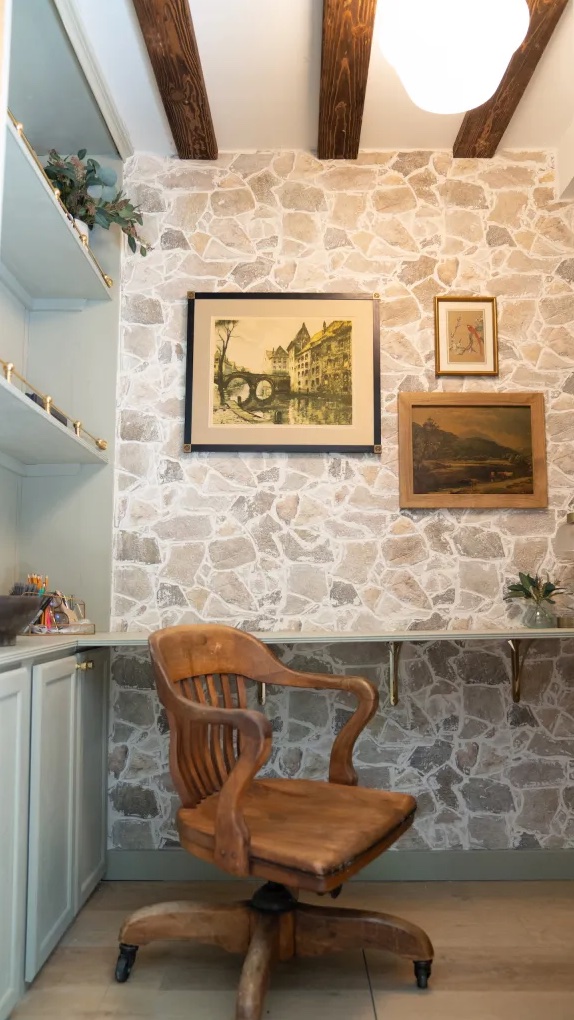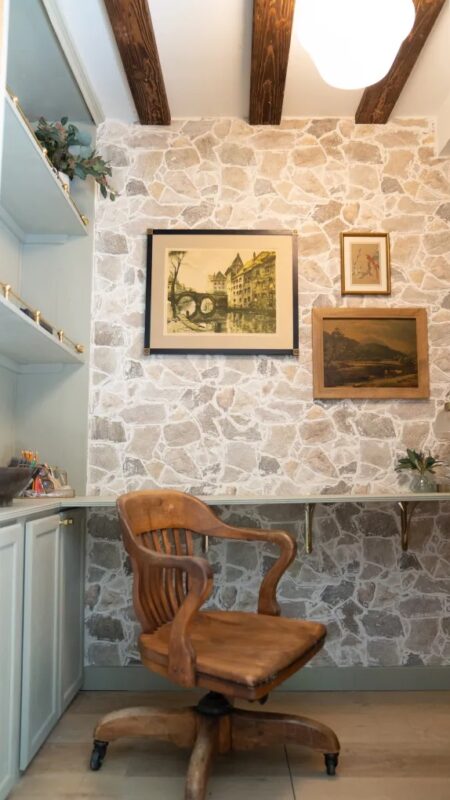 Add Unusual Textures
Wallpapers, ceiling beams, faux stone walls – there are plenty of ways to keep your closet office from looking bland. We love the stone wall look Molly shared on her blog, The Honest Home. It creates a vintage feel that ties in with the warm wood accents. What a great example of how much texture you can introduce without going overboard.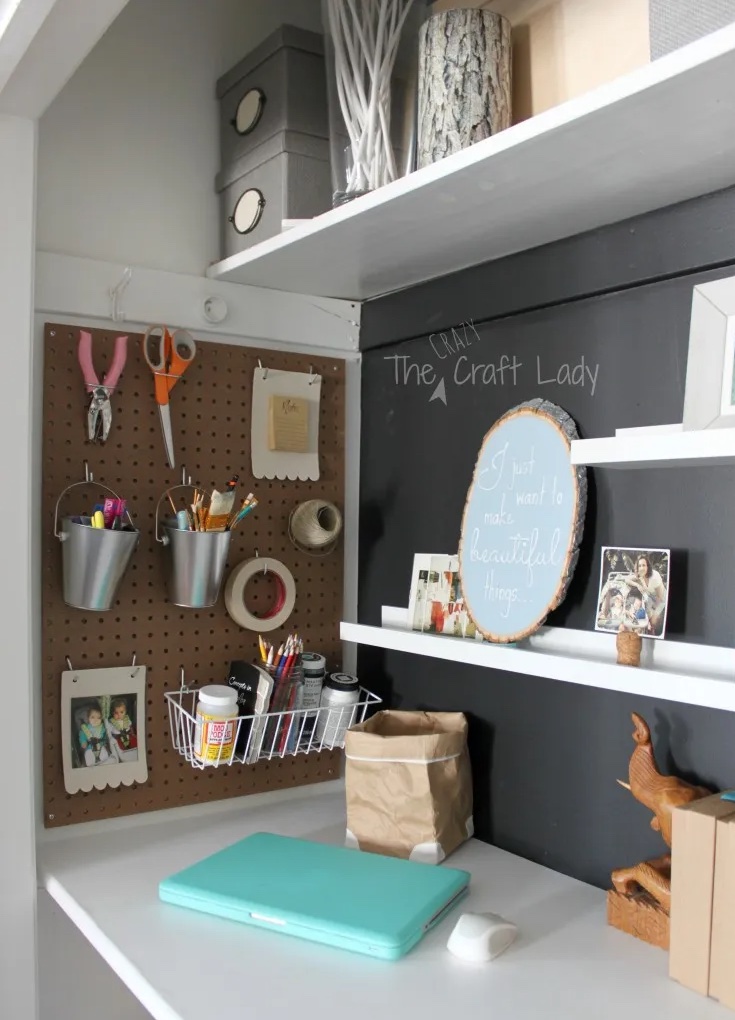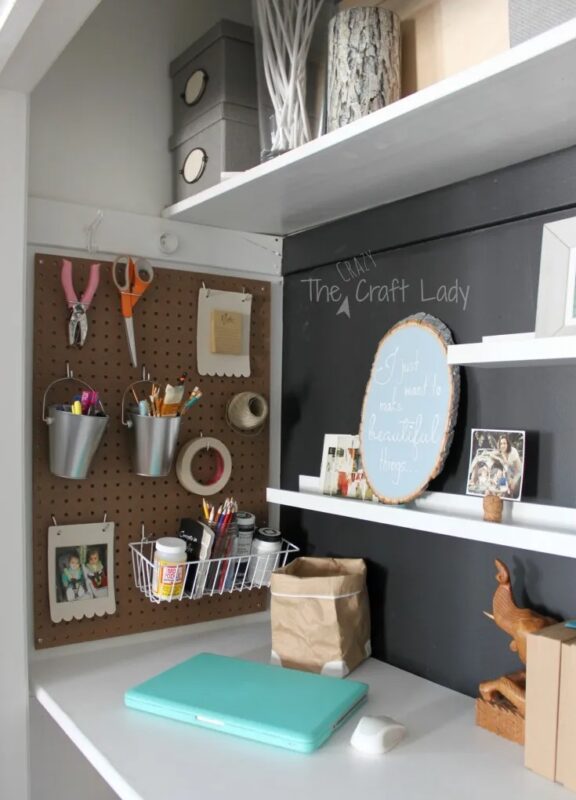 Put a Pin (or Peg) in It
Bulletin boards and peg boards are that happy medium between decorative and functional. When space is tight, these can be a great way to get papers and supplies off your desk without having a shelf too close to your setup. They take up less than an inch of horizontal space but are versatile – you can change the look simply by changing what you hang on them!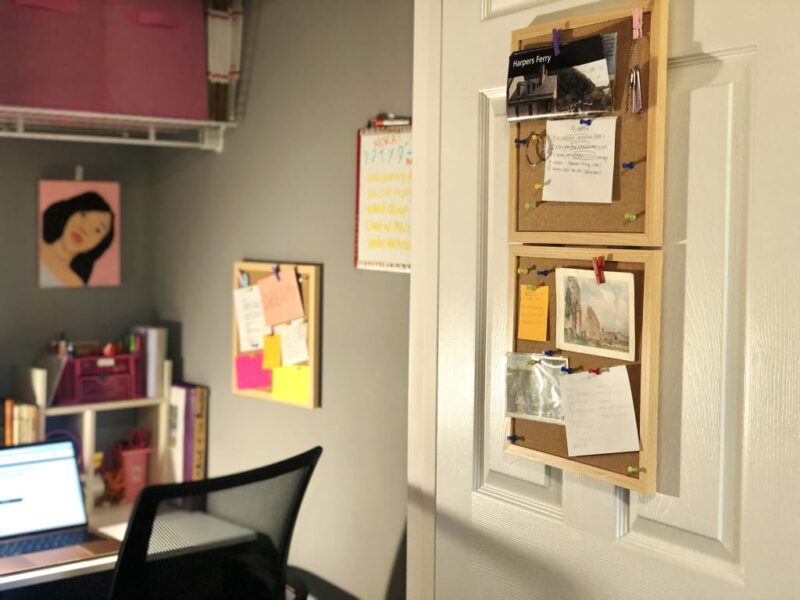 Put the Door to Work
If you have a cloffice that's spacious enough to have a door, use that extra door space! The back of the door can be a great place to hang bulletin boards, file organizers, peg boards, whiteboards, or coat hooks: anything to keep you organized while you work.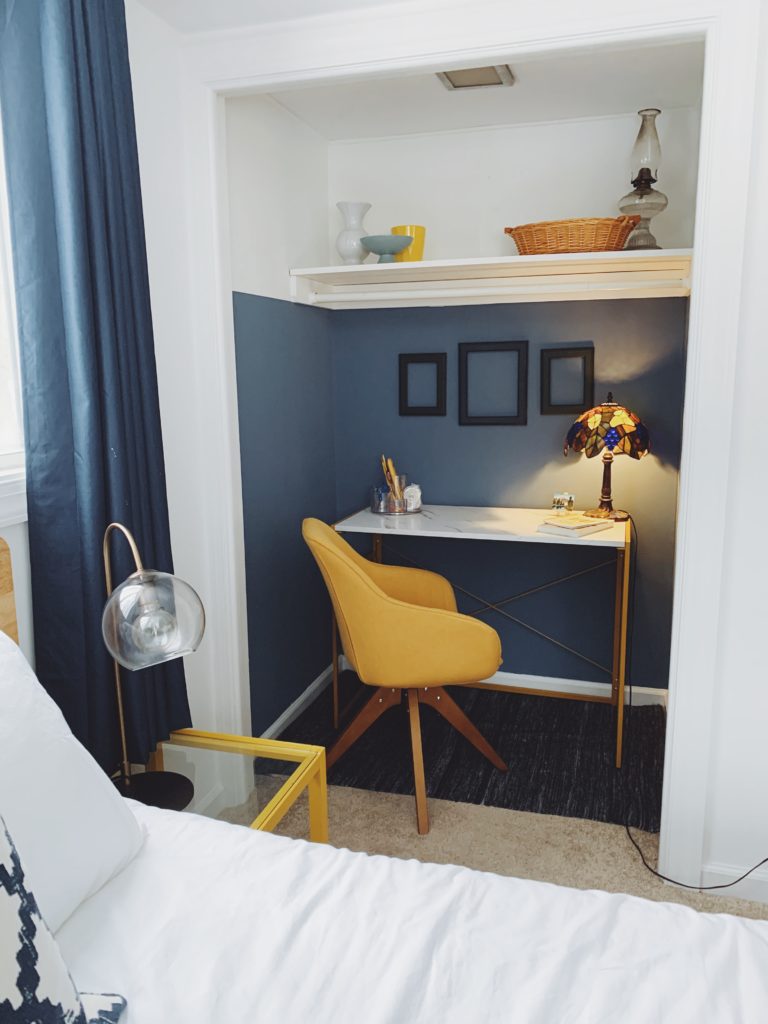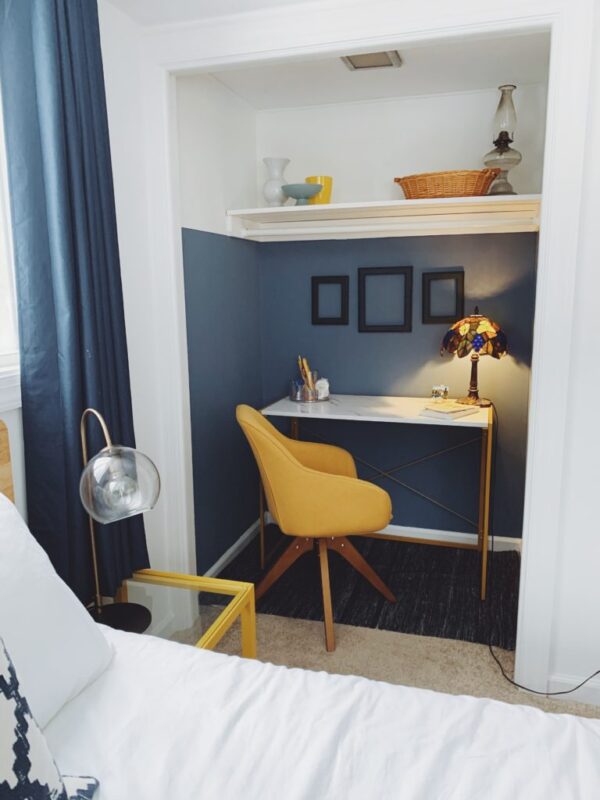 Use a Freestanding Desk
If you don't have the time or know-how to build a custom office in a closet, you can use a freestanding desk. Find a desk with shelves, or simply mount floating shelves above a minimalist desk for a modern look. Tyler Moore of Tidy Dad shows a great example of this with his closet office remodel. You don't have to get into complicated customizations to turn your closet into an office.
Types of Closets
Now that you've gotten some ideas, it's a good idea to consider how much space you have to work with. There are tons of closet styles, but if you're considering turning your closet into an office, you probably have one of the following three closet types:
Walk-In Closet
If you have a walk-in closet, congrats! This is the easiest type of closet to transition to an office. It has the most floor space of the three closet types and most likely has a door you can shut. Most of the ideas we shared will work in a walk-in.
Reach-In Closet
A reach-in closet is deep enough to hang clothes on a clothing rod, so think at least two feet deep. These closets can be small, or they can be up to eight feet long. This type of closet works well as an office if you take the doors off or utilize curtains across the doorframe. The ideas we shared around shelving and storage options will be particularly crucial for a closet this size.
Linen Closet
Linen closets are even smaller than reach-in closets, and they often use special doors like folding or sliding doors. These types of closets work for offices, but they only provide room for a narrow desktop, so it's most likely you'll only be able to fit a laptop on the desk. You can get creative with these types of closet offices by creating a desk that folds out or slides out to offer more space. The ideas we shared around utilizing wall and ceiling space (especially the side walls) will help you get the most from your closet office.
How to Make An Office Closet Actually Work
To make an office closet work as an office (and not just a tiny place to cram your laptop), you'll want to think through the following categories:
Consider Your Desk
The desk you use will depend on the size of your closet. Obviously, if you have a walk-in or large reach-in closet, you can use a standard-size desk. But for smaller closets, you might want to consider building your own desktop. Better Homes & Gardens recommends creating a floating desk with plywood or medium-density fiberboard (MDF). We like the floating desk idea because using brackets to mount the desktop will provide legroom. But since plywood provides a breeding ground for splinters, we'd opt for melamine MDF or a laminated shelf, both of which have a smoother surface. Of course, you can always go the simpler route and buy a wall-mounted desk pre-made. The key here is to find the minimum desk size you need to work efficiently without feeling crowded.
Check Your Chair
Traditional office chairs with wheels often take up too much space for a home office closet. With bulky castors and armrests, they'll quickly become frustrating. To make sure you only fill the space you must, consider an armless office chair, or better yet, a chair without wheels at all. For major space-saving, you can even use a short barstool or an exercise ball (bonus points if you bounce while you work!). The most space-saving solution of all would be to mount your desktop as a standing desk, which gets rid of the chair completely.
Focus on Storage
Closets don't have a ton of extra floor space, so utilizing the walls is crucial. Use as many shelves as you can in your cloffice, and think tall. After all, you can store the items you only use rarely in those hard-to-reach spots. Our recommendation is to use floating shelves since this eliminates the need to use floor space. As Maker Stations points out, you'll want to use the space on the sides of your closet, too. Small shelves mounted along the sides of your desk will give you as much storage as possible. (These small floating shelves are a good option.) Beyond shelves, you'll want baskets and boxes to keep your cords and office supplies organized. Plus, you might even want some baskets for non-work-related items (like off-season clothes or decor) that still need to fit in your closet. Traditional closet storage sometimes sacrifices beauty for utility, but since you'll be staring at it all day every day, we recommend splurging on storage options that are nice to look at. Finally, you could consider adding a drawer unit, a filing cabinet, or an under-desk drawer to give better access to the things you use all the time. Solutions like hooks under your desk or wireless keyboards can help free up space, too. (See a full article on desk storage solutions here.)
Take Time for Lighting
Good lighting is the difference between feeling like you're working in a closet and feeling like you're working in an office, so don't skip it. If your closet already has an overhead light, you can supplement it with a couple of lamps or desk lights to soften the glare and make the space pleasant to work in. If you're going to be doing video calls from your cloffice, make sure the lights are slightly behind your computer camera so they provide gentle light to eliminate the overhead light's shadows and illuminate your face. You can also introduce battery-operated lights under the shelves you mount, such as puck lights or under-cabinet strips.
Factor in Electrical Options
If you don't have an electrical outlet in the closet (and you don't want to hire an electrician to add one), invest in a good power cord. Make sure the power strip has enough outlets for your computer power cord, your laptop charger, and any and all lights you're planning to add. Get plenty of outlets so you don't have to worry about running out of space. You'll want to get a power strip with extra cord length so you can safely tuck it along the wall or under a rug. Better Homes & Gardens recommends using Command hooks to keep it tucked away, but you could also use a floor cover or a cord cover that mounts to your wall. For surge-protector power strips, check out these 6-foot and 10-foot options.
What Not To Do When Turning A Closet Into An Office
Creating an office space in your closet is personal to you, which means it's hard to go wrong no matter what route you take. That being said, here are a few things you should probably avoid:
Don't Put a Shelf Too Close to Your Monitor
You'll end up hitting your head on it, or at least feeling cramped. Instead, make sure you have some margin between your desk and your first shelf so you can fully stretch out if needed.
Don't Let People See Your Clothes
You're working from home. While you may be comfortable showing off your wardrobe, it doesn't come across professionally to clients. If you need a way to hide your "closet" items while you're on calls, consider a backdrop.
Don't Try to Fit Too Much
If the printer doesn't fit, it doesn't fit. You want to leave elbow room for yourself so you have room to move around. If you cram your closet full of all your office items, it will go from being a place where you can focus to a place where you feel trapped. Leave some margin.
Don't Forget to Anchor Your Shelves and Desk
Let's face it: having stacks of shelves above your most expensive computer equipment is a recipe for disaster if you don't mount them properly. Make sure you're using wall anchors or drilling into studs to protect against a fall.
How to Host Video Calls from Your Office Closet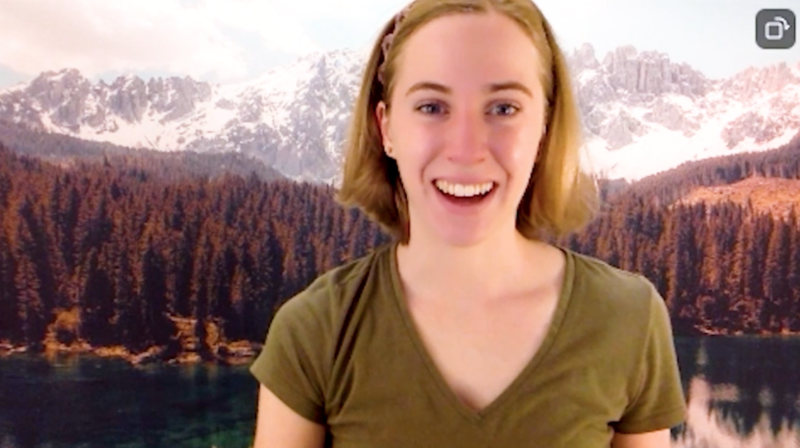 Now that you've put in the work to turn a closet into an office, you'll want to work there all the time (at least, we hope!). For those times when you need to host video calls from your closet office, use the tips below.
Use Light Sources on Both Sides
Set up lamps or some kind of soft light on both your left and right, behind the computer camera. This will soften your face and help your video look crisp.
Evaluate the Overhead Light
Check how harsh your overhead light is on camera. You might need to turn it off on video calls. If this is the case, consider adding a ring light to your setup. (Hint: If you need an instant fix, you can always grab a lamp or hang a strand of white Christmas lights behind your computer to provide more light on your face. Another good tip is to shine a desk lamp or other concentrated light against the wall or on the ceiling behind your computer camera. As long as your wall color is light, it will diffuse the light and create a softbox effect.)
Hang a Backdrop
Check to see what surroundings are visible from your spot in your office closet. You may want to buy a backdrop to block your clothes rack or your bedroom from view. This also takes some pressure off to keep your bedroom or closet completely tidy at all times. As long as you have a way to block the view of your room, you'll look good on video calls.
To Wrap It All Up
We hope these ideas gave you the solid start you need to convert your closet to an office. Excited to begin? Let us know your game plan in the comments below. If you've already created a cloffice and have some tips to share, we'd love to hear your solutions!
Just so you know, some of the links in this article are affiliate links that may provide Buildremote with a small commission at no cost to you. This lets us share helpful information with you for free!