During the Industrial Revolution, factory workers logged 80-100 hours per week. But in 1926, Henry Ford popularized the 40-hour work week after he found that working more barely yielded an increase in productivity. It was a breakthrough in how we work. But it was also nearly one hundred years ago.
Just like how Henry Ford implemented the five-day work, today's visionary companies have implemented four-day work weeks for better work-life balance and higher productivity.
Companies With 4-Day Work Weeks
Here are all of the companies that have implemented a four-day work week (they've either publicly announced or told Buildremote directly).
Foreign Policy Research Institute

Iloilo, Philippines (City)

Boulder County, CO (County)

City Of Morgantown, WV (City)

KMPC Los Angeles
(Radio Korea)

International Coalition of Sites of Conscience

Highfield Professional Solutions

DENSO Manufacturing Tennessee

Ranksey Digital Marketing

People & Transformational HR

Brett Nicholls Associates

Advantage Business Partnerships

Butcher Bayley Architects

Causeway Irish Housing Association

Digital Guerrilla Consultancy

Earth Science Partnership

LUX - The Food & Drink Agency

NEON (New Economy Organisers Network)

New Vision Digital Marketing

Paul David Smith Photography

Quality of Life Foundation

Roach Matthews Architects Ltd

Scottish Community Safety Network


The Good Ancestor Movement
Definitions
In the table, you'll see a few different classifications in the "policy" column. Some companies are trialing a four-day work week, while others have made it permanent. Some work 40 hours over four days, while others work 32 hours.
Here's how we define the four-day work week policies you see in that column:
Permanent:The company has four work days each week indefinitely with no reduction in pay.
Trial: The company is experimenting with a four-day week over a fixed time period.
Seasonal: The company works four days per week for portions of the year (like summer) rather than the full year.
Optional: Employees have the choice to work four days per week but it comes with pro-rated (lower) pay.
Work Week: Full-time employees of the company work these amount of hours each week spread over the four working days.
Three-Day Week: The company only has three working days (rather than four).
See Also: 4-Day Work Week Countries | Tracking 4-Day Week Bills
What are the most notable 4-day work week companies?
If you're looking for a shorter list of well-known companies, here are ten recognizable companies with four-day work weeks:
Microsoft Japan
Buffer
Toshiba
Shopify
Unilever New Zealand
Kickstarter
Bolt
Atom Bank
Thredup
Panasonic
How many hours do 4-day companies work?
Right now, we have 243 companies with a permanent, seasonal, or optional four-day work week in our database. 88% of four-day companies work 32 hours per week. As a result, four-day companies work 16 days per months standard companies who work 20.75 days per month on average.
These are the average work hours per week across the dataset.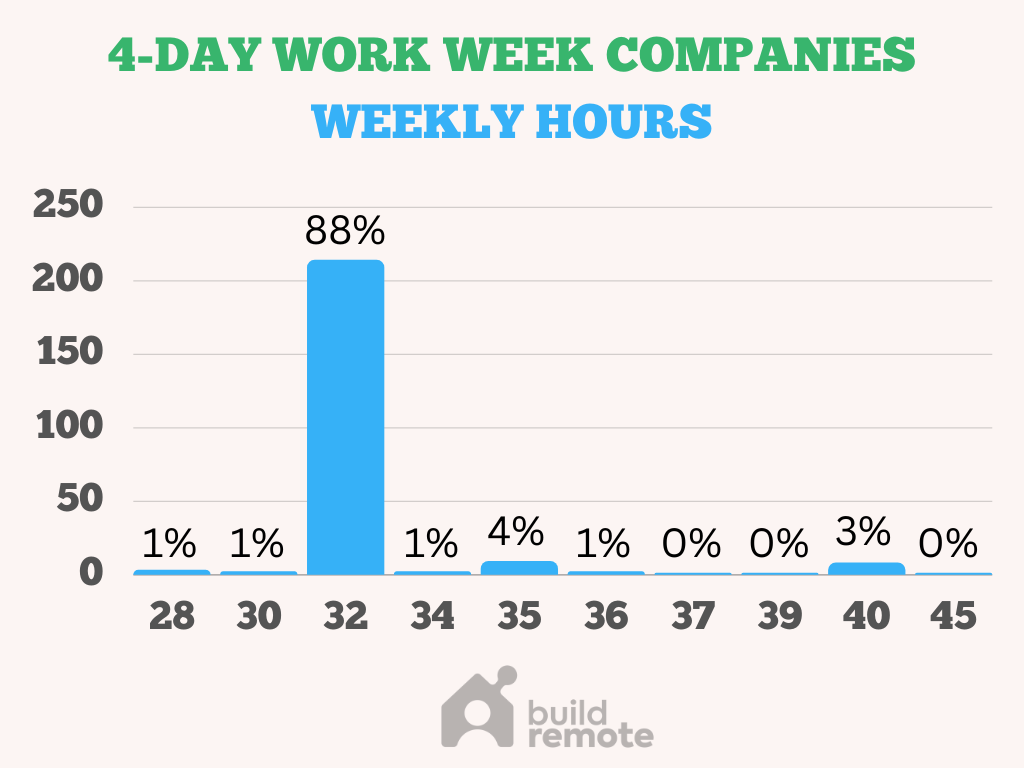 In which countries are the most 4-day companies located?
Right now, we have 243 four-day work week companies across 20 countries. 53% of four-day work week companies are located in the United Kingdom, 27% are located in the United States, 5% are located in Canada. No other country takes more than a 2% share.
Why are there so many four-day companies in the UK? There was recently a pilot program run in the United Kingdom where nearly more than 50 participating companies announced publicly they would implement the four-day week permanently (after the pilot period ended).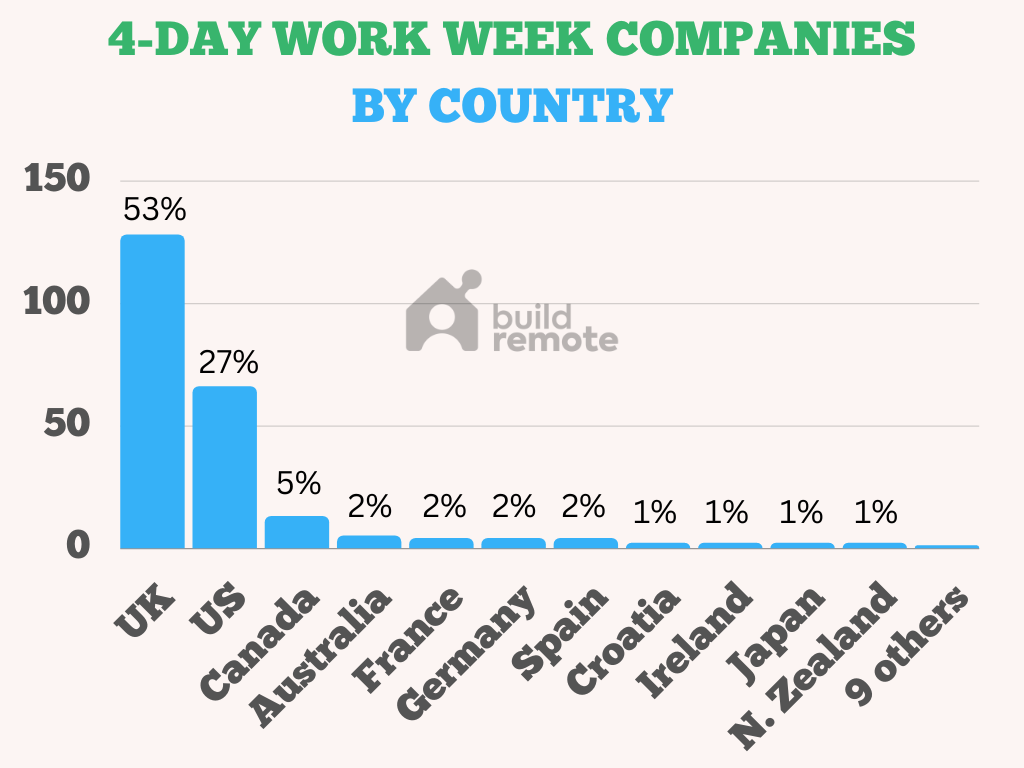 Here is an analysis of company adoption of the four-day work week by country.
What are the most common 4-day work week policies?
Right now, we have 243 companies in our database.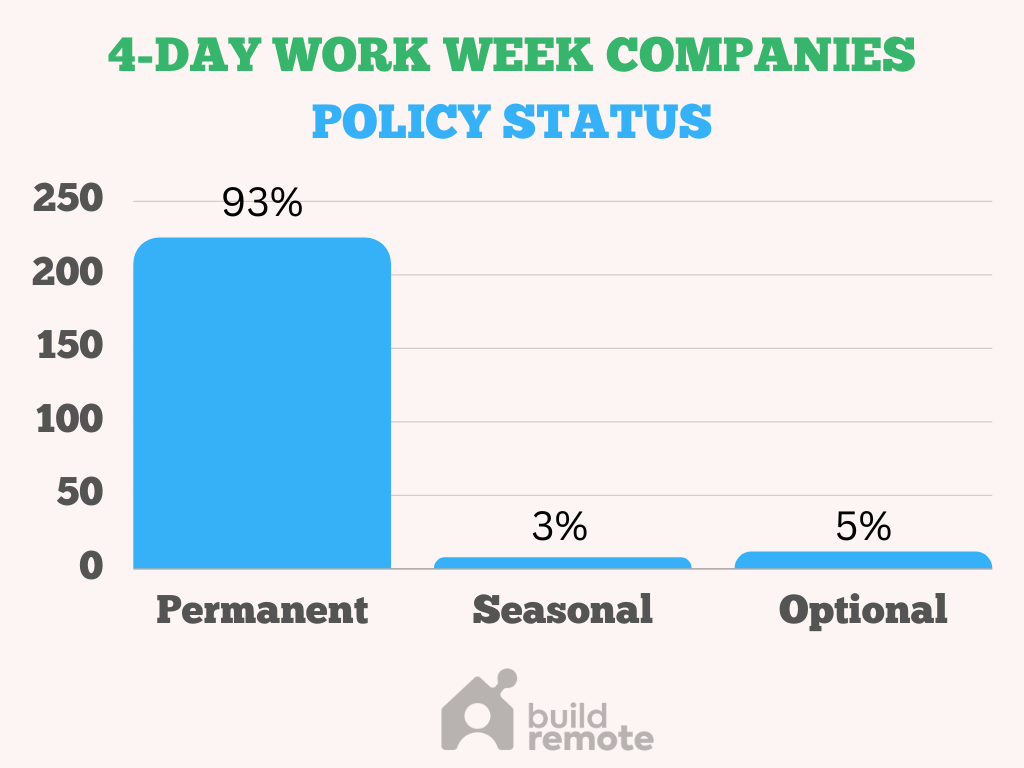 Which companies have stopped or pause their 4-day work week?
How can companies implement the 4-day work week?
I'm the guy with the beard in the video below and I keep track of this four-day week company database. I've personally worked a four-day week since January of 2020. Before that, our company went through the decision making to implement the new work week. Here's our advice.
Read more from our company database series:
Want to add your company to the list?
Fill in the form on this page.
We hope you find this article useful. Just so you know, Buildremote may collect a small share of sales from the links on this page to help keep this site running.