Innovative EdTech Tools For Remote Workforce Training And Development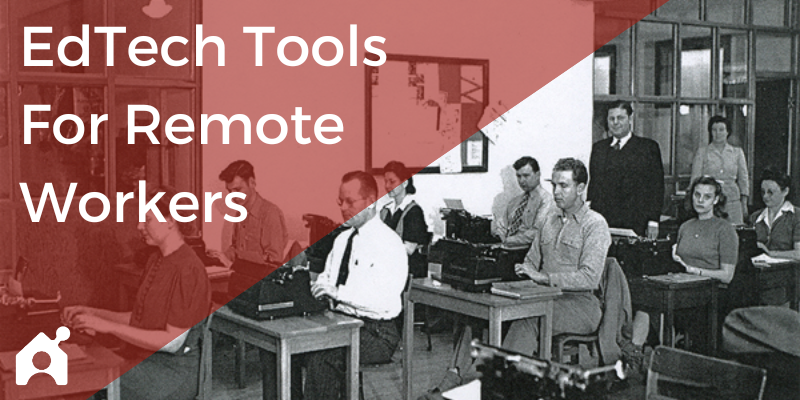 The rapid shift towards remote work has led to difficulties in training partially or completely remote workforces. More businesses have started turning to educational technology tools (or EdTech tools, as we'll refer to them here) to grow and educate their remote employees.
When properly deployed, these tools play a crucial role in ensuring employees develop new skills and stay engaged while remaining productive despite working in different locations. In the following article, we'll go over some particularly innovative EdTech tools and platforms tailored for remote workforce training and development.
Virtual Reality (VR) & Augmented Reality (AR) Training
VR and AR technologies offer immersive training experiences. For instance, employees can use VR headsets to simulate real-world scenarios and enhance their practical skills. This makes VR especially valuable for hands-on jobs and industries like healthcare, manufacturing, and construction.
Learning Management Systems (LMS)
Modern LMS platforms provide a centralized hub for training materials, videos, quizzes, and assessments, allowing remote workers to complete training sessions at their own pace and track their progress.
While they can be a boon for companies providing onboarding material, these platforms are particularly useful for remote employees who want to broaden their career options by attending or returning to school. Maybe they're attending a single class, or maybe they're getting a new degree with their employer's help — whatever their scenario, the right LMS platform allows them to learn from anywhere in the world.
An essential part of getting an education is asking for help and guidance. LMS platforms give their users access to resources and help from experts. If writing has never been a worker's strong suit, for example, getting essay writing help from EduBirdie can help them develop that skill, making them even more valuable to their employer.
Video Conferencing & Webinar Platforms
Tools like Zoom, Microsoft Teams, and Webex have evolved to support interactive training sessions. Features like breakout rooms, whiteboards, and screen sharing ease engagement and collaboration among remote employees during training sessions.
Microlearning Apps
Apps like Duolingo, Coursera, and LinkedIn Learning offer microlearning courses, which
deliver short, focused lessons that employees can consume on the go. These apps are designed to fit into busy schedules, so they make it easy for remote workers to broaden their knowledge.
Gamification Platforms
Gamification makes training more engaging and fun. Platforms like Kahoot!, Quizlet, and Classcraft integrate game elements like quizzes and leaderboards. Gamification also integrates rewards into the learning experience, which can help drive employees to participate, learn more, and broaden their knowledge.
AI-Powered Skill Assessment
AI-driven tools can assess employees' skills and knowledge gaps and provide personalized recommendations for training courses or modules. This data-driven approach helps employees focus on areas where they need improvement. For example, Codility is a platform that assesses coding skills, provides coding challenges, and automatically evaluates a code's correctness and efficiency.
Another example would be Vervoe, which offers a library of skills-based tests and simulations for various job roles. Other platforms powered by AI that help with skills assessment are Pymetrics, Wonderlic, or Cognifyd.
Collaborative Learning Tools
Remote employees can benefit from collaborative tools like Slack, Microsoft Teams, and Trello. These platforms enable employees to work together on projects, share insights, and support their learning journeys.
Language Learning Apps
Global companies must often contend with workforces that speak multiple languages. Communication is still critical, though, and that's where language acquisition applications become useful. Rosetta Stone and Babbel, for example, make use of sound, text, and images to teach words and grammar. As employees learn other languages, communication becomes easier amongst geographically dispersed teams.
If team members communicate seamlessly and freely, they can send their ideas more efficiently, ultimately improving their decision-making processes.
Peer Learning Platforms
Creating a peer-to-peer learning culture is vital in a remote work environment. Platforms like EdCast and Degreed enable employees to share their expertise and learn from colleagues, fostering a sense of community and knowledge exchange. This is essential not only in a remote working setting but in an office-based one, too.
Feedback & Evaluation Tools
Ongoing feedback and the assessment of performance play pivotal roles in the evolution of remote workforces. Instruments like 360-degree feedback software and performance management systems serve as invaluable aids in monitoring advancements and establishing milestones for growth. Talentsoft or Critiquelt are some of the tools that can provide feedback and evaluation on specific skills.
Virtual Mentoring & Coaching Platforms
Virtual mentorship and coaching platforms serve as a dynamic bridge to connect remote employees with seasoned mentors and coaches. These platforms ease one-on-one interactions and allow coaches and mentors to provide tailored guidance and support to fuel the ongoing career development of each individual. For example, Shine uses AI to provide daily personalized coaching and support for mental health improvement. Fellow app MentorcliQ also uses AI — it matches mentors and mentees within organizations, tracks progress, and provides valuable insights.
Content Creation & Sharing Tools
Training materials should be visually captivating and engaging, and tools like Canva and Adobe Spark allow trainers to create presentations and handouts that capture employee attention. These applications provide a versatile canvas for trainers to infuse creativity and innovation into their content, resulting in materials that leave a lasting impression on learners.
The integration of cloud storage services like Google Drive and Dropbox into the training workflow allows trainers to share documents and collaborate with employees — which can foster a sense of collective effort. In short, harnessing the power of cloud-based collaboration can enhance the quality and effectiveness of their training programs.
Bringing EdTech Tools To The Remote Workforce
Fostering a supportive telecommuting environment that encourages continuous learning and skills improvement is essential. To optimize the advantages of educational technology tools and applications, businesses need to look hard at their remote workforces and determine exactly what tools would prove most helpful.
The EdTech tools we discussed in the article above are just a starting point; as a business owner, you'll need to do additional research to match the right applications with the requirements of your workforce.
This article is part of Buildremote's contributor series. Occasionally, we'll share other people's ideas about running a remote company. If you have a topic you'd like to pitch for Buildremote, send us an idea here.