19 Countries With 4-Day Work Weeks (Proposed Or Law)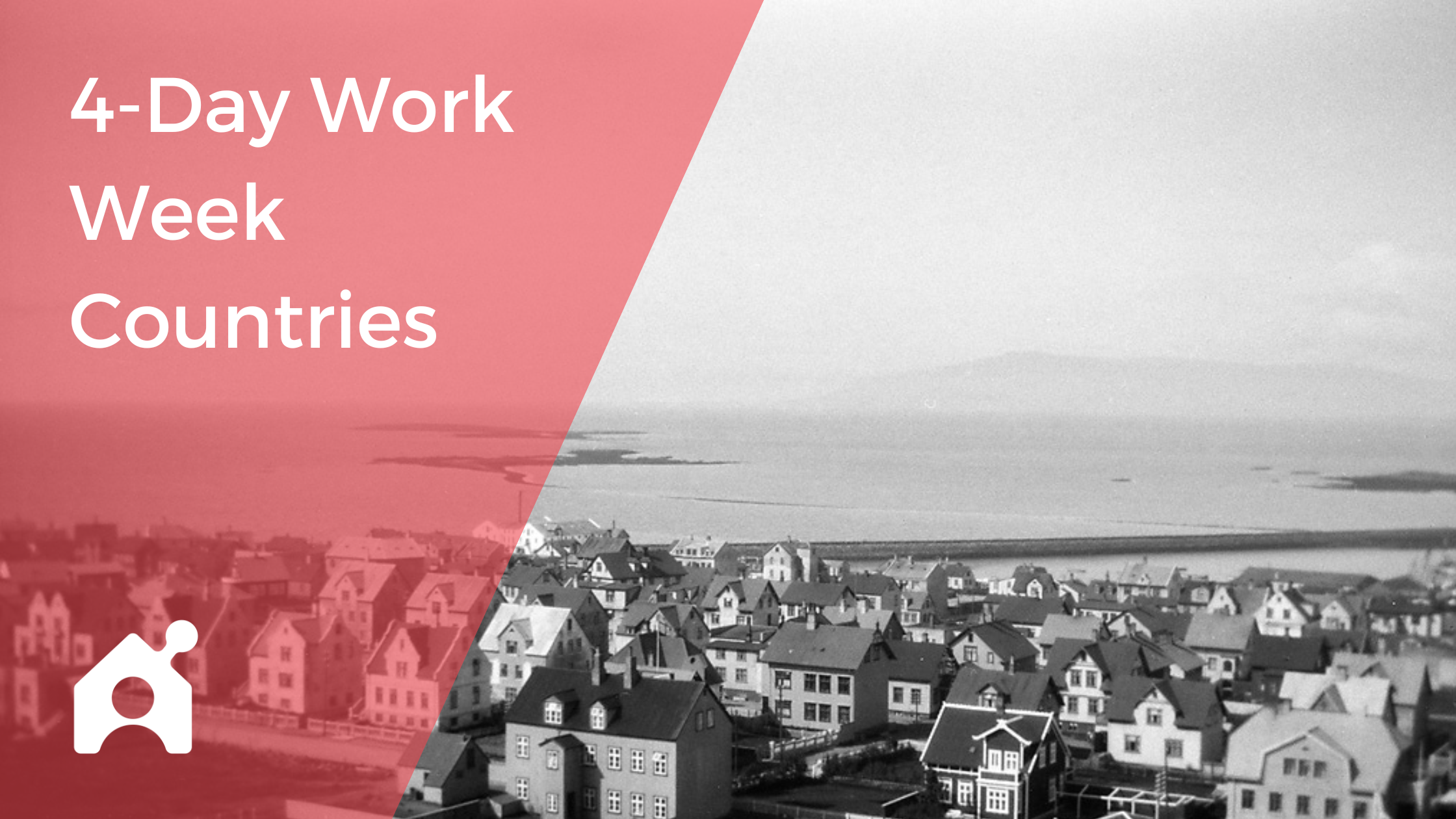 This post was originally written on January 3, 2022. Every time a notable four-day work week country announcement comes out, we update the post. Most recently, this post was updated on April 28, 2023.
Individual companies are the ones leading the charge toward a four-day work week. Often, it's the choice of the employer to offer a four-day work week as a benefit to its employees, to attract or retail talent, or help improve the work-life balance for its team.
But there is a push for the four-day work week in the public sector, too. In most scenarios, this means that a bill would be proposed and voted on to change the legal definition of a full-time worker from five days to four. In some cases, it's a change proposed for the government workers themselves. In others, it is a proposal for all people working in the state.
Here are all of the countries with four-day weeks in some form. They've either 1) implement a four-day work week law, 2) they proposed a new bill, or 3) are trialing it in some way. You'll see I included city, state, and county governments as well to give a full picture of the movement from the public sector. I'll update the list every time a notable announcement comes out.
10 Countries With Four-Day Work Weeks



"The trials were conducted between 2015 and 2019, initiated by the Reykjavik City Council and the Icelandic national government.

The trials ultimately involved 2,500 workers, more than 1 percent of the nation's working population, who moved from working 40 hours a week to a 35- or 36-hour week, without a reduction in pay."

Spain:

"When the progressive party Más País launched in 2019, it included the 4-day work week as part of its platform, and went on to propose the trial that won the Spanish government's approval in January. Although the specifics remain undecided, the pilot, which is expected to launch in September and last three years, will use 50 million euros in European Union funding to compensate an estimated 200 companies for reducing their employees' work week to 32 hours—without cutting their salaries."

Learn more about Spain's 4-day work week pilot.

"Scotland plans to launch a trial four-day workweek. The decision was the culmination of a campaign promise made by the ruling Scottish National Party. Workers will have their hours reduced by 20%, but won't suffer any loss in compensation. The program will be funded by the SNP with a £10 million fund ($13.8 million U.S.)."

"So far, 20 companies have signed up to the six-month pilot, which will involve them trialing a reduction of working hours from February 2022."

Permanent
36 Hours
4.5 Day Week

The United Arab Emirates is moving federal employees to a four-and-a-half day work week to "boost productivity and improve work-life balance," the government announced Tuesday.

Trial, Non-Government


Bill

Non-government pilot

"The U.K. pilot of a four-day work week will begin in June with about 30 companies that have so far signed up for the trial. The six-month long program will see firms allowing staff to work 32 hours per week while leaving their compensation and benefits unchanged."


Bill






September 25, 2022: A four-day work week bill was proposed in the United Kingdom. The bill will be discussed in the House of Commons on October 18, 2022.


"Workers in Belgium will soon be able to choose a four-day week under a series of labour market reforms announced on Tuesday.



The reform package agreed by the country's multi-party coalition government will also give workers the right to turn off work devices and ignore work-related messages after hours without fear of reprisal."

Learn more about Belgium's 4-day work week.

Permanent (For Parents Only)
32 Hours


"In Australia's six-month pilot, to begin in August, employees at 20 companies work one less day a week with no cut to their pay."


Learn more about the average work week in Australia.

"4 Day Week South Africa director Karen Lowe said a four-day work week pilot will start in South Africa in February 2023. She added that 20 companies have signed up for the trial, and the pilot will run for six months."
In the table, you'll see a few different classifications in the "policy" column. Some governments are trialing a four-day work week, while others have made it permanent. Some work 40 hours over four days, while others work 32 hours.
9 Countries That Might Try The Four-Day Week Next
Let's call this our honorable mention section.
Below, you'll see a list of countries where notable politicians have unofficially recommended or acknowledged that a four-day work week could be a benefit for the country. There are no official bills or laws in place, but these countries are the best candidates to turn up on our official list next.
In this post, we track every 4-day work week bill that is currently proposed or has already passed.
Cities & States Using A 4-Day Week
The four-day work week is taking place at the local government level, too. In the table below, you'll find cities and states that are trialing or using a four-day work week.
City Of Morgantown, WV (City)


For the next year a large majority of workers employed by the City of Morgantown will be working four days a week.
The work week is Monday through Thursday from 7 a.m. to 5:30 p.m., according to interim Morgantown City Manager Emily Muzzarelli.

'Employees will work their 40 hours in four days or four 10-hour days,' she said."

Boulder County, CO (County)

"Six Boulder County offices and departments will begin shifting to a four-day work week beginning in 2021.



The move is part of the county's four-day work week pilot program that will analyze the productivity, public satisfaction and cost savings after the four-month trial concludes in April 2021."

"Progressives in Congress are lining up behind a bill that would shrink a regular week of work from 40 hours to 32 — bringing the four-day work week to America.



The Congressional Progressive Caucus just endorsed the aptly named "32-Hour Workweek Act," according to a statement from Rep. Mark Takano, the Democrat representing California's 41st district.

See Also: California Bill AB 2932

Iloilo, Philippines (City)

"We need to adjust because of rising costs of fuel. This will mean savings on electricity and less traffic. As an added value, this will also allow our officials and employees to have quality time with their families for three days — Friday, Saturday and Sunday," said Mayor Jerry Treñas. City Hall targets to open from 7 a.m. to 6 p.m., Monday to Thursday, to cover the required 40-hour work week.


"The Keller Town Hall, Municipal Service Center and the records department of the Keller Police Department will begin a trial of the "compressed work schedule" for employees beginning on May 28, according to a post by the City of Keller."

Learn more about the 4-10 schedule.

"This summer, the city will launch 'The Best for Golden,' a program trial that moves all police department employees from a 40-hour workweek to a 32-hour workweek without a change in pay.
The trial begins in July and will run through the end of the year.
See Also:
In which countries are the most 4-day companies located?
Right now, we have 243 four-day work week companies in our database across 20 countries. 53% of four-day work week companies are located in the United Kingdom, 27% are located in the United States, 5% are located in Canada. No other country takes more than a 3% share.
Here is an analysis of company adoption of the four-day work week by country.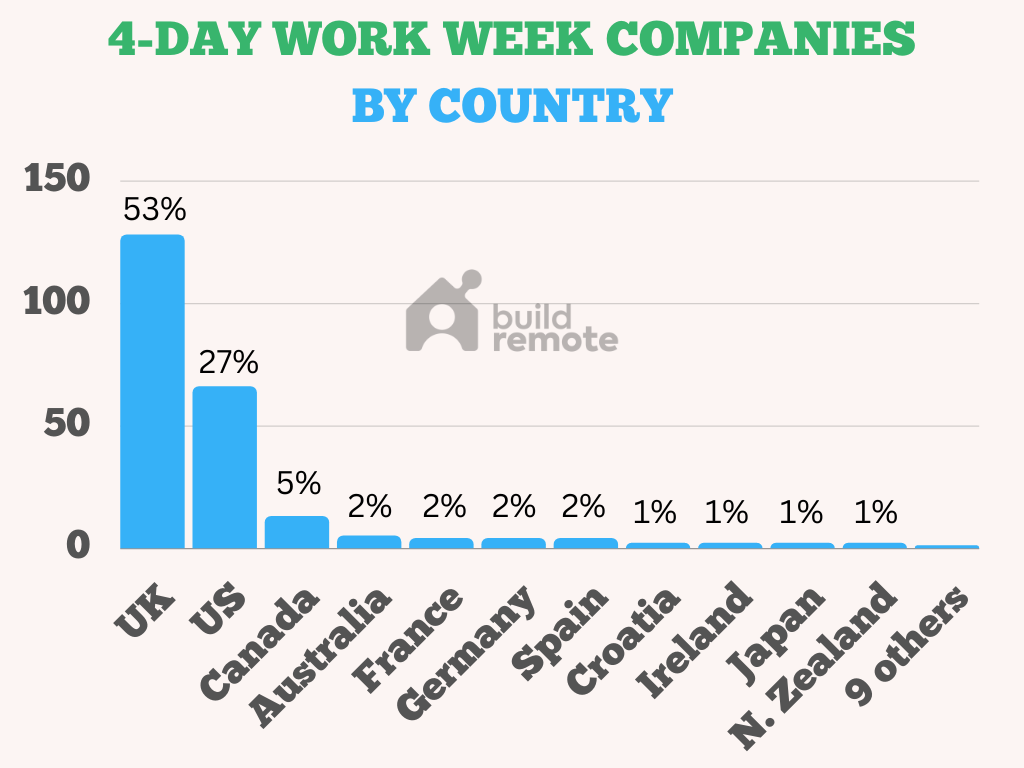 Which country is most well known for its 4-day work week?
Iceland: Between 2014 and 2021, Iceland ran a well-publicized trial of a 35-36-hour work week sponsored by the federal government. The trials covered 66 workplaces and 2,500 workers in total. Its purpose, however, was to measure the impact in a reduction of work hours not to measure the effectiveness of a four-day work week. Participating companies had the option to choose a four-day work week and the press latched on. Although some companies did reduce working hours as a result of the trial, it was by minutes (on average) not hours.
See Also: Every 4-Day Work Week Study
Does Europe have a 4-day work week?
No. Each country within Europe (and each company within each country) can make its own decision about the typical work week length for a full-time worker. However, it is fair to say that European countries are leading the 4-day work week charge. These countries have tested it, proposed it as law, or actually put it into law: Iceland, Spain, Scotland, Ireland, United Kingdom, Belgium, and Lithuania.
Looking for a 4-day work week job?
Take a look at Flexjobs, the world's biggest job board dedicated to remote and flexible work. You'll find dedicated filters to "flexible" and "alternative" schedules.
Search for 4-day work week jobs on Flexjobs.
Our Definitions For 4-Day Work Week Country Policies
Here's how we define the four-day work week policies you see in that column:
Permanent: The country has four work days each week indefinitely.
Trial: The country is experimenting with a four-day week over a fixed time period.
Work Hours: Employees work these amount of hours each week spread over the four working days.
4.5 Day Week: The policy includes working a half-day on Friday (not fully a four-day work week).
Recommendation: This is an officially released recommendation from the government to companies, but nothing is mandated.
Non-Government: This is a movement across the country, but not sanctioned by the government.
Bill: This is a proposal law that has yet to be voted on.
Want to add a 4-day work week country or municipality to the list?