The Present & Future Of Office Space: Tim Kempton [VIDEO]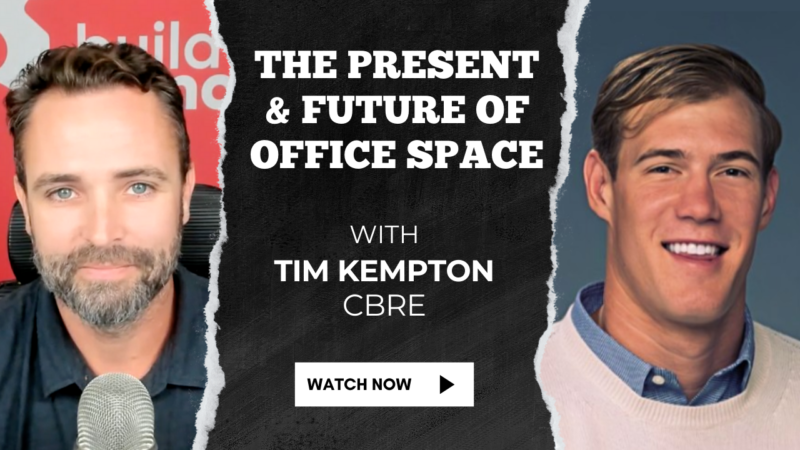 I'm joined today by Tim Kempton, a Commercial Real Estate Advisor for CBRE, the biggest commercial real estate services and investment firm in the world.
Based in Phoenix, Tim helps tech and startup companies in Arizona find office space.
Here are a few things I learned from Tim during the interview.
According to CBRE's Occupier Survey, Tim spotted five trends happening with office space right now.
Office utilization is below pre-pandemic levels, but rising.
Office + remote work (together) are here to stay. Most companies with office space are working on a hybrid model with two-four days per week in the office.
Portfolio optimization means more than just downsizing. Lots of companies are downsizing their office footprints, but there is more happening, too. Some companies are getting rid of land they don't need, others are shifting space to gyms or restaurants that used to be for offices, and some are adjusting lease terms to make shared spaces.
There is a "flight to quality" in office space. Office space vacancy is increasing everywhere, but mostly for class C office space (lower quality). When companies downsize, they can select a smaller, yet nicer space. Class A (highest quality) spaces are still in demand which drives up lease rates.
Occupiers are pushing for flexible terms or shared space options. The times of 10- or 15-year office space leases are likely over. Companies are pushing landlords for shorter leases and more flexible leases that could allow for shared space with other companies/tenants.
Occupiers (with the upper hand) are asking owners to "amenitize" their spaces.
New office builds are way down. In Tim's local market, Phoenix, the amount of new office space square footage being built is way down from 2022 to 2023. However, that office space is all class A (high quality) and it's being leased easily. The new office spaces are almost completely full at the same time vacancy rates across the whole city are at an all-time high. That's because low-quality office spaces are emptying out while high-quality spaces are still in demand.
People want less office space, but they want nicer office space.
As a result, occupiers are demanding from owners that they improve their office space (or they'll leave). They are asking for more amenities like a gym, restaurant, or other attractive features that are in the building but not under the lease.
Interview With Tim Kempton Of CBRE
Learn More About Tim & CBRE