Should You Buy FlexiSpot's Mesh Back Office Chair? [My OC2 Review]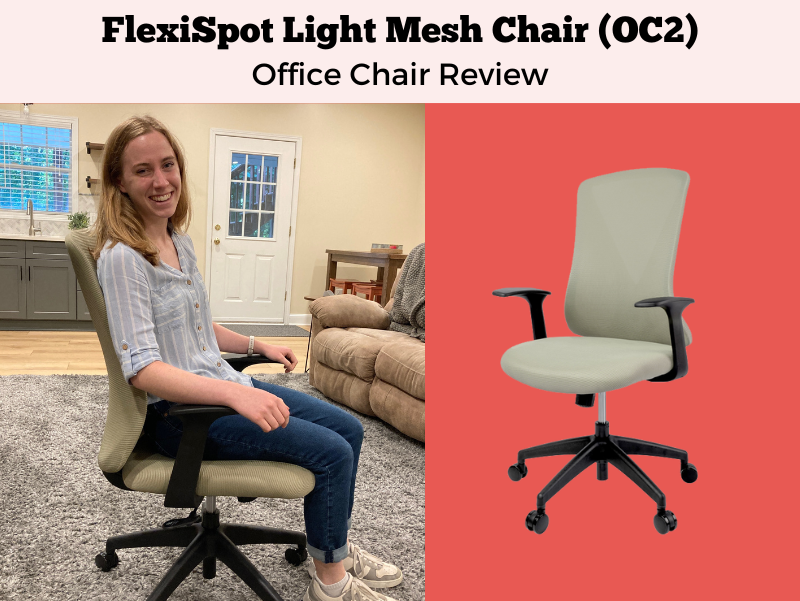 Use the links below to jump to any section of this review of the FlexiSpot Light Mesh Office Chair (OC2), a sleek, affordable home office chair.
Chair Info | Assembly | Features | Comfort | Design & Quality | Ergonomic Support
FlexiSpot Light Mesh Office Chair (OC2)
Rating: 4.6 stars
The FlexiSpot Light Mesh Office Chair (OC2) is a small, mesh, ergonomic chair. If you're in a hurry, here is my lightning-fast review of the chair:
After an easy assembly, three features stood out to me: the chair wheels glide effortlessly on carpet or hard floors, the reclining feature is completely silent, and the mesh back keeps me cool as I work.

For $100, this mesh office chair hits a lot of the checklist items for ergonomic chairs, and it does it in a way that won't break the bank.

4.6 stars (⭐⭐⭐⭐⭐)
Dimensions, Specifications, Pros & Cons
Name: FlexiSpot Light Mesh Office Chair (OC2)
Price: View today's price on FlexiSpot (typically around $100)
Ratings

My review: 4.6 stars
FlexiSpot reviews: 4.6 stars
Amazon reviews: 4.1 stars

Type: Light mesh office chair with lumbar support
Color options: Red, cream, and orange
Assembly time: 20-25 minutes
Features:

Breathable mesh material
Sturdy, quiet wheels and frame

360º rotation
Smooth, effortless movement (on wheels or carpet)
Silent reclining and height adjustment (no squeaking)

Supportive backrest for the price

Mesh back for ultimate breathability and airflow
Mesh is curved for lumbar support
Back tilts from 90 degrees to 120 degrees

Adjustable seat:

Seat can be raised or lowered
Button under seat can spin to adjust how much force is required to tilt backrest
Back can be locked in an upright position (no tilting)

Dimensions & specifications

Chair height (to the top of the backrest): 39.1 inches to 42.4 inches
Backrest tilt: 30 degrees
Seat height adjustable range: ~3.3 inches
Backrest width: 18.4 inches
Seat cushion width: 20.3 inches
Weight: 35.2 pounds
If you're on a mobile device, scroll right to view the full table below.
Pros
Cons

Easy assembly: 20-25 minutes
Multiple color options: Red, cream, orange
Adjustable: For a cheaper ergonomic chair, the back tilt and adjustable height provide good options.
Backrest lock: You can lock the chair so it won't recline.
Breathable, high-quality mesh: The mesh backrest supports your spine and allows airflow to keep you cool.
Ergonomic design: The back supports the natural S-curve of the spine, and the adjustable height allows you to plant your feet on the floor for good posture.
High-quality materials: Firm, sponge-like seat cushion and solid plastic.

Armrests are not adjustable: That's to be expected for an ergonomic chair on the more affordable end, but the armrests do feel a little low.
Undertones in the color: The cream color we tested actually tended toward sage green, which could be a pro or con depending on your preference.
Some awkward assembly moments: This is likely the case for most office chairs, but there were some weird angles to hold for screws (like putting armrests on the bottom side of the seat)
Assembling The FlexiSpot Mesh Chair
Assembly Rating: 4.9 stars
🟢 Overall easy assembly (it took me about 20-25 minutes, with a little extra time to video and take pictures)
🟢 Well-written instructions and a simple process (four easy, illustrated steps)
🟢 It's well-designed, which makes it easy to see where parts fit
🟢 Screws come labeled and organized by size
🟡 Wheels were difficult to pop into the star base (but comparable to other chair assemblies)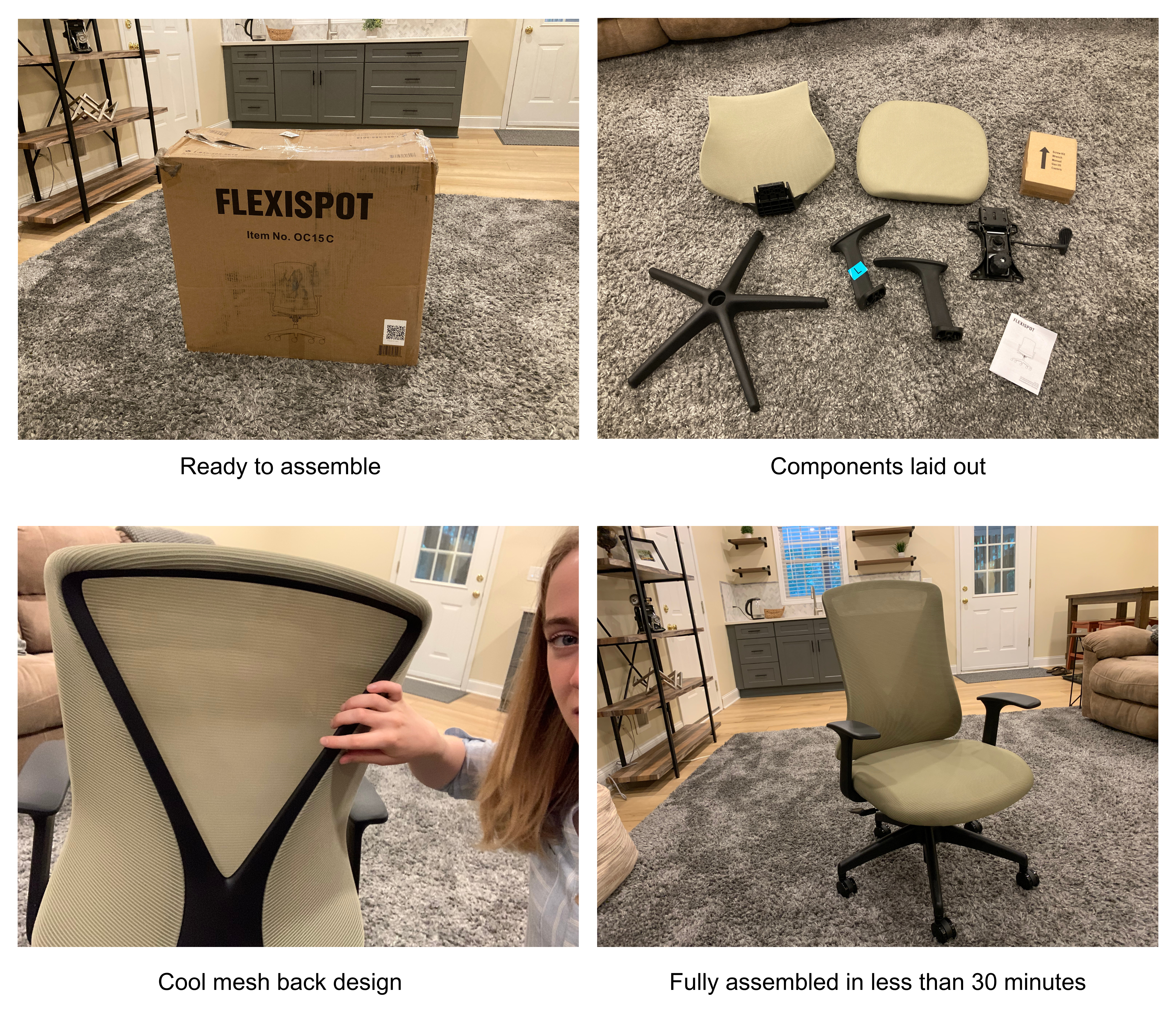 The FlexiSpot Light Mesh Office Chair comes in one box that is 28 by 25 by 13 inches. The chair itself weighs 35.2 pounds, so the packaged box is probably about 40 pounds when it arrives. I'm 5'5″ and was able to get the box off the front porch and into the house without too much trouble.
Compared to toting the large box inside, the setup was a breeze. All the chair components were nicely wrapped in bubble wrap and protected.
FlexiSpot sent the screws in a little blue cardboard pop-out that grouped the types together and listed what each group was for. They also sent an Allen wrench, which was the only tool I had to use.
Putting on the armrests and the chair back was a bit of a challenge due to some funny angles (those parts are done with the chair pieces upside down). Once I got the arms on, I put the chair cushion on a small table. This made sliding the backrest into place and screwing it in a breeze. That's why I can confidently say this chair can be set up by just one person.
As a side note, I have assembled very few pieces of furniture in my life and was nervous about the process. But the instructions were so simple and the chair design was so well thought through that I got the chair set up in no time. I took some breaks to video and photograph the process, but even so, once I got everything out of the box and unwrapped, setup only took me about 20 minutes. I was surprised by how fast it went!
It was a bit of a struggle to get the wheels popped into the star frame. They're definitely a snug fit, so it's more about angles than brute strength. Even this criticism isn't bad, though. I'd rather have a tough time getting the wheels in than have them fall out while I'm using the chair.
In summary, I'd set aside about 30 minutes to get the box off the porch, unwrap the pieces, and set up your chair.
Features Of The Modern, Ergonomic Mesh Office Chair
Features Rating: 4.8 stars
🟢 Backrest shaped for lumbar support
🟢 Back tilts 30 degrees for optimal comfort
🟢 You can lock the backrest into an upright position
🟢 Seat height is adjustable and raises smoothly
🟢 The mesh contours to your back but keeps you cool
🟢 The wheels (and wheel frame) are sturdy, and quiet when moving
🟡 Armrests are not adjustable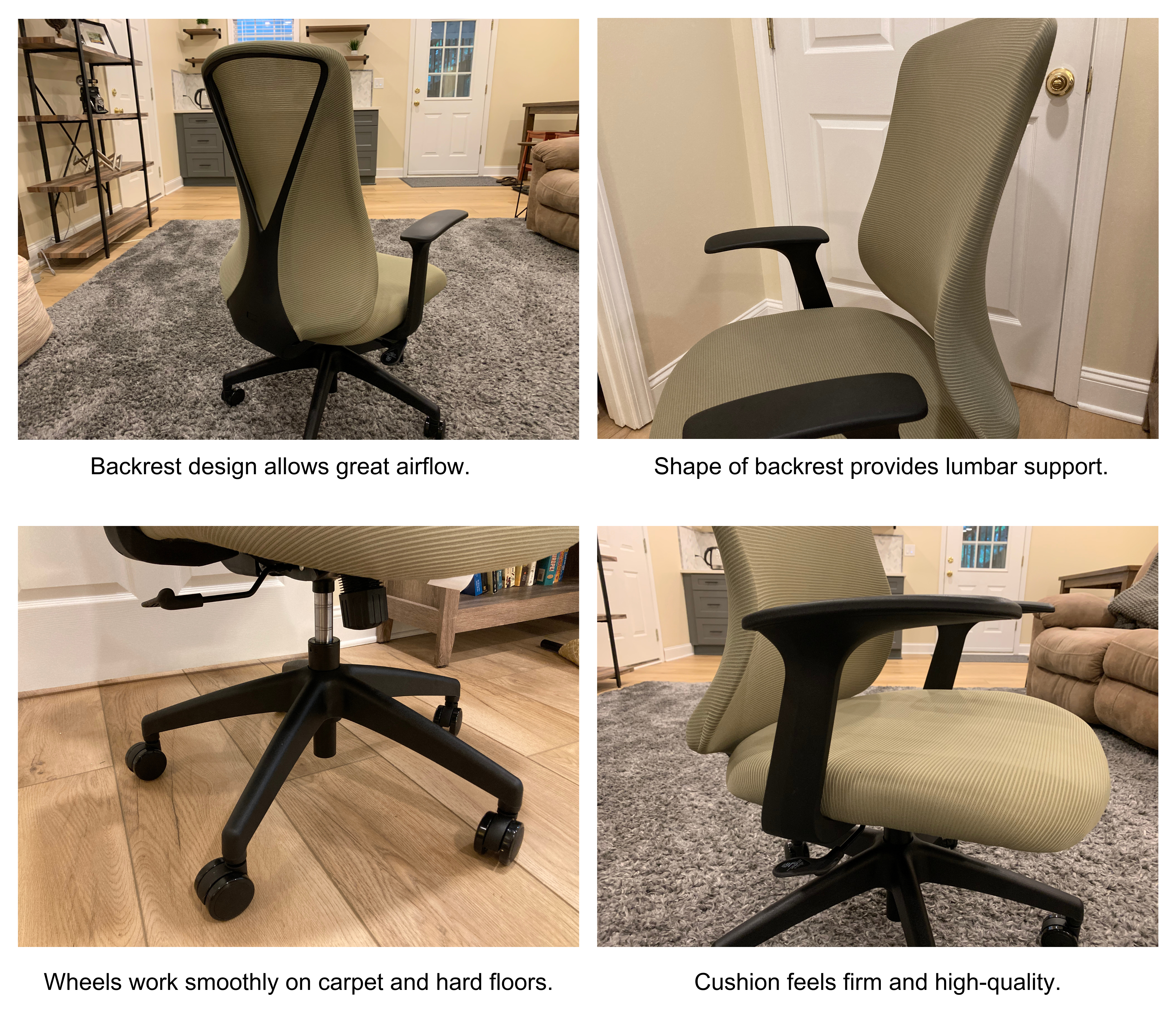 This mesh back office chair is both affordable and ergonomic, with a sleek design that looks good with lots of desk styles. Here are my favorite features:
Backrest tilts from 90 degrees to 120 degrees, giving you a comfortable way to stretch out.
Lever to adjust the seat height and lock the backrest in is directly under your fingertips if you drop your right arm (great chair design).
Airy mesh design keeps your back from getting too hot (as I'm writing this, I'm actually considering putting on a jacket).
Comfort Of FlexiSpot's Light Mesh Chair
Comfortability Rating: 4.3 stars
🟢 Breathability across the backrest keeps you cool
🟢 Spongy seat cushion is firm and provides support
🟢 The reclining function of the backrest lets you move while sitting to keep your back comfortable
🟢 Adjustable height allows for feet to be firmly on the floor
🟡 Lower back support feels lacking after a long period of sitting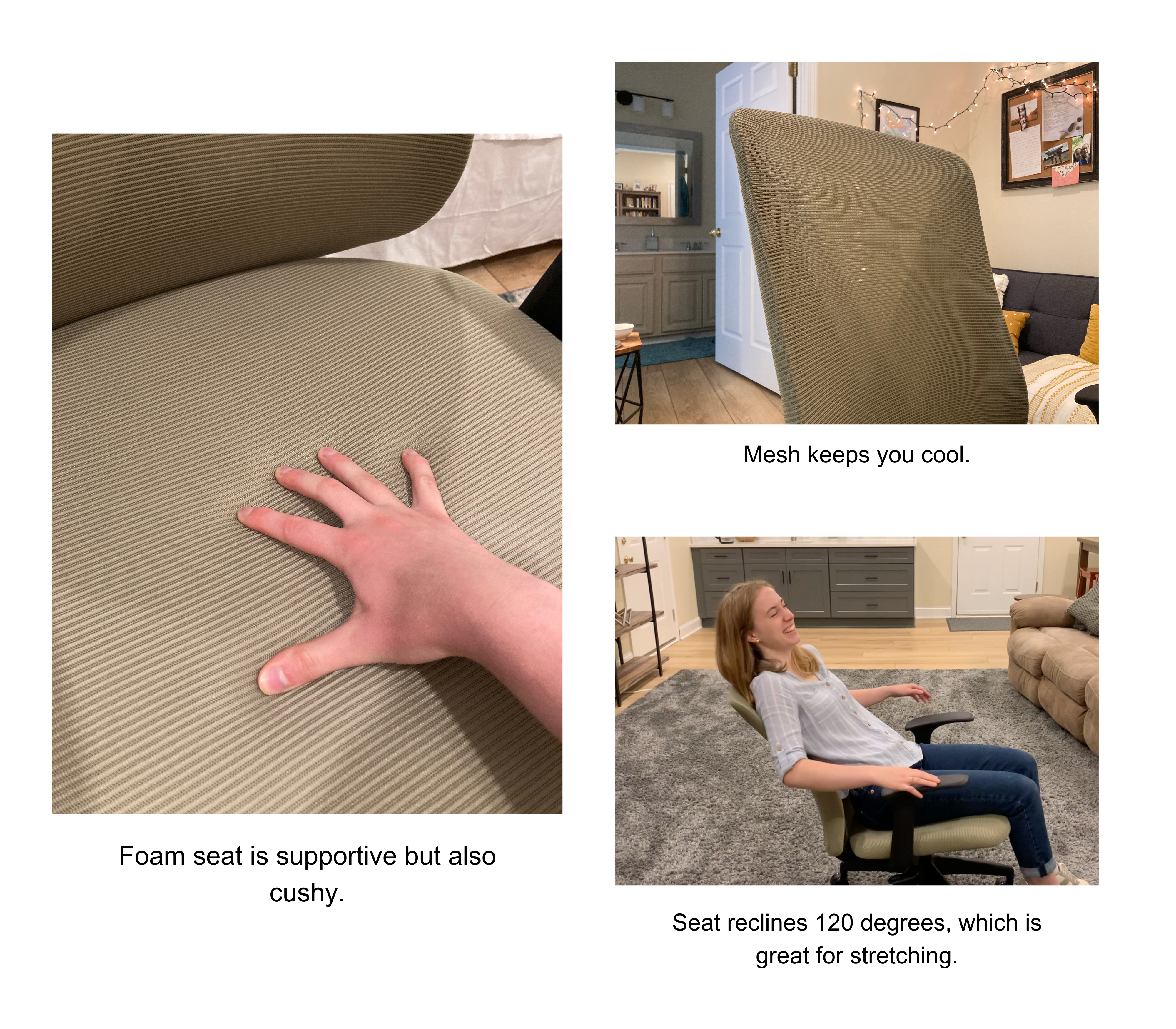 I spent several days using the chair to see how it felt after use. A few things stood out to me:
The mesh is super breathable. I love the design of the chair to keep you from getting overheated. It makes for a comfortable working environment.
The seat cushion stays firm. Besides offering good support and comfort, I appreciated this fact because the chair doesn't show the dreaded butt imprint that some chairs display after sitting for a long time.
It does not take a lot of work to move the chair. I liked that I could roll it over to my desk quickly and silently.
I did notice my lower back starting to hurt after sitting in the chair for long periods of time. (But as a disclaimer, I tend to have a lot of lower back pain when sitting too long.) I got some family members involved to test the chair's comfort (5'2″ and 5'11", respectively), and both members were instantly impressed with the support, so this could be a personal preference.
Both my 5'2″ tester and my 5'11" tester thought the chair height range fit their legs and the back support was the right placement for their spine, so that helped me test whether the chair was geared for shorter or taller people. It works for multiple heights.
I thought the support of the chair overall rivaled that of a couple of the more expensive office chairs I've used over the past few years. It's a good way to get a comfortable, supportive chair without dropping several hundred dollars. It's a good mix between cushy and firm. It's ergonomic, but the seat is a little cushier than some other ergonomic chair models like the FlexiSpot Ergonomic Chair Pro.
Office Chair Design & Quality
Design Rating: 4.6 stars
🟢 Wheels are smooth and roll easily
🟢 Height adjustment is completely silent
🟢 Multiple color options (cream, orange, red)
🟢 Height adjustment lever is placed directly under your right arm
🟢 Foam in seat cushion is firm and high-quality
🟢 Seat reclining and rotation are both silent and smooth
🟡 Armrests are not height adjustable
🟡 Mesh around corners can wear thin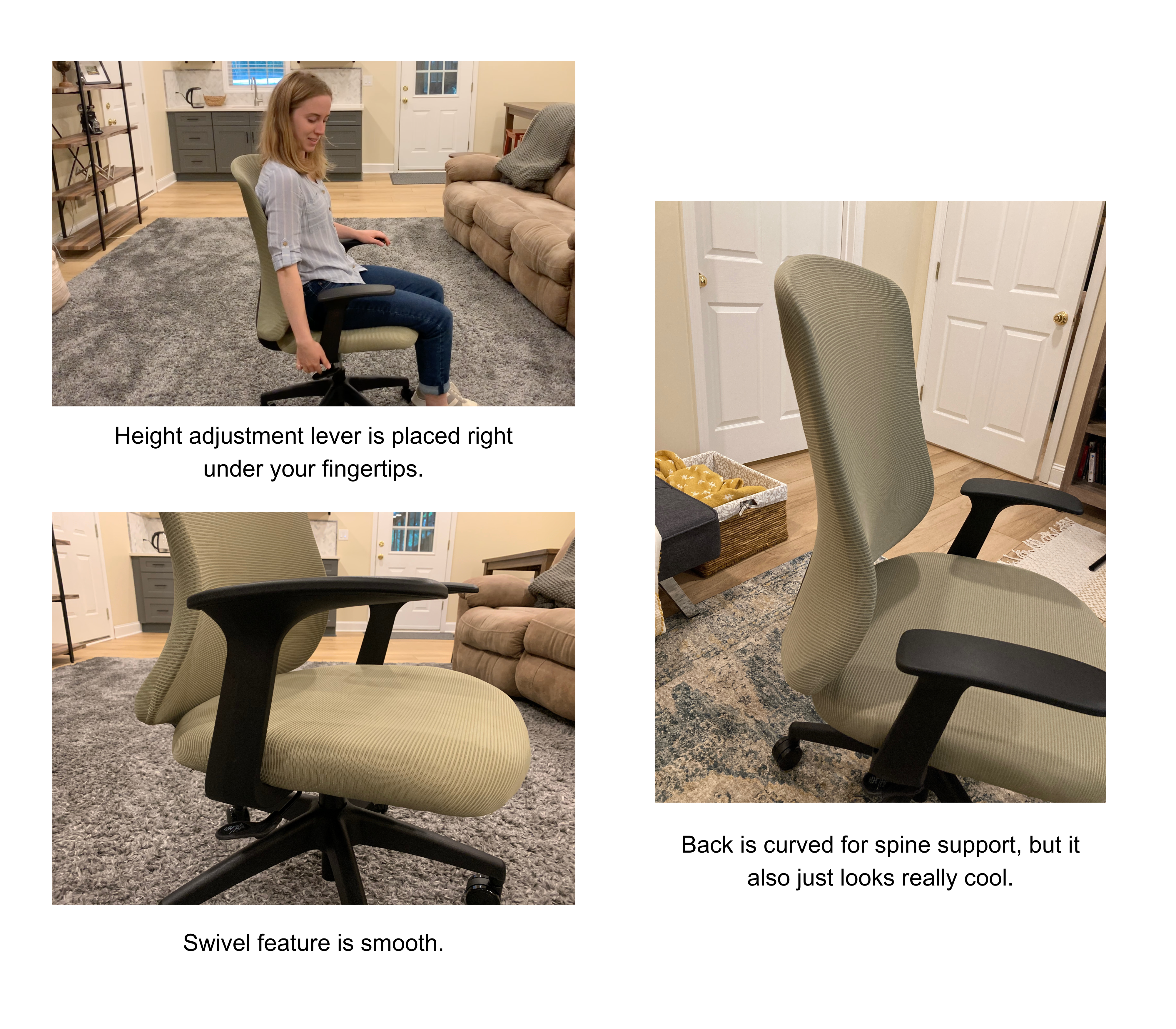 The overall look of the FlexiSpot mesh chair is delightful. I love the modern, sleek design and the way the mesh back wraps around into a V shape in the back. That being said, I did notice a slight tear in the mesh where it was wrapped around the side of the frame. I'm wondering if it will continue to wear thin in those areas along the sides as time goes on.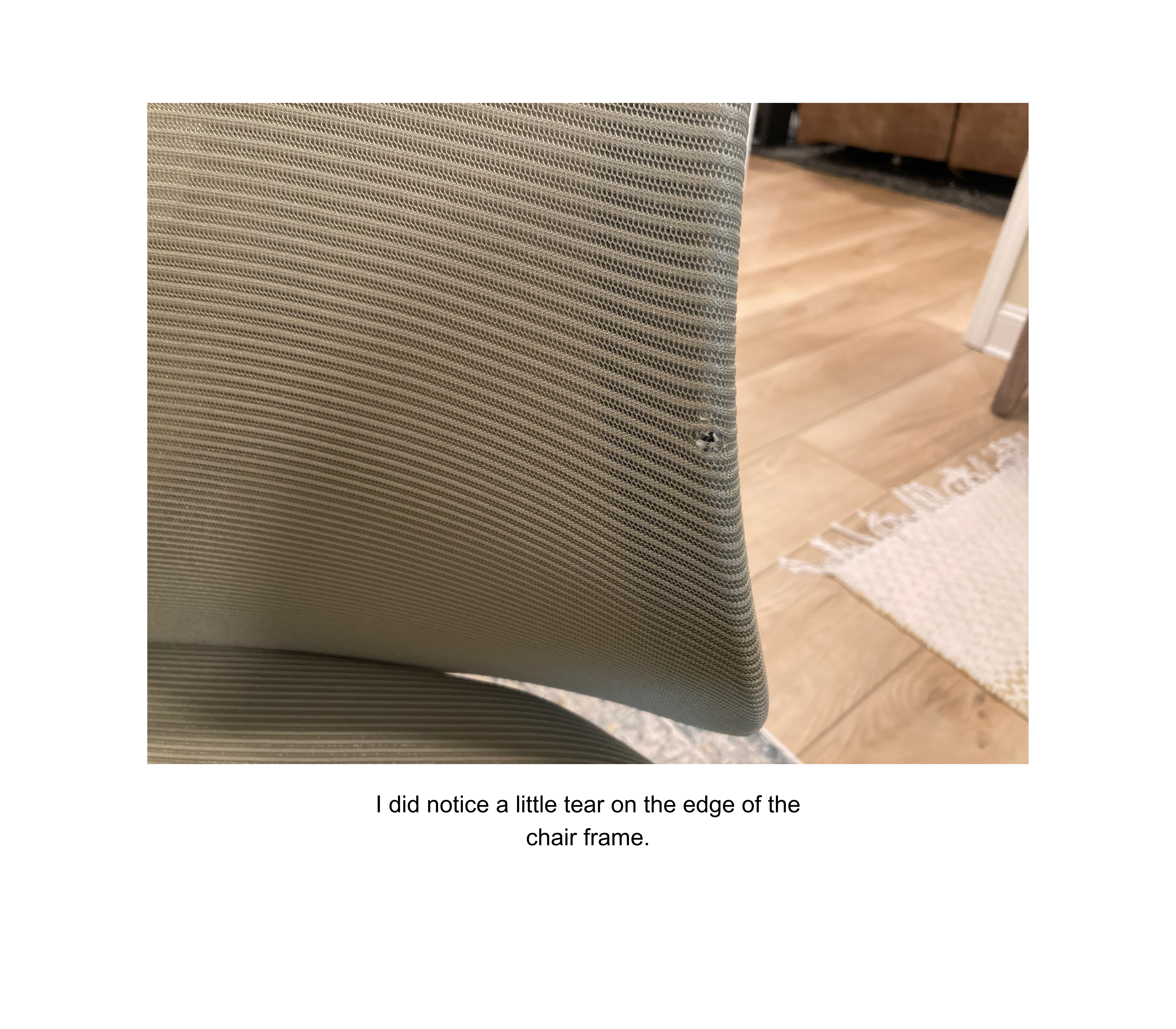 Besides the mesh potentially wearing out, the quality of the materials seems to be fine. I like the cushion FlexiSpot chose to use. It's firm and seems to be well-made.
I would love to see adjustable armrests added to this chair, but I think for the price point there are a lot of other features FlexiSpot chose to spend money on that I appreciate, like the reclining feature, the silent lift for height adjustment, and the metal base.
The entire chair experience is just so silent and smooth, it's impressive for only $100. Even my family members were impressed by the design.
One word to the wise: the color tan usually tends toward either a warm or cool undertone. The cream option for this chair is definitely leaning toward green. I would even classify the chair as "sage." It's a nice color, but I wanted to make note for those of you out there thinking you're going to get an almost-white chair. It's more of an earthy tone than that.
Ergonomic Support
Support Rating: 4.2 stars
🟢 Adjustable height
🟢 Firm seat
🟢 Ability to lean back (it reclines to 120 degrees)
🟡 Armrests do not adjust
🟡 Lower spine area feels less supported after long periods
A lot of office chairs claim to be ergonomic. In Henry's review of the FlexiSpot Ergonomic Chair Pro, he used a checklist created by the University of Pittsburg to figure out if the chair was truly ergonomic. I used the same list to evaluate the FlexiSpot OC2, and here's what I found:
The seat pan is comfortable, but it does touch the back of my knees (instead of providing a little space between my knees and the chair).
The chair height is comfortable and accommodating for a range of heights. (I tested on three heights – 5'2″, 5'5″, and 5'11".)
The overall back support of the chair is good, but there's not a lot of support for the lower back area, which can be noticeable if you're sitting for a while.
The chair is designed to have enough space for hips so you can get your back all the way against the backrest.
The seat pan still feels good after long periods of sitting. It's firm and comfortable.
The seat reclines and provides good back support while doing so.
The base is a five-star pedestal as recommended for better chair stability.
There are armrests, but they aren't cushioned or adjustable.
Overall, I'd say this chair hits enough points on the checklist to qualify as ergonomic, even with the armrest and lower back support issues I mentioned. It's maybe not a $2,400 chair with all the ergonomic bells and whistles, but for $100, this chair does a lot.
I do like how many features this office chair is able to provide at a good price. It's got airy mesh, a modern design, adjustable height, and reclining. I feel like it's on the road to being a full-on ergonomic chair, and it makes ergonomic chairs accessible to those with smaller budgets.
Final Review Of FlexiSpot's Light Mesh Home Office Chair
4.6 stars: Adjustable mesh chair for an affordable price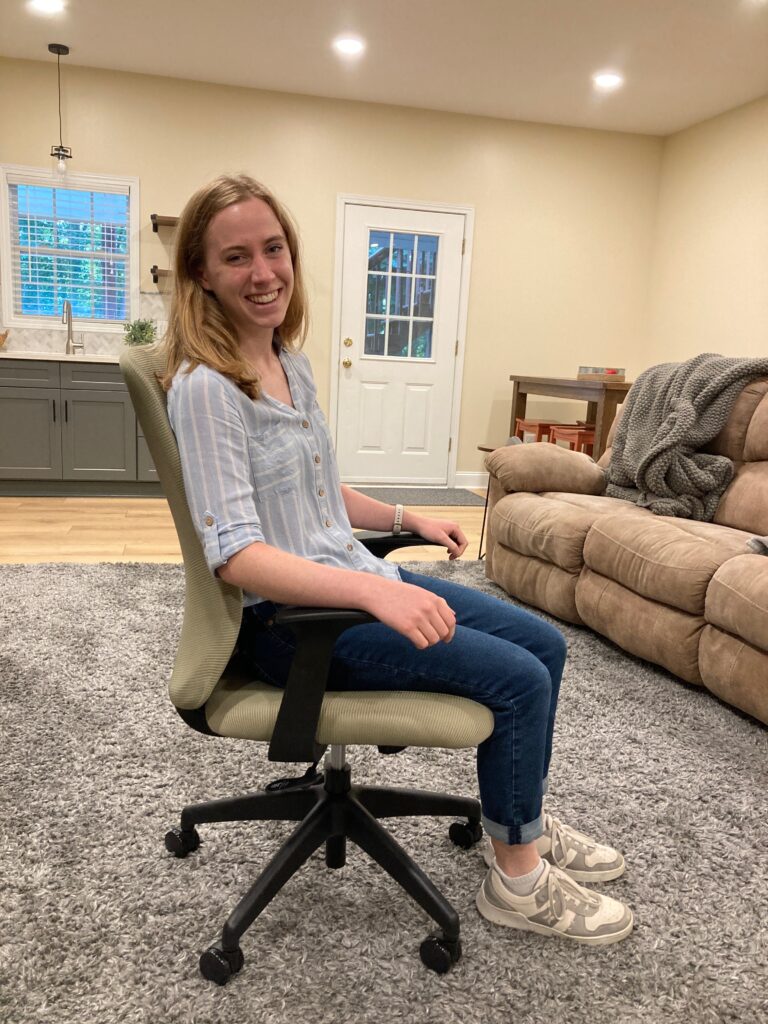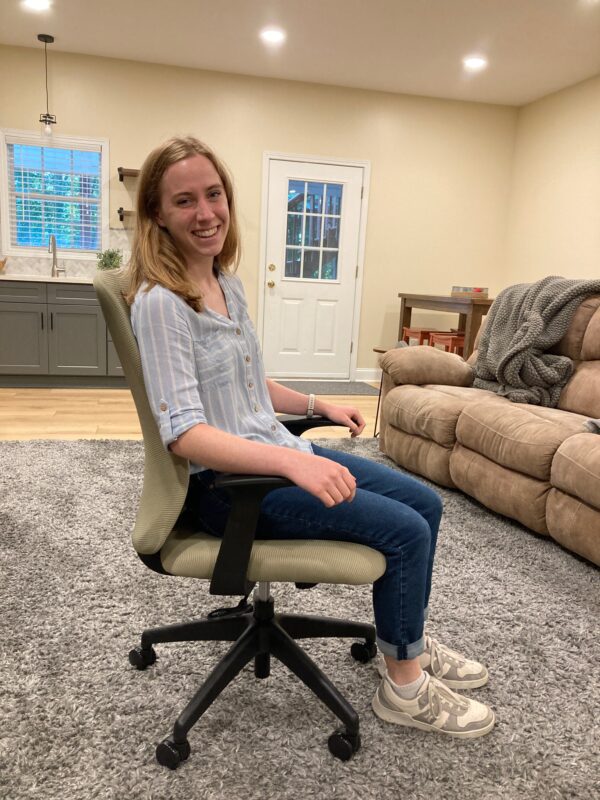 Thank you to FlexiSpot for sending me this chair. I loved getting to test all the features and really get a feel for how it interacts in my little home office space.
In summary, this chair has a lot of great features for the price, including a comfortable seat, great height adjustment options, and airy mesh. If you're looking for a cushy office chair with some nice mesh areas to keep you cool, this is the ticket. If you need more ergonomic support, I would recommend saving up for a chair that focuses on ergonomics. Either way, I'm impressed with FlexiSpot's quick shipping, good packaging and instructions, and cool chair designs.
You can buy the FlexiSpot Light Mesh Office Chair (OC2) on FlexiSpot:
They often have $50 or $100 off sales running (look for those on the page).
You'll get good support by buying directly from FlexiSpot.
It got delivered to me quickly (within a few days).
I hope this review helped you figure out if the FlexiSpot OC2 is right for you.
Do you have any questions? Comment below. We'd love to share our experience with the chair.
See Also: