78 Companies With Unlimited PTO (January 2023)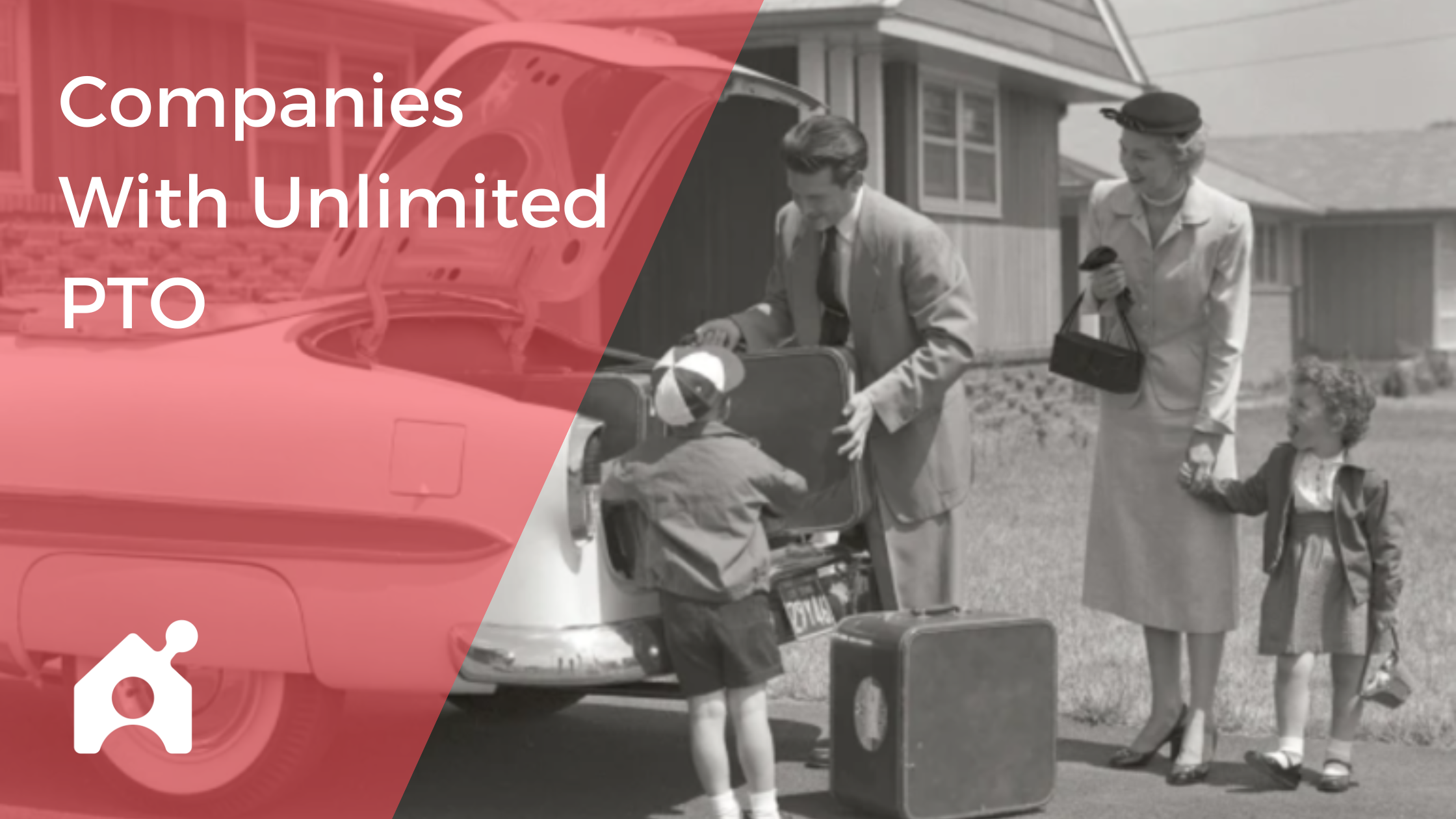 This post was written on April 13, 2022. We updated the research and post on January 11, 2023.
According to one study by the World Health Organization (and shared in Forbes), taking time off from work could literally save your life. The study found that working longer hours (55+ per week) without extended breaks is tied to an increased risk in heart disease or stroke.
So, you should probably take more time off.
And companies have started to figure out the benefits of a healthy work-life balance: taking time away from work makes the employee healthier and happier, which in turn, makes for better quality work. As a result, many companies have implemented unlimited vacation (or paid time off) policies for their full-time employees.
List Of Companies With Unlimited PTO (Paid Time Off)
Here are all of the companies that offer unlimited vacation time. Next to each company, you'll see a link to find jobs at each company. I'll update the list every time a notable announcement comes out.
The Verge

"Microsoft employees are getting unlimited time off. Microsoft will no longer require US employees to formally record vacation later this month, and they're getting a payout for any unused days."


"General Electric's PTO and Vacation policy typically gives unlimited days off a year. Paid Time Off is General Electric's 3rd most important benefit besides Healthcare when ranked by employees, with 18% of employees saying it is the most important benefit. General Electric's benefits and PTO Package averages to represent a $1000 -$1500 cash value per month."

Hubspot

"In addition to a company-wide week off in July, HubSpot has unlimited vacation. You decide when and for how long to take time off. "

LinkedIn

"Pioneered by nimble, forward-thinking companies like Google, Netflix and LinkedIn, unlimited PTO plans provide employees with unlimited time off, which can be used at their discretion."

Comparably

"Oracle's PTO and Vacation policy typically gives unlimited days off a year. Paid Time Off is Oracle's 3rd most important benefit besides Healthcare when ranked by employees, with 25% of employees saying it is the most important benefit. Oracle's benefits and PTO Package averages to represent a $2500+ cash value per month."

Glassdoor

"Still has that startup spirit but with an underlying hint of maturity somewhere around the corner. Open office environment with plenty of chances to learn from others in different departments. As a finance company, you are exposed to the inner working of their products. Benefits are very good, including student loan repayment assistance and unlimited PTO. Love the free lunch in the LDAC dining hall and onsite gym."

Attendance Bot

"Sony Electronics has a no accrual-based system for all their exempt employees. They encourage this policy of unlimited PTO because they believe innovation stems from a clear and relaxed mind rather than an overworked one."

US News

"Along with the unlimited vacation time, there are many benefits that you would expect from a company of Twitter's size. For instance, the company offers its employees 20 weeks of maternity and paternity leave, free snacks and free breakfast, lunch and dinner five days a week."

VMWare

"VMware has a Non-Accrual Vacation (NAV) policy for all US exempt (salaried) employees. You may take time off from work when you and your manager agree, based on business needs. You should discuss your time off in advance with your manager so that business coverage is in place while you are out of the office."

Workday Benefits

"For salaried Workmates, Workday offers a flexible time off (FTO) policy, which allows you to take time off from work when you need to. We trust you to maintain a good balance between your time off and your work responsibilities."

Inc

"Unlimited vacation, which Netflix actually refers to as the "No Vacation Policy," in essence puts employees in charge of deciding for themselves when to work and when to take a break. Advocates of the policy love the freedom and flexibility unlimited vacation offers."

Benefit News

"In effect since 2015, Grubhub's unlimited PTO allows them to show prospective employers that they are putting their workers first. According to their careers page, Grubhub says "we value and encourage having a good work/life balance and want to make sure that our employees have time away from work to relax and recharge."

Yahoo! Finance

Goldman Sachs emerged as one of the strongest advocates of a post-pandemic return to the office this year, but the fight for talent could be forcing the investment bank to reverse course and offer employees more time away from their desks instead.

Starting May 1, 2022 partners and managing directors at Goldman Sachs can 'take time off when needed without a fixed vacation day entitlement,' the memo said


GitHub

"Build amazing things with a balance of autonomy and collaborative teamwork. Set your own work schedule and make use of a flexible PTO plan when you need to recharge.."

Benefit News

"The streaming giant says employees rank their unlimited PTO as their second most important benefit, trailing only healthcare. Their benefits and PTO package estimate a monthly cash value of $1,500-2,500 per month."

GitLab

"For weekend shifts please be particularly mindful about managing your time to ensure you are not exceeding a 38 hour work-week, and feel free to leverage our unlimited PTO policy to complement time in lieu."


"We encourage team members to take a minimum of 3 weeks (15 work days) of vacation time throughout the year, in addition to the holidays (bank, religious or otherwise) they choose to observe. There is no maximum vacation recommendation, though there may be more and longer conversations for unique situations in which a teammate might want to take, say, 6–8 weeks off."

StitchFix

"Time-away programs: Unlimited vacation for qualified roles, competitive parental leave & more"

Evernote

"Recharge your batteries! Employees at Evernote are encouraged to take time off and relax with a $1,000 annual vacation stipend to travel somewhere new."

Zippia

"Employees have the opportunity to work flexible hours if they need a different schedule than the normal 9-5. And if you need a day off, or a week, take it. The company offers an unlimited PTO policy (as long as you get your work done). Oh, and if you need a lift to work they offer a tax-free commuter benefits. You know, those subway costs can add up quickly."

Automattic

"Our open vacation policy (no set number of days per year) is designed to help you to be at your best! There is no minimum or maximum, but we encourage you to take at least 25 days of time off per year."

Force Brands

"Unlimited PTO is just one benefit of working there. Employees enjoy engaging health and wellness initiatives at the office, like "Yoga Wednesdays" and "Kombucha Thursdays," an onsite gym, and free Thrive Memberships."

Flexjobs

"As eligible, Veritone One employees are offered a benefits package that includes competitive salaries, unlimited vacation, stock options, mindfulness resources, parental leave, and employee recognition programs."

QuerySprout

"Instacart has joined the small group of companies that is attempting to better the life/work balance of its employees with unlimited PTO. That means their corporate staff can take off as much time as they need, without it affecting their salaries.

Built In

"Our employees receive between 21 and 31 days per year of paid time off based on years of service. Alliant also offers a Flexible Time Off (unlimited time off) policy for Sr. Managers and above."





"Our perks extend beyond wellness, company bonding, professional development, unlimited vacation, and meals... we want you to understand alternative assets inside and out. Whether it's sending you to card shows/conferences, offering a $5,000 card benefit on our platform to learn to invest, a financial literacy platform, or investing in our different index funds, our employees should be empowered to invest intelligently, just like our customers."

Built In

"We offer industry leading benefits including unlimited vacation that Arcadians are able to use to ensure their work life balance."





"There's not much to it: It's unlimited vacation days. Asana also offers benefits such as a health insurance, a 401(k) and life insurance, as well as perks like gym reimbursements and 16 weeks of paid parental leave for all new parents."


"Pay and Benefits: We offer competitive pay and benefits, including unlimited PTO, holiday pay, free parking, adopt a shelter pet reimbursement, etc."

Blockdaemon

"Unlimited PTO Policy as well as flexible hours"

Built In

"Unlimited PTO, Medical, dental, vision, life; 401k Plan with match; Flexible Spending and Dependent Care; Commuter Benefits; Long and Short-term Disability; Paid Parental leave; Tuition reimbursement; monthly lunches"

Apartment Therapy

"Bright Cellars is a monthly wine subscription service, and in addition to unlimited vacation days for particular roles, company employees also work a flexible schedule, get a discounted monthly wine membership, and attend wine tastings led by the in-house expert."

Built In

"Checkr provides generous benefits and perks including comprehensive healthcare, unlimited PTO, commuter benefits, gym reimbursement, work from home Wednesday and an annual learning and development allowance."

Comparably

"Chegg's paid time off policy offers unlimited paid vacation time for most employees according to 38% of the 504 current Chegg employees who answered, 'How much paid vacation and sick days can you take a year?'"





"We offer many great benefits. One of these is unlimited discretionary time off, a growing movement to place more focus on results and empowerment, not hours worked," says Marilee Moy, VP of people. "Helping employees recharge and remain engaged is certainly commendable, especially considering the positive effect paid time off has on people."

Comparably

"CoverMyMeds' PTO and Vacation policy typically gives unlimited days off a year. Paid Time Off is CoverMyMeds' most important benefit besides Healthcare when ranked by employees, with 67% of employees saying it is the most important benefit. CoverMyMeds' benefits and PTO Package averages to represent a $500 -$1000 cash value per month."


"PTO is unlimited. Take the time that you need. All we ask is that you hit your work go."

Deliverr

"Everyone on the team gets unlimited vacation time, so you don't have to worry about jumping through hoops to take time for yourself."

Techculture

"The scheduling options we typically offer unlimited PTO and flexible telecommuting. And now, during COVID, we are all embracing WFH and depending on the recommendations, employees can go into the office (following all safety guidelines) if they choose."

Built In

"Emotive is a remote first company that offers an array of benefits including competitive salaries, stock options, health coverage, 401K matching, commuter benefits, and unlimited paid time off."

Enervee

"You'll get the chance to jump into the trenches with an exceptional team that cares deeply about our work. We have excellent coffee and utterly delicious snacks, along with catered lunches. Our work environment is supportive & collaborative, and we have great benefits and offer stock options and unlimited PTO."

FloQast

"FloQast provides 100% employer paid Medical, Dental, Vision for employees and their family and unlimited vacation."


"Fulfillment starts with stability and support. Excellent benefits. Unlimited PTO. Parental leave (12 weeks). 401(k) matching. Internet, cell phone, and home office stipends."

GameChanger

"Take time off work and travel the world.
Enjoy unlimited vacation time."

Integral Ad Science

"IAS recently announced an expanded Chicago presence with the opening of a new office located in the heart of the Loop. In its US offices, the company offers unlimited paid time off, comprehensive health insurance, employer 401k match, and much more."





"JW Player's PTO and Vacation policy typically gives unlimited days off a year. Paid Time Off is JW Player's most important benefit besides Healthcare when ranked by employees, with 100% of employees saying it is the most important benefit. JW Player's benefits and PTO Package averages to represent a $1500 - $2500 cash value per month."


"KeepTruckin's PTO and Vacation policy typically gives unlimited days off a year. Paid Time Off is KeepTruckin's most important benefit besides Healthcare when ranked by employees, with 100% of employees saying it is the most important benefit. KeepTruckin's benefits and PTO Package averages to represent a $500 -$1000 cash value per month."





"We believe autonomy is key to job satisfaction, which is why we say the person closest to the problem should solve it. It's also why we offer unlimited vacation time: we trust in our team to manage their own projects and time."

Kronos

"Kronos is one of the cool companies offering employees unlimited vacation. Here – and at the North Pole – we call it myTime, which is simply open time off."

LiveControl

"All the bells and whistles including bonuses, comprehensive healthcare, equity, 401k plans, learning stipends, and unlimited PTO."

BizJournals

"About a year and a half ago, we began to get questions from some of our tech clients about unlimited personal time off, which large companies like Netflix were offering their employees," Christensen said."


"Addressing the root causes of mental health conditions and burnout through benefits and company culture—like expanded paid leave for caregivers, additional support for working parents, generous or unlimited PTO, flexible scheduling, and more—provides a much-needed safety net for employees as they navigate life's challenges."

Moov

"Unlimited PTO. There's life outside of work. Take the time you need when you need it."

Ocrolus

"Benefits are designed to help teammates achieve their personal and professional goals for growth, including an annual learning and development stipend, monthly wellness reimbursement, and unlimited PTO."

Built In

"We have a flexible, unlimited vacation policy. We don't accrue PTO days here, we don't count them against you."

Monster

"We offer unlimited PTO because of the importance we place on flexibility and balance in our employees' lives," says Amber Stann, Pocket's culture and office manager. "For a company where people are self-driven and work hard, we found that it didn't make sense to track the time people took off while not tracking the extra time they put in. The team at Pocket are driven and responsible enough to balance their responsibilities with the demands of their personal lives and need for time to recharge and gather new perspective."

Postman

"All full-time Postman employees have unlimited paid time off (PTO). We strongly encourage everyone to exercise this benefit to ensure that personal and work lives remain well-balanced, healthy, and fully charged. Your body, mind, spirit, and loved ones will appreciate it!"

Comparably

"Procore Technologies' PTO and Vacation policy typically gives unlimited days off a year. Paid Time Off is Procore Technologies' most important benefit besides Healthcare when ranked by employees, with 38% of employees saying it is the most important benefit."

Quantilope

"We have already been focusing on flexible working hours, a high degree of personal responsibility in scheduling and trust between employer and employee since our foundation in 2014. Now, we are going one step further: as part of our new philosophy, we have implemented Unlimited Paid Time Off for all our employees. This allows them to take as much paid time off as they choose."

Power to Fly

"Relativity has an unlimited time off policy as well as two, week-long office closings throughout the year to ensure employees have time to recharge"

Rhino

"Our employees have had unlimited PTO since Rhino was founded."

SADA

"Burnout is real and stress is a killer. Now that I have your attention, let's talk about vacations and Unlimited PTO! At SADA Systems, we're doing our best to end the overworked employee epidemic spreading across the country. "

HR & U

"Add all of this to unlimited vacation time, office hammocks and spontaneous Nerf gun battles, and you have a genuinely awesome work environment. You can even take your dog to some Sailthru offices."

Comparably

"Shopify's PTO and Vacation policy typically gives unlimited days off a year with 67% of employees expected to be work free while out of office."


Force Brands

"In addition to their pub in Red Hook, N.Y., they also have a handy app that allows users to order Small Batch cans in advance, find Sixpoint beers for sale across the country, and learn about new releases in advance. Sixpoint employees can take advantage of major company perks, including unlimited PTO, a tuition, training, and certification stipend, and a 401k program with company match."

Built In

"At StrongArm, we have flexible work hours and unlimited vacation time because we trust our teammate's judgement and dedication to our mission. Solid relationships and trust in our teammates are the glue that holds the team together. Our team truly enjoys our time together. In addition to monthly sponsored events, teammates regularly head to a bar or restaurant outside of work, have each other over for holiday parties, meet our significant others, or celebrate special days together."

Force Brands

"This exciting startup doesn't just offer unlimited PTO — employees can also enjoy a generous parental leave package and the option to work remotely."

TeamSnap

"For years, our vacation policy was basically "take whatever vacation you need." In recent years, we'd refined that to suggesting "about three weeks per year" before opting for an unlimited vacation time policy."

Built In

"Unlimited vacation days and annual $1,000 vacation stipend."

Tulip

"Flexible work and unlimited vacation policy, virtual company events and happy hours."

AngelList

"We have an unlimited PTO (Discretionary Time Off) policy; you can take time off as needed, as long as you discuss with your manager beforehand. In addition, we have 8 company-paid holidays per year."

Fortune "We have unlimited PTO. Management wants us to take breaks so we do not get burnt out. There is plenty of trainings offered to further my knowledge in this career."

Force Brands

"Yumble offers its employees unlimited PTO, along with fitness subsidies, a game room, a pet-friendly office, and, of course, free food."

Cockroach Labs

"Cockroach Labs already offered perks such as Flex Fridays and unlimited vacation, demonstrating that the founders respected their employees enough to let them manage their own time."

Centerfield

"We also offer catered lunches, fun events and company outings, and everyone's favorite: free snacks, regular performance bonuses, generous parental leave, 401(k) matching, paid volunteer time, and unlimited PTO."

DigitalOcean

"Sammy Recharge Days are just one way we prioritize employee wellbeing at DigitalOcean. Our full paid leave policy also includes unlimited PTO so employees can take longer breaks throughout the year."
See Also: Every Company With The Best Work-Life Balance | Going Remote | Doing A 4-Day Work Week | Offering Home Office Stipends | Paying For College
The Most Notable Companies With Unlimited PTO
Here's a list of the well-known companies with unlimited paid time off policies:
Microsoft
General Electric
Hubspot
LinkedIn
Netflix
Oracle
SoFi
Sony
Twitter
VMWare
Workday


See Also: Take a look at Amazon's PTO Policy
Looking for a flexible job at a company that thinks differently?
I always recommend Flexjobs.
FlexJobs is the leading job board for remote, part-time, flexible job listings. You'll see many of the companies on the list below hire on FlexJobs, too. >> Find a flexible position now.
Want to add a company that offers unlimited vacation?
Fill in the form on this page and we'll add your suggestion to the list.
We hope you find this article useful. Just so you know, Buildremote may collect a small share of sales from the links on this page to help keep this site running.