FlexiSpot Comhar Q8 Review: The Best Standing Desk w/ Drawers?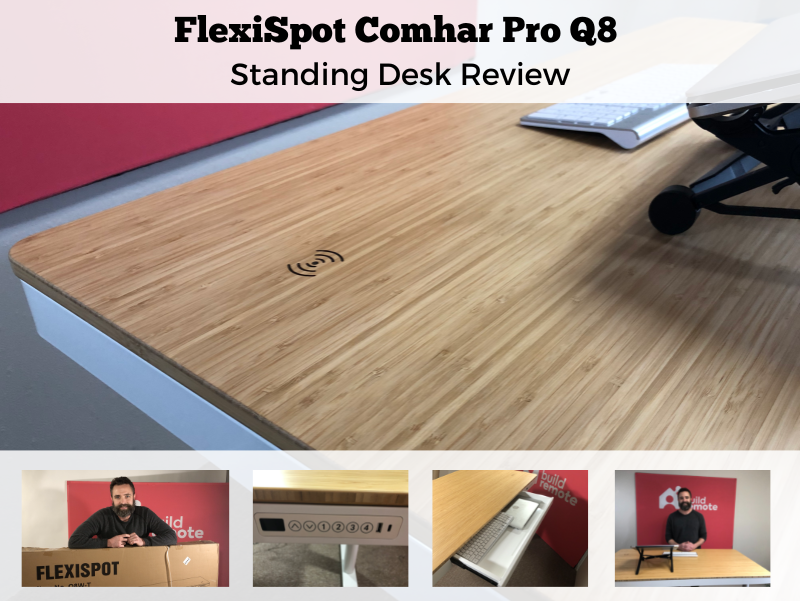 Use the links below to jump to any section of this FlexiSpot Q8 standing desk review. Or, just ignore my breakdown and buy it (since it's that good).
Desk Info | Assembly | Design | Performance | Tech Features | Storage (Drawer)
FlexiSpot Q8 Standing Desk Review
Overall Rating: 4.9 stars
The FlexiSpot Comhar Pro Standing Desk Q8 is my fifth desk – not because the other four were terrible but because I review things like desks for a living.
The FlexiSpot Comhar Pro Standing Desk is the coolest, highest quality standing desk I've seen. It is sturdy and well built, has a beautiful bamboo finish, and comes with all the geeky bells and whistles – height pre-sets, wireless charger, embedded drawer, and USB ports.

I dreaded the assembly (since I'm bad at that stuff), but it turned out to be easy and quick (under 30 minutes).

Winner: The Best Standing Desk With Drawers

4.9 stars (⭐⭐⭐⭐⭐)
Dimensions, Specifications, Pros & Cons
Name: FlexiSpot Comhar Pro Standing Desk Q8
Price: View today's price on FlexiSpot or on Amazon (typically around $700)
Ratings

My review: 4.9 stars
FlexiSpot reviews: 5.0 stars
Amazon reviews: 4.6 stars

Type: Sit-stand (standing) desk
Color: Bamboo desktop, white frame
Assembly time: 15-20 minutes
Shape: Rectangle (rounded corners)
Storage: Yes (embedded drawer + under-desk cable manager tray)
Dimensions

Height: 24 inches (lowest) – 49.2 inches (highest)
Width: 55 inches
Depth: 28 inches
Desktop size: 55 inches x 28 inches
Desktop thickness: 0.6 inches
Embedded drawer: 28.3 inches wide by 12.8 inches deep by 1.97 inches tall

Specifications

Desktop material: Bamboo
Loading capacity: 220 pounds
Sit-stand mechanism: Dual-motor (automatic)
Programmable height pre-sets: 4
USB Ports: USB Type-C (1), Type-A output (1)
Wireless charger: Yes
If you're on a mobile device, scroll right to view the full table below.
Pros
Cons

Beautiful design: minimalist, clean look and colors
High quality materials: wobble-free, durable, sturdy
Easy assembly: set aside just 15-30 minutes
Tech features to geek out about: wireless charger, height pre-sets, smooth and quiet motor, USB ports for laptop/phone)
Functional features to rely on: cable tray to hide wires, anti-collision, weight-bearing (can handle lots of weight like dual monitors), under leg adjusters for uneven floors
Sleek embedded drawer: good size (rare for height adjustable standing desks)
Wide desktop: 55 inches wide with clean, open space

Takes an investment: Typically $700
Heavy: Assembly is really easy, but it is heavy since you're paying for quality (you may need a buddy)

Desktop shipping weight: 75 pounds
Frame shipping weight: 53 pounds

One color, size: Right now, it comes in one color scheme (bamboo & white) and one size (55 x 28 inch desktop)
Wireless charger: The wireless charge is finicky – you need to place the phone just right for it to charge an extended period of time (this is my first experience with any wireless charger, though)
Assembling The FlexiSpot Standing Desk
Assembly Rating: 5.0 stars
🟢 Easy and fast (15-30 minutes)
🟢 Well written instructions and labels
🟢 Great assembly video
🟡 Heavy (may require a buddy to move it)
The FlexiSpot height adjustable standing desk comes in two boxes – the desktop and the frame.
And boy, they are heavy at 75 pounds and 53 pounds, respectively. I could lift the boxes and assemble them myself, but I used to lift weights and now I have dad strength. So, you know, I'm strong. Since it is high quality and heavy, you may need a buddy to lift or assemble it.
I was dreading the assembly since 1) I am bad at assembling things and 2) my last standing desk (the Fully Jarvis standing desk – which is now no longer being sold) took me multiple hours to assemble (although that was five years ago, maybe that has improved). So I put off assembly for weeks, but assembly turned out to be really easy. I would set aside just 15-30 minutes. It took me 24 minutes with lots of stops to collect the videos and photos you see in this review.


Design Of The Standing Desk
Design Rating: 5.0 stars
🟢 Beautiful bamboo desktop finish
🟢 Simple colors and design that can fit with any home office decor
🟢 High quality, sturdy, and steady
🟢 Easy to keep clean and new (scratch resistant)
🟢 Rounded corners (desktop, legs, and support)
I could have mentioned this earlier, but this is now my wife's desk. I assembled it, reviewed it, and handed it over to my home office partner. What a deal, huh? ? So once I finished assembling it, I called my wife and said, "This desk is friggin' sweet."
It is a beautiful piece of furniture for a home office, and it's simple and versatile enough to fit with just about any decor or color scheme in your office. On top of that, it is high quality, sturdy, has a quiet motor, and just plain looks great.


FlexiSpot Desk Performance
Performance Rating: 5.0 stars
🟢 Embedded drawer and control panel so nothing sticks out
🟢 Under-desk cable tray to hide your wires
🟢 Weight capacity of 220 pounds so you can put as much equipment on the desk as you'll need
🟢 Adjusters/coasters under the bases allow you to level the desk on an uneven floor
🟢 The dual motor makes for steady and quiet lifting and lowering
🟢 Anti-collision system stops collisions before they happen (if wires are caught or a file cabinet is underneath)
The assembly was easy and the design is beautiful. But those two observations carry me just about one hour into ownership of the FlexiSpot Comhar Pro Standing Desk Q8. I needed to give it a few weeks to see how it performed.
Once we broke it in a bit, here is what I started to appreciate about the performance of the desk. The design (particularly the embedded drawer and under-desk tray) allow for you to keep all of your knick knacks and wires out of the way. The dual motor, leg adjusters/coasters, and quality materials allow for stability, quiet lifting/lowering, and a steady workplace.
Like I said in the design section, it's "pretty friggin' sweet."


Tech Features Of The Standing Desk
Tech Rating: 4.8 stars
🟢 Four programmable height pre-sets (so you can set your preferred heights once)
🟢 Smooth and quiet motor
🟢 Two types of USB ports (USB Type-A, Type-C output) – basically a regular one and one for Apple products
🟢 Digital display of the height
🟡 Wireless charger (sweet!) but it only works if the device is placed just right (and loses a charge if it moves)
This desk is tricked out. Somehow it accomplishes a simple, clean design but offers all of the gadgets you'll use. At any given time you can charge a laptop (USB-A), Airpods (USB-C), and a phone (wireless charger) without any electrical outlets. The wireless charger's inconsistent performance is the only part that takes this from a 5.0 star desk to a 4.9.
Set the heights you want (sitting, standing) with four pre-sets. I'm sure four is the absolute most you'll need (since I can only think of two). Then hide any other cables and wires you need with the under-desk cable tray.


Storage Drawer
Storage Rating: 4.9 stars
🟢 Embedded drawer with good space (28.3 inches by 12.8 by 1.97)
🟢 Out-of-sight storage without compromising the look & feel or space
🟢 Under-desk cable tray to hide your wires
When I say the FlexiSpot is the best standing desk with a drawer, keep this in mind – most standing desks have no storage at all. Manufacturers want to limit the weight and complexity. So I am comparing the drawer capacity to other standing desks only (not all desks). You can find small desks with more storage, but they aren't standing desks.
For other standing desks with drawers, here are your typical options:
If you want to get a standing desk and you'd like to have drawers, the FlexiSpot Comhar Pro Standing Desk Q8 is the winner on quality, longevity, and storage capacity.
Final Review: FlexiSpot Q8 Is The Best Standing Desk With A Drawer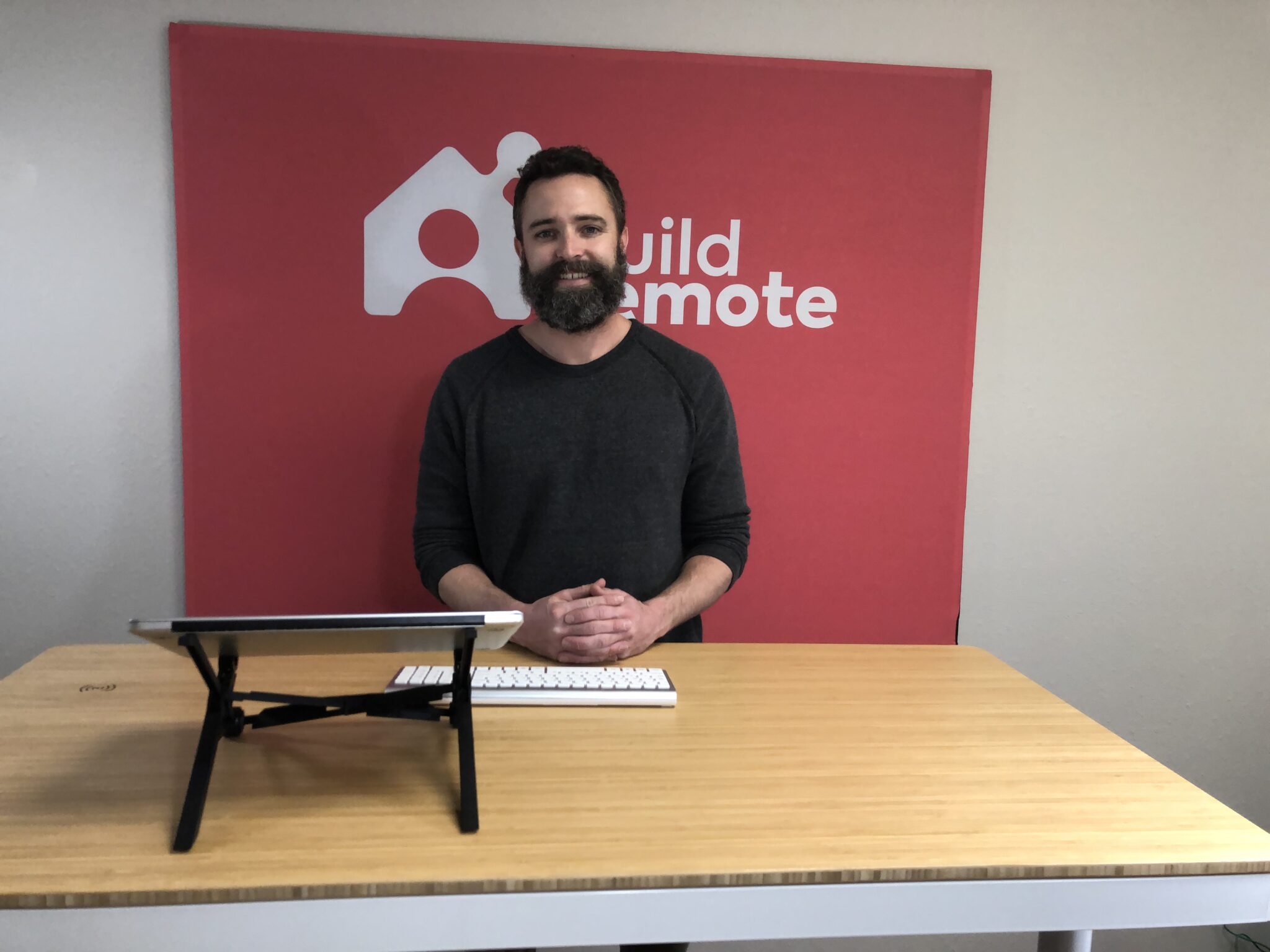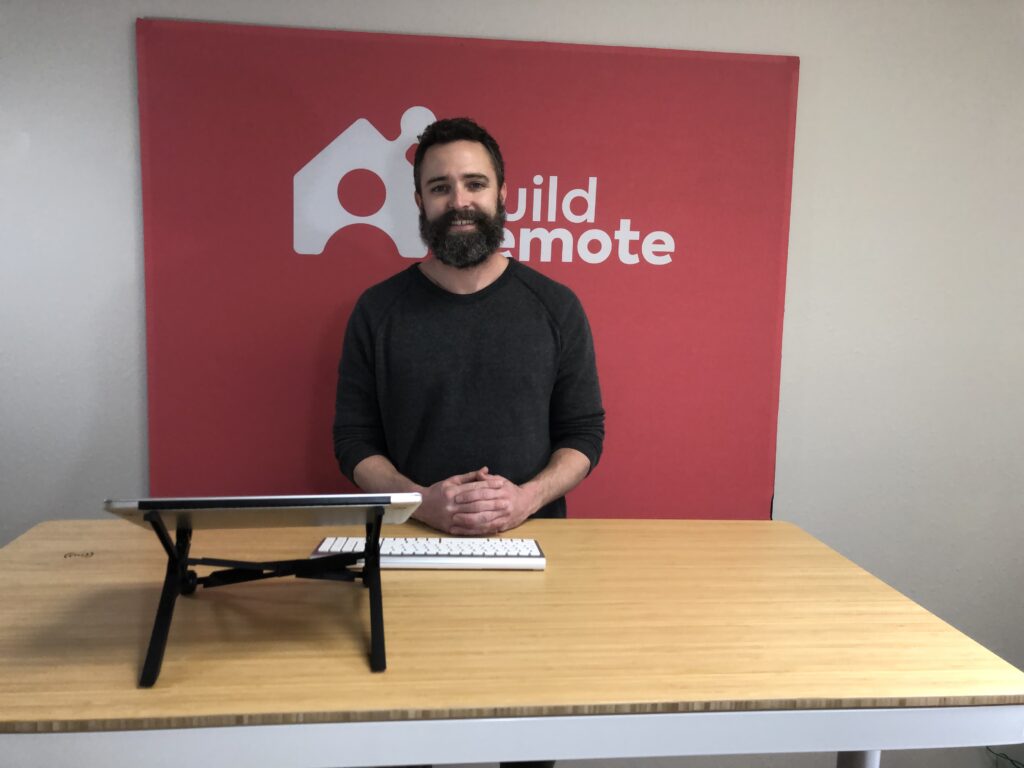 Thank you to FlexiSpot for sending us the desk. I am psyched to have it as a key feature in the office for years to come. Well actually (if you read this review thoroughly)… my wife is excited. But I'll like looking at it – and occasionally using it – in our two-person office.
If you're ready to buy, here's what I would do: Check the price on FlexiSpot then on Amazon.
If the prices are similar, buy it on FlexiSpot. Here's why:
They often have $50 off codes or sales running (look for those on the page).
You'll get much better support buying directly from FlexiSpot.
It got delivered to me super quickly (within a few days), so that Amazon advantage is removed.
I hope you like it as much as I do.
Do you have any questions? Comment below. I'll be happy to share my answer.
See Also: