37 Desk Organization Ideas: The Well-Kept Guide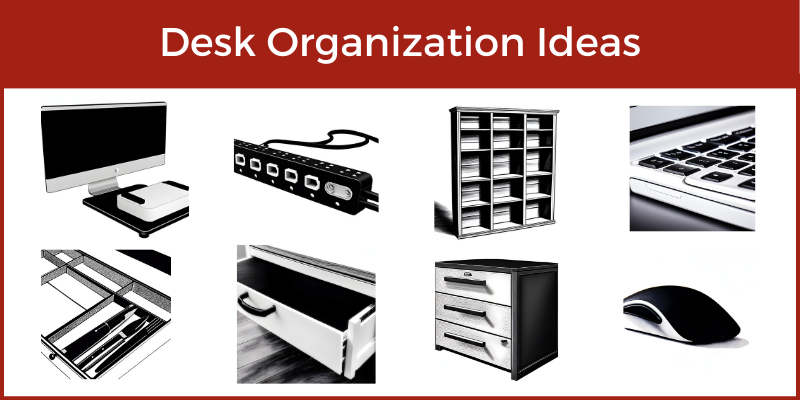 It's nine in the morning, and you've already gone for a run, taken a shower, and made a cup of coffee. (Okay, if we have to be real, let's at least keep the coffee part.) You're ready to get to work.
Except when you get to your desk, you stop short. You can't even see your desk for all the clutter on top of it.
As you hold your coffee cup and stare at this monstrous mess you used to call a desk, you realize all this clutter is costing you time. Last week you spent so long untangling your laptop charger from the other cords that your computer died.
You need to organize so you can focus on getting work done. Luckily for you, we've compiled a list of the best desk organization ideas out there. We've split the article into two sections:
The Best Desk Organizer Products and Accessories
If you are on a mobile device, scroll to the right to view more columns.
See Also: Home Office Organization: The Best Ideas | Top Desks with Storage | Best Minimalist/Simple Desks
Desk Organizer Products Explained
Here are all of the desk organization product ideas listed in the table with pictures and explanations below.
On-Desk Cable Block: INCHOR White Cable Clips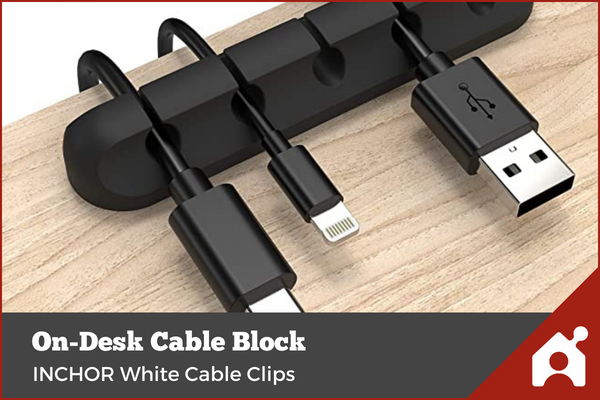 Chords are a messy part of any desk, so a cable block is one of the best desk organizer ideas. This cable block lets you organize all your charging cords in one place. It's made of flexible silicone with an adhesive back that sticks to almost any surface. Not only does it keep you from having to untangle your cords, but it's also one of the most affordable ways to make your desk instantly more organized.
Screw-In Cable Management Tray: PAMO Cable Management (Set of 2)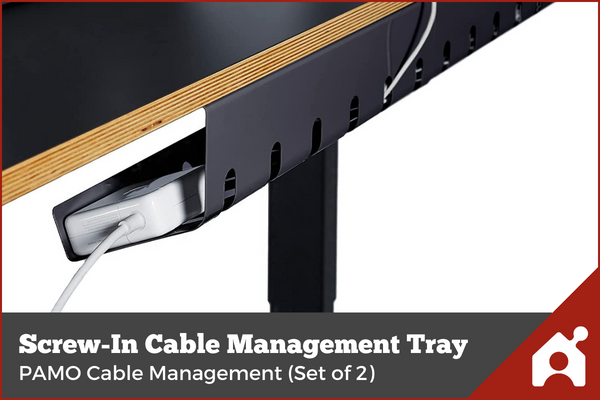 PAMO's cable management trays mount beneath your desk to help you hide and organize your cords and power strips. PAMO's trays come in sets of two or three and include screws and cable ties so you have everything you need to redirect your cords under your desk and free up surface space.
No-Drill Cable Management Tray: Quszmd Under Desk Cable Management Tray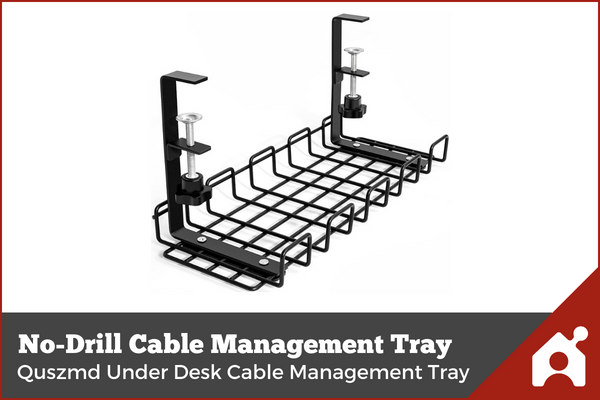 This cable management tray by Quszmd is a great alternative to the mounted tray we listed above, because this product doesn't require any drilling. If you want to organize your cables and hide them under your desk without having to drill holes in your desk or your wall, this is a great option.
Under-Desk Power Strip: FlexiSpot Under Desk Power Strip with USB PS016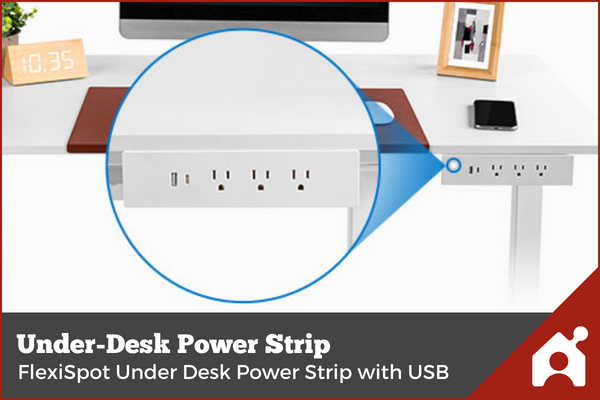 This FlexiSpot power strip has three outlets, plus two types of USB charging points. Tuck it at the back of your desk to raise your outlets for easier access. The white, minimalist design will help it blend in with your desk so you can get a clean, organized look.
Under-Shelf Hooks: NearMoon Screw Mounted Ceiling Hooks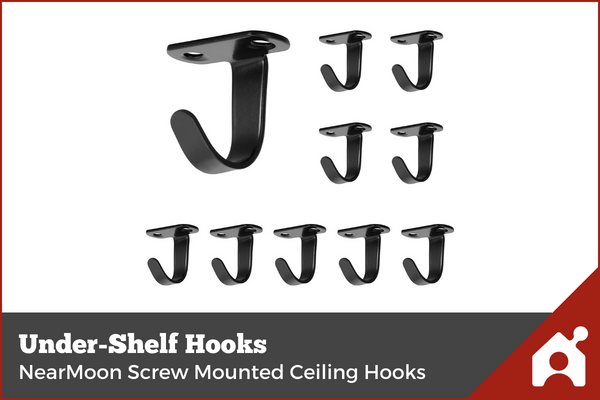 If you have extra charging cords and cables you need to keep at arm's reach, these stainless steel hooks are a great way to organize them. You can mount the hooks under your desk for easy access. The hooks can also hold empty mugs, slim headphones, keys, and anything else you want to keep off your desk.
Wall-Mounted Shelf with Hooks: Dahey Wall Mounted Organizer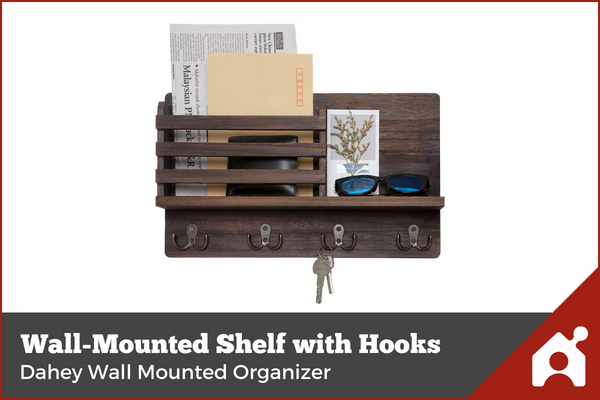 This mounted shelf with hooks by Dahey is a great way to get papers, mail, and extra cords and chargers organized and off your desk. It's 15.8" wide and comes in white, black, and wood finishes so you can coordinate it with your desk.
Desk Drawer Dividers: Bambüsi Adjustable Bamboo Drawer Dividers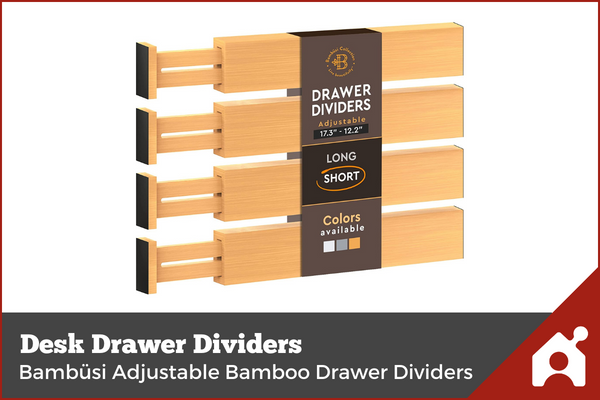 When you want to quickly clean your desktop, we all go for our favorite fix – shove things in the drawers. That's why a drawer divider is one of the best desk organizer ideas. It forces you to stay organized in hidden places.
With this product, you can divide your desk drawers to finally keep those pesky pens, markers, and paper clips in order. These bamboo drawer dividers come in two sizes and offer gray, white, or natural bamboo finishes. They're spring-loaded, which means you won't have to drill any holes in your drawers.
Pro tip
"It is so important to have the essentials organized. When you open your desk drawer you want to be inspired to work! That means your essentials like paper clips, a stapler, tape, and pens should be neatly categorized and organized when you open your drawer. The simple and easy solution for this is to add drawer dividers. You can get these at any store, and they will transform the desk drawer so quickly that you won't have to spare a minute of work!" – Christina Giaquinto of Modular Closets
Desk Drawer Organizers: KeFanta Desk Drawer Organizers (22 Pack)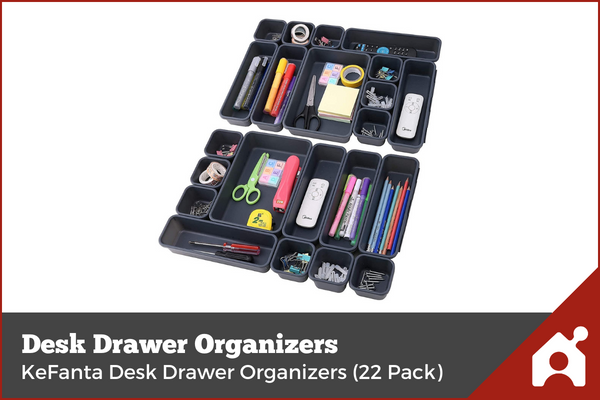 These drawer organizers interlock to let you create the layout you need so you can organize to your heart's content. KeFanta offers great color options, and you can get either 22 or 32 organizers in a pack.
Under-Desk Drawer: VIVO 16" Under Desk Mounted Pull-out Drawer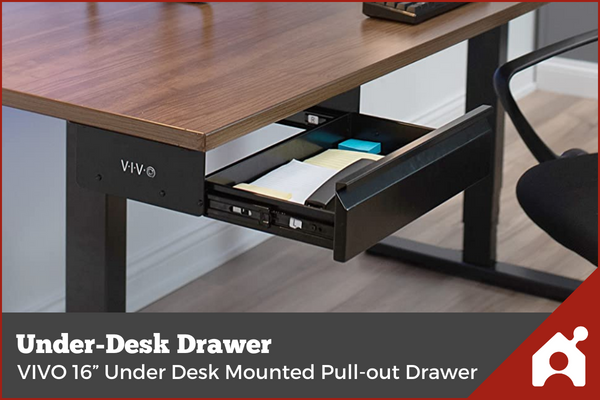 This VIVO mounted drawer will let you update your existing desk to provide more storage. It's small enough that it will fit nicely under most desks, and it works for standard desks and standing desks alike.
It comes in both white and black so you can pick the color that works best with your desk.
See Also: The Best Standing Desk With Drawers: 7 Front-Runners Reviewed
Monitor Riser: BONTEC 2-Tiered Monitor Stand Riser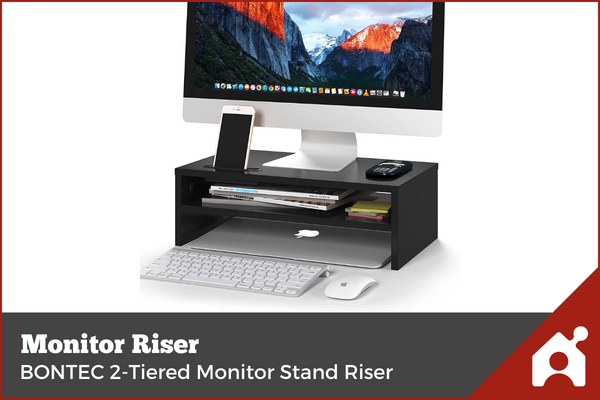 Raise your monitor to eye level and get additional storage at the same time. This two-tiered riser by BONTEC has a slot for your phone, a place to thread your cables through to keep them organized, and a simple, sleek design.
This is one of the best small desk organization ideas, too, to add more desktop space by adding a second level.
Monitor Arm Mount: VIVO Single Monitor Arm Desk Mount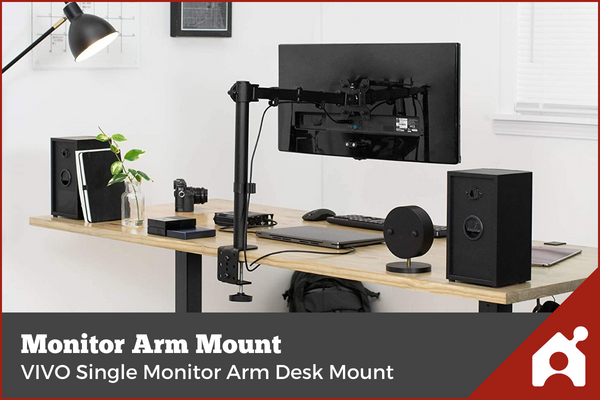 Get more surface on your desk by adding a monitor stand by VIVO. The arm mounts to the back of your desk to create a clean, minimalist look. Plus, the arm comes with cable management so you can keep your computer cords organized once it's mounted.
Shelves: IRONCK Industrial Bookshelf Double Wide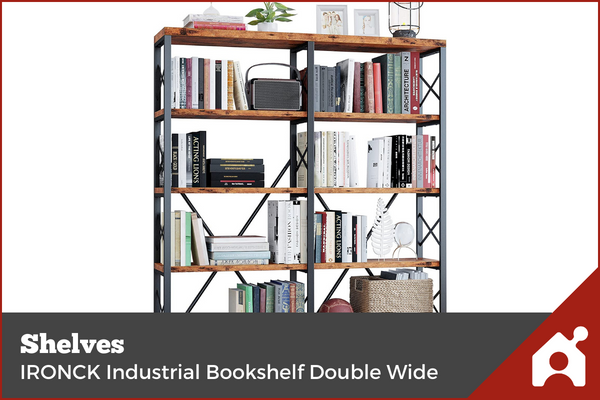 This is the winner of our "best overall" award for the home office shelving guide. If you need a big, open storage stage, try out this double-wide bookshelf (or the triple-wide listed below). These are heavy duty, high quality for the price, and highly rated.
File Cabinet: Flexispot File Cabinet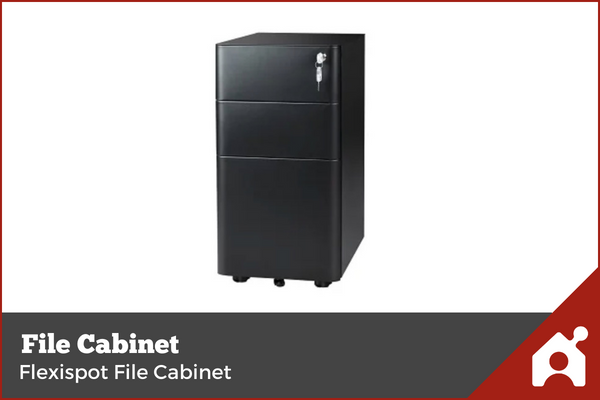 For sensitive documents, a lockable file cabinet is necessary. This file cabinet is highly rated, sturdy, and has drawers designed to fit specific paper sizes. If you specifically need home office file storage, start with this option and compare other choices you find to this product.
Storage Bins: NEATERIZE Storage Cubes (Set of 6)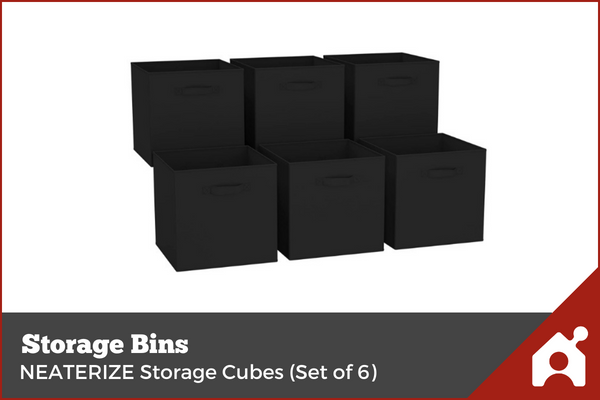 These storage cubes are highly rated and provide good storage capacity. You can use just one or two or all six depending on your storage needs at that time. The cubes fit with this shelving unit.
Desktop Organizer: MDHAND Office Desk Organizer
This six-compartment, metal desk organizer will help you tidy up your home office desk while just taking up one small corner.
Pro tip
"Find what you need quickly and keep your desk clear of clutter by designating a specific location for all of your office products." – Shanal Aggarwal of TechAhead
Here's how Shanal uses his desktop organizer: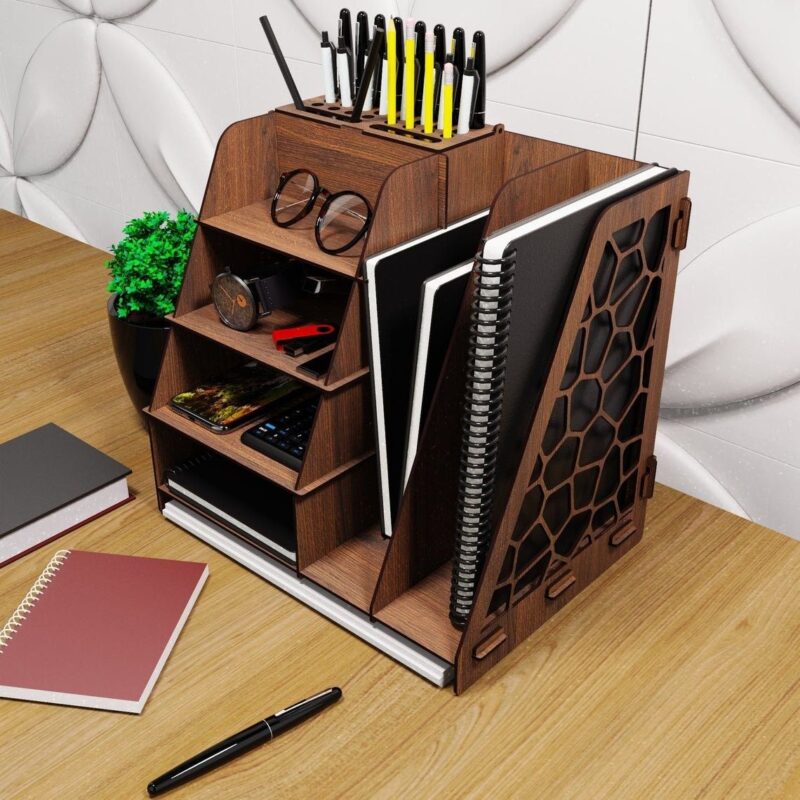 Desktop Bookshelf: Sorfity Expandable Desktop Bookshelf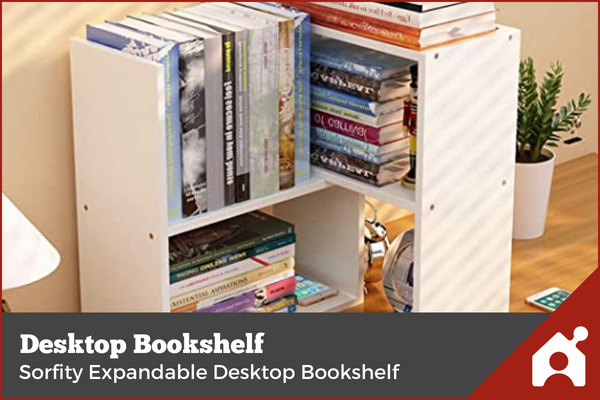 This is a small bookshelf you put on top of an existing desk, not a desk/bookshelf combo. It can be configured in five different ways to fit your desktop space and is inexpensive and quick to set up. This bookshelf is a great option for those who need a functional and affordable option, but aren't in the market for a new home office desk.
Wireless Keyboard: Apple Magic Keyboard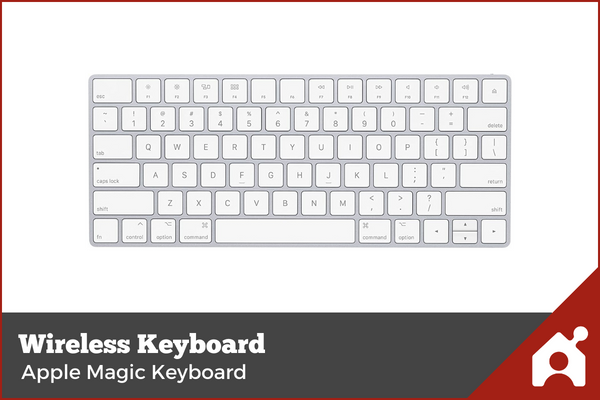 For Apple users out there, this low-profile wireless keyboard will remove unwanted wires from your desk surface and give you an instantly cleaner look. All you have to do is connect it via bluetooth to your Apple product.
Wireless Mouse: Apple Magic Mouse
For Apple users looking for a cordless mouse, this bluetooth mouse connects to Apple products seamlessly and gets rid of pesky wires. It's sleek design will make your desk look good.
Wireless Trackpad: Apple Magic Trackpad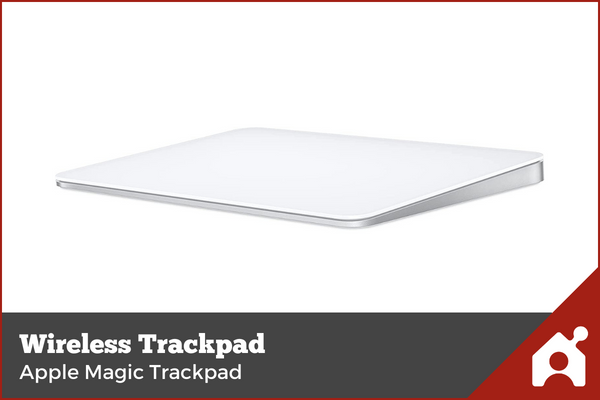 This trackpad is great for any Apple user looking to switch to wireless and simultaneously upgrade their work game. The wide surface and sensor-based design make this wireless trackpad even more versatile than a mouse.
Floor Lamp: Addlon Floor Lamp with Shelves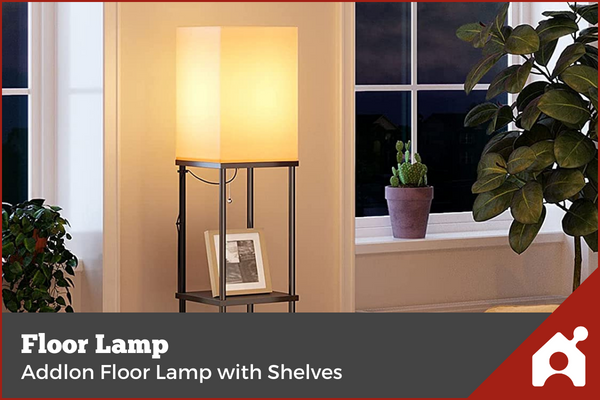 Not only does this lamp let you free up valuable desktop space, but it also has shelves to give you more room to organize. The lamp comes with a lightbulb and has three color settings.
Pro tip
"Floor length lamps are the greatest alternative if you have limited desk space or don't mind having a little additional space for unforeseen gifts such as pen holders, coffee mugs, and so on." – Peter Zendzian of Zzservers
Ideas To Organize Your Desk
Welcome to the section for DIY desk organizer ideas.
Maybe you have all of the desk organization products you need, and now, you just need some good ideas to keep it all tidy. For that, we asked our list of Buildremote contributors for their ideas to organize your desk. Here are the best desk organizing ideas:
Think about your computer size
"Though not a traditional desktop or a traditional laptop, in the picture the small black box with a rectangular light on the front is my computer, and it does perform all of the features that a traditional computer does. Depending on the space available on top of or beneath your desk, you may want to consider using a small computer like this in lieu of a laptop due to its light weight. Another option is a laptop computer that you can store on its side, even while it is being used, with a laptop stand/holder. Whatever computer option you choose, make sure it not only fits your budget but that it fits your space."
– AJ Silberman-Moffitt of Tandem
Here is a picture of my workspace: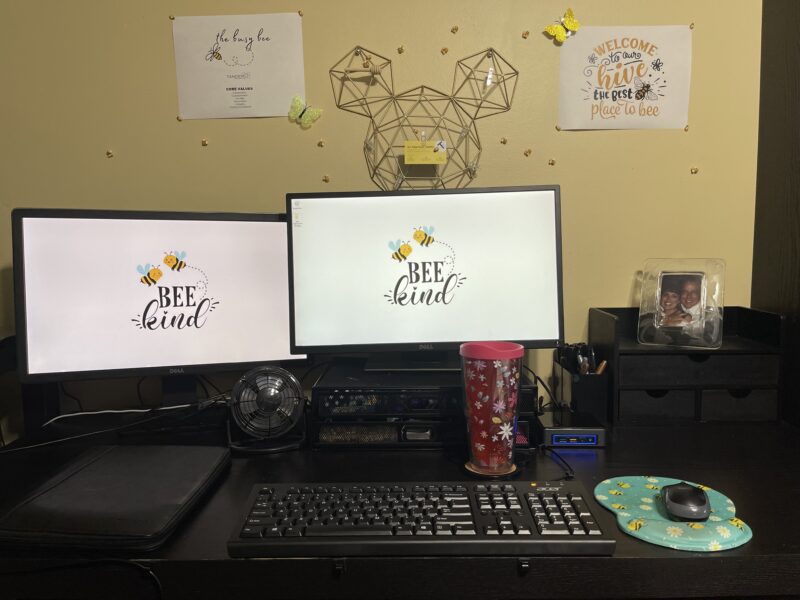 Organize your virtual desktop, too
"Two monitors connected to a 15″ Macbook Pro are critical to managing multiple businesses. I flipped one monitor vertically for Sonos music, Slack, Messages and Notepad. I spend less time switching between apps which helps to keep me efficient with staying on task."
– Ryan O'Donnell of Replyify
Here is a picture of my workspace: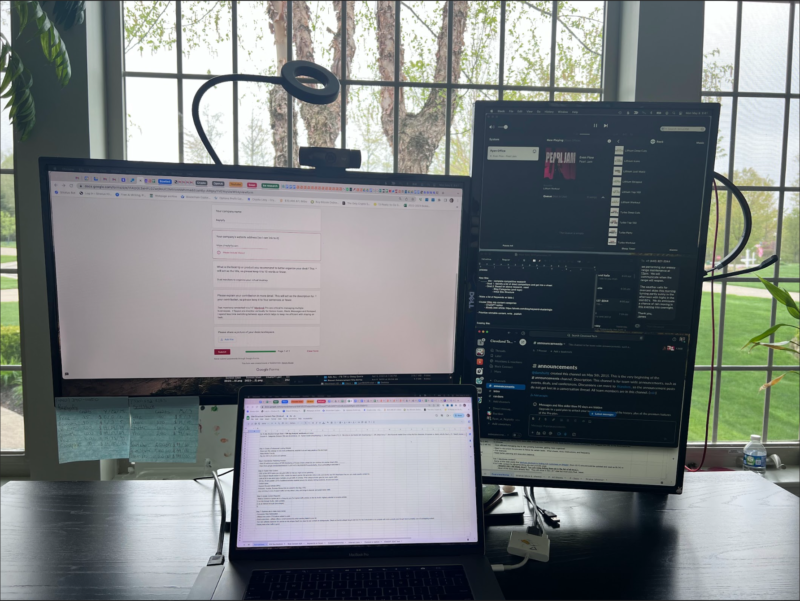 Use a label maker and label everything
"To keep everything in its proper place, mark drawers and shelves with a label maker. Labels can also be a wonderful method to keep track of critical papers and prevent losing them. Label makers are available in a range of shapes and sizes, including smaller handheld devices and larger desktop models. You may quickly and easily identify your objects using a label maker, keeping your desk looking tidy and organized."
– Alex Constantinou of The Fitness Circle
"This will also make it easy for you to return items to their proper places once you have finished using them."
– Gerrid Smith of Texas Property Tax Loan Pros
Remove distractions on your desk (including personal items)
"Remove anything on your desk that you do not use every day that would distract you from working. That means no knick knacks, stuffed animals, nor pictures of your family. Pictures distract you because you start thinking about that person. So hang them on a wall that is not in your immediate view like a side wall or above you."
– Eileen Roth of Everything in its Place(R)
Here is a picture of my workspace: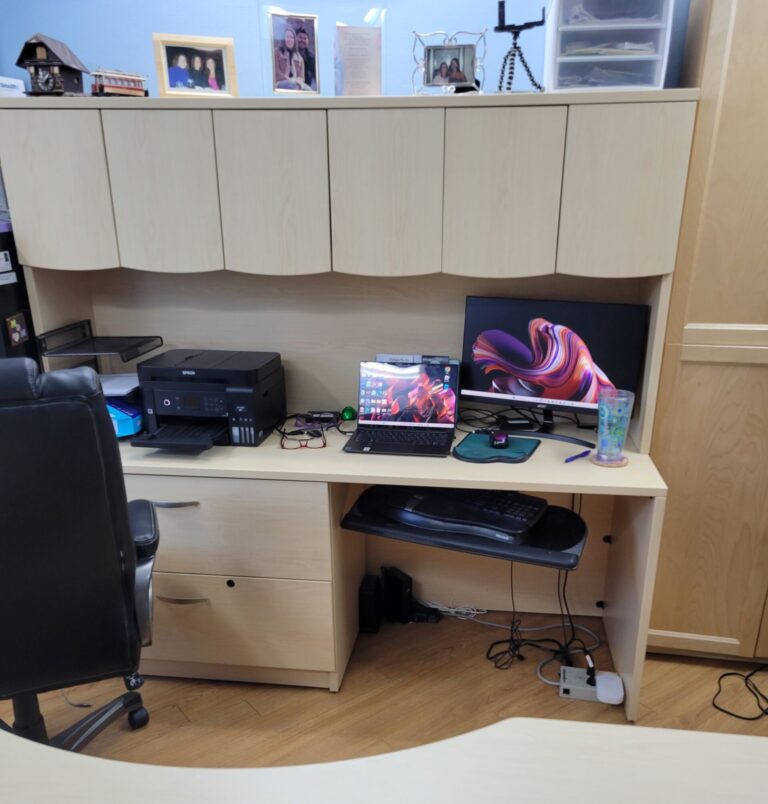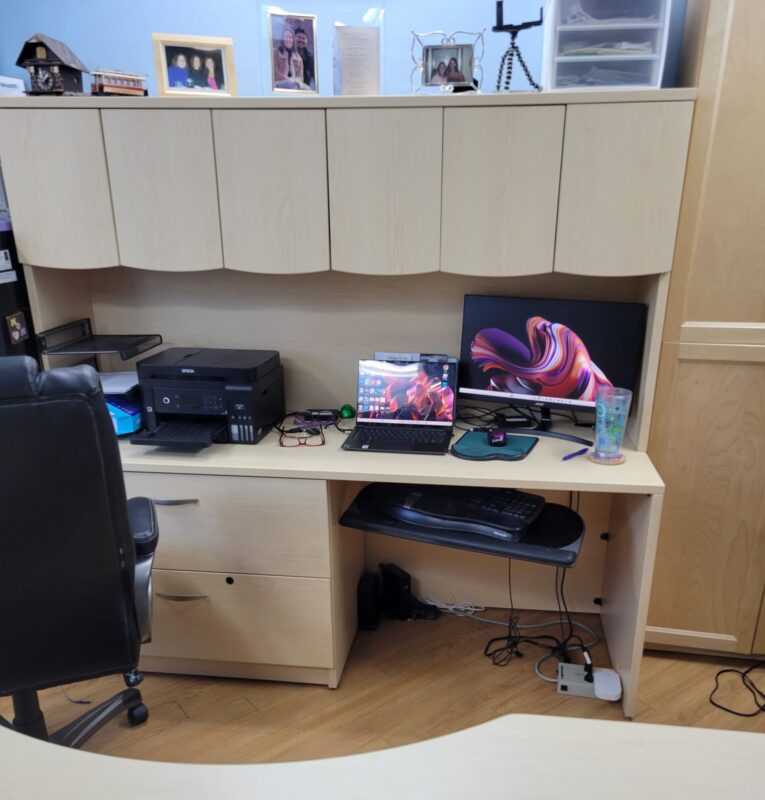 "We all want to keep a picture of our family or pet near us at all times. But it's not advisable if they're taking up too much space on your desk. Remove all personal items from your desk to create more space. It would be better to keep them in a drawer underneath your desk."
– Marcus Arcabascio of DMV Office
Ditch everything that isn't a reminder
"The key to keeping your desk organized is two-fold. Keep everything on your desk that you want to see. Keep everything off that you don't. Here's how that works in practice. You want to see reminders of what you want to do to be productive and/or live a better life. So place on your desk your to-do lists, sticky notes or whatever you use to keep yourself on track. Make sure they are visible. A major key to making them visible is to not have anything else on your desk. The more clutter on your desk, the more your to-do lists, sticky notes or whatever become just more clutter. You won't see them. They'll become invisible. So move everything else away. Yes, it is a cute cactus. Put it in a cute place. Piles of paper? File them away or make paper airplanes, but get them off your desk. You finally got a "round tuit"? Congratulations. Now get around to moving it to some other room."
– David Leonhardt of THGM Writing Services
Simplify the sticky notes and use PM tools instead
"Even with an organized desktop, productivity can suffer if there are too many elements vying for your focus. For example, you can write your daily goals and 'to-do' list on sticky notes, which can be helpful in moderation. However, an excess of sticky notes can clutter your workspace and hinder concentration on critical tasks. Keep the order simple and clean."
– Aleksandra of Investors Club
Here is a picture of my workspace: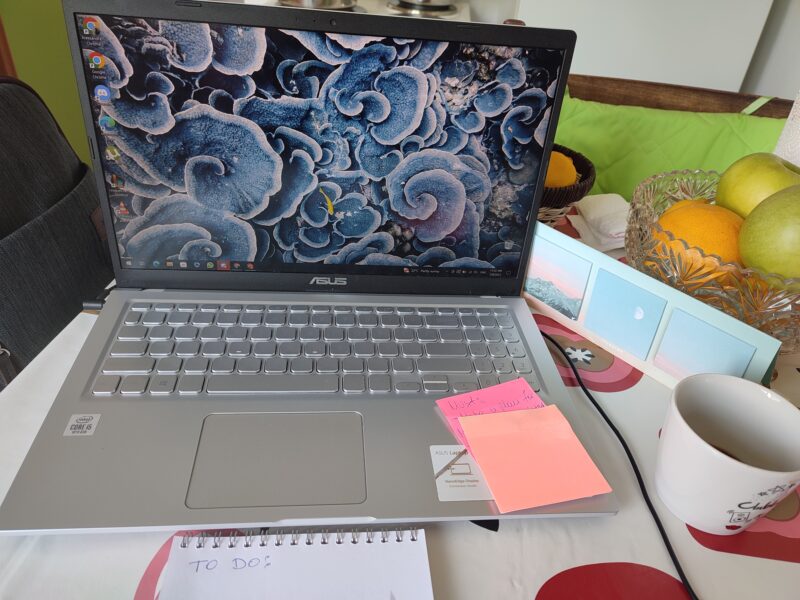 "Using digital project management tools (or just digital sticky notes) will help you organize things, track your tasks more easily, keep your desk clean, and help you focus on your work."
– Laura Bais of Julie's Cafe Bakery
Remember, you only need a desk
"Way back, in my early days, I didn't have my own desk at the office, so I would jump from one desk to another. All of these desks would be basically empty, and I learned to appreciate the effectiveness of an empty desk with nothing to distract me, get in the way, or allow me to fidget. To this day, I work on an empty desktop, and I think it allows me to be the most productive me. It's all you need in a desk, and it ensures that you will focus on work and nothing else."
– John Gluch of The Gluch Group
Keep your essentials close, but not too close
"When setting up my desk for the first time, I thought I needed everything I could ever need right there in my line of sight – but a busy desk leads to more distractions. For my workspace, I have quick things I need daily in arm's reach: my planner, sticky notes, microphone, calendar dry-erase board, and, of course, coffee. Anything else necessary is in a 3-tired drawer, including extra pens, note-pads, tape, etc., so I don't have to go far for them, but I'm also not distracted by additional items in my space. A tidy and minimal desk helps me to be my most productive self."
– Toni Buffa of Integrify
Here is a picture of my workspace: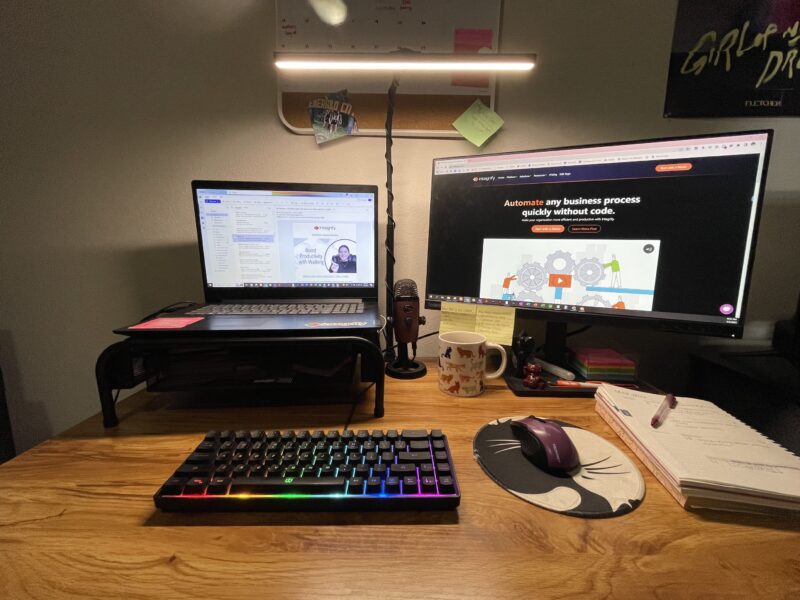 Remember K.I.S.S. to stay clutter free
"Clarence "Kelly" Johnson, an aircraft engineer, introduced the KISS (Keep it simple, stupid) principle during World War I, but when it comes to business, we should heed this advice. Especially if your desk is small, you will have some tools necessary for your work, and these tools must always be within arm's reach. Using a monitor stand with drawers or other compartments can serve as a way to keep your desk clear of clutter while enabling you to reach any necessary items quickly and easily. Since Albert Einstein's IQ was around 160, and he said, "A cluttered desk is the sign of a cluttered mind," it might be safe to say that a neat desk is a sign of a neat mind…isn't that neat?"
– Brittni Swenson, Marine SEO
Organize with the 5S methodology
"The 5S methodology is an effective way to organize your desk like a professional. It involves sorting, simplifying, sweeping, standardizing, and sustaining your workspace. By following these simple steps, you can create a clutter-free and efficient desk that will increase your productivity and reduce stress levels. Implementing the 5S methodology can help you keep your desk organized in the long run."
– CJ Xia of Boster Biological Technology
Develop a routine of decluttering
"Pick a time each month to go through unnecessary papers, files etc. to toss out. In addition to this the only items that should be on your desk are phones and computers. Keep a bin next to your desk to put all of your miscellaneous papers into to make it easier to sort and file or throw out what is not needed."
– Tim Connon of ParamountQuote
Here is a picture of my workspace: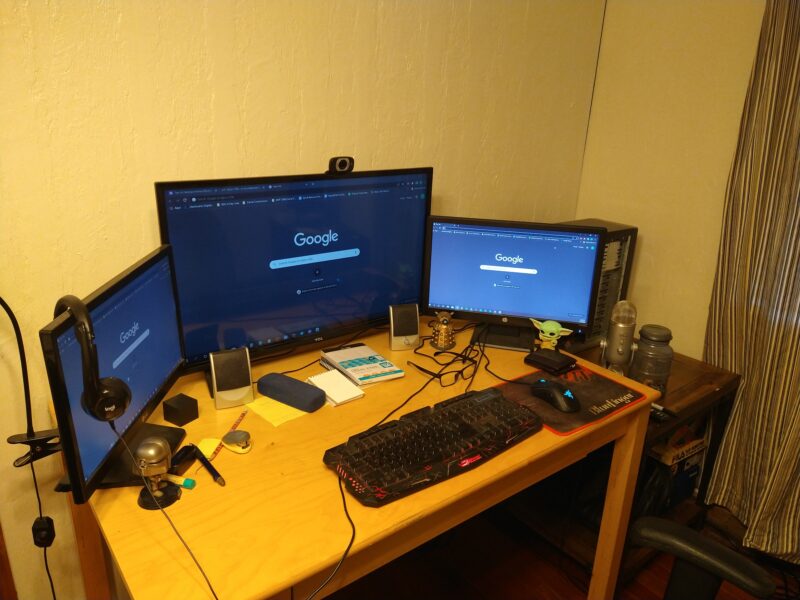 Clear it up Monday mornings
"My best tip to organize your desk is to clear it up every Monday morning. You don't always need half the stuff that's lying around on your desk. Every Monday morning, assess what you need and remove everything else. This will help you save space and improve productivity."
– Donnie Rand of American Association of Owner Operators, LLC.
Go over-the-top with containers
"You know what works wonders for keeping your desk tidy? Going all out with boxes, storage thingies, and any other stuff that helps you organize! Don't be shy, stack 'em up high to make the most of that vertical space. And hey, see-through containers are a total lifesaver – that way, you'll know exactly where everything is. With all your things in their own spot, your desk will be neat and tidy, so you can focus on getting stuff done like a pro!"
– Kelly Indah of IncrediTools
Divide your desk into zones
"Setting up "work zones" can be highly beneficial. It is best to set up three main work zones for your desk. Zone one should be for things that you use frequently. This zone should be well lit, next to a window if possible, and should hold things that you use daily like files, folders, books, calendars and other office staples. Zone two should be out of the way, but easily accessible. This zone should include books, files, folders and other items that you only need occasionally. Zone three should be out of the way and include office supplies, water, or snacks that you replenish regularly. Keeping your items in the appropriate zones will help you declutter and stay organized."
– Jessica Samson of The Maids
Fill your wall with floating shelves
"One of my go-to ideas is to fill a wall with floating shelves. By doing so, I not only increase storage space but also add a decorative touch to my workspace. To maximize the usage of my floating shelves, I incorporate double storage with upper cabinets. This setup allows me to store larger items above while keeping smaller items within reach below. "
– Henffrey Mwendwa Muthama of HardwareHow
Here is a picture of my workspace: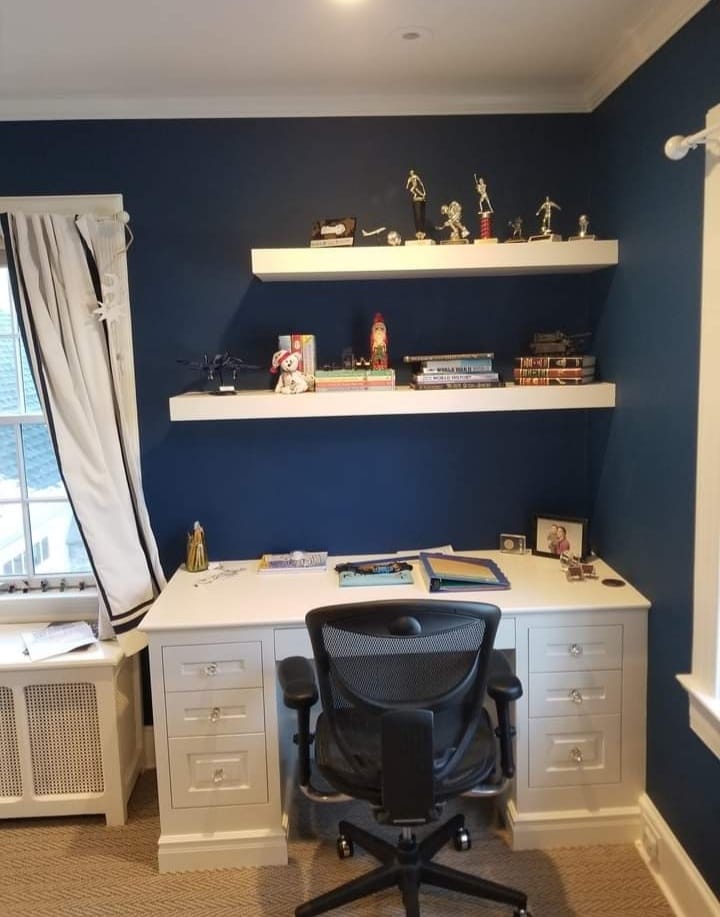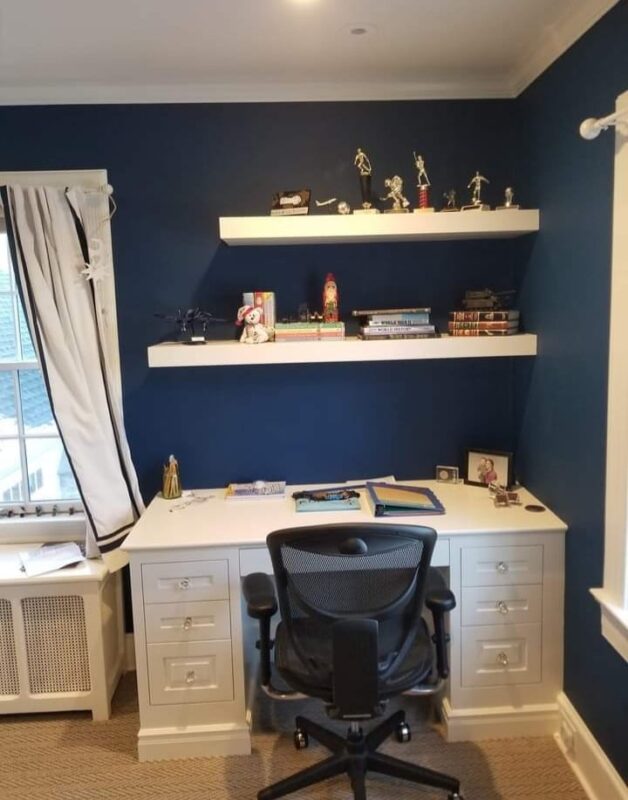 Do not eat at your desk
"I'm here to tell you why eating at your work desk is a big no-no. I know, I know, sometimes you're just too busy to take a proper lunch break. But trust me, the potential mess and hassle just aren't worth it. For starters, there's the issue of space. You're trying to balance a plate, utensils, and maybe even a drink, all while also trying to use your keyboard and mouse. It's like a game of Tetris, but with more ketchup stains. And let's not forget about the mess factor. One wrong move, and suddenly you've got spaghetti all over your notes or a crumbly baguette lodged between your keys. Ain't nobody got time for that. And don't even get me started on trying to clean up the aftermath. I mean, who wants to spend their afternoon picking bits of lettuce out of their keyboard or trying to wipe mustard sauce off their notebook? Not me, that's for sure. So, do yourself a favor and step away from the desk when it's time to chow down. Your keyboard (and your taste buds) will thank you."
– Harry Johns White of NBA Blast
Install a pegboard
"Pegboards are perfect for those who despise cluttered and over-occupied desks. You can make your desk space functional and appealing by adding shelves and customized hooks to store everything from essential stationery supplies to ornamental plants or motivational calendars. Anything that takes up room on your desk or drawers can be displayed on a pegboard for easy access. Putting up mood-lifting decorations and candles on the pegboard will also help you stay focused for a longer amount of time."
– Marc Hardgrove of The Hoth
Your Home Office Desk Organization Ideas
If you've made it all the way down here, my guess is the article failed you. You couldn't find a great fit to organize your desk… and I am sorry.
So maybe you know something I don't. Would you like to recommend a desk organization product or tip? Contact us here and leave a specific message about what you'd like to nominate.
(We hope you find this article useful. Just so you know, Buildremote may collect a small share of sales from the links on this page to help keep this site running.)