36 Easy Remote Jobs (Filter By 'Type Of Easy')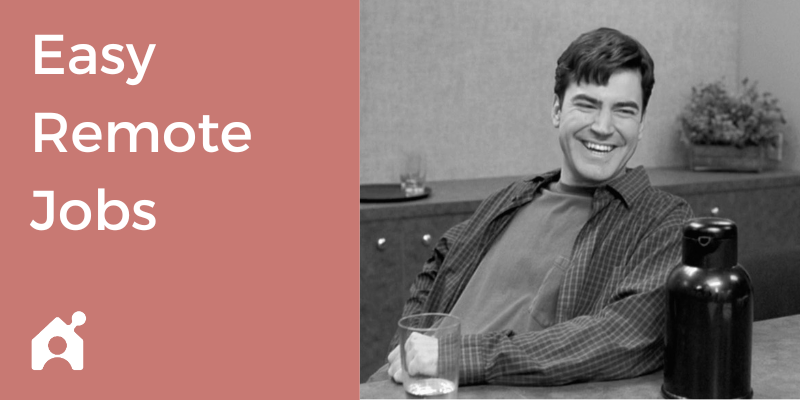 You're in search of what you call an easy remote job. But what I might consider an easy job is different than you. "Easy" is subjective after all.
I came up with six reasons that a remote job might be easy so you can filter the list by your definition of easy: 1) easy to get hired, 2) easy to do, 3) no degree required, 4) no experience needed, 5) few meetings, 6) easy because it's fun.
Use the table of contents below to jump to a section that interests you most:
Easy Remote Jobs By Category
Here are all of the easy remote jobs organized by job category. Click on the "Category" link (first column) to learn more about that group of jobs. Click on the "Find Jobs" link (last column) to start your search on a remote job board we recommend.
See Also:
Filter-able List Of Easy Remote Jobs
In this section, we break down each easy remote job. Under each category, you'll find average US salaries for each job, what makes the job "easy," and salary rankings for the category of jobs.
See Also: 232 Remote Companies With 4-Day Work Weeks
Use the buttons below to filter the jobs by how you define "easy."
Where To Find Quality Remote Jobs
Flexjobs
Flexjobs is the job board we recommend the most for remote job seekers. The board is specifically for remote and flexible jobs. Filter by keyword or type of role to find the right fit.

Start your search on Flexjobs.
Easy Remote Jobs That Pay Well (Well, Relatively)
Let's get real for a second. Easy and high-paying remote jobs don't really exist. A job might be easy because you have a high-level skill and lots of experience. Or, it might be easy because it's a low-level skill, easily replaceable, and low paying. With that said, here the best options for easy remote jobs that pay well:
Photo Editor: $71,631
Online Fitness Coach: $64,618
Junior Motion Graphic Artist: $59,394
Easy Remote Jobs For College Students
We've done a report on the best remote jobs for college students and this report on the easiest remote jobs. Here are five jobs that fit well in both categories:
Legal Transcriptionist: $52,576
Photo Retoucher: $64,992
Resume Writer: $39,074
Virtual Administrative Assistant: $43,870
Data Entry Specialist: $37,041
Easy Remote Part-Time Jobs
These jobs in our report can be done remotely and are more likely to be hired as part-time roles. They also fit well as a freelancer.
Online Fitness Coach
Content Writer
Illustrator
Video Editor
Data Collector
Data Entry Specialist
Easy Remote Side Jobs
There are a number of remote jobs that appear on our "remote side hustles" report and "easy remote jobs" report. Here are a few of the best options for easy, flexible remote jobs you can't do on the side:
Data Entry Specialist
Social Media Content Creator
Virtual Assistant
Legal Transcriptionist
Copywriter
View our report on the best remote side hustles here.
We hope you find this article useful. Just so you know, Buildremote may collect a small share of sales from the links on this page to help keep this site running.