3 SaaS Tools Hybrid Business Can Use In 2023
When SaaS really started taking off in the 1990s, few thought its total market would be worth $60.36 million by 2023. But here we are — it's a huge industry, and today, countless SaaS tools are available. Many are particularly useful for hybrid businesses, which rely on a mixture of remote and in-office work.
There is seemingly a tool for every situation a hybrid business could run into. But the sheer number of applications and platforms in existence can make it difficult to choose one.
So, how do you pick a tool without spending a fortune on testing different ones or exploring all the available options?
The answers lie in this article — let's explore.
3 SaaS Tools Hybrid Businesses Can Use in 2023
Here are three SaaS tools to up your game and ensure you and your team work efficiently, no matter where you are located or when you go into the office.
1. Wayleadr: Parking Space Management
Lack of accessible parking spaces can cause a massive ripple effect on your employees' efficiency and productivity.
If there are not enough parking spaces at work, you're looking at reduced employee efficiency and a degraded brand image — because your people will be wasting time searching for a parking spot instead of getting settled at their desks.
Hybrid companies can use Wayleadr to streamline parking on in-office days. From increasing and decreasing parking facilities to forecasting and managing car parking occupancy, this one-of-a-kind tool can eliminate a lot of parking-related misery for your workers.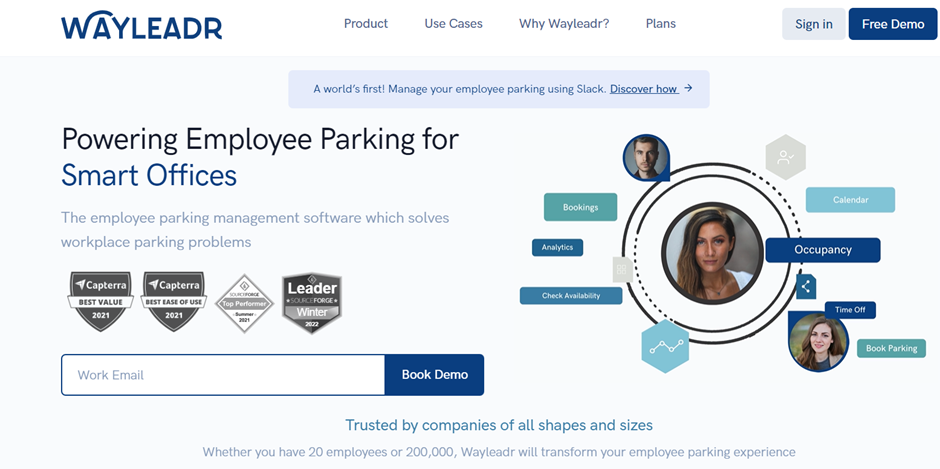 Wayleadr monitors your employees' daily parking needs and provides information about the availability of a parking spot.
This tool can also increase your business's revenue stream, as it allows you to rent out extra parking space. And as Wayleadr digitizes your employees' parking experience, they spend more time on other productive activities.
Why choose Wayleadr? Your employees spend 17 hours a year searching for a parking space when they could be hard at work.
2. Agendrix: A Staff Scheduling Tool
Creating a schedule that works for all employees is a challenging task, especially when you're juggling remote and in-person days. But it's a necessary thing: if your employees aren't sure about what they should be doing on any given day, their productivity will drop dramatically.
That's why modern hybrid companies, especially retail ones, use Agendrix, a retail scheduling tool that assigns shifts to employees working in the retail industry. You can track work hours, onboard new hires, and increase workplace communication.
This tool is a game-changer as it eliminates the confusion and guesswork from on-site staff scheduling. Agendrix accounts for employee preference, overtime, availability, and peak hours — all variables that are increasingly difficult to track manually if you're running a hybrid operation.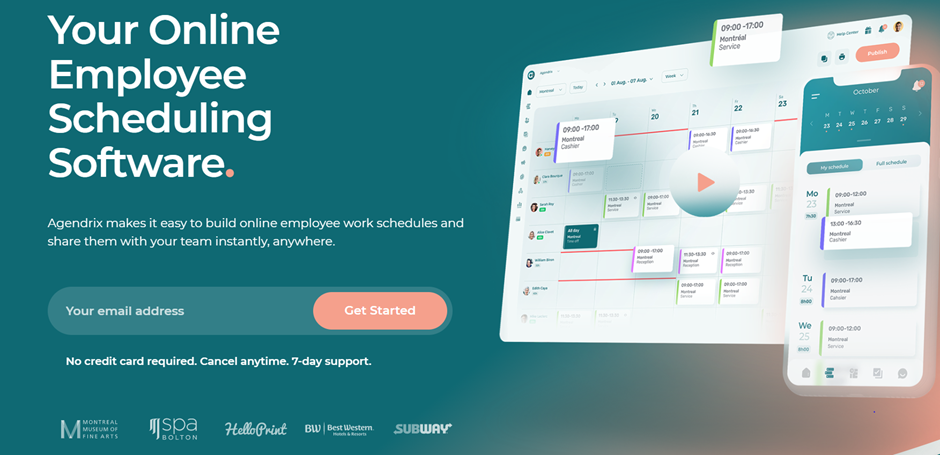 Perhaps even more importantly, Agendrix provides a seamless process for shift swapping. When you approve a swap request, the system instantly reflects the same. Employees who can swap their shifts without hassle will likely be more productive.
Why choose Agendrix? This tool helps you build an online employee work schedule that ensures employees complete their job duties when they're on-site.
3. Slack: A Workplace Communication Tool
In today's remote and hybrid working world, ensuring effective workplace communication is key to avoiding confusion and miscommunication. After all, teams have to remain in steady contact with one another whether they're in the office or not.
That's why you need a workplace communication tool like Slack. Apart from being user-friendly and intuitive, the tool allows multi-device computability. The tool is best in its league, as it provides helpful conversation histories and ensures easy file sharing. It even allows integration with several top applications, such as Zoom, Google Drive, Outlook, Calendar, and Zendesk.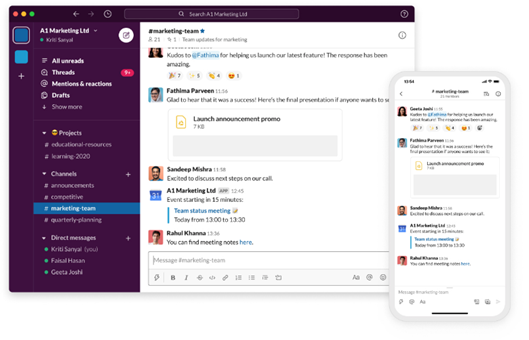 When used as a messaging app, it works in both real-time and asynchronously, making it good for hybrid work environments. Workers can stay connected as they come and go to the office, picking up on conversations right where they left off.
Slack creates a spirited environment, allowing you to customize the app based on your business requirement. And because Slack displays all your messages in the sidebar, your employees will spend less time shuffling tabs.
Why use Slack? The average loss per company due to workplace miscommunication is $62.4 million per year.
Hybrid Companies Benefit From SaaS Tools
Implementing SaaS apps makes managing communication, scheduling, marketing, parking, and marketing happen across a seamless workflow — whether your employees are on-site or working remotely for the day.
Apart from positively impacting your bottom line, these tools take out the stress from work because they allow you to focus on essential things.
So, what're you waiting for? Try these tools out today!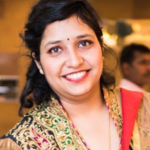 Priya Jain has been copywriting professionally for over eight years. She has attained an engineering degree and an MBA. She teaches math, spends her time running behind her toddler, and tries new recipes when she isn't writing. You can find her on LinkedIn.

This article is part of Buildremote's contributor series. If you'd like to share some insights about how you run your remote company, learn more here.