How To Set Up A Home Office In A Bedroom
I've been fortunate enough to work from home for 10 years, and during that time, I've learned that having a functional home office makes a huge difference in my work.
However, I haven't always had a dedicated home office. On three occasions, I had my home office in my bedroom:
In my early 20s, when I lived with four roommates
When my wife and I traveled and rented Airbnbs
When our second daughter was born, and I had to vacate the home office to make it her nursery
In my experience, I recommend not having your home office in your bedroom. When you work where you sleep, you start associating the bedroom with working, which can mess up your sleep hygiene (meaning it's harder to fall asleep). Your sleep gets worse which makes your work worse, and onward.
And keeping your home office in the bedroom makes it harder to separate work from home. You might start thinking about work every time you enter the room, which isn't healthy, not to mention that you'll end up spending a ton of time in one room and rarely leave it.
How To Setup A Home Office In Your Bedroom
That said, having a dedicated home office is a luxury. Working in the bedroom still makes more sense in a number of situations.
So, if the bedroom is your only home office option, here's how to design a home office that lets you work and sleep without feeling like you're doing both all the time.
See Also: 32 Bedroom Office Ideas (With Photos From Real People)
Create A Physical Divide
A physical barrier between where you work and rest makes it easier to detach from the job when you're off the clock. In other words, when you hide your workspace, you don't have to look at it every time you wake up and go to sleep.
I've used room dividers to create a partition for my bedroom home office. If you don't have the space for a divider, put your desk in a walk-in closet or nook. And if neither of those is an option, a few tall plants can create a "wall" between your office and the rest of the bedroom.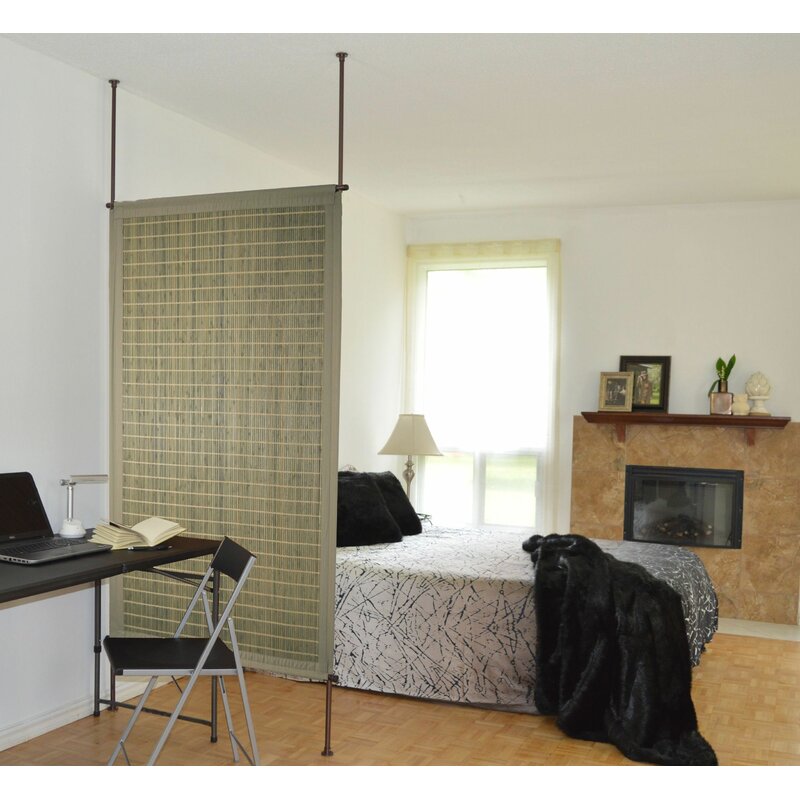 Adopt A Minimal Mindset
You may want or even need a lot of "stuff" to get your job done. But more stuff often leads to more clutter, and when you don't have a lot of space in your home office, it can spread to the point where the bedroom is more office than anything else.
Particularly when you have a home office in a small bedroom, less is more.
Skip an external screen for your laptop
Go paperless
Declutter your wires in and around your desk with something like command clips
Move books elsewhere
… and ask yourself if you really need an item before purchasing it.
(This tip also shows up in our guide explaining how to organize your desk).
Physically Put Your Work Away Every Night
Even with a minimalist mindset and a clutter-free desk, a closed laptop on the desk can make it hard to disconnect from work. "Out of sight out of mind" is the key to success here, so have a way to hide your things at the end of the day.
Put your laptop, notes, and office supplies in a desk drawer when you're done working. If your desk doesn't have a drawer, buy a cabinet or a separate set of drawers. Even if you have to slide your laptop under your bed, the idea is to make sure that you don't see any part of work when you're off the clock.
Take a look at our buyer's guide to home office storage for some ideas.
Purchase Flexible, Foldable Furniture
Another way to keep the office separate from the bedroom is to invest in flexible supplies that can either do double duty or disappear when you're done with work.
For example, a folding desk collapses, so you can hide it in the closet or under the bed. And a flexible desk can move with you to another room in case you can't or don't feel like working in the bedroom that day.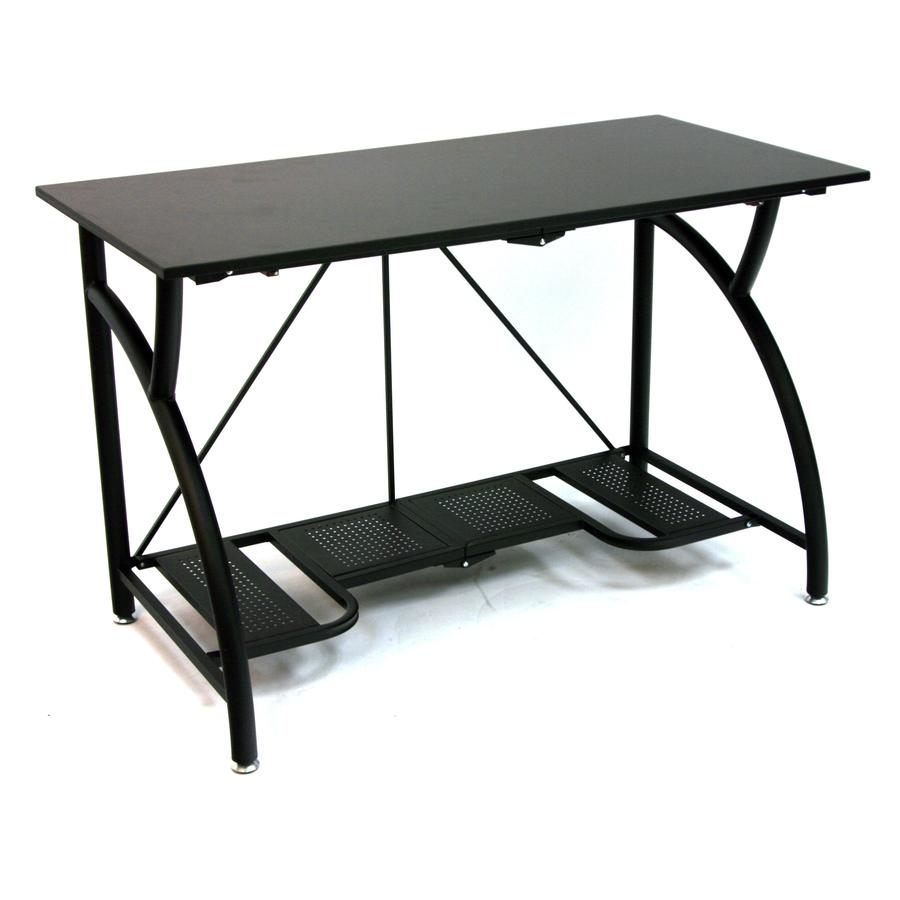 Because there are so many small or folding desks out there, my list of the best home office desks is a great place to start looking for one. You can filter the list to find exactly what you want. My wife has an Origami Folding Computer Desk, but people recommended a few other ones to us as well:
Instead of using a large, bulky monitor, use a laptop stand to keep your laptop screen at eye-level height, then connect it to an external keyboard so you can type comfortably. Get a multi-purpose chair that you can use while you work but is also casual enough to be just a regular chair.
Alternatively, you could set up the room to be primarily an office and have the bedroom be the flexible part. Use a Murphy bed/desk that folds into the wall during the day, and convert the office into a bedroom at night. Or consider a collapsible bed frame, like a futon. This gives you the added benefit of having additional seating in your office during the day.
Here's the bed frame we use, since our guest bedroom and home office are the same. When guest come to visit, the folding bed frame comes out of the closet and the folding desk goes in.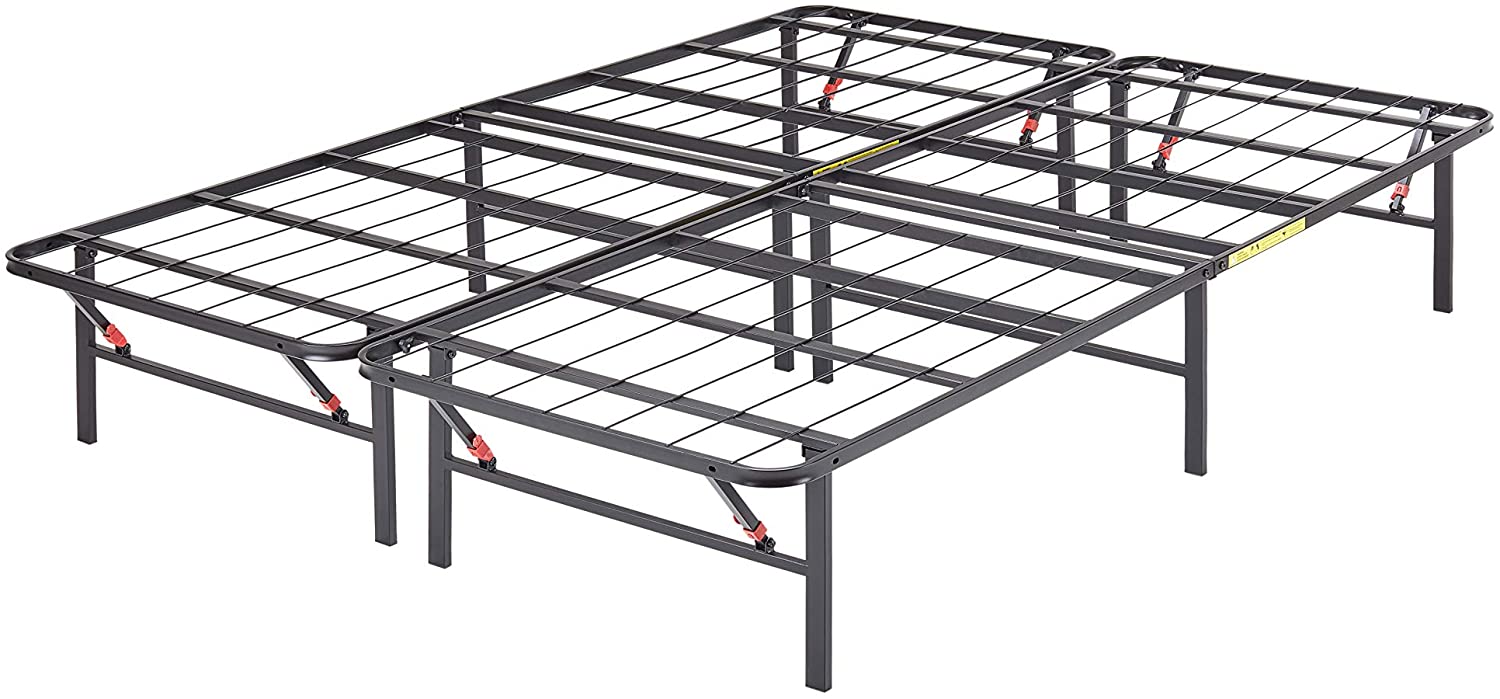 Take A Window For Your Office
Try to place your desk facing away from the bed and as close to a window as possible. Not only will the natural light improve how you look on video calls, but looking outside can help improve your mood and improve your performance in as little as 40 seconds.
Hide Your Bed On Video Calls
Despite all these tricks, sometimes it's still obvious that your home office is in a bedroom. And while there's nothing wrong with that, it may not paint you in a very professional light. A virtual background or even blurring it are options, but sometimes those have weird effects that distract the viewer.
Consider investing in a video backdrop. Not only are these more professional and better looking than a virtual backdrop, but they can also act as a physical barrier between the bedroom and your "office" that you can keep up all the time or stow away when you're not working. Plus, using a backdrop means you never have to panic clean when there's an incoming video call that you weren't expecting.
Here's the Anyvoo backdrop I have: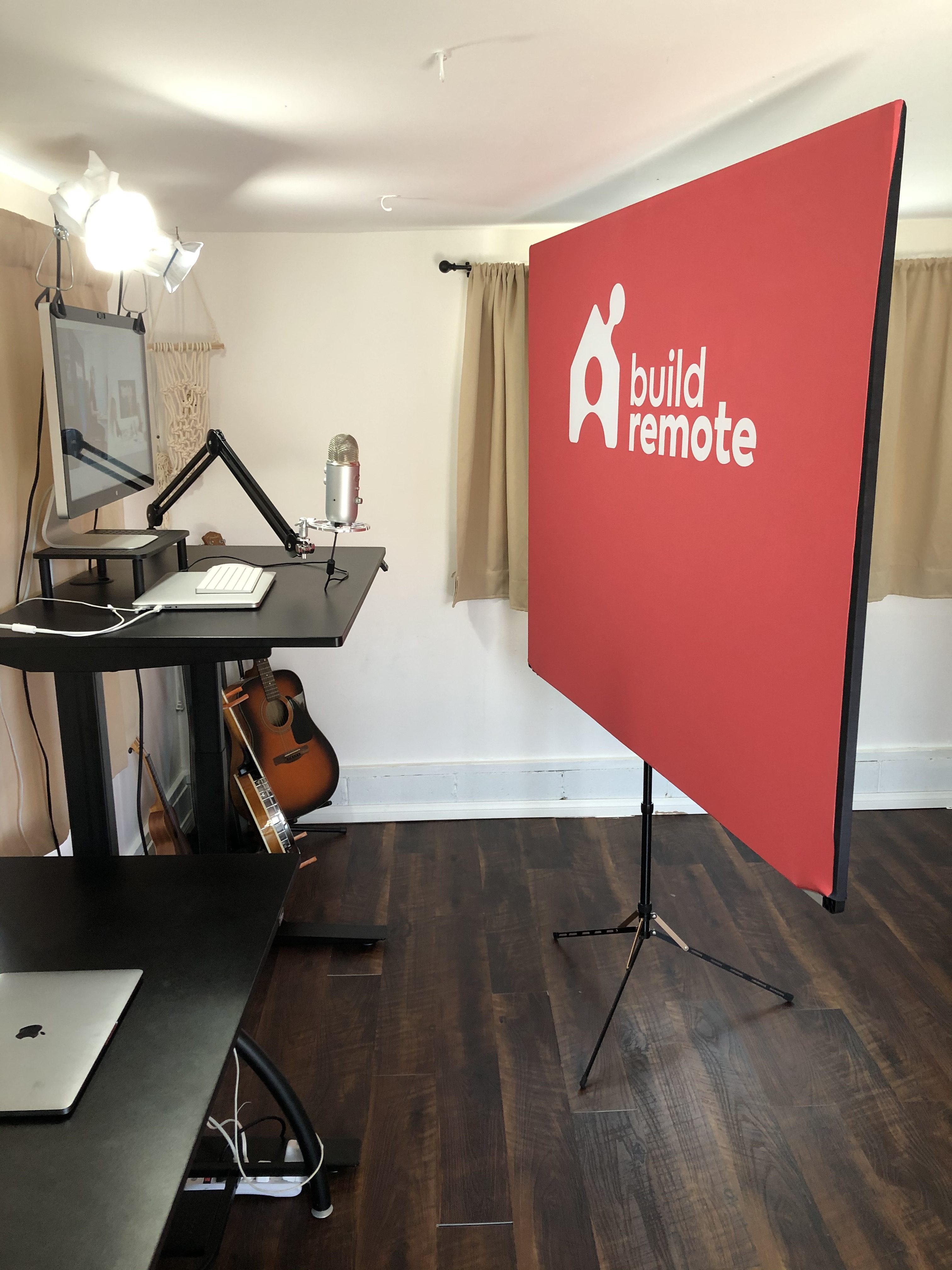 You can buy an Anyvoo on their site.
Other Home Office Setup Ideas
Of course, there are even more ways to improve your home office setup when it's in your bedroom. Read more about what our expert contributors use in their home office setup and the home office gifts we recommend:
What about you? What do you use in your bedroom home office? Or what questions do you have about having a home office in a bedroom? Let me know in the comments.
We hope you find this article useful. Just so you know, Buildremote may collect a small share of sales from the links on this page to help keep this site running.