4-Day Work Week: 18 Questions Answered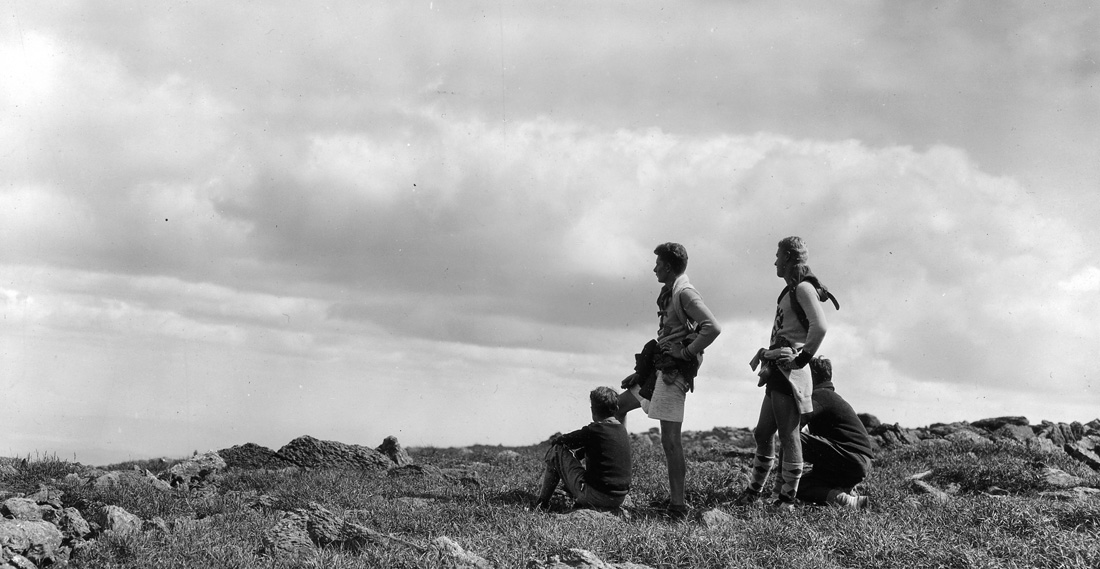 Here are 20 common questions about the four-day work week from every angle. Click a question below to jump to the answer.
Looking for a four-day work week job?
I always recommend Flexjobs for alternative schedules, remote, future-thinking careers. >> Search for 4-day work week jobs on Flexjobs.
Common Four-Day Work Week Questions
1. What is a four-day work week?
In a four-day work week, you work four days (say, Monday through Thursday) then have three days off (like Friday through Sunday). In general, the workdays and non-workdays are together instead of working Monday, Tuesday, Thursday, and Friday, with Wednesday, Saturday, and Sunday as the days off.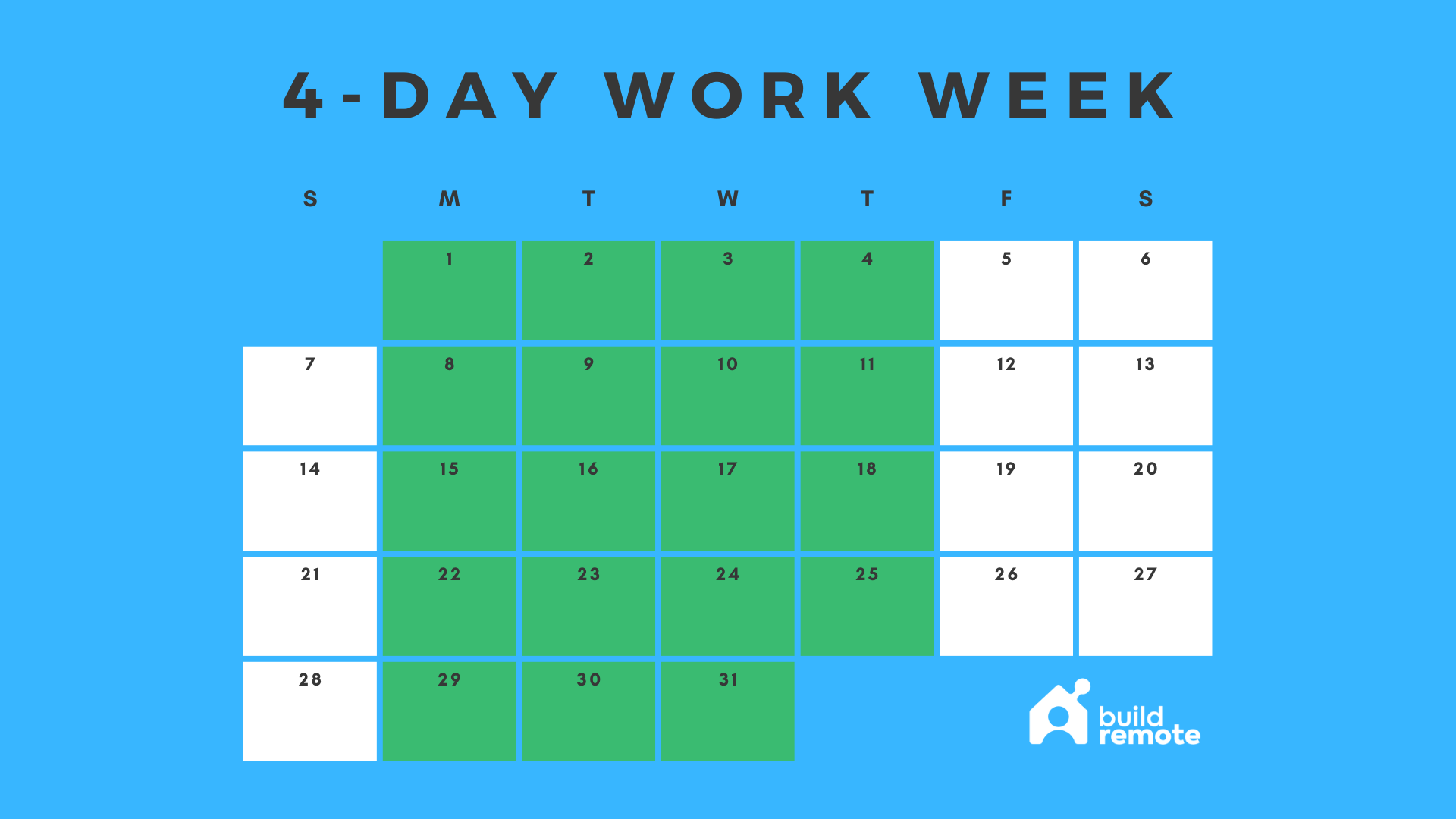 2. How does a four-day work week work?
Everyone at the company works the same four days instead of the same five. For our purposes, a four-day work week also means you receive the same full-time pay for working four days as you would for five.
The ultimate goals for switching to a four-day work week include:
The same or increased productivity
Retaining salary and benefit levels
Better work-life balance
More time away from work resulting in less burnout
3. How many hours are in a four-day work week?
A four-day work week is typically 32 hours per week, consisting of four eight-hour days. However, a four-day work week could have 36 or even 40 hours. For example, another popular schedule is the 4/10, where you work four, 10-hour days for a total of 40 hours each week.
Other four-day work week schedules include the three-day work week, summer Fridays, and the no work schedule, to name a few.
4. Is working four days a week considered part-time?
In the U.S., it's up to the employer to define "full-time." So, if a company decides it's a four-day work week organization, they are saying their full-time employees work four days a week whether everyone works 40, 36, or 32 hours a week.

5. What are the benefits of a four-day work week?
Plenty, but the top ones are:
Better work-life balance (49% of the time spent working and 51% spent not working for me personally)
Fewer but more efficient meetings
More time for personal growth and development
Decreased childcare costs
Increased employee retention
6. Is a four-day work week better?
I've worked a four-day week since 2020, and I can unequivocally state that it's better for me. For example, working Monday through Thursday gives me one extra day per week to pursue hobbies and spend more time with family and friends.
And an extra day away from work every week helps me feel more refreshed and ready for the work week, which means I generally work more productively and efficiently.

7. Why a four-day work week is better for everyone
Personal experience aside, there's data that indicates a four-day work week is better for employers and employees.
Between 2014 and 2021, Iceland trialed a four-day work week with about 1% of the nation's workforce (2,500 people). Instead of working 40 hours a week, they worked 35 or 36 hours every week without taking a pay cut. Not only were employees just as productive, they also had better work-life balance, which improved their general sense of well-being.
Microsoft Japan also tried a four-day work week throughout the summer and found that not only were workers 40% more productive, the company spent less on energy and supply costs.

8. Can a four-day work week be bad?
A four-day work week isn't for every employee or company. For example, in companies with defined shifts where hours are directly tied to output, the company will lose productivity working one less day every week.
Companies that offer customer support could lose a day of coverage in a four-day work week, likely hurting client satisfaction. Though you could hire more staff to cover those shifts, that would increase overall costs.
Without proper guidance, a four-day work week could increase stress for employees. For example, if managers still expect forty hours worth of work in thirty-two, people may work longer hours every day or feel obligated to work five days each week to ensure they get everything done.

9. Does a four-day work week help you save money?
In a fully remote company, a four-day work week doesn't save any money on overhead. However, because a four-day work week is likely to improve employee retention and reduce burnout, over time, a company might save on recruitment costs.
One less day per week at an in-person company will help cut costs. When people aren't in the building on Fridays, the company doesn't have to spend money heating and cooling the space, not to mention staff isn't using up office supplies.
Employees come out ahead, too. They save time and money when they skip the commute one day a week. And they can save even more money by not eating out that day or putting wear and tear on their car.

10. Does a four-day work week increase productivity?
As the experiments show, people can and often will be just as or even more productive working a four-day workweek. But the key is how you implement a four-day work week.
For example, if you continue to have hour-long meetings, you may not see the productivity results you're hoping for. But, if you cut meeting times in half, you'll still accomplish everything you need to in the meeting but more efficiently, giving people more time to get their work done.
It's been my experience that working a four-day work week makes me and my coworkers more productive. Everyone is healthier and happier, which helps us be better workers.

11. How to ask for a four-day work week
If you're interested in working a four-day work week and don't want to search for a new job, consider asking your boss to implement four-day work weeks.
Start by sharing how a four-day work week can benefit the company. For example, talk about how staff can be just as productive in four days as they are in five and how having an extra day off per week gives staff more downtime, allowing them to return to work more refreshed, relaxed, and engaged. You can also mention that since most companies haven't made the switch, this company will have a strong selling point when recruiting new staff.
Use data from the studies to back up your claims. Show how a four-day work week is achievable and that it will save money without sacrificing productivity.
Finally, propose that the company try it out. Summer is the perfect time to experiment with a four-day work week, so suggest that the company switch to four-day work weeks when the weather is warm, and people would rather be outside anyway.
12. How to negotiate a four-day work week
If your boss seems open to the idea of trialing a four-day work week, here's how to negotiate the details.
Not everyone may be on board with the idea, so ask the boss to propose it as an option to the entire staff. Obviously, this won't work if only one person says yes, but you'll probably get enough people to agree to the experiment.
With enough people willing to try, suggest the company start with compressed work weeks, like the 4/10 or 9/80. Everyone still works 40 hours a week but every week or every other week is a four-day work week. This helps people get used to working one less day per week, but they still have the same number of work hours to get things done, which can help them feel less stressed.
If compressed work weeks go well, talk to your boss about dialing back the number of hours everyone works each week to 36 or even 32. Again, try it out seasonally to help staff ease into working fewer hours. This also gives your boss a chance to adjust processes and procedures.

13. How to implement a four-day work week
To implement a four-day work week at your company:
Define what a four-day work week is for your company.
Don't call it a trial. It could skew results, and what would you say if things didn't work out? Tell staff they aren't productive?
Cut meetings in half to get more done in less time.
Document your processes. Because you're working fewer hours every week, you need to help people get the answers they need without relying on other people. Making information accessible helps people figure things out without wasting time.
You'll also need to switch to an accountability chart, figure out how part-time staff fit into your four-day work week, and more. Learn how we did this at Nectafy.

14. Will we ever have a four-day work week?
There is a growing trend to switch to a four-day work week. Some countries are testing it out:
Scotland is launching a trial to reduce worker hours by 20% without a loss in pay
Spain is going to test 32-hour work weeks over three years
Malta is going to offer business incentives to participate in a four-day work week experiment
As more companies and countries adopt four-day work weeks, it will eventually become the most common work schedule.
15. Can America have a four-day work week?
It's always been within a company's power to have a four-day work week and define "full-time" as less than 40 hours per week. And though some companies are already choosing four-day work weeks, the 32-Hour Workweek Act has been proposed. If passed, the act would reduce the federal definition of a work week from 40 to 32 hours per week. However, it would not mandate a 32-hour work week. Employers would still have the discretion to define "full-time" for their company however they want.
A bill has been proposed in California to reduce the standard work week to 32 hours for California companies with 500+ employees. The bill is currently paused.
16. What companies have a four-day work week?
More companies than you think have four-day work weeks. Here's a small sample of companies trialing or implementing four-day work weeks:
Shake Shack
Buffer
Toshiba
Unilever New Zealand
Kickstarter
Bolt
thredUP
More companies are switching to four-day work weeks all the time. Keep an eye on this regularly updated list to stay informed.

17. What countries have four-day work weeks?
Some countries and cities are taking the lead and trying out four day work weeks for their staff or encouraging private companies to adopt them:
Morgantown, West Virginia
Boulder County, Colorado
Spain
Scotland
Ireland
Belgium
Many countries are considering adopting rules to encourage four-day work weeks, so check this list frequently to find them.
18. Where can I find four-day work week jobs?
One great place to find four-day work week jobs is FlexJobs. It's the largest job board dedicated to remote and flexible work. Use their filters to find job postings with "flexible" and "alternative" schedules—like four-day work weeks.
Search for 4-day work week jobs on Flexjobs.
What's Your Four-Day Work Week Question?
While those are the common questions and answers about four-day work weeks, if you've got one that wasn't answered, post it in the comments. I'll be happy to help.