The 36-Hour Work Week (Half-Day Fridays)
What is a 36-hour work week?
The 36-hour work week is typically done in one of two ways: 1) Half-day Fridays: Four eight-hour days followed by a four-hour day on Friday, or 2) Four-day work week: Four nine-hour days.
---
If you're questioning the structure of your work week, you're already way ahead of the game. Most people and, therefore, companies default into the 40-hour work week. And although it feels like a big jump to switch to a non-traditional week, remember that most haven't proactively chosen their normal work week. Most likely, you won't be switching from the optimal schedule, just the default.
For those who are considering switching to the 36-hour work week (some might call it "half-day Fridays"), the 10% decrease in your weekly hours could pay big dividends for you, your employees, and your organization.
I ran a company that did the 36-hour work week for 6 years. The adjustment was simple – no one came online after lunch on Fridays. We removed the least productive block of time (Friday afternoons) and returned it to our people. The benefits were real.
In this article, we'll break down the benefits we experienced, 36-hour schedule examples, and companies that use the schedule.
Use the links below to jump to a section that interests you the most.
Benefits Of The 36-Hour Work Week
On our half-day Friday schedule, we worked Monday – Thursday for eight hours per day and then four hours on Friday. Toward the end of our run on the schedule (we switched to a four-day work week), our Fridays went more like this: "Come on for a bit, get a block of focused work done, and get out of here for the weekend.
These are the benefits of the 36-hour work week that I experienced as an employee and that we experienced as a company.
For Individuals & Freelancers
Better work-life balance: When you are done on Friday morning, an entire new type of day opens up. It's not quite a weekday, it's not quite a weekend. It's often a personal time to learn, workout, do errands, or spend time with family. It's something the standard work week does not offer.
Increase in happiness: When the company decreases the amount of work hours but doesn't decrease pay, there is a huge amount of trust built. The company trusts the employees to get their work done how they want. That makes for happier employees.
Fewer meetings: When you question your work week, you're really questioning how you spend your time. If you switch from 40 hours to 36, you'll notice how you'll wonder if you can cut meetings in half or altogether.
More time for personal use and development: Most people work five days per week and have two days off on the weekends. On a 36-hour schedule, you have an extra type of day that most don't. It can be used for personal health, starting a side hustle, reading, or learning.
Lower cost for childcare: My wife and I had two babies during the time I worked this schedule. I could always cover Friday afternoons so she could work.
I wrote in more-depth about the benefits of a four-day work week here.
For Companies & Managers
A way to attract talent: When we were a remote company and no one else was, we had a big edge in hiring. When everyone started hiring for remote positions, the advantage went away. The next frontier to stand out on job boards is to offer an alternative work schedule.
Better employee retention: During the six years we used the half-day Friday schedule, just one employee voluntarily left the company. And it was to start a family, so we all supported that.
Happier employees (less burnout): When your employees are happier, they do better work.
Cultural switch from measuring hours at work to output: As I said in the introduction, those who question their work week are already way ahead of the game. You have decided that hours are not correlated one-to-one with results. By switching to a 36-hour week, you have made the switch from managing hours to output.
Press coverage: The 4-day work week gets a lot of press coverage as do other alternative work schedules. That's always good for your company.
See Also:
36-Hour Work Week Schedule Examples
Half-Day Fridays
This is the schedule we worked for six years. Monday – Thursday for eight hours per day with four hours on Fridays (Friday afternoons off every week).
If you are considering switching from 40 hours to 36, I would recommend the half-day Friday work schedule. Here's why:
It eliminates the least productive work time altogether (Friday afternoons) and frees people up.
It doesn't increase hours on the other work days, which could cause a problem for some of your employees.
4-Day Work Week (Four 9's)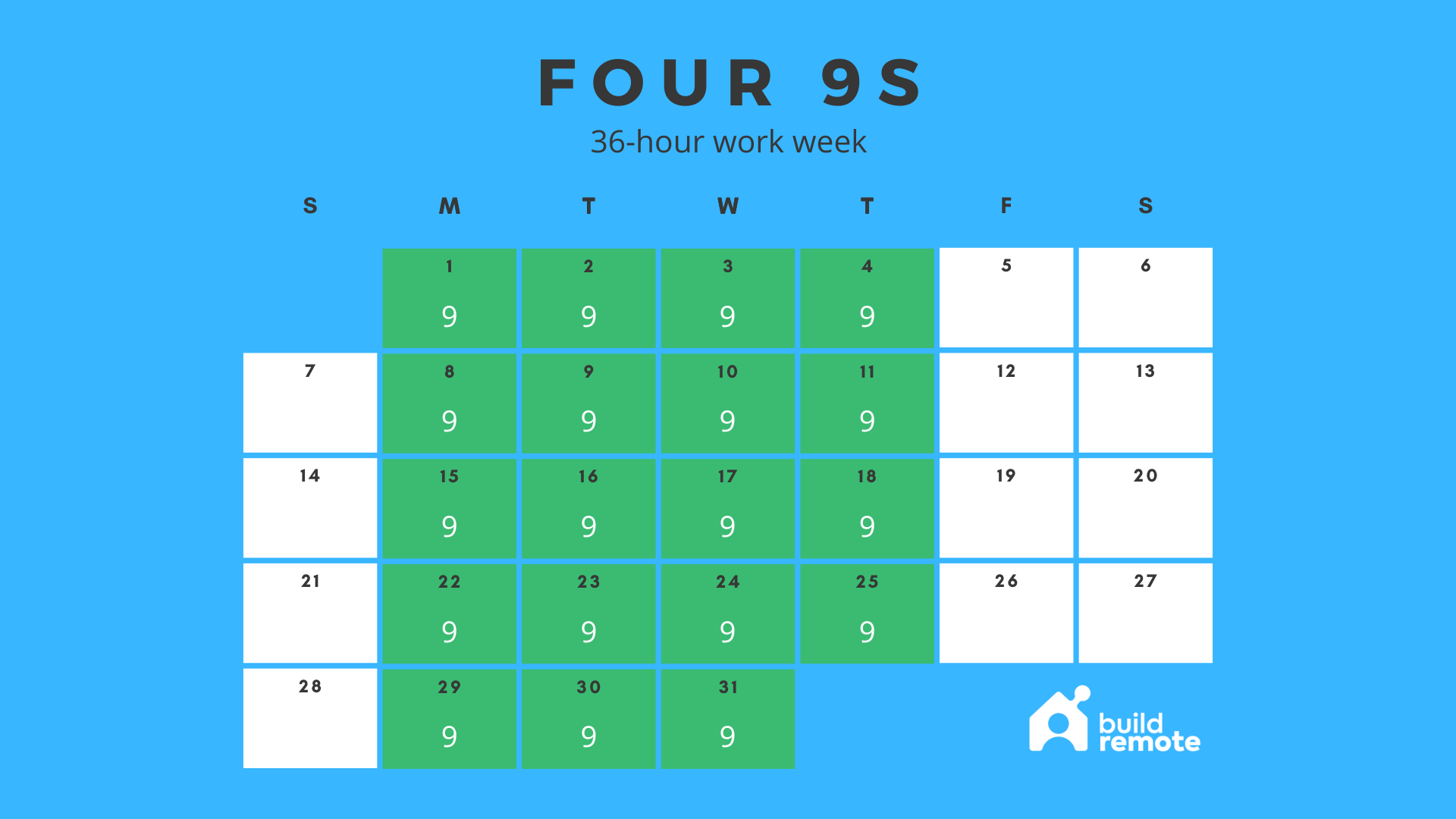 The most common four-day work week is 32 hours. A variation to that is to work four nine-hour days to get to a 36-hour work week. If you currently work eight hours per day, however, this would increase the daily workload to reduce the weekly workload. Ask your employees if which they'd prefer since adding hours each day could cause issues.
Seasonal 36-Hour Work Week
Some companies give Fridays off in the summer. Most companies switch to a 4-10 schedule to do that, but you could reduce work hours during the summer by 10%. That would bring you to a seasonal, 4-day, 36-hour work week.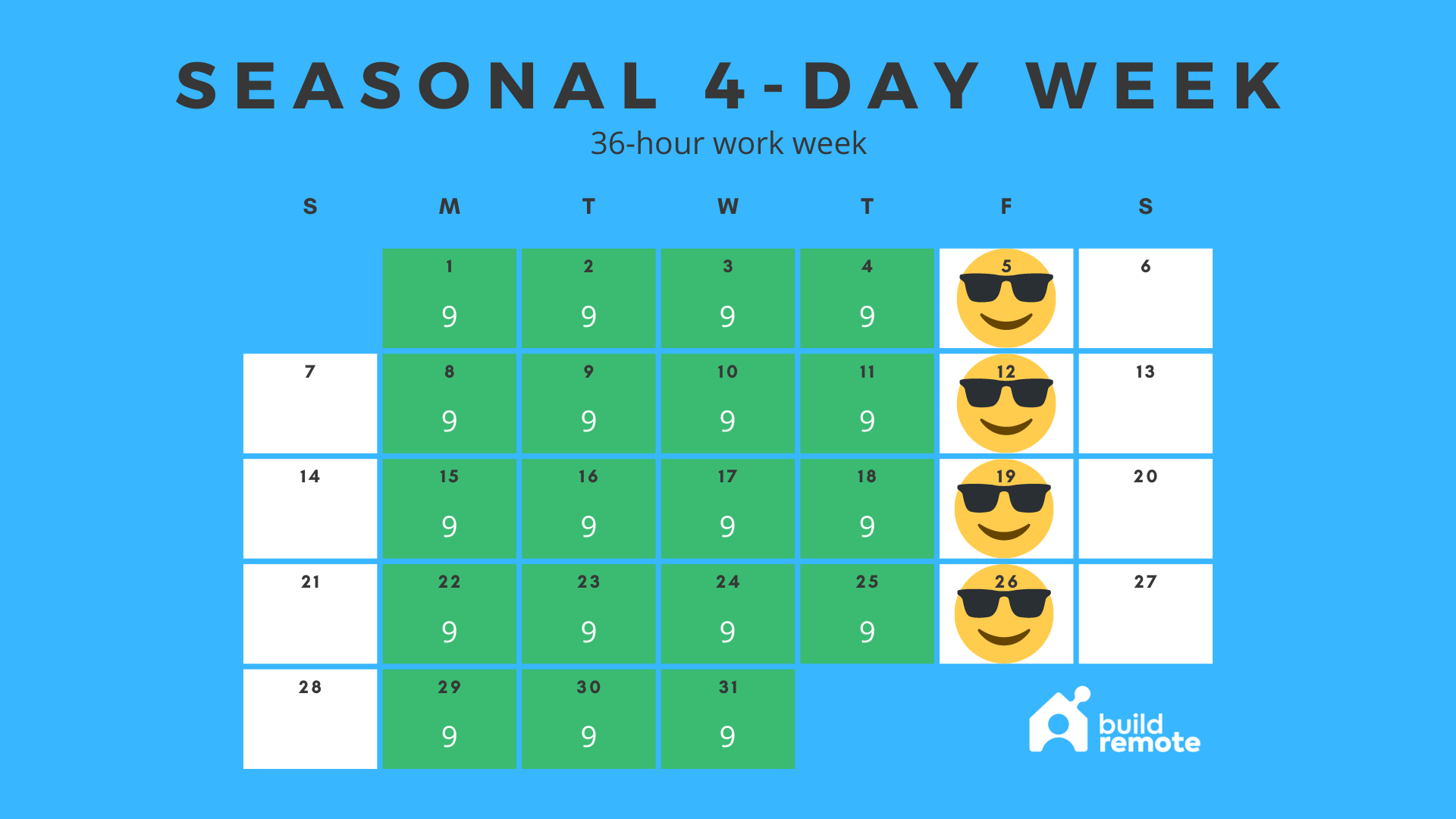 7-Hour Work Days
First off, I acknowledge this is a 35-hour work week (not 36). I figured you wouldn't want to ask your employees to work 7.2 hours per day, so let's call this close enough.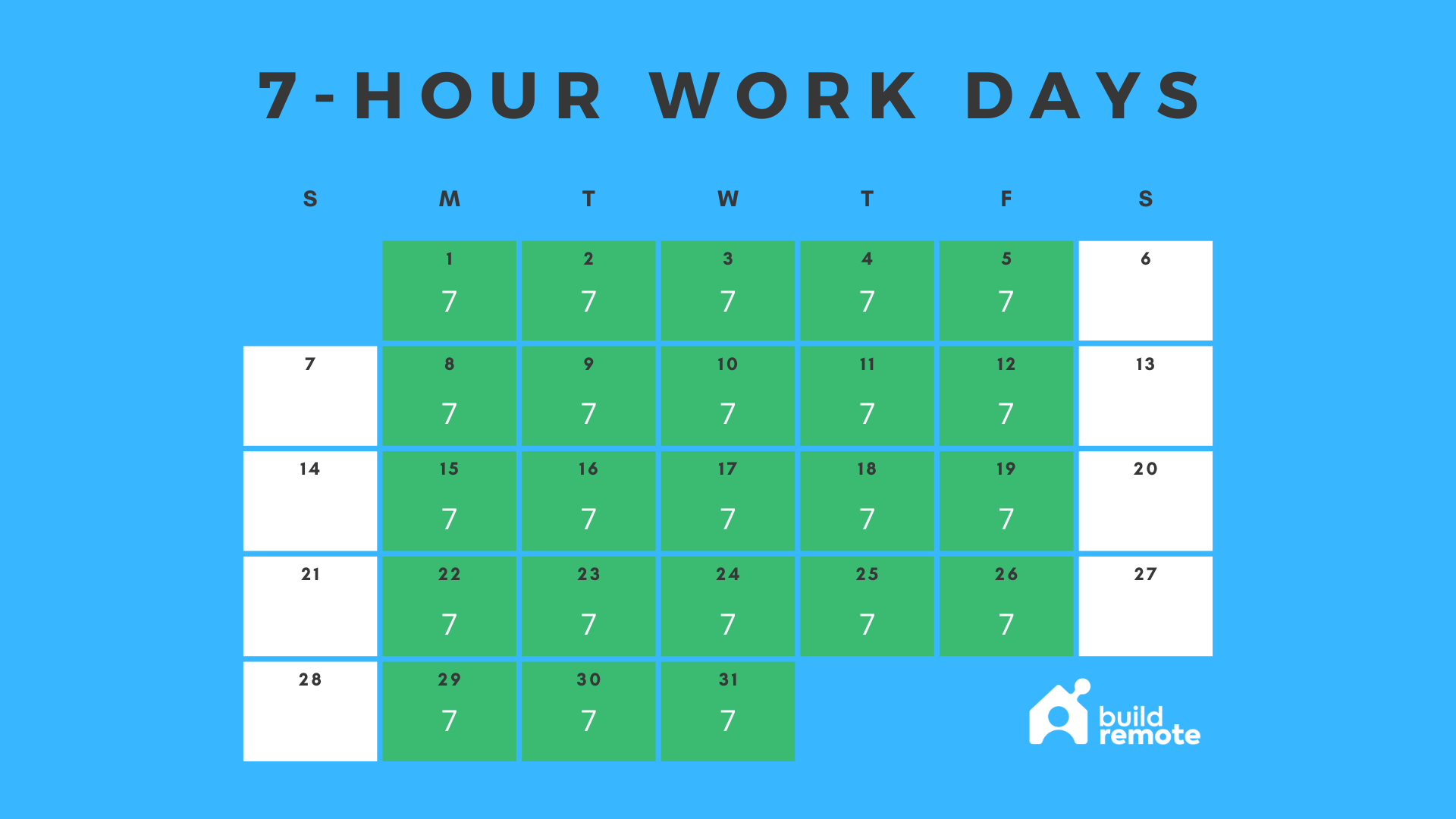 Similar Schedules
If you're looking for other ideas, these alternative work schedules are similar (although not the same amount of hours):
Where To Find 36-Hour Work Week Jobs
Flexjobs
The first place I'd look is Flexjobs, the world's biggest job board for remote and flexible work. You'll find dedicated filters to "flexible" and "alternative" schedules.
Search for alternative week jobs on Flexjobs.
Other options
Companies Doing A 36-Hour Work Week
I keep the most updated list of 4-day work week companies. Some of those companies choose to work 36-hours per week, and we list them below.
What is it like working 36 hours per week?
If you are accustomed to 40 hours per week, having a half-day Friday policy is a big change. Can you picture on Fridays at 3 PM when everyone is sort of working just to show they are? That goes away completely.
Is working 36 hours per week considered full time?
This depends on the state and/or country in which your business operates. The U.S. Department of Labor doesn't specify an amount of hours to qualify as full-time. A general rule of thumb to follow is that 30 hours or more would qualify as full time.
Try it out
We've worked the 40-hour week since Henry Ford switched Ford Motors to that schedule almost 100 years ago. That doesn't mean it fits for today. Do you think you and your team can get the same amount of work done in 32 hours as you do 40? Then give the alternative schedule a try.


View other unique work week schedules
This is part of our series highlighting unique work schedules. Have a look:
Some of the links in this article are affiliate links that may provide Buildremote with a small commission at no cost to you.