Remote vs. Hybrid Work: Head to Head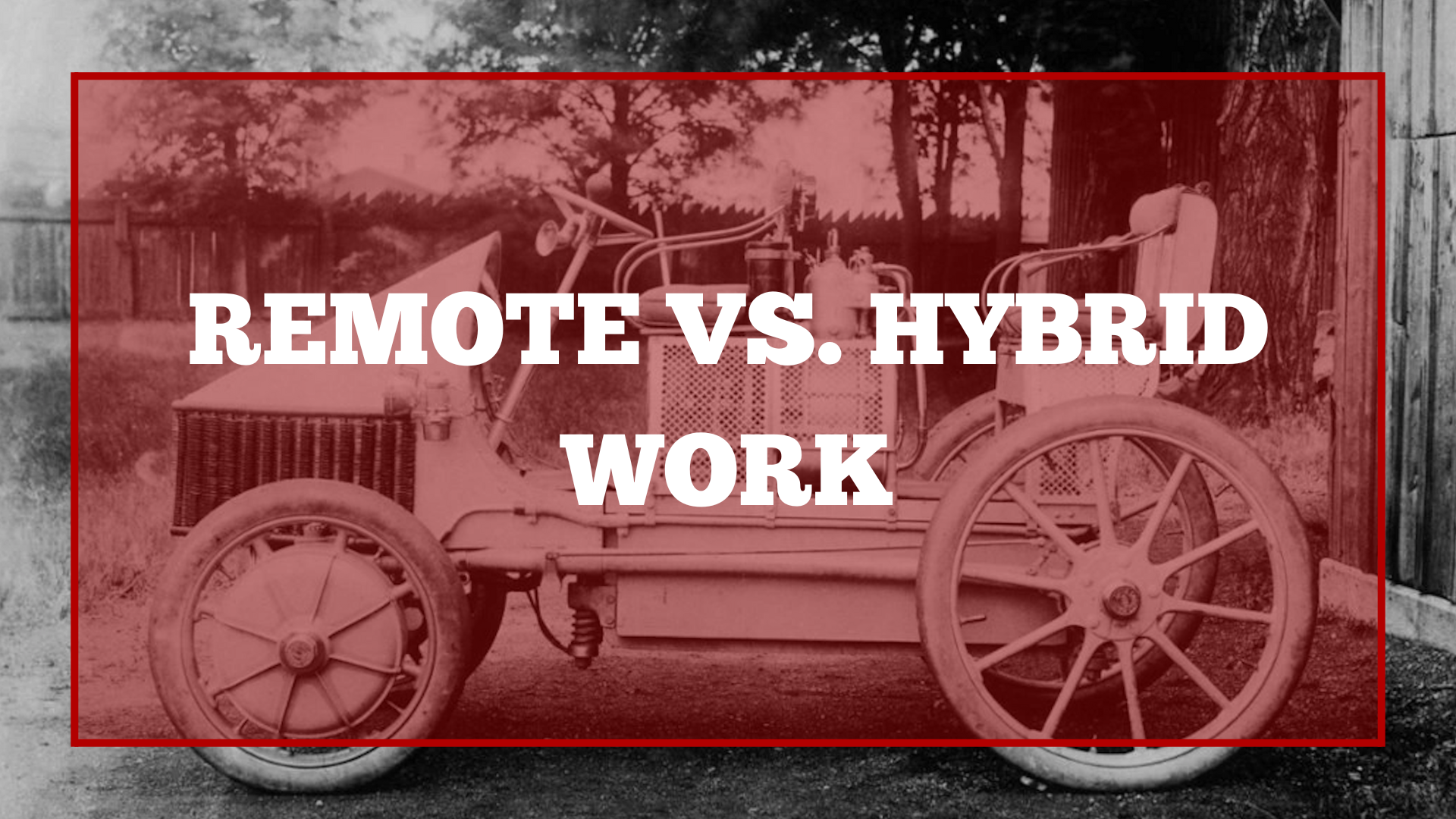 First, let's get on the same page about what's going on in the workplace right now:
Before 2020, just about everyone with a desk job worked in an office
Between 2020 and 2022, just about everyone with a desk job worked from home
In 2022, just about every company that has office space is trying out hybrid work
If you look at the top of your screen, you'll see our name isn't Build Hybrid so I bet you know where I stand on which model is better. But in fairness, we don't know where it'll all shake out:
In this article, we've pitted the two against each other so you can make the decision about what's best for you and your company.
Remote vs. hybrid work definitions
What is remote work?
Remote work entails getting the job done from a place besides the office. Usually, this is the employee's home, but it can also be a cafe, the beach, or anywhere else with a Wi-Fi signal.
What is hybrid work?
A hybrid work model has employees split their time between their homes and their offices. A hybrid plan may be as simple as "Everyone comes to the office on Monday and Tuesday," or as specific as "Come in to the office when you feel like it."
The head-to-head comparison
Within driving distance of the office (~50-mile radius)

- No cost for office space
- Pay for home office equipment
- Pay for virtual collaboration tools


- Pay for office space
- Pay for home office equipment
- Pay for virtual collaboration tools


Virtual, through Zoom, Slack, etc.

Water cooler, conference rooms, drop-bys

No commute — unless you count "from the coffee pot to the desk"

1-4 days of commuting per week

23 for employees

17 for employers

25 for employees

24 for employers

Slack, Quora, Basecamp, Shopify, Spotify

Microsoft, Citigroup, ASDA, Alphabet (Google), Nike
Benefits of remote work
No cost of office space
As a fully remote company, you have no cost of office space — one of the top expenses for nearly every business. Removing office space is one of the easiest ways to increase profitability, and therefore, the health of the company.
Expanded talent pool
A company with a central office can hire within, at best, a 50-mile radius of the office. That limits your access to talent. When you start to hire anywhere in the country or the world, the quantity and quality of job applicants go up. The result over time is a more talented team, just dispersed.
Live where you want
If you work in an office, you need to live somewhere close to that office. Your work is tied to the location of the office. If you work from home, you can live virtually anywhere.
No commute
The average one-way commute time in the United States is 26 minutes. That is 52 minutes per day, and four hours, 20 minutes per week. If you were to remove that average commute time, you could replace it with a half day of work, more sleep, more time with family, an entire week's worth of workouts, and more.
Better employee retention
Happier employees are more likely to stay with the company. From an OwlLabs study done in 2019: "Remote workers say they are likely to stay in their current job for the next five years 13% more than on-site workers."
Benefits of hybrid work
Freedom is motivating
I have noticed my productivity and output has increased as I feel I have more control and freedom with my job. It motivates me to work harder knowing I have the option to either stay at home if I'm not feeling sociable, or go into the office and see people face to face, which is always nice.
– Andrew Walker of Coffee Kingdom
Individuals can work to their strengths
By fostering a culture that sees remote work as a positive alternative to intensive in-office work, teams can find a good balance between creativity and collaboration. Employees who need quiet and quiet to focus or who thrive in an office environment can choose where and when they are most productive.
– Shabtai Dvir of Jika.io
Creativity gets a shakeup (a good one)
Hybrid working allows for more creativity. I work better at home, but being able to come out of my comfort zone sometimes means I am shaking up the ideas in my head and not presenting the same old things.
– Stacy Cason of Planetarie
Companies can identify bottlenecks faster — and take action
[Hybrid work] makes it so much easier to identify bottlenecks, pain points, or any problems and take the necessary action to fix them. This can be a problem in communication, team management, work environment, or even spotting a demotivated employee and taking action to figure out the problem and find a solution before it affects the work and employee too much.
– Zachary Weiner of Finance Hire
Healthier workplaces mean a healthier company
When there is a limited number of individuals in an office, you have a far lower risk of health and safety incidents — and when you have structures in place to work from home where necessary, people can stay home when ill without putting their income at risk. Overall, people will be getting sick far less frequently, and even when they do, they may still be able to work without risk to their colleagues.
– Michelle Henry of Outdoor Dog Fun
Hybrid or remote — you choose
I've come to the conclusion that hybrid work is not the future. Hybrid companies are remote companies but with office space. Once they realize they are overpaying for underutilized office space, that they need to pay for home office equipment and office equipment, and that their employees prefer the work-from home days to the office days, these hybrid companies will turn into remote companies. But hey, that's just my opinion.
I'm still looking for someone to prove to me how and why hybrid has a big future on how work gets done. Let me know your thoughts on LinkedIn or Twitter.