3-Day Work Week: The Complete Overview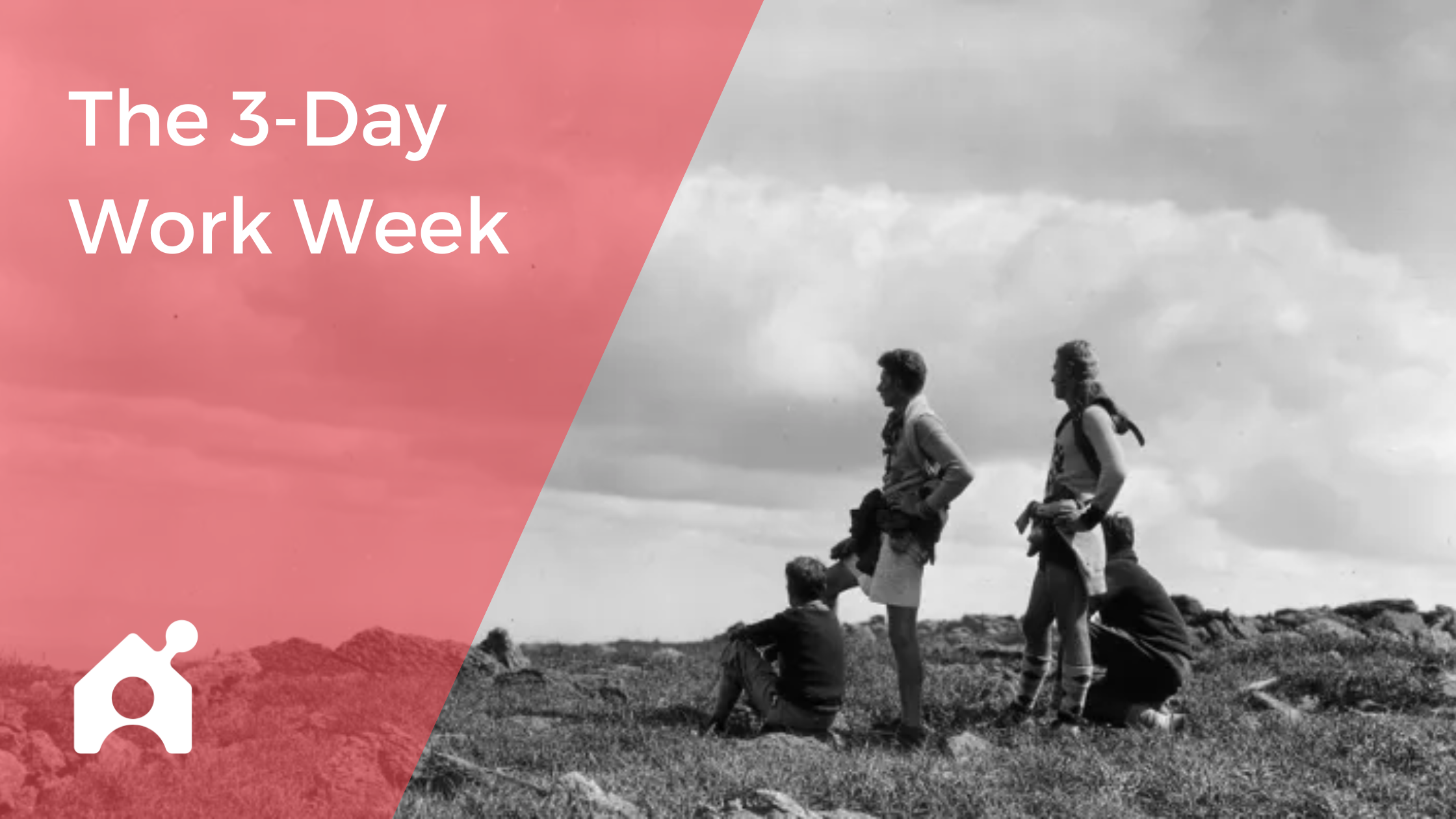 The five-day work week is (still) the standard.
The four-day work week is quickly becoming normalized.
The three-day work week? For companies, it's mainly a distant idea, but will likely grow in popularity as the four-day work week spreads. For entrepreneurs and freelancers, it's happening right now (and might be an attainable goal for you).
In this article, we break down everything you'll need to know about the three-day work week. Use the links below to jump to a section that interests you the most.
---
Looking for an alternative, flexible job?
Have a look at Flexjobs, the world's biggest job board dedicated to flexible and remote work. You'll find dedicated filters to "flexible" and "alternative" schedules.
---
What is the 3-day work week?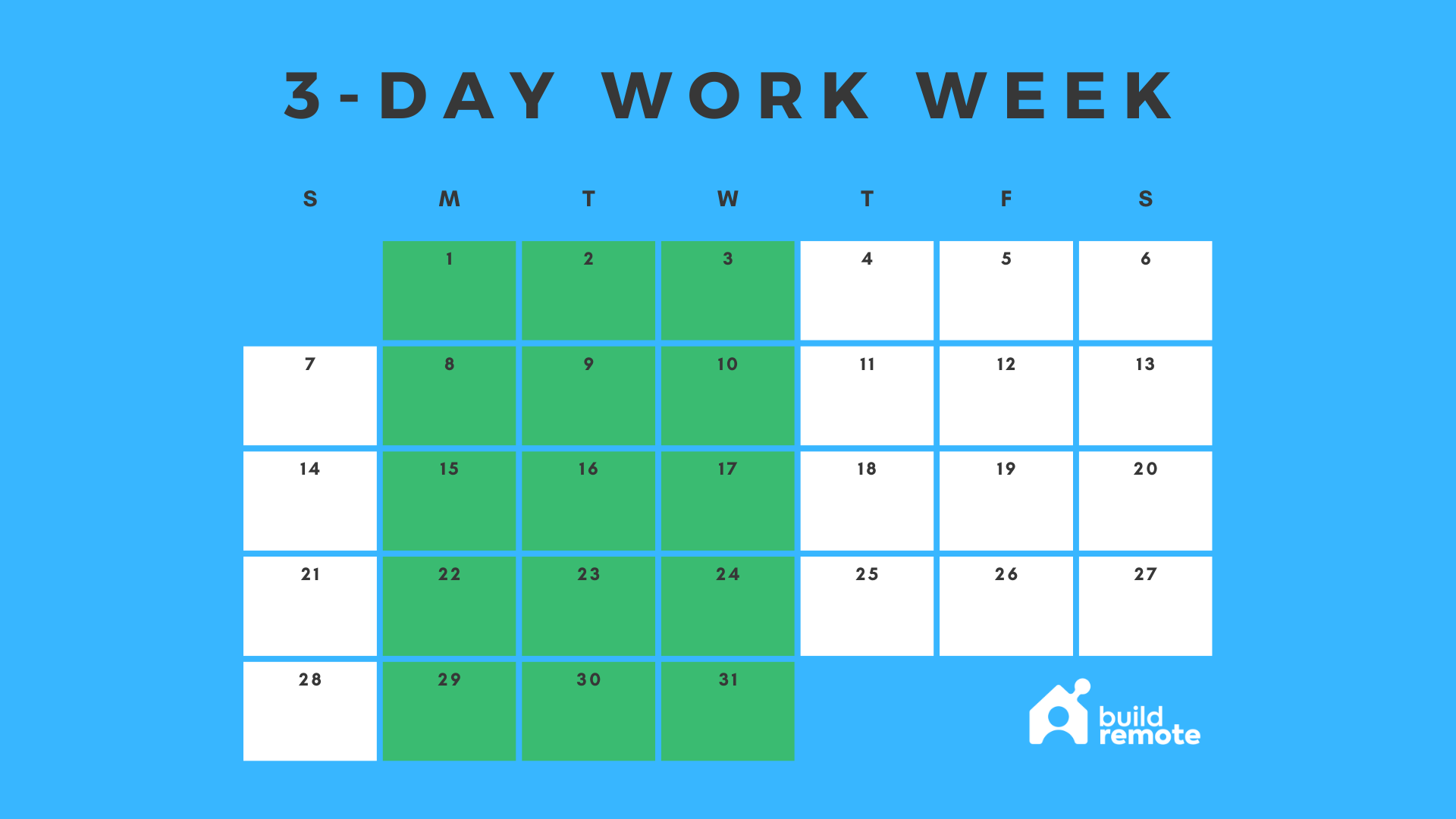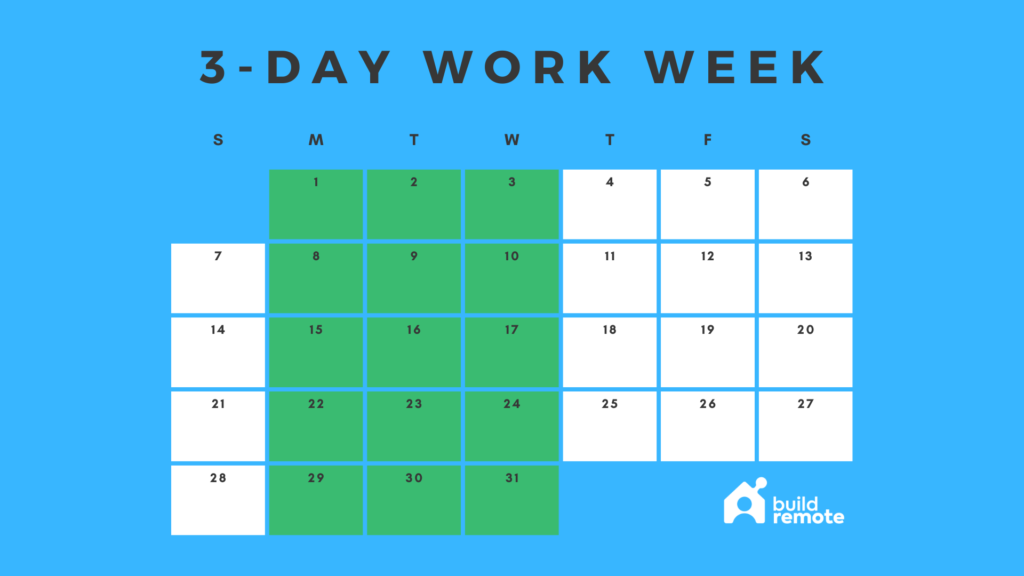 For now, the three-day work week is a fragmented idea. The phrase carries one of three meanings each that are quite different from one another. So if you are searching to learn more about working at a three-day work week company, someone else might want to read about an energy crisis in the United Kingdom in the early 1970s.
See Also: 4-Day Work Week: The Complete Overview
Here are the different meanings associated with the term "three-day work week."
A program to reduce electricity consumption: In 1973-1974, the United Kingdom faced an energy crisis. The government temporarily limited "commercial users of electricity to three specified consecutive days' consumption each week and prohibited from working longer hours on those days."
Part-time jobs for three days per week: Some part-time jobs may be three days per week. That's not a movement to lower the average working week, it's just a job option with fewer hours, days, and pay.
An idea to shift full-time work to three days per week: This would be a company, country, or general movement to set the average full-time work week to three days (rather than the customary five right now or the trend of four days that's happening right now).
Benefits of the 3-day work week
Currently, there are plenty of freelancers and entrepreneurs who work three days per week. In 2021, I figured out I worked an average of just under 3.5 days per week. I work a four-day schedule and took a normal amount of holidays and time off, adding up to 179 days (49%) of work and 186 days off (51%).
See Also: Creative Twists On The 40-Hour Work Week
So I'm close and I've spoken to few small business owners who work three days per week (you'll see their schedules below), but most of these benefits are theoretical at this point. If a company were to switch to three days per week, here are some of the benefits they'd provide to their team:
Work-life balance: Three days of work and four days off is compelling as a way to structure your life.
Recovery time: Know when you get a long break and you feel refreshed and ready to get back to work? That's built in every week.
Lower cost for childcare: Having two extra weekdays off can remove the need for a nanny or day care those days.
Less commuting: For office-based companies, you'll commute three days instead of five (saving 40% of your total commute time)
Less sitting: According to a Yale Medicine article from 2019

: "Last year the 

Annals of Internal Medicine

published a study of 8,000 adults that showed an association between prolonged sitting and a risk of early death from any cause." You could

get a sit-stand desk

 to help (I have 

a Fully standing desk

), or 

a better office chair

… but really, just sitting less sounds the best.

More efficient (ergo more fulfilling): By working fewer days and hours, you've forced yourself to be more productive per hour. Getting a lot of valuable stuff done in less time is more fulfilling.
See Also: 22 Four-Day Work Week Benefits I've Experience
3-day work week schedule templates
I asked a list of entrepreneurs about their weekly work schedule. I got back a ton of great options, and a few of them were three days per week. Here are those schedules.
3-8 (24-hour work week)
Three work days each with eight hours. The goal here is to cut down on your work time.
3-15 (45-hour work week)
Three work days each with 15 hours. The goal here is to compress your work time into fewer days.
'Split 3-day work week' (30 hour work week)
Melanie Bruce of The Leveraged PhD has a unique three-day schedule:
Three, 10-hour days with a long-break each afternoon.
"I work 8am – 4 pm plus 7:30 – 9:30 PM three days per week. By working a split shift I can I work with international clients and be present with my young children more. I meet with clients in the Americas in the morning, admin during the afternoon and be present for family time in the evening and after my kids are in bed I meet with my European clients. This schedule allows me to be present with my family, be productive and successful in my work and enjoy more travel due to always having a 4-day weekend."
You-shaped schedule (15-hour work week)
Susanne Grant of Grant Method Coaching works this schedule:
Three work days each with five hours.
"For years, I worked as much as I could trying to squeeze as much out of myself as I possibly could. However, my health started to go down hill, not to mention my mental health! After becoming a mother, I was determent to break this harmful pattern and show my kids I could be successful without burning myself out, or ruining my relationships in the process. That is why I prefer the "you-shaped" or "me-shaped" work schedule. It fits my family as well as my personal needs. Because my schedule is designed to prioritise my (mental) health, I feel great 99 percent of the time. This means that when I work, I can focus, be productive and get things done quickly. I rarely waste anytime staring at my screen because I don't know what to do, or where to start. The "you-shaped" schedule allows me to show up fully and deliver create results for my clients."
– 
Similar schedules
Companies using the 3-day work week
Chick-fil-A

A Miami Chick-fil-A started to offer employees a three-day work week in February of 2022. The compressed schedule doesn't actually reduce hours, but instead fits 13-14 hour shifts into a day. Then, each employee gets four days off. With Chick-fil-A closed on Sundays, this essentially allows for two crews splitting the six days in half. The store received 420 applicants with its first job posting since advertising the three-day work week option.
Maaemo

A restaurant in Norway permanently works the 3-15 schedule:

"After implementing a four-day work week and seeing success, the restaurant owner did something even crazier. So noticeable an impact did the reduction have, that Bang decided to take it further: He cut his staff's schedule to three days. Everyone—back- and front-of-house—would still be putting in about 45 hours a week, but they would always have four days off in a row. And once a month, they'd get five days off in succession, so they'd have time to go visit far-flung family, or travel just for fun.
Tyson Foods

As a recruiting tool during a labor shortage (starting in late 2021), Tyson Foods is offer a 3-day, 27-hour work week.

"A Tyson Foods plant is rolling out a three-day workweek for some staff in Pennsylvania, LancasterOnline reported. "The plant will pay staff for 36 hours a week though they'll work just 27, per the report."
Slice

An Indian fintech company is offering a three-day work week to new hires as an experiment. The pay is designed to be 80% of the going-rate for full time (40 hours per week) and the positions include full benefits.
Richard Branson

The billionaire entrepreneur has talked about it and may work the schedule himself, but Virgin doesn't actually does it.
See Also: Every Company Doing A 4-Day Work Week
View other unique work week schedules
This is part of our series highlighting unique work schedules. Have a look:
Where to find 3-day work week jobs
Flexjobs
Have a look at Flexjobs, the world's biggest job board dedicated to flexible and remote work. You'll find dedicated filters to "flexible" and "alternative" schedules.
Other options
Indeed: This is the biggest job board in the world. Although they aren't focused on alternative jobs, they'll have most or all of the alternative jobs out there.
4dayweek.io: This job board focuses on remote, 32-hour jobs in software if you're interested in that schedule. That's not the 3-day week, but it's the closest, realistic option out there.
We hope you find this article useful. Just so you know, Buildremote may collect a small share of sales from the links on this page to help keep this site running.