50-Hour Work Week: 16 Schedules To Peruse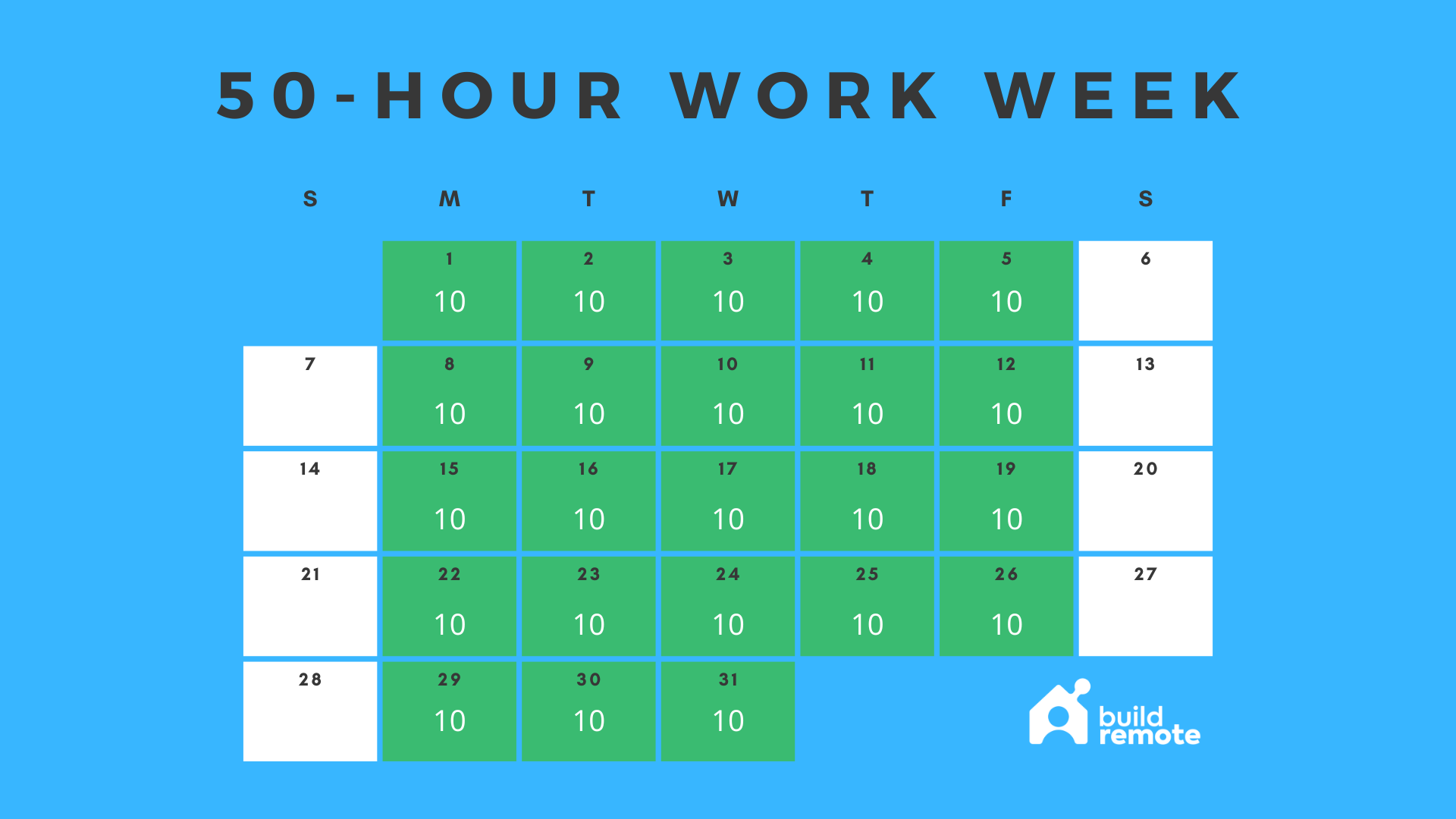 What is a 50-hour work week?
The most common 50-hour work week is five work days (Monday-Friday) with 10 hours of work per day (8:00 a.m.-6:00 p.m.). A common variation is to work fewer hours during the day and add a block of time at night or on a weekend day.
---
The five day, 40-hour work week is the standard. I'll let you in on a little secret, though. Henry Ford invented that schedule for his factory workers in 1926. Since then, we've invented the computer and internet and an entire layer of knowledge work that sits on top of the factory and farm work. But alas, we stick to the 40-hour work week — as if coding a software application has anything to do with fastening a door to a Model T.
If you are lucky enough to be in knowledge work (or have a desk job, in other words), you don't necessarily need to be working 40 hours per week. You could work 20 hours as an entrepreneur or freelancer or slog through 60 hours to get that promotion or grow the business. Any departure from the 40-hour week (equating to 1,992 hours per year) just might be the right fit for you and/or your company.
Today, we're here to help people working 50 hours per week. I asked our list of contributors to share their weekly work schedules if they work about 50 hours per week. I received 47 replies; we're highlighting the most unique 50-hour work week schedules here.
50-Hour Work Week Schedule Examples
Divided by Three

58 hours per week over Monday, Tuesday, Wednesday, Thursday, Friday, Saturday, Sunday

Weekdays: 8:00 a.m.–6:00 p.m.

Saturdays: 8:00 a.m.–12:00 p.m.

Sundays: 8:00 a.m.–12:00 p.m.

Currently, I am the founder and CEO of two successful startups, and it wasn't always easy. I divide my schedule by three to account for a "work-work-life balance." Of course, there are days when I am tired and just want to veg out on the couch, but for the most part, I am so focused on my goals that the time just flies by.

– Jonathan Saeidian of Brenton Way
Flex Schedule

56 hours per week over Monday, Tuesday, Wednesday, Thursday, Friday, Saturday, Sunday

Eight hours every day between 9:00 a.m. and 7:00 p.m.

I typically work around 56 hours per week, but I have a lot of flexibility in my schedule, which works well for me. I can usually take a break in the middle of the day to run errands or go for a walk. I can also work from home when necessary. I find that having a flexible schedule helps me to stay productive and motivated. Additionally, it allows me to spend more time with my family and friends, which is important to me.

– Loran Marmes of Medicare Solutions Team
Intentional Scheduling

55 hours per week over Monday, Tuesday, Wednesday, Thursday, Friday

I am very intentional about my schedule and task management. Although I work 55 hours weekly, I also schedule a lot of time for my family and hobbies. I wake up early, around 4:00 a.m., and complete my most important work activities first thing. I'm in the gym by 5:00 a.m. and then spend time with my wife and kids before the kids go to school. I am usually to my office by 8:00 a.m.; depending on the day, I am home by 6:00 p.m., sometimes earlier. I always make time to attend my kids' events and sports and sneak in frequent lunch dates with my wife. Weekends I reserve for my family.

I made the decision to take control of my calendar in order to be very intentional about where I spend my time. It has impacted my life greatly. When I work, I work. When I am with family, I am with family. Being very structured and intentional with my time allows me to be present and set clear boundaries between family, fun, work, and the rest of life.

– Matt Shoup of MattShoup.com
Frontloading Hours Early

54 hours per week over Monday, Tuesday, Wednesday, Thursday, Friday, Sunday

I usually work 54 hours, with the bulk happening from Monday to Wednesday, where I work 12 hours per day. Then I work 10 hours on Thursday, four hours on Friday, and take Saturday completely off. On Sunday, I finish up the week with the remaining few hours.

I decided that the crucial thing is to always have a plan for each day, so I know what I need to do. On weeks that I'm working 55 hours, that usually means getting up a bit earlier so I can squeeze in a workout or some breakfast before starting work. I try to keep a pretty consistent routine during the week so I know what to expect each day. That way, if something comes up and I need to adjust my schedule, it's not a big a deal.

– Stefan Ateljevic of PlayToday
The 50 + 4 Rule

54 hours per week over Monday, Tuesday, Wednesday, Thursday, Friday, Saturday

Weekdays: 7:30 a.m.–8:30 a.m.: Freelancing

9:00 a.m.–5:00 p.m.: Full-time work

7:30 p.m.–8:30 p.m.: Freelancing

Saturday: 7:00 a.m.–11:00 a.m.: Freelancing

When I started a long-term project as full-time work, I decided to keep my freelancing business active. Prioritizing the work within the schedule is key to delivering high-quality work on all projects. I do the hard work that needs creativity and content creation in the morning while keeping the email replies and the readings for the night session. The key to success in this schedule is avoiding jumping back and forth between projects and wasting time getting into the project's mood again. Another tip is to prepare the schedule for the next week on Sunday evening.

– Toni Nasr of Investing in the Web
Nine by Six

54 hours per week over Monday, Tuesday, Wednesday, Thursday, Friday, Saturday

My work week usually entails working six days a week for nine hours a day. This is because my small business is still fairly new and requires a lot of time and effort. I usually dedicate two days a week to finding clients, working on PR strategies to gain recognition for my company, and produce  tips and advice for small businesses to understand how beneficial our services can be for them. The next three days are dedicated to working on projects simultaneously to ensure each gets the attention it needs. Fridays are usually dedicated to meetings, and Saturdays are for researching and writing new books.

As a small business owner in my twenties, now is the time to dedicate energy and effort to growing my business. I also work more days to accomplish my other goals. However, Sundays are necessary to take off to help me schedule time out, take a break, and focus on enjoying life outside of work.

– Zachary Weiner of Finance Hire
Always Creative

52 hours per week over Monday, Tuesday, Wednesday, Thursday, Friday

I work 10 hours a day, Monday through Friday. On Saturday, I take reports from my team about projects.

I'm an interior designer, so I need to be available during normal business hours to meet with clients. I decided to work a 50-hour week to have more time for personal pursuits outside of work. This schedule allows me to work fewer hours during the week, which gives me more time to relax and enjoy my free time. It also allows me to work more efficiently during the hours that I am working since I have fewer distractions.

– Steven Hill of DIY Gazette
Chunked Schedule

51 hours per week over Monday, Tuesday, Wednesday, Thursday, Friday, Saturday, Sunday

I break my days up into chunks split by fitness and mental health breaks. My alarm goes off at 5:00 a.m., and I start my work day at 6:00 after going through my morning routine. I work for three hours until my workout class at 9 a.m. After working out and showering, I head to the coffee shop and work for another three hours, from 11-2. I then go home, eat, and take a 30-45-minute walk. Once home, I spend a minimum of two hours working, if not more. Then I call it quits for the day.

I will be the first to admit, doing this seven days a week is not good for my mental health. However, I am so caught up on growing my own business and not working a 9-5 for someone else that I feel guilty not working on a day when I have nothing going on. I do, however, see the positive impact of my multiple breaks during the day; they keep me feeling good in body and mind.

– Paul Marlow of Tall Paul
Always Available

51 hours per week over Monday, Tuesday, Wednesday, Thursday, Friday, Saturday

Monday-Saturday: 10 a.m.-3 p.m. and 8 p.m.-11.30 p.m.

Sundays strictly off

I structure my workday around my kids' routines. This schedule takes into account their school hours, bedtime, and playtime. However, I am often available for calls and urgent edits even during my work breaks and hence am always available. I had a lot of issues with this schedule earlier because I barely had time for myself. Taking Sundays off and spending time reading, talking, and playing with the kids has made it a lot better. I now have adequate time for kids and work, and Sundays are dedicated to self-love.

– Smriti Tuteja of Yogic-Experience
Three by Three

50 hours per week over Monday, Tuesday, Wednesday, Thursday, Friday

Monday through Friday, 5 a.m.-8 a.m., 12 p.m.-3 p.m., 5 p.m.-8 p.m.

This work schedule gives me breaks throughout the day, an opportunity to be with my kids, and the flexibility to work with colleagues across time zones.

– Dennis Shirshikov of Awning.com
No-Work Weekends

50 hours per week over Monday, Tuesday, Wednesday, Thursday, Friday

Monday through Friday, 9 a.m.–7 p.m.

I would rather stay up late working weekdays than spend even a few hours on Saturday or Sunday. It's tough to motivate myself to work on weekends, and I don't feel like I have had enough rest afterward. In contrast, I don't get as tired even after a 10-hour workday on weekdays. I have tried different schedules, but I found out this works best for me.

– Charles Cridland of YourParkingSpace
Full Force Weekdays

50 hours per week over Monday, Tuesday, Wednesday, Thursday, Friday

My typical workweek is Monday through Friday. I work at the office or from home from 8 a.m. to 6 p.m. and take a break during downtime. I leave my weekends vacant to make time for socializing and other personal errands.

Working as marketing director of our company is a big responsibility to carry. Working 50 hours might seem a lot, but in a managerial position you have to be available for employee concerns all throughout the day. I have already adapted to working 50 hours per week, which keeps my productivity and efficiency high and leaves my weekends free for rest and relaxation.

– Jacob Villa of Authority
Three-Day Weekend

48 hours per week over Tuesday, Wednesday, Thursday, Friday

Tuesday-Friday: 12 hours per day

I have always hated Mondays. Luckily, now I can schedule my work so I don't have to work that day. I spend Saturday and Sunday with my family and friends; on Monday, I have some me-time with yoga, planning, and getting ready for a productive week.

– Dave Polykoff of Zenpost
Energy Maximization

48 hours per week over Monday, Tuesday, Wednesday, Thursday, Friday, Saturday, Sunday

I block time for 1-1.5 hours of exercise daily and schedule clients around that. I prefer client meetings and calls in the mornings with time to think/write/follow up in the afternoons. Weekends are for admin and catching up.

After a morning workout, showering, and eating breakfast, I am at my desk nonstop for most of the day. I think I am more productive and efficient than I was before the pandemic — a silver lining in the crisis! By being organized and setting my schedule in advance, I find I am actually sleeping more, eating healthier, and getting more done.

– Paige Arnof-Fenn of Mavens & Moguls
Building Blocks

48 hours per week over Monday, Tuesday, Wednesday, Thursday, Friday

I structure my schedule around the tasks I need to do.

As the lead content creator and writer, I identify what I need to finish first within the week. Then I group them according to their category. After grouping them, I block a number of hours for those tasks. The good thing about this is that my concentration is not broken because I am doing related tasks.

– Norbert Juma of Everyday Power
Eight by Six

48 hours per week over Monday, Tuesday, Wednesday, Thursday, Friday, Saturday

I typically work from 8 a.m. to 4 p.m., six days per week. I wake up early, get breakfast, and have a quick workout or a short jog. I end my days at 4 p.m. to leave a little room for overtime, especially during busy days.

As marketing director of our business, I am constantly discussing our content marketing strategies. I am accustomed to working long hours and this ensures that no work is carried on to the next work week.

– Deepanshu Bedi of Holistapet
What are some common tips from people working 50 hours per week?
Exercise
Organize and block your time to task
Match your work hours with your natural tendencies (morning person vs. night owl)
Schedule downtime and time off
Set and stick with non-work priorities (family, friends, hobbies)
Are there any negative effects of working 50 hour weeks?
In 2004, the CDC combined findings from various studies to report the effects of working overtime (hours above 40 per week):
In 16 of 22 studies, overtime was associated with poorer perceived general health, increased injury rates, more illnesses, or increased mortality.
In four studies, the 9th to 12th hours of work were associated with feelings of decreased alertness and increased fatigue, lower cognitive function, declines in vigilance on task measures, and increased injuries.
Working more than 10 hours per day comes with a 60% increase in the risk of cardiovascular issues.
View other unique work week schedules
This is part of our series highlighting unique work schedules. Have a look:
We hope you find this article useful. Just so you know, Buildremote may collect a small share of sales from the links on this page to help keep this site running.