50 Team Retreat Activities Your Team Won't Hate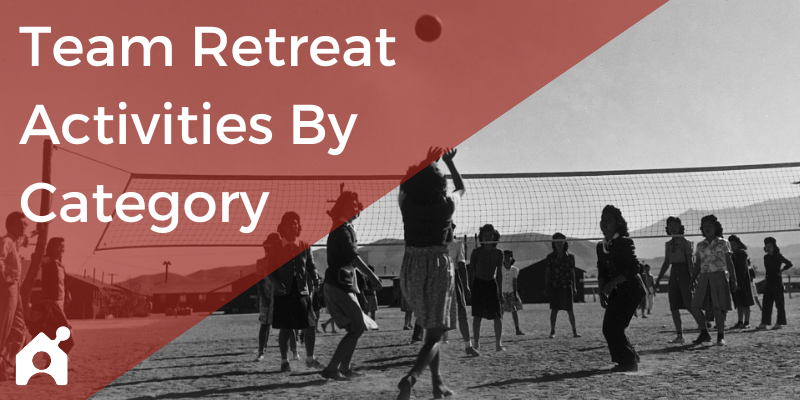 Every time you hear "team retreat activities," you shudder inside. These types of activities always seem to end with someone singing awful karaoke or failing a team trust fall.
But now you're in charge of planning the activities for your company's coming retreat, and you want to change that reputation. You need activities that will bring your team together without bringing down the mood.
If you're looking for a place to start brainstorming, this article is your ticket. We're sharing 47 activities (organized by category) to help you plan retreat activities that are actually interesting.
Use this table to jump to the section you're interested in:
Team Retreat Activities for Team Building
These retreat team-building activities use creative challenges and a touch of competition to help your employees improve how they work together.
Activity #1: Host a Cardboard Boat Regatta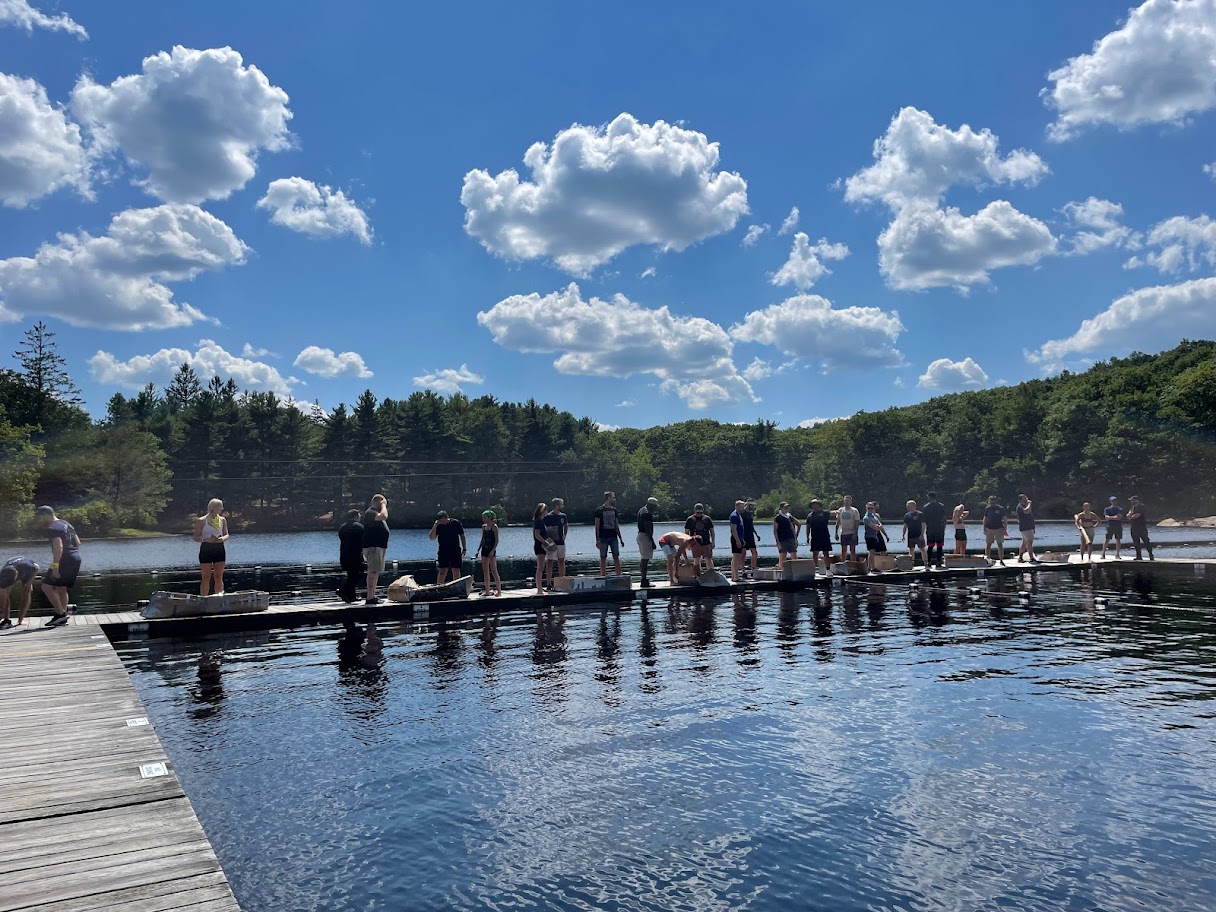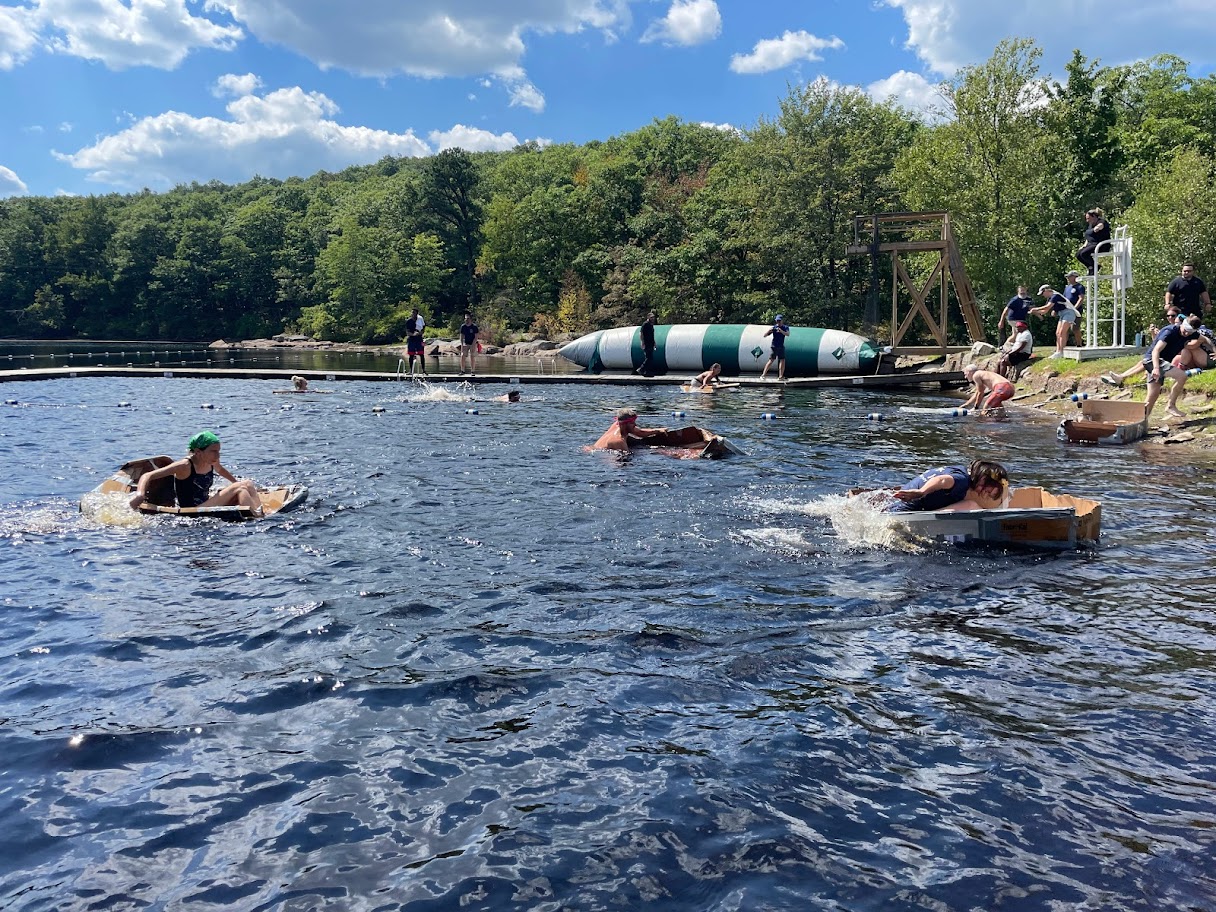 The SONA Events team racing team-constructed cardboard boats for the win
"This activity works specifically at a lakeside retreat where teams are given an hour and a half to use four large pieces of cardboard to construct a boat. The captain of each team must get in the boat (yes – in the water!) and race to see which team's boat lasts the longest or makes it to the end still in one piece. This activity is great for team-building and creates great, laughable memories together."
– Danielle Snelson of SONA Events
Activity #2: Learn Improv
This recommendation comes from Alyse Kalish in this article. Improv is an interesting team activity because it relies on members supporting each other, bouncing ideas off each other, and listening – all incredibly important parts of teamwork. An improv class can be a high-energy activity that gives coworkers a chance to get outside their heads and enjoy themselves.
Activity #3: Start a City-Wide Scavenger Hunt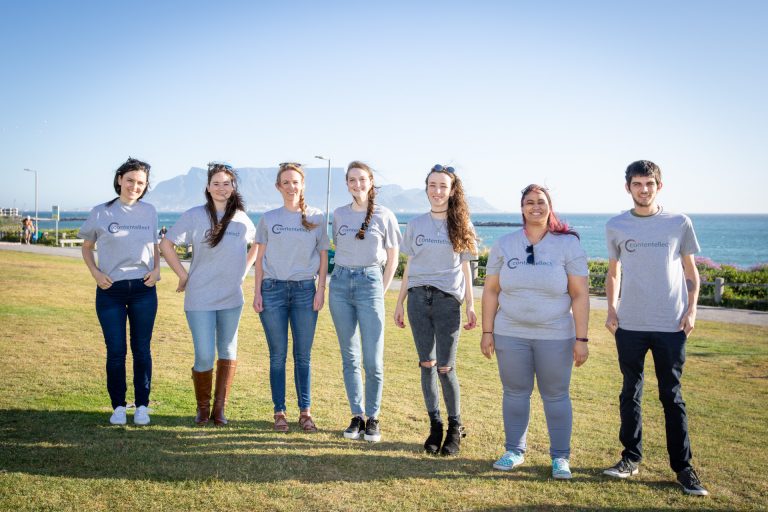 The Contentellect team in Cape Town, where the group did a citywide scavenger hunt
"During our recent retreat in Cape Town, our team members embarked on an exhilarating adventure designed to connect us on a deeper level and discover who we are beyond our roles as remote workers. We participated in a thrilling scavenger hunt that took us through the city's most iconic landmarks and hidden gems, fostering camaraderie and teamwork. From exploring the colorful Bo-Kaap neighborhood to scaling the majestic Lion's Head mountain, this activity allowed us to experience the beauty of Cape Town while learning more about each other's interests, passions, and life stories. As remote workers, this experience helped us bridge the distance between our professional and personal lives, strengthening our bonds and enriching our work with fresh perspectives."
– Jason Smit of Contentellect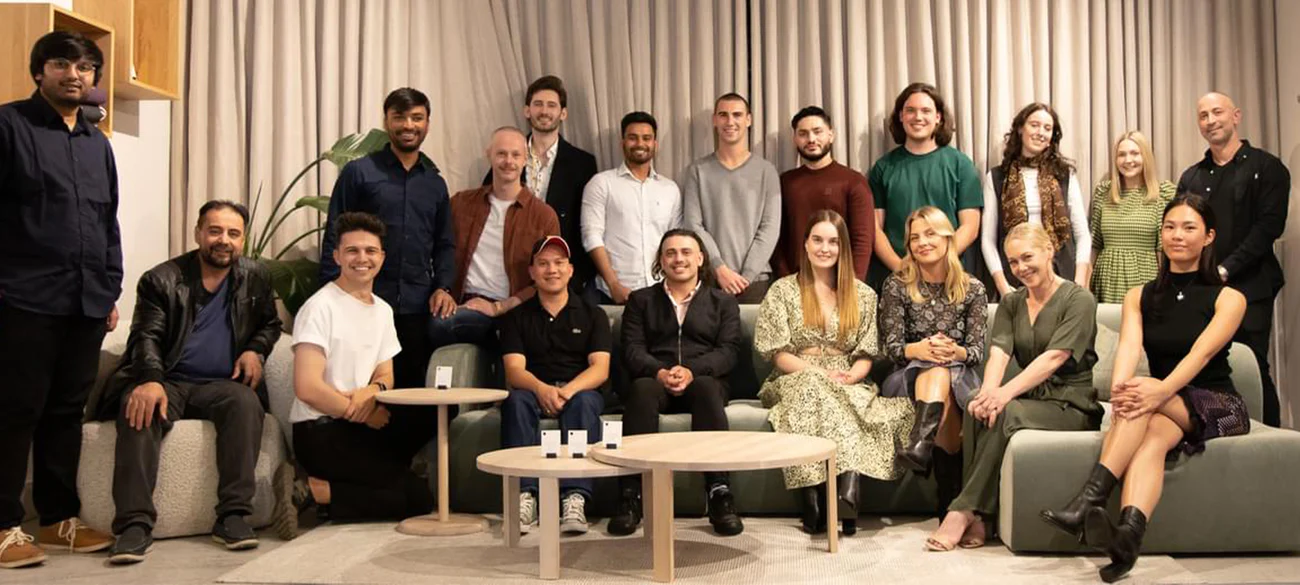 The RJ Living team on a team retreat
"Doing a scavenger hunt is a great way to help people bond and connect because it's a fun activity that requires teamwork. You want to create teams with people who don't normally work together so that employees can get to know more of their colleagues. This is particularly important for remote or hybrid teams who very rarely interact with anyone outside of their immediate team."
– David Janovic of RJ Living
Activity #4: Race for Fastest Tent-Building
This idea comes from Madeline Purches's article from Team Building Hub. Split your team into groups of two members each, then blindfold one of the two members. The non-blindfolded member must talk their team member through setting up the tent. The group that sets their tent up correctly first wins. This activity is a great way to sharpen your team's communication and problem-solving. Plus, it's fun to watch!
Activity #5: Volunteer as a Team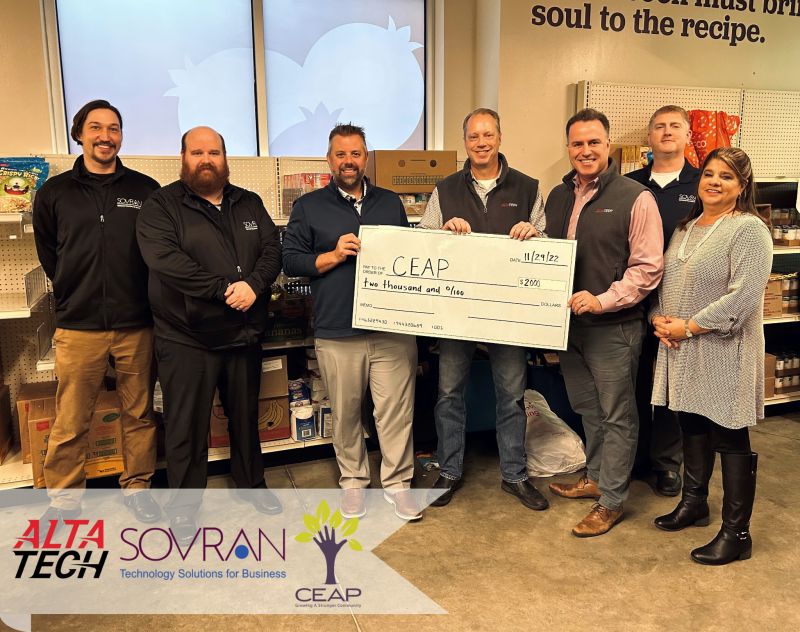 The Alta Technologies team doing community outreach together
"One of the best ways to not only help teams bond but to also do good and give back to your community is to do a volunteering project as one of the activities during a company retreat. This can be done in person by visiting a location such as a local shelter and serving meals, or it can be done by creating care packages that get sent to a charity organization to be distributed to their community. Whichever option you choose, it makes a big impact because it gives employees something to bond over while also doing a whole lot of good."
– Corey Donovan of Alta Technologies
Activity #6: Compete in an Escape Room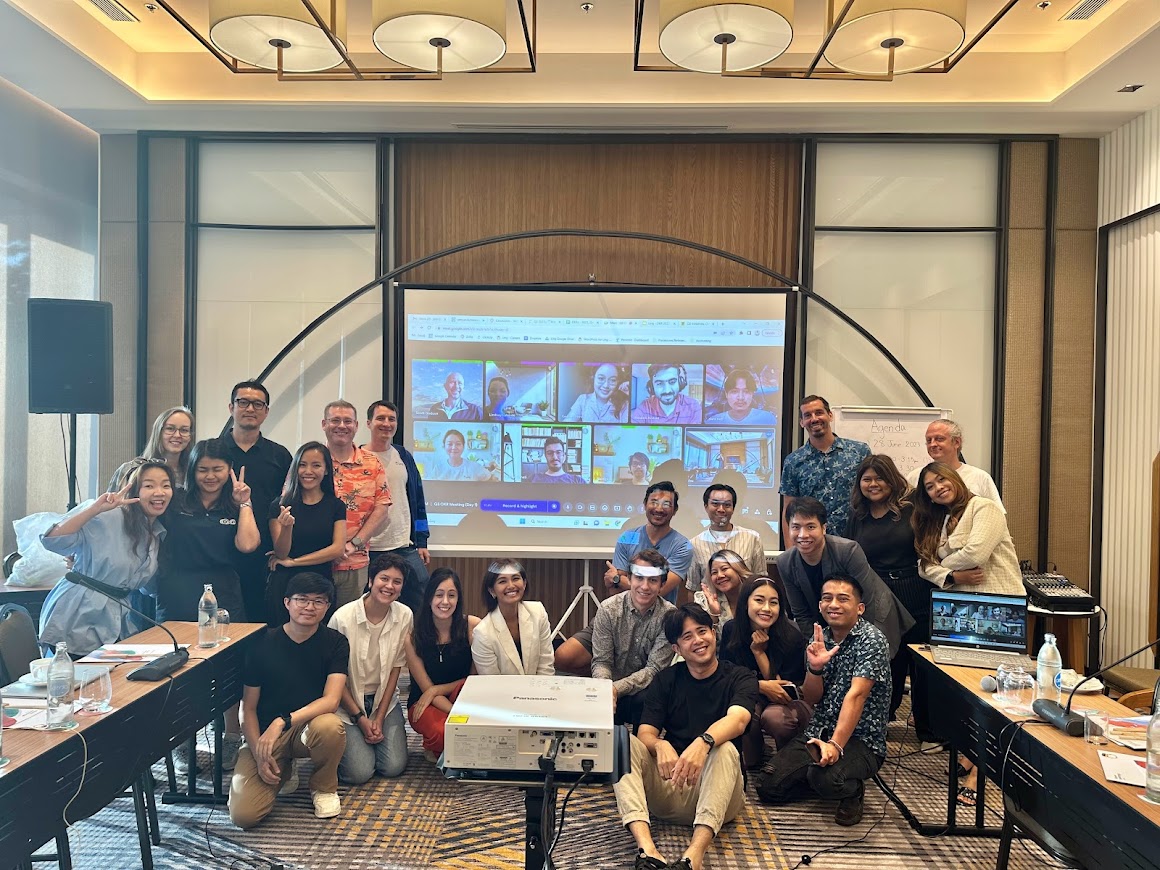 The Ling App team on a retreat
"Take escape rooms to the next level with larger companies. Group employees into departmental teams to challenge each other in the same escape room. They can compete for the most challenges solved, the quickest time, and the most collaborative or the MVP. The trick is to find an escape room no one has done previously and have other activities in place while each team completes the escape room. Of course, your employees have to be really good at keeping secrets, too. You'll learn a lot about each other with this activity."
– Jarir Mallah of Ling App
Activity #7: Create Human Bingo
This idea comes from trip planner Amanda Di Sabatino in this Moniker article. It's so simple but genius. Gather unusual facts and fun information about each team member ahead of time (like who has tried the most types of cheese, who has been to the most line dances, and who knows the lyrics to every Brittany Speares song). Then have the team play human bingo over the entire retreat by finding who did what and checking it off on their card. The game can even include funny challenges, like having a team member teach you a dance or a card game. It's a fun way to help the team learn more about each other in a lighthearted way.
Activity #8: Show Off Your Haiku Handiwork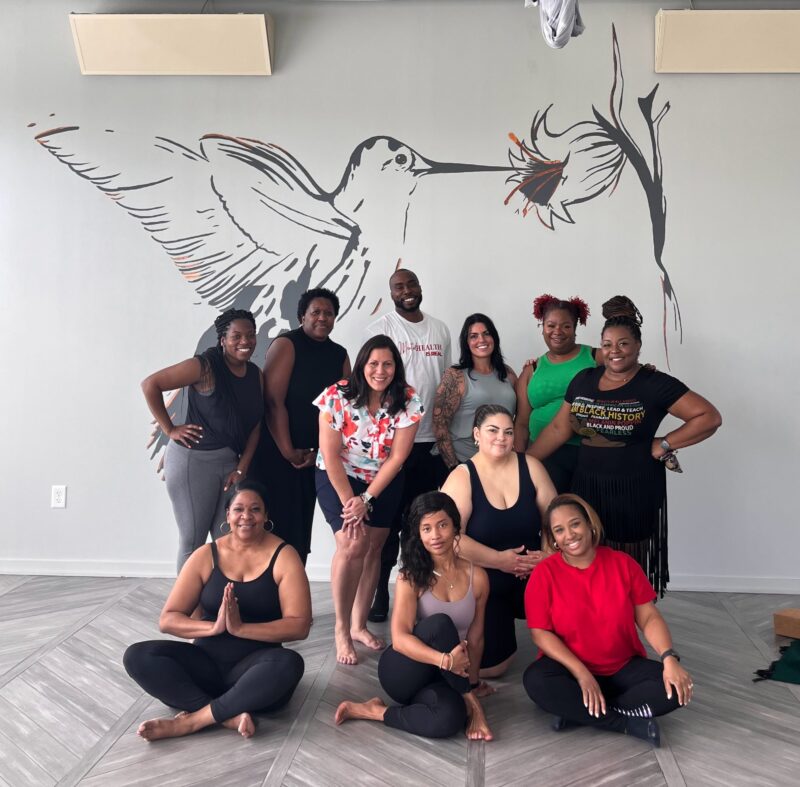 The Uncommon BIPOC retreat orchestrated by Blissful Mind Behavioral Health
Pam from Blissful Mind Behavioral Health uses this activity to help team members on a retreat share their challenges and goals moving forward. The example she provides is a personal growth haiku, but you could have team members share a business challenge and related goals for their position. This is a clever and unique activity to help team members learn more about each other, and it can spark problem-solving.
"Have team members identify current challenges, strengths, goals, and hopes for the future using the formal haiku structure to create a personal haiku.
1st line: 5 syllables
2nd line: 7 syllables
3rd line: 5 syllables
Line 1: This line should detail the current challenge you are dealing with.
Line 2: This line is a personal strength you currently possess.
Line 3: This line is about a personal goal that you are working toward or a hope you have for change.
Example Haiku:
Feeling overwhelmed
I can control my own thoughts
Let go when I can.
Have participants share their haikus. These haikus can help with goal-setting."
– Pamela Tippit of Blissful Mind Behavioral Health
Activity #9: Play the Game of Unlimited Possibilities
"It takes around 10 minutes and can be played as a single or multiplayer game. All you need are some random items. We played it as a group game, where one player was given the object, and the other one had to act out the ways you could use it. The team should guess the object based on this. Since it was rotated after two to three tries, we were able to build team solidarity and support whether we succeeded or failed. The result was encouraging everyone's innovative and creative mindset. This was witnessed soon after the retreat."
– Melissa Caverly of Imagine Maids
Activity #10: Compete in Laser Tag
This idea is recommended by Sean Hoff in this Moniker article. What better way to unite team members than by giving them a worthy goal? (Okay, maybe team domination isn't a worthy goal, but it sure is a fun one.) Large companies can split their teams into groups to compete for the most points or sign up for an intense outdoor laser tag experience.
Activity #11: Learn Graffiti
This idea was shared with us by James Bennett of Firefly Team Events. Get your team to create a masterpiece on a giant canvas. This activity not only lets everyone unleash a little of their inner rebel, but it creates a piece of art you can hang in the office. The team can work together to figure out the company values they want to get across in the graffiti, which will improve communication and team vision. Firefly Team Events orchestrates a version of this with professional graffiti artists who teach all the skills and techniques needed to make this look awesome, but you can also self-orchestrate this activity. Just make sure you do it outdoors so you don't breathe the fumes!
Team Retreat Activities for Fun
Not all staff retreat activities have to have a business purpose to be useful. These fun, laid-back activities can strengthen your team and create great group memories.
Activity #12: Host a Hilarious Theme Party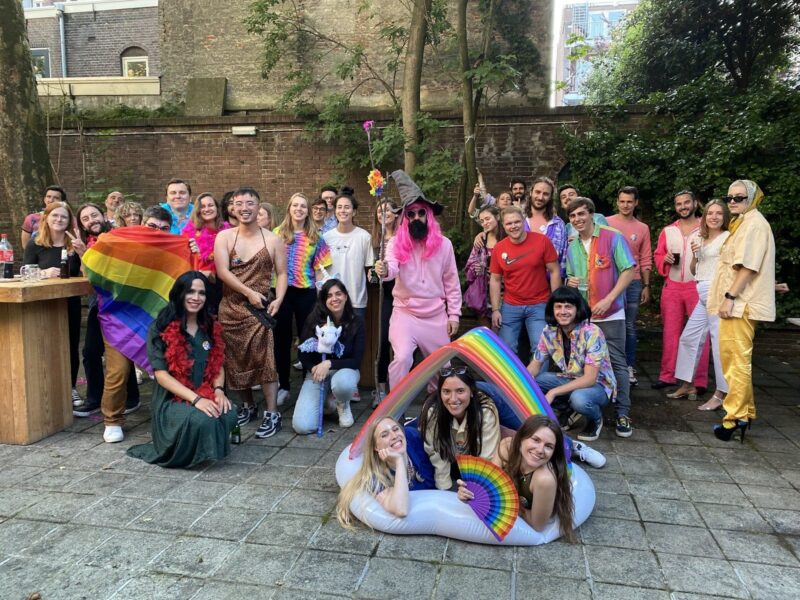 The Studocu team's theme party
"Theme parties might seem a little cheesy, but that's precisely why we include them in our company retreats. In professional settings, some people feel the pressure to perform and always be "on," but a theme party allows you to dress up and lean into silliness and the joy of play we often lose after childhood. When employees see leaders able to poke fun at themselves, it helps dispel some of those internal pressures to make way for more authentic connections. Ask your team to dress up in a theme on one of the first days of your retreat, and you'll set a fun tone for the rest of the retreat!"
– Marnix Broer of Studocu
Activity #13: Wig Out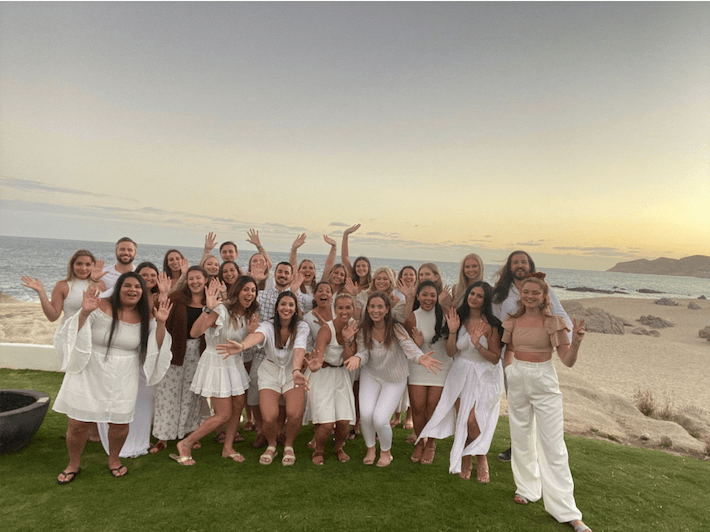 The CS Recruiting team on a beach retreat
As suggested by Charlie Saffro of CS Recruiting, a theme party can be a hilarious way to enjoy some time together. Saffro's team did a wig party, and the photo is fantastic. To make things extra easy, the company can purchase a selection of crazy wigs ahead of time. This way, employees won't have to do anything except don their stylish new 'do and enjoy the laughs.
Activity #14: Host a Guac Off
James Bennett of Firefly Team Events recommends a showdown to see who can make the best guacamole on the team. This is a fun way to create a little spicey competition (although just how spicey is spicey enough will be up to the judge)!
Activity #15: Gather the Team for Trivia
This idea comes from Madeline Purches's article from Team Building Hub. Get the group together for some trivia, whether it's music-themed, history-focused, or something ultra-niche. Just find a trivia theme that fits your team's favorite topics! This is a good evening activity for the retreat since team members can grab a drink and unwind.
Activity #16: Row, Row, Row Your Kayak
This idea also comes from Madeline Purches's article. Kayaking is good exercise, but it's also a fun way to enjoy a lake view and relax. Rent kayaks for the afternoon so team members can get to know each other and spend time in the sunshine. It's an easy activity to administrate, and it lets everyone have some downtime in between the more brain-intensive activities of the retreat.
Activity #17: Get Silly With Mini Competitions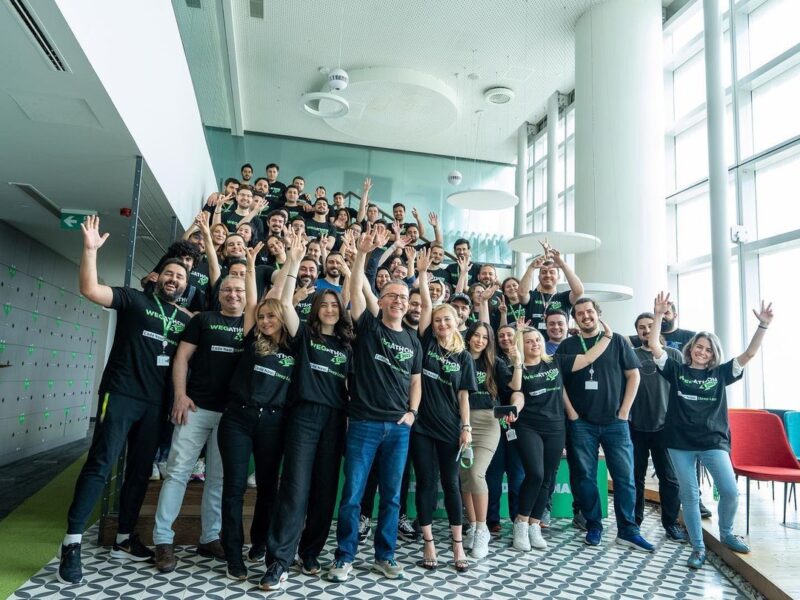 The Wingie team on a retreat
"These are games that you'd often find at children's events, like egg-on-a-spoon racing or hot potato, but they're just as fun for adults and are actually very effective for team building. Because the games are rather silly, people feel more free to just have fun and let their guard down a bit. Since the main emphasis is on having fun, people forget they're at a work event and are more open and social with each other."
– Nihan Colak Erol of Wingie
Activity #18: Build Your Own Merch Bag
We love this recommendation from teambuilding.com's article. Letting team members put together their own company merch goodie bags will ensure they only bring home the items they actually want. Plus, what's more fun than free stuff? We're willing to bet that your team will feel like a bunch of kids in a candy store. Teambuilding.com suggests setting up tables with a wide variety of branded items to make sure this activity is a hit. (As a side perk, employees will be representing the brand throughout the retreat, so you'll get free advertising.)
Activity #19: Host Company Chopped
Inspired by Team Building Hub's suggestion of a bake-off and countless hours of watching Food Network, our idea is a custom cooking challenge for your team. To make it Chopped-themed, give the team members four ingredients they must include in their dish. You can appoint other team members to be the judges, or bring in outside judges such as family members or even clients. It's up to you if you set a time limit, but this activity can turn into an entire event if you bring in some catered food to supplement the team's creations!
Team Retreat Activities for Leadership Retreats
These work retreat activities will help your company leaders sharpen their strategy and stretch their minds.
Activity #20: Offer an Industry Leader Workshop
Recommended by Tyler Lowe in this article from Loving Life, industry leader workshops can bring an edge to your leadership retreat. Bring in a thinker or innovator from your industry to share personal approaches and stories with the group. As Lowe points out, this teaches leaders new ways of doing things and encourages the group to think about problems from a new angle.
Activity #21: Enjoy Beachside Meditation
"The beach is an ideal location for a company retreat where multiple activities can be done. One of the best retreat activities is meditation, where coworkers can have a peaceful time amplifying the benefits of concentration and mindfulness."
– Daniel Ufland of Withflitch
Activity #22: Detox From All Things Digital
"Even discussions that are supposed to be informal and relaxed during retreats sometimes fall short of their goal of encouraging staff to relax. Therefore, the best method to make sure each employee can tune out the outside world and reconnect with themselves is through digital detox and meditation. Bird watching, art, and pottery lessons can all be included in digital detox programs to keep participants interested and prevent them from reaching for their phones."
– Paul Eddison of Instant A.I. Prompt
Note: We love Paul's idea of a digital detox program. One way to make this manageable is to set a time range within the retreat (for instance, 1-5 p.m. every day) for phone-free time. This will help the team enjoy the benefits of detoxing without worrying they'll miss communications from clients or family.
Activity #23: Learn From the Front Lines
Leaders need to understand the challenges the company is currently facing so they can address them and encourage growth. The best way to do this is to ask managers and employees what needs to be changed. After all, they're the ones on the front lines. This activity is recommended by Grace He in her article from Teambuilding.com. Set aside an hour for employees and leaders to discuss the current operating challenges of the business and come up with suggestions for new approaches.
Activity #24: Trade Roles
This clever game can garner new perspectives (and help leaders appreciate the team members in each role). The idea comes from Raj Verdhan's article at ThesisBusiness. The gist of the game is simple: create lists of three or four challenges each position usually faces, then switch leaders so each member gets a list for a position they don't usually fill. Leaders should brainstorm solutions for the list they're given and then discuss the results. This activity will get everyone thinking about problems they may not have experienced before, which will not only sharpen their appreciation for the team but also encourage creativity.
Activity #25: Reassess the Vision
This idea also comes from Raj Verdhan in this ThesisBusiness article. You already have all the company leaders together during the retreat, so plan a time for everyone to talk about the goals of the company. This time can be used to reassess company strategy (using documents like the mission statement, vision statement, and list of core values) to make sure it is up-to-date.
Team Retreat Activities for Small Teams
These company retreat activities are a great way to help small teams enjoy their time together.
Activity #26: Throw Axes
Recommended by Gabby Shultis Rios of Nectafy, ax throwing is a fun team activity because it's unusual. After all, throwing hatchets into wooden targets isn't normally part of the workday. We know it sounds a little crazy (throwing sharp objects usually is), but this activity is laid back and easy to enjoy as a group. There are all sorts of game variations to pick from, and the member (or team) with the most points wins. Because team members take turns throwing, there is plenty of time to talk and get to know each other as the game progresses.
Activity #27: Take a Group Archery Lesson
This fantastic idea was recommended by CustomersFirst Academy in this article. Archery is a unique group activity that will keep the entire team invested. Since not many people know how it works, a group lesson is a great way to give teams common ground. They'll all be learning a new skill together! (Archery tag can also be a hilarious way to go. It's like dodgeball but with padded arrows. Nothing like a little adrenaline and competition to spice up a company retreat!)
Activity #28: Sip 'N' Paint
Recommended by Gabby Shultis Rios of Nectafy, a group painting activity could be a fun way to get everyone talking. Tell team members to bring their favorite drink, or better yet, bring a selection so everyone can pick. This isn't about being Picasso. It's about learning new ways to be creative and seeing how each team member interprets the subject. What better way to get people laughing and sharing stories?
Activity #29: Try Out Group Pottery
The Escape Artist Greenville team trying pottery
This activity was perfectly executed by Will and Kim of Escape Artist Greenville. They brought their team to a private, one-hour pottery lesson. Each team member got to create custom bowls or cups and pick them up a few days later, fully glazed and baked. Pottery is great as a team-building retreat activity because even self-proclaimed non-artists have a good time. It's a creative activity that doesn't intimidate people, and it's surprisingly relaxing.
Activity #30: Create 'Think Wrong' Sessions
"We went to a nearby campsite and kept these one-hour sessions. The idea was to address varied problems by having employees come up with bizarre solutions. Not only was this a way to enhance communication, but it also expanded team creativity. Most of the team felt quite refreshed, which when paired with alone time within the campsite, was quite peaceful."
– Anthony Guerriero of Manhattan Miami
Activity #31: Walk or Pedal the City
"Walking meetings increase participation and foster closer relationships. Our group has visited museums and taken walking tours of works of art, and we always find time to wander aimlessly through new towns and cities. Even cycling tours are worthwhile, particularly if there is more distance to cover. The candid engagement between all of the employees participating in the company retreat is facilitated by enjoyable cycle ride chats."
– Kevin Lamberth of Central Carolina Scale
Activity #32: Learn the Language of Food
"In my opinion, food is a universal language. As a group works together to prepare a meal, they unconsciously address problems in a casual setting. They plan to collaborate on a project and then enjoy its fruits together. The analogies are nearly too numerous to count. There is logic to the prevalence of corporate cooking classes."
– Adam of Fard
Activity #33: Make a Soundtrack Quiz
This idea is part of Joan Garry's article on creative nonprofit retreats, but it applies to all types of companies. Have each team member submit a song that represents their life or their vibe, then have everyone guess which song is whose!
Activity #34: Start a Round of "Best About You"
This activity was shared by James Smart in this SessionLab article. Team members sit in a circle and write their names on a piece of paper, passing it to the person next to them. Each team member writes something they admire or appreciate about the person whose name is on the paper they received. By the time each paper has circled the group, there will be an entire list of the great things about each person. The team can read these lists out loud for a feel-good reminder of how everyone contributes to the company.
Team Retreat Activities for Large Teams
These corporate retreat activities are great for large teams, and you can split into groups for even more options.
Activity #35: Create Strategies Together
"In this activity, you divide your team into smaller groups and present them with a real or hypothetical business challenge related to your field, like improving customer satisfaction or coming up with a new product idea. Each group brainstorms solutions and creates a presentation to share their ideas with the rest of the team. This activity encourages teamwork, creativity, and critical thinking. It lets everyone contribute their unique insights and skills to find innovative solutions. Discussing and evaluating the various ideas helps your team develop a deeper understanding of the challenges you face and come up with actionable strategies."
– Jarik Oosting of SmartRanking
Activity #36: Learn the Ropes
Rope courses are recommended in this teambuilding.com article, and for good reason. Ropes courses can be challenging, but they're also engrossing and rewarding. This activity is great for teams who love to stay active. You can add it in with some of the more traditional team-building activities to keep energies high.
Activity #37: Get Sporty
"Your time together should be a good mix of personal and professional collaboration. The activities can range from sports and well-designed team building to strategic huddles and customized training. I highly recommend creating a rather exclusive setting and a well-planned implementation for a more focused participation of every team member."
– Matt Bowman of Thrive Agency
Note: Our favorite sporty activity ideas from the Thrive retreat are cornhole and bowling because they are great for all skill levels!
Activity #38: Just Add Beach (& Volleyball)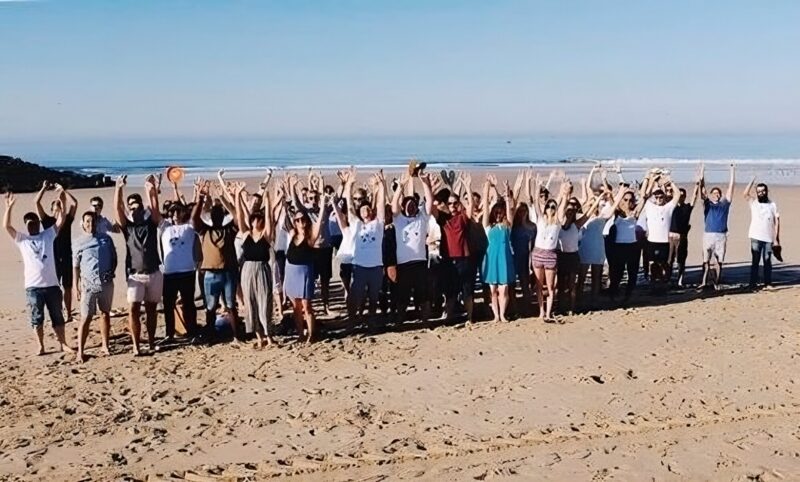 The Fat Joe team at the beach
"Company retreats offer a chance for employees to break away from the office environment, bond, have fun, and engage in activities that foster teamwork and creativity. Two such activities that can be a perfect fit for a company retreat, especially in a beach setting, are a volleyball tournament and beach swimming."
– Joe Davies of Fat Joe
Activity #39: Hike as a Team
This idea was recommended by Gabby Shultis Rios of Nectafy. It's a great activity for large teams because you can break everyone into groups. Better yet, you could create a group for different difficulty levels: an easy hike, an intermediate hike, and an advanced hike for intrepid team members. This way, everyone can choose what they'd like to participate in (and how much they're willing to sweat!). Just remember to keep this activity optional and have alternatives for indoor-oriented team members.
Activity #40: Tour a Brewery
If you have beer aficionados on your team, what better way to bring them together than with a brewery tour? Recommended by CustomersFirst Academy in this article, this idea is great for large teams looking to relax after a productive day at the retreat. It's always cool to learn about the process of brewing beer, especially if you get to taste some!
Activity #41: Get Your Heart Racing
This article by Moniker partner Sean Hoff is chock-full of unique and crazy retreat ideas, but the Jeep safari and helicopter activities stood out the most. Why not rent Jeeps for your entire team to experience a little off-roading adventure? Or leave the ground altogether with helicopter rides. The point of this activity is to introduce a little adrenaline to the retreat, so make sure you clarify that these activities are optional so more cautious team members don't feel forced to participate.
Activity #42: Challenge the Team to a Bumper Ball Sport
Recommended by trip planner Amanda Di Sabatino in this article, bumper ball takes the cake for an uproariously funny team activity. Bumper balls are giant round inflatables players can wear while playing a game (think capture the flag, kickball, or soccer) that let players bump into each other without getting hurt. The result is a hilarious competition that large teams and onlookers will love.
Activity #43: Build Skateboards for Kids
This activity was shared with us by James Bennett of Firefly Team Events. Host an activity where your team can learn to build skateboards from start to finish for children in lower-income areas. This is not only an amazing activity to give back, but it's super fun. Team members can test their skills and learn the process of building a board. Firefly Team Events adds challenges to this activity that each group must complete before they get their next part of the skateboard build. It's a great way to keep things interesting!
Team Retreat Activities for Board Retreats
These board retreat activities are just the ticket for non-profits hoping to help their board members get to know each other.
Activity #44: Put Together a Team Biography Book
We found this idea in Joan Garry's article on creative nonprofit activities, and it is so unique we had to share it. Joan has each member of the nonprofit write a two-page bio summarizing their life, complete with at least one photo. Then she combines each member's bio into a PDF (which she calls the book) and sends it to the entire group. Once the team is on the retreat, one person facilitates a quiz where team members get a chance to guess who did what and learn each other's stories. While Garry said some employees grumble, in the end, it becomes a truly deep bonding experience for the team. The book not only piques team members' curiosity, but it helps them learn who they are working with!
Activity #45: Rock On
This idea was suggested by Jesus Rivas in this Board Portal article. A great way for board members to have a little fun is to plan in time for a concert or music festival. This gives everyone a chance to spend time together outside of work. As a bonus, it might highlight some new music to play when everyone is back in the office!
Activity #46: Take Time for Tee
We like golfing as a board retreat activity (also recommended by Rivas) because it's a sport that beginners and advanced golfers can both enjoy. The pace is good for talking, but it gives the group something to do while they chat.
Activity #47: Enjoy Some Wine
Recommended by team building enthusiast Madeline Purches in this article, a wine tasting can be a classy and relaxed way to help board members get to know each other. Madeline recommends finding a local vineyard to tour since seeing where the wine comes from will take the activity to the next level.
Team Retreat Activities for Virtual Retreats
Hosting a virtual retreat? Here are a few fully remote team retreat activities to get you started.
Activity #48: Exchange Gifts
"In my role as the co-founder and CEO of Brosix, I've had the opportunity to foster virtual team-building through innovative strategies such as online field trips, thoughtful gift exchanges, and engaging brainstorming sessions. These activities have been instrumental in enhancing team cohesion, creativity, and collaboration within our remote work environment. By implementing these initiatives, we've successfully bridged the gap between team members, promoted a sense of belonging, and maintained a vibrant and motivated workforce. These efforts reflect our commitment to cultivating a strong and unified team culture, even in a distributed work setting."
– Stefan Chekanov of Brosix
Activity #49: Figure Out Whodunnit
Sign your team up for a virtual murder mystery. This activity is recommended in Teamland's article on virtual retreat ideas, and it's a great way to ensure everyone on the team stays intrigued. There is murder afoot! There are different kinds of murder mysteries from facilitated to free-play, but a recommendation we've seen pop up several times is Murder in the Speakeasy. There's nothing like jazz and flappers to get a storyline going.
Activity #50: Escape the (Virtual) Room
This idea comes from NoHQ's article, and we love how versatile it is. There are tons of escape room themes and price ranges (including free choices), and NoHQ shares this link of recommendations from teambuilding.com. Our favorite room on the list is Wildly Different. The virtual escape room company will design a custom game for your team, complete with industry-related puzzles.
Summing It All Up: Team Retreat Activities
There are plenty of team retreat activities to choose from when planning your company retreat. It all depends on what you're trying to accomplish. If you need team-building activities, pick one of the fun and relaxed options we shared. If you need new company strategies, schedule time for the whole team to participate. If you're having trouble narrowing down your options, you can always choose a theme for your retreat first. This will provide some parameters so you know what activities will work well together.
Whatever you do, it's always a good idea to get input from the team. This will make sure your retreat goes off without a hitch.
Did you try out one of these activities at your latest retreat? Let us know in the comments below!
If you want to make sure you've got everything you need to run your company's retreat from start to finish, read this in-depth guide.
Header image: Volley Ball game [graphic] / photograph by Ansel Adams.