37 Staff Retreat Ideas For Your Next Team Trip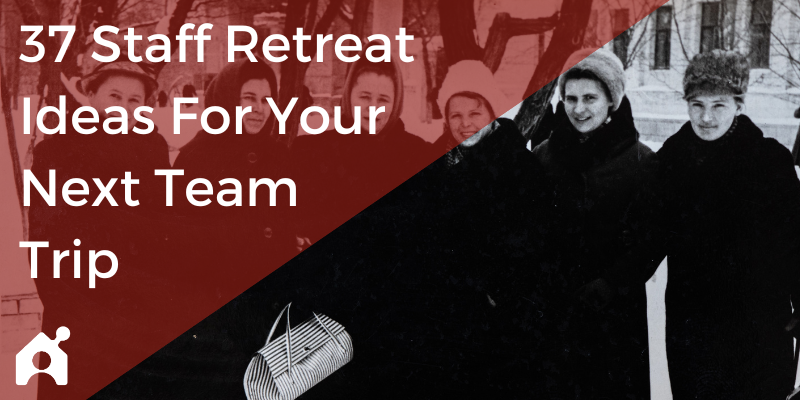 Don't worry – you won't have to wear matching coats.
You've been given the task of planning your company's retreat, but with great power comes great responsibility.
Should you go to Bermuda or the Bahamas? Should the team do an escape room or karaoke? And is there a thing as too many meetings? (Okay, you're probably not asking that last one.)
If you're looking for a way to focus your planning, you're probably hoping to find a theme to use as the backbone of the trip. A theme can help you tie everything together so the retreat has a common goal.
With this in mind, we surveyed professionals from all over about the best staff retreat ideas and experiences they've had. After adding some of our own research to their (very intriguing!) answers, we created this post. The ideas below will help you find the perfect staff retreat ideas to make planning easier.
We've broken these themes into sections based on the type of retreat you want. Jump to any section in the article below.
Multi-Day Staff Retreat Ideas
Planning a multi-day work retreat can be a lot. You've got to get everyone to a central location and make the most of your time over the few days the team has together. Use one of these best company retreat ideas below to create a central theme that will tie the trip together.
Theme #1: Destination Bonding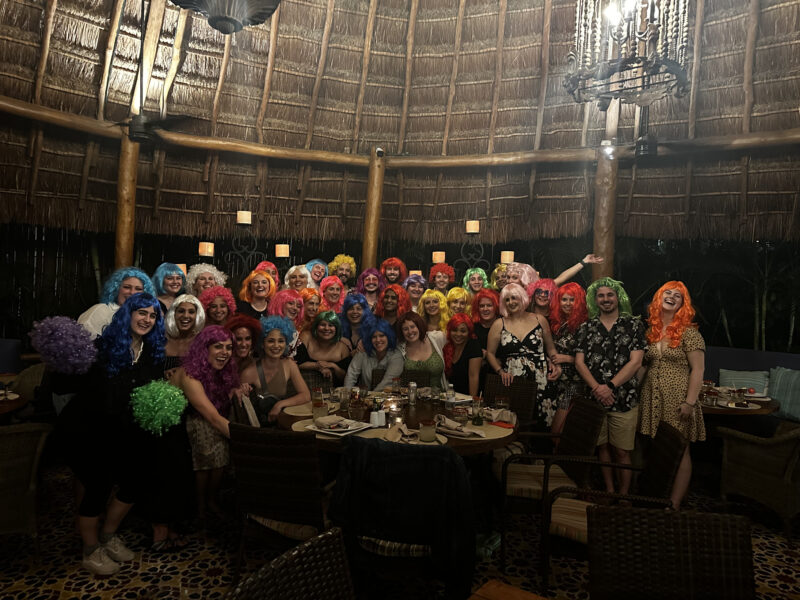 The CS Recruiting team in Playa Del Carmen, Mexico for a destination retreat
"What do you envision when you think of a company retreat? If you're like most people, this probably comes to mind…
❌ Boring PowerPoint presentations
❌ Annoying team-building activities
❌ Crappy catered lunches
❌ No time for fun
Well, CS Recruiting proved that all wrong. This past weekend, 40 of us traveled to Playa Del Carmen, Mexico. Here's what was on our agenda:
✅ 3 days of bonding at the pool/beach
✅ Learning about each other in a relaxed environment
✅ Good food, good drinks, silly games and lots of laughter
✅ Freedom to relax, recharge, and reconnect."
– Charlie Saffro of CS Recruiting
Theme #2: Leaving Your Comfort Zone
"We went to an old abandoned town near California which was talked about a lot during the post-pandemic times. The idea, more than enjoying the location, was to encourage employee behavior while visiting it. We witnessed a rise in group communication, solidarity, empathy, and most importantly, teamwork. The last factor was encouraged a lot, as some unusual pairings came out with exceptional ideas for the issues encountered here. All in all, it was a challenging and fun experience which I would recommend."
– Robert Oates of Arbtech
Theme #3: Tech Learning
"Given your internet marketing, eCommerce, SEO, logistics, and content skills, guide your team on a journey to explore emerging technologies, trends, and customer behaviors. This multi-day retreat involves on-site visits to tech hubs, workshops on future-focused strategies, and brainstorming sessions to infuse innovative ideas into your company's roadmap. By immersing your team in the evolving digital landscape, you'll fuel fresh perspectives and actionable insights, driving your business to stay ahead of industry shifts."
– Noel Cabral of Noel Cabral
Theme #4: All-Inclusive Resort
The Wingie team at an all-inclusive resort
"A resort makes logistics much easier to manage because meals are taken care of and there's no need for people to find transportation to and from the hotel to the event venue. It also makes it easier for teams to bond since they're all staying in one place rather than being spread out at different hotels. This means that more people will hang out after the official company events, making the retreat even more beneficial for improving employee relationships."
– Nihan Colak Erol of Wingie
Theme #5: Nature's Classroom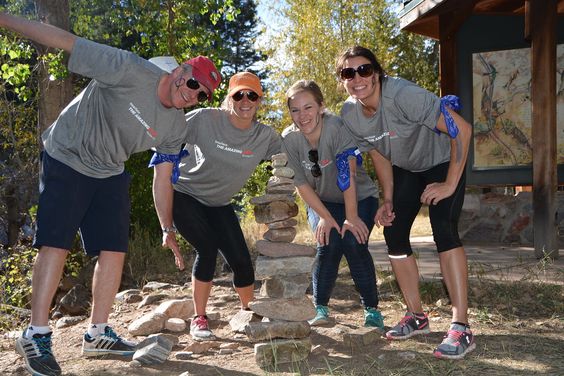 The Zenlytic team going on a hike
"'Adventure Expedition: Team Building in Nature's Classroom' is a multi-day retreat designed to strengthen team bonds and enhance collaboration. Participants engage in outdoor activities like hiking, kayaking, and group challenges, all guided by professional facilitators. The natural setting fosters creative thinking, problem-solving, and trust, all vital components of effective teamwork. Evening debriefs and workshops ensure that the lessons learned translate into tangible workplace skills."
– Colin Doughtery of Zenlytic
Theme #6: Themepark Vacation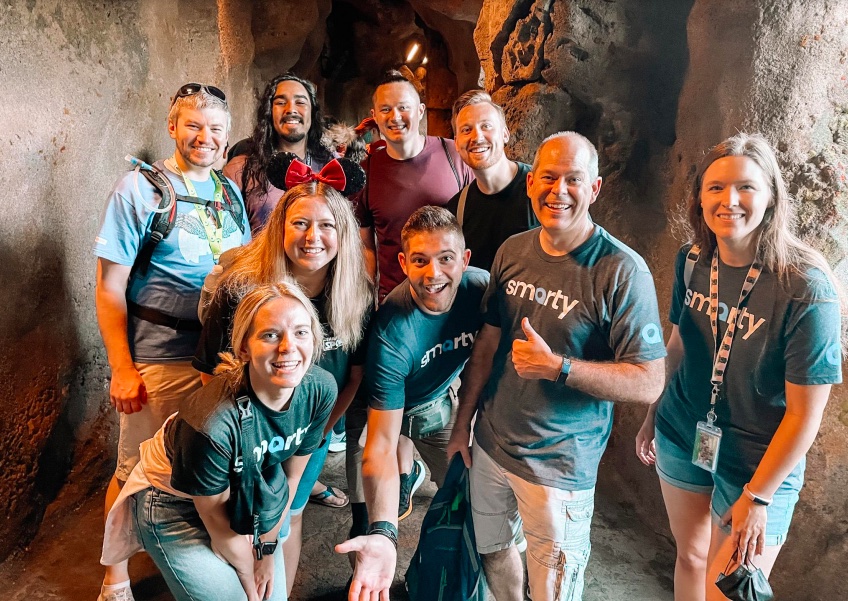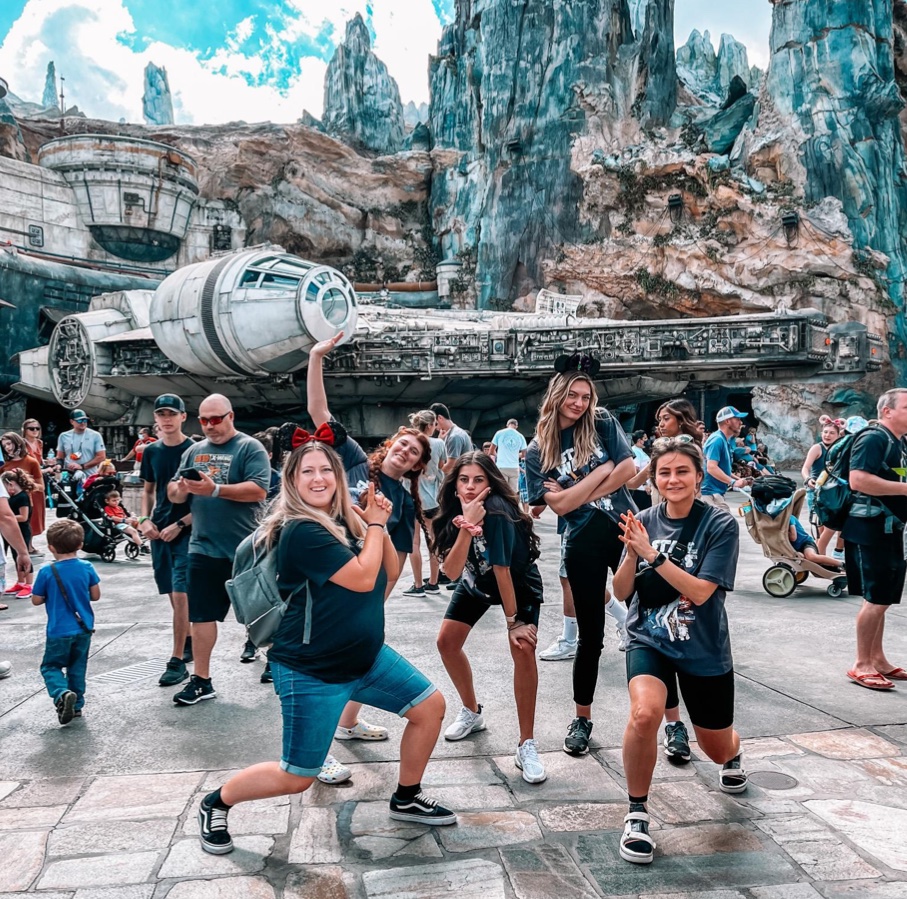 The Smarty team at Disney
"For a number of years, Smarty has taken all their employees to either Disneyland or Disney World as a multi-day company retreat. This has had a tremendous positive impact on employee morale and camaraderie. One of our company values is Outwardness – seeing people as people. This time away from the office, totally enjoying ourselves in such wonderful amusement parks has created very strong bonds among employees. It has been so much easier to work with people across departments after sharing such emotionally fun times in the Disney environment. We truly get to know each other as people. And our interactions at work are positively changed because of it."
– Susan Young of Smarty
Theme #7: Camp Retreat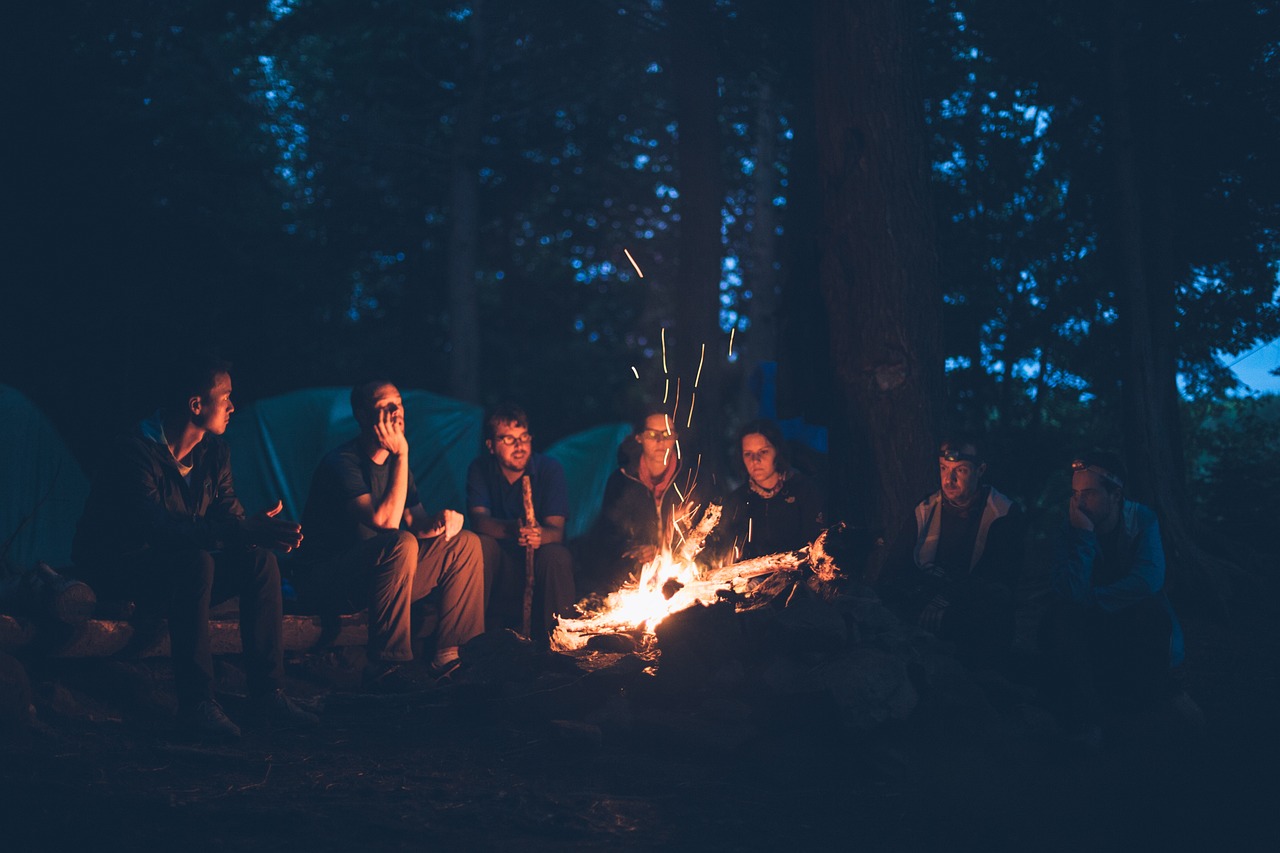 The Exploring Emirates team around a campfire
"There's no better way to retreat as a company. With an array of exciting activities like hiking, fishing, kayaking, and bonfire dancing, it can be one of the best ideas for some days out with your employees. Such traveling and corporate tours are suitable all year round, both in the summer and the winter. These activities are beneficial to building teamwork and reinforcing the company's mission statement for all those attending the retreat."
– Mark Carnevale of Exploring Emirates
Note: If some of your team is less-than-excited about sleeping on the ground, we like Indeed's idea to modify this theme to a "glamping" retreat with yurts, cabins, or even RVs.
Theme #8: Staycation Retreat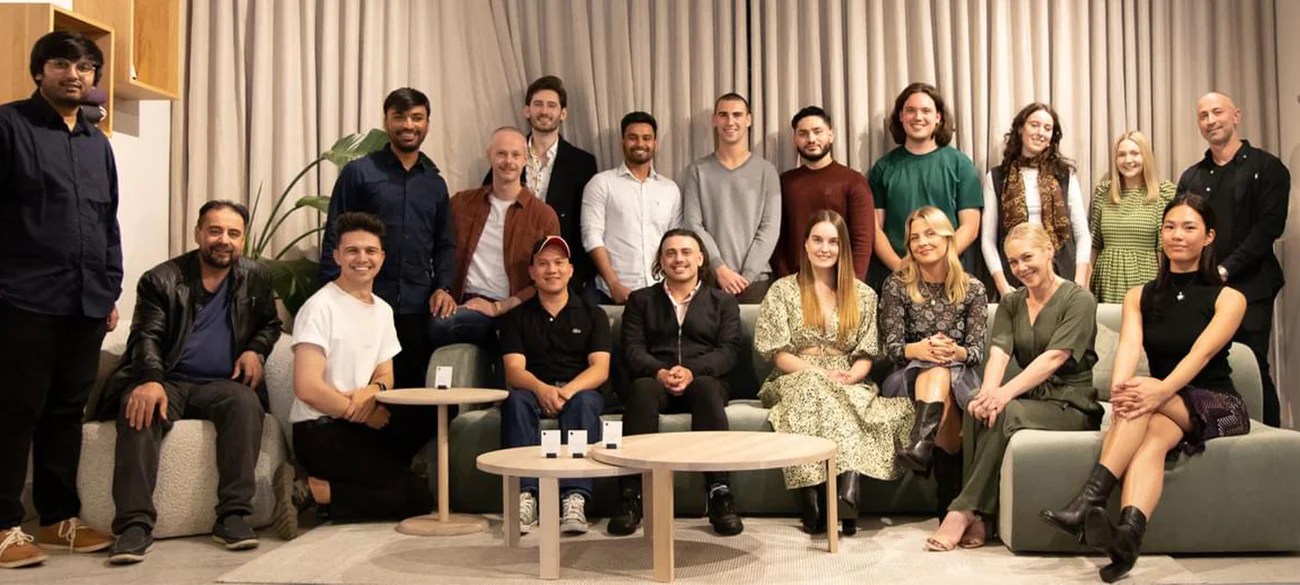 The RJ Living team retreat
"A multi-day retreat already takes up a good amount of time away from work, so there's no reason to lose any more due to travel. This also makes it easier for people to attend since they won't have to arrange as much additional time for things like babysitting or pet sitting. Also, with travel delays becoming more common, this is a way to avoid people having to fly."
– David Janovic of RJ Living
Theme #9: Self-Care and Growth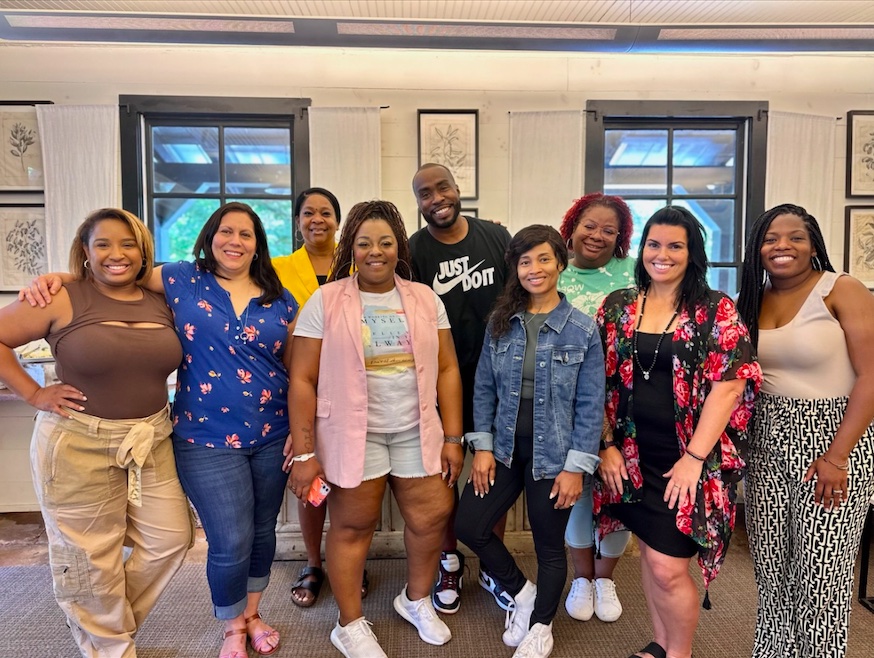 The Blissful Mind Behavioral Health staff retreat
"The retreats I have hosted are typically regarding sustainable health care for total wellness. Focus on the management of emotional money, positive communication skills, and mindful tools and practices to help people restore, recharge, and refocus themselves personally, professionally, and socially."
– Pamela Tippit of Blissful Mind Behavioral Health
One-Day Company Retreat Ideas
Just because you only have a few hours doesn't mean you can't pack a lot of team bonding and learning into your time. These one-day company retreat ideas will help you find a theme that makes the most of your day.
Theme #10: Learn to Cook
"In my opinion, food is a universal language. As a group works together to prepare a meal, they unconsciously address problems in a casual setting. They plan to collaborate on a project and then enjoy its fruits together. The analogies are nearly too numerous to count. There is logic to the prevalence of corporate cooking classes."
– Adam of Fard
Theme #11: Out on the Water
This is a fantastic one-day retreat idea from Peter Lane Taylor on the AvantStay blog. Take the team sailing or rent paddleboards, kayaks, or canoes for the whole group. If you're looking for a more relaxed (read: less labor-intensive) way to enjoy the water, you can get a chartered boat for the day and let someone else do the navigating while the team bonds.
Theme #12: Better Farms & Gardens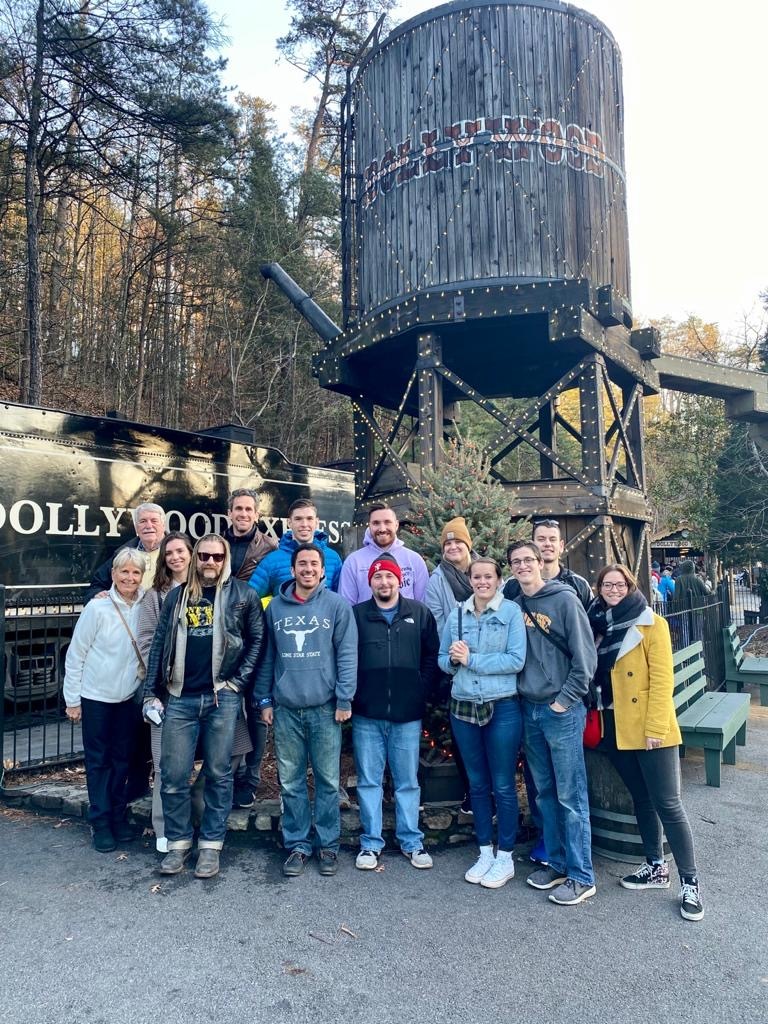 The Caller Smart team retreat
"Team interactions in a natural environment reduce stress and burnout while scientifically proven to help build stronger bonds between people. Adding gardening or fruit-picking sessions from the local farm to group exercise engagements can provide a creative outlet where individuals can let go of their corporate personas, feel grounded in nature, and mingle more openly with others. Sites like pickyourown.org can help strategize locations and plan a laid-back, relaxed outing."
– Kathryn Boudreau of Caller Smart
Theme #13: Client Success Showcase
"During this event, gather your team to celebrate and analyze the successful projects you've handled. Share the strategies you've used, the challenges you've overcome, and the outcomes you've achieved for your clients. Discuss what worked well and what improvements could have been made. This not only boosts team morale but also allows everyone to learn from each other's experiences. It's like a big learning and appreciation party where your team gets to show off their accomplishments and learn new things to make your company even better at helping clients succeed online."
– Jarik Oosting of SmartRanking
Theme #14: Pay It Forward
Peter Lane Taylor's article on corporate retreat ideas advocates volunteering as a solid team-building activity. This is a perfect theme for a one-day retreat: employees can work together to give back to the community in a tangible way. Since it's just one day, this is an excellent way to get your company volunteering without making the task feel too daunting. Team members will not only feel good about helping others, but they'll also feel good about the company they work for.
Theme #15: Take-a-Hike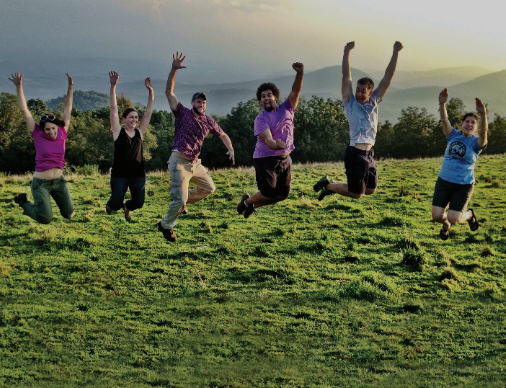 The We Buy Houses Wilmington NC team outdoors
"One idea that immediately comes to mind is organizing a hiking expedition. It not only promotes team bonding but also allows us to connect with nature and recharge our minds and bodies. Imagine embarking on a challenging yet rewarding hiking trail, surrounded by breathtaking landscapes and views. It's an opportunity for us to challenge ourselves physically while immersing ourselves in the beauty of the great outdoors. We can even take this hiking retreat to the next level by incorporating team-building activities along the way, fostering a sense of camaraderie and collaboration."
– Leighanne Everhart of We Buy Houses Wilmington NC
"I think going on a hike is the cheapest method to get your company closer together while also increasing productivity and oxygen flow. Take a bus trip to a neighboring park or nature preserve if you don't have easy access to a trail from your workplace. Just double-check the trail's accessibility to make sure everyone can join in the fun."
– Michael of Hess
Theme #16: Cocktail Creations
TeamOut shared this great one-day retreat idea here. Whether you hire a bartender to give you a class at the company office or you take the whole team on a field trip, a day learning how to create cocktails or mocktails could be a fun way to get creative as a company.
Theme #17: City Walking Tour
Science of People recommends a city walking tour as a great company retreat idea (and shares a study that walking side-by-side has been proven to make people feel more connected). This theme is great for teams who work in the same location (or at least nearby!). Simply pick a city that's only a couple of hours away and enjoy the food and history as a team.
Theme #18: Game Day
TeamOut's idea to create a game tournament is a fantastic way to foster some friendly competition while also encouraging team bonding. You could get creative with this idea. Scavenger hunts, board games, video games, computer games – there are a lot of choices that can be tailored to the situation of your team. This is a good remote retreat idea, as well!
Theme #19: Photo Time
The U.S. Chamber of Commerce blog shared this idea for a unique company retreat, and it works well for a one-day option. Get the entire team together to get fresh new photos for the website: team photos, individual photos, and photos for any marketing or social media. This can be a great common purpose for the team to work together on.
Small Team Retreat Ideas
These small company retreat ideas (which could be challenging to pull off for huge groups) could really shine for tightly-knit teams.
Theme #20: Inspiration from the Destination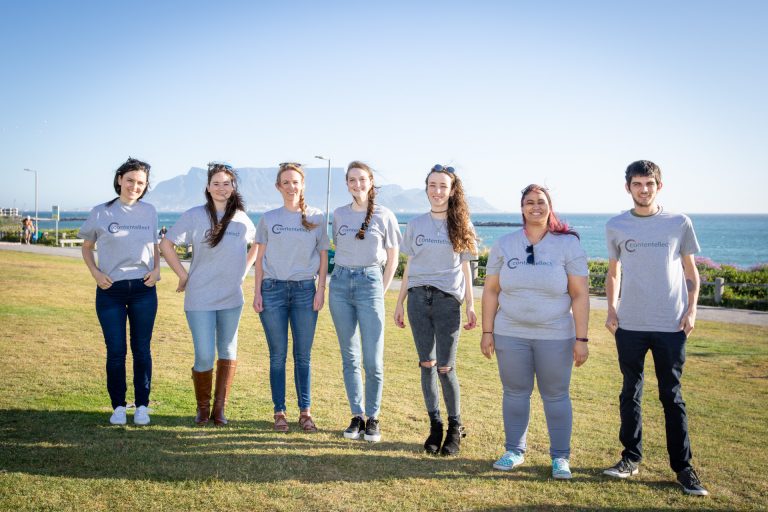 The Contentellect team in Cape Town
Jason Smit's idea is to let the destination serve as the backbone for the retreat's theme.
"Inspired by the breathtaking beauty of Cape Town, Contentellect brought together our talented team of remote workers for a transformative company retreat. Set against the stunning backdrop of Table Mountain, our team connected and collaborated in a series of innovative workshops and team-building activities. With its vibrant culture, rich history, and natural wonders, Cape Town proved to be the perfect destination for our retreat, leaving our team feeling refreshed, inspired, and ready to tackle new challenges."
– Jason Smit of Contentellect
Theme #21: Team-Planned Tech Detox
"Sharing the trip planning among members ensures the responsibility is divided among three or four people. The idea that sprang out of these planning sessions was that of a detox retreat: a total mental, physical, and technological break. We went to a nearby beach and made our plan to ensure a retreat schedule where we all would stick together. This kept us separate from the crowd, while also enhancing group solidarity. From participating in beachside games to mini meltdown sessions, it was chaos, but of the absolutely good kind."
– Anthony Guerriero of Manhattan Miami Real Estate
Theme #22: Just Cruise
We liked this idea from teambuilding.com because, while cruises can be a little on the pricey side, they offer a huge range of activities. As teambuilding.com points out, cruise staples like fitness classes, murder mysteries, and scavenger hunts provide a great opportunity for team-building. Smaller groups can fully enjoy a cruise theme without the planning becoming too complicated.
Theme #23: Food Plus Swag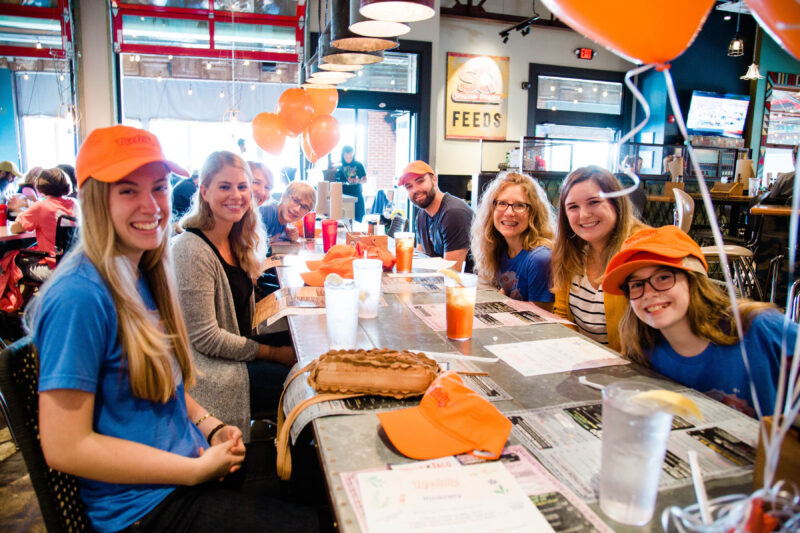 The Nectafy team at dinner together (showing off their new branded hats)
Especially for smaller teams, a company retreat creates the opportunity for everyone to relax and get to know each other without the pressures of work getting in the way. Many smaller teams might be remote, meaning the retreat time may be one of the only times team members get to see each other. With that being said, retreats for smaller teams should create time just to talk. Activities and meetings are an important part of a staff retreat, but make sure you schedule in plenty of time to enjoy good food and good company.
"I think the best way to kick off a company retreat is to start with a meal—it gets everyone fed (so no one is hangry after travel!) and in a comfortable setting for meeting with co-workers (potentially face-to-face for the first time if you work remotely). Throw in some fun activities over the course of the retreat, carve time out for business-related discussions, and of course, more meals, and you'll have a retreat that goes off without a hitch.
(Oh, and maybe throw in some fun company swag while you're at it—notebooks, pens, hats, etc. It can act as an icebreaker, and it gives everyone something they can use while on the retreat!)"
– Gabby Shultis Rios of Nectafy
Theme #24: Conference Piggy-Back
Peerspace shares the idea of creating a staff retreat around a conference the team already wants to attend. The conference could provide the theme and learning material, then your company could schedule idea sessions and breakout times to interact with what you have learned. A destination conference is a great choice for this retreat theme since it will give the team a chance to explore new surroundings and synthesize what they're learning.
Theme #25: The Unconference
In Zapier's article on how to plan a retreat, the company mentions some of the retreats it has hosted. One Zapier retreat had a theme we found fascinating, focused on utilizing "unconferences." Unconferences are short, interactive discussions on topics the team suggests ahead of time. While they do have a facilitator to keep the conversation moving, unconferences are different from presentations because they let everyone participate. Since they got to be a part of choosing the discussion, team members feel more invested. It's a huge learning opportunity. This type of retreat activity is a good theme for smaller companies so everyone gets a chance to be heard.
Large Team Retreat Ideas
Go big or go home. No, really. Either way works well for large team retreats, as long as you think about the goal of your retreat.
Theme #26: Let's Go International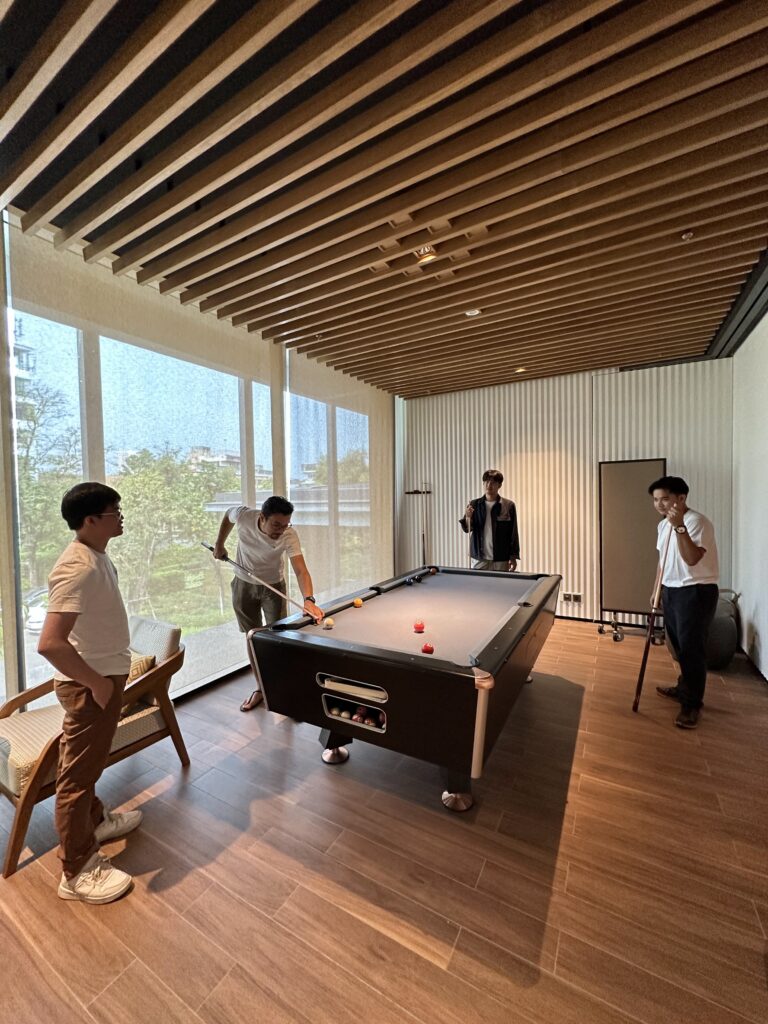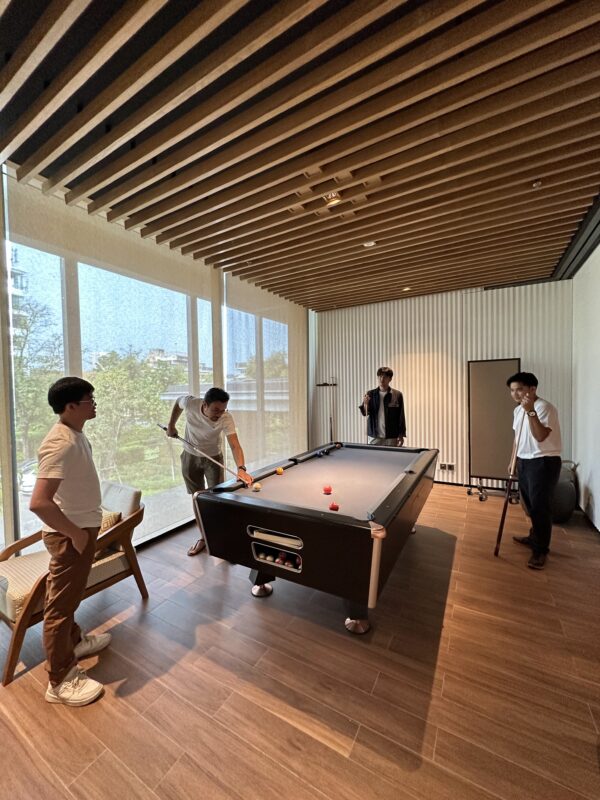 The Ling App team playing pool
"Perfect for companies with a larger budget and with remote employees, international destinations offer opportunities for people to connect in a new culture. Navigating new languages, food, logistics of how to get around, and meeting new people will broaden perspectives and bring your teams closer together. This year we'll be hosting our retreat in Hanoi, Vietnam where we'll spend two nights at a farm to really engage with the locals and do some team activities."
– Jarir Mallah of Ling App
Note: If you don't have the budget to take the team to an international destination, these top 25 best places for company retreats will give you good options in the U.S.
Theme #27: Bring It Home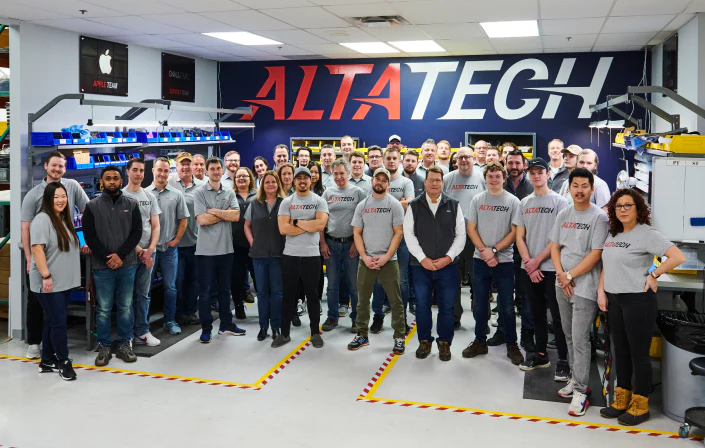 The Alta Technologies team at the company's main base
"Bring all employees to your main office location. This is a great way for remote and in-office or hybrid employees to get to see each other face-to-face, while also giving them a look at the home base. Hosting the retreat at the home office can be a great way to show employees how you support the company culture and live your company values. This is particularly impactful for remote teams who only get to see and interact with each other as well as management via computers, but it is equally beneficial for in-person employees as it shows them that the company culture is supported from the top down."
– Corey Donovan of Alta Technologies
Theme #28: Talk to the Top
Employees in large companies may struggle to understand the company's big picture. After all, there are so many levels of management that the company's mission can get a little hazy once it's passed down through the layers. Even the most dedicated employees probably have some questions about how the company is run and what the strategy is moving forward. The U.S. Chamber of Commerce suggests a retreat theme called "Ask me anything" for employees to get the chance to ask the questions they've been saving. Plus, this can be a great time for employees to get to know the company's leaders personally.
Theme #29: Sport Mode
In his article for AvantStay, Peter Lane Taylor suggests an easy sports game as a great corporate retreat idea. This is a good option for large companies that can split employees into teams. Make sure you stick to sports your whole team enjoys. Unless your company is known for employees' killer football skills, we'd recommend games like bowling or cornhole that are easy to pick up. This is a hilarious and fun way to help your team bond, as long as you don't get too competitive. (If you need a comprehensive list of what not to do with this theme, watch the Dundler Mifflin volleyball game from The Office.)
Unique Retreat Ideas
These unique retreat ideas are genius and a little bit crazy. Depending on how creative you want to get, that just might be the best mix there is.
Theme #30: Survivor
The company Plexcon hired Moniker to create a Honduras team retreat where employees were "stuck" on the Caribbean coast and had to compete for the title of winning team. We had to put this Survivor-inspired jungle retreat on the list because it's just so fun and unusual!
Theme #31: Operation Make-a-Movie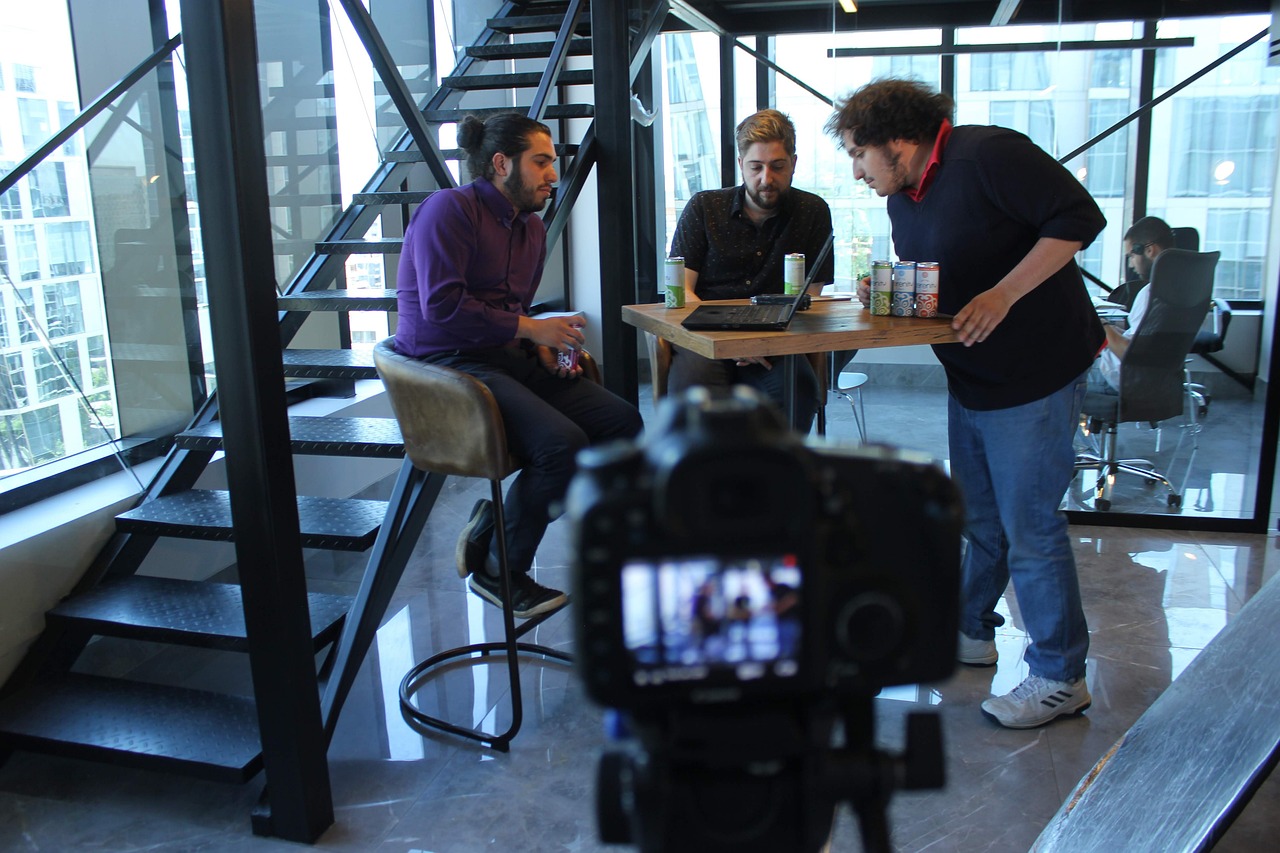 The Cherry Picks Reviews team filming a movie
"Creating a film, especially for a company retreat, is an extraordinary experience. In order to make this movie, you will need a camera, microphone, tripod, and a video editing program. It promotes creativity, collaboration, and teamwork. Make one of the employees a producer, one an actor, one a scriptwriter, etc. Making a movie can involve the team members in various roles, which can be fun and provide a chance where the employees of the company get to work together."
– Miranda Bence of Cherry Picks Reviews
Theme #32: Bring Your Family
Buffer has a fantastic article documenting the many team retreats the company has done and what they learned about retreat planning. The trip that stood out to us was retreat number six to Reykjavik, Iceland. It's not the location that caught our eye – it's the fact that Buffer allowed (and even helped pay for) the team members' partners, spouses, or families to come. Buffer said having team members' family members at the retreat created a more authentic environment that let employees bond.
Theme #33: Castles and Car Chases
TheoromOne hired Moniker to plan a corporate retreat at a beautiful 13th-century castle in Tuscany. The retreat was completely themed to make the most of the scenic setting. Moniker created a bank heist car race where employees could actually race Fiat 500s through Tuscany. While this is a pricey example, it just goes to show that outrageous and intricate themes can have a place in planning a retreat.
Virtual Retreat Ideas
Want to make sure your team feels a connection, even with a remote retreat? These virtual company retreat ideas will make sure everyone gets a chance to socialize from the comfort of their home.
Theme #34: Make It Real (Virtual)
The team at Parabol has done enough virtual retreats to finely tune their process. They share their main discoveries in their blog post about virtual retreats, but we had three main takeaways.
Spend time on the retreat schedule. With everyone working in different time zones, you'll need to clearly outline every single activity, including the times, the duration, and the goals.
Cut out as much meeting time as possible. Does this sound counterintuitive? Parabol points out that team members quickly get Zoom fatigue (they linked to this study), so make as much of the agenda asynchronous as you can. Parabol kept live-time meetings down to four hours a day for their retreat, so using asynchronous methods of communicating (like Slack and Loom) for the other hours ensured that Zoom time could be used for team bonding.
Break through the virtual fog. Parabol used physical activities, like Lego challenges, cooking classes, and even outdoor geocaching, to help create a virtual retreat that still felt real and interactive. Plus, it helped team members connect to see what creations each of them came up with.
Theme #35: DJ, Disco, and Drinks
Frontastic hosted a retreat packed with social activities – all from a distance. The company hired a DJ to introduce each team member with a rap about their accomplishments at the company, then enjoyed the DJ's song selection (which included employees' favorite songs) while the team had a virtual lunch break together. With a beatbox workshop, a virtual escape room, a tribute to past company wins, a disco party, and a "pub" activity that focused on company strategy, Frontastic managed to create a one-day virtual retreat that still felt social and uplifting.
Theme #36: Slack to the Rescue
When hosting a remote retreat, we've already mentioned the need to mix asynchronous activities with Zoom meetings to keep people from getting burned out. Help Scout's article on virtual company retreat ideas highlighted several ways to use Slack to facilitate team bonding without having to be in a live-time meeting. For one of Help Scout's virtual retreats, the company ingeniously used Slack for a company-wide scavenger hunt competition and a team movie-watching party. If you need a virtual retreat theme, consider using Slack as the cornerstone of your planning.
Theme #37: Bring the Value(s)
BoomPop has an excellent article on choosing the theme for your company retreat. Our favorite idea was to center the retreat around your company's culture. All the discussions and activities can be related to your company's core values, mission, and vision. Not only will this help employees feel connected to the business, but it can help your company define what's important moving forward. This theme is perfect for remote retreats because it can be done through a mixture of videos, group conversations over Slack, and live-time Zoom calls. Especially for remote teams that don't get to talk about the big picture every day, this can provide team members with a chance to understand what they're working toward.
See Also: The Top 25 Corporate Retreat Locations (Based on Data) | 50 Team Retreat Activities Your Team Won't Hate
The Best Work Retreat Ideas: To Sum It All Up
From luxury spas to nature getaways, there are a lot of team-building retreat ideas to choose from. Picking a theme helps you focus your planning, so you know what activities and meetings to prioritize.
Whatever you choose, you want to make sure your team has a good time, so get input on what kinds of themes everyone enjoys. This will make your retreat twice as likely to succeed because everyone will be invested in growing together.
Not sure what else you might need to pull the retreat together? This guide will give you all the details of running a corporate retreat.
Header image thanks to Chris Curry on Unsplash.