The Ultimate Guide To Running A Company Retreat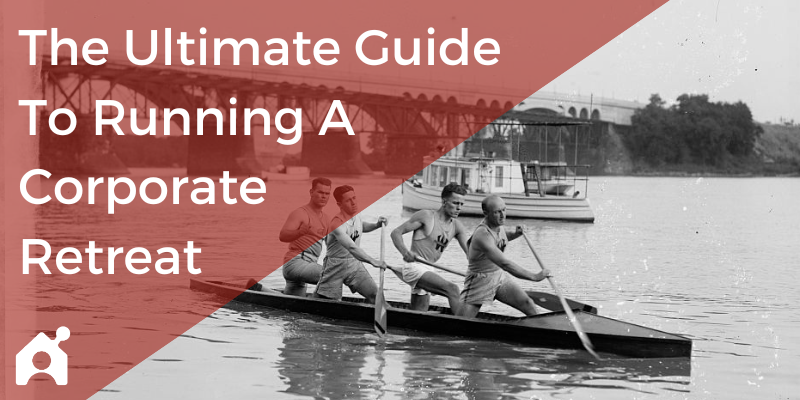 It's happened. You've been tasked with running a corporate retreat for your company.
While you have a vague idea of what a company retreat should look like (for instance, the team will probably be there), that's about as far as your knowledge goes.
Before you start panicking about the massive amounts of planning you have ahead of you, take a deep breath. We've put together this giant article to tell you exactly what you need to know. From the different kinds of company retreats to the best locations and activities, you'll come away from this article with a solid plan in mind. Plus, we've even got a list of companies that can take the pressure off and plan the retreat for you.
Use the table below to jump to the topic you need, or read all the way through for an in-depth look at how to plan your company's work retreat.

The Ultimate Guide To Running A Corporate Retreat For Your Company
Chapter 1: What Is A Work Retreat?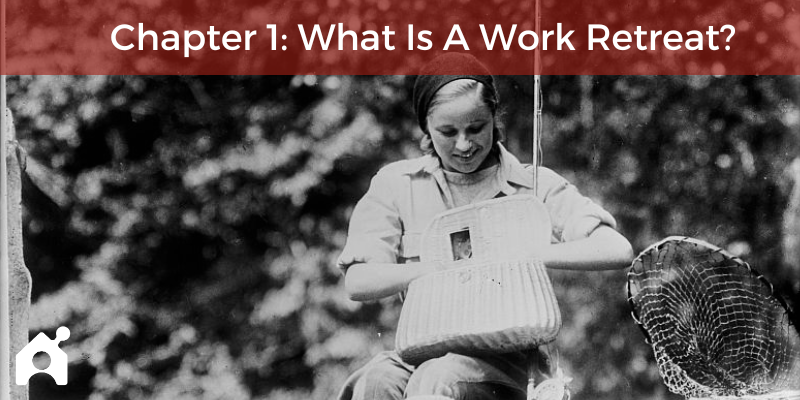 A work retreat is an event that gathers some part of the company (whether it's the whole team, a division of the company, or the leaders) in the same area for a specified amount of time. Work retreats tend to be in-person over multiple days, but they can also be a single-day event or even hosted online (thanks, Zoom!). The point is to get everyone in the same place.
As for the location, company retreats can be hosted almost anywhere, from beautiful tourist destinations to the company's home base.
Work retreats can have many purposes, but two popular reasons for hosting a corporate retreat are team-building and strategizing.
This first type of retreat, a team-building retreat, is hosted solely for team members to get to know and trust each other. The company will usually pay to send the team to a cool destination, where everyone can participate in team-building activities and sightseeing. This helps employees feel supported by their company, but it also benefits the company by creating a more cohesive and dedicated team.
The second type of retreat, a strategy retreat, gathers everyone in one place to solve business challenges or come up with new products or services. This type of retreat usually has fewer "fun" activities and is more focused on meetings that produce ideas and outcomes, but you can still plan in nice meals and other interesting activities.
Besides these two popular types of corporate retreats, there are dozens of others. You can see a list of other retreat types in Chapter 2 below.
Chapter 2: Retreat Types Explained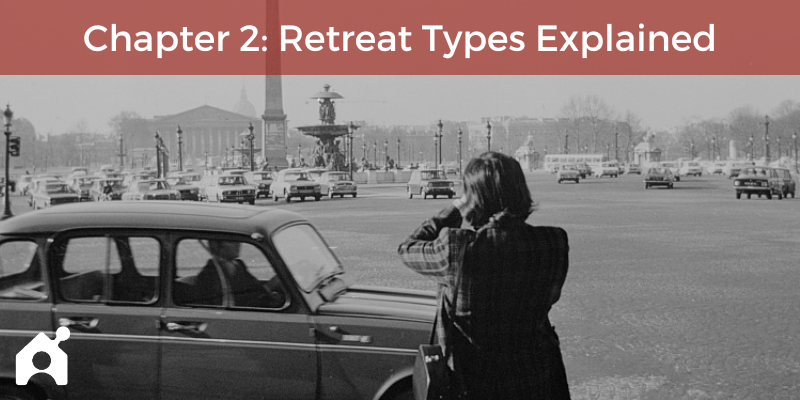 There is a retreat type for just about any business purpose imaginable, but these seven retreat types are some we've come across:
Staff Retreat
A staff retreat is just what the name implies – a retreat for your company's staff. Staff retreats usually involve the entire team, but they can have different goals. For example, a staff retreat could be to reward employees for their hard work, build employee morale, or bring everyone together for a conference or workshop that teaches new skills.
Team-Building Retreat
This type of retreat uses fun and challenging activities to sharpen teamwork. After all, teams that solve problems together stay together. Team-building retreats often center around activities like escape rooms or scavenger hunts to improve team communication and creativity. This type of retreat also utilizes casual settings, like relaxed dinners or sightseeing tours, to help everyone get to know their coworkers.
Leadership Retreat
Leadership retreats can focus on company strategy or simply offer a way for company leaders to bond. These types of retreats usually only include the decision-makers of the company, and they can be helpful for discussing long-term plans for the business (or just building trust).
Board Retreat
A board retreat is usually a retreat for a non-profit's board of directors. Board retreats are focused on nonprofit strategy, and they give leaders time to talk through where the nonprofit is headed and get on the same page.
Small Team Retreat
Small team retreats are usually for start-ups or other small, tight-knit companies. In the small team ideas we share in this article, we consider "small" to mean only a handful of people, anywhere from five to fifteen. When teams are smaller, a wide range of activities are available, and employees get the chance to truly get to know each other.
Large Team Retreat
These retreats are usually hosted by large corporations with multiple divisions or sections. The sheer quantity of people lends to the energy of the retreat, but large team retreats can certainly be more work to plan. It might be helpful to split large team retreats into multiple segments or groups to make planning more manageable. You can always check out our list of external retreat planners if you're feeling overwhelmed.
Virtual Retreat
With Zoom, Slack, email, and other tools, virtual retreats are an efficient way to get everyone together while in various locations. Virtual retreats can be a fantastic way to help remote teams feel connected – the only tricky part is finding times when everyone can be online at the same time. To combat this, you could consider making some of the activities asynchronous.
Chapter 3: Top Retreat Locations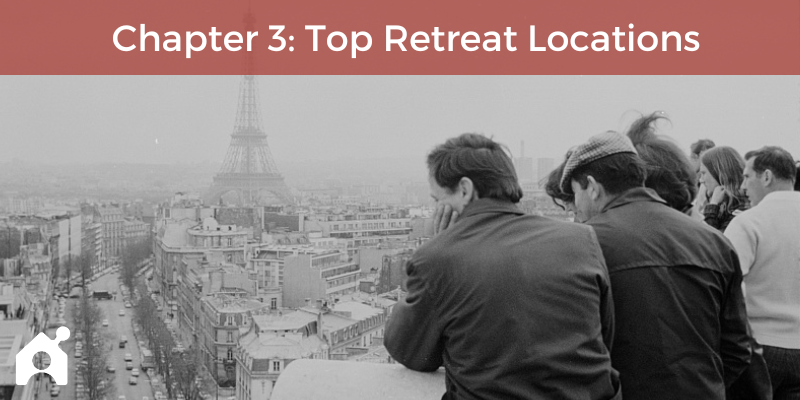 Before recommending the top U.S. cities for your company retreat, we decided to get more data.
We made the process more scientific by considering factors like airport location, lodging availability, and city popularity. Click here to see our full process.
Below, we're sharing the top five cities that made the cut, along with good lodging, venue, and activity suggestions for each city. (If you want to see the full top ten list, read our article here.)
The Top Locations For Your Company Retreat
| | | | |
| --- | --- | --- | --- |
| | | | |
| | | | |
| | | | |
| | | | |
| | | | |
| | | | |
| | | | |
| | | | |
| | | | |
| | Charlotte, North Carolina | | |
| | San Francisco, California | | |
| | | | |
| | | | |
| | | | |
| | | | |
| | | | |
| | | | |
| | | | |
| | | | |
| | | | |
| | | | |
| | | | |
| | | | |
| | | | |
| | | | |
| | | | |
1. Miami, Florida
Total points: 60
Airport points: 17
Popularity points: 14
Weather points: 14
Lodging points: 16

Airbnb points: 15
Hotel points: 1

Price points: -1
Miami won the number one spot thanks to good airport access, gorgeous weather, and lots of Airbnb options. Who wouldn't want a corporate retreat near a bay in the sunshine state? Miami offers water activities, shopping, and good dining – everything you need to create a memorable corporate retreat. If you want ideas for your team retreat, we've got some places to kickstart your planning:
Great Lodging
For a hotel within walking distance of lovely restaurants, shops, and bars, check out Hampton Inn & Suites Miami/Brickell-Downtown. It's ranked in TripAdvisors' list of top 10 business hotels in Miami. We chose it because of its great access to downtown Miami: you can walk almost anywhere within the Brickell area. If you want to see some other Miami attractions, the hotel offers free transportation. This location right outside of downtown Miami makes planning easy. The hotel has access to boating along with a bar/lounge, swimming pool, and billiards. Plus, with free breakfast and a business center, Hampton provides options for getting brainstorming done, too.
Great Meeting Venue
If you'd like a focused place to hold your team meetings, why not get a conference room you can rent by the hour? This affordable downtown Miami workspace is only ten minutes from the hotel, and it gets great reviews for its wonderful staff and clean spaces.
Cool Place To Check Out
There are dozens of restaurants in the Brickell area that offer fun and interesting eating experiences, but if you're willing to drive a few minutes (or take hotel transportation) downtown, you need to experience CVI.CHE 105. This restaurant serves Peruvian food with a great menu of unique choices. Reviewers rave about the special ambiance and friendly staff. Plus, what better place than Miami to enjoy some Latin cuisine and seafood?
2. Las Vegas, Nevada
Total points: 59
Airport points: 19
Popularity points: 21
Weather points: 9
Lodging points: 10

Airbnb points: n/a
Hotel points: 10

Price points: n/a
Las Vegas ranks number two on the list because of its popularity with travelers. There's so much to do! If you want to create a team retreat that has endless entertainment opportunities, Vegas might be your city. Look below for some ideas to get your plan started:
Great Lodging
The Cromwell Las Vegas is a good lodging option for your retreat if you're looking for a little bit of everything. It's small but gets great reviews for the prime location (as evidenced by its TripAdvisor walking score of 100!). It has a nightclub, a convenience store, a restaurant, and a casino. Even though you have everything you could imagine at the hotel, you can also venture outside to see Vegas from the Eiffel Tower viewing deck just down the street or enjoy the Bellagio Fountain.
Great Meeting Venue
If you need to eliminate distractions for a team meeting, check out this rent-by-the-hour Las Vegas conference room about 18 minutes from The Cromwell. A clean, focused environment amid the excitement of Vegas could be just the ticket to get new ideas flowing.
Cool Places To Check Out
When given the opportunity to experience an upscale Chinese food restaurant surrounded by glitzy fish aquariums, we always recommend you take it. That's why we're putting Beijing Noodle No. 9 from Caesar's Palace in this section. There are tons of crazy dining experiences in Vegas, but this one caught our eye.
If you want an interesting and fun team experience that's more centered around drinks, try this hidden speakeasy that only admits 22 people at a time. The Laundry Room has a mysterious atmosphere focused on serving interesting drinks. Reviewers say the mixologists know their stuff.
3. Orlando, Florida
Total points: 39
Airport points: 18
Popularity points: n/a
Weather points: n/a
Lodging points: 23

Airbnb points: 14
Hotel points: 9

Price points: -2
Orlando comes in third with its fantastic choices of Airbnbs and hotels. With a city that's so near Disney World, Universal, and SeaWorld, you really can't go wrong planning a staff retreat to Orlando. If you need some other ideas to get a team retreat planned, check out the options below:
Great Lodging & Meeting Venue
The Hyatt Regency Orlando is a fantastic lodging option less than 20 minutes from Disney and Universal. The hotel offers tons of amenities, including bars, a steakhouse, a diner, a pool, a 24-hour gym, a spa, a business center, and meeting rooms. Your team can enjoy the lounge and grab some food before heading to a brainstorming session in one of the hotel's meeting spaces. Now that's a good way to encourage innovative thinking.
Cool Place & Activity To Check Out
Chatham's Place in Orlando is a must-see for your team. Reviewers gush, calling it a "hidden gem" and "utter perfection". With a relaxed culture (the restaurant promises you can have your table the whole night), a talented piano player, and a delicious and classy menu, Chatham's checks all the boxes for a restaurant your team will enjoy.
For a group activity (outside of food) that will improve teamwork and creativity, try The Escape Ventures's escape rooms in Orlando. Escape rooms are entertaining, immersive, and usually only sixty minutes, so they provide a great way for corporate teams to bond. We recommend The Escape Ventures's "Fraternity Hiest" room – it's hilarious and well done, with a fun storyline everyone will like.
4. Dallas, Texas
Total points: 37
Airport points: 24
Popularity points: 9
Weather points: n/a
Lodging points: 4

Airbnb points: n/a
Hotel points: 4

Price points: n/a
Dallas won spot number four thanks to being both popular with travelers and accessible via the Dallas Fort Worth airport. If you're looking for interesting things to do, check out some ideas below for your staff retreat:
Great Lodging
If you'd like a hotel with the full experience (spa services, massages, a sauna, and more), check out The Joule in Dallas. This boutique hotel is revitalized from a neo-gothic bank built in the 1920s, and its design is enthralling. We chose this as a top hotel option for a team-building retreat because it has both great ratings for cleanliness and a great walkability score from Tripadvisor. If you have team members with pets, this animal-friendly hotel will let them bring along their pets for an even better time.
Great Meeting Venue
For a meeting venue away from the distractions of the city, check out this coworking space with meeting rooms in Richardson (about 22 minutes outside of downtown Dallas) that will help your team get focused. The workspace has a creative atmosphere, with intriguing artwork by Theo Ponchaveli (an Emmy award-winning artist).
Cool Places & Activities To Check Out
Dallas has a host of interesting activities to offer teams, like the immersive Van Gogh experience and a free trolley through the city (TimeOut suggests getting off to try bourbon at The Standard Pour).
Beyond seeing the sights, go to Meso Maya Comida Y Copas for authentic Mexican food and flavorful margaritas to finish off the day.
5. Los Angeles, California
Total points: 35
Airport points: 21
Popularity points: n/a
Weather points: 23
Lodging points: 5

Airbnb points: n/a
Hotel points: 5

Price points: -14
Los Angeles gets a top spot on our list thanks to the gorgeous weather. While it can be a bit pricey, the cool location and history of stars are worth the cost. Look below for some ideas for your trip:
Great Lodging & Meeting Venue
The Hollywood Roosevelt Hotel, made up of The Tower (built in 1927) and The Cabanas (built in the 1950s), is perfect for companies looking for Hollywood history. After all, famed actors like Charlie Chaplin and Marilyn Monroe stayed there! From a spa and massages to a heated pool and evening entertainment, The Hollywood has all bases covered to make sure your team has a good time. Plus, it's got all sorts of activities and restaurants within walking distance.
The hotel also has boardrooms and meeting spaces that companies can rent. What better place to work on new ideas than in a historic Hollywood hotel?
Cool Place To Check Out
You can't beat free, and with thousands of rave reviews on TripAdvisor (it's ranked as the best activity in L.A.), it looks like you need to include a visit to The Getty Center in your itinerary. A spacious art museum, The Getty Center features the work of iconic artists like Monet and Van Gogh and has beautiful gardens.
To keep things short, we only listed the top five corporate retreat locations here, but check out the link below to see the full list!
Chapter 4: Retreat Themes & Ideas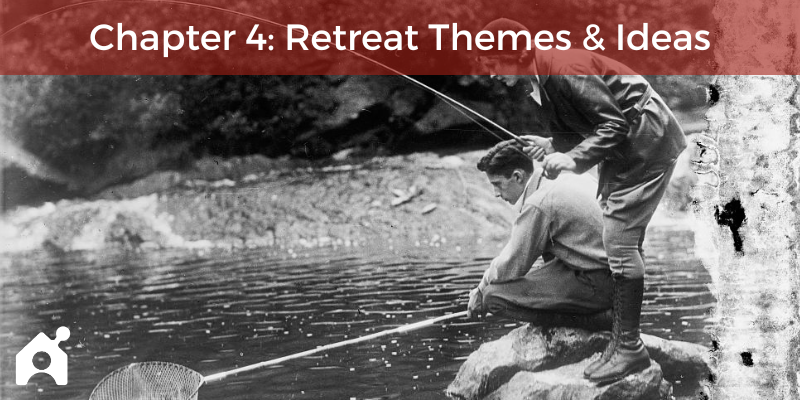 If you've gotten this far into the article, you're probably feeling a little overwhelmed about the options you have when it comes to planning a company retreat. A retreat theme can help you focus your planning and tie everything together so the retreat has a common goal.
We surveyed professionals from all over about the best staff retreat ideas and experiences they've had. After adding some of our own research to their (very intriguing!) answers, we created this post. The ideas below will help you find the perfect staff retreat themes to make planning easier.
In this huge post, we only included some of our favorite ideas, but you can read the entire article here. Jump to the section you're interested in below:
Multi-Day Staff Retreat Ideas
Planning a multi-day work retreat can be a lot. You've got to get everyone to a central location and make the most of your time over the few days the team has together. Use one of these best company retreat ideas below to create a central theme that will tie the trip together.
Retreat Theme: Destination Bonding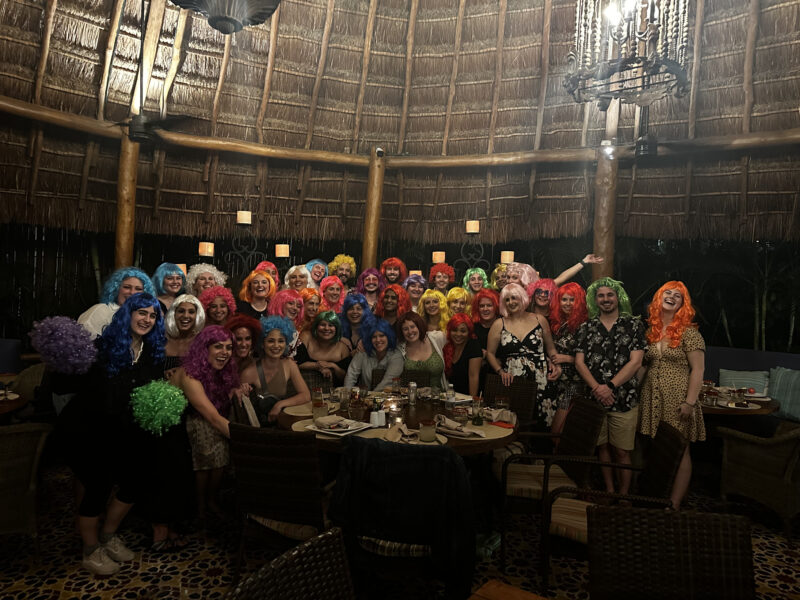 The CS Recruiting team in Playa Del Carmen, Mexico for a destination retreat
"What do you envision when you think of a company retreat? If you're like most people, this probably comes to mind…
❌ Boring PowerPoint presentations
❌ Annoying team-building activities
❌ Crappy catered lunches
❌ No time for fun
Well, CS Recruiting proved that all wrong. This past weekend, 40 of us traveled to Playa Del Carmen, Mexico. Here's what was on our agenda:
✅ 3 days of bonding at the pool/beach
✅ Learning about each other in a relaxed environment
✅ Good food, good drinks, silly games and lots of laughter
✅ Freedom to relax, recharge, and reconnect."
– Charlie Saffro of CS Recruiting
Retreat Theme: All-Inclusive Resort
The Wingie team at an all-inclusive resort
"A resort makes logistics much easier to manage because meals are taken care of and there's no need for people to find transportation to and from the hotel to the event venue. It also makes it easier for teams to bond since they're all staying in one place rather than being spread out at different hotels. This means that more people will hang out after the official company events, making the retreat even more beneficial for improving employee relationships."
– Nihan Colak Erol of Wingie
Retreat Theme: Themepark Vacation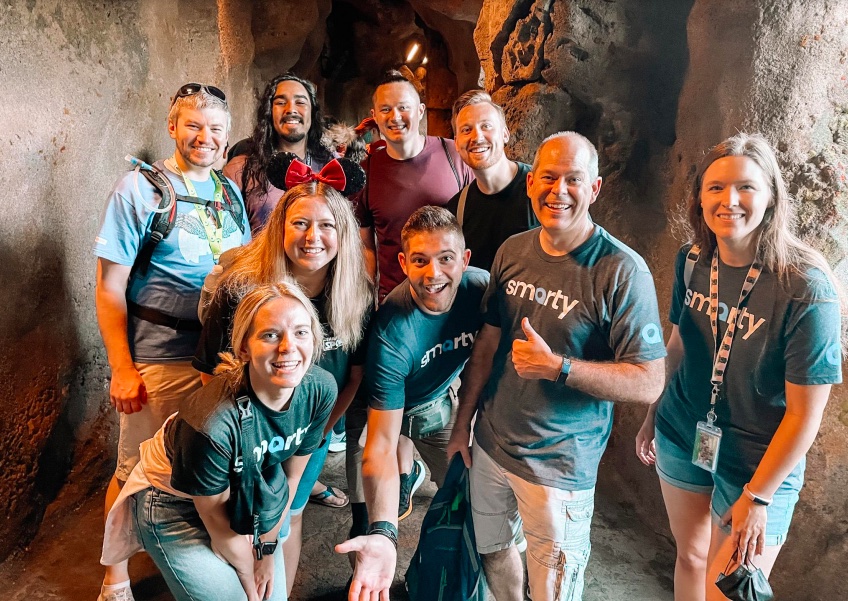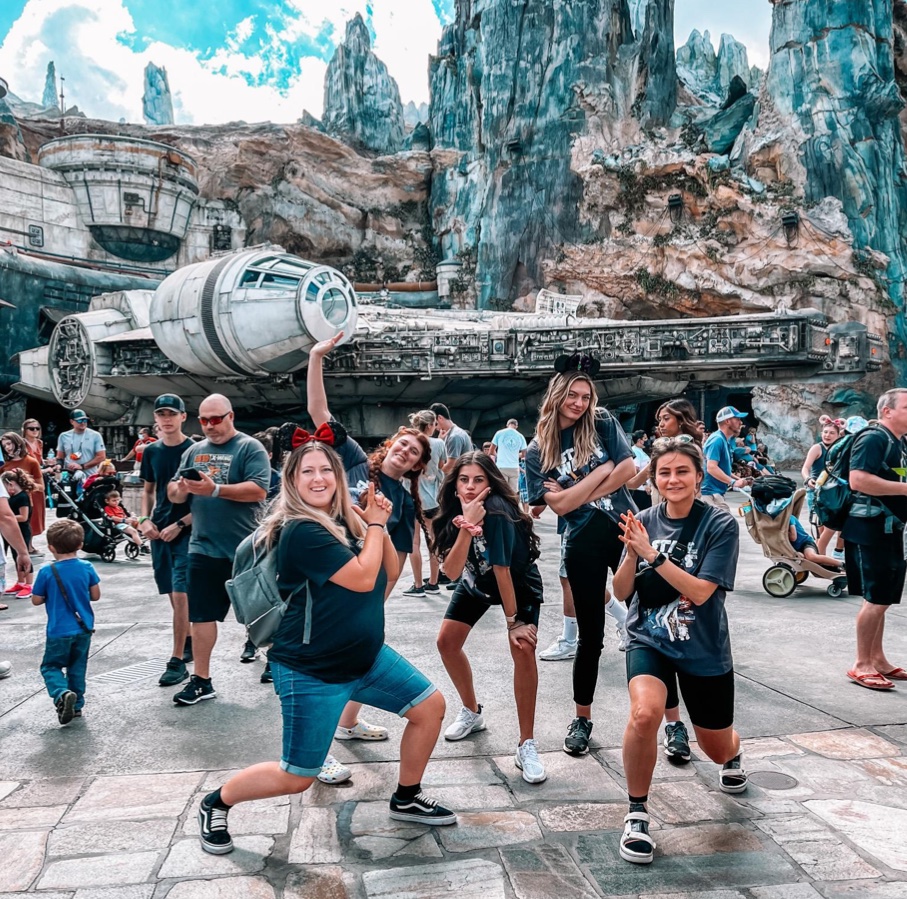 The Smarty team at Disney
"For a number of years, Smarty has taken all their employees to either Disneyland or Disney World as a multi-day company retreat. This has had a tremendous positive impact on employee morale and camaraderie. One of our company values is Outwardness – seeing people as people. This time away from the office, totally enjoying ourselves in such wonderful amusement parks has created very strong bonds among employees. It has been so much easier to work with people across departments after sharing such emotionally fun times in the Disney environment. We truly get to know each other as people. And our interactions at work are positively changed because of it."
– Susan Young of Smarty
Retreat Theme: Camp Retreat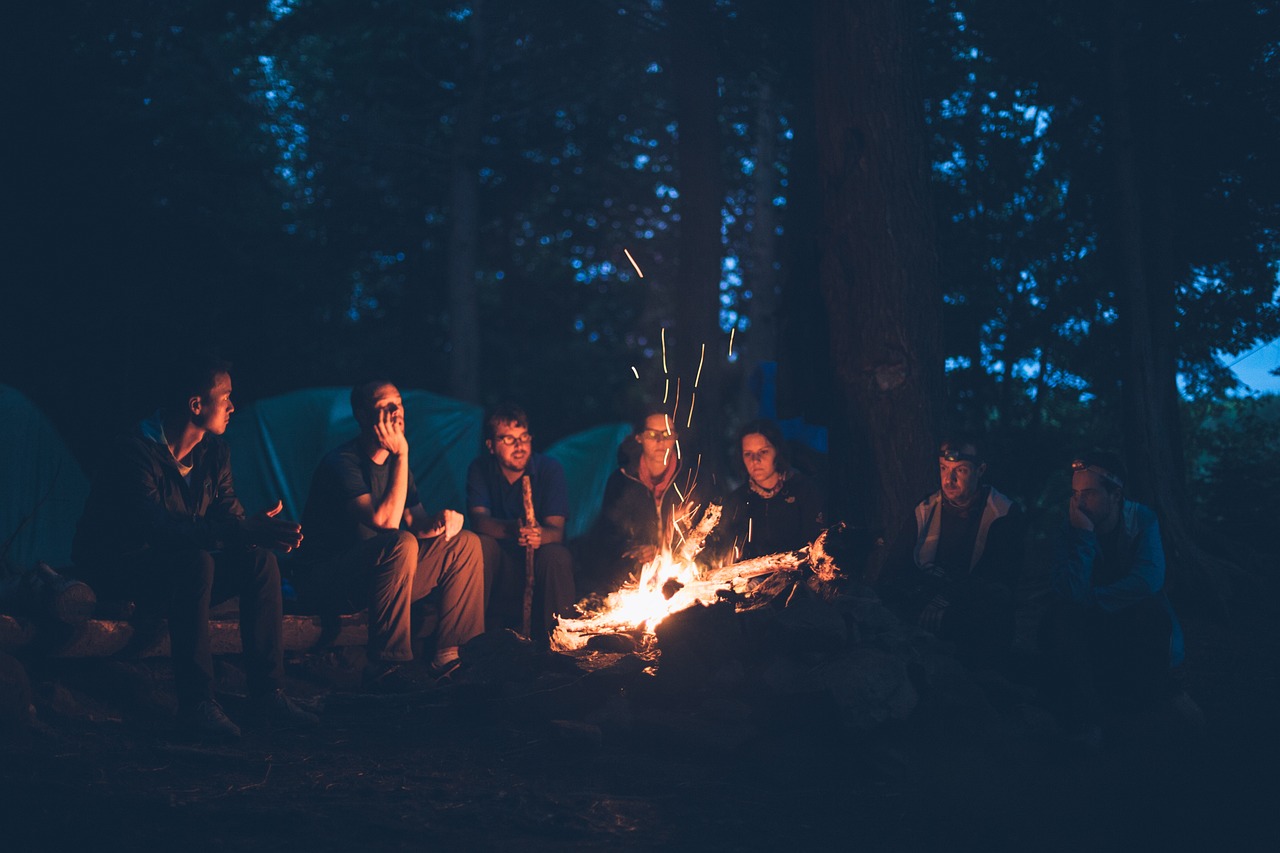 The Exploring Emirates team around a campfire
"There's no better way to retreat as a company. With an array of exciting activities like hiking, fishing, kayaking, and bonfire dancing, it can be one of the best ideas for some days out with your employees. Such traveling and corporate tours are suitable all year round, both in the summer and the winter. These activities are beneficial to building teamwork and reinforcing the company's mission statement for all those attending the retreat."
– Mark Carnevale of Exploring Emirates
Note: If some of your team is less-than-excited about sleeping on the ground, we like Indeed's idea to modify this theme to a "glamping" retreat with yurts, cabins, or even RVs.
Retreat Theme: Self-Care and Growth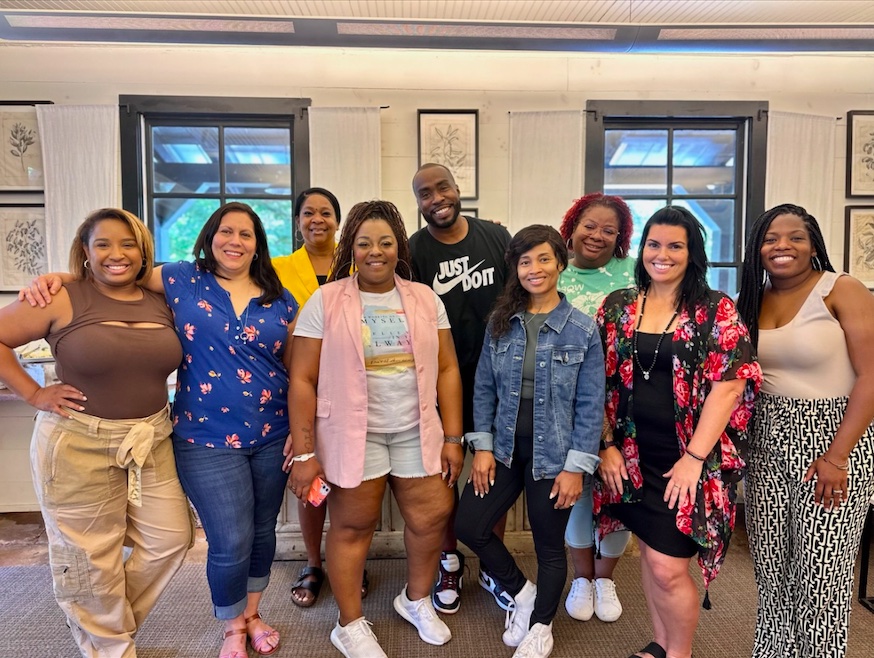 The Blissful Mind Behavioral Health staff retreat
"The retreats I have hosted are typically regarding sustainable health care for total wellness. Focus on the management of emotional money, positive communication skills, and mindful tools and practices to help people restore, recharge, and refocus themselves personally, professionally, and socially."
– Pamela Tippit of Blissful Mind Behavioral Health
One-Day Company Retreat Ideas
Just because you only have a few hours doesn't mean you can't pack a lot of team bonding and learning into your time. These one-day company retreat ideas will help you find a theme that makes the most of your day.
Retreat Theme: Learn to Cook
"In my opinion, food is a universal language. As a group works together to prepare a meal, they unconsciously address problems in a casual setting. They plan to collaborate on a project and then enjoy its fruits together. The analogies are nearly too numerous to count. There is logic to the prevalence of corporate cooking classes."
– Adam of Fard
Retreat Theme: Client Success Showcase
"During this event, gather your team to celebrate and analyze the successful projects you've handled. Share the strategies you've used, the challenges you've overcome, and the outcomes you've achieved for your clients. Discuss what worked well and what improvements could have been made. This not only boosts team morale but also allows everyone to learn from each other's experiences. It's like a big learning and appreciation party where your team gets to show off their accomplishments and learn new things to make your company even better at helping clients succeed online."
– Jarik Oosting of SmartRanking
Retreat Theme: Take-a-Hike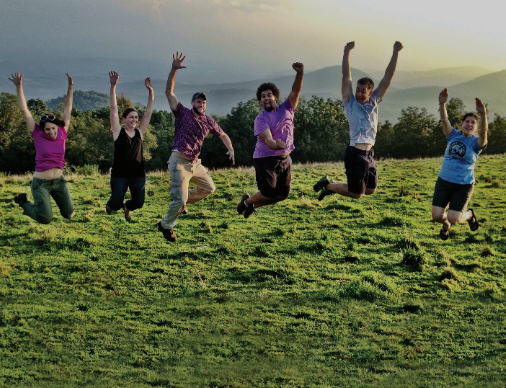 The We Buy Houses Wilmington NC team outdoors
"One idea that immediately comes to mind is organizing a hiking expedition. It not only promotes team bonding but also allows us to connect with nature and recharge our minds and bodies. Imagine embarking on a challenging yet rewarding hiking trail, surrounded by breathtaking landscapes and views. It's an opportunity for us to challenge ourselves physically while immersing ourselves in the beauty of the great outdoors. We can even take this hiking retreat to the next level by incorporating team-building activities along the way, fostering a sense of camaraderie and collaboration."
– Leighanne Everhart of We Buy Houses Wilmington NC
"I think going on a hike is the cheapest method to get your company closer together while also increasing productivity and oxygen flow. Take a bus trip to a neighboring park or nature preserve if you don't have easy access to a trail from your workplace. Just double-check the trail's accessibility to make sure everyone can join in the fun."
– Michael of Hess
Small Team Retreat Ideas
These small company retreat ideas (which could be challenging to pull off for huge groups) could really shine for small teams.
Retreat Theme: Team-Planned Tech Detox
"Sharing the trip planning among members ensures the responsibility is divided among three or four people. The idea that sprang out of these planning sessions was that of a detox retreat: a total mental, physical, and technological break. We went to a nearby beach and made our plan to ensure a retreat schedule where we all would stick together. This kept us separate from the crowd, while also enhancing group solidarity. From participating in beachside games to mini meltdown sessions, it was chaos, but of the absolutely good kind."
– Anthony Guerriero of Manhattan Miami Real Estate
Retreat Theme: Food Plus Swag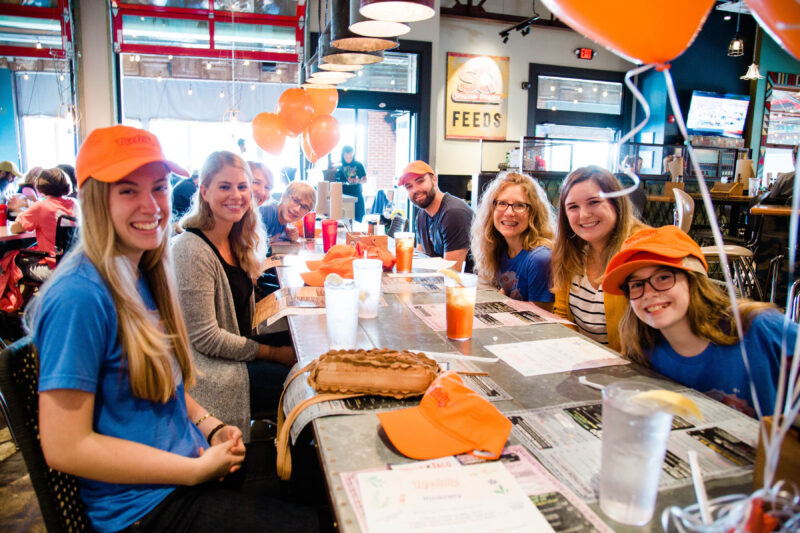 The Nectafy team at dinner together (showing off their new branded hats)
Especially for smaller teams, a company retreat creates the opportunity for everyone to relax and get to know each other without the pressures of work getting in the way. Many smaller teams might be remote, meaning the retreat time may be one of the only times team members get to see each other. With that being said, retreats for smaller teams should create time just to talk. Activities and meetings are an important part of a staff retreat, but make sure you schedule in plenty of time to enjoy good food and good company.
"I think the best way to kick off a company retreat is to start with a meal—it gets everyone fed (so no one is hangry after travel!) and in a comfortable setting for meeting with co-workers (potentially face-to-face for the first time if you work remotely). Throw in some fun activities over the course of the retreat, carve time out for business-related discussions, and of course, more meals, and you'll have a retreat that goes off without a hitch.
(Oh, and maybe throw in some fun company swag while you're at it—notebooks, pens, hats, etc. It can act as an icebreaker, and it gives everyone something they can use while on the retreat!)"
– Gabby Shultis Rios of Nectafy
Large Team Retreat Ideas
Go big or go home. No, really. Either way works well for large team retreats, as long as you think about the goal of your retreat.
Retreat Theme: Let's Go International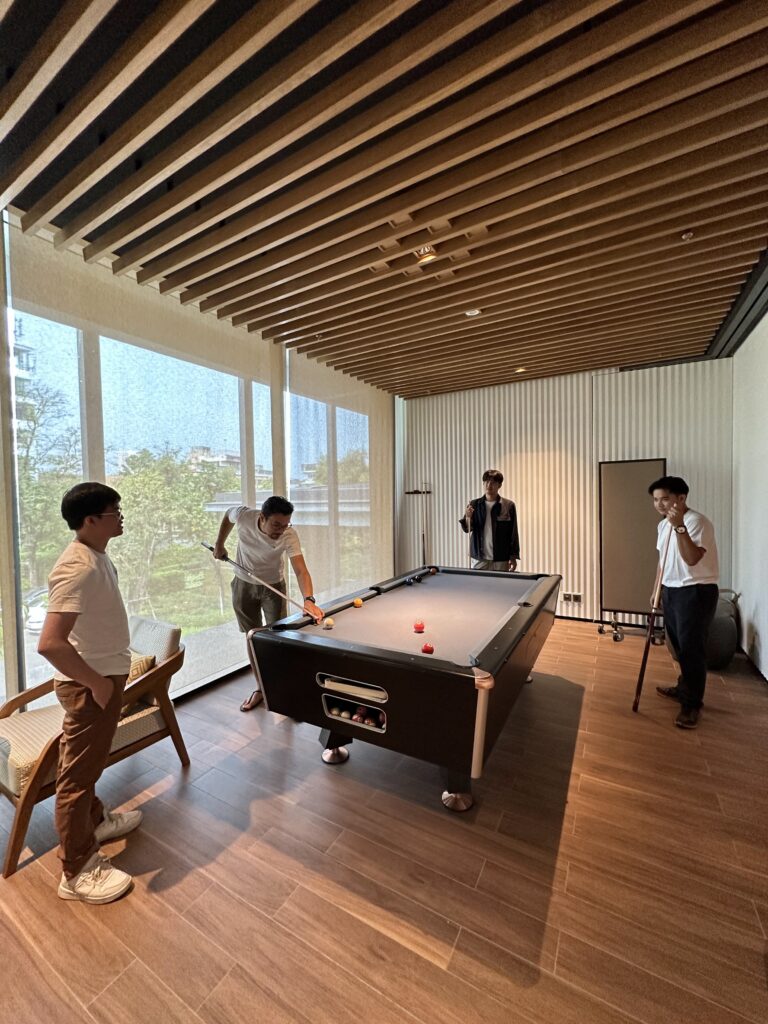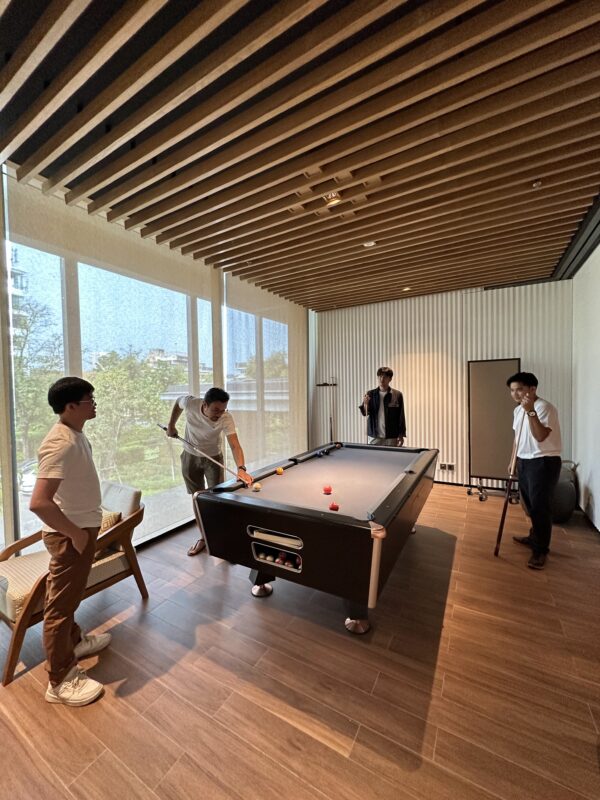 The Ling App team playing pool
"Perfect for companies with a larger budget and with remote employees, international destinations offer opportunities for people to connect in a new culture. Navigating new languages, food, logistics of how to get around, and meeting new people will broaden perspectives and bring your teams closer together. This year we'll be hosting our retreat in Hanoi, Vietnam where we'll spend two nights at a farm to really engage with the locals and do some team activities."
– Jarir Mallah of Ling App
Note: If you don't have the budget to take the team to an international destination, these top 25 best places for company retreats will give you good options in the U.S.
Retreat Theme: Bring It Home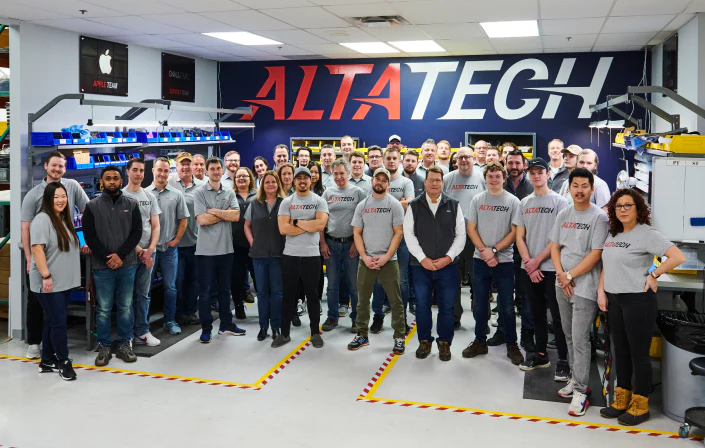 The Alta Technologies team at the company's main base
"Bring all employees to your main office location. This is a great way for remote and in-office or hybrid employees to get to see each other face-to-face, while also giving them a look at the home base. Hosting the retreat at the home office can be a great way to show employees how you support the company culture and live your company values. This is particularly impactful for remote teams who only get to see and interact with each other as well as management via computers, but it is equally beneficial for in-person employees as it shows them that the company culture is supported from the top down."
– Corey Donovan of Alta Technologies
Unique Retreat Ideas
These unique retreat ideas are genius and a little bit crazy. Depending on how creative you want to get, that just might be the best mix there is.
Retreat Theme: Survivor
The company Plexcon hired Moniker to create a Honduras team retreat where employees were "stuck" on the Caribbean coast and had to compete for the title of winning team. We had to put this Survivor-inspired jungle retreat on the list because it's just so fun and unusual!
Retreat Theme: Operation Make-a-Movie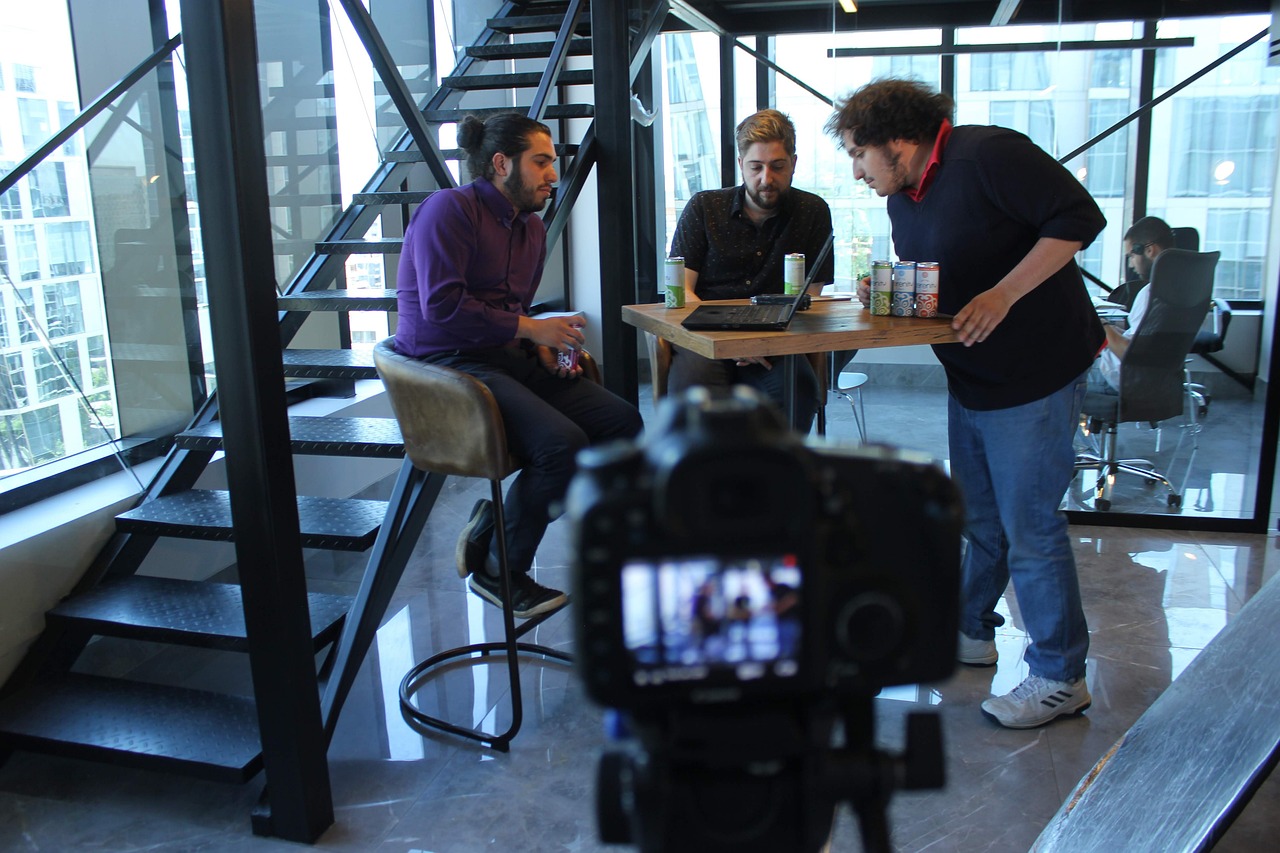 The Cherry Picks Reviews team filming a movie
"Creating a film, especially for a company retreat, is an extraordinary experience. In order to make this movie, you will need a camera, microphone, tripod, and a video editing program. It promotes creativity, collaboration, and teamwork. Make one of the employees a producer, one an actor, one a scriptwriter, etc. Making a movie can involve the team members in various roles, which can be fun and provide a chance where the employees of the company get to work together."
– Miranda Bence of Cherry Picks Reviews
Virtual Retreat Ideas
Want to make sure your team feels a connection, even with a remote retreat? These virtual company retreat ideas will make sure everyone gets a chance to socialize from the comfort of their home.
Retreat Theme: DJ, Disco, and Drinks
Frontastic hosted a retreat packed with social activities – all from a distance. The company hired a DJ to introduce each team member with a rap about their accomplishments at the company, then enjoyed the DJ's song selection (which included employees' favorite songs) while the team had a virtual lunch break together. With a beatbox workshop, a virtual escape room, a tribute to past company wins, a disco party, and a "pub" activity that focused on company strategy, Frontastic managed to create a one-day virtual retreat that still felt social and uplifting.
Retreat Theme: Slack to the Rescue
When hosting a remote retreat, we've already mentioned the need to mix asynchronous activities with Zoom meetings to keep people from getting burned out. Help Scout's article on virtual company retreat ideas highlighted several ways to use Slack to facilitate team bonding without having to be in a live-time meeting. For one of Help Scout's virtual retreats, the company ingeniously used Slack for a company-wide scavenger hunt competition and a team movie-watching party. If you need a virtual retreat theme, consider using Slack as the cornerstone of your planning.
Retreat Theme: Bring the Value(s)
BoomPop has an excellent article on choosing the theme for your company retreat. Our favorite idea was to center the retreat around your company's culture. All the discussions and activities can be related to your company's core values, mission, and vision. Not only will this help employees feel connected to the business, but it can help your company define what's important moving forward. This theme is perfect for remote retreats because it can be done through a mixture of videos, group conversations over Slack, and live-time Zoom calls. Especially for remote teams that don't get to talk about the big picture every day, this can provide team members with a chance to understand what they're working toward.
This is just a partial list of all the corporate retreat themes and ideas we gathered! If you want to read the whole thing, click the link below.
Chapter 5: Retreat Activities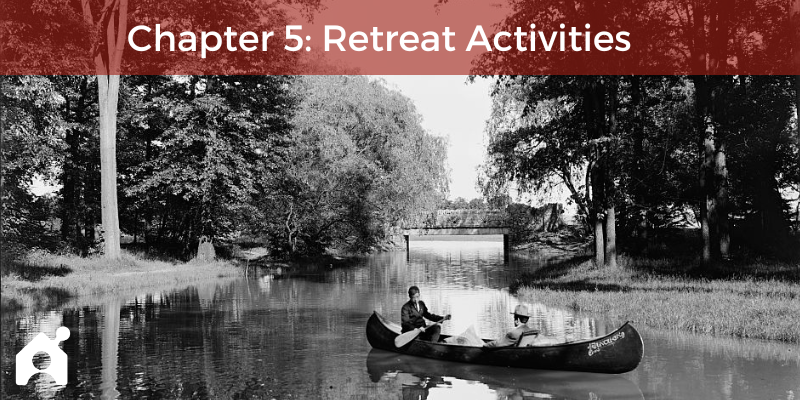 Do you shudder inside every time you hear the phrase "team retreat activities?"
These activities can change that. We've gathered a list of the best corporate and staff retreat activities out there (without any trust falls or karaoke). For this giant post, we only list some of our favorite activities, but you can view the full list here.
Use this table to jump to the section you're interested in:
Team Retreat Activities for Team Building
These retreat team-building activities use creative challenges and a touch of competition to help your employees improve how they work together.
Staff Retreat Activity: Host a Cardboard Boat Regatta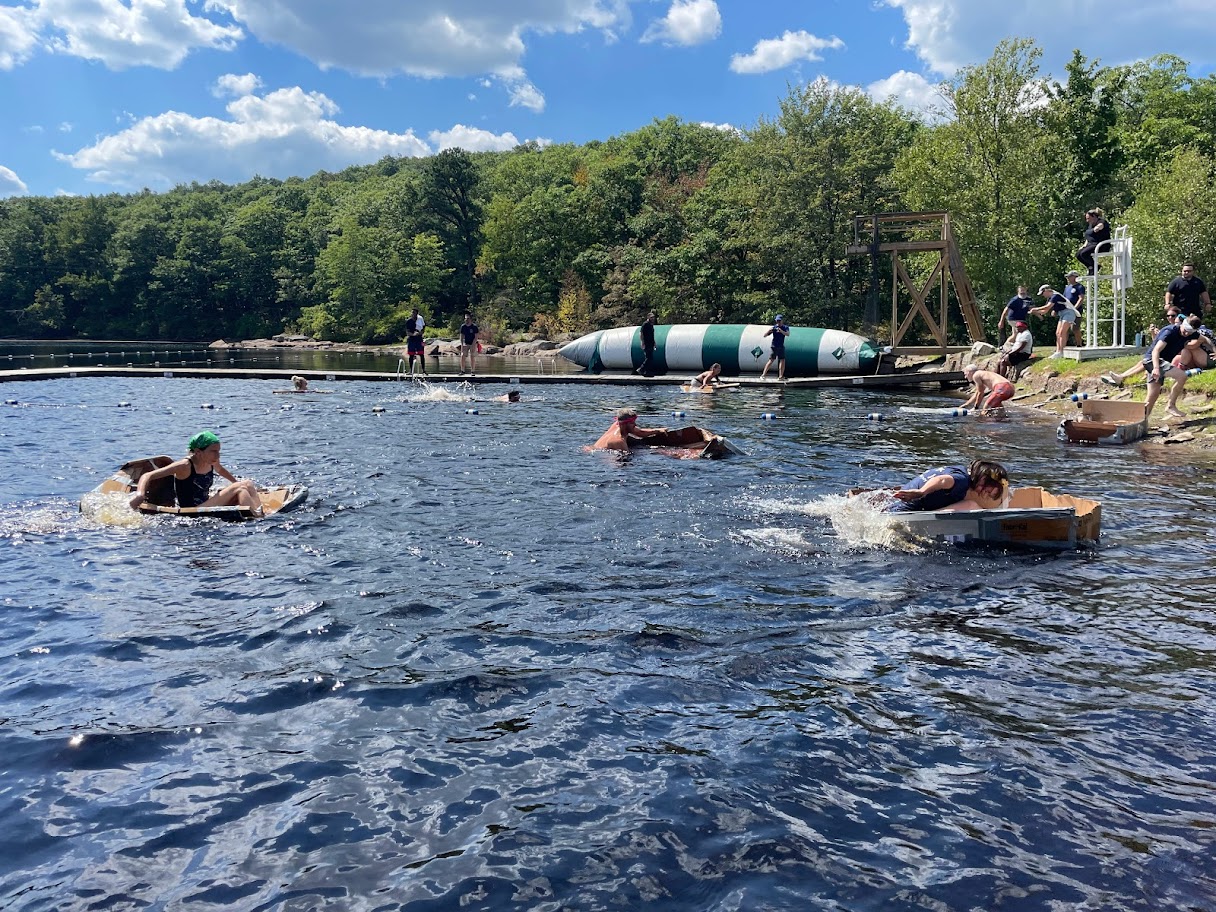 The SONA Events team racing team-constructed cardboard boats for the win
"This activity works specifically at a lakeside retreat where teams are given an hour and a half to use four large pieces of cardboard to construct a boat. The captain of each team must get in the boat (yes – in the water!) and race to see which team's boat lasts the longest or makes it to the end still in one piece. This activity is great for team-building and creates great, laughable memories together."
– Danielle Snelson of SONA Events
Staff Retreat Activity: Volunteer as a Team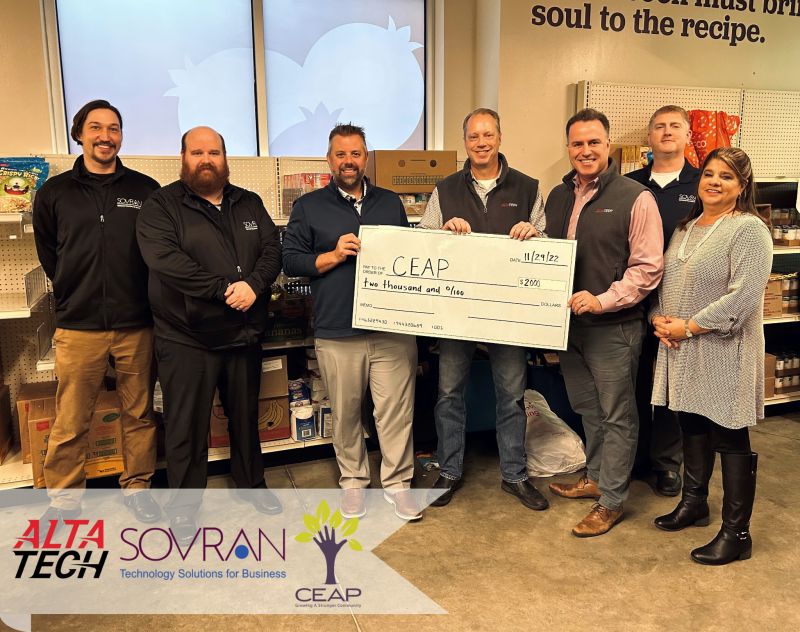 The Alta Technologies team doing community outreach together
"One of the best ways to not only help teams bond but to also do good and give back to your community is to do a volunteering project as one of the activities during a company retreat. This can be done in person by visiting a location such as a local shelter and serving meals, or it can be done by creating care packages that get sent to a charity organization to be distributed to their community. Whichever option you choose, it makes a big impact because it gives employees something to bond over while also doing a whole lot of good."
– Corey Donovan of Alta Technologies
Staff Retreat Activity: Compete in an Escape Room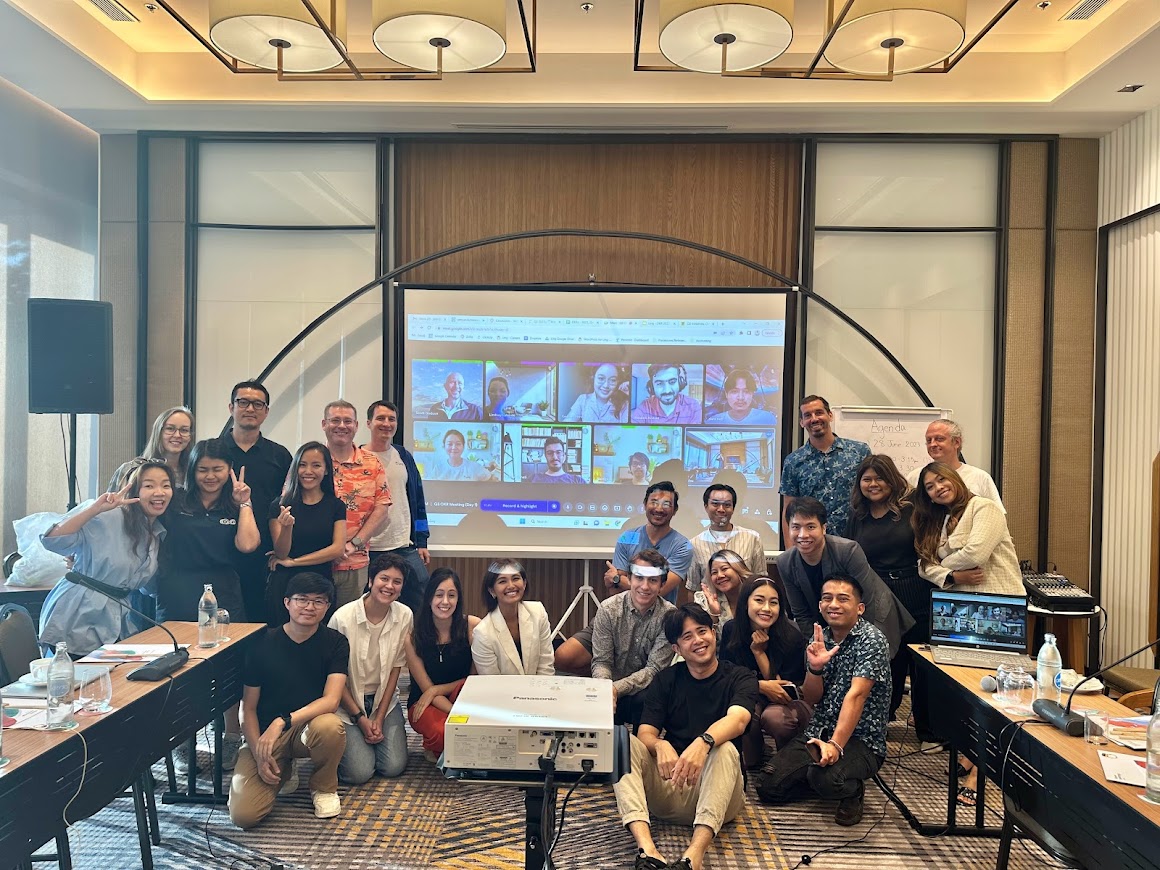 The Ling App team on a retreat
"Take escape rooms to the next level with larger companies. Group employees into departmental teams to challenge each other in the same escape room. They can compete for the most challenges solved, the quickest time, and the most collaborative or the MVP. The trick is to find an escape room no one has done previously and have other activities in place while each team completes the escape room. Of course, your employees have to be really good at keeping secrets, too. You'll learn a lot about each other with this activity."
– Jarir Mallah of Ling App
Staff Retreat Activity: Show Off Your Haiku Handiwork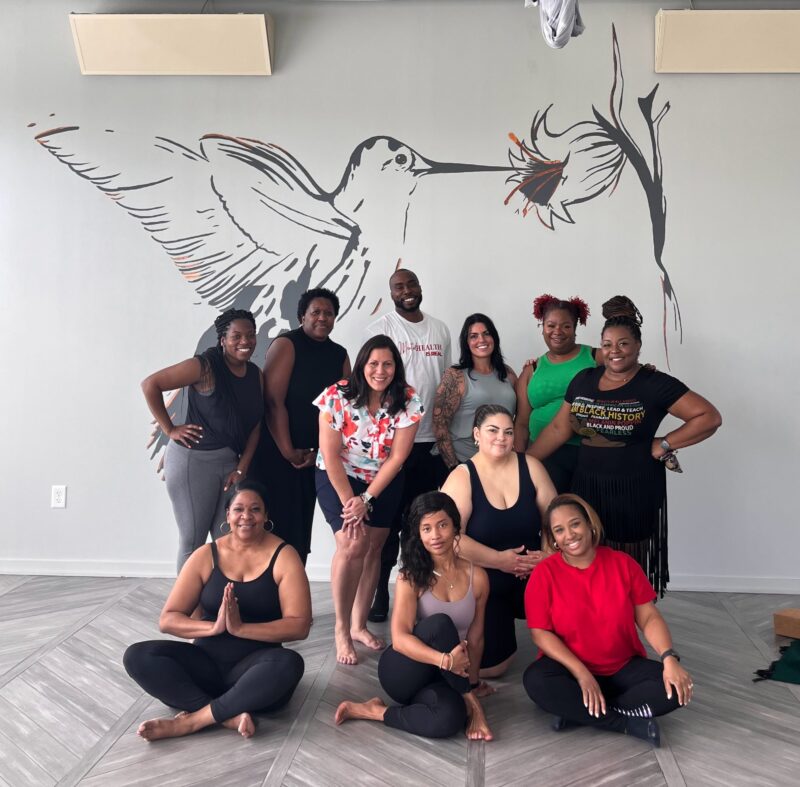 The Uncommon BIPOC retreat orchestrated by Blissful Mind Behavioral Health
Pam from Blissful Mind Behavioral Health uses this activity to help team members on a retreat share their challenges and goals moving forward. The example she provides is a personal growth haiku, but you could have team members share a business challenge and related goals for their position. This is a clever and unique activity to help team members learn more about each other, and it can spark problem-solving.
Team Retreat Activities for Fun
Not all staff retreat activities have to have a business purpose to be useful. These fun, laid-back activities can strengthen your team and create great group memories.
Staff Retreat Activity: Host a Hilarious Theme Party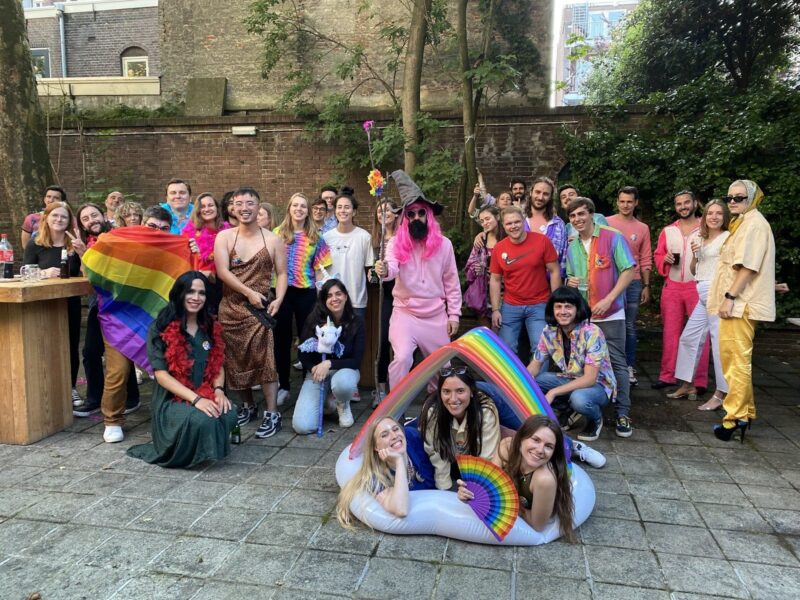 The Studocu team's theme party
"Theme parties might seem a little cheesy, but that's precisely why we include them in our company retreats. In professional settings, some people feel the pressure to perform and always be "on," but a theme party allows you to dress up and lean into silliness and the joy of play we often lose after childhood. When employees see leaders able to poke fun at themselves, it helps dispel some of those internal pressures to make way for more authentic connections. Ask your team to dress up in a theme on one of the first days of your retreat, and you'll set a fun tone for the rest of the retreat!"
– Marnix Broer of Studocu
Staff Retreat Activity: Host a Guac Off
James Bennett of Firefly Team Events recommends a showdown to see who can make the best guacamole on the team. This is a fun way to create a little spicey competition (although just how spicey is spicey enough will be up to the judge)!
Staff Retreat Activity: Row, Row, Row Your Kayak
This idea also comes from Madeline Purches's article. Kayaking is good exercise, but it's also a fun way to enjoy a lake view and relax. Rent kayaks for the afternoon so team members can get to know each other and spend time in the sunshine. It's an easy activity to administrate, and it lets everyone have some downtime in between the more brain-intensive activities of the retreat.
Team Retreat Activities for Leadership Retreats
These work retreat activities will help your company leaders sharpen their strategy and stretch their minds.
Leadership Retreat Activity: Enjoy Beachside Meditation
"The beach is an ideal location for a company retreat where multiple activities can be done. One of the best retreat activities is meditation, where coworkers can have a peaceful time amplifying the benefits of concentration and mindfulness."
– Daniel Ufland of Withflitch
Leadership Retreat Activity: Trade Roles
This clever game can garner new perspectives (and help leaders appreciate the team members in each role). The idea comes from Raj Verdhan's article at ThesisBusiness. The gist of the game is simple: create lists of three or four challenges each position usually faces, then switch leaders so each member gets a list for a position they don't usually fill. Leaders should brainstorm solutions for the list they're given and then discuss the results. This activity will get everyone thinking about problems they may not have experienced before, which will not only sharpen their appreciation for the team but also encourage creativity.
Team Retreat Activities for Small Teams
These company retreat activities are a great way to help small teams enjoy their time together.
Small Team Activity: Take a Group Archery Lesson
This fantastic idea was recommended by CustomersFirst Academy in this article. Archery is a unique group activity that will keep the entire team invested. Since not many people know how it works, a group lesson is a great way to give teams common ground. They'll all be learning a new skill together! (Archery tag can also be a hilarious way to go. It's like dodgeball but with padded arrows. Nothing like a little adrenaline and competition to spice up a company retreat!)
Small Team Activity: Try Out Group Pottery
The Escape Artist Greenville team trying pottery
This activity was perfectly executed by Will and Kim of Escape Artist Greenville. They brought their team to a private, one-hour pottery lesson. Each team member got to create custom bowls or cups and pick them up a few days later, fully glazed and baked. Pottery is great as a team-building retreat activity because even self-proclaimed non-artists have a good time. It's a creative activity that doesn't intimidate people, and it's surprisingly relaxing.
Team Retreat Activities for Large Teams
These corporate retreat activities are great for large teams, and you can split into groups for even more options.
Large Team Activity: Just Add Beach (& Volleyball)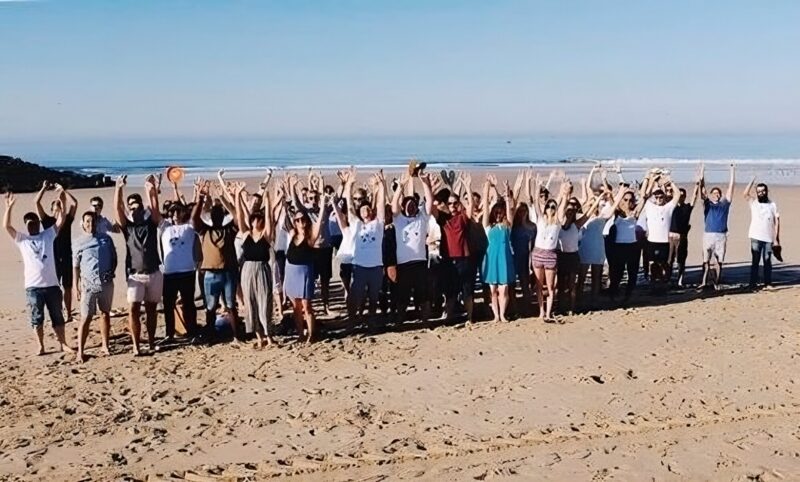 The Fat Joe team at the beach
"Company retreats offer a chance for employees to break away from the office environment, bond, have fun, and engage in activities that foster teamwork and creativity. Two such activities that can be a perfect fit for a company retreat, especially in a beach setting, are a volleyball tournament and beach swimming."
– Joe Davies of Fat Joe
Large Team Activity: Build Skateboards for Kids
This activity was shared with us by James Bennett of Firefly Team Events. Host an activity where your team can learn to build skateboards from start to finish for children in lower-income areas. This is not only an amazing activity to give back, but it's super fun. Team members can test their skills and learn the process of building a board. Firefly Team Events adds challenges to this activity that each group must complete before they get their next part of the skateboard build. It's a great way to keep things interesting!
Team Retreat Activities for Board Retreats
These board retreat activities are just the ticket for non-profits hoping to help their board members get to know each other.
Board Retreat Activity: Put Together a Team Biography Book
We found this idea in Joan Garry's article on creative nonprofit activities, and it is so unique we had to share it. Joan has each member of the nonprofit write a two-page bio summarizing their life, complete with at least one photo. Then she combines each member's bio into a PDF (which she calls the book) and sends it to the entire group. Once the team is on the retreat, one person facilitates a quiz where team members get a chance to guess who did what and learn each other's stories. While Garry said some employees grumble, in the end, it becomes a truly deep bonding experience for the team. The book not only piques team members' curiosity, but it helps them learn who they are working with!
Board Retreat Activity: Rock On
This idea was suggested by Jesus Rivas in this Board Portal article. A great way for board members to have a little fun is to plan in time for a concert or music festival. This gives everyone a chance to spend time together outside of work. As a bonus, it might highlight some new music to play when everyone is back in the office!
Team Retreat Activities for Virtual Retreats
Hosting a virtual retreat? Here are a few fully remote team retreat activities to get you started.
Virtual Retreat Activity: Exchange Gifts
"In my role as the co-founder and CEO of Brosix, I've had the opportunity to foster virtual team-building through innovative strategies such as online field trips, thoughtful gift exchanges, and engaging brainstorming sessions. These activities have been instrumental in enhancing team cohesion, creativity, and collaboration within our remote work environment. By implementing these initiatives, we've successfully bridged the gap between team members, promoted a sense of belonging, and maintained a vibrant and motivated workforce. These efforts reflect our commitment to cultivating a strong and unified team culture, even in a distributed work setting."
– Stefan Chekanov of Brosix
Virtual Retreat Activity: Figure Out Whodunnit
Sign your team up for a virtual murder mystery. This activity is recommended in Teamland's article on virtual retreat ideas, and it's a great way to ensure everyone on the team stays intrigued. There is murder afoot! There are different kinds of murder mysteries from facilitated to free-play, but a recommendation we've seen pop up several times is Murder in the Speakeasy. There's nothing like jazz and flappers to get a storyline going.
Did you think this list of ideas was impressive? This was just the shortened version! See even more ideas in the full article below.
Chapter 6: Retreat Meeting Agendas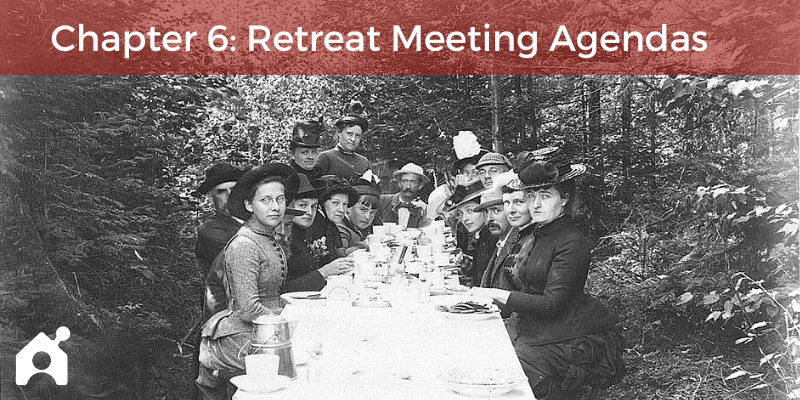 Once you've picked out the location, the theme, and the activities for your retreat, it's time to dive right into planning the meetings. After all, the retreat meetings are what provide results. You're going to want more on the meeting agenda than "discuss revenues" or "finalize strategy," so use these step-by-step agendas to keep things on track:
Quarterly Leadership Retreat Meeting Agenda
Meeting Purpose: Step out of the day-to-day to assess your organization from a higher view and tackle bigger, persistent issues.
Suggested Length: 4 hours (with breaks, or across multiple days)
Template:
Topic
Notes
Chit chat

(15 min)

Quarterly scorecard

(15 min)

Last quarter's problems

(15 min)

Vision & core values

(30 min)

Team grader

(30 min)

Responsibility chart

(30 min)

Problem solve

(90 min)

To-do list

(15 min)
Descriptions:
This management or leadership retreat meeting provides a ton of value in only four hours. It's an intense, problem-solving schedule, so we'd recommend spreading it out or breaking it up over two days to get the most out of it. This will let participants have time to rejuvenate and get fresh ideas.
Chit chat: This first fifteen minutes is for people to chat openly and build trust. You might think you could cut back on the meeting time by eliminating it, but it's a necessary part of the meeting that helps everyone warm up to each other and relax.
Quarterly scorecard: Use the next fifteen minutes to review your company's quarterly scorecard. These questions will help you hit the major points:

Where did cash start and end?
What goals were missed?
Are we tracking the right metrics?
Last quarter's problems: Pull up the "to-do" notes from the previous quarter's meeting and spend fifteen minutes going over the problems you discovered last quarter. This time is set aside to make sure the issues you discussed last quarter were properly addressed and fixed. Any important issues that weren't addressed need to be written down.
Vision & core values: This is where the meeting takes a hard look at your company's values. Spend the next half hour going over your company's vision statement and core values. You'll want to make sure your core values help employees make decisions. You'll also want to discuss whether the values are helping the company hire the right employees. If you discover you need to adjust the company's vision or core values, you can use this time to start the conversation. Ask what adjustments need to be made to make sure the vision and values drive action.
Team grader: Using the company core values, assign a score to every employee for every core value. You can record these grades and notes in your workbook so you have a record of them over time. Discuss the results. If certain employees have areas for improvement, you can discuss how to approach them and constructively help them grow. This part of the meeting should take about half an hour.
Responsibility chart: Review the company's responsibility chart or other documentation about who is responsible for what. Use this thirty-minute segment to ask these crucial questions:

Are we missing any responsibilities?
Do we have the right people in the right seats?
Which functions are not getting the proper attention?
Problem solve: At ninety minutes, this is the longest time block of the strategy meeting. Identify and record all the main issues that got in the way during the quarter. Discuss ways to solve them and decide on the best solutions moving forward. Once you've determined solutions, assign an owner to implement each solution in the "to-do list" section of the meeting notes.
To-do list: In the final fifteen minutes, record every action the team committed to during the meeting. Make sure each action is clearly assigned to an owner. In the next quarterly meeting, you'll hold each other accountable for those tasks in the "Last quarter's problems" section.
Note: If you want more information about how to plan a strategy meeting for your leadership retreat, check out the book Traction by Gino Wickman. A lot of the terms and structure for this meeting template were inspired by it.
Strategic Planning Retreat Agenda (Multi-Day)
Day 1: Goals & Celebrations
Meeting Purpose: Step out of the day-to-day to assess your organization from a higher view and tackle the big, persistent issues.
Suggested Length of First Meeting: 4 hours (with breaks, or across multiple days)
Template:
Meeting Name: [First Day]
Topic
Notes
Chit chat

(45 min)

Session goals & agenda

(30 min)

Goal achievements

(15 min)

Client headlines

(15 min)

People celebrations

(15 min)

Vision & mission

(60 min)

Core values

(60 min)
Descriptions:
This meeting focuses not only on analyzing what your company stands for but also on celebrating what your team has achieved. It's a company reset. It reiterates the company's values to help the team feel connected and reinvigorated. This is part one of a two-day strategic planning meeting.
Session goals & agenda: For the next half hour, review the goals for the strategic planning session and the multi-day agenda. This time will be used to get everyone on the same page about what you'll be covering. Outline the meeting schedule and explain the purpose of each section. You can use the bullet points in this section to share the purpose, or simply provide an overview of the outcomes you're expecting. (For example, you could share the big picture of both meetings. Meeting one is for celebrating past wins and reiterating company values, and meeting two is for planning and analyzing/updating company strategy).
Goal achievements: Use the next fifteen minutes to focus on the good stuff. What goals were hit in the previous quarter or year? What is currently going well? It's important to share the headway you've made as a company, not just the challenges you're facing.
Client headlines: For this fifteen-minute segment, share some great client stories you want to celebrate. This is the time to bring up the stories you have from the last year or quarter and to share the good customer feedback you've received.
People celebrations: Shine the spotlight on the team members who have been doing great work. In this quarter-hour, celebrate all the cool things employees have done. Highlight what they did and why it's so great. (Example: "Katie did a great job making sure the client was happy last month. She scheduled a meeting to talk through their concerns. The client later told me it helped them feel like we have their best interest in mind. Thanks to Katie, the client decided to sign on as a monthly retainer client last week!")
Vision & mission: For the next hour, discuss the company's future. What is the company's vision for three years from now? What about five or ten years from now? Talk through the company's mission statement and whether it is still relevant. This is the time to bring up any changes or tweaks that need to happen to keep the company vision and mission statement useful for decision-making.
Core values: After you've discussed the company's mission and vision, use the next hour to discuss whether the company's core values align with the mission. Ask questions like these:

Do our core values inform behavior at the company?
Are there any core values we aren't following that we should be?
Are there any core values that are no longer relevant for making decisions?
Do we need to update or adjust any core values to make them more helpful?
Day 2: Analysis & Planning
Meeting Purpose: Step out of the day-to-day to assess your organization from a higher view and tackle bigger, persistent issues.
Suggested Length: 4 hours (with breaks or across multiple days)
Template:
Meeting Name: [Second Day]
Topic
Notes
SWOT analysis

(1 hour)

Strategic priorities

(1 hour)

Scorecard (goals & KPIs)

(1 hour)

Strategy map

(1 hour)
Descriptions:
After laying the groundwork in the first meeting, this second meeting officially switches into strategic planning mode. In roughly four hours, you'll jump headfirst into strategy, focusing on the strengths and weaknesses of the company, opportunities that have developed, and goals for the future.
SWOT analysis: Use the first hour to systematically analyze your company's strengths, weaknesses, opportunities, and threats. Strengths and weaknesses are considered internal factors, while opportunities and threats are external factors. This in-depth analysis is called a SWOT analysis, and it helps you understand the big picture of where your company is positioned in the industry and what chances there are for growth. (This article has a fantastic step-by-step breakdown of how to create your own SWOT analysis.) Even if it gets gritty, it's important to take the time to assess broken processes or poor quality at your company. This will give you time to change course before it affects sales.
Strategic priorities: Once you've finished the SWOT analysis, use this next hour to decide what the company is going to focus on to achieve its mission and goals. This may tie in with the opportunities (or risks) you discovered in the SWOT analysis. Your company doesn't have the resources to focus on everything, so use this time to decide which actions will make the most difference. This conversation will need to whittle down the actions you could take to a workable amount that the team can execute.
Scorecard (goals & KPIs): In this hour, decide on what metrics you'll be measuring. How will you know when the company has been successful? You'll need to decide on the target number for each metric and how often you'll review the goals. You may also want to set a date to review the metrics you've chosen, in case there are other metrics that would be a better indicator of how close the company is getting to its goals.
Strategy map: A strategy map is a framework that lets you see the goals of the company and how the company is meeting these goals. (You can create a strategy map for your company with one of these templates.) In this part of the meeting, you'll take an hour to determine what the company must do well in order to execute its strategy. This means looking at the company's strategy map and ensuring the company is hitting the targets it has set up.
Note: This schedule for a strategic planning meeting is a great starting place, but if you need other ideas for how to structure your strategic planning meeting, these templates and agendas can help. Beyond planning the meeting, this article gives an exhaustive breakdown of the strategic planning process. We'd highly recommend reading it before your retreat to make sure you craft a strategic planning meeting that meets your company's needs.
For two more agendas you can use on your staff retreat, click the link below.
Chapter 7: Companies That Will Plan Your Retreat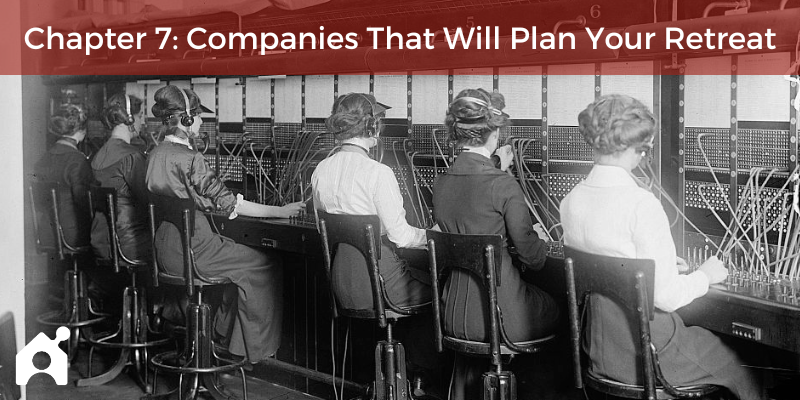 If you're feeling a little overwhelmed after reading through all the steps you'll have to take to plan your corporate retreat, why not get an expert involved?
These companies will help you plan (and in most cases, run) your retreat:
Corporate Retreat Planner #1: Moniker
Moniker offers top-of-the-line retreat planning for just about any idea you can imagine. We chose to include them in the list because they have hosted some incredibly interesting and intricate corporate retreats (we're talking an island survivor retreat and a Tuscany castle retreat) The company can plan your retreat at almost any location and sends planners onsite to make sure the retreat goes smoothly. Prices are customized to your event, so you can get a feel for the cost by requesting a quote.

Corporate Retreat Planner #2: B Line Events
B Line Events stays with you every step of the way. From the moment you request a quote, they'll be helping you brainstorm the right venues and activities for your retreat. During the retreat, B Line Events sends event coordinators to run everything and make sure everyone gets where they need to go. We added B Line Events to this list because the company offers an organized and detailed experience. There's nothing like 19 years in the event-planning industry to put your mind at ease! For pricing, you can request a custom quote.

The Offsite Co. plans both in-person and virtual events. What makes this corporate retreat planning company unique is the pricing structure. The company charges a flat rate of $175 per attendee, which makes the pricing for your event easy and transparent. This simplified price model is not the only great thing The Offsite Co. has to offer. The company assigns you a "Retreat Producer" to help plan and run the retreat. They also have a custom app for your team to use while attending the retreat!

Corporate Retreat Planner #4: TeamOut
TeamOut is unique in that the company uses software to help you plan your retreat. In fact, they'll help you find a venue for free! If you decide to work with TeamOut to plan your entire retreat, you get a dedicated planner who will help you personalize the trip itinerary and book everything for $149 per attendee. TeamOut doesn't provide an event coordinator to run the retreat, but they do help you communicate with the venue manager, who will be there when you arrive.
As you can see, all four of these event-planning companies have different attributes and price structures. Hopefully, this list will help you find an event planner within your vision and budget!
Conclusion
Planning and running a corporate retreat for your company is a lot of work, but it's worth the effort. Your team will not only learn and enjoy new experiences, but they'll love that they work for a company that puts them first.
We hope you find this article useful. Just so you know, Buildremote may collect a small share of sales from the links on this page to help keep this site running.