Monday's Workforce Software: The 21-Person monday.com Review

What is monday's workforce software?
Monday.com Work OS (operating system) is an award-winning project management software with 100,000+ companies as clients. Now… that is what the nice people at monday.com say, so let's take it with a grain of salt. They do have those awards to back it up, though.

But we can always verify those lofty claims through third parties. Here are a few good options.
2019: Monday.com raised $150 million at a $1.9 billion valuation. OK that's good. They must be doing something right.
2020: According to anonymized customer data from Okta as of October 2020, monday.com is the fourth fastest growing business application with 149% growth over the prior six months. And… it looks like they continue to be chosen by new customers at warp speed.
OK, now we're talking. Investors like it. New customers are adopting it quickly. And existing customers rate it highly.
But I still wanted to find out for myself to share a more personalized review of monday.com. I got a few other people involved, too.
This review is broken into eight parts. Use these links below to jump to a section that is most relevant to you:
Review Contributors: Roles, years on monday.com, pricing plan
Rating & Reviews: Our 21-person average star rating with short reviews from each contributor
Features: These are all the features we rely on explained by each user
Integrations: All of the monday.com integrations used by our review contributors
Benefits: The words used to describe how monday.com helps
Limitations: Keep in mind, the most common response was, "None"
Pricing Plans: A breakdown of costs and how to make a decision on the right package
Start a monday.com Free Trial: Sick of hearing from us? Try out the app for yourself…
Who contributed to this monday.com review?
To make this review more valuable, I asked my list of Buildremote expert contributors, "Hey, do any of you use monday.com?" 21 people on that list responded to the survey saying they are monday.com users and they would be willing to contribute to a team review.
First, I asked people about their role so you could see the types of people using monday.com. Marketing made up 38% of the group, followed by project management (19%), and operations (14%).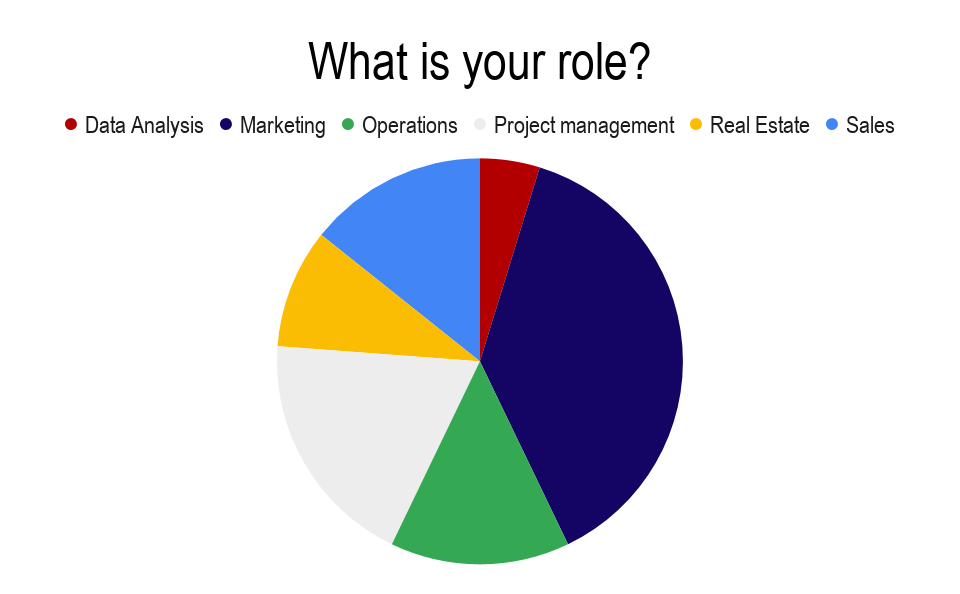 Then, I asked how long they've used monday.com. 81% of the people have been using it for two years or fewer. One person has been using it for over five years!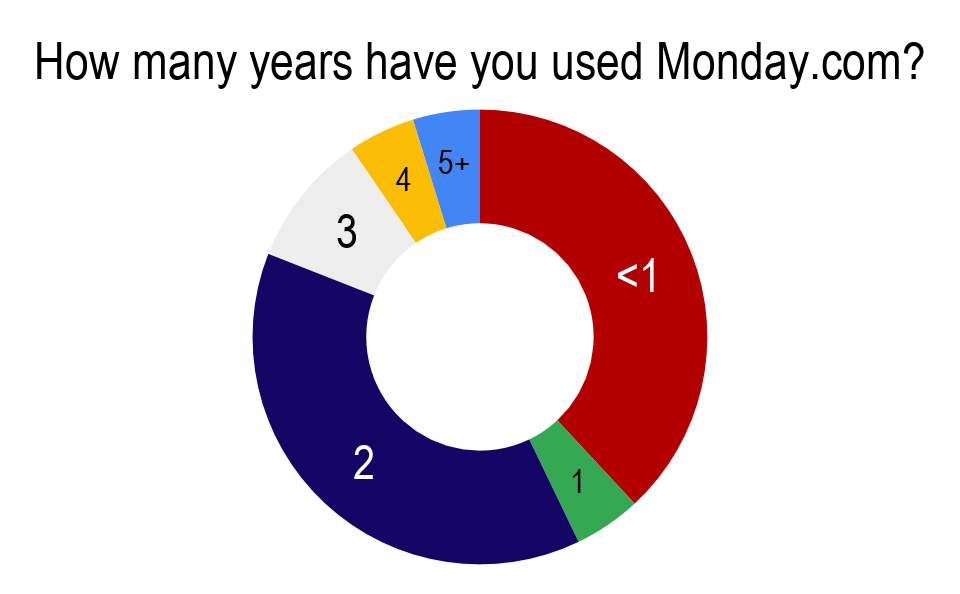 Finally, I wanted to know which monday.com plan everyone used. 62% are on the Pro plan ($16 per user/month, billed annually), followed by 29% on the Standard plan ($10 per user/month, billed annually). The only plan we didn't have included was Enterprise, so we won't provide any review on that pricing plan in this article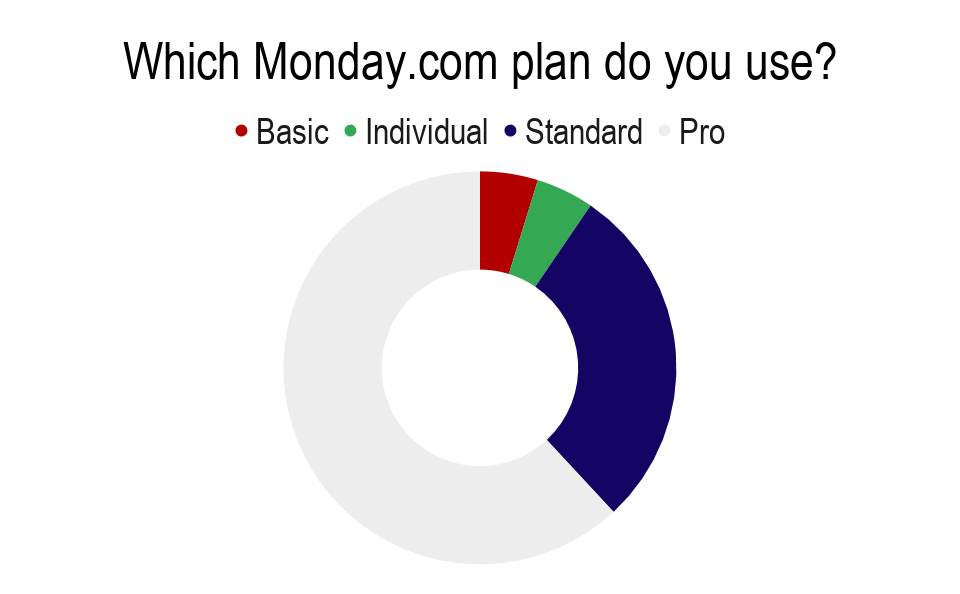 Monday.com Review: Our Star Rating & Main Takeaways

When I asked 21 users how they'd rate monday.com on a scale of 1 (bad) to 5 (great)…
11 people gave it a 4/5
10 people gave it a 5/5
… for a total rating of 4.5 out of 5.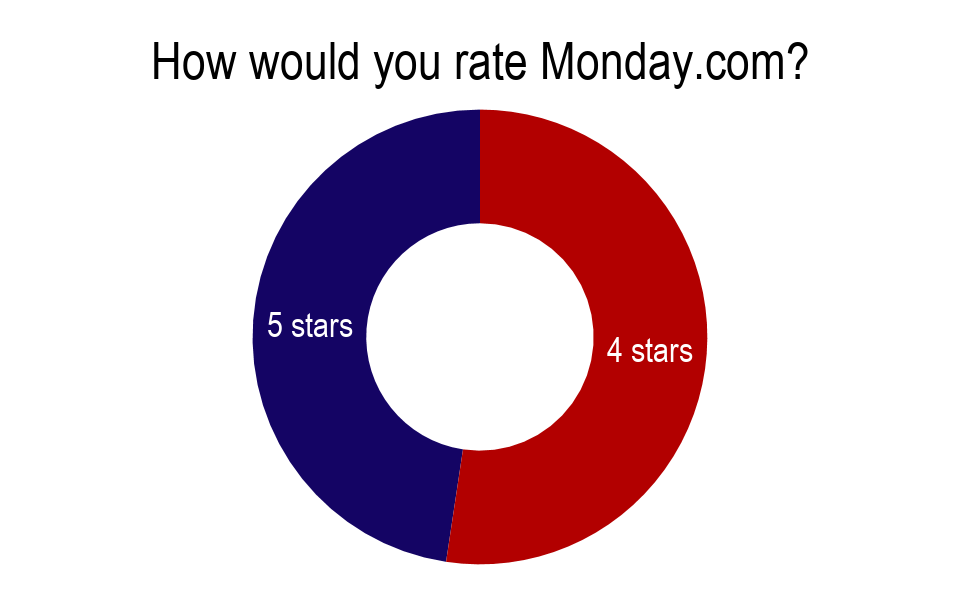 Saves thousands of emails and Slack messages
"A great intuitive tool for keeping track of everything from student registrations to editorial content. I love that my teammates can ping me on monday.com when it's my turn to touch a piece of content in our pipeline, rather than emailing or even messaging me. It must have saved thousands of emails and Slack messages by now."
– Ryan Hammill of Ancient Language Institute
Simple and easy multi-organization communication
"I have used monday.com with the marketing and website consulting firm that I hired. Monday.com has made our communication and task details absolutely flawless. Monday.com makes communication between our groups super simple and easy."
– Jeff Shipwash of Shipwash Properties LLC
Powerful integrations with other tools
"Our team uses monday.com to track tasks and ensure productivity. The best feature utilized by our team is the integration tool. Our company religiously uses Google Calendar, Stripe for payments, Zendesk for support, and MailChimp for weekly newsletters. Monday.com ensures that every task meets its deadline and every employee clearly knows their roles."
– Christopher Adams of ModestFish
A more organized Trello alternative
"I love it. We recently made the move from Trello. We are so much more organized on Mondays, plus I really love the upbeat vibe it has."
– Tracy Baumann of The Brooks Group
Task management for remote or in-house teams
"This tool is a must for any company whether your team is remote or in-house it helps you organize and track daily, weekly and monthly tasks. You can always upgrade or downgrade your plan depending on your needs and their support team is great."
– Oliver Moreno of GoKapital, Inc.
Broad functionality and features
"I've had a really positive experience with monday.com. I always try to find tools which have more than one function and this really fits the bill for me as there are multiple features which work for my business."
– Milosz Krasinski of Chillifruit
Essential tool for marketing teams
"I've found monday.com to be an essential tool for the marketing teams I've led. They offer great flexibility in how you can set up boards and collaborate with internal and external team members allowing us to stay on top of deadlines and keep all project info in one place. The dashboard features allow me to stay updated with all projects, and the llama farm to track progress is super fun (seriously, whoever thought of that should get a raise)."
– Abbie Deaver of Gatewise
A lifesaver for our fully remote, multi-continent team
"Monday.com has been a lifesaver for our fully remote team. We are split across multiple time zones, from the US, to Europe and Australia. Monday.com breaks these time zones and brings our organization together into one handy and visual space."
– Lucy Johnson of SHiDO
Highly customizable project management software
"Monday.com is a super customizable and buildable task and project management software. You can use it in many different ways to fit many different needs, which can be overwhelming when you first start out, but they have a lot of resources to help you get started. They have a few limitations, but it seems like they are a constantly evolving software to fit their customer's needs."
– Caroline A Shepard of Spark Marketer
A visual tool for tasks and workflows
"As a user of monday.com through an SEO mentorship, this management tool is a great resource to help users visualize tasks and understand workflow, its very organized and the layout is very clean. Those running projects can provide status updates so users can be directed and informed of their progress. The format allows interactions between members, you can comment, send GIFs, and chats. It is very interactive and easy to use."
– Matthew Slowik of Revival Homebuyers
The external brain for our organization
"Monday.com is one of our favorite softwares – we use it as our external brain for organization and accountability."
– Justin Konikow of Prime Real Estate Brokerage
How we stay accountable in a work-from-home world
"Adapting to the new work-from-model brought about because of COVID, we incorporated monday.com as our newest project management software. We originally relied on the task features in our CRM databases (Salesforce) but noticed larger, more complex tasks weren't being tracked well. With monday.com, we can easily delegate, set timelines, add context, and follow up on projects. It helps keep everyone accountable and have a pulse on project deadlines across the business."
– Jenny Winstead of LA Tutors 123
Helps us overcome remote work challenges
"monday.com helps our team remain productive and overcome some of the challenges that come along with being fully-remote. We use it to track all of our projects and have found that we're able to communicate faster, avoid miscommunication and prioritize tasks easier."
– Tanner Scott of Ranksey Digital Marketing
None compare to monday.com
"As a virtual workforce, it is imperative to have a tool that enables us to collaborate seamlessly. I did extensive research and tried many other project management tools and in my opinion, none compare to monday.com. Monday.com allows me to manage my team, our assignments, deadlines, and documents easily and efficiently. It is completely customizable and is visually appealing and simple, devoid of all the extra fluff other programs had that just isn't necessary and convolutes what should be a stress-free process."
– Jessica Hawley of Peachtree Legal Support
I've tried every project management platform out there (this is the best)
"As a Media consultant in the food, beverage, and CPG space, I will often have multiple projects and campaigns running live with different clients simultaneously. Each of these accounts come with a different scopes of work, deliverables, and deadlines, and up until last year I was updating what I called our "campaign manager" sheets all by hand in programs like excel or pages. I've probably tried every project management platform there is and found most overcomplicate the process and just felt like another task I had top complete- but I personally have found monday.com to be the easiest and most user friendly since starting to use it in late 2019 – AND it still allows me to plug in my beloved spreadsheets, but now I can add deadlines, roles, etc which helps me stay organized and focused on the tasks at hand vs constantly cross referencing. It's changed the way I manage projects!"
– Thom Vest of Studio Seven Consulting
I highly recommend monday.com
"Monday.com has introduced many great ways to stay up to date and organized within our short- and long-term projects. Having the ability to edit the boards live and create automations has allowed our team to contribute more freely and add to the strength of our communications. I highly recommend monday.com for any professional business to improve their organization and communications within."
– Alex Van Winkle of beyondGREEN biotech, Inc.
High degree of confidence in monday.com's data security
"As a company who prides itself on its security processes, we love that monday.com is ISO certified (27001:2013, and 27018:2014) It gives us a high degree of confidence in the security of our data, which is a standard we hold ourselves to."
– Mario Medina of drvn
No other tools can customize and automate like monday.com
"As a startup consultant helping small businesses with building scalable processes, monday.com is one of the best tools for getting your organization on track. Out of every other project management software I've worked with, none have the ability to customize and automate like monday.com."
– Kelly Navickas of Carnation Capital
By far the most customizable tool
"Monday.com essentially brings together all the best features and more of any Project Management tool. It's by far the most customizable tool which makes it easy to automate and keep track of your workflows, deadlines, and even budgets."
– Emily Griffin of SERVPRO of Greater Hunterdon County
 Technical expertise not required
"Overall, monday.com is an effective, customizable, and easy-to-use platform. It does a lot very well and doesn't require a lot of technical expertise to manage. While it can be a little laggy as a browser-based platform, overall it does a great job of keeping my team on task."
– William Ratliff of Employment BOOST

Monday.com: Highlighted Features & Functionality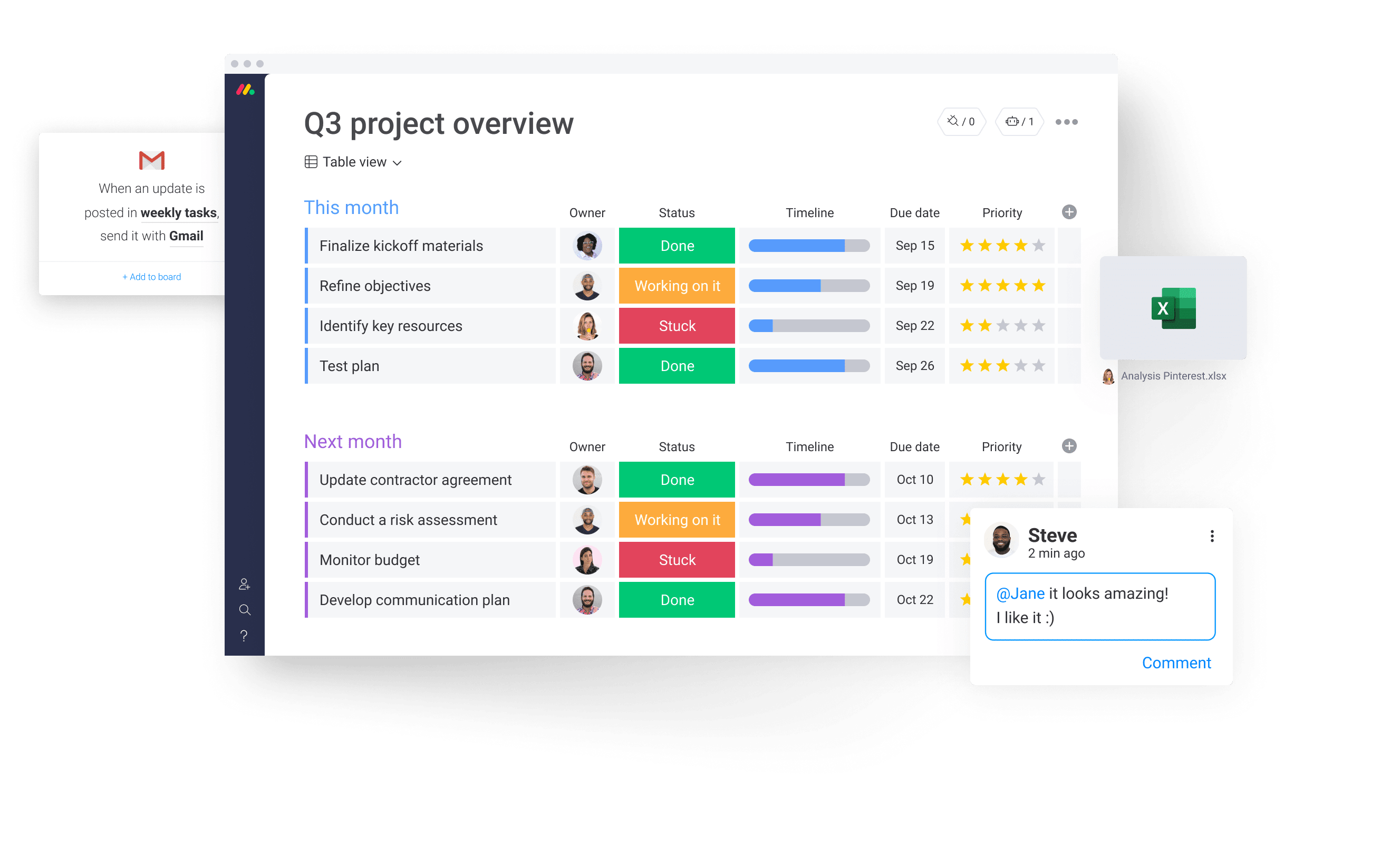 Guest access: Guest viewing accounts that don't take up user seats; these enable all writers and contributors to watch for document and links they need to work on without actually using up space on our company account.
Guest Access – This is huge as it allows us to easily collaborate with external resources like design and web development while keeping all project info in one place.
Project management tools:
Tracking projects

Sharing files

Follow important conversations

Bookmark postings

Sending @ messages to team members
Support: Status update feature. I'm able to choose a status that will notify a tech person immediately. The status changes send immediate alerts to the people responsible for certain modules.
Undoubtedly the status bar is a feature that I rely on the most. Within the status bar there are multiple options a user has to choose from – as it applies to the project I am a part of the options for a specific tasks status include "working on it, stuck, ongoing, done, approved". For example if I'm stuck on a section, I simply choose "stuck" and that alerts the organizer that I need assistance, where they then reply and assist. Its such a great feature.
Customer Relationship Manager: We rely on the CRM (Customer Relationship Manager) more than anything else. Customers are going to come first in any business, and monday.com has a clear focus of that.
My business is all about my customers and this tool helps me give them the best possible experience.
Automations (10/21): moving the project from one person to the next automatically saves so much time and headache.
We automate many of our tasks so that they move groups upon completion. It's amazing how much time that saves you!


They help automate certain steps of your project work flow and can help you make sure that things don't slip through the cracks.

We use these to remind our team members of regular tasks and notify them when a deadline is approaching.
Time tracking – This feature is especially useful to use when doing project where we bill a client hourly. It allows us to keep an accurate record of time spent.

Being able to build our own automation has been a game changer, and they provide a great variety as well.

The ability to automate tasks is easily what makes monday.com stand apart from their competitors. The hardest task in change management is getting employees to adopt to a new system. With monday.com, I can work with employees to figure out the tedious parts of their work, automate them, and quickly get them to buy into a new system.

I rely most on the custom automations, which allows you to completely customize your board and lower your time spent organizing.

Lots of automations and status updates.
Integrations (3/21): We integrate boards with the relevant Slack channels so that we don't miss any notifications.
Boards (7/21): The ability to create boards with different themes and even lets you add basic formulas.
These are where Monday shine. I work at a online marketing company, and each of the companies we work for has their own board. We have boards for tasks, boards for communication, boards that hold basic information, etc. They can be built to be whatever you want
Private Boards: Option to share or keep boards private, this is essential for management."
Dashboards: These provide me with a quick overview of project status across many teams.
They allow you to view multiple boards at once and display info in different formats.
Columns & Formulas – With agile marketing teams, we use task scoring to ensure we commit to the proper amount of work each sprint. Monday.com makes this easy to manage by adding a number column for task points with a summary of total points at the bottom of the column.
Sorting: Monday.com makes it easy to sort by due date or any other column you wish.
Filtering: We most commonly filter by owner. This allows us to keep the entire teams projects on one board, but you only need to filter by yourself to view your projects on a daily basis.
Views: You can set custom views based on sorting & filtering options to easily access the info you want.
Comments: Adding comments/files to each line item – This is crucial to help us keep all project communication in one place.
Email Alerts: We get email alerts when someone comments on an item we are subscribed to (or if they tag us) so we can stay up to date with projects even if we aren't currently logged into monday.com.
Status tags: These allow any of our team members to update the status of a project accordingly.
Here are some other features that were mentioned individually, but not by multiple people:
Subitems
Info Boxes
Workload calendar view
Role Assignments
Deadlines
Info Storage
Data Entry

Monday.com Integrations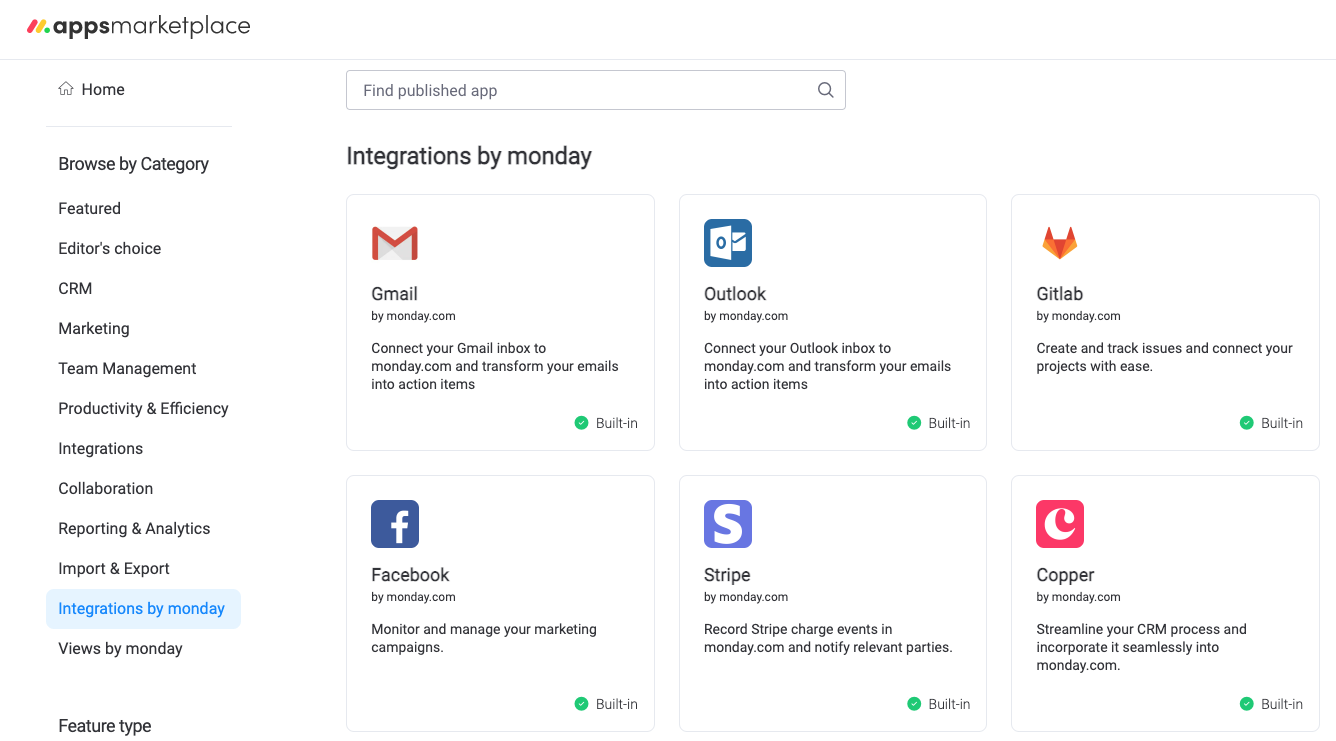 If you are considering monday.com, think of it like the hub for where work gets done across your organization. Then, you have communication tools (phones, email, chat applications) to facilitate that work. You have storage tools to house that work. You have functionally-specific tools like Excel for analysis, CRMs for sales, knowledge base tools for support, and more. Those help your team do the work.
Monday.com has integrations with just about all of those tools you use to facilitate the work being done. Then, monday.com can pull all of the information into the right areas to manage all of the work in one place. The monday.com tool is useful, but without its integrations, it's just another project management application.
We asked our 21 contributors to share the integrations they rely on most. Here's what we heard back (paired with monday.com's description of the integration).
Google Calendar: Manage your time more efficiently and stay up-to-date with all important deadlines.
Google Drive: Access, attach, and preview any file stored in your Drive directly from your monday.com boards.
Slack: Share information, updates and files in Slack #channels from directly inside monday.com.
Zoom: Set Zoom calls within any monday.com board to communicate in context.
Outlook & Gmail: Automatically convert emails into action items to track and manage inside monday.com.
Excel: Easily import and export any Excel sheet into a board with just a few clicks.
Dropbox: Easily attach, share, and preview files stored in your Dropbox from within monday.com.
HubSpot: Manage all your Hubspot leads, contacts, and companies directly in monday.com.
Mailchimp: Manage your campaigns from one place, sync leads and subscribers, get notifications and stats on sent campaigns.
Facebook Ads: Monitor and manage your marketing campaigns.
Microsoft Teams: Embed monday.com boards within your MS Teams chats to enhance workflow capabilities.
Benefits of monday.com
We asked everyone to share the main benefits they receive as a monday.com user. There were 54 individual benefits listed, but all were written in their own way. We organized them into related themes in order to show the frequency. Here is a word cloud showing the benefits of monday.com, as described by the 21 users we talked to.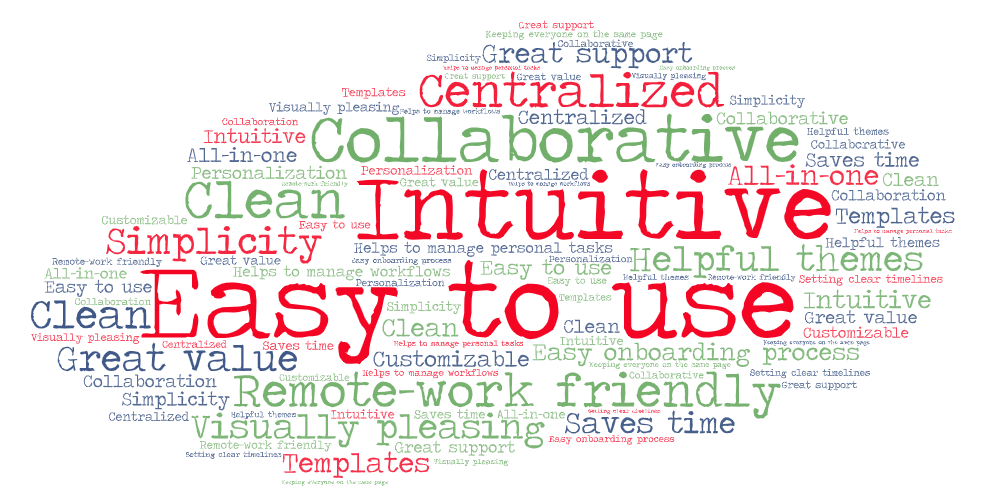 Limitations to monday.com
I asked people about the limitations they see with monday.com. The responses came back in four groups.
There aren't any limitations: This was the most common response.
Feature & integration requests: Some people proposed new ideas for functionality rather than a limitation to existing functionality.
Integrations with WordPress forms, Canva, and Sendible
An open API to build your own integrations that aren't in the marketplace
The ability to transfer sub-items between boards
The ability to manipulate lines and boards like a spreadsheet
The ability to factor out weekends in automations (so tasks aren't assigned when worked isn't done)
More control over the design and appearance of email notifications
Processes & account issues (not features): These are about onboarding, support, and accessibility rather than functionality.
Support: Monday.com's customer support is incredibly limited. There is no email or phone to call, but you can submit support tickets.
Customization: Monday.com is incredibly customizable. However, it can act as a double-edged sword. If your process isn't scalable and repeatable, you'll find that developing a monday.com board around your process could become complex and unmanageable. If you're switching to monday.com because other project management systems haven't worked for you, I'd recommend looking into your processes first, and see if those pipelines can be refined.
Access: For accounts or projects that have multiple teams for various elements it can be a bit tricky as we don't always need every party to know all the details of what the other is doing so I do wish there were more options to grant access and directions to only certain parts of the boards.
Feature limitations:
Mobile App: The mobile app is limited. We have tried integrating mobile usage of monday.com into our daily workflow, but it is not feasible at this time.
Kanban: I'm not a huge fan of their Kanban view and it's limitations (you can't easily see which group an item is in, just what status it has been assigned). When I first transitioned over to Monday.com I came from Trello, so that was an adjustment. But in the end, I find working in the Monday boards better than Trello.
Views: Monday.com does offer more than one view, but there's not many options and the main table view is the only one our team has liked enough to put into practice.
Dashboards: If you need to create a large amount of boards, you can't connect them all with Dashboards, because Dashboards have a limit of 50 boards that you can connect (in the enterprise option).
Monday.com Pricing & Plans
How much does Monday.com cost? You can find the most up-to-date pricing plans here.
At the time of this review (April 2021), here are all of the available monday.com pricing plans.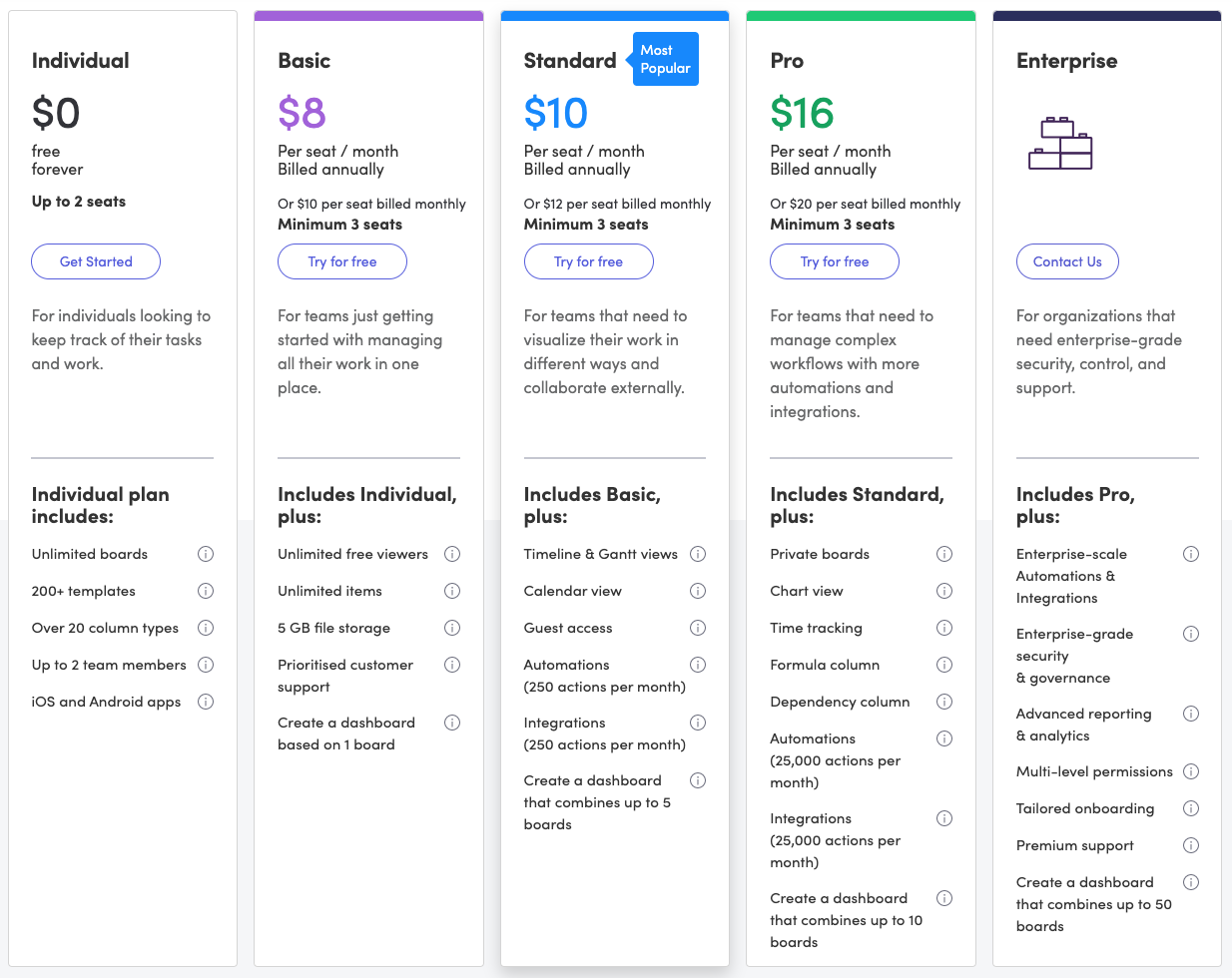 Keep in mind, the 21 people who worked on this review together are spread across the first four plans, but we did not have anyone on the enterprise plan.
One person uses the Individual (free forever) plan
One person uses the Basic plan
Six people use the Standard plan
Thirteen people use the Pro plan
For this review, we'll provide some direction on the first four plans. Here are some overall tips for selecting the right monday.com plan.
You'll always start with a free account, no matter what. So get in there and play around first.
If you are a solo entrepreneur or have one partner (or one potential other user, is more accurate), start with the individual plan. You'll get in the door for free and can always upgrade later if you are missing out on functionality or add your third or fourth team member.
Decide if you'll include external partners, contractors, or employees in your monday.com ecosystem. If you will, you'll need to decide if they can all get free, read-only viewing access (Basic plan), guest access by project (Standard plan), or Private Boards only you and your team can view (Pro plan).
Think about how much you'll automate. This is, likely, closely tied to your headcount. If automation is a small part of your current processes, the Standard plan will work. If you are running a machine (25,000 actions per month), you'll need Pro. Again, you can always start at one and move up to the next at any point. Follow the same steps with integrations. 
Should you do a monday.com free trial?
We've come to the end. I hope you've found it useful. Now, it's up to you to decide if it's the right fit for your organization.