50 Work-From-Home Jobs That Provide Equipment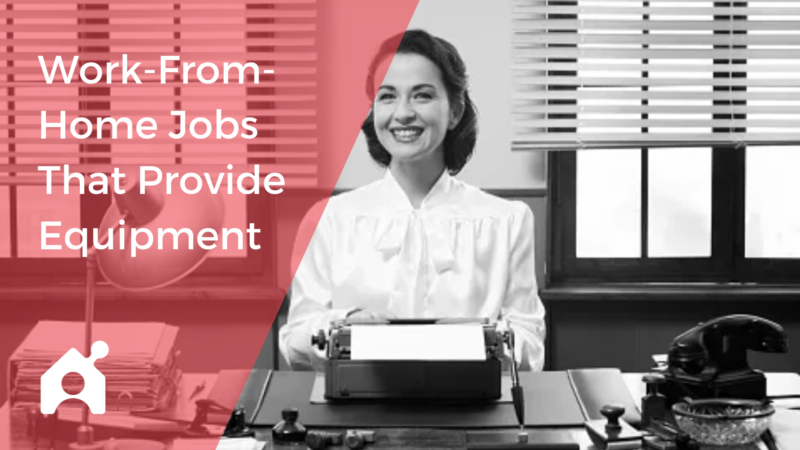 If a company hires someone to work from home, that employee needs to have the right equipment. There are only a few options for providing equipment to remote workers. It's pretty straightforward.
That's about it.
Today, we've created a database of all the companies and all of their work-from-home jobs that provide equipment (and which tools they provide).
Looking for a work-from-home job?
I always recommend Flexjobs.
FlexJobs is the leading job board for remote and flexible job listings. You'll see many of these work-from-home/equipment provided companies on the list below hire on FlexJobs, too.
Work-From-Home Jobs That Provide Equipment
Here are all of the companies that provide equipment to work from home (beyond just a computer). Next to each company, you'll see a link to find remote jobs at the organization.
1Password

We'll set you up with all the tools and tech you need to do your best work.

Acceleration Partners

"Work-life integration is achieved through a flexible remote work culture and open paid time off; reimbursements for technology tools or office equipment."

Allstate

Allstate Launch 'Good Office Program' To Support Employees Working From Home Setups

Apple

You'll need a quiet, distraction-free work space with a door you can shut, an ergonomic chair, a desk for the iMac (and headset) we'll provide, and your own network connection.

Aptible

We help you create your ideal office setup and provide any software you'll need.

Articulate

We're 100% remote—and always have been. We'll help set up your home office with awesome equipment and technology.

Automattic

We offer home office setup and coworking allowances. Working from a coffee shop? You can use your coworking allowance for the requisite latte!

Continued

Professional development, charitable gift matching, wellness programs, office supplies, internet stipend, and a personal Mac computer - you get it all.


BroadPath

Effective August 2019, BroadPath provides a laptop, Bhive camera, USB wired headset, and USB hub. You are responsible for providing a 19" Monitor with VESA mount, ethernet cord, wired mouse, and keyboard (optional).

Buffer

Buffer covers laptops for new teammates from their first day and has a 3-year renewal cycle for computers. Each teammate has up to $200 per year to spend on computer accessories to help them work smarter.


Chili Piper

We equip you with any equipment/software/tech that you need to do your job effectively.

Cockroach Labs

Onboarding all new hires virtually by sending materials and new technology directly to their homes


Customer.io

We help you set up your home office and cover your monthly internet & phone costs. Plus, we'll pay for a co-working space.

Digital Ocean

Mac? PC? Linux? We'll hook up your rig with your preferred equipment. We provide $200 / month towards your internet and phone expenses.

Doist

"Every Doister has access to a recurring budget to spend on work-related equipment."

Dozuki

To get you setup to work successfully we give each employee a dedicated budget. Mechanical keyboards are popular around here.

Dribbble

MacBook Pro (or Air) and all the tools you need to do a great job.

Feeld

Laptop and home office equipment provided...

Fleetio

We supply all remote employees with a Mac Laptop, monthly catered lunches, and more.

Follow Up Boss

Home office setup: Get a Macbook + $1000 to set up your home office.

Frontastic

We provide a laptop (of your choice) so you can choose the best environment for your work, and a working allowance.

Ghost Pro

A new (and regularly refreshed) laptop for work + a $500 office workspace setup budget.

Harvest

A company-issued computer that fits your role. And a standing desk and ergonomic chair after six months of getting settled into your role.

HelpScout

In addition to a laptop and the basics, we help fund your home office, co-working space, personal development, and more.

Hopin

We give $1000 USD for Home-Office Set up and you can choose your favorite laptop - Mac or Dell

InVision

New hire home office budget with a refreshed home office budget after two years for an office chair, desk, or other equipment

Kopa

We supply new equipment so you can do your best work and a home office or co-working allowance.

LaCalle Group

Professional development, charitable gift matching, wellness programs, office supplies, internet stipend, and a personal Mac computer – you get it all.

MailerLite

"Every team member gets a MacBook and company swag when they join."

MoveOn

We provide a cell phone and internet stipend, a monthly home office subsidy, and everything you need to set up your home office, including a laptop, desk, and more. Additionally, we provide all our staff with paid health and wellness benefits and encourage them to take time away from their desks to stay healthy.

Podia

We want you to have a machine that's a joy to work on, so Podia provides a new laptop every three years that you're with us. After a year, it's yours to keep!


Product Hunt

Company laptop, WFH set up and internet stipend, $1000 Annual Professional Development Stipend.


Sticker Mule

We'll pay or provide you with all of the tools you need to do your job effectively. If you want to work from a standing desk just ask and we'll get you one.

SYNQ3 Restaurant Solutions

SYNQ3

We train and equip you for the job… which includes providing you with a computer. But more importantly… with SYNQ3, you'll have an opportunity for a future. A future that will enable you to work from home for as long as you like.

TeamGantt

Imagine working wherever you're most productive. That place can be a home office, coffee shop, or coworking space—as long as it enables you to focus and work smart. We'll even give you a $5,000 budget to help you set up shop so you can create your own perfect work environment.

Toggl

Laptop and a €2,000 budget to set up your home office

Trafilea

We will provide or reimburse part of your hardware and software, depending on your needs.

Verizon

Verizon will provide: A monthly monetary stipend for internet service, computer equipment, and desk and chair options after successful completion of training.
See Also: Every Company Offering Work From Anywhere | Providing Home Office Stipends | Going Remote | Going Hybrid | Doing A 4-Day Work Week | Going Fully Remote | Going Remote-First


Remote Companies That Provide Equipment Through Stipends
Some jobs don't physically send the equipment (like the ones you see above), but they do send money so you can pick the equipment yourself.
We built that database of companies that provide stipends here. But below, you'll see a sample of a few notable names that do it this way.
| | | |
| --- | --- | --- |
| | | |
| | | |
| | | |
| | | |
| | | |
| | | |
| | | |
| | | |
| | | |
| | | |
| | | $450 one-time $150 monthly |
See Also: Remote Jobs (With No Phone Calls) | 39 High-Paying Remote Jobs (& Where To Apply)
Our Definition For Work-From-Home Equipment
Work-from-home equipment includes any tool (required or optional) to fulfill labor from where you live (not a company office or location).
For this list, we did not include companies that only provide a computer. That list would be far too long. In this list, you'll find the list of companies that go beyond the basic, required tool.
See Also: Work From Home, Make Your Own Schedule Jobs


Does Amazon send you equipment to work from home?
Amazon's work-from-home customer service job postings list that Amazon provides an Amazon-owned laptop, an ethernet cable/adapter, and a headset.
See Also: Best Remote Side Hustles
Do companies provide equipment to work from home?
There isn't a federal (US) law that states employees need to provide certain types of equipment to work-from-home employees. Certain states do have laws about what needs to be reimbursed, though. In general, all serious companies hiring for full-time roles will provide at least a computer to new employees working from home. Most fully remote companies provide more equipment, too – headset, chair, desk, webcam, etc.
What kind of equipment do you get to work from home?
As an absolute minimum, you should receive a laptop computer to work from home. After that, the most common pieces of equipment provided would be an ethernet cable (for a good internet connection) and a headset (particularly for customer service and sales roles). Then, companies that go above and beyond will provide a desk, chair, keyboard, mouse, monitor, and webcam to complete the standard home office equipment package.
Which companies give you a computer to work from home?
Almost every legitimate company should provide a computer for you to work from home. There could be a few exceptions – 1) part-time or contract positions may not be provided a computer and 2) some small startups tight on cash might not send a computer if you already have one. Although there is no federal law stating that employers need to provide equipment to their work-from-home employees, most companies will provide a computer.
See Also: 10 Best Laptops For Working From Home


Why I Researched Companies That Provide Great WFH Equipment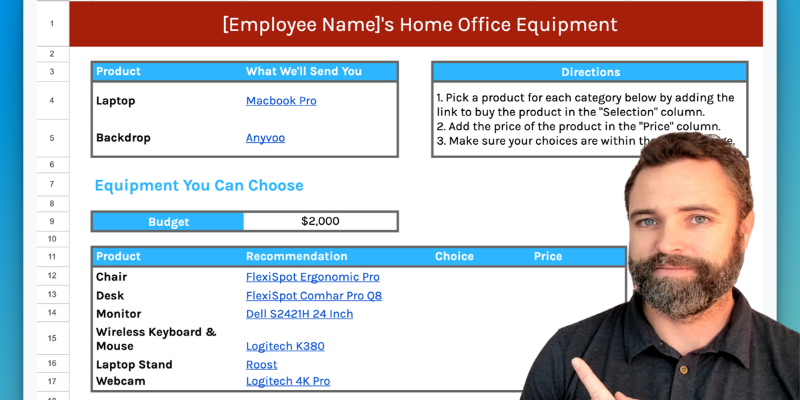 Before Buildremote, I ran a fully remote marketing agency. When I joined, the company (well, my friend… the founder) sent me a used Macbook that was lying around. After a year or two, we realized that people need high-quality equipment to work from home comfortably. After all, we weren't paying for office space so we could invest in home office equipment.
As a result, my home office equipment list is pretty well stocked with an ergonomic desk and chair and audio and video products to help on Zoom calls.
It made me realized that some companies invest in their remote employees while others don't. To me, it's an indicator of how much companies believe in and invest in their remote workers. It should factor into your decision about who to work for remotely.
We hope you find this article useful. Just so you know, Buildremote may collect a small share of sales from the links on this page to help keep this site running.