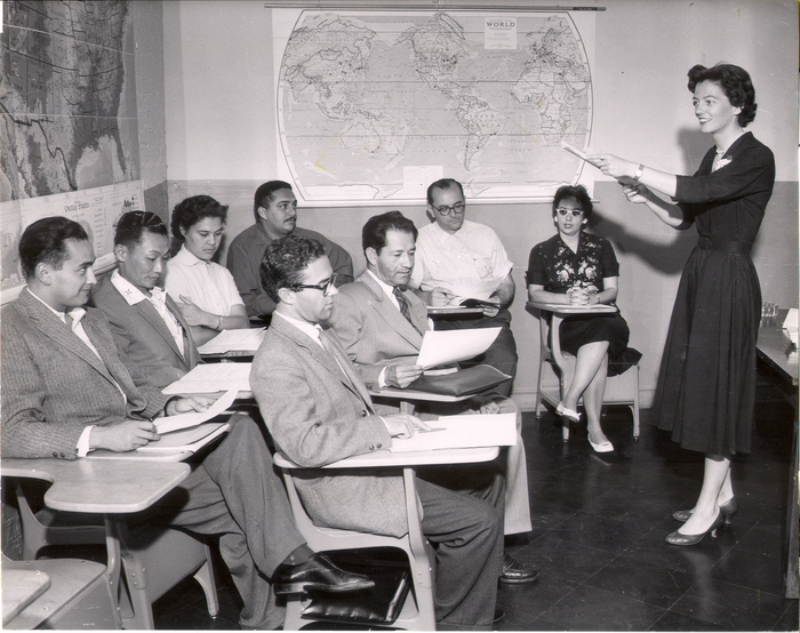 The data shows that employees don't want to return to the office — yet millions of employers are forcing them to give up their remote lifestyles. Unfortunately for those employers, most U.S. employees would rather quit than sit in a cubicle all day. And while the Great Resignation has made remote work more possible, candidates still worry that they have to navigate strict degree requirements that aren't necessary for specific roles.
Or do they? Not exactly. Unless you're in a highly technical role, you won't need a bachelor's degree to make a living wage. All you need is a Wi-Fi connection, a few skills, and confidence. Here are 17 entry-level remote jobs that don't require a degree.
17 Remote Jobs That Don't Require a Degree
If you still don't mind working outside of the home, check out Lensa's blog article about on-site jobs that don't require a college degree. But if you want to work from anywhere, look into the following options.
1. English teacher
English is spoken around the world, making it an important skill to learn. If you can read this blog post, you already possess a key requirement for this role. However, you still need to be a great teacher. What you won't need is a college degree to instruct students.
While some teaching platforms will ask for a Teaching English as a Foreign Language (TEFL) certification, that only happens if you're instructing overseas in a regular classroom. Online instructors just need a high school diploma.
2. Copywriter
Most remote job boards will dedicate a section to copywriting. Blog writers and copywriters are in demand because they're integral to SEO and online marketing. If you have a passion for writing and possess some marketing know-how, you'll be fine.
As a freelance copywriter, you can land a well-paying job right out of the gate if you've worked in popular industries like healthcare or know a lot about leisure subjects or hobbies like gaming.
See Also: How To Become A Freelance Editor
3. Tech support
Tech support jobs are accessible to just about anyone who understands computers. Since younger millennials and Gen-Z were brought up around tech, the transition to this career is often simple for them.
A tech support specialist may help customers or coworkers, so you'll want to brush up on troubleshooting and customer service. If you don't enjoy speaking to frustrated customers, find a job that includes computer system upkeep on a company level.
4. Email marketer
Email marketers create copy and graphics specifically for email campaigns. They reach out to potential clients or existing customers to advertise new services, products, or updates. To apply for this kind of job, you will need some technical knowledge to assess reader interactions and raw analytic data.
Like a copywriter, you'll need marketing, writing, and SEO skills, but if you have all of the above, you'll likely find a high-paying position — just be sure to develop an email-focused portfolio.
5. Transcriber
Transcribers listen to audio files and write captions based on what they hear. You're required to have a good command of the English language and shorthand (if you're transcribing live). But some platforms don't require you to transcribe active speakers, allowing for a more laid-back pace.
Getting into transcribing can be difficult if you're a slow typer or don't know where to place captions on videos. Get good transcribing software if you want to be a transcriber full-time.
6. Virtual assistant
Virtual assistants (VAs) have been remote from day one, so you won't have a problem finding a remote-only company that hires them. From scheduling appointments to handling payment issues, virtual assistants are administrative staff members that handle a wide range of tasks.
If you want to stand out from other VAs, find a niche. For example, skills like email marketing, content creation, social media marketing, or graphic design are sought after by almost any employer.
7. Graphic designer
The first graphic designers learned in a classroom filled with computers, making this career choice perfect for remote work.
As a graphic artist, you'll use technology to draft visual concepts like logos. This career requires a portfolio, a website, and an active social media presence.
In the past, graphic designers had to learn Photoshop. While this software is still a go-to for many artists, InDesign and Canva are simpler to use and require little design experience.
See Also: 55 Places For Work From Home, Make Your Own Schedule Jobs
8. Online tutor
An online tutor can teach any subject they're good at. If you have a knack for math, science, or other subjects students find difficult, you'll always have a packed schedule. And yes, you can tutor students without a degree.
Tutors can take a more casual approach to their careers than teachers. They're typically asked to work with a student for a limited time or until the student is proficient in the subject.
9. Travel agent
The ability to travel is often offered with a paid sabbatical at modern companies. But what if you could also be paid to assist customers in booking their vacations? As a travel agent, you'll do just that. From booking hotels to car rentals, you'll be in charge of planning customer trips.
Travel agents must stay current on travel deals, packages, discounts, and trends. They should also have a good grasp of selling, budgeting, content writing, and rejection handling.
10. Social media coordinator
Businesses all over the world use social media for marketing their brand. As a social media coordinator, you'll create social media campaigns, make content, post videos, and engage with customers.
To do well by your clients, you'll have to research their preferred tones, values, and messaging, and understand what content connects with their customers.
11. Project manager
Project managers are responsible for developing requirements, schedules, and budgets for a company's projects. This role has to be held by someone who understands their employer's industry, but you won't need a degree or previous experience to manage a small project team.
If you want to break into this career, consider how you can demonstrate your leadership skills. For example, you've likely used communication skills in a previous job to discuss project details.
12. Mortgage underwriter
Financial professionals usually have a degree in accounting or finance, but you can become a mortgage underwriter without one. Mortgage underwriters will analyze and evaluate a borrower's credit, verify a person's income, assets, and debt, and process vital customer information.
Although a housing crash may be on the horizon, mortgages will always be the primary way people buy houses. If you get in early, you'll have a great, nearly recession-proof career ahead of you.
13. Customer service
Customer service skills are needed in most industries, and customer service reps specifically are found everywhere. If you're personable, kind, and helpful, you can become a phone-, live chat-, or email-based customer service agent. You don't need any experience to pursue these roles.
As live chat and email are less demanding (you'll have more time to reply), you may gravitate towards these mediums to start. With more experience, you can become a phone agent.
14. Data entry
Some virtual assistants handle data entry, but enterprises prefer to outsource this task to a specialist. Large businesses will need data entry workers to manage electronic data and enter and update info within a computer system. You'll be asked to use the software provided as directed.
Data entry is the perfect job to get into if you don't have any specialized skills. Keep in mind that this job can become tedious, so keep yourself entertained with music, podcasts, or audiobooks.
15. Online fitness trainer
If you're relatively fit and enjoy working out, consider becoming an online fitness trainer. You can niche down your services if you understand form, kinesiology, and alternative exercises, but you will still make a living marketing to general clients. Knowledge of nutrition is also a benefit.
Most personal trainers appear on camera and coach their clients through a class, while others will offer advice on exercise and nutrition. A solid social media presence is needed for this role.
16. Video editor
Video editors are content creators that specialize in video content. Some video editors may shoot their own videos, but they primarily edit raw footage and turn it into a consumable product. You'll need to edit sound effects, special effects, graphics, video footage, and dialogue regularly.
Since video content is the most convertible medium, employers will charge a premium for your services. They'll pay even more if you can subtly integrate brand messaging into your videos.
17. Bookkeeper
To become an accountant, you need an accounting degree. To start your career as a bookkeeper, however, you may only need a course. However, if you can record transactions, check financial records, and produce financial statements without one, you can start applying to entry-level bookkeeping jobs right away.
Several employers are willing to invest in your education if you show promise. Either way, you should receive on-the-job training once hired to make sure you're accurate and precise.
Remote jobs of all types are here to stay, and you don't need an advanced degree to get started. Think about your interests and skills and what fields you can excel in — and then start applying.
This article is part of Buildremote's contributor series. If you'd like to share some insights about how you run your remote company, learn more here.