How Salesforce Experience Cloud Makes Remote & Hybrid Work Easier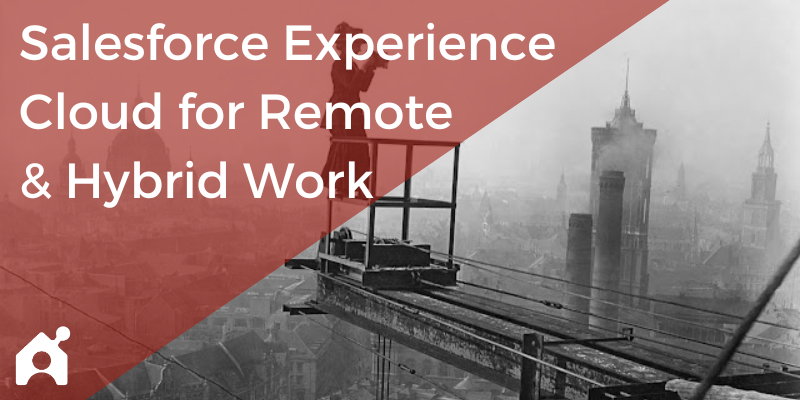 The hybrid-remote model is a flexible approach to combining remote and in-office work. Employees can divide their time between working from the office and remotely, depending on their job requirements and preferences. This model encourages autonomy and accountability to measure performance instead of only focusing on office presence; however, it also ensures employees spend some time in the office, which is a valuable way to foster face-to-face interaction and collaboration.
A remote-hybrid workplace can help your business walk the line between the benefits of remote work (like better work-life balance) and the perks of in-office work (like team collaboration). But the hybrid-remote model does pose its challenges, chief among them keeping workers in various places on the same page.
Fortunately, there are plenty of tools out there that facilitate access to information, and today, we'll be exploring one of them: Salesforce Experience Cloud.
What Is The Experience Cloud?
The Salesforce Experience Cloud is a component of the Customer 360 platform. You can use it to create online portals, communities, and experience platforms for customers, partners, employees, and other stakeholders. These platforms encourage collaboration by providing a space for users to engage, interact, and connect with one another.
Key Features
Some key features of Salesforce Experience Cloud are:
Community-building tools and templates for designing, styling, and customizing your portals — an essential part of matching your web projects to the brand of your business.
Portal administrators can manage user permissions and access to ensure that the right people see the right content.
Speedy collaboration between customers, employees, and partners — instant communication is a key part of any customer support or partner communication strategy.
Seamless integration with Salesforce CRM allows users to update their information as necessary.
Analytics and reporting tools provide insight into user data and measure the impact your community platforms are having.
Salesforce Experience Cloud is a powerful tool for creating digital experience platforms, although your employees may face a steep learning curve. To get around this, you may want to look into a no-code, fully integrated third-party tool like Titan to streamline the process.
Titan offers a drag-and-drop interface, as well as live push-and-pull data syncing with Salesforce, which ensures you always have the latest information and data on display.
Using Salesforce Experience Cloud To Make Remote Work Easier
Using Salesforce Experience Cloud or a third-party tool can make your remote working environment more efficient and bridge communication gaps between employees.
To start, you can implement an employee engagement community to help maintain a sense of teamwork and belonging. It can also be used for knowledge sharing and provide a central location where employees can access important information or resources needed to complete their daily tasks.
You can create sections within a community or portal that is dedicated to IT support or HR teams to make it easy for employees to ask questions or raise support requests. These sections are dedicated spaces that provide services to users visiting your portal or community.
For example, onboarding remote employees doesn't have to be a difficult task — you can provide easy access to training materials and company policies, as well as a space to ask questions.
The Experience Cloud can help your team members feel connected to one another and provide the needed resources for employees to thrive in their respective roles, no matter where they're located.
The Takeaway
Remote and hybrid working models are becoming more popular, and both businesses and employees can benefit in the long run. But open communication and collaboration will remain an important aspect of any workplace. Providing the correct tools to facilitate those necessities will be a big step toward ensuring all your employees are on the same page — whether they're in the office or out of it.
This article is part of Buildremote's contributor series. Occasionally, we'll share other people's ideas about running a remote company. If you have a topic you'd like to pitch for Buildremote, send us an idea here.