How To Build A High-Performing Remote Marketing Team – An Actionable Checklist
Businesses are increasingly benefiting from the advantages remote work teams provide. Those in the marketing industry have been particularly influenced by the shift to remote employment in recent years, especially after the pandemic.
By utilizing the global talent pool, businesses can hire the best professionals available for marketing positions. Ideally, you have a plan in place to create a high-performing remote marketing team — but if you don't, we're here to help.
Today, we'll look at some top techniques for building a productive remote marketing team for your company. We will also discuss some major benefits and challenges of working with remote marketing teams to provide a better understanding of the topic.
Let's begin!
The Benefits of a High-Performing Remote Marketing Team
The advantages of remote working are numerous. While enhancing staff retention and lowering overhead, it also reduces costs. As we mentioned above, specialized areas like marketing benefit from remote employment because it enables you to recruit talented individuals without regard to their physical location.
This gives you access to a bigger talent pool. In addition, if you want to develop a presence in the current global market, hiring marketers from other nations can assist you in obtaining insightful knowledge of the local marketplaces.
The Challenges of Remote Marketing Teams
You will need to overcome a few difficulties while managing a remote marketing team, including the following:
It is more challenging to foster a collaborative workplace culture when there aren't possibilities for face-to-face interaction.
Real-time collaborative coordination may be more difficult due to time zone and geographic variances.
Building a strong corporate culture and rallying people behind the organization's long-term goals is more difficult in the virtual workplace.
The diverse cultural backgrounds of team members can lead to slower, more challenging communication.
A compartmentalized organization might have a detrimental effect on the customer experience due to insufficient cross-departmental communication.
You must have the proper protocols and processes in place if you want to make the most of a remote marketing team while minimizing potential drawbacks.
An Actionable Checklist For Building A High-Performing Remote Marketing Team
Marketing encompasses a variety of activities, from analyzing competitors' websites to developing novel tactics to persuade the target audience to perform the desired actions. There is no one-size-fits-all method for creating a successful marketing strategy, and the effectiveness of any company's marketing initiatives greatly depends on the effectiveness and performance of its marketing teams.
Marketing is always evolving — particularly when teams are geographically spread remotely across the nation or the world. Having said that, it is entirely possible to assemble a group of enthusiastic marketing professionals who will collaborate with you to accomplish your marketing objectives.
Following are some crucial actionable things you should do to assemble a high-performing remote marketing team for your business:
Get the Right Team Members on Board
In addition to having expertise in particular marketing disciplines, an awareness of consumer psychology, and the capacity to transform data into actionable insights, the team you assemble need to be well-suited to working remotely.
You should seek out candidates with experience working in a virtual team environment. Additionally, they ought to be proficient in effectively using numerous tools for collaboration and communication.
Remote team members should be capable of maintaining their motivation, taking the initiative, working independently, and making decisions on their own under flexible and low-touch supervision.
When conducting interviews, consider how applicants communicate, as well as how their personalities and ideals fit with your company's culture. The ideal applicant should also be familiar with your industry and possess specific insights into your target market.
Create a Perfect Onboarding Process
A remote marketing team member needs more than paperwork and a copy of company guidelines — your company's vision and brand values should always be communicated as the cornerstones of any successful marketing effort. Remember, you can enable your remote team members to work independently and take on initiatives consistent with your organization's principles by ensuring they have a clear grasp of your brand value and long-term goals.
Convey your company's goals and principles as part of the onboarding process for new employees. Establish a mission statement that outlines the organization's long-term objectives and the standards for how personnel should carry out their duties.
Additionally, you should promote accountability by establishing a productive culture and incorporating frequent management check-ins. Through these check-ins, managers can make sure newly hired employees are receiving the assistance they need to maximize their productivity.
Keep Records
Policies, procedures, and processes must be thoroughly recorded because your team will not be gathering in one location every day.
Keep track of your team's performance at weekly meetings. Express appreciation to your top achievers and describe how their efforts aided in achieving particular goals. In addition, make sure you have the data you need to manage your team recorded for future use; you can do this by creating metrics that can help you gauge the success of your marketing efforts.
It's crucial for your remote employees to have a handbook that outlines standards and protocols. Each employee should record their daily procedures so any future employees or other team members can easily fill in if necessary.
Create Processes and Streamline Workflows
You must put transparent systems into place and establish clear expectations to better communicate with other departments and outside partners. Only then will your remote marketing staff function effectively and without continual oversight.
Keep comprehensive documentation of all the procedures and processes in a place where all team members can access it. Make sure you provide them with the appropriate levels of authority and keep track of who has access.
Set up virtual meetings, plan regular checks, and foster an environment of open communication to ensure that processes are followed and projects are moving forward. To continually enhance the procedures, ask your team members for suggestions and feedback.
To handle the numerous moving components involved in marketing campaigns, standardize and automate as many workflows as you can. Doing this will lessen the likelihood that something will slip through the cracks while simultaneously reducing inefficiencies and increasing cost efficiency.
You should also ensure that your remote team members are well-versed in SEO techniques to make your marketing efforts count where they matter — especially when it comes to providing solid visibility on the search engines. For that, your remote marketing team members need to learn how to use the best free SEO tools available.
Help Your Marketing Team Determine Success By Using Data
Brands cannot afford to spend time and money on useless promotions and campaigns, especially with the abundance of channels available. Instead, they aim to reach the proper audience with the most relevant material for their circumstance. These successfully targeted advertisements are built on data, which is their pillar.
Companies can easily track how websites perform in response to various digital campaigns thanks to the wealth of technologies available today. They may keep an eye on the engagement generated by their paid advertisements, clicks that result from those ads, and activity surrounding the content on their social media accounts and website.
Take these steps when using data to direct your marketing initiatives:
For any given campaign and goals, identify the key performance indicators (KPIs) that are most important to your brand.
Find the resources to monitor and evaluate these KPIs.
For everyone to be able to track this data in real-time, assemble your remote team around it.
These measures will make it easier for your entire remote workforce to stay updated on the marketing team's success. They will have comprehensive knowledge of consumer behavior, which they can use to enhance their future customer engagement skills.
Utilize the Appropriate Cloud-Based Software Applications
To come up with original ideas and transform them into effective campaigns, your marketing team must communicate and work together smoothly.
Platforms for collaboration and communication in the cloud enable employees to operate remotely while ensuring that everyone has real-time access to the same information to reduce mistakes and misunderstandings.
Use a unified cloud-based communication platform for file sharing, screen sharing, audio and video calls, and other purposes. The platform's interface will enable your marketing team to interact with coworkers, partners, vendors, and clients in an efficient manner.
You should also employ cloud-based programs for customer relationship management (CRM), customer data management (CDM), asset management (AM), project management (PM), document sharing (DM), e-signature (ES), and password management. The majority of them link with other widely used programs, allowing your team to manage workflows in a single location.
Make sure team members receive the appropriate instruction so they can make effective use of these tools. To ensure everyone is on the same page, establish rules for how each channel should be used and the anticipated turnaround time.
Follow a Style Guide
Communication is crucial for remote marketing teams. If your team reaches customers through blogs, whitepapers, social media posts, or other forms of written content, creating a style guide is a wonderful approach to ensure consistency. Standards for capitalization, grammar, and word usage can be found in a conventional style guide. With the help of a style guide, most writing tasks can be completed without the guesswork, and your team will have a common writing voice.
Improve Your Marketing Communications by Incorporating Technology
There may be several communication challenges when working remotely. There won't be an opportunity for in-person communication; the informal interactions that foster relationship-building in typical work settings do not take place.
You still require a cohesive, goal-oriented operation from your remote marketing team despite these challenges.
The lack of face-to-face communication opportunities is one of the main issues that remote marketing teams confront. The nuances of body language and nuance can be lost when two people aren't able to routinely see one another when communicating. Relying on only text for communication can feel more like a clinical approach, and email can make it harder to develop relationships.
See Also: 6 Alternatives To Mailchimp For Online Marketing Teams
Think about using the following helpful tools to facilitate the productive work of your marketing team.
Virtual meeting tool:
For frequent meetings, check-ins, and strategy sessions, your team can connect via video conferencing. You may also use images to demonstrate marketing progress.
A centralized platform where you can track the progress of your many marketing indicators:
Your marketing team will be able to function at their highest level if you track your important KPIs. Maintaining a platform where all the team's information is gathered guarantees that everyone has access to it.
A tool that facilitates project cooperation:
There are frequently multiple persons working on various components of various projects. For example, an infographic may be the focus of the graphic designer's effort, while the content producer may write a few articles. Meanwhile, the social media specialist may create and distribute a social media post.
Everyone will stay on the same page with the help of a dashboard that allows for speedy communication, feedback exchange, and progress monitoring.
Consider Emotional Intelligence
Anyone can go through a rough patch, and it's quite natural to have good and bad days in general. This also includes managers. But it's important to understand the effects that negative emotional responses, such as being defensive, criticizing, judgmental, or unresponsive, may have on marketing teams.
Both conditions will impact how the dynamic system operates, such as when a boss is having a difficult day and lacks the resources to control their stress or when a team is going through tumultuous emotions while working on a stressful project.
As they are aware of how crucial emotional responses are to the health of the organization, especially when individuals are working remotely, emotionally intelligent leaders will encourage increased emotional availability and awareness. People are holistic beings who bring their entire self to their workplaces rather than neatly dividing them into separate work and personal personas.
Marketing teams can find possibilities for deep learning — and important sources of creativity — with the aid of emotional feedback while working remotely. Companies ignore the human factor that keeps employees happy, healthy, and engaged in their work by not appreciating its importance. In truth, productivity is impossible without a strong emotional connection to the objective.
Conclusion
These are the most effective methods for building a productive remote marketing team. Working with remote employees has several advantages, but you must properly assemble the right team to reap the benefits.
We are confident that if you adhere to the advice provided above, you will have no trouble assembling a high-performing marketing team and ensuring their engagement regardless of where they are based.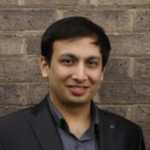 Vaibhav Kakkar is the Founder and CEO of Digital Web Solutions, a globally trusted agency with a full suite of digital marketing services and development solutions. Vaibhav believes in building systems over services, and has helped scale up agencies from scratch to niche-leaders with million-dollar turnovers.

This article is part of Buildremote's contributor series. Occasionally, we'll share other people's ideas about running a remote company. If you have a topic you'd like to pitch for Buildremote, send us an idea here.