Working 30 Hours Per Week: 12 Unique Schedules To Try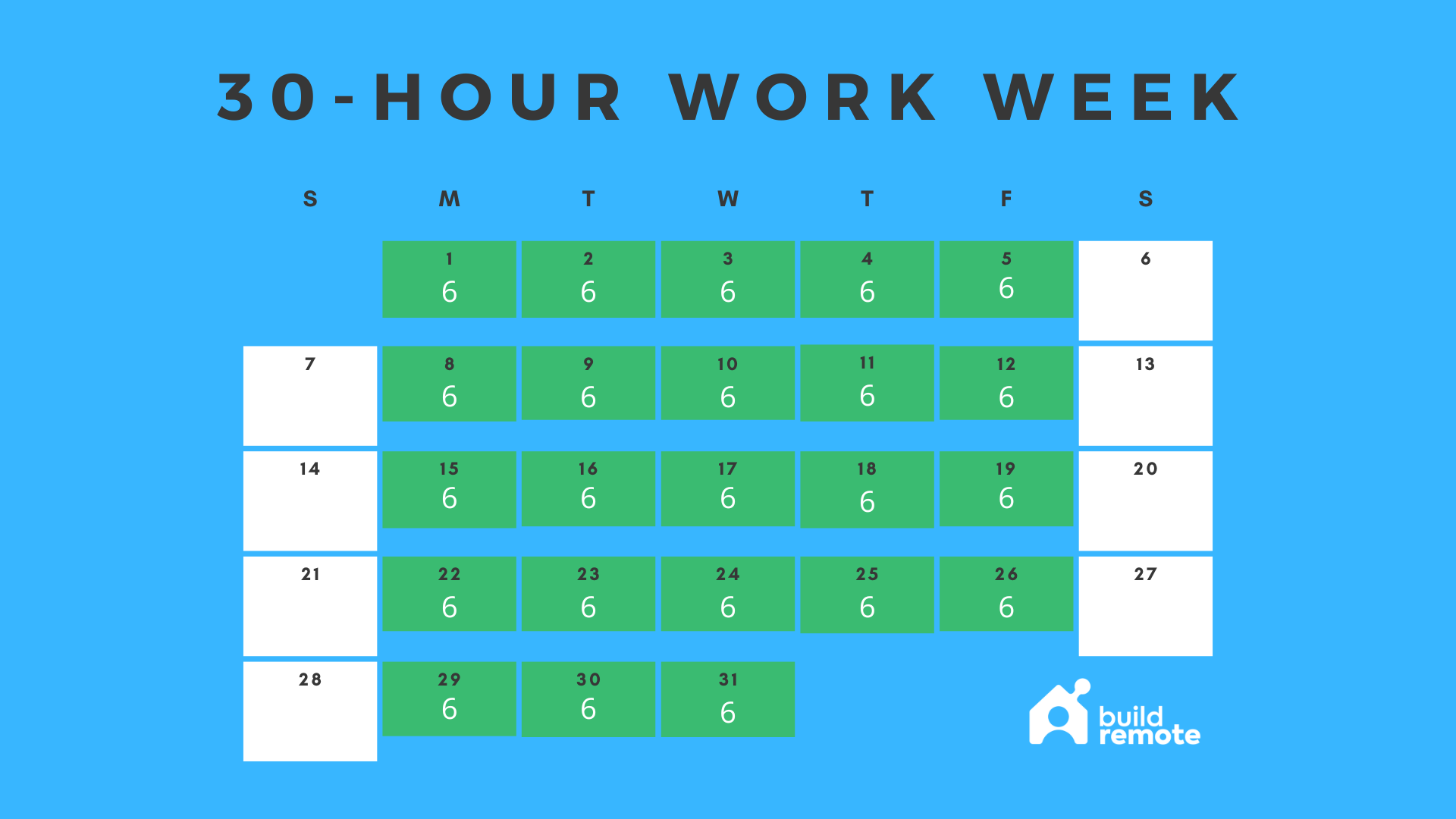 What is a 30-hour work week?
A 30-hour work week typically comes in one of two forms: 1) 6 hours of work per day for five days, or 2) 7.5 hours per day for four work days (also known as a four-day work week).
Table of contents:
---
If you had an assembly line of workers making cars (like Henry Ford had in 1926 when he designed the 40-hour work week), you'd notice hours are highly correlated to output. How many steering wheels can you screw on in one hour? Repeat.
In knowledge work (desk jobs), I'm a big believer that output is not tied to hours. If most of the value you provide in your job comes from your ability to think, your output diverges from your time. You'll have bursts of creativity, creation, and projects where you deliver high-value output, then have lulls or breaks from work. This setup allows you to rethink standard work hours for yourself or your business.
That's why we're in an era where, after 100 years, people are starting to question the 40-hour work week. The 32-hour, four-day work week is catching on. Companies using that schedule have reduced typical working hours by 20%, and many report no loss (or even a gain) in productivity.
The 30-hour work week is a reduction in typical work hours by 25%. Although there are not many companies that offer a 30-hour work week for full-time employees, there are lots of entrepreneurs and freelancers who work 30 hours per week. I asked our list of contributors to share their weekly work schedules if they work about 30 hours per week. I received 28 replies; we're highlighting the most useful ones here.
How many hours per day is 30 hours per week?
There are two common schedule formats to fit 30 hours per week into days:
Four days of work (Monday – Thursday) for 7.5 hours per day
Five days of work (Monday – Friday) for 6 hours per day.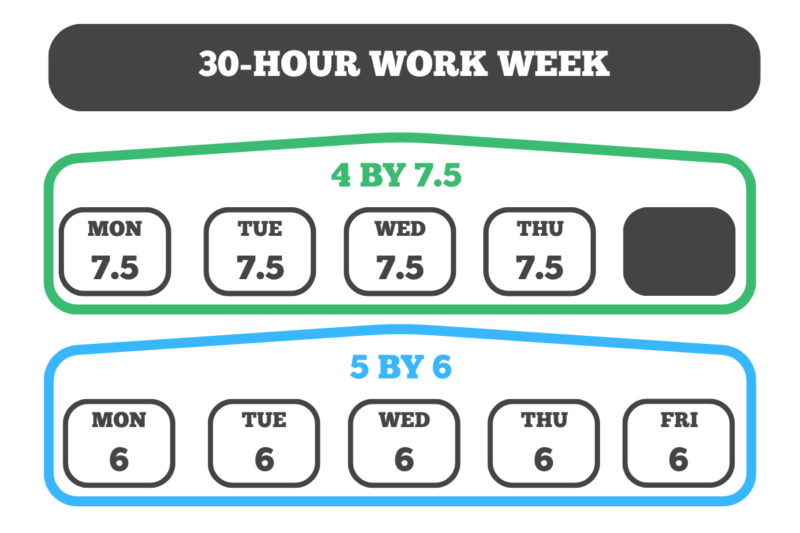 The more common format for shorter work weeks is a four-day, 32-hour work week (but that's functionally the same). If a 30-hour work week is done by an entrepreneur or freelancer, it can come in many formats.


What are the benefits of a 30-hour work week?
I've worked about 32 hours per week over a four-day work week since the start of 2020. These are the benefits I've experienced working the reduced schedule:
Improved work-life balance
Increase in happiness
Fewer meetings
More time for personal use and development
Lower childcare costs
You can read more about the benefits I've experienced here and the benefits we experienced as a company here.


Can you find 30-hour work week jobs anywhere?
Since we all still think in eight-hour work days, a full-time, 30-hour job is rare. I know that sounds arbitrary, but it's true. If you're looking for a full-time job, the closest setup you'll find is a 32-hour work week, or four-day work week. Many companies have adopted that model.
If you'd like to see what's out there for flex-schedule positions and companies, take a look at Flexjobs. You'll find dedicated filters to "flexible" and "alternative" schedules.
See Also: 55 Places For Work From Home, Make Your Own Schedule Jobs


30-Hour Work Week Schedule Examples
My 20-30 Hour Work Week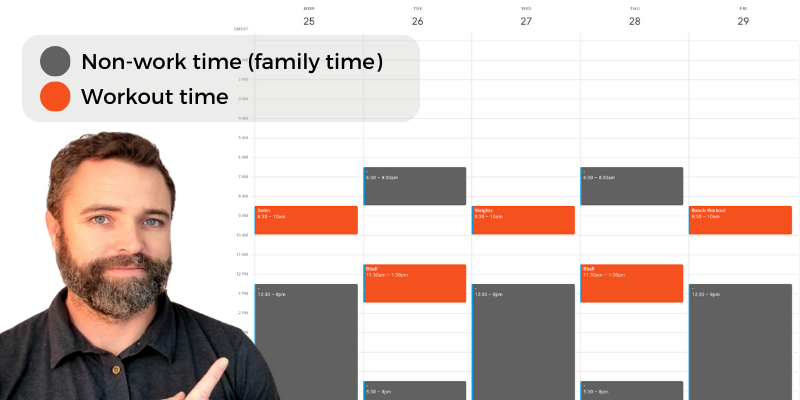 I work about 25 hours per week on average.
You can see a picture of my weekly calendar above and you'll notice that I use the calendar in reverse. I add blocks to indicate when I'm not working and then back into my work hours after that. The white/blank space is my opportunity to work. Typically, I'll work about 25 hours per week but I can increase that by starting earlier, working at night, or grabbing a block of time on the weekends.
Here's the pattern of when I work: My wife and I trade off afternoons working and spending time with our kids during the week. That way, we each get to about 20-25 hours per week and have plenty of family time. Having bursts of work time in 1-3 hour blocks really helps me focus, too.
Flexible 30
Working 30 hours per week over Monday, Tuesday, Wednesday, Thursday
I usually do six to eight hours per day, four days a week. I don't always take the same weekday off; sometimes it's a Friday, sometimes it's a Monday, and sometimes it's midweek. I work mostly during the day (9 to 5), but if the sun is out, I might spend the day in the garden and work in the evening.
My work — online marketing — is very flexible. I structure my work around my family, the weather, and other non-work commitments. Other things are primary, and work comes next. We homeschool our children and I work from home, so if we decide to do a day trip or something like that, not working isn't an issue!
– Daniel Morris of Fire and Saw
Working 30 hours per week over Monday, Tuesday, Wednesday, Thursday
After being a high-achiever corporate climber and reaching a point of burn out, I recognized that my mental health and physical health was suffering in exchange for a title and a paycheck. This led to me create my own rules for my business one that supports my well-being so that I can give to my business and clients purposefully and with excitement to do every day. The impact of this four-day intentional scheduling has not only benefited my mental and physical well-being but it has challenged me to be hyper productive to achieve the results I want in a shorter period of time.
– Vanessa Santos of Start Up With Vanessa
Working 30 hours a week over Monday, Tuesday, Wednesday, Thursday
I am an introvert, so I am constantly optimizing my schedule to align with my energy levels as well as my business needs. Currently, I limit meeting with clients to Tuesday through Thursday. This allows me to rest and recharge as well work on projects Monday and Friday, if needed, or take 3- to 4-day weekends.
– Kyle Elliott of CaffeinatedKyle.com
Descending Four-Day Week
Working 30 hours per week over Tuesday, Wednesday, Thursday, Friday
Start with the heaviest and most important tasks on Tuesday and taper them off by Friday. A chunk of my work is finished by mid-Thursday. By structuring it this way, I'm working more in an energy management style rather than a time management style, and I've found this to be very effective.
A four-day work week has changed my life so much that I actually feel happier in my head knowing well that I have checked off all tasks and have so much time for myself, too! Never thought these two things could co-exist before I started this schedule.
– Sam Lockwood of 52 Editions Website
Three-Day Weekend
Working 28 hours a week over Tuesday, Wednesday, Thursday, Friday
I like to keep Tuesdays clear of meetings and calls so I can get my head down and make a good dent in the work for the week. I try to fit all meetings on Wednesdays and Thursdays, so I can work on business admin and marketing on Fridays.
Since starting my own company, I've always aimed to have a three-day weekend. This new schedule is a healthy approach between having enough time in the week to grow the business while still having plenty of time on the weekend for family and friends. I'm also fortunate that my partner works four days a week, too, and we share the same days off. We tend to use Mondays as a day together for just the two of us to do something nice, as most of our friends and family are back at work.
Passion First
Working 28 hours per week over Monday, Tuesday, Wednesday, Thursday, Friday, Saturday
I work Monday through Friday, four or five hours per day, and three to six hours on Saturday.
My work schedule works around my passion for being an adult competitive figure skater. Since I most often travel to the rink and then work out with my coach four days a week, I most often work from 6:30 to 7:30 a.m. and then start again after 10:30 or 11. In addition, I frequently work several hours on Saturday where I can focus on projects like writing blogs and preparing training sessions without interruptions or meetings.
– Stan C. Kimer of Total Engagement Consulting by Kimer, Inc.
Three On The Three
Working 30 hours per week over Monday, Tuesday, Wednesday
I work three 10-hour days (8 a.m.- 6 p.m.), Monday to Wednesday.
My grandfather told me that if I wanted to enjoy life, I should work hard and play hard, so I decided to devote the first half of my week to work and the second to "play." It's a schedule that works for me and my mindset. It ensures that my business is successful and that I have the time to do all everything I want and need to do.
– Matthew Osborn of Legionary
Unfussy and Intuitive
Working 25-30 hours a week over Monday, Tuesday, Wednesday, Thursday, Friday
Typically, I have no meetings on Mondays and Fridays — they're reserved for deep work and focus. I have blocks of time for focused work in the mornings, with the afternoons reserved for meetings and connecting. The first thing that happens every day is work for me — writing that will move me closer to my vision. This might look like book writing or editing, social media sharing, or blogging.
After 13 years in the corporate world, where I had to fill at least 40 hours a week and make sure I looked busy (I was a master at efficiency and had much time to spare), I realized how toxic those behaviors were. When I quit my corporate management consulting job to become a writer and writing coach, I knew I'd do business differently. My creativity comes first, followed by my family and then my clients.
Chunked Freedom
Working 30 hours per week over Monday, Tuesday, Wednesday, Thursday, Friday, Saturday
I block my work schedule into two three-hour sections per weekday. I usually start around 7 a.m., break around 10, then jump back in for another three hours as my schedule allows. I find this useful because it's easy to mix and match. For example, maybe I want to meet with friends or go to an event on a particular afternoon. If that's the case, I can miss the three hours of work that afternoon and make it up over the weekend.
Finding three hours to work during the weekend isn't hard, so it's easy to have a 30-hour work week that allows for almost any personal wants or needs that could come up over the week.
Freelancing is challenging at first, particularly when it comes to time management. "Working in your sweatpants" isn't always the most consistent. Over time, I landed on this style of work as I feel that it's the healthiest balance of dedicated work time and the freedom that freelancing can allow.
– Maxwell Martinson of Lolahemp
Working Mom Schedule
Working 30 hours per week over Monday, Tuesday, Wednesday, Thursday, Friday
My work week is usually determined by how much time I have to myself after sending the kids to school and finishing my chores or responsibilities. On Mondays, our team conducts a remote meeting to brainstorm for content, come up with any ideas and put together a content calendar for the week, and assign topics and deadlines. As our content requires a lot of research, we usually take Tuesday, Wednesday, and Thursday to research and put together the articles. Fridays are for publishing content, responding to comments, and making any necessary changes.
I work when my five kids are at school/day care. This usually gives me six hours a day during weekdays after deducting taking kids to and from school and handling responsibilities at home when they get back. This gives me the benefit of being able to care for my family while still having a successful career — without the guilt.
– Nicole Thelin of Low Income Relief
4 by 7
Working 28 hours per week over Monday, Tuesday, Wednesday, Thursday
I stick to a Monday through Thursday schedule. Each Thursday, I write down my upcoming projects for the next week. Having this old-fashioned visual calendar gives me an idea of how much work I have and how much room I have left over to take on other projects if they arise. If more work comes up than I can handle during my four-day week, I extend my turnaround times. I usually start work around 9:30 a.m., after dropping off the kids at school and walking two miles at our local park. I usually finish around 3:30-3:45 p.m., when I have to pick up kids and take them to their sports and activities.
I tried the four-day week after ending up with a free Friday off one week when things were slow. I loved having that day to myself so much I decided to make it permanent. I have bigger career goals beyond freelance writing, so having that extra day off during the week while the kids are in school gives me more time to work on my brand and business goals.
– Alli Hill of Fleurish Freelance
11-6
Working 30 hours a week over Monday, Tuesday, Wednesday, Thursday, Friday
I prefer to wake up without an alarm and enjoy a mindful breakfast, so 11am is a great start time for me. Stopping at 6pm gives me plenty of time to read, relax, and spend time with family.
– Matthew Ramirez of Rephrase Media
Split 3-Day Work Week
Working 30 hours per week over Tuesday, Wednesday, Thursday
I work 8am – 4 pm plus 7:30 – 9:30 pm 3 days a week. By working a split shift I can I work with international clients and be present with my young children more. I meet with clients in the Americas in the morning, admin during the afternoon and be present for family time in the evening and after my kids are in bed I meet with my European clients. This schedule allows me to be present with my family, be productive and successful in my work and enjoy more travel due to always having a four-day weekend.
– Melanie Bruce of The Leveraged PhD
How long can we perform at work each day?
I interviewed Dr. Dale Whelehan, the CEO of 4 Day Week Global. Dale completed a PhD in behavior science focusing on the impact of sleep deprivation and fatigue on surgeons. He's a wealth of knowledge about work time.
Here's an interesting video clip from the interview.
View other unique work week schedules
This is part of our series highlighting unique work schedules. Have a look:
We hope you find this article useful. Just so you know, Buildremote may collect a small share of sales from the links on this page to help keep this site running.