How to Prevent Turnover in a Virtual Work Environment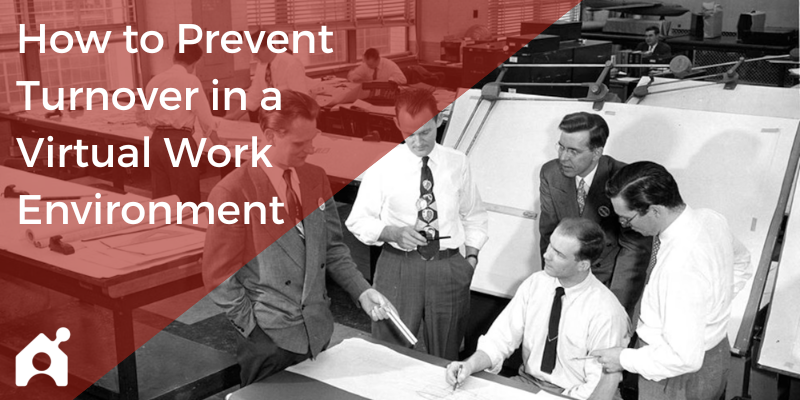 Since the beginning of the COVID-19 pandemic, remote work has become increasingly popular and even preferred by some employees and employers. While studies have shown a slightly lessened turnover rate in remote employee populations, employers still face the same issues of turnover.
With more employers turning to virtual and remote work, the availability of remote opportunities is increasing rapidly. And while remote workers have a lower turnover rate, the continued increase of jobs available to remote employees could be of some concern to companies that employ them.
For this reason, as well as overall employee wellness, employers are exploring ways to help prevent turnover in their virtual work environment. Read along as we go into more detail and share methods to help make sure employees are happy where they are!
What Can You Do to Prevent Turnover?
1. Recognize Your Employees
Remote employees are especially susceptible to feeling that their work goes unrecognized and their voices unheard in a virtual work environment. The employer can help their remote employee feel recognized by hosting a virtual event where a manager or C-level employee openly recognizes employees for their accomplishments, contributions, and achievements over a certain period of time.
During these events, employers can give out awards or announce completed projects. They can also interact with employees and offer sincere "Congratulations" and a smile on the screen instead of shooting off an email.
Make sure employees feel acknowledged and appreciated so that they stay motivated and excited to work!
2. Offer Competitive and Fair Benefits — Including Paid Compensation
Some employers see a virtual workspace as an opportunity to give more work to employees without much of a pay raise. If they're working from home, they cut out travel time and other time constraints, so they have more time to work, right?
Not necessarily. And if that is the case, then employees who receive and do more work should be paid a fair amount for that increase. If there are no benefits that come with taking on more work — whether it's voluntary or a requirement — employees may become resentful and unmotivated and eventually leave.
Prevent this by offering competitive and fair benefits that will motivate employees and give them what they rightly deserve for their hard work.
3. Listen to Your Employees
It's important for employers to know and implement what their employees want most. Employees are the ones who ultimately determine the success of a company, and they deserve to be heard — which can be challenging if they are always behind a computer screen instead of physically in an office. The virtual work environment comes with its own set of challenges, and a lack of communication can be one of them.
Research what employees desire in their work environment. Employers can achieve this in a number of ways — by sending out random, anonymous surveys, conversing with people who are planning to leave and asking them why they made that decision, and so on. If employers can determine similar causes and complaints, they can fix them and prevent turnover.
4. Encourage Collaboration and Conversation Between Coworkers
Feelings of isolation and loneliness have largely increased since the pandemic, when many workers were stuck at home with less in-person interaction than before. These feelings haven't necessarily gone away and can in fact be especially prevalent in a remote work environment. There are, however, ways to mitigate these feelings and encourage collaboration and casual interaction between employees.
One idea is to host regular, more casual virtual team-building events and games without the concern of management watching in. These include games such as trivia contests or virtual office Olympic games and more casual ideas like interest clubs (book club, music club, etc.). Virtual events are essential to building a sense of community, fostering strong bonds and excellent communication between employees, and boosting individual morale, creativity, and productivity — all of which can lead to reduced turnover rates.
5. Start an Employee Mentorship Program
Many people love working remotely but could still benefit from creating close connections with people online and having the opportunity for frequent interaction outside the workspace. Setting up new or recently promoted employees with mentors offers them a chance to receive advice on how to better manage their workload, build stronger connections within the community, work toward long- and short-term goals, and discuss any mistakes so that the mentee can become more successful in the future.
As a bonus, the mentors will also be able to work their way up, and past mentees can become future mentors. It's an effective cycle to follow if you want to retain employees and keep the company culture close and connected.
Reduce Turnover For an Improved Working Experience
Turnover is expensive and damages the company culture, and while it may be impossible to meet every employee's demands, employers should listen with care and respect to try to improve retention rates and the overall success of the company.
When team members feel valued and heard, a company's sense of community and trust improves, thus increasing the likelihood that people will stay. When employers work to reduce turnover rates in the virtual workspace, they'll see an improved experience for employees, customers, and the company as a whole.
This article is part of Buildremote's contributor series. Occasionally, we'll share other people's ideas about running a remote company. If you have a topic you'd like to pitch for Buildremote, send us an idea here.