How to Build a Remote-First Agency Culture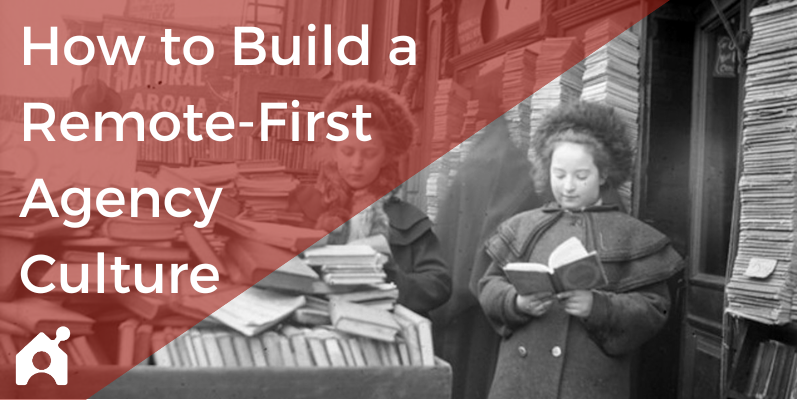 Remote work is truly the new normal — and for many, remote work is the only way forward. For others, it's something of a new paradigm they're still getting used to.
The world was hyper-accelerated into the remote work future thanks to the pandemic, and many businesses have embraced the change. This has proved something of a challenge, as many were used to working from offices where the whole team was together — but it has also led to the creation of businesses that prioritize remote working.
These businesses focus on building a remote-first agency culture, where remote working isn't seen as an addition. Instead, it's the norm. Many employees at these companies would see going into an office or having the team all in one place at once as something very unusual.
As the number of businesses with this mindset grows, more are wondering how they can foster a remote-first agency culture.
The Advantages of Remote-First Culture
Cost Savings
When your company is remote-first, you're shelling out for expensive offices or real estate. This is typically one of the biggest costs a business faces behind staff; if you can completely negate it, you're on to a monumental saving. You'll also save money on all the associated costs like utilities, cleaning, and taxes.
Recruitment
When you remove the local area restrictions on who can work with you, you open up your talent pool. If you're only considering people within your time zone, then yes, you're facing some limitations, but if that's less of a concern, your selection of candidates increases from dozens to tens of thousands. Suddenly, finding out how to hire writers from the top of the talent pool is far easier.
Productivity
The pandemic provided the opportunity to study remote working on a never-before-seen scale. This allowed research bodies like the Harvard Business Review to conduct studies into productivity while working from home. They found that most employees saw a productivity increase of around 8%.
The Challenges of Remote-First Culture
Onboarding
Bringing new staff members into the business is much harder when working remotely. You're relying on them having a strong self-learning mindset to make up for the lack of ad hoc conversions with colleagues. Creating a genuine onboarding process that involves lots of the current team is a great way to introduce new members.
Communication
As long as you have the right stack in place, many communication issues can be alleviated, but remote communication can still be more difficult than in-person situations. Keeping people in the loop requires a genuine effort from all parties.
Work-Life Balance
It is much harder to switch off when your office is in your home. That means managers need to be aware of just how much time (or overtime) their employees are putting in. Without a proper "Off" switch, employees can quickly burn out.
Remember, just because employees "work from home" doesn't necessarily mean they have to be at home. Getting out of the house to co-working spaces or even a coffee shop can make a world of difference to mental health.
Building a Remote-First Culture: Key Strategies
These strategies work well for agencies of all types: a web agency, SEO agency, design agency, and more.
Asynchronous Messaging
Open, transparent messaging is key to success. All non-confidential meetings should be documented so the notes can be shared with the team. If someone isn't able to attend because of their time zone, they won't feel left out.
Another great way to implement asynchronous messaging is to invest in a business messaging app. These let everyone connect instantly, share notes and thoughts, or chat at the click of a button.
Build A Knowledge Base
In traditional work settings, if you don't know how to do something or where to find something, you would ask a colleague. If that isn't possible for a remote worker, a knowledge base can work fantastically. It's a growing and evolving database of company information, protocols, and policies that are in place to help in those exact situations.
Provide Remote-First Support
Remote-first businesses require more specific tech and wellness support than traditional companies. Employees might require help with mental health more frequently. They may need remote technical assistance or help to turn a bedroom into a functioning workspace. Equipment goes so far, but human support and resources go the extra mile.
Building A Remote-First Agency Culture
Remote-first culture certainly takes some dedication. Building a company that adheres to remote principles is going to require significant planning and effort; without those, the business and employees will suffer.
To build a successful remote-first culture within an agency, effective communication principles need to be in place and sustained. By developing a culture of open, honest communication where everyone is involved, employees will feel more like part of a team. That, in turn, benefits their mental health.
Remember, every business is unique. That uniqueness should be embraced so it can help tailor a remote-first culture. The greatest businesses will adapt and evolve their own models rather than trying to squeeze into a fabricated mold.
Chris Tweten is the CMO of Spacebar Collective, an ethical SEO and content production agency based out of Vancouver Island, Canada.

This article is part of Buildremote's contributor series. Occasionally, we'll share other people's ideas about running a remote company. If you have a topic you'd like to pitch for Buildremote, send us an idea here.