What Does Remote Work Mean?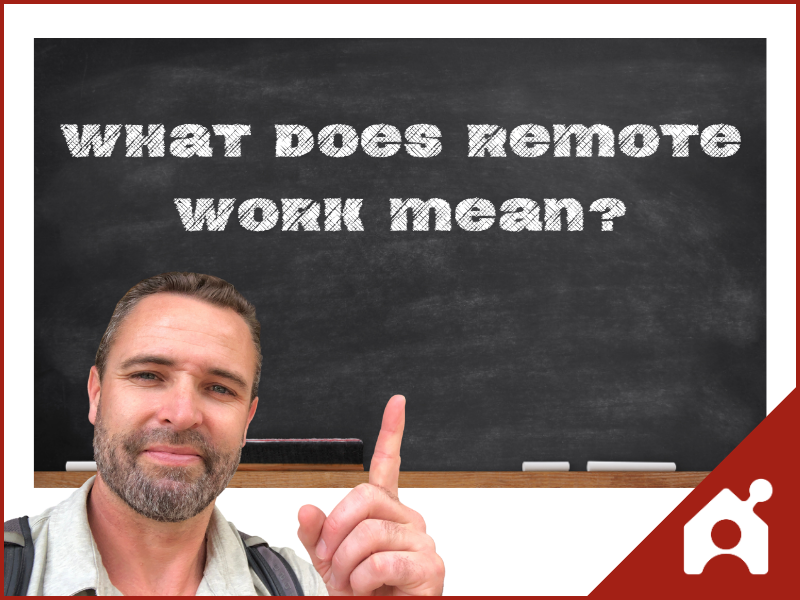 👉 What does remote work mean? 👈
Remote work: Knowledge work done outside of a company office space.
But that probably needs some context. Remote work can mean different things based on your perspective or position:
For the employee: An employee working away from a centralized, physical workplace.
For the company: A fully remote company is one that has no physical office locations nor headquarters.
For self-employed people: Income can be generated from anywhere, not just one place.
👉 What doesn't it mean? 👈
I've worked remotely for more than 10 years. Since the Covid lockdowns happened and the entire desk job world was sent home, there have been a lot of misconceptions about remote work. Here are distinctions I'll make between remote work and other similar concepts:
Remote work ≠ work from home:
The definition of "work from home" is implied – you work from your house only, and it could represent your work for that day only (like when you have a cold).
"Remote work" suggests a way of working where there isn't a centralized office for work and work can be done from anywhere (at home or while traveling).
Hybrid work ≠ remote work:
Remote work is done away from a company office
Hybrid work comes with the expectation of visiting the office with some frequency
👉 Supporting Remote Work Terms 👈
Remote Job (Remote Position)
What does "remote position" mean?
A position of employment that is permanently performed outside of a company office space.
Also known as work from home job, work from anywhere job
Fully Remote
What does fully remote mean?
A company that has no physical office locations nor headquarters. Each employee works from home – or anywhere – and all daily interactions between employees take place over the internet.
Also known as remote company, all-remote, remote only
See Also: The Database Of Fully Remote Companies
Remote First
A company that offers work-from-home or work-from-anywhere as the default location for their employees, but may have company office space available.
A remote-first company runs on a set of processes that are built for digital interaction rather than in-person interaction.
A remote-first company hires people to work from anywhere.
Also known as virtual-first company, distributed company
See Also: The Database Of Remote-First Companies
Remote Friendly
A type of company that hires people to work from anywhere, but the majority of the employees are in a physical office most of the time.
Work From Home
A work arrangement in which employees perform their job duties from their residence instead of the employer's office.
Hybrid Work
A company work model that has employees working remotely part of the time and in an office part of the time.
Also known as hybrid-remote
Remote Hiring
The process of recruiting, interviewing, and selecting new employees in a virtual environment, without in-person interactions.
Remote Onboarding
The process of integrating new employees into an organization and familiarizing them with their new role and company culture, done virtually.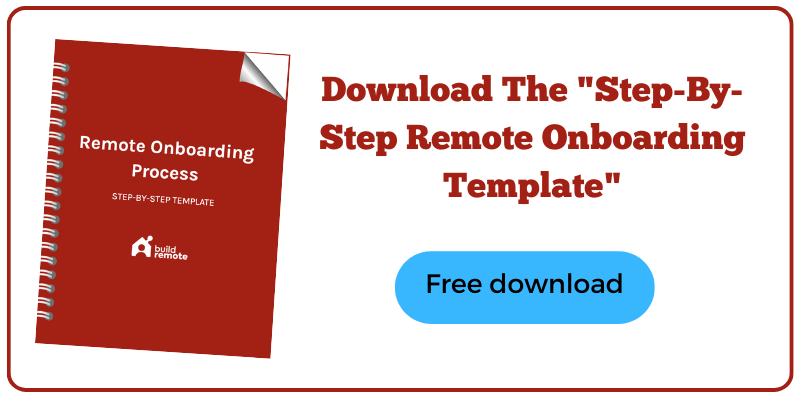 See Also: Remote Onboarding: Our Exact, Step-By-Step Process
Remote Team
A group of coworkers that are geographically distributed and do not work together in a centralized office.
Also known as distributed team, virtual team, fully remote team
Telecommuting
An outdated term (losing in popularity to remote work) that means… Using the internet to deliver work from outside of a centralized office.
Asynchronous Work
Asynchronous work describes work being performed by colleagues that does not happen at the same time.
Also known as asynchronous communication, async work
Digital Nomad
A digital nomad is a person who travels from place to place bringing their internet-based work and income with them.
Also known as remote worker, location independent
Company Retreat
An organized, off-site gathering of company employees, often intended for team-building, strategic planning, or relaxation.
Return To Office
Return to office (or RTO) describes the plans of companies to bring employees back into the physical office after working from home due to COVID lockdowns.
Also known as back to office, RTO, return to the office
Work From Anywhere
A flexible work model that allows employees to perform their tasks from any location, whether it be their home, a café, or abroad.
Head of Remote
A Head of Remote is a new type of position or role at a company to describe the leader of workplace experience, processes, operations, and policies for a distributed team without physical offices.
As of 2019, there was just one Head of Remote – Darren Murph of Gitlab – but the role has caught on since 2020 as many companies went fully remote in a short period of time.
Also known as Remote Lead, Director of Remote Work
Remote Work Visa
A digital nomad visa, or remote work visa, is a country-issued program to allow foreigners to work via the internet in the country for a certain amount of time.
Also known as a digital nomad visa
Workation
A workcation is a trip that includes time for work and time for vacation.
The term came about as a result of people taking advantage of the benefits of remote work.
Without remote work, people might be able to take a one- or two-week vacation without doing any work.
With remote work, people are able to travel somewhere for a month, for example, with two weeks of vacation and two weeks of work.
Also known as flexcation,workation, worcation, work vacation