How To Lay Out A Small Bedroom With A Desk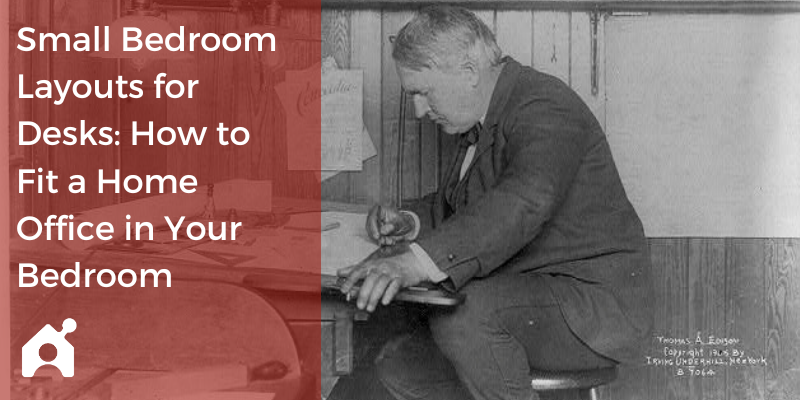 We're not going to lie.
Working in a bedroom comes with challenges (like fighting the urge to take just a *quick* snooze during work hours).
But do you know what's harder than working in a bedroom? Working in a small bedroom.
If you're trying to figure out a small bedroom layout that can fit a desk, this article can help. We're sharing layout advice from other remote workers who have created comfortable home offices in their bedrooms, along with the best products and tips for making sure your workspace/bedroom works out in the long run.
If you'd like to skip to the section that interests you most, use the links below:
The Best Small Desks For Bedrooms
Small Bedroom Desk Recommendations
It makes sense that small bedrooms need small desks. But if you're having trouble narrowing down the millions of options on the internet, don't worry. We've narrowed it down to these top nine small bedroom desks:
| Category | Winner | Price | Rating | Buy |
| --- | --- | --- | --- | --- |
| 🥇 Best Overall | CubiCubi 32-Inch Desk | $69 | 4.7 stars 40,000+ reviews | Buy the desk |
| 🥇 Highest Quality | WFH Desk | $475 | 5 stars 150+ reviews | Buy the desk |
| 🥇 Bang For Your Buck | SHW Home Office Desk | $54 | 4.6 stars 29,000+ reviews | Buy the desk |
| 🥇 Best Folding Desk | Need 32-Inch Folding Desk | $89 | 4.7 stars 7,800+ | Buy the desk |
| 🥇 Best Sit-Stand Desk | WFH Desk | $475 | 5 stars 150+ reviews | Buy the desk |
| 🥇 Best For Minimalists | SHW Home Office Desk | $54 | 4.6 stars 29,000+ reviews | Buy the desk |
| 🥇 Best Floating Desk | Theo by Nathan James | $75 | 4.7 stars 1,000+ reviews | Buy the desk |
| 🥇 Best For Storage | Giantex 4-Drawer Desk | $159 | 4.6 stars 500+ reviews | Buy the desk |
| 🥇 Best Corner Desk | ODK Corner Desk | $109 | 4.7 stars 2,400+ reviews | Buy the desk |
If you want us to narrow down the search even more, we'll tell you the real winner.
We didn't list the CubiCubi 32-Inch Computer Desk first for nothing. We rated it as "best overall" for several reasons:
Its minimalist style fits well with most bedrooms. Plus, fewer bells and whistles means fewer things to break down the road.
It's amazing quality for the price. At only $70, this desk somehow manages to be stable, durable, and nice to look at.
It's highly reviewed on Amazon. With over 40,000 reviews, it still pulls in an impressive 4.7 stars.
It has multiple sizes and finishes. You get to choose the look and functionality that work best for your space, from 32 inches all the way to 63 inches, in black, brown, silver, and white finishes.
It can hold multiple computer monitors. This gives you more flexibility as your work needs change.
If you like the price of this one but still want to see some other desk options for your small bedroom, check out our post on desks under $100 (hint: CubiCubi scores highest on that list, too).
There are also some desk brands that have proven themselves trustworthy over and over. In my research, these names came up often, with high ratings:
How to Choose the Right Desk for Your Bedroom
If you're still having a hard time deciding what kind of desk is going to work best in your small room, keep these thoughts in mind:
If you want to go cheap (under $100), make sure it's simple. The more drawers, shelves, and features you add, the more likely something will break in only a couple months. Take a look at the SHW 32-inch desk if you're going this route. It's under $80 and checks all the boxes.
Avoid desks with wheels. Wheels get stuck in carpet, and they break quickly even on hardwood and vinyl. If you need something portable, get a folding desk like this GreenForest folding desk.
Get enough storage so you can put your work away. You don't need to have lots of drawers in your desk (a cabinet or shelf nearby will work), but if you like it all in one place, check out the Ikea Micke. It lets you tuck away your laptop in a closing drawer.
If you need more desk ideas and you think your bedroom could handle a bigger desk, explore our sortable guide to home office desks.
Otherwise, keep reading to learn how to set up your bedroom home office once you have your desk.
How To Set Up A Home Office In A Bedroom
As you know already, there are some downsides to working from your bedroom.
When you work where you sleep, you start associating the bedroom with working, which can mess up your sleep hygiene (meaning it's harder to fall asleep). Your sleep gets worse which makes your work worse, and onward.
And keeping your home office in the bedroom makes it harder to separate work from home. You might start thinking about work every time you enter the room, which isn't healthy, not to mention that you'll end up spending a ton of time in one room and rarely leave it.
But not everyone has the luxury of a separate home office.
If the bedroom is your only workspace option, these ideas will help you to design a home office that lets you work and sleep without feeling like you're doing both all the time.
Put your work away at night. "Out of sight out of mind" is the key to success here. Have a designated drawer or a spot under your bed where you slide your laptop and papers at the end of the day.
Go minimalist. Use paperless options for work when you can, and organize the wires and cables on your desk.
Get flexible furniture. Folding desks, multipurpose chairs, and portable laptop stands all help to make your small bedroom usable as an office and a bedroom. Consider getting products that can fold and put away when you need more space. You might even consider a Murphy bed/desk.
Place your desk by a window. The natural light will improve how you look on video calls. Even better, looking outside improves your focus in as little as 40 seconds.
Hide your bed on video calls. Make sure you look professional on calls by using a room divider, webcam backdrop, or blur filter in Zoom.
While you may not be able to hit all of these points in your limited space, the main takeaway is to separate the work area from your bedroom as much as you can. This means either creating a visual divide between your desk and bed (try this divider), or putting everything on your desk away when you're ready to relax.
See Also: Read the complete guide to setting up a home office in a bedroom.
How to Work In A Bedroom Office
Wondering how to navigate the complexities of working in the same room where you like to nap?
This advice from other remote workers will help you separate your work and home life, so you can stay focused when you're working and worry-free when you're not:
Never work on your bed. It will make it harder to sleep at night and harder to work in the daytime. If you can, make your bed in the mornings to have a fresh start and reduce the temptation to crawl into it during the day.
Use your desk for work only. This will help your brain be able to switch off after work hours.
Make a clear division between work and rest. Use a curtain, divider, or even the desk itself to create a section of the room that's just for work, then don't go to that section after hours.
Close the door. This will help you stay focused and make it harder for you to wander around and get distracted during work hours.
Repurpose your closet. Use your closet for your work area, so you can close the door on your desk at the end of the day.
Increase the lighting. Bedrooms are known for being dark and sleepy. Get some extra lamps in there and open the curtains if you can.
Invest in office storage. If you don't have assigned places for your work gear, it will end up all over the bedroom. Get out ahead of the mess by having storage ready.
Protect your back. Consider getting a second monitor and a laptop stand so you're not slumping to look at your laptop screen. This will save you back pain and give you more screen space to work with.
These tips will help you find balance as you work remotely from your bedroom. (You can see the full list of advice for working from a bedroom here. The remote workers we surveyed had a lot of other excellent ideas.)
Small Bedroom Layout and Furniture Ideas
Add a desk between fitted wardrobes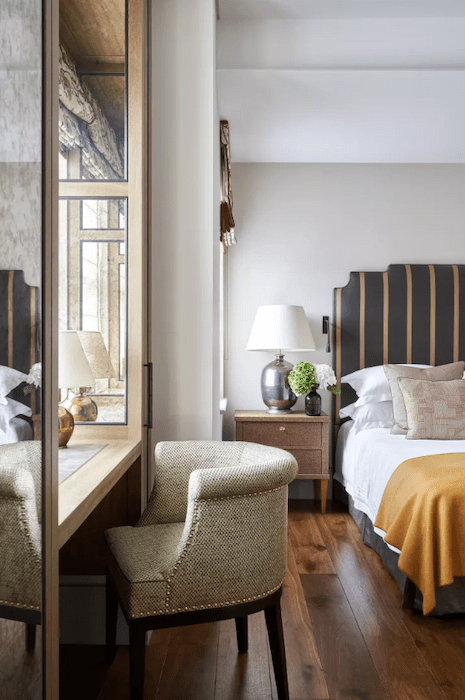 "If you're struggling with a lack of space or are simply on the hunt for small bedroom layout ideas, consider integrating a desk as part of a custom-made storage solution. This will help you maximize the available space while also keeping everything organized. For a sleek and elegant look, try fitting floor-to-ceiling closets around the window area and using the space below it for a bright and airy desk or dressing table. This smart and practical solution is sure to be a winner."
– Michelle Gilmore of Hair Extensions Advisor
Hide your desk in the closet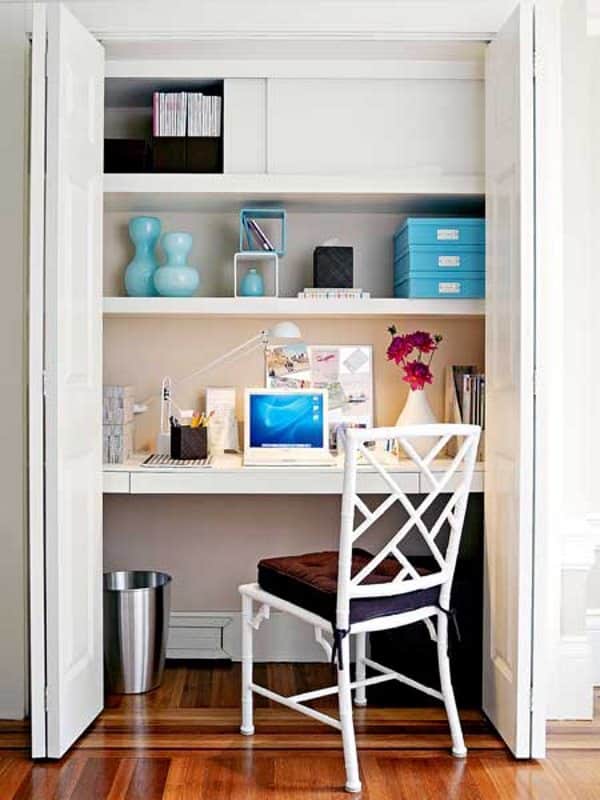 "One of the best tips is to hide your desk in the closet. Small bedrooms can't spare too much space for a desk. You can get made-to-measure closets with built-in desks. It will give you ample space to work and a lot of storage nearby."
– Marcus Arcabascio of Random Names
Try a loft bed with a desk underneath
"Consider a loft bed with a built-in desk underneath, or a wall-mounted desk that can fold away when not in use. This will save valuable floor space while still providing you with a dedicated workspace."
– Vincent Zhu of ShineACS Locks
Try a corner desk
"Transform your small bedroom by adding a corner desk to the unused corner space. This clever hack will provide you with extra room and make the area feel more open."
– Jessica Carrell of AnySoftwareTools
Combine the desk and vanity
A great hack for small bedrooms is to repurpose your dressing table. Put all your personal items in a drawer and work things on top. Or vice versa. This will not only save you space but also a lot of money you would've spent on a work desk.
"Combine your workspace with a vanity by using a desk with a mirror."
Get a fold-out desk
"I recommend opting for a fold-out desk that can easily be stored away when not in use. This will help create more open space in the room and keep it clutter-free."
– Michael Chen of Notta
"You may not be able to tell from this picture, but if you look closely, you'll see that there is a wall mount desk on the right side of this picture. The benefit to having something like this is that when the desk is put away, the room has a spacious feel, yet when it is taken out you are primed into a working state. This is a great way to be productive in a small room, rather than having a big desk that makes the room feel cramped."
– Sebastian Jania of Ontario Property Buyers
Here is a picture of my bedroom and desk area: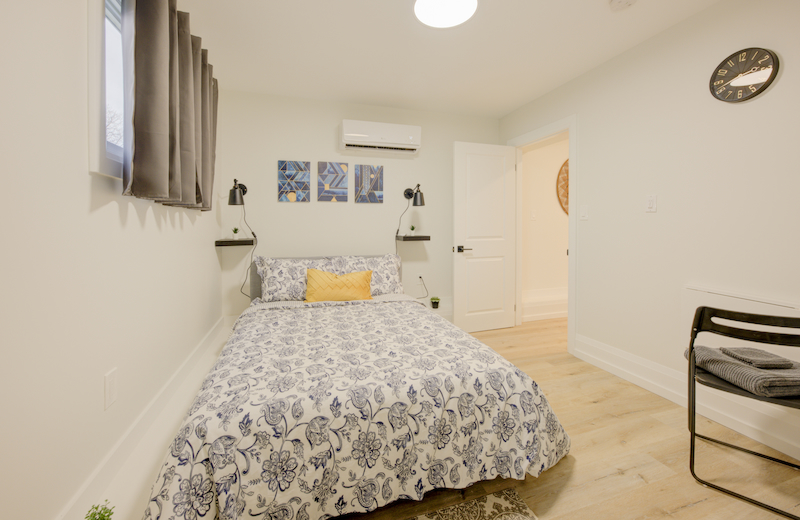 Try a desk with built-in storage
"I recommend selecting a desk that has built-in storage compartments or shelves. This way, you can maintain a tidy and organized workspace, especially if you have a small bedroom."
– Ranee Zhang of Airgram
Try a floating desk
"A floating desk maximizes space and is perfect for empty bedroom corners. As there are no legs, you can easily slide a chair or stool underneath the desk when not in use. Position the desk away from your bed to distinguish work time from rest time. When positioning the desk, place it where the power outlets are so you don't have to use long cords for access."
– Kathryn Boudreau of CallerSmart Inc
Here is a picture of my bedroom and desk area:
Put your desk by the window
Try to place your desk facing away from the bed and as close to a window as possible. Not only will the natural light improve how you look on video calls, but looking outside can help improve your mood and improve your performance in as little as 40 seconds.
Get an ergonomic chair
"Home offices in bedrooms are almost by definition cramped, and they can quickly feel as isolating as a prison cell since you might spend all but a few hours each day in that very same room. To avoid mental and physical deterioration throughout the day, treat yourself to a chair that's proven to be good for your body and mind.."
– George Stern of Phil Zen LLC
Here is a picture of my bedroom and desk area: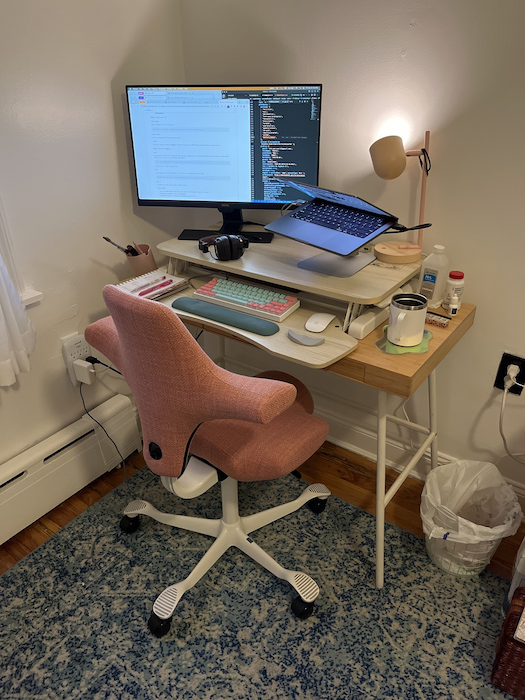 See Also: FlexiSpot's Ergonomic Chair Pro Review
Want to share your small bedroom/desk ideas?
Have more ideas for making work actually work in a small bedroom?
Leave a comment below to let us know the products and advice you think we should add. We'd love to hear your thoughts!
(We hope you find this article useful. Just so you know, Buildremote may collect a small share of sales from the links on this page to help keep this site running.)