Microsoft's Return To Office Policy & Timeline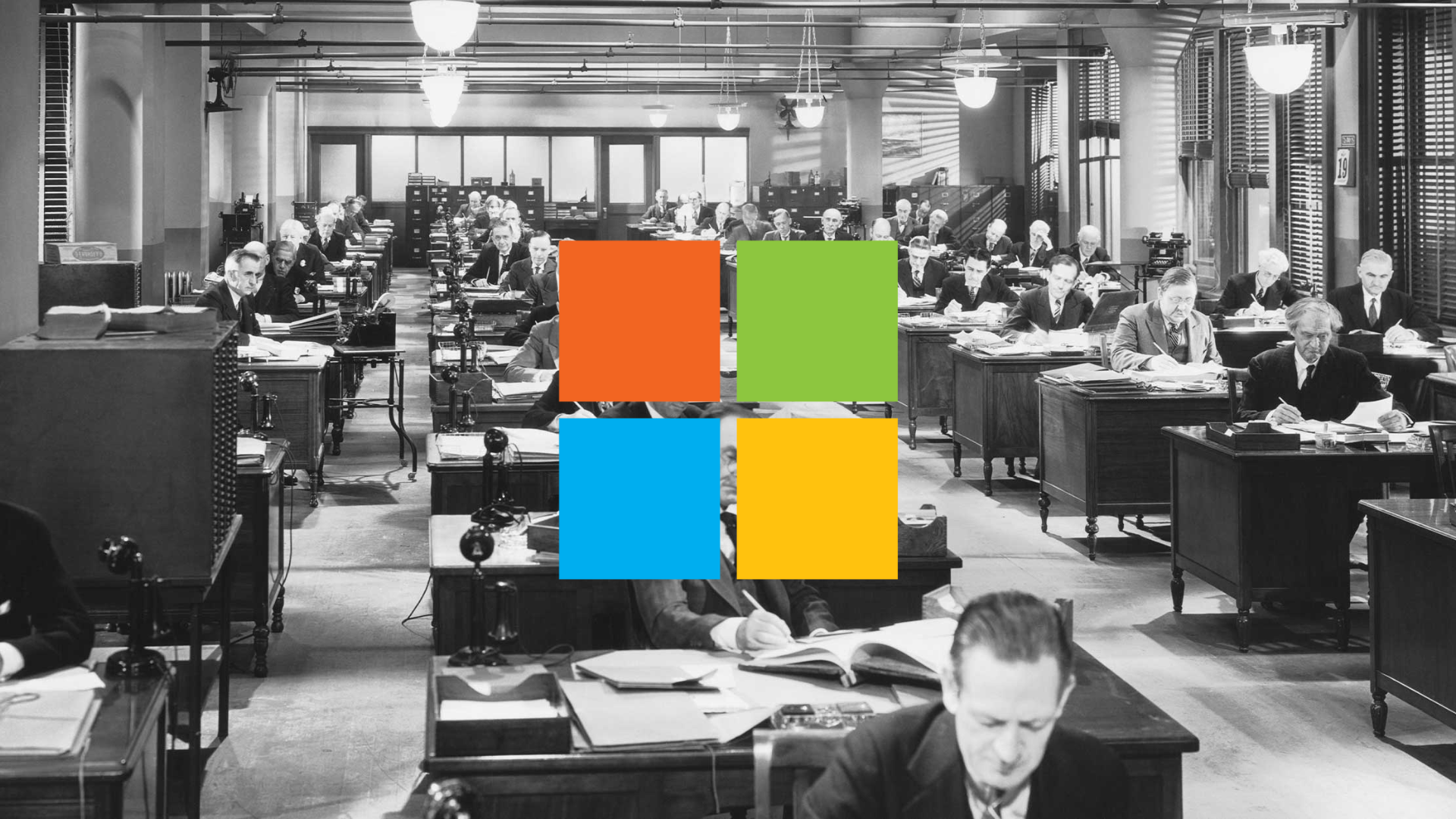 Microsoft returned to the office (RTO) on February 28, 2022 with a hybrid work policy that expected most employees to come into the office 50% of the time, but with flexibility (not mandatory). On April 4, 2022 Microsoft made 50% attendance at the office mandatory for all employees that don't have an exception from their managers.
Microsoft announced five return-to-office dates throughout 2021 before finally returning in early 2022.
Here is everything you need to know about Microsoft's return to office plan: the current policy, the timeline of delays, and sentiment from Microsoft leadership about how work will be done in the future at the company.
Microsoft's Return To Office: Current Policy
Return To Office Date: February 28, 2022
Location Policy: Hybrid
Office Visit Expectations: 50% in the office
Office Space Footprint: Stable
Microsoft's RTO Timeline
January 19, 2021: Delayed indefinitely
"Microsoft isn't planning to fully reopen its US offices until at least January 2021. Sources familiar with the company's plans tell The Verge that Microsoft has selected January 19th, 2021, as the earliest possible date for its US offices to be open for employees."
March 29, 2021: Delayed indefinitely
"Microsoft is going to start bringing some of its Seattle-area employees back to the office next week, just over a year after the COVID-19 pandemic forced a radical shift to remote work. The Redmond, Wash.-based tech giant revealed more plans Monday for its hybrid workplace model as well as learnings from an extensive study on the trends around such a work style."
July, 2021: Delayed April 3, 2021 until September
"Microsoft is joining the chorus of tech companies pushing their office re-openings to late 2021 as the COVID-19 pandemic potentially winds down. The Verge has confirmed a Business Insider report that Microsoft has delayed its full reopening from July to at least September 7th."
September 7, 2021: Delayed August 3, 2021 until October
"Microsoft is delaying the full reopening of its offices — the company's 'Stage 6' phase of its hybrid workplace plan — until September 7th at the earliest. This marks a delay from its originally planned July window."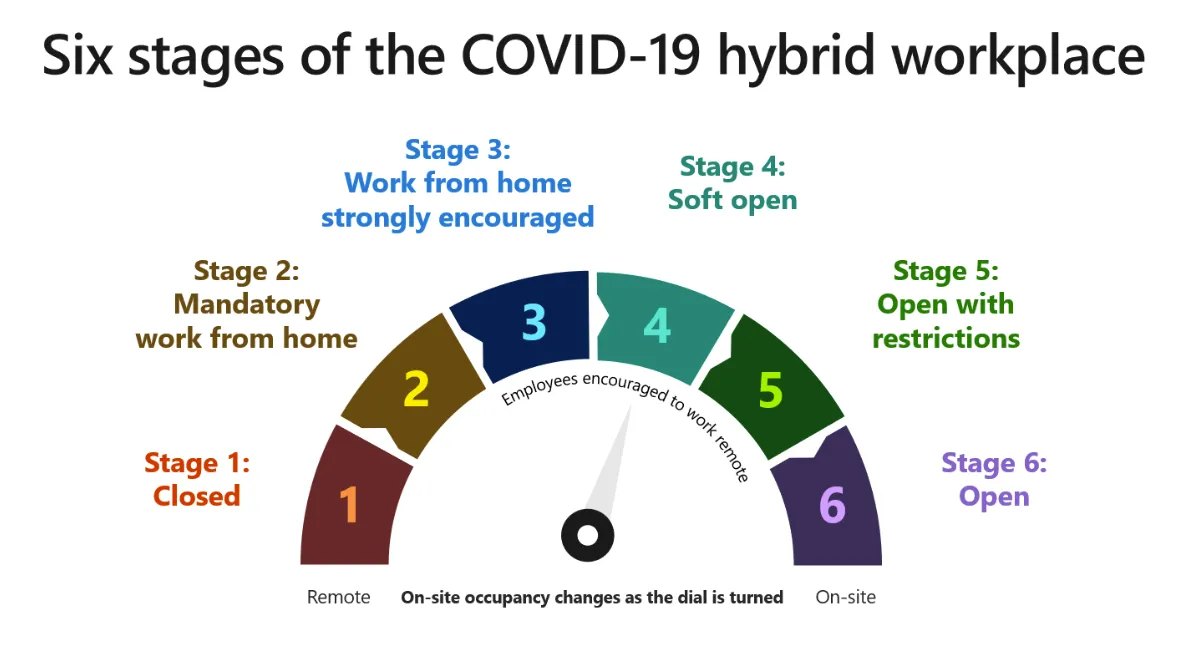 October 4, 2021: Delayed indefinitely
"Microsoft Corp. is scrapping plans to fully reopen offices by Oct. 4, saying it can no longer give a date for returning to work because the pandemic is too unpredictable."
February 28, 2022: Microsoft's optional return-to-office date for 50% of the time
"That was one of the questions raised by the tech giant's announcement Monday that it will fully reopen its Washington state offices, including its Redmond headquarters, starting Feb. 28. The company says it will offer flexibility but expects most employees to be back in the office at least 50% of the time."
April 4, 2022: Microsoft's mandatory return-to-office date for 50% of the time
"The Redmond tech giant, which has probably gamed out the back-to-office challenge as carefully as any organization, says the stream of workers coming back to its own offices has grown steadily since April 4, when the company began requiring work to be in person at least 50% of the time unless employees have permission from their managers."
Sentiment From Microsoft Leadership
Stance on hybrid work
"Looking ahead, we know that hybrid work requires a new operating model and strategy that encompasses flexible work policy, inclusive space design and innovative technology solutions. The modern workplace requires companies to meet new employee expectations, connect a more distributed workforce, and provide tools to create, innovate and work together to solve business problems." (source)
"I will definitely want to be working remotely, if I can, for 50% of the time and for the other 50%, I will come," Microsoft CEO Satya Nadella said. (source)
Stance on remote work
"Microsoft informed employees this week that they will have more flexibility to work from home, even after it's safe to return to offices, a company spokesperson told CNBC on Friday. The new guidelines, previously reported by The Verge, allow all Microsoft employees to work remotely less than 50% of the time. Employees can also request approval from their managers to work remotely full time, or even move to a new location, with salaries adjusted based on geography." (source)
Stance on office space
Washington (decrease in office space): Microsoft confirmed it will not renew its lease at the 585,000-square-foot Advanta Office Commons in Bellevue. (source)
Georgia (increase in office space): Atlantic Yards is 100% leased to Microsoft Corp. through 2035 and serves as a cornerstone of the company's growing presence in the broader Atlanta metropolitan area. The property, built in 2021, consists of 523,511 square feet of office spacesource)
View All Return To Office Plans For The Fortune 100
Every month, we update every Fortune 100 company's return-to-office policy. You can view the data below.