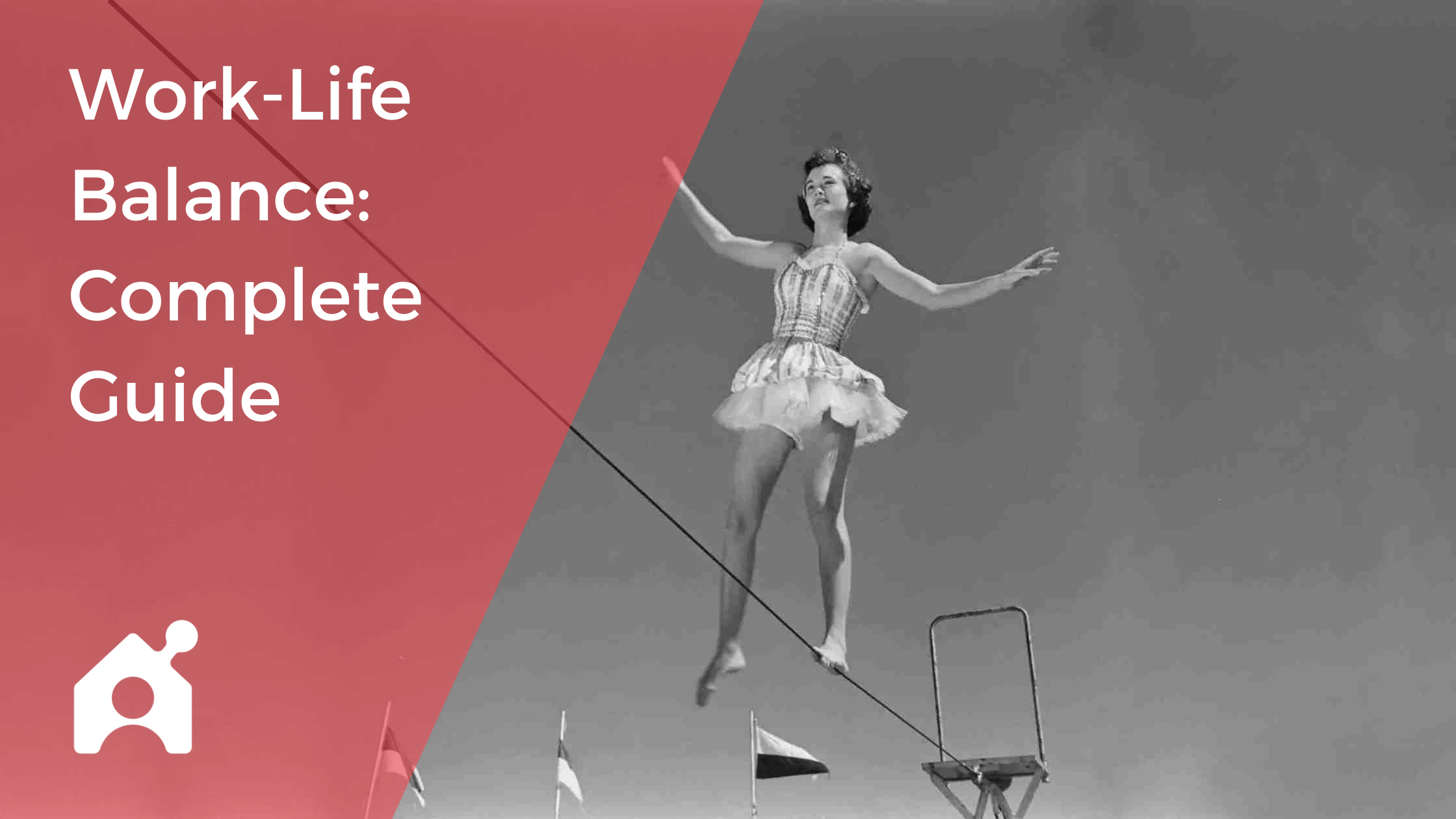 The work-life balance may seem like a twenty-first century concept, but the conversation around it has existed for decades. While most agree that it refers to energy division between the professional and personal life, just about everyone has their own highly personal interpretation of the term.
Maybe the idea of a work-life balance is fairly new to you. Or maybe you've felt yours could use some refurbishment. Whether you're learning about this movement or are ready to see how others have struck their own balance, there are five ways to get started:
Build up the motivation to improve your existing work-life balance.
Change careers.
Switch companies.
Adjust (or entirely change) your schedule.
We'll cover all of these approaches in this guide. From inspiring quotes and tips to a list of companies that meet our criteria for commitment to a better work-life balance for their employees, we cover all of it.
There's two easy ways to navigate this doc: Head to the table of contents below to jump to the chapters you want to read, or keep reading for a summary of each chapter and a fuller understanding of the work-life balance.
Work-Life Balance: Complete Guide
What Is Work-Life Balance?
A single definition for the term "work-life balance" remains difficult to pin down. We've defined it this way:
The work-life balance is the parity between the time you have for personal and professional use.
But the basic numbers belie the emotional complexity that surrounds the term; for example, the person who loves their job or their business may find greater work-life balance satisfaction in working more, while the person who works strictly for a paycheck finds their work-life balance in pursuing other interests off the clock.
Read the full chapter:
What Is Work-Life Balance?
14 Work-Life Balance Quotes
Sometimes the best way to learn about something is to see how others have done it. We collected over 100 quotes about the work-life balance — what it is, why you need it, and how to strike it — from entrepreneurs, musicians, writers, scientists, and more. The 14 quotes below will help build the motivation you'll need to find your own balance, and if you're hungry for more, just head to the chapter!
"Enjoy the little things, for one day you may look back and realize they were the big things." – Robert Brault, Author
"Work-life balance is not an entitlement or benefit. Your company cannot give it to you. You have to create it for yourself." – Matthew Kelly, Author
"You don't want work-life balance. You want work-life freedom. You want a time-centered seamless lifestyle. You want…time flexibility. The flexibility to spend your time where, when and how you want." – Richie Norton, Entrepreneur
"You have to balance your passions, not your time." – Lisa Sugar, Entrepreneur
"Balance is not better time management, but better boundary management. Balance means making choices and enjoying those choices." – Betsy Jacobson, Consultant
"Invest in your work-life balance. Time with friends and family is as important as times at work. Getting that out of balance is a path toward unhappiness." – Stephen Gillett, Entrepreneur
"Most people chase success at work, thinking that will make them happy. The truth is that happiness at work will make you successful." – Alexander Kjerulf, Entrepreneur
"Never get so busy making a living that you forget to make a life." – Dolly Parton, Musician
"No one on his deathbed ever said, 'I wish I had spent more time at the office.'" – Paul Tsongas, Politician
"Seriously: Do you want to spend your working life simply being satisfied? When you look back on 50 years spent in business, do you want to be able to say, "Well, I was satisfied"?? No! Make happiness your goal." – Alexander Kjerulf, Entrepreneur
"The key is not to prioritize what's on your schedule, but to schedule your priorities." – Stephen Covey, Author
"Thinking about work as a day job has made a big difference in the way I approach what I do. It also helped me not to confuse who I am with what I do." – Bob Goff, Author
"Those who feel satisfied with their personal lives are more satisfied with their careers and perform better." – Michael Hyatt, Author
"What is a work-life imbalance? It's: I feel safe at home, I don't feel safe at work. That's the imbalance. And no amount of yoga or vacation time is going to fix that." – Simon Sinek, Author
Read the full chapter:
122 Influential Work-Life Balance Quotes
Work-Life Balance Tips
Your path to a better work-life balance may be as easy as deciding it's something you want to pursue, but it can be helpful to see how others have achieved it. We put the call out to our contributors for their best work-life balance tips. While their specific suggestions varied, we noticed three themes emerging:
Prioritize rest and relaxation.
Maintain your boundaries.
Schedule wisely.
Six of their top suggestions are:
Prioritize what's important to you
The most important thing to do when trying to manage your work-life balance is to be honest about what is important to you. If you are honest about what is truly important to you, it will be easier to make decisions that align with your values and priorities. For example, if your family is more important than work, you will need to make sure you are making time for your family and not letting work consume all your time and energy.
– Tom McSherry of Smuggs
Schedule a beginning and end of your workday
Plan your day with specific times to start and end work. Then start practicing with the goal of keeping to your new schedule just one day a week. Think to yourself, on Monday, I will make myself walk away from work at 5 p.m., and I will ask someone to help me stay accountable. When this becomes a habit, expand your goal to two days a week.
– Katey Trelaor of Executive Function Coaching
Maintain your boundaries
The way to create a work-life balance or balance anywhere in your schedule is to start with setting boundaries. Here's the thing about creating boundaries; that's the easy part. Maintaining boundaries is where the real magic happens, though. In order to have any type of cohesive flow (balance) in our schedules, we have to decide what we are available for and what we're not, and then hold ourselves and others to that.
– Heather Jones of Heather Jones Coaching
Stop overthinking
We can often spend so much time pouring over how to find the perfect work-life balance without realizing that this is a huge time waster in and of itself. The majority of the time, you will instinctively know whether you're giving too much of yourself to one or the other, and as soon as you recognize this, you should start to make a shift. Work-life balances are fragile and malleable; one size doesn't fit all. Play around with it.
– Daniel Jackson of Pet Lover Guy
Embrace four-week cycles
I'm a big fan of four-week work cycles. Essentially, each month, you prioritize must-dos, should-dos, and good-to-dos, and then work through your to-do lists in order of importance. At the end of the cycle, reflect on your performance and re-order your priorities. This technique transforms a seemingly endless stream of work into more manageable increments and builds in milestones to keep you on track and organized.
– Michael Alexis of Team Building
Take time to relax
Short morning or afternoon walks, stretching, meditating, and other relaxing activities can help with work-life balance as these activities aid in managing stress. Working or managing one's company can really be stressful. Engaging in more relaxing activities will significantly enhance physical and mental health, which in turn will help people perform better in their jobs.
– Michael May of Wimpole Clinic
Read the full chapter:
Work-Life Balance Tips From 59 People
Best Work-Life Balance Jobs & Careers
If your current occupation isn't conducive to a good work-life balance, it may be time to shift into something better. We did a deep dive into a number of popular and well-paying careers that emphasize taking time for yourself — though as noted by the tips above, it'll be on you to set and maintain some boundaries. Some of these careers require advanced degrees, some do not.
Among them are jobs like:
Dental hygienist (average salary $76,220; requires high school & associate's degree)
Digital marketing manager (average salary $141,490; may require a bachelor's degree)
Audiologist (average salary $78,950; requires a bachelor's & master's)
Read the full chapter:
27 Best Work-Life Balance Jobs
Companies With Best Work-Life Balance
Sometimes bettering your work-life balance means working for a company that prioritizes it. We've fully updated our yearly list of companies with the best work-life balance. Our criteria included the following:
Four-day work week
Work from anywhere/work remote
Unlimited PTO
2023 Winners
We judged companies based on how they met those metrics and others.
In this year's rankings, Buffer took home the #1 spot for the second straight time and Shopify took the #2 spot. Both of these companies offer the following amazing work-life balance benefits to their employees:
Remote work
A four-day work week
Asynchronous work
Unlimited PTO
Paid sabbaticals
Work from anywhere
Paid maternity leave
Home office stipends
Work-Life Balance At Popular Companies
We also performed extensive research on some of the biggest employers in the world to see where they sit on the work-life scale. We also took a look at the overall work-life balance of many large companies that are often hiring and gave each a grade based on criteria like benefits, salaries, and reviews from Glassdoor, Indeed, and Comparably.
The numbers below are only an introduction; if you're interested in working for one of these companies, you'll need to perform your own research and determine if a particular place will suit you. But if work-life balance is important to you, well, we've done some early legwork (you can thank us later):
Read the full chapter:
63 Best Work-Life Balance Companies
Change Your Work Schedule
Can't change where you work just yet? Try changing when you work. Put another way, the night owl is almost always going to do their best work in the wee hours; the morning person wants to be at work at the crack of dawn before the coffee has even finished percolating.
As technology improves, workers of all stripes can look to alternative schedules and see what works for them. Maybe you'll do better cranking for long hours and then enjoying a long weekend. Or maybe you want an earlier shift that allows you to churn out some work while your colleagues are still abed. It's a bright new world, and there are plenty of new things to try.
We've explored many of them, including:
The 4/10 work week involves working 10 hours a day on Monday through Thursday, with Friday, Saturday, and Sunday off.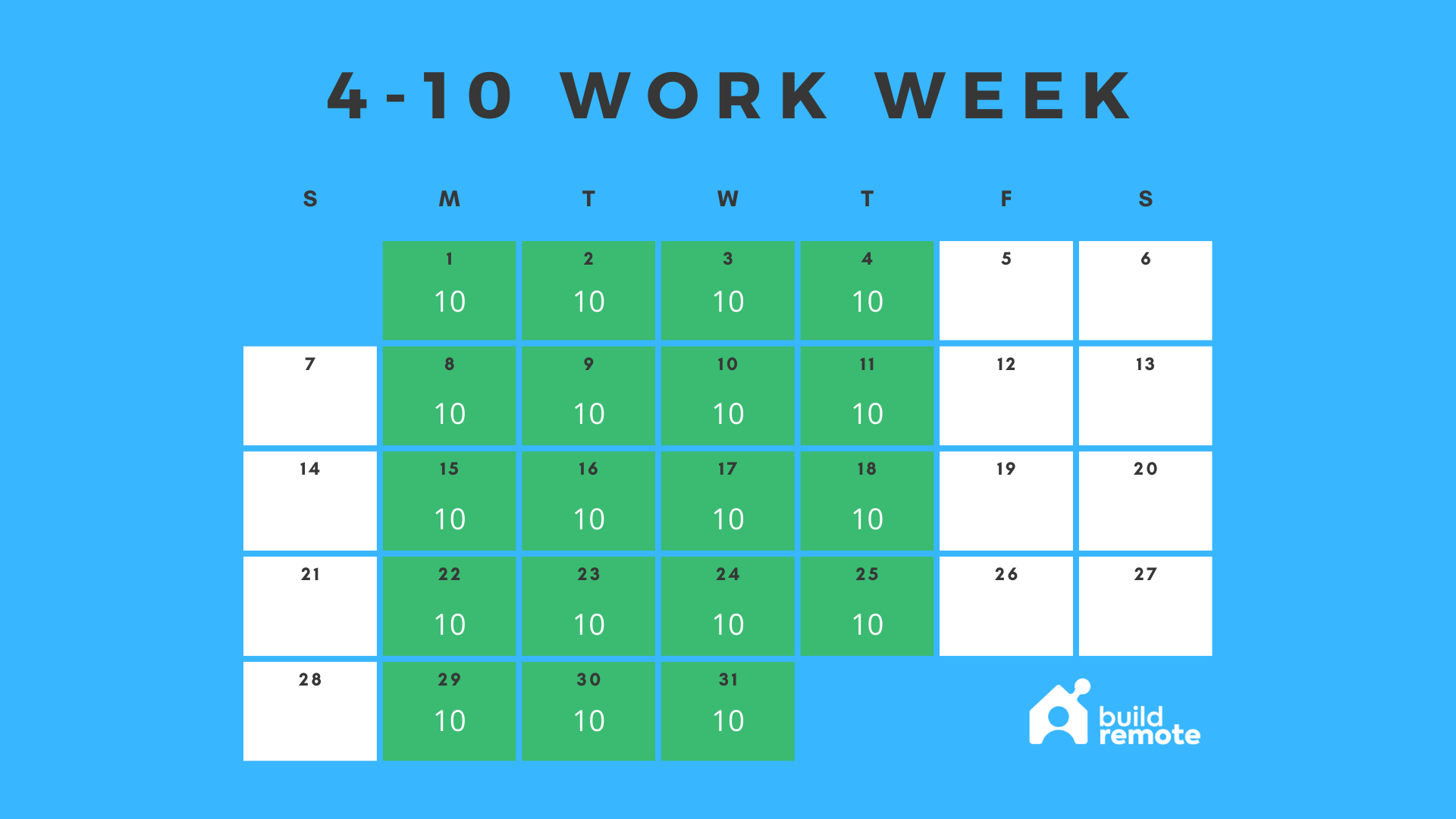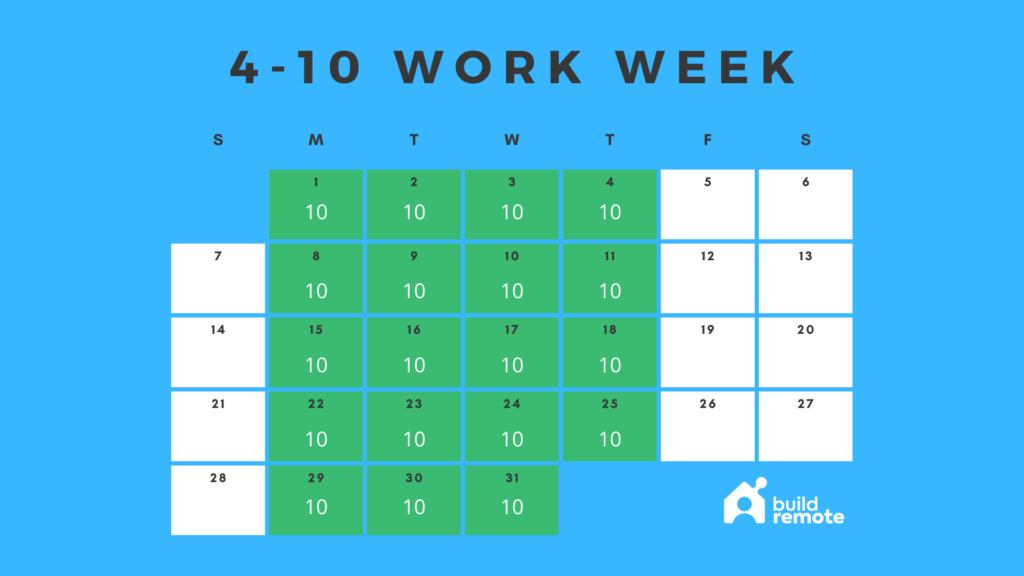 The 9/80 work schedule has employees working 80 hours across nine working days (it's usually 10).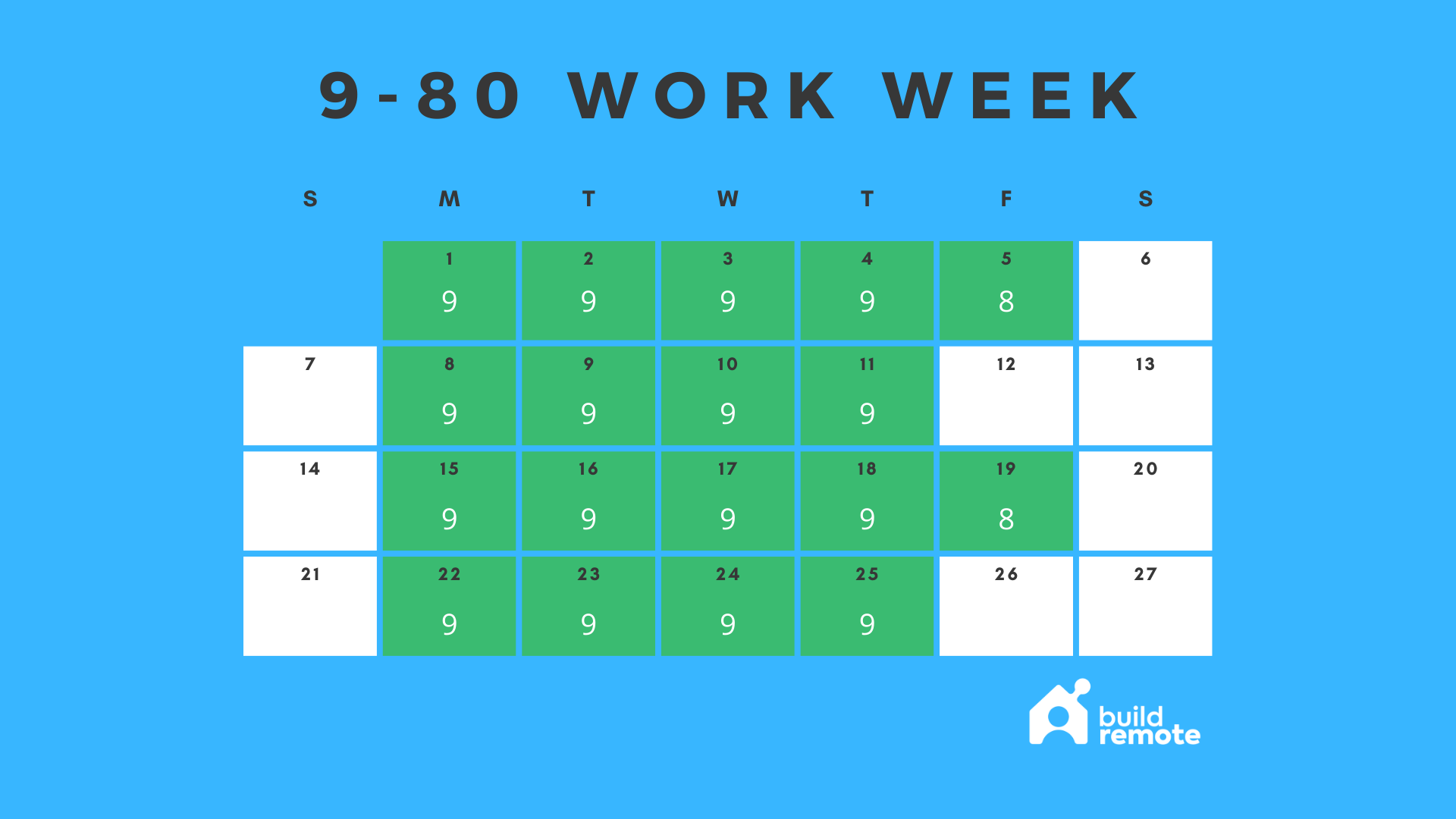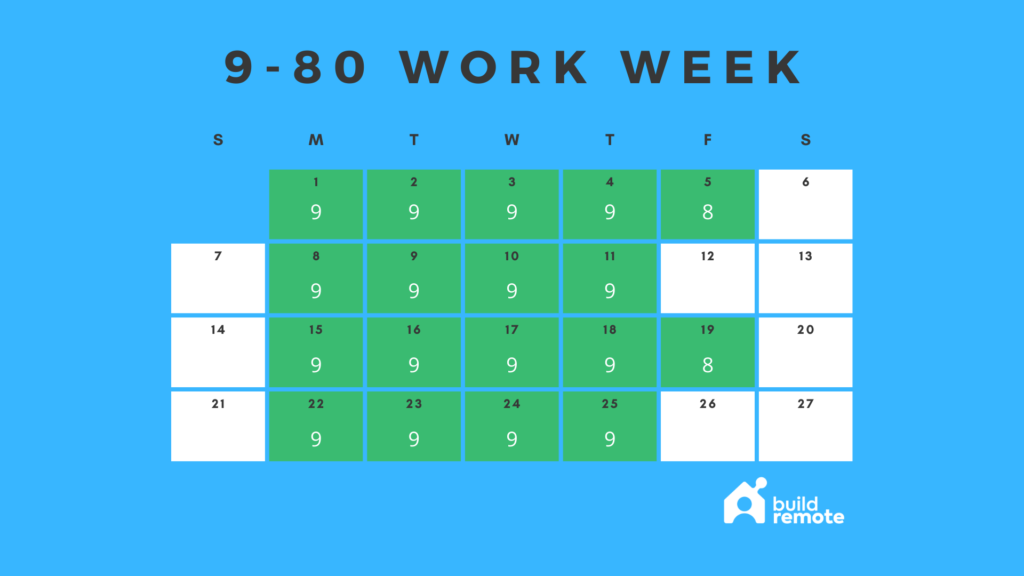 The 32-hour work week is also known as a four-day schedule — employees work four eight-hour days and have three days off.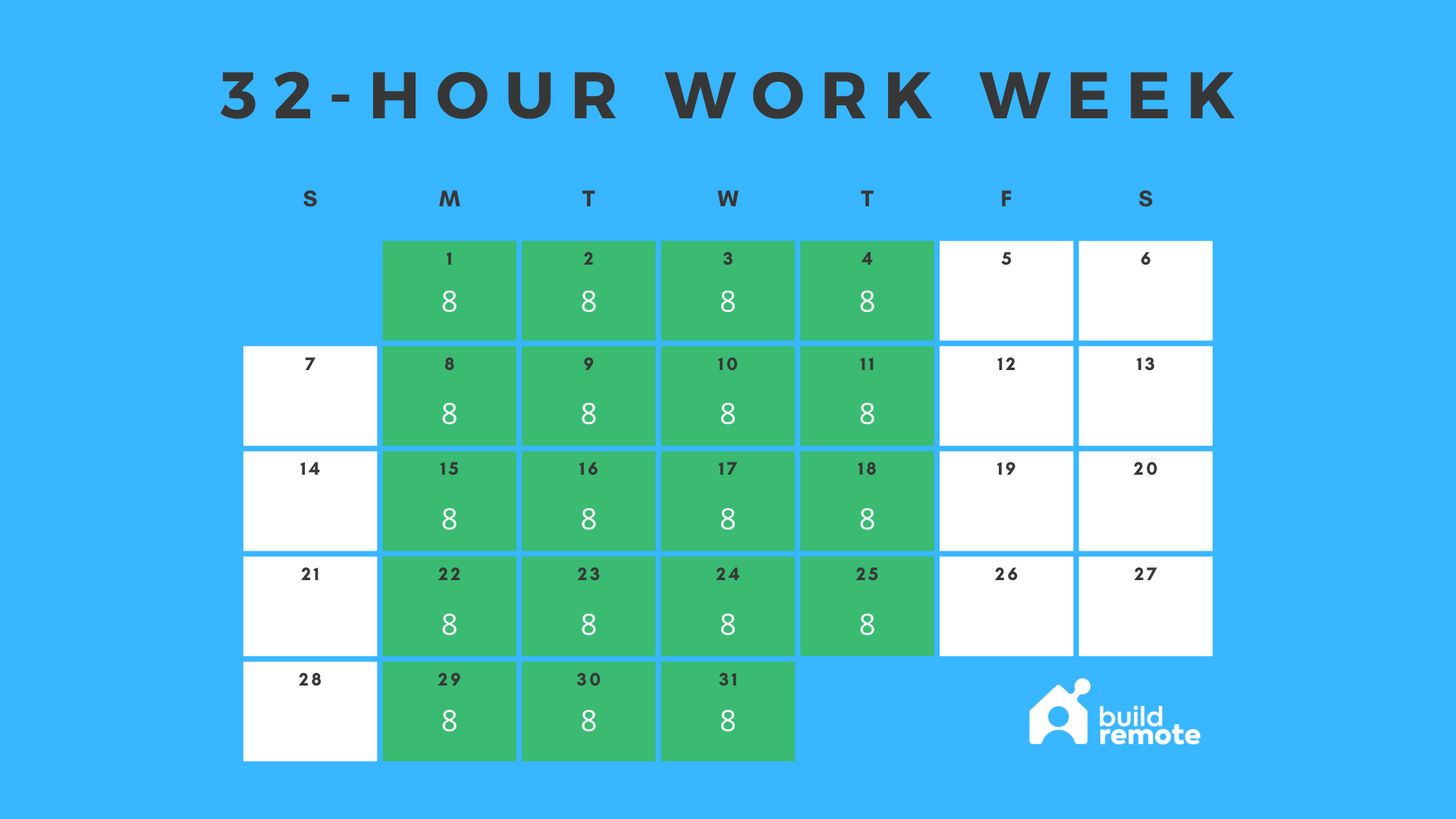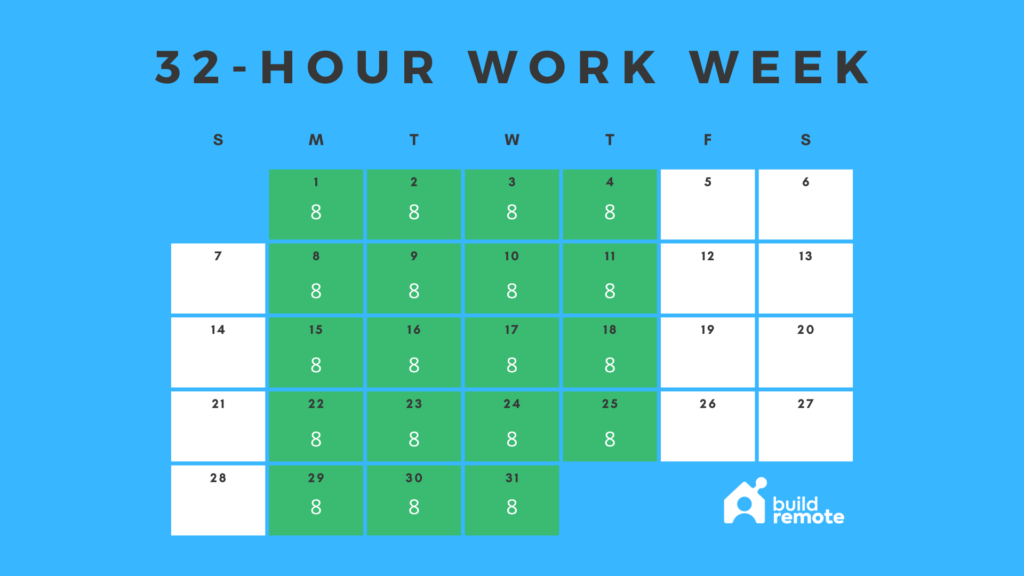 The 36-hour work week is something to look into. It's more commonly known as "Half-Day Fridays," because employees work four eight-hour days and one four-hour day…right before the weekend.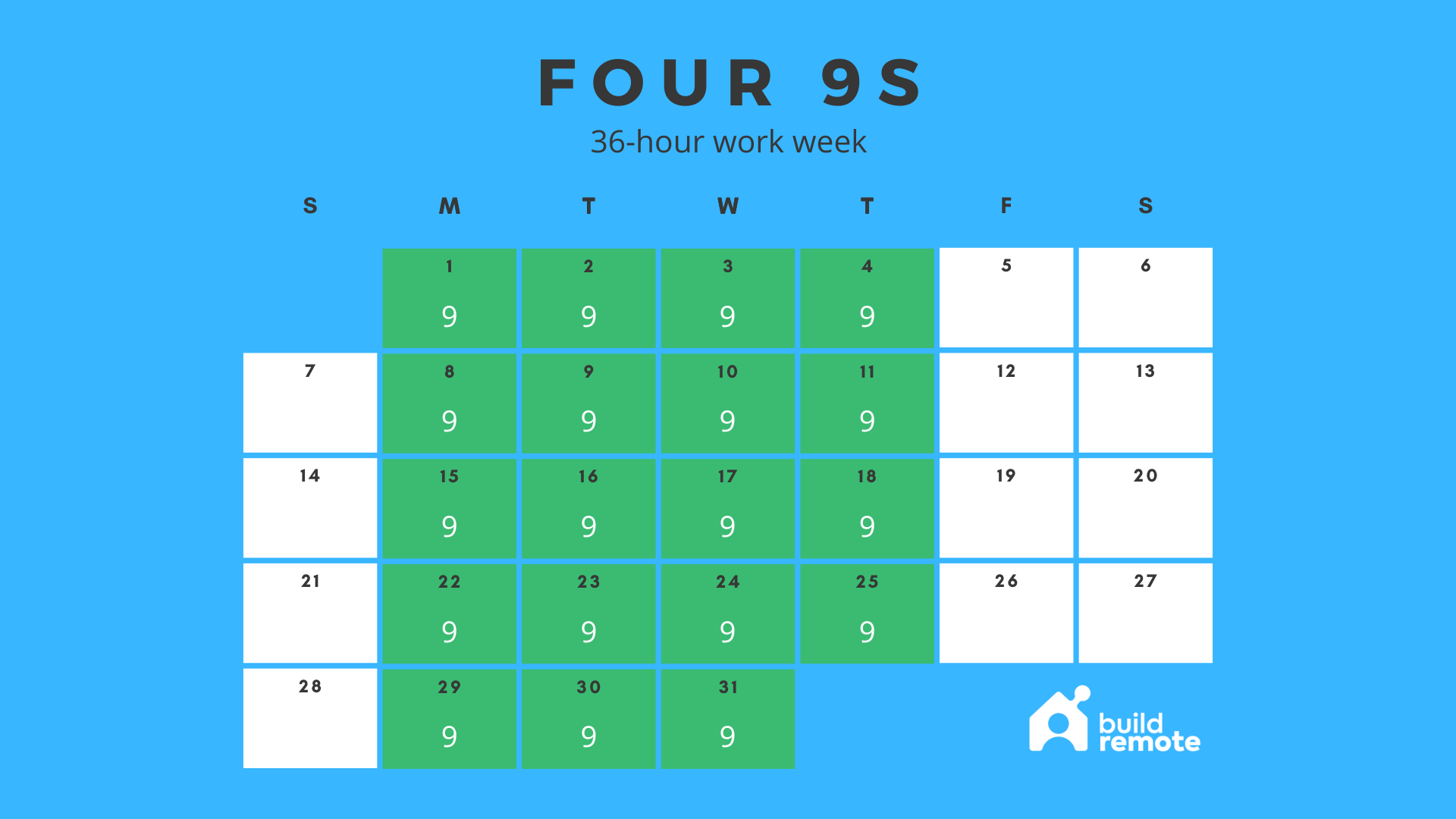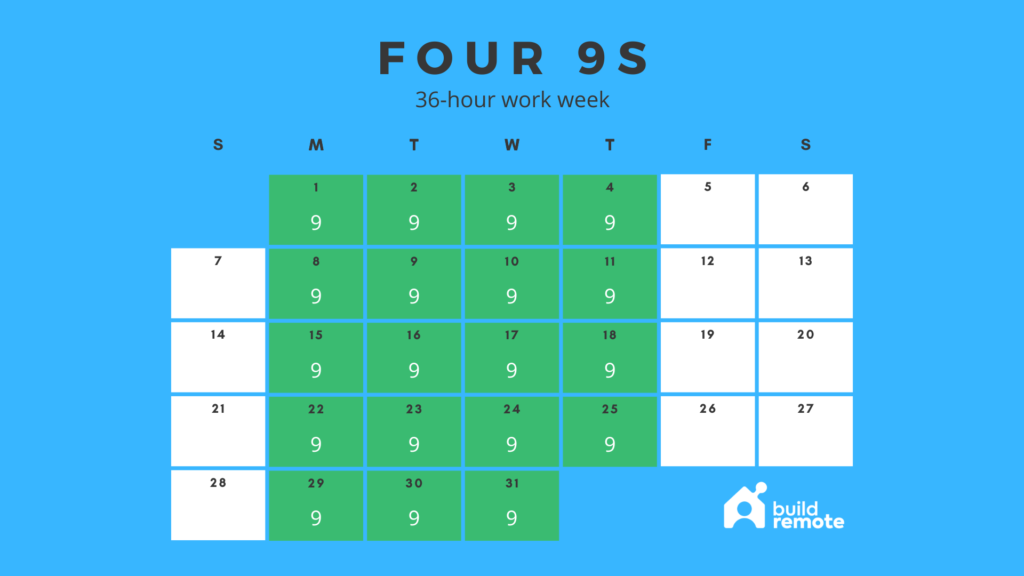 You can also explore other alternative and compressed work week schedules.