5 Traps That Can Ruin Your Remote Team Management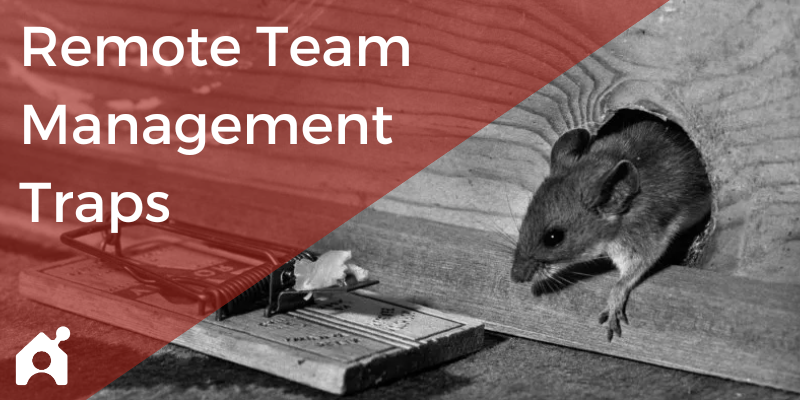 Remote work has come a long way from an experiment to a standard business model craved by employees. The remote work model is appealing to business owners, too, thanks to lower overhead costs and increased employee productivity.
On the other hand, poor remote employee management can lead to problems due to a lack of communication and cross-team collaboration. This is why numerous managers fear running remote teams. But if you want to stay competitive in the market and attract top talent, the remote work option needs to be on your benefits list.
Here are several traps to avoid if you want to develop and manage tight-knit, high-performing teams.
1. Inability and Unwillingness to Change Habits
Most people don't like changes. One of the significant obstacles in developing effective remote teams is the managerial unwillingness to realize that the perception of the workplace has changed forever, and that they need to adapt to these changes to prepare their employees and teams for the future of work.
Most managers don't want to give up the control that they have when working in the office. But task delegation, accountability, and clear expectations around communication can help you build a productive remote work environment. Advanced technology like project management tools and other remote work solutions will keep your team on track.
2. You're Prone to Micromanagement
If micromanagement is entrenched in your company culture, you'll have a hard time developing effective remote work management. A productive, cohesive remote work environment depends on trustworthy relationships between managers and employees. If you have the urge to hover over your employees' heads because you fear they won't get their jobs done otherwise, you may drive them to disengagement, ruining their overall productivity.
The future of work demands fresh approaches to employee engagement, productivity, and performance, and you need to replace micromanaging with more flexible and people-oriented practices that encourage work independence and are based on trust.
3. The Lack of Work Independence
Remote work is popular because it offers increased work flexibility that allows employees to choose when, where, and how to work.
If you want to manage high-performing remote teams, try to focus more on results than work processes. You can achieve this by defining clear goals and telling your employees what you expect them to achieve at the end of the day. Remember, you can always use remote work tools to track your employees' work processes. Once you shift the focus to results and allow your employees to streamline their workflows, they will focus more on meaningful, outcome-oriented work.
You may be surprised by your employees' inventiveness and efficiency when they make independent work-related decisions. These insights can boost your employees' confidence and engagement and improve overall team effectiveness.
4. The Absence of a Clear Remote Work Policy
You can't just decide to go fully remote only to follow the latest burning trend. Creating an effective remote work environment is a demanding and gradual process that takes a lot of time and joint effort.
That's why it's critical to inform your employees about changed work processes and practices while creating a remote work policy. Start by outlining the cross-team collaboration framework defining the line of command and all the tools that will boost this collaboration and communication.
Streamlined work processes are a prerogative for effective collaboration between your remote teams. Dedicate some time to simplifying specific work aspects, making it easier for your employees to reach their goals and increase customer satisfaction.
5. Increased Risk Of Burnout and Isolation
Managers running remote teams must focus on employees' well-being and mental health. If you fail to do this, you put your employees at serious risk of burnout.
One of the shortcomings of remote work can be the feeling of isolation and invisibility. Remote workers may feel that their achievements can go unnoticed. Or they may think that they don't do enough because they don't get feedback from their managers. They may start overworking to prove that they're productive like their office-based peers. This can lead to burnout — a serious medical condition that can harm employees' health and productivity.
When you notice burnout signs, reach out to specific employees and show genuine concern. This simple step can mean a lot to your employees burdened with their workloads and insecurities. More importantly, support your remote employees on the brink of burnout by delegating some of their workloads to other team members, encouraging them to take breaks, and offering professional consultancy when needed.
Building a Remote Workforce
Remote work has become a preferred work option for 26% of American employees. More importantly, six out of 10 remote employees believe they would start searching for more flexible job opportunities if their current companies didn't allow them to continue working remotely.
For all these reasons, you should consider embracing remote work.
But managing remote teams can be challenging if you don't change your leadership style. Building highly productive and collaborative teams revolves around trust. Allowing employees to make work-related decisions independently can boost their confidence in delivering outstanding results.
Finally, remote employee well-being should be your top priority because employee productivity and engagement depend on their happiness and satisfaction.
Dijana Milunovic is a Content Writer at Insightful. She enjoys writing about employee productivity and engagement, company culture, and leadership.

This article is part of Buildremote's contributor series. Occasionally, we'll share other people's ideas about running a remote company. If you have a topic you'd like to pitch for Buildremote, send us an idea here.