45 Best Practices For The Hybrid Work Model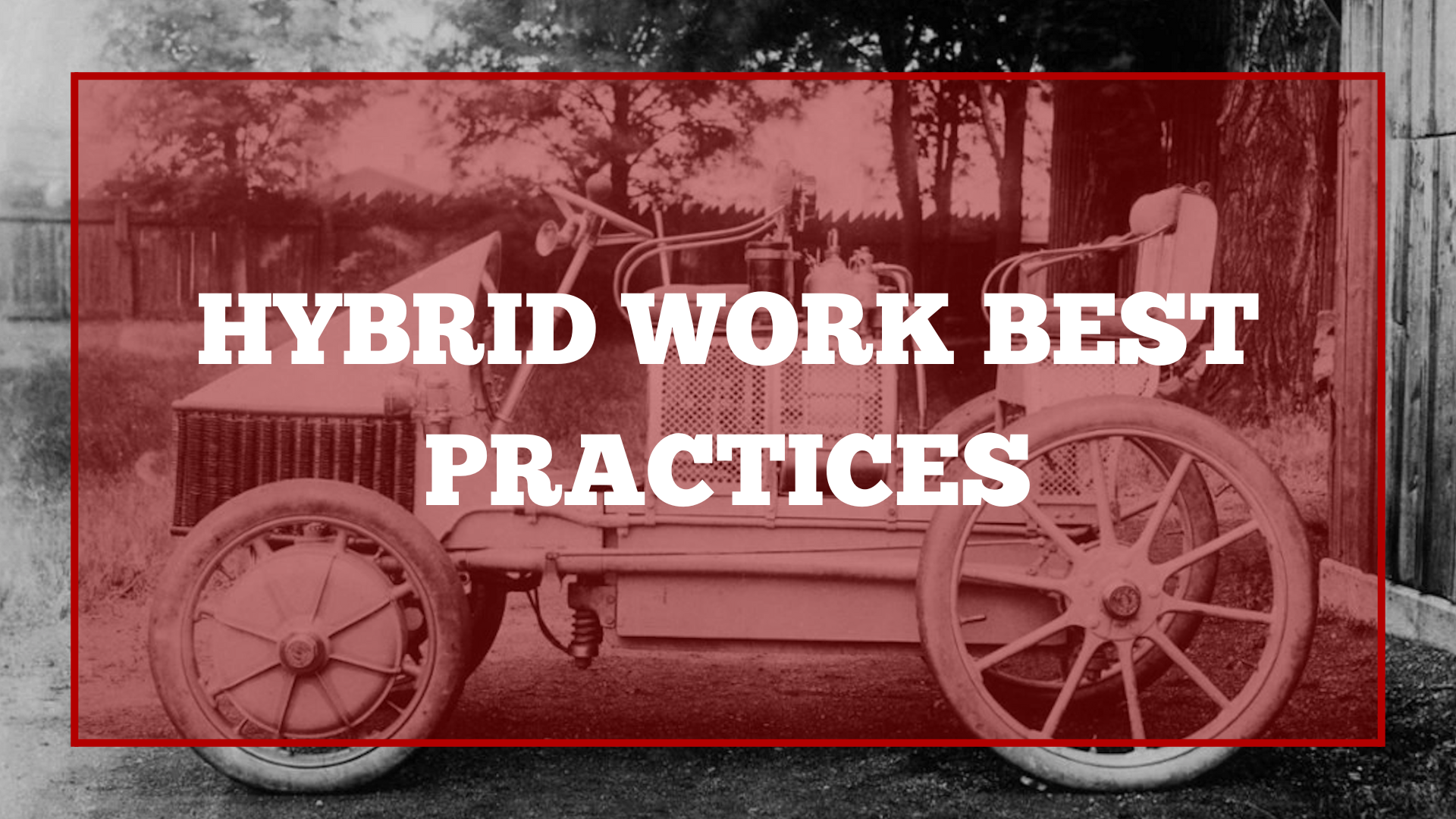 Hybrid work is a popular option for businesses and workers that may not be entirely on board with or able to implement remote-only policies. In that sense, hybrid work can be viewed as a compromise or as a stepping stone to a full remote policy.
In our recent post about hybrid workplaces, we shared some of the benefits this work method offers to employees and employers. In this post, we're digging a little deeper. As wonderful as the hybrid option can be, it takes serious effort to implement, and businesses that choose a hybrid policy need to remember that they're working with remote and in-office workers — which can make things complicated.
I again turned to my contributor list to ask experts how they went about creating a functional hybrid work policy. Here are 45 of their best practices.
Best Practices For The Hybrid Work Model
Let workers be creative
Employees should be given free rein over what they want to create as long as it's within the company's guidelines. Employees should also be allowed to use whatever tools or resources  they need to complete their tasks.
– Michael Jan Baldicana of Dream Chasers
Ensure equality
To ensure the success of your hybrid work model, you must treat all workers as equals. Most managers consider in-office workers better performers. But this bias can cause discrimination and loss of trust. You don't want a bias to ruin your culture.
– Patrick Wilson of Skill Courses
Keep your (virtual) door open
Since hybrid teams can't always convene in person, keep a virtual open door policy. Open your calendar to your employees so they know when you're available; invite them to set up meetings with you when you aren't booked. Additionally, make it a habit to answer direct messages as soon as possible, so your team doesn't feel like they're constantly waiting for direction. Hybrid teams function best when the lines of communication are always open.
– Stephanie Venn-Watson of Fatty15
Assign a mentor to each new hire
Finding ways to build relationships in a virtual world is essential as more employers are transitioning to a hybrid model. By giving the newbies a go-to person who can answer questions and set a good example, they will feel a sense of belonging from the start.
– Jae Pakk, MD of Jae Pak Medical
Adapt clear communication protocols
We all know communication can take a hit in a hybrid or remote workplace. The solution is to lay out a strong and clear communication and collaboration protocol that everyone in the company has to follow. Whether it is the leadership team or the last employee on the ground, make sure every person at the office and at home follows this well-planned and evolving protocol. This way, you know you proactively address one of the biggest challenges of the hybrid work environment by endorsing healthy communication.
– Azmaira Maker, Ph.D. of Aspiring Families
Make recent hires feel included
The initial days and weeks of a new position are significant, and it is essential to assist new hires in understanding how hybrid works in your firm. Provide a friend or mentor to each new hire so they may learn the ropes. Encourage on-site and remote individuals to participate in chat and online social activities early. To help new employees learn the job more quickly, get them to spend more time on-site with seasoned coworkers in the beginning before gradually introducing more remote work.
– Matt Weidle of Buyer's Guide
Partner with nearby hotels and accommodations
Partnering with hotels and accommodations within a set radius can also be beneficial for hybrid work models. This way, employees who live farther away or need to stay late or come in early have somewhere nearby that they can go to without worrying about finding a place to park or taking public transportation. This can help reduce stress levels and make the hybrid work model more sustainable in the long run.
– Caitlyn Parish of Cicinia
Encourage collaboration across time zones
If you have employees working in different time zones, it's important to set up systems and processes that make it easy for them to collaborate. This might mean using tools like Slack or Zoom that allow for asynchronous communication or scheduling regular team check-ins at times that work for everyone. You might also consider creating dedicated channels or groups for people working in different time zones, so they can easily connect with one another.
– Demi Yilmaz of Colonist
Invest in the best software
Investing in a good hybrid work software infrastructure is an indispensable best practice for hybrid companies. I'm talking about things like scheduling software, desk reservation systems, and easy-to-use-from-anywhere communication platforms like Slack. Giving team members tools to make hybrid work more seamless will improve the employee experience with the work model and make output more efficient.
– Kate Duske of Escape Room Data
Stop the micromanaging
When running a hybrid model, some managers think that higher productivity can be achieved by micromanaging employees. This is a grave mistake, as some employees tend to get very stressed with this kind of management. Do not micromanage your employees or be a helicopter boss who asks about updates every hour. Instead, give them tasks, especially during remote days, and set deadlines. This action signifies that you trust their skills and respect their abilities to work on their own.
– Jeffrey Moore of Everyday Power
Set clear workflow expectations
Given that the hybrid workplace is a new paradigm for many businesses and individuals, it is probable that you will need to develop new methods of getting things done. Across all work modes and locations, procedures and workflows must be standardized. When beginning new activities, hybrid teams should hold a kickoff call to verify that all members have the same degree of awareness of the tasks at hand. Everyone must be aware of the general priorities and the processes for identifying any concerns requiring resolution.
– Martin Lassen of GrammarHow
Encourage employees to design their own schedules
Even if your company has a remote-first culture, not every employee will want to or be able to work from home full time. Some may prefer working in the office sometimes, while others might need or want to come in occasionally. The key is to give employees the flexibility to design their work schedules based on what works best for them. Of course, this isn't always possible — sometimes you need people in the office at specific times, such as for team meetings or customer calls. But when possible, it can make a big difference in employee satisfaction and productivity.
– Peter Monkhouse of ICL SA
Treat everyone equally
One of the best practices in hybrid work is providing the blended workforce equal opportunities — whether in training, mentoring, expressing feedback, or accepting leadership roles. Leaders must go above and beyond (using technology and a common communication channel) to keep everyone — not just those working in the office — involved in team meetings, decision-making, and project execution.
– Lauri Kinkar of Messente
Emphasize communication
One of the most important things is to clearly communicate the expectations for both remote and office-based employees. Make sure everyone understands what is expected of them in terms of work hours, availability, and communication. It is also important to have systems and processes in place to help facilitate collaboration between employees in different locations. For example, you may want to use video conferencing for meetings, or have a shared document repository where employees can access files from anywhere.
– Milosz Krasiński of ChilliFruit
Insist on seamless tech integration
The hybrid work model tends to struggle when employees lack the tools they need to work effectively. These tools may facilitate communication, file sharing, or other specialty functions that remote managers are liable to overlook. If certain resources are unavailable while working from home, you'll see an inconsistent representation of each worker's productivity. The solution is to ensure that all tools and software solutions are streamlined both in and out of the office, and that workers have the right level of administrative access to utilize these tools at their discretion.
– Aaron Gray of Agency 101
Manage your on-site operations appropriately
A company's physical space is a key challenge when creating an ideal hybrid work environment. Poorly managed spaces can lead to inefficient work environments. Too empty or too crowded offices can demotivate employees and affect their productivity. It is the responsibility of the company to assign proper space to the employees on a permanent basis. The workplace must have an informal work area where employees can meet casually and take breaks.
– Angus Chang of Petswithme
Adjust expectations and management styles as necessary
The most effective method for completing hybrid work is to adopt a more malleable approach to leadership and set expectations that are open to adjustment. When dealing with a hybrid workforce, managers and other company leaders will need to adjust their management techniques as well as the standards they hold their employees to. They can no longer subscribe to the strict beliefs that are linked with the traditional approach of working in an office. Instead, management needs to be more flexible with scheduling, understand the challenges of working remotely and focus on employee outcomes rather than employee activity when dealing with a hybrid workforce.
– Joe Troyer of ReviewGrower
Take physical activities virtual
Make the physical activities virtual. Virtual coffee breaks or water cooler channels will give employees spaces to connect on a personal level and develop camaraderie and collaboration. Balance storytelling and status checking during team meetings. Instead of fully focusing on work, create an environment where people can share their personal stories to develop a sense of belonging amongst employees.
– Marcus Clarke of Searchant
Cross-train your employees
Cross-training is invaluable to ensuring that everything is covered if a team member is out of the office. It gives your employees the chance to develop proficiency in other areas and collaborate with different team members. When you pair up employees and have them train each other on their day-to-day responsibilities, you automatically create more coverage in all areas and a sense of ownership and expertise.
– Georgi Todorov of ThriveMyWay
Turn to the cloud
One best practice for running a hybrid work company is to rely on cloud-based systems. When employees are traveling back and forth between home and the office, it is easy to lose track of or leave behind materials. By relying on cloud computing, employees can access important information from any location, and there is less time wasted tracking down, retrieving, or going without documents or tools.
– Michael Alexis of tiny campfire
Focus on company culture
When you have a distributed workforce, building and fostering good company culture is essential. Not only does it help attract top talent, but it also helps retain the rockstars you already have at the organization. People are looking for a sense of community and purpose with their work, particularly given what's going on in the world today. If your employees are happy, that will translate to every aspect of the business.
– Ksenia Yudina of UNest
Plan ahead
Scheduling overlap time is a good best practice for hybrid work companies. Many hybrid employers allow teammates to choose which days they show up at the office. However, it hardly makes sense for team members to travel to the site only to discover that their collaborators are working from home that day. Coordinating schedules can be a time-consuming task. Rather than letting staff choose their own schedules or totally mandating in-office days, choose one day a week overlap for teams or announce necessary in-office days in advance. Employees can schedule meetings and co-work within this timeframe.
– Carly Hill of Virtual Holiday Party
Examine and update your policies as necessary
In my experience, I've found that reviewing and revising one's work is the most effective method. Be careful to put your hybrid initiatives to the test and learn from them, and be ready to make changes swiftly, especially if those changes are required to make your workplace more diversified and fair.
– Robert Warner of VirtualValley
Provide structure for your employees
Structure is vital when building a hybrid work model. This could involve defining defined hours, a break plan, or a certain number of days per week in the office. Your staff will feel more secure with this framework. It will also make work-life balance easier.
– David Janssen of VPNoverview
Get everyone together once in a while
When you have team members in different locations, it's important to have clear and concise communication. This means setting up regular check-ins, whether they are via video chat, phone call, or even just a quick email exchange. It's also important to be aware of time zone differences and make sure that everyone is on the same page when it comes to deadlines and expectations. Finally, don't forget to schedule some face-to-face time! Whether it's an annual company retreat or just a monthly team lunch, getting everyone in the same room once in a while will help build relationships and maintain that all-important communication.
– Jennifer Spinelli of Watson Buys
Set availability expectations
Setting availability expectations is critical, especially for those in leadership roles. Inform your coworkers and staff about your working hours, days off, and the times you are available online to answer queries and issues. Furthermore, inform colleagues about your on-site schedule if you also report on-site for some days of the week. Doing this will help others adjust their schedules on when to talk with you, acquire report approvals, and set their expectations for when you will respond to emails and messages.
– Michael May of Wimpole Clinic
Make sure your managers understand hybrid work
Business leaders must learn how to manage both remote and in-office employees. This includes developing and monitoring success measures such as fulfilling planned dates, quality work completion, and overall customer happiness (i.e., Net Promoter Score), in addition to the firm's usual realization, utilization, and profitability metrics.
– Mark Valderrama of Aquarium Store Depot
Make your policies clear and easily accessible
Employees will have more confidence in their jobs if everything is laid out in black and white. It's important for everyone to know who can work remotely, when, and on what projects. Additionally, policies should specify what your business requires in terms of reporting, digital and in-person communication, working hours, and participation in on-site events and socials, just to name a few.
– Tim Davidson of Car Title Loan Lenders
Maintain clear policies around availability
We have what we call "core hours." These are the times when everyone is expected to be online and available for meetings. Outside of those hours, people are free to work whenever they want. We also have an "always on" policy, which means that people are expected to respond to email and other communication within a reasonable timeframe, even if it's outside of core hours. The key is to be clear about what your expectations are and to communicate those expectations to everyone on the team. That way, people can plan their work around their lives instead of the other way around.
– Linda Shaffer of Checkr
Treat remote and in-person employees as equals
In a hybrid environment, remote employers can be ignored and undervalued. Managers have a tendency to rate in-office workers as better performers than their remote colleagues. To avoid this bias, managers must be trained to focus on outcomes rather than actions to create a more equitable hybrid workforce. Senior leaders can do their part to validate remote work by calling into meetings from their home office.
– Anthony Martin of Choice Mutual
Have backup plans for tech issues
Even though you might not need to be your own tech team, you'll probably need to know how to fix simple tech problems. Prepare to encounter a few stumbling blocks when working remotely in a hybrid arrangement, such as internet or computer troubles. Make a backup plan in case your technology fails, such as a portable hotspot, an extra laptop battery, or a nearby coffee shop with good Wi-Fi.
– Alex Savy of ComfyNorth
Invest in training and development
A hybrid team requires training and development to keep them at the top of their game. It helps employees stay updated on the latest trends and best practices and ensure they have the skills they need to succeed in their roles. It can also help them feel more connected to the company and its goals. Consider offering online courses or webinars that employees can take at their own pace, or investing in a learning management system (LMS) that provides bite-sized lessons on various topics.
– Danielle Bedford of Coople
Solicit and apply employee feedback
Always solicit employee feedback so you can make strategic changes. The insights you obtain are crucial. For instance, it will help you decide whether to take a remote-first, office-occasional, or office-first approach. This is critical because you want to guarantee that you prioritize the well-being of your employees. If you continue to use a strategy that does not satisfy their needs, you may find yourself with a dissatisfied workforce. Dissatisfaction among employees leads to attrition.
– David Bitton of DoorLoop
Conduct employee surveys
Employee feedback is important for a smooth transition. We conduct customized surveys to map the workers' journeys after the switch. It helps gain valuable insights on how to improve company culture and engagement. As a result, the workforce thrives in a hybrid setting.
– Carter Crowley of CB Home Solutions
Prioritize employee mental health in and out of office
In the age of the great resignation, where employees realize that their mental health matters and will not hesitate to jump ship when things get rocky, it is vital that organizations allow for an honest, transparent, and supportive culture. When employees all sit in the same office, it's easy to see who is frustrated, burned out, and at their limit, but that's not the case in a remote world where people are heads down, cameras are off, and relationships are harder. Organizational leaders and managers need to make an effort to know who is struggling and set a culture that shows that it's okay and there is support. An extra focus on noticing who needs a boost will make a big difference in an organization's ability to retain its employees for the long term.
– Amber Moore of LIFTinnovate
Demand more efficient meetings
We learned to make meetings shorter, more efficient, and less crowded while working remotely. We should continue offering the Zoom link in every meeting invite and provide a clear agenda and outcome goals. It all helped us get stuff done over the next couple of years; it will also help us get farther now that we are combining remote and office work.
– Justin Carpenter of Modern Maids
Create backups of critical data
Implementing a data security plan is important for a hybrid work environment. One of the best practices companies use to minimize the risk of data loss and breaches is to create backups of critical data and keep security software up to date.
– Bell Gerenger of NAKIVO, Backup & Replication
Make the split shift an option
Split shifts are an option at our organization for employees who have late-night meetings or who commute from homes more than 30 kilometers away. We have arranged that they can work in the workplace for a total of four hours and carry on at home the remaining hours. This will allow them to not struggle in their daily commute and to still manage their time.
– Luke Lee of PalaLeather
Standardize the worker experience
With a hybrid workforce, different workers will be in the office or available at different times. Some employees may spend more time in their cubicles than others, and some may only come to work once a week. In any case, it is vital that hybrid personnel are treated fairly and without favoritism or perks, whether conscious or unconscious. Businesses should have systems in place to keep all employees engaged, motivated, and recognized at the same level in order to maintain a healthy and communicative hybrid work culture.
– Frederic Linfjärd of Planday
Maintain cultural integrity
Culture is a component of your company's identity, influencing how you do business outside and live out your principles within. Don't let distance undermine culture; instead, try to recreate the atmosphere, involvement, and ease of communication of a physical office. This might be as simple as brief check-ins with hilarious GIFs to liven up chat groups or as formal as company-wide education on fundamental values. Despite the obstacles of a split workforce, the more you fine-tune your current procedures, the easier it will be for your firm to fulfill its goals and develop.
– Adam Wood of RevenueGeeks
Require excellent connectivity and backup plans
Since working remotely requires dependable Internet access, it's crucial to have not just a high-quality line but also a backup plan in case of a malfunction, such as digital cellphone service or a nearby alternate workspace. Using solutions for mobile device access management, the company can think about restricting access to the firm's information resources to only equipment authorized and validated by the firm. As new suppliers, technology, and pricing options change quickly throughout this time, it is advised that companies who offer monthly stipends to remote workers have them renegotiated at least every other year.
– Brian Case of Selkrik
Design and maintain a good environment for your WFH crowd
In many companies, office employees get free meals, cozy desks, and the opportunity to build relationships in person, while their remote counterparts are frequently left as second-class citizens. Try looking at the entirety of your work "place" experience and get creative where there are gaps. Do your office employees get free coffee and lunch once a month? How about offering a stipend to your remote team that offers "work experience budget" that includes reimbursement for things like their fave local coffee beans and lunch spots? The more you invest in the equity of the employee working experience, the happier, more engaged, and productive your employees will be.
– Darcy Marie Boles of Shift With Darcy Marie
Document workflow and productivity expectations
When you have a solid workflow channel, it ensures that workflow expectations are being met on time. If you convey the expected productivity levels to your team, you will ensure a culture of transparency. The dates and project expectations should be set before assigning your team to perform the task.
– Jeff Johnson of Simple Homebuyers
Utilize a centralized platform
Use software and systems to help your hybrid workforce succeed in their roles. For example, a centralized platform helps standardize business procedures in a hybrid work environment. It enables employees to interact, share files, and work efficiently with their colleagues regardless of distance and time zones. For company leaders, it helps manage the blended workforce as it helps in assigning tasks and streamlining communication.
– Sarah Walters of The Whit Group
Prioritize asynchronous communication
It's hard to expect team members to be available exactly when you need them to be, especially if you're operating as a hybrid team. But with the help of asynchronous video software, you can easily replace virtual meetings with threaded conversations that include video, audio and supporting text to go with. This paves the way for deliberate thoughtful communication that virtual meetings seem to miss out on.
– Brian Casel of ZipMessage